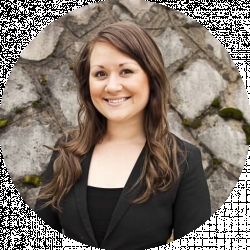 Latest posts by Lacey Jackson
(see all)
Lucius Malfoy, the father of Draco Malfoy, was a Death Eater. As a pureblood wizard, he attended Hogwarts, serving as prefect for the Slytherin house. He came from a very wealthy family and maintained his aristocracy in adulthood while championing pureblood status. Early on, he joined the Death Eaters and participated in the First Wizarding War as second-in-command behind Lord Voldemort but was replaced by Bellatrix Lestrange. While maintaining his dislike of anything other than wealthy pureblood Wizards, he and his family continued in their social notoriety and wealth. He lied when Lord Voldemort fell and said he was under the imperious curse, which helped him avoid imprisonment. During that time, Lucius joined multiple other Death Eaters at the Quidditch World Cup and tortured a muggle family while burning down many tents.
When Lord Voldemort returned to power, Lucius became a humble servant. Still, after accidentally destroying a prophecy that he was meant to obtain for Voldemort, he was imprisoned in Azkaban for one year. He was subject to regular abuse from Voldemort because of his failures, and at the final Battle of Hogwarts, Lucius reunited with his wife and son and defected. He did not return to Azkaban as he and his family were pardoned for their crimes because of their defection. He later became a grandfather to Scorpius Malfoy.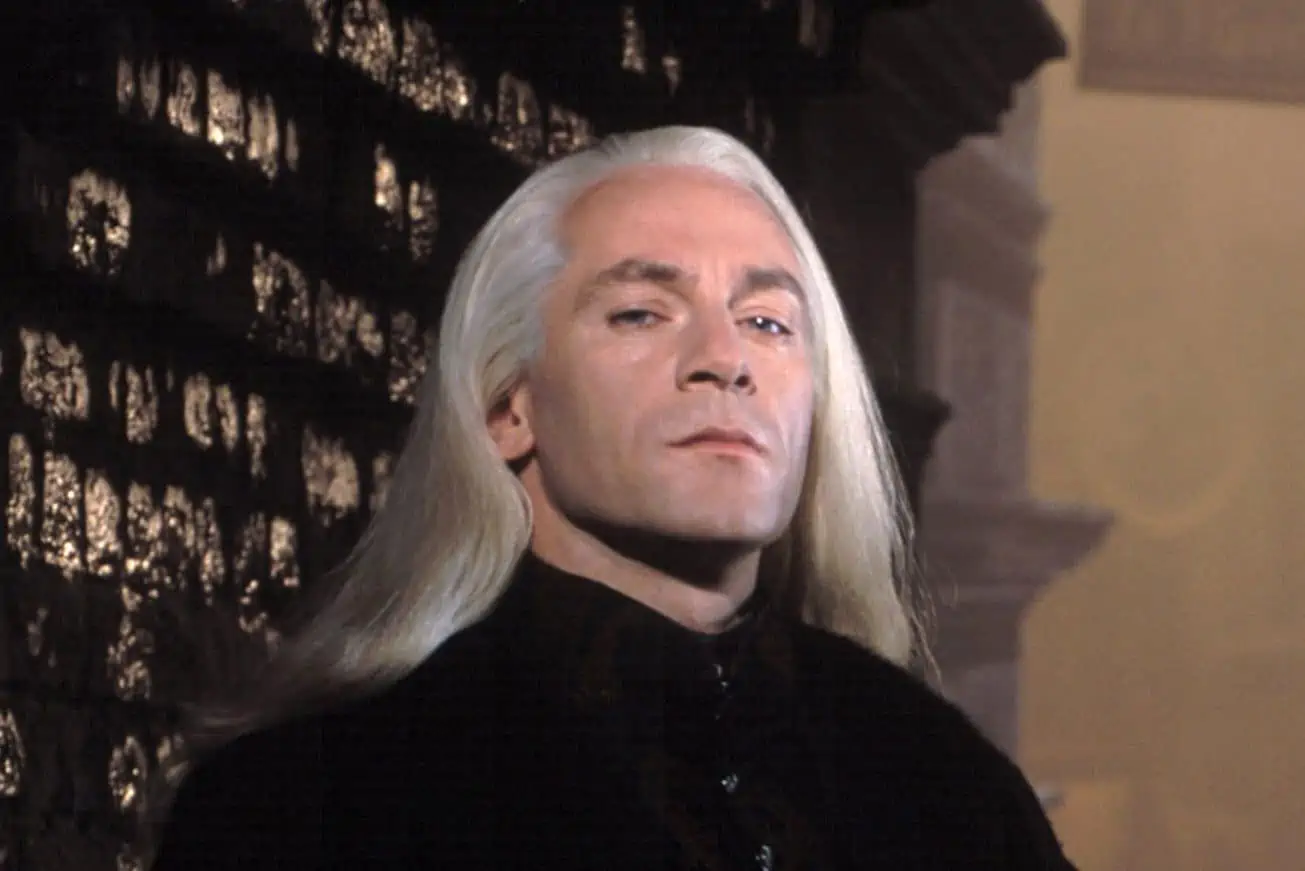 Lucius Malfoy Quick Facts
| | |
| --- | --- |
| Full Name | Lucius Malfoy |
| Birth Date | Between September 9, 1953, and September 8, 1954 |
| Birth Place | Great Britain |
| Nick Name | None |
| Death Date | N/A |
| Age When Series Starts | 38 |
| Zodiac Sign | Virgo |
| Siblings | None |
| Children | Draco |
| Partner / Spouse | Narcissa |
| Most Memorable Moment | Encouraging his son to identify Harry Potter so the family would be well received by Voldemort |
| Magical Heritage | Pure-blood |
| Hogwarts House | Slytherin |
| Wand | Elm and dragon heartstring |
| Patronus | None |
| Actors Who Played | Jason Isaacs |
|   |   |
| Last Updated | Apr 16, 2022 |

Lucius Malfoy Birthplace
Lucius Malfoy was born in Great Britain and raised in the ancestral home of Malfoy Manor, located in Wiltshire, England. This mansion was in his family's possession for over a thousand years. 
Lucius Malfoy Parents
Lucius Malfoy was raised by his father, Abraxas Malfoy, and his mother. His father, Abraxis, died of dragon pox when he was old but was good friends with Horace Slughorn before that. He was undoubtedly raised under the same stern rule as he had over Draco. 
Lucius Malfoy Physical Traits
His long, silvery blond hair identifies Lucius Malfoy. He is tall, pale, with a pointed face and cold grey eyes. He regularly walks with a walking stick inside, of which he hides his wand.
Although stern, his physical appearance may have been attractive, but this changed after he was arrested and spent time at Azkaban prison. Voldemort released him, but his looks had suffered. His eyes were sunk in, he had shadows around his eyes, his voice was much more horse, and his skin was waxy and yellow. Later, Lord Voldemort punished Lucius himself, so Lucius was left beaten and bruised. He had a dark mark on his left forearm, which became a scar after Lord Voldemort died in the first wizarding war but came back to its former glory when Lord Voldemort returned.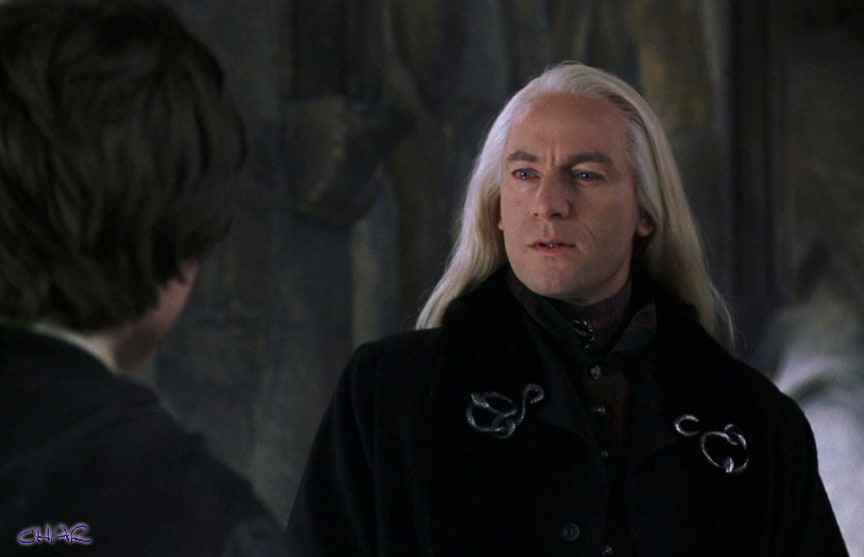 Lucius Malfoy Early Life
Lucius and his family adopted utter contempt for the Muggle world and a belief in the superiority of pure-blooded witches and wizards. It was known that Abraxas Malfoy was a demanding parent who had high expectations and kept a collection of dark magical objects, things that Lucius would be required to protect. Lucius encouraged his son to make friends with the right type of people when he went to school, which his father taught Lucius.
Lucius Malfoy Hogwarts Years
Lucius attended Hogwarts from 1965 through 1972. He was part of the Slytherin house where he met Narcissa. She and Lucius were both part of the sacred twenty-eight or most prominent twenty-eight pure-blooded family lines in Great Britain. Lucius was a model student, and by his fifth year, he was made perfect. Because of his outstanding academic reputation and ability to make potions and poisons, he joined the Slug Club. He became friends with Severus Snape in 1971 when Severus became part of Slytherin. During his time at Hogwarts, dark magical activity continued to rise. Lucius was friends with people like Tom Riddle, who eventually became Lord Voldemort during his time at school and after he became known as a Death Eater.
After he graduated, he became involved with and married Narcissa. He continued to live a lavish aristocratic lifestyle and harbor his pure-blooded beliefs. He gained possession of family heirlooms like the house-elf Dobby and other dark objects and the family wand. He continued to seek glory by following Lord Voldemort and other Death Eaters, wearing masks to conceal their identity but still working to bring down the ministry through torture, murder, and coercion. Lucius was the second-in-command to the dark lord and continued to fight against the original Order of the Phoenix led by Dumbledore until such time as the dark lord was defeated in his attempt to kill Harry Potter.
Lucius Malfoy After Hogwarts Years
Harry Potter and the Chamber of Secrets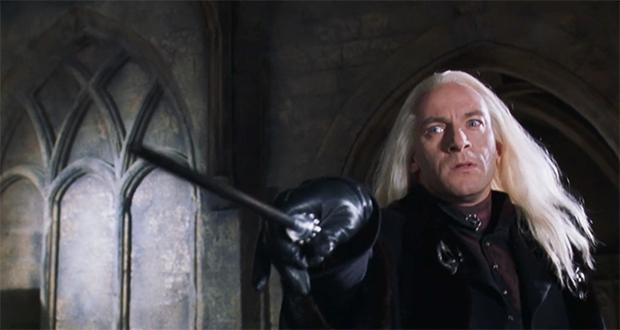 In Harry Potter and the Chamber of Secrets, Lucius Malfoy came into Flourish and Blotts while the group was waiting to buy their school books. The soon-to-be defense against the dark arts teacher Gilderoy Lockhart was signing copies of his books. As Draco Malfoy smarted off to Harry Potter, Ginny came to his defense. The arguments brought Lucius Malfoy to the fold. He mocked all of the Weasley children and confronted Arthur Weasley about being poor and a disgrace to the name of wizards because of his associations with people like him, Hermione, who were not pure blood. In the book version, Lucius and Arthur Weasley get into a fistfight that's eventually broken up by Hagrid, which, unfortunately, is not shown in the film version.
Lord Voldemort had given Lucius Malfoy Tom Riddle's diary for safekeeping, and Lucius distributed it, not realizing it was a Horcrux. At this moment, Lucius used to slip Tom Riddle's diary into one of the used books that he dropped casually back into Ginny Weasley's bucket. He did so, hoping that Ginny Weasley would open the Chamber of Secrets and be blamed exclusively for it, humiliating the Weasley family name.
Throughout the book, Draco Malfoy talked about his father and how his father worked hard to support the ministry of magic, got the family on good terms with influential people, and worked as one of the governors for Hogwarts. It was in this capacity that Lucius Malfoy blackmailed all of the other school Governors into signing a document that removed Dumbledore from the position of Headmaster, under the auspices that they had lost faith in his ability to protect the school and its students because the Chamber of Secrets had been opened.
Lucius Malfoy was very strict with his son, regularly reminding him that it wouldn't be prudent to seem anything less than friendly toward Harry Potter, a lesson that Draco never managed to learn, proving that no matter how hard a parent tries, sometimes their children just don't listen. 
Lucius Malfoy stormed into Dumbledore's office at the end of the book, furious that he had come back to campus and resumed his position as Headmaster and even more enraged when he discovered that Tom Riddle's Diary had been destroyed and no blame placed on the Weasley family. Lucius threatened Harry Potter, reminding him that he would soon go the way of his parents. Harry Potter tricked him into freeing his house-elf Dobby by taking off one of Harry's socks, putting it on the diary, and handing the diary back to Lucius, who promptly flung the sock at his house-elf Dobby. Enraged at losing his house-elf, he tried to attack Harry Potter, but Dobby prevented him with a snap of his fingers, flinging Lucius Malfoy down the stairs. 
Harry Potter and the Prisoner of Azkaban
In Harry Potter and the Prisoner of Azkaban, Lucius Malfoy went before the Committee for the Disposal of Dangerous Creatures. He insisted that the hippogriff named Buckbeak be put down because it had attacked his son. It was here that Lucius gave the case against Hagrid and won. The ministry came to Hogwarts for the appeal and execution. Even though Lucius saw Buckbeak outside, using the time-turner, Harry Potter and Hermione were able to save the hippogriff, much to the chagrin of Lucius.
Harry Potter and the Goblet of Fire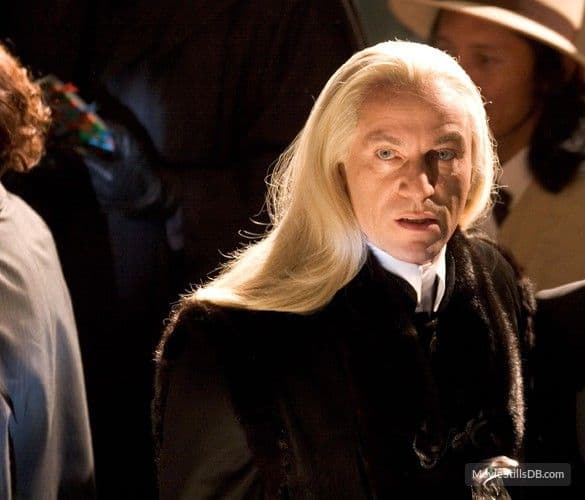 Lucius Malfoy joined his family at the Quidditch World Cup in the Luxury Box reserved for Cornelius fudge. There he found Arthur Weasley and all of the Weasley family, including Hermione and Harry Potter. In the aftermath of the World Cup, former Death Eaters, including Lucius Malfoy, put on their death masks and black robes and caused a riot by walking through the camp, setting tents on fire, and torturing the Muggle family in charge of the campground, hosting them into the air for everyone to see. The dark mark was launched into the air by Barty Crouch Jr., who was hidden in the forest at the time, and upon seeing it, Lucius fled.
In Harry Potter and the Goblet of Fire, Lucius Malfoy appears at the cemetery in Little Hangleton when Lord Voldemort is revived. He begged for forgiveness from Lord Voldemort, stating that he had constantly been on alert even though he lied to the ministry about his involvement during the first Wizarding war and was ready to be at Lord Voldemort's side at the first sign or Whisper of his whereabouts.
Harry Potter witnessed all of this and saw Lucius Malfoy's face. He told the ministry of magic everything, but they didn't believe him.
Harry Potter and the Order of the Phoenix
In Harry Potter and the Order of the Phoenix, Harry Potter saw Lucius with the minister of magic, presumably giving money in exchange for favors and information. During these multiple visits to the ministry of magic, Malfoy was able to place the imperious curse on many members of the Order of the Phoenix and other politicians. This was all done under direct orders from Lord Voldemort, who was trying to obtain a prophecy from the Department of mysteries about himself and Harry Potter. None of these attempts worked because only the people named in the prophecies were able to collect them. So Lucius Malfoy joined other Death Eaters as they waited for Harry Potter to be tricked into visiting the Department of Mysteries to save Sirius Black. 
Battle of the Department of Mysteries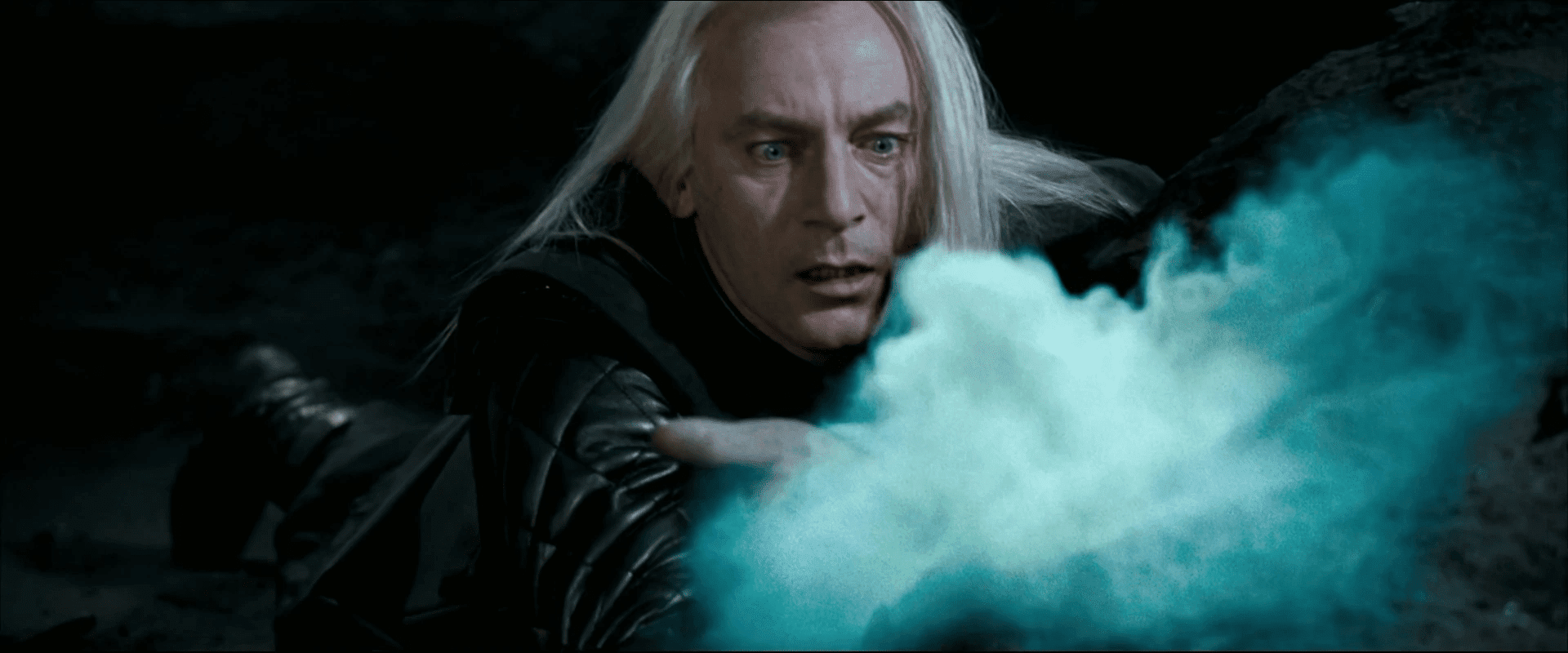 When Harry Potter and his friends finally arrived, Lucius and other death eaters were waiting for them. Lucius Malfoy tried to reason with Harry Potter, asking him to hand over the prophecy in exchange for his freedom and that of everyone else. Lucius intervened when Bellatrix Lestrange tried to torture Ginny Weasley to force Harry Potter to do what they wanted. When Bellatrix tried to curse Harry Potter, Lucius deflected her curse. As this Battle ensued, he regularly deflected curses and tried to get the prophecy from Harry Potter, reasoning with him and explaining that the prophecy had something to do with Harry Potter and Lord Voldemort. In the end, the members of the Order of the Phoenix and Dumbledore appear just in time to capture the Death Eaters, including Lucius. Ministry members appeared just in time to witness that Lord Voldemort had risen and subsequently sentenced the Death Eaters to Azkaban.
Lucius was sentenced to life in prison for what he had done. He spent the following year in prison. Harry Potter made snide remarks to Narcissa and Draco about Lucius being a loser and trying to find accommodation side by side for Narcissa to join her husband in prison. During this year, Draco was given the task of murdering Dumbledore, a task that was intended as punishment for Lucius: the death of his son. 
Harry Potter and the Deathly Hallows
One year later, in Harry Potter and the Deathly Hallows, Lord Voldemort helped Lucius escape from prison along with the other Death Eaters who had been incarcerated. It was said that after having failed to get the prophecy and accidentally giving a Horcrux away, Lucius might have been grateful for the time he spent in prison, knowing that it saved him from punishment from Lord Voldemort.
Lord Voldemort no longer favored Lucius, a position taken over by his sister-in-law, Bellatrix Lestrange. Voldemort used Malfoy Manor as his headquarters, and it was here in the basement that many prisoners were kept. Harry Potter and his friends were brought to Malfoy Manor at one point. Lucius encouraged his son Draco to correctly identify Harry Potter and his friends so that they could regain favor.
After the prisoners escaped, Lord Voldemort severely punished Lucius Malfoy. Lucius, Bellatrix, and Voldemort went to Gringott's Bank to make sure that his other Horcrux was still there. When the Horcrux was missing, Lord Voldemort slashed his wand through the air over and over, killing everyone in sight. Bellatrix and Lucius only survived by throwing other people in front of them and racing for the door.
During the final Battle of Hogwarts, Lucius asks Voldemort for a break in the fighting and an opportunity to go to Hogwarts and check that his son is still alive. When Voldemort refused, Lucius found a way to make it to the castle grounds and defect. His wife Narcissa lied to Voldemort about Harry Potter being dead. This allowed them to get back to Hogwarts and find their son, which ultimately led to Voldemort's death.
After Voldemort's downfall, Lucius and Draco were forgiven because they had defected. Narcissa had lied to save Harry Potter's life, which meant none of the family had to serve time in Azkaban. Eventually, Draco married Astoria Greengrass, and they had a child Scorpius Malfoy. 
Lucius Malfoy Family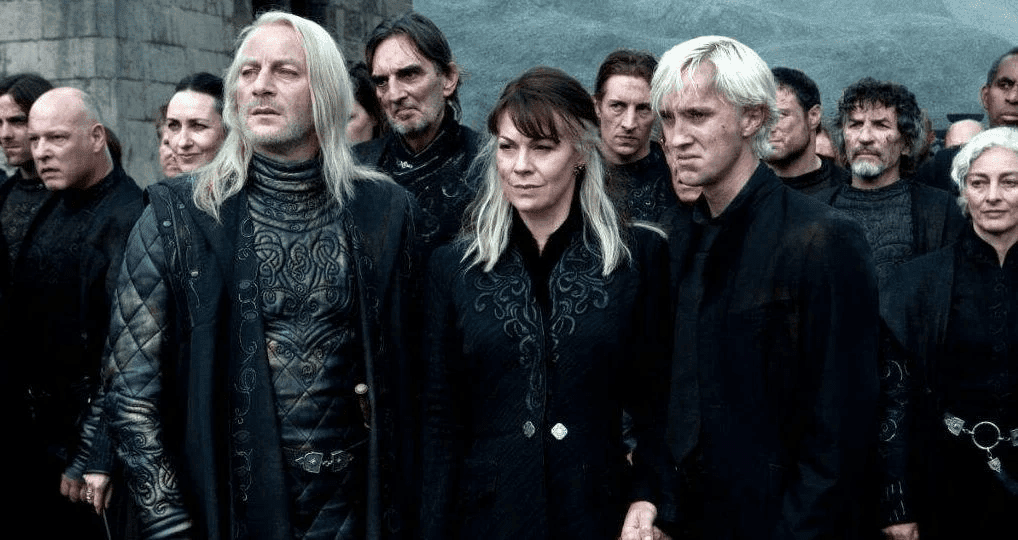 Lucius Malfoy married Narcissa Black, a member of another ancient pureblood line of wizards. Together they had a son, Draco Malfoy. Draco later married Astoria Greengrass, and together they had a child named Scorpius Malfoy.
His father-in-law was Cygnus Black II and Bruella Black through his wife's side of the family. Bellatrix Lestrange and Andromeda Tonks became his sisters-in-law. Rudolphus Lestrange and Edward Tonks were his brothers-in-law. Nymphadora Tonks was his niece-in-law, and Remus Lupin became his nephew-in-law.
Lucius Malfoy Magical Abilities and Special Skills
Like his wife, Lucius Malfoy's most incredible ability was true love for his close family. He cared deeply for his wife and son, and that love drove him to leave Lord Voldemort in the end in exchange for finding his family. He asked Lord Voldemort to pause the war so that he could see his son and tell if he was alive or not, and when Lord Voldemort refused, he defected. It was this defection that saved his family from jail time later.
Another of his unique skills and magical abilities was dark arts. He was highly familiar with all kinds of dark arts. He quickly identified things like the stinging Jinx, which Hermione Granger had used against Harry Potter before their group was brought to Malfoy Manor as prisoners. He demonstrated his ability to genuinely use the unforgivable curses, including the imperious curse he placed on Broderick Bode and Sturgis Podmore. He tortured Muggles using dark arts and owned a collection of dark magical artifacts.
He was a highly skilled duelist with an elegant technique. He fought during the first and second Wizarding Wars leading groups of dark Forces into Battle. He successfully held his own against members of the Order of the Phoenix and some of the best aurors the ministry of magic had. Other than Severus Snape, he was the only Death Eater who was confident enough to stand up to Bellatrix Lestrange, something he did on more than one occasion. He successfully blocked spells from multiple Wizards, including Bellatrix Lestrange, Alastor Moody, Nymphadora Tonks, and the members of Dumbledore's Army.
Lucius Malfoy was capable of casting nonverbal spells. He did this regularly throughout the books, especially when he was dueling.
Having been a prefect, it was clear that he was brilliant because the position of prefect was only bestowed upon the top academic Achievers in their grades. He won the respect of high-ranking bureaucrats like the minister of magic and Dolores Umbridge, undoubtedly, thanks to his intellect and skill. Horace Slughorn noted that he was very good at potions, and his ability to make certain poisons and potions earned him a place in the Slug Club.
Lucius Malfoy Wand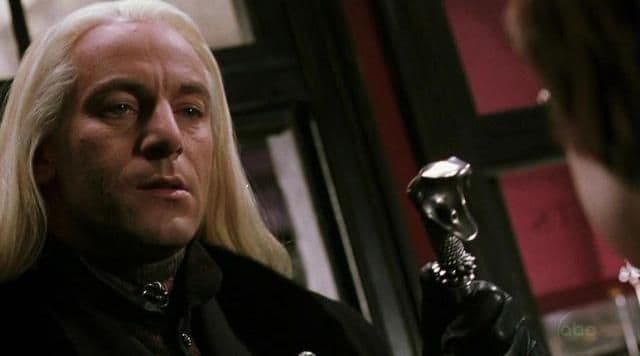 Lucius had a wand that he hid in his walking stick. It had a snake as the top, which took the form of the section of his cane that he held in his hand. This particular one was passed down from generation to generation. It was made from elm with a dragon heartstring in the middle. This one was later broken when Lord Voldemort took it for a battle against Harry Potter, and Harry Potter's wand split Lucius Malfoy's wand. He acquired a second wand, but no information is available about it.
Lucius Malfoy Trivial and Fun Facts
In the film version of Harry Potter and the Chamber of Secrets, Lucius Malfoy gets into a discussion with Arthur Weasley where he insults him and his family and leaves by saying, "see you at work," even though Lucius Malfoy doesn't work at the ministry of magic. His character regularly shows up at the Ministry but usually to donate money in exchange for favors from leadership. In the book version, he gets into a fistfight with Arthur Weasley that has to be broken up by Hagrid.
In the film adaptation of  Harry Potter and the Order of the Phoenix, Lucius Malfoy accidentally smashes Harry Potter's prophecy in the Department of Mysteries, not Neville Longbottom, as is the case in the book.
Lucius Malfoy isn't actually stated to have long hair in the books, but the actor Jason Isaacs requested his character have long hair so that viewers could easily differentiate between Draco and his father. 
Lucius Malfoy regularly protects Harry Potter even though Harry Potter is technically his enemy by stopping Bellatrix Lestrange on more than one occasion. In the Department of Mysteries, he is unequivocal that Harry Potter is not to be harmed on orders from Lord Voldemort. When Bellatrix Lestrange tries to cast spells on him anyway, Lucius steps in and protects him by blocking her attacks. Later, when Harry Potter is brought to Malfoy Manor, it's Bellatrix Lestrange who tries to summon Lord Voldemort and Lucius who stops her and argues that he should be the one to get the glory for capturing Harry Potter.
It's thought that the walking stick Lucius Malfoy uses contains magical powers itself, much like the magical powers contained in the walking stick used by Alastor Moody. In the film version, you can see Lucius using his walking stick during the Battle of the Department of Mysteries comment until Harry disarms him.
In the film version of Harry Potter and the Chamber of Secrets, when Lucius Malfoy is leaving Dumbledore's office, the actor ad-libbed a line to which Daniel Radcliffe responded in turn unscripted. The actor said that he felt it was completely uncharacteristic of Lucius Malfoy ever to let Dumbledore have the last word, which is why he added something before exiting the room.
Similarly, when Lucius Malfoy tries to attack Harry Potter and curse him for losing the Malfoys house-elf, the script simply said that the actor should adlib a curse, but it didn't have a specific curse written. The actor started to say "Avada kedavra," one of the killing curses that had yet to be introduced at that point in the plot. This was the first spell that the actor could think of. 
The character of Lucius Malfoy was supposed to be present at the execution of Buckbeak, where he would later display rage at the fact that Buckbeak had gotten away, but the actor was unavailable for filming, so his part was cut. 
Lucius Malfoy Appearances in Books 
Lucius Malfoy appeared in the following books:
Harry Potter and the Philosopher's Stone

Harry Potter and the Chamber of Secrets

Harry Potter and the Prisoner of Azkaban

Harry Potter and the Goblet of Fire

Harry Potter and the Order of the Phoenix

Harry Potter and the Half-Blood Prince 

Harry Potter and the Deathly Hallows
Lucius Malfoy Appearances in Films
Lucius Malfoy appeared in the following films:
Harry Potter and the Philosopher's Stone (only mentioned)

Harry Potter and the Chamber of Secrets

Harry Potter and the Prisoner of Azkaban (only mentioned)

Harry Potter and the Goblet of Fire

Harry Potter and the Order of the Phoenix

Harry Potter and the Half-Blood Prince (only mentioned and in photos)

Harry Potter and the Deathly Hallows: Part 1

Harry Potter and the Deathly Hallows: Part 2
Lucius Malfoy Quotes 
Lucius insulting Arthur Weasley:
Lucius: "Dear me, what's the use of being a disgrace to the name of wizard if they don't even pay you well for it?"
Arthur: "We have a very different idea of what disgraces the name of wizard, Malfoy,"
Lucius: "Clearly. The company you keep, Weasley … and I thought your family could sink no lower."
Lucius explaining to Dumbledore that the school governors have voted him out during Harry Potter and the Chamber of Secrets:
"Dreadful thing, Dumbledore, but the governors feel it's time for you to step aside. This is an Order of Suspension — you'll find all twelve signatures on it. I'm afraid we feel you're losing your touch. How many attacks have there been now? Two more this afternoon, wasn't it? At this rate, there'll be no Muggle-borns left at Hogwarts, and we all know what an awful loss that would be to the school."
Lucius threatening Harry Potter during Harry Potter and the Chamber of Secrets:
"You'll meet the same sticky end as your parents one of these days, Harry Potter. They were meddlesome fools, too."
When Lucius enters Hagrid's hut for the first time in Harry Potter and the Prisoner of Azkaban:
Rubeus Hagrid: "What're you doin' here? Get outta my house!"
Lucius Malfoy: "My dear man, please believe me, I have no pleasure at all in being inside your — er — d'you call this a house?"
FAQs
Question: What is Lucius Malfoy's Personality?
Answer: Lucius Malfoy was very bigoted and arrogant. He believes that his status as a pureblood and his wife made him superior to almost all other wizards. He treated most wizards he met with disdain and looked down upon anyone who had less money than him, something evidenced by his treatment toward Arthur Weasley at Flourish and Blotts as well as his snide remarks when he entered Hagrid's cabin.
Question: Is Lucius Malfoy a Villain?
Answer: Lucius Malfoy is a major antagonist who served as a Death Eater under Lord Voldemort although much like his wife, his allegiance may have dwindled near the end when he realized the true terror of following Voldemort.
Question: Did Lucius and Narcissa Love Each Other?
Answer: It is quite clear that Lucius and Narcissa truly loved each other. In fact, family, particularly Lucius and Draco, were the most important things for Narcissa. She was dedicated to her family and loved them dearly. Her husband was equally dedicated to her and provided for the family in a way that he was raised to believe was best.
====
Research Citations
IMDB. Harry Potter Full Cast. https://m.imdb.com/title/tt0926084/fullcredits/cast
Rowling, J.K. Harry Potter and the Sorcerer's Stone. New York: Scholastic, 1999. Print.
Rowling, J. K. Harry Potter and the Chamber of Secrets. New York: Scholastic, Inc., 2000.
Rowling, J. K. Harry Potter and the Prisoner of Azkaban. New York: Arthur A. Levine Books, 1999.
Rowling, J. K. Harry Potter and the Goblet of Fire. New York: Scholastic, 2002.
Rowling, J. K. Harry Potter and the Order of the Phoenix. New York: Listening Library, 2003.
Rowling, J. K. (2010). Harry Potter and the Half-Blood Prince. London: Bloomsbury. Chicago (Author-Date, 15th ed.) Rowling, J. K. 2010.
Rowling, J.K. Harry Potter and the Deathly Hallows. New York: Arthur A. Levine Books, 2007.