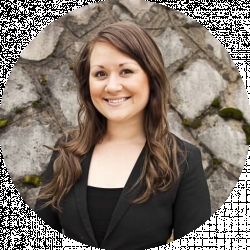 Latest posts by Lacey Jackson
(see all)
My mom has harassed me for years, begging me to photograph them with all of their dogs. Admittedly, this request was prompted by her favorite dog's tragic and unexpected passing. Regret over not having family portraits with the pets was powerful. 
We weren't going to let that happen again. However, like all family portraits, everyone, including the animals, had to match. And that sent us on a search for the best dog costumes. Finding outfits that would fit all of the pets and match the adults was quite a feat, but in the end, success was achieved.
Since then, I've continued my interest in the best dog costumes, and whenever I buy fun Harry Potter paraphernalia for myself, I consider sending the best Harry Potter dog costumes to my mom, who is also a fan, for the next family photo shoot.
The Best Harry Potter Dog Costumes: Bottom Line Up Front
The best Harry Potter dog costumes are the popular Coomour Wizard Outfit, which is the traditional Hogwarts school attire, complete with all the school accessories.
It goes around the neck, so there is no wrestling with stubborn dog feet and small holes. The House Sweaters are a great costume for year-round use, something that doesn't look as gimmicky as the Coomour and is sure to keep your dog warm. 
What Makes the "Best" Harry Potter Dog Costumes?
I made my decision based on size, function, and accessories.
Sizes
My mother has several dogs. If you ask her how many, she won't give you a number because people started making fun of that number long ago. Instead, she will say that they have "a lot."
"A lot" includes all sizes ranging from tiny pugs all the way to big Labrador and Pitbull mixes. So when she looks for cute costumes for them, she usually doesn't have to go far to find something cute for the two pugs, but it's next to impossible to find something cute for the bigger dogs.
So if you have a bigger pet, cat, dog, bird, or hedgehog, I want to ensure you have options when looking into the best Harry Potter dog costumes, just like my mom.
Function
I also know that some of our pets will happily let you put on a full-body t-shirt, while others will only sit still long enough for a necktie. So I heavily investigated the function and how each costume is attached. 
If you have a pet that won't sit still long enough to put its arms through anything but will let you put on a necktie, there are options for you. Conversely, if you have a pet that will happily pose with a full outfit complete with glasses and a hat, you'll find options too.
Accessories
Accessories may or may not be ideal, depending on your pet. My pet won't tolerate any accessories. They will happily wear a costume once it's on, but if I try to put glasses or a hat on top, those two items will be broken in about 3 seconds.
But I know not all pet owners are as unlucky as I am, and some pets really thrive on having multiple accessories, so I included a mixture of the best Harry Potter costumes with and without.
Coomour Wizard Outfit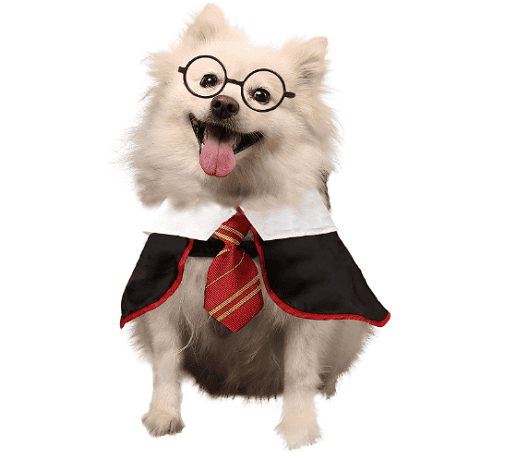 The Coomour Wizard Outfit is one of the most popular for a reason: The outfit is a pet-friendly take on the regular school uniforms that Hogwarts students have to wear.
You can choose whichever house you want, and it will come with a black cloak that connects in the front with a tiny matching tie and the trim for the collar. It also comes with glasses if you are able to get your dog to wear them.
I like that it's a breathable material, and you can throw it in the washer but be sure to measure accurately because it doesn't have a lot of stretch to it. 
Pros
Comes in four sizes which are measured by neck size.

You can choose from eight design options for each of the houses.

It is machine washable. 
Cons
It doesn't stretch, so be sure to measure it correctly.
House Sweaters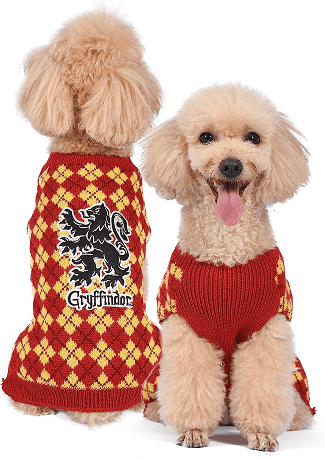 These House Sweaters come in all four houses. No matter which one you pick, it has the spaces in the front for the two front paws, goes over the neck, and then runs down the back. They featured the house crest and colors in a hand-knitted design that is truly stunning.
I like that it's made with acrylic because you can toss it in with the rest of your laundry. You just have to make sure you put it out to dry instead of tossing it in the dryer. It's also much stretchier than other costumes.
Pros
These are much thicker and more intricate than most of the costumes that look just like costumes. You can easily have your dog wear this all year round. 

They have all four houses.

They are acrylic, knitted sweaters, so you can toss them in the wash. 
Cons
They have four sizes but start at x-small, so really, they cater to smaller dogs. 
Hoodie with Faux Scarf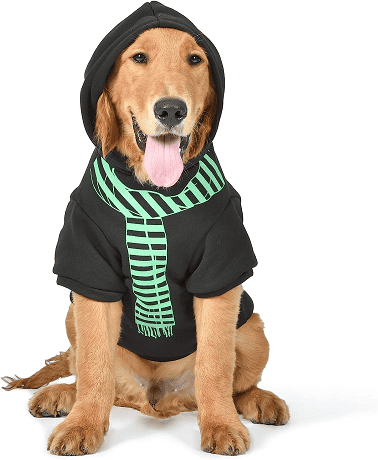 If your animal won't sit still for a lot of extra accessories, the Hoodie with Faux Scarf is a good alternative. It looks as though it has accessories like the scarf, but it doesn't.
The scarf is part of the print. This is one of the few Harry Potter dog costumes that comes with a hood, so if your dog likes to keep their head warm in the winter, this is a good option.
Pros
It comes in several sizes, so you can get matching outfits for the biggest dogs in your family, down to the smallest puppies.

It comes with a leash attachment hole, so you can still take them for walks while wearing the outfit.

It's a breathable material, so it's best for dogs like my mom's, who live in hot weather year-round.
Cons
You can only choose Slytherin or Gryffindor House, and the Slytherin print is more of a mint green rather than the dark green you see in the films.
Hufflepuff Tutu Set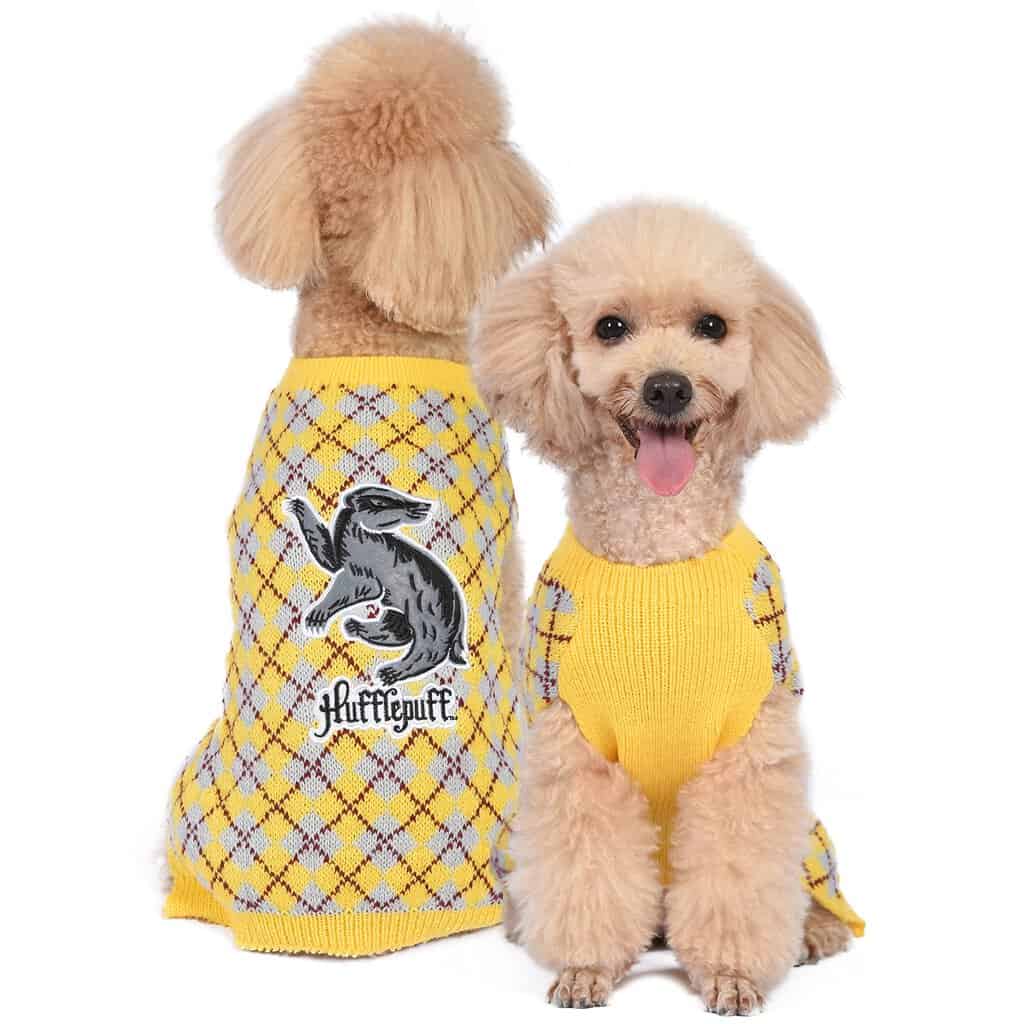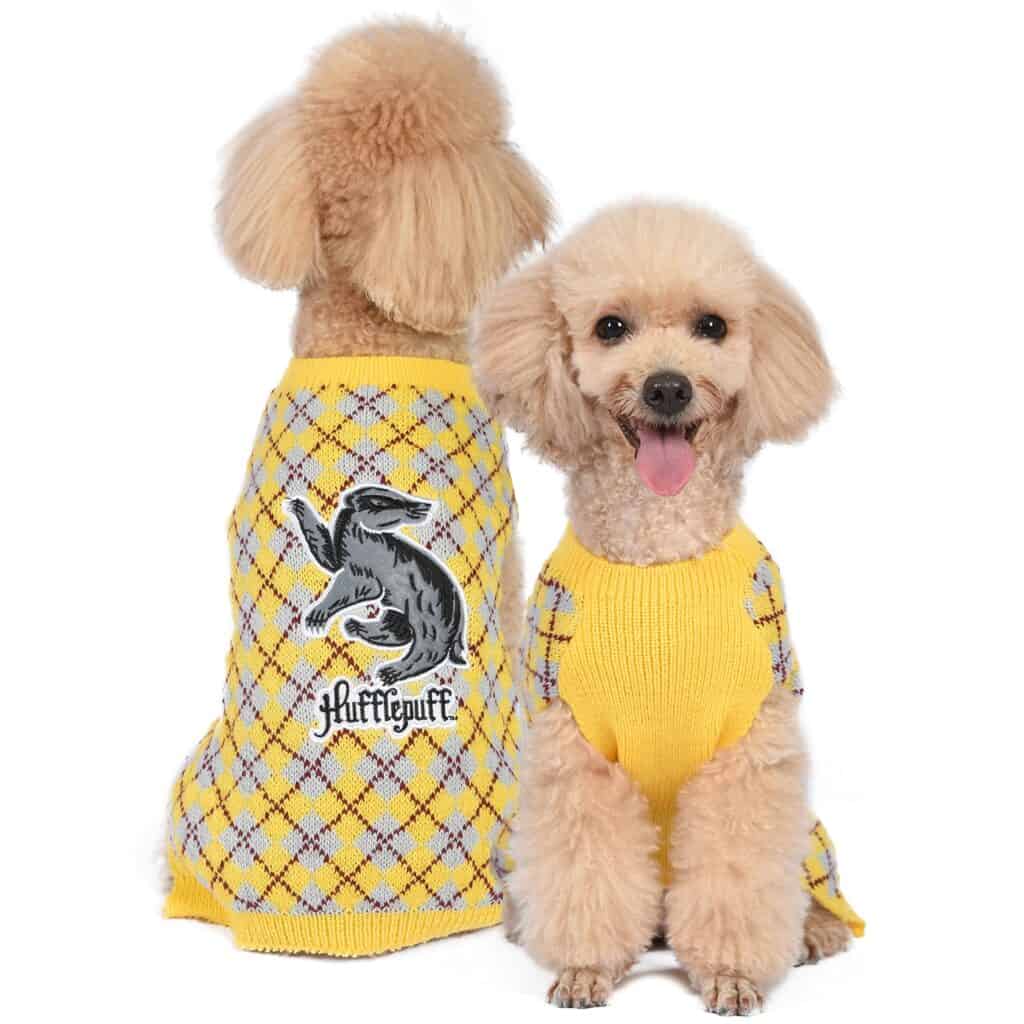 Hufflepuff really does not get enough love where Harry Potter sweatshirts, t-shirts, and other clothing are concerned. However, this seems not to be the case in the dog world, as several outlets provide Hufflepuff-specific Harry Potter dog costumes. 
Perhaps it's the calm, loyal aspect of Hufflepuff that causes most pet owners to designate their furry friends as part of the Hufflepuff house. Whatever the reason, these outfits are absolutely adorable.
The Hufflepuff Tutu Set is a two-part ensemble: a dog shirt with the Hufflepuff crest on top and a matching tutu. 
Pros
It is one of the few times you will find a distinctly Hufflepuff costume.

The shirt is handmade with a beautiful crest along the top.
Cons
The shirt is medium, and there aren't any other sizes. 
Solo Puppies Cloak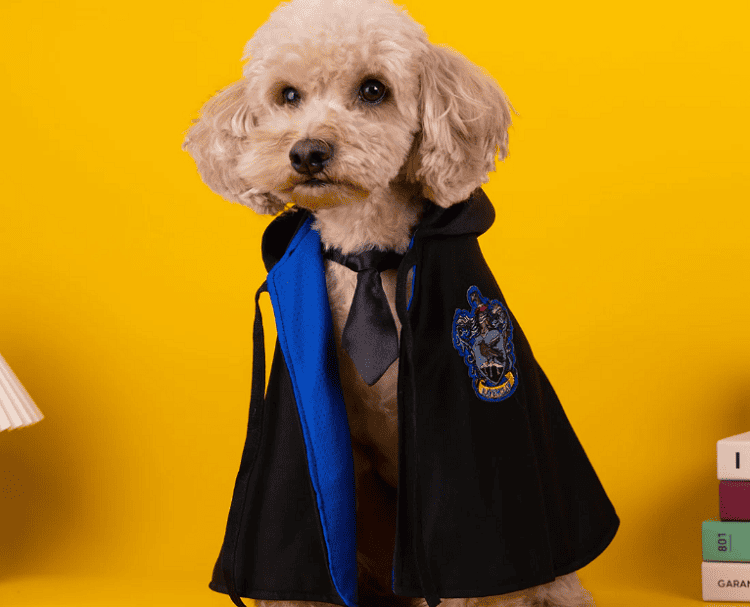 The Solo Puppies Cloak comes in all four houses, so the outside is black no matter which house you choose, but the interior lining will correspond to the four houses, as will the patch on the lower corner.
This is one of the few Harry Potter dog costumes that comes in several sizes. The cape attaches around the front but doesn't have a secondary attachment around the waist, so it's more likely to fly over its head if there's a stiff breeze.
Pros
You can choose all four houses.

It is a simple cape that wraps around your pet's neck.
Cons
There aren't other accessories to complete the outfit
Hogwarts Cape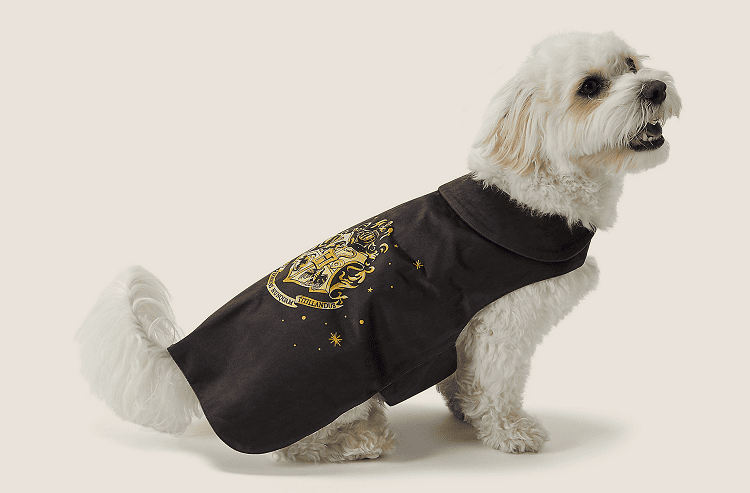 If you don't want a full costume or a shirt or sweater that you have to force your legs through, this Harry Potter Dog Cape is a great alternative. There are several sizes for all types of dogs. The costume is a cotton and polyester blend, so you can't toss it in the washer, but it is easy to hand wash. 
I own this one because one of our pets will not let us put their legs through anything, but I can easily tie the cape around their neck without issue. This one secures in front of the neck and around the waist so it won't go flying off in the Wind even if your dog goes flying on a broomstick (or Thestral). 
Pros
It is a much sturdier material than most of the Harry Potter costumes.

It's a beautiful black with a gold Hogwarts crest on top. 
Cons
The bib is velcro, so it will attract dust and other material that compromises its effectiveness over time. 
Tip: Be sure to hand wash the body of the cape and keep the velcro sections clear, or they will stop sticking as well.
House Shirts
Not everyone needs a thick, acrylic sweater, and that's where these Harry Potter dog shirts are a great replacement. They have all four houses, and each house contains the colors, names, and animals for the house rather than the full house crest. 
I really like the design of the house sweaters, but having lived in California, where we endured significant heat waves every summer, this t-shirt came in handy for the smaller dogs all year round.
Pros
You can find large sizes that fit fully grown dogs and small sizes for the Pugs or Shih Tzus among you.

It's not nearly as thick as the other costumes, so you can get away with wearing it all year round, even while the dogs play, without worrying about overheating. 
Cons
It is a very thin fabric, so if you have dogs that like to rough house, it might be the first dog costume to tear. 
FAQs
Question: How Do I Wash My Harry Potter Dog Costume?
Answer: Each of these Harry Potter dog costumes is made with different materials, and they have separate washing instructions. Some, like the acrylic sweaters, can be thrown in the washer but have to be put out to dry. Others need hand washing only because they are a polyester blend.
Question: What Size Harry Potter Dog Costume Do I Need?
Answer: Most of the dog costumes listed here are somewhat stretchy, especially if they have holes through which the dog's arms should go. In order to make sure you have the right size, measure the girth of their neck and compare it to the length of the neck opening or color for the outfit. 

Some of the outfits have neck measurements listed next to their sizing. Those that don't typically have a sizing chart that corresponds to waste measurements and neck measurements for your dogs. 
Question: How Do You Dress Up a Dog for Halloween?
Answer: If you are looking for a great Halloween costume, you can start with any number of these Harry Potter dog costumes and choose the pieces you like most. Some dogs will only tolerate a neck bandana, while others will happily wear a cape. If you're very lucky, you might be able to get the Coomour set for your dog and put on a hat and matching glasses as well.
Bottom Line
The best Harry Potter dog costumes are the popular Coomour Wizard Outfit and the House Sweaters. The first is better for costume parties like Halloween, with all the wizard accessories, while the second is better for year-round use.