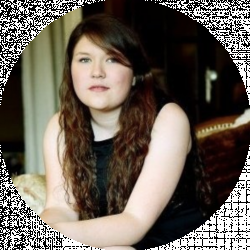 Latest posts by Kendra Gerken
(see all)
As Dumbledore said, "Happiness can be found, even in the darkest times, if one only remembers to turn on the light." Candles can light a space, bring joy, and offer cozy comfort.
The Great Hall of Hogwarts itself is illuminated with countless floating candles that provide illumination and comfort to first years as they pluck up the courage to approach the sorting hat and learn their house.
Alongside their incandescent glow, candles provide scents that evoke emotions and transform a space. This holds true about Harry Potter candles that have the potential to bring joy to Potterheads and help us experience our favorite tale with a new sense of immersion.
With the right candle, a Gryffindor can evoke the feeling of chatting with friends in the common room. Or perhaps smell the effects of Molly Weasley's cooking on an early morning breakfast at the Burrow. Nothing ensnares the senses quite like a good candle.
Bottom Line Up Front
Many Harry Potter candles are on the market, but here I have gathered a curated list of my favorites. The candle options range from those that are outright Harry Potter themed to scents that I think embody some of my favorite places in the Wizarding World. If you are looking for the number 1 pick, what I feel would win the House Cup, then it's this set from Short Story,
Short Story Harry Potter Candle Collection. This candle set caters to members of all houses, and its gem and mineral details add a flair of magic!
Selection Criteria
When searching for the perfect Harry Potter candle, it is a great idea to ensure you are purchasing quality goods. In order to do so, I check for these qualities:
Dye-Free
Soy wax or soy-coconut blend
Quality packaging
Paraffin free
Cotton wicks
Product Recommendations
For Those Who Call Hogwarts Home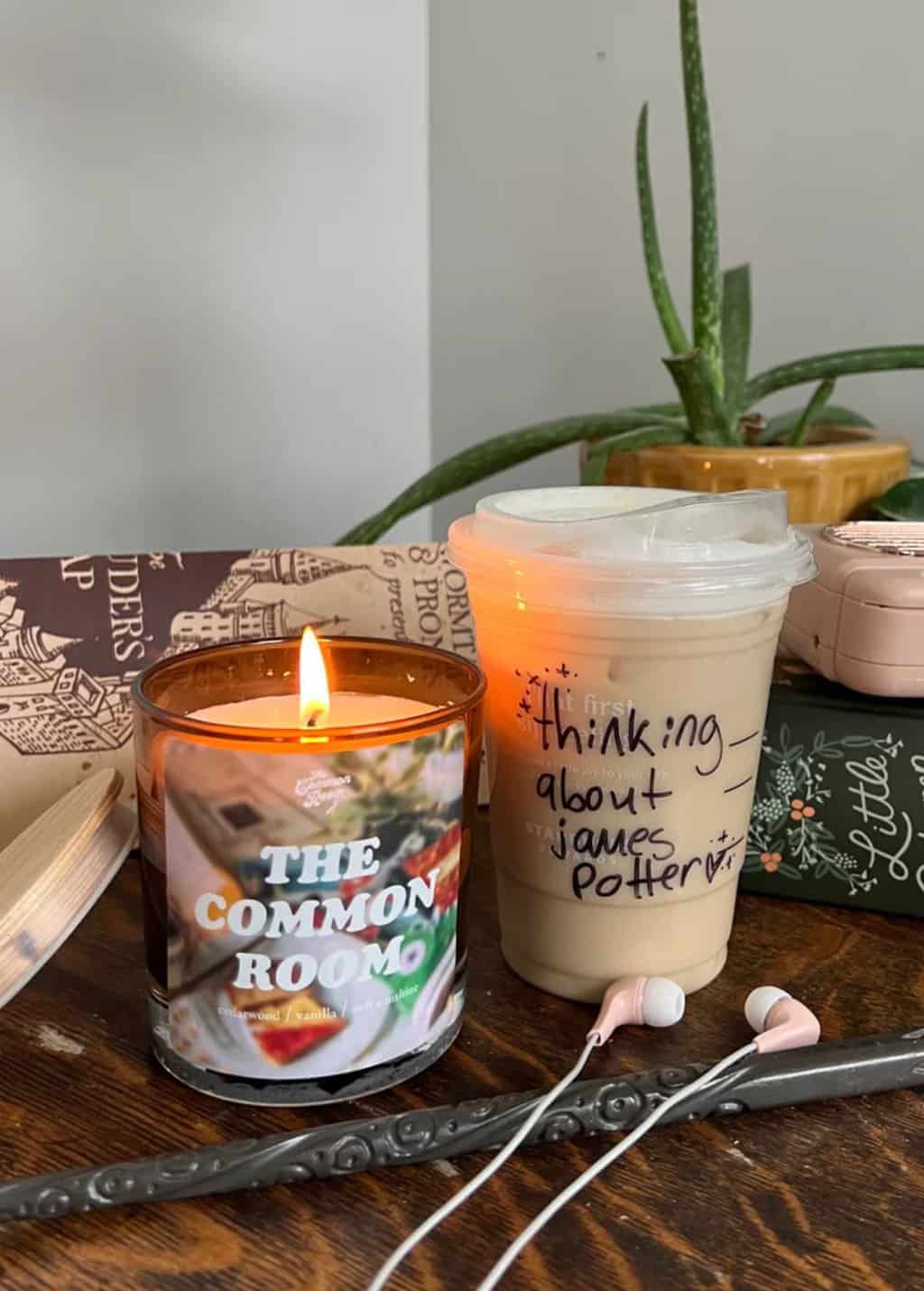 This candle gives off strong Gryffindor common room vibes. With its cozy notes of vanilla and cedarwood, I can just imagine it burning in the common room while Hermione knits hats for S.P.E.W. Constructed with a soy-coconut blend, it is the perfect addition to any Potterhead's candle collection.
Scent Profile: Vanilla, Cedarwood, and Sunshine
Pros
Soy-coconut base blend
Hand poured in the USA
Comes with a lid for smoke-free extinguishing
Cons
Only offered in an 11oz size
Shipping is not included
With only one wick, the candle is only ideal for single rooms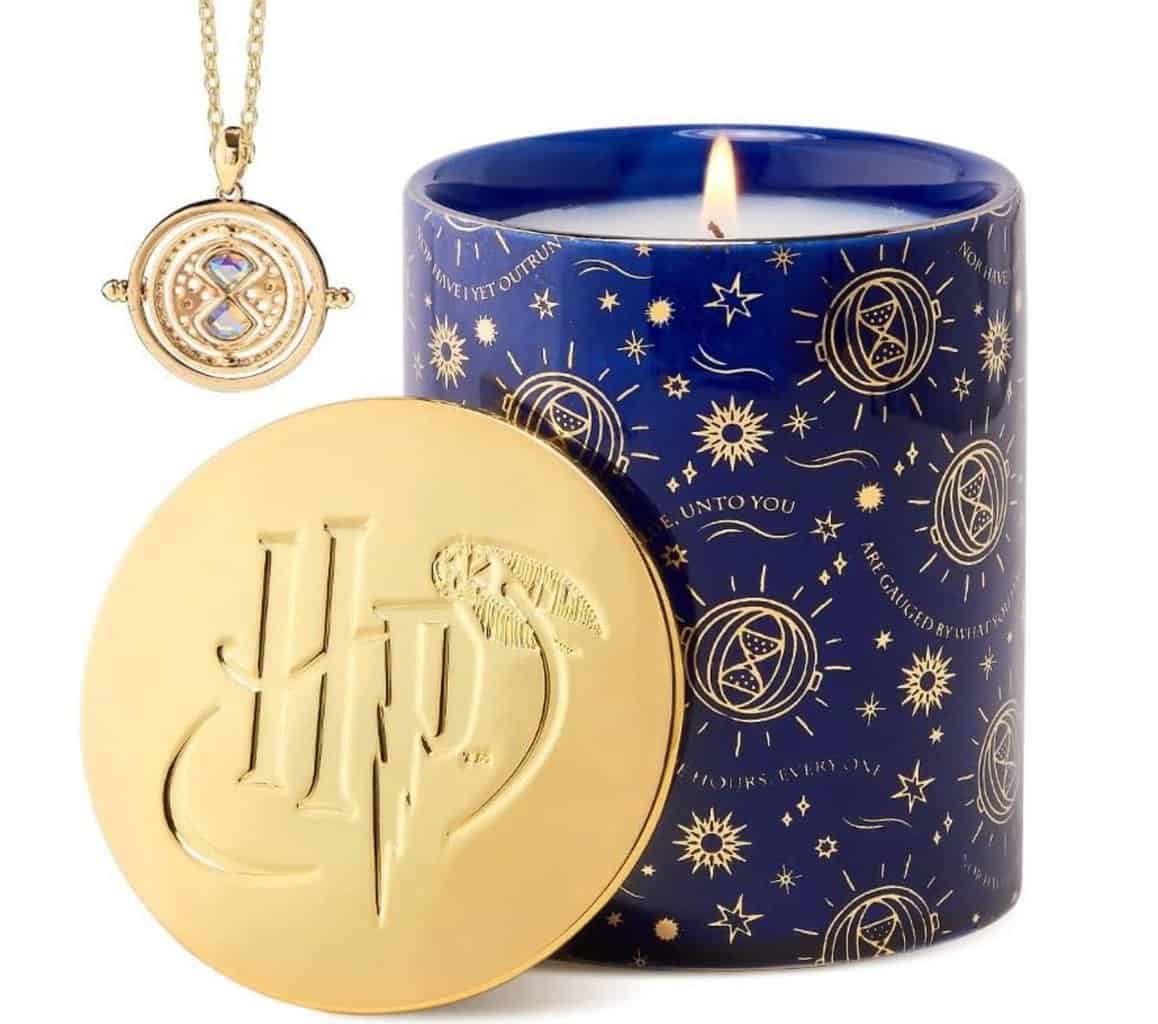 Highlighting the time turner, this candle is perfect for those whose favorite film is The Prisoner of Azkaban. It features a beautiful blue and gold design with a hidden Time-Turner necklace inside. If only we could use that Time-Turner to speed up the burning time and reach the hidden treasures inside a little faster!
Scent Profile: Plum and Red Currant
Pros
It comes with a hidden time turner necklace inside the candle wax which is revealed as it burns
Includes a lid for smokeless extinguishing
The deep blue container with gold accents makes it a great option for any Ravenclaw.
Cons
Only offered in a 10.5oz size
Higher price point than most other comparable candles
Not available in other colors that would better suit a Slytherin, Gryffindor, or Hufflepuff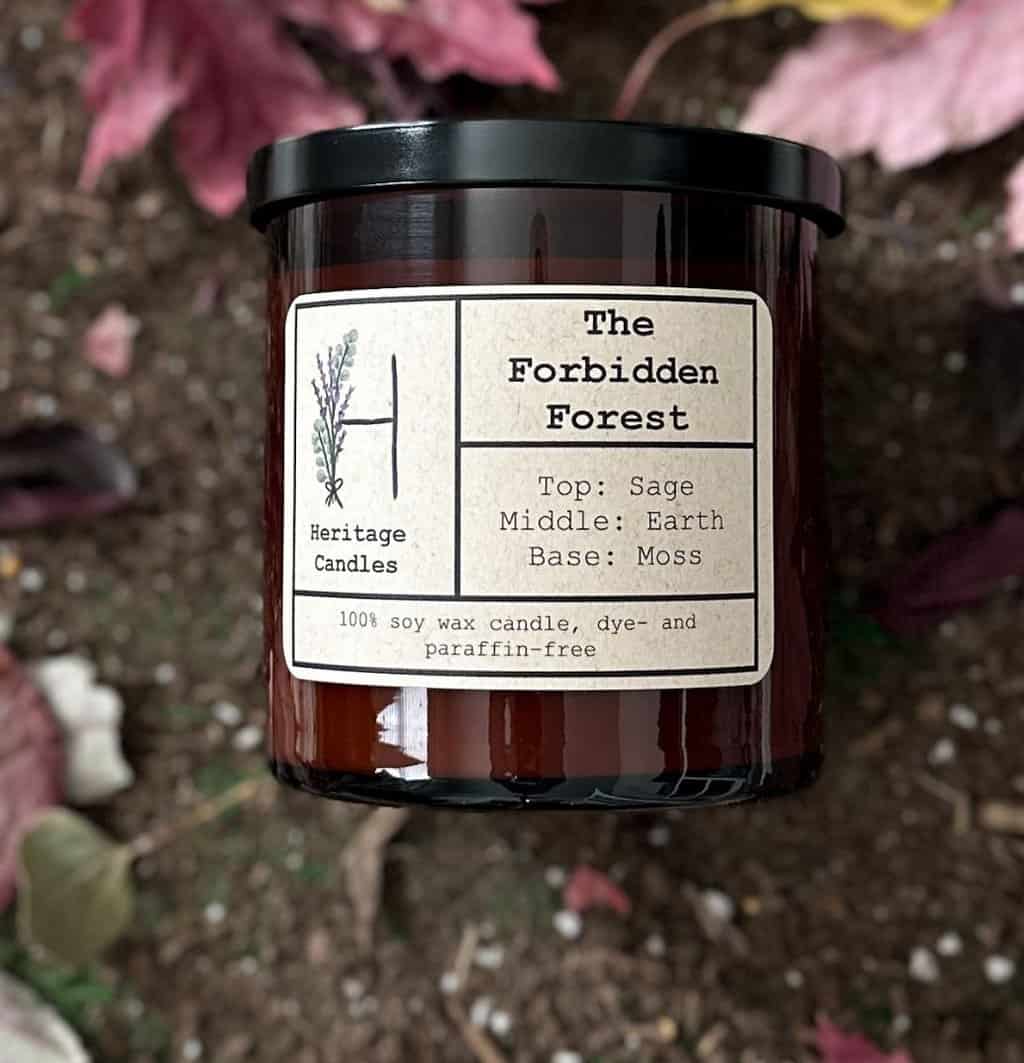 I love the amber glass of this candle. It is perfect for those who prefer a herbology classroom look in their Harry Potter merch. With notes of earth, moss, and sage, I imagine this is what Neville Longbottom would smell like after a day spent in the Herbology greenhouse working with Professor Sprout on replanting the Mandrakes.
Scent Profile: Earth, Moss, and Sage
Pros
The perfect aesthetic for those who love Herbology class
Paraffin-free, 100% soy candle
Dye-free
50-hour total estimated burn time
Cons
Must trim wick 1/4in. after each burn per candle instructions
Recommends only a 4-hour burn time per session
I wish this scent were presented as an Herbology candle, as I feel the scent profile fits that well. In contrast, I would like to have seen darker/spookier packaging and scents paired together for a Forbidden Forest candle.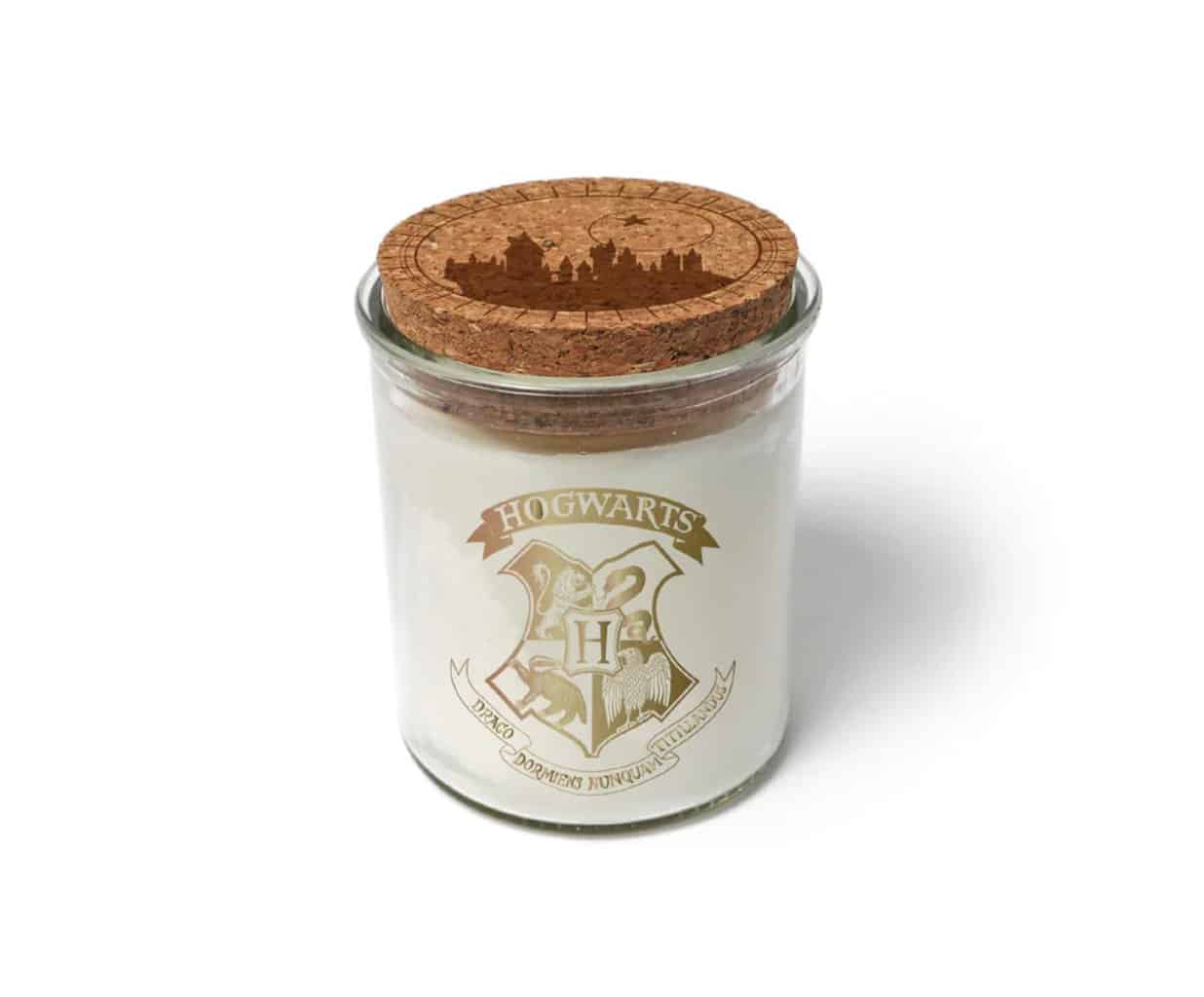 The cork lid of this Hogwarts-themed candle sets it apart from many others. It features neutral color tones until lit. Once it burns, it will reveal one of the Hogwarts house colors. This candle is perfect to gift to a new Harry Potter fan. Use it to help them be "sorted" into their Hogwarts house as it burns to reveal one of the four house colors!
Scent Profile: Unscented
Pros
Unscented for sensitive noses
Exciting house color reveal as it burns
Coco wax
Cons
Only available in a small size
You cannot select the house color you want to appear as it burns
I wish this was also available in a three-wick design, as I feel the color reveal would be more exciting that way!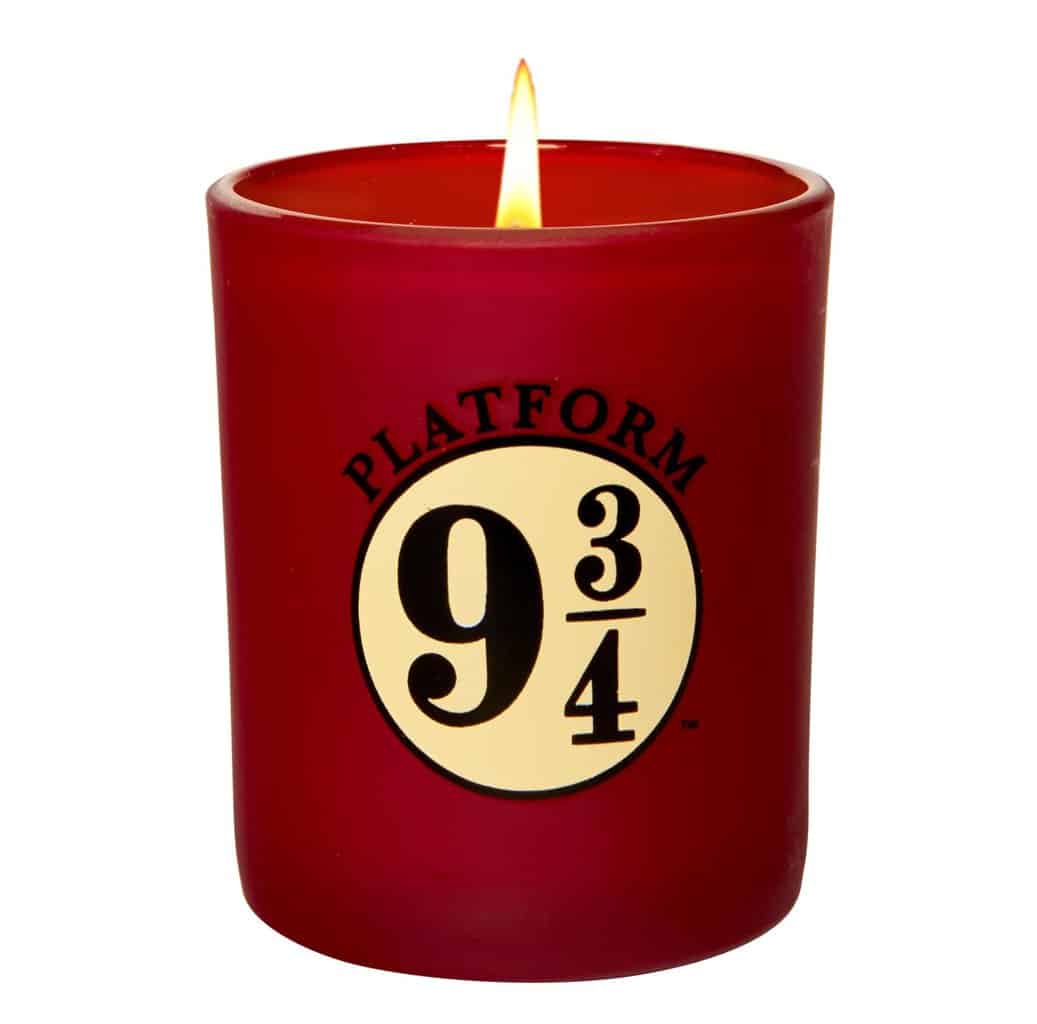 This candle is perfect for those who treasure the journey more than the destination! With classic Harry Potter imaging and no scent, it makes a great gift to remind Potterheads of the Hogwarts Express and the joy that can be found in returning to Hogwarts for another year of adventure, weather that is through the pages of a book or on the silver screen.
Scent Profile: Unscented
Pros
Coco-soy wax blend
Classic Harry Potter 9 ¾ symbol
Scent free
Cons
Only available in small votive size
Imaging is only on one side of the candle, making it great for a bookshelf but not ideal for a coffee table or more prominent space
Not soy based wax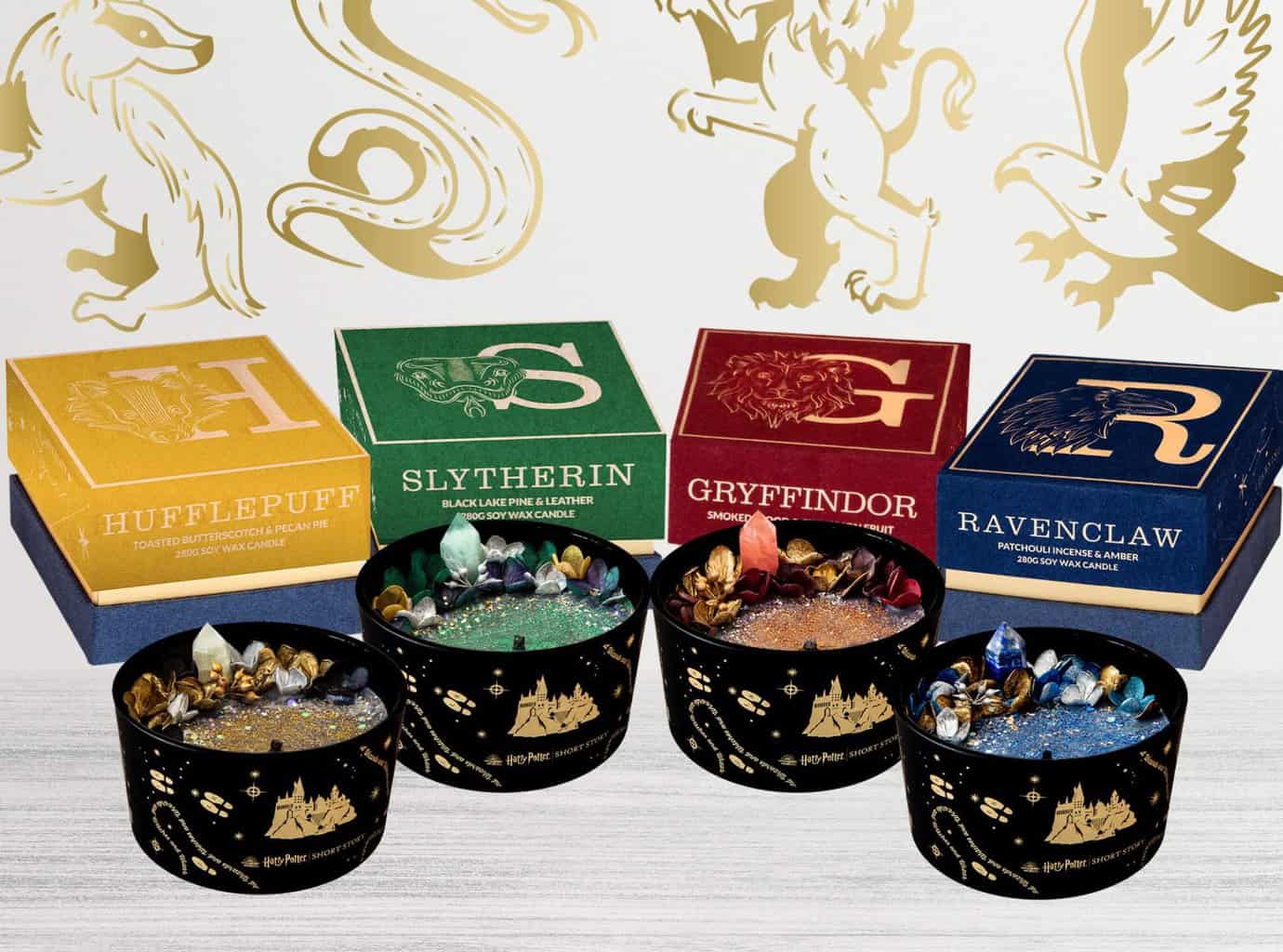 This is the best set of Harry Potter candles by far! It features gorgeous packaging, incredible gem and mineral details, and a separate candle choice for each Hogwarts house!
Of all the candles I have surveyed, these by far outshine the rest in terms of design, uniqueness, and overall magical feel. When lit, their glow only enhances the Hogwarts House color to which they correlate. In addition, the scents chosen to represent each house feel perfect for how I always imagined each common room to smell.
Scent Profile:
Gryffindor- Cinnamon and Smoked wood
Slytherin- Leather and Black Lake Pine
Hufflepuff- Pecan Pie and Toasted Butterscotch
Ravenclaw- Amber and Patchouli
Pros
Different scents that genuinely capture the essence of each Hogwarts house for each candle
Very high-quality packaging which makes them excellent for gifting
Incredible attention to detail with the design, making them stand out among other simple candle styles
Shipping time of only 3-5 days, both within the USA and internationally
Cons
High price for shipping at $25
No option is available for the Darks Arts or Death Eater motif
Only single wick options available
For Those Who Dream of Spending a Summer at the Burrow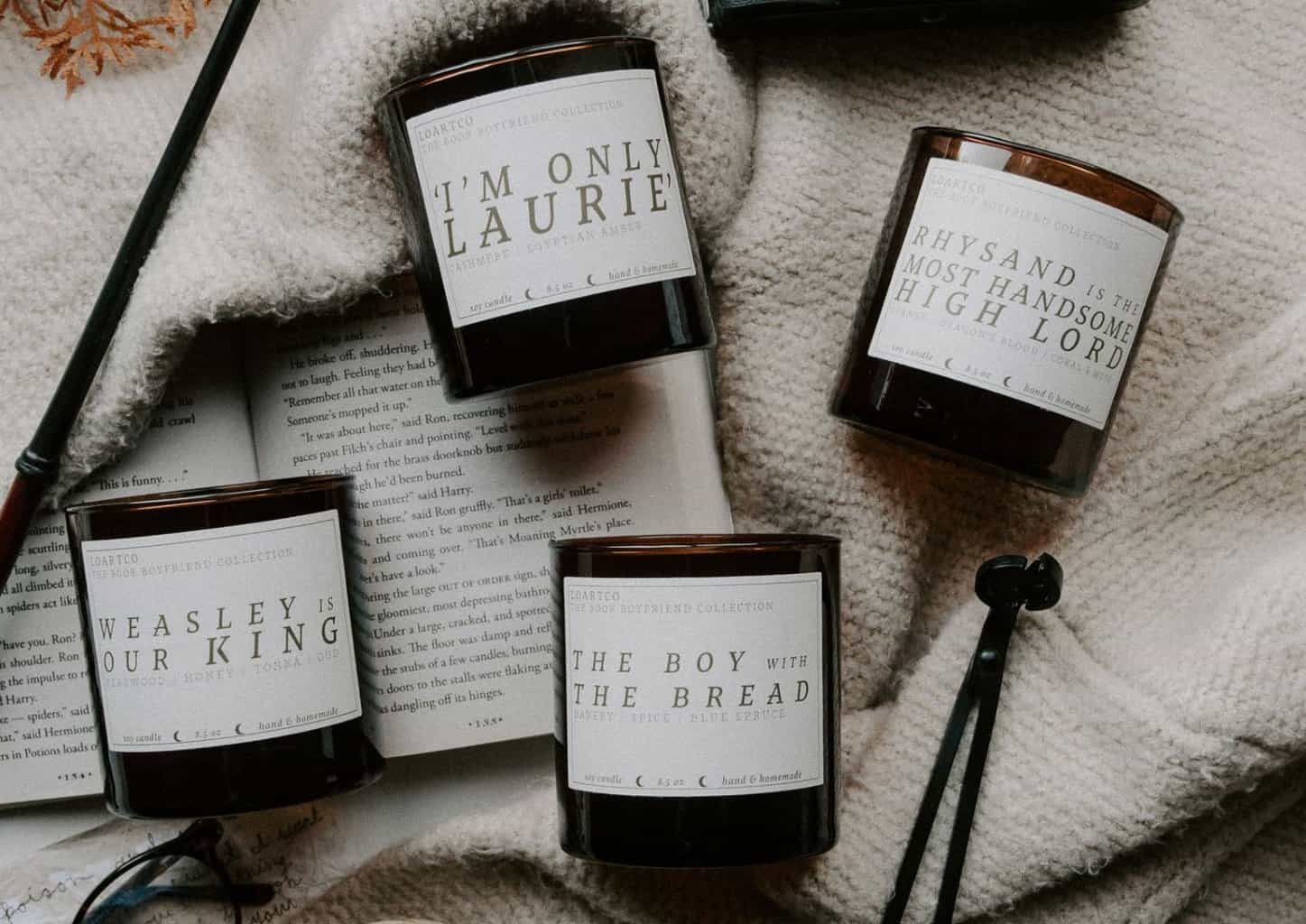 Loartco. Offers gorgeous hand-poured candles with an eye for minimalism in merch. This Weasley is Our King candle is perfect for any who loves Ron Weasley's moment in the spotlight. With notes of Teakwood and Tonka, it smells just how I imagined our favorite Keeper would!
Scent Profile: Honey, Teakwood, Tonka, and Oud
Pros
Minimalist design
Soy candle
Includes a lid for smokeless extinguishing
Homemade by hand, which adds a touch of care
Cons
Order fulfillment time of 3-4 weeks
May be sold out frequently as the creator makes them available in batches.
Only a Ron-themed candle is available from this maker, I would love to see this candle included in a set with our other favorites from the trio- Harry and Hermione.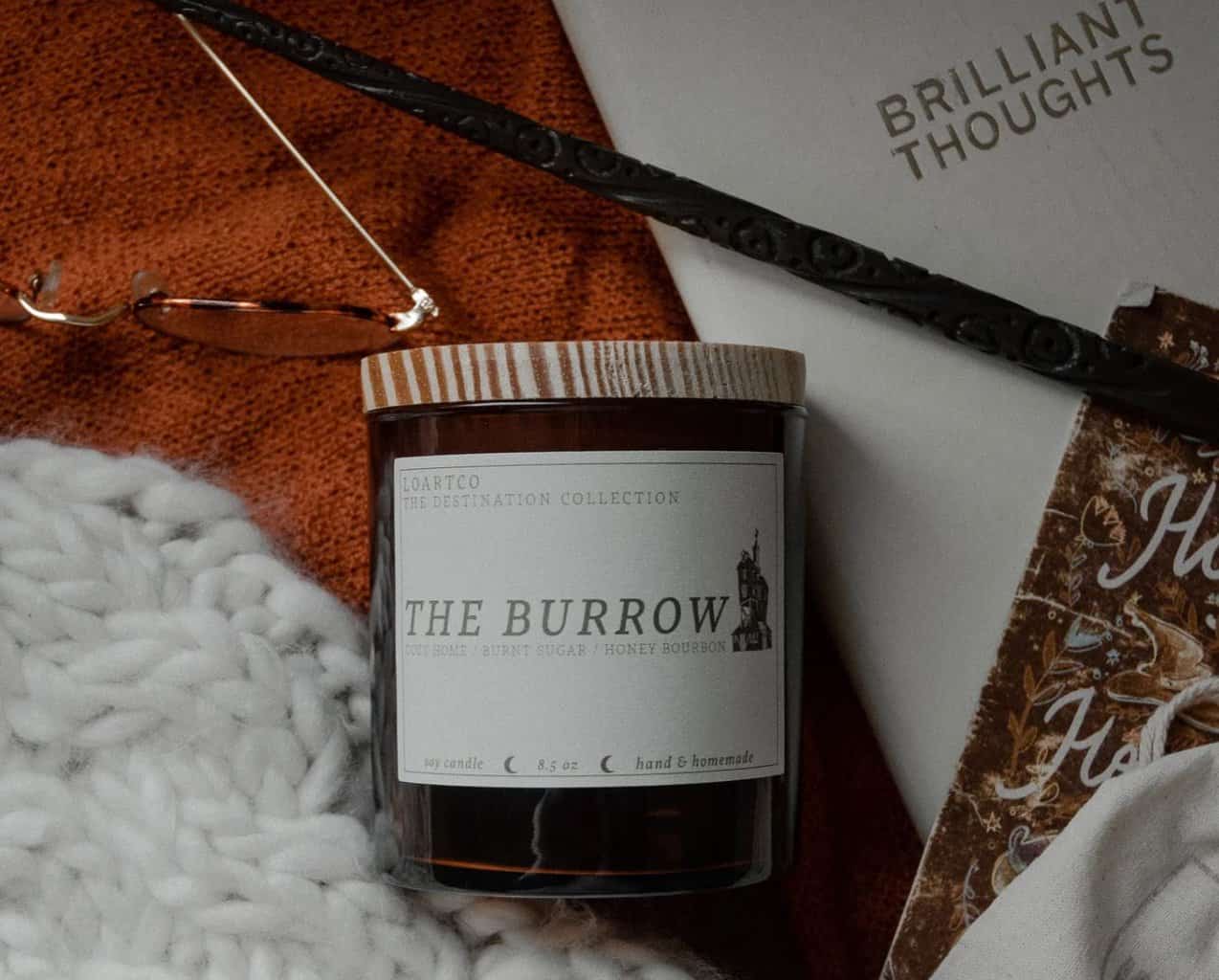 This candle is perfect for those who appreciate the Burrow for what it is- as Ron says- "it's not much, but it's home." With notes of burnt sugar and bourbon, I can easily associate it with a warm hug from Arthur Weasley after returning home from a semester at Hogwarts.
Scent Profile: Burnt sugar and honey bourbon
Pros
Features a rendition of the Burrow on the label
Soy wax composition
It comes with a lid
Cons
Slow production time
Only available in a single wick design which limits the dispersal of scent throughout a large space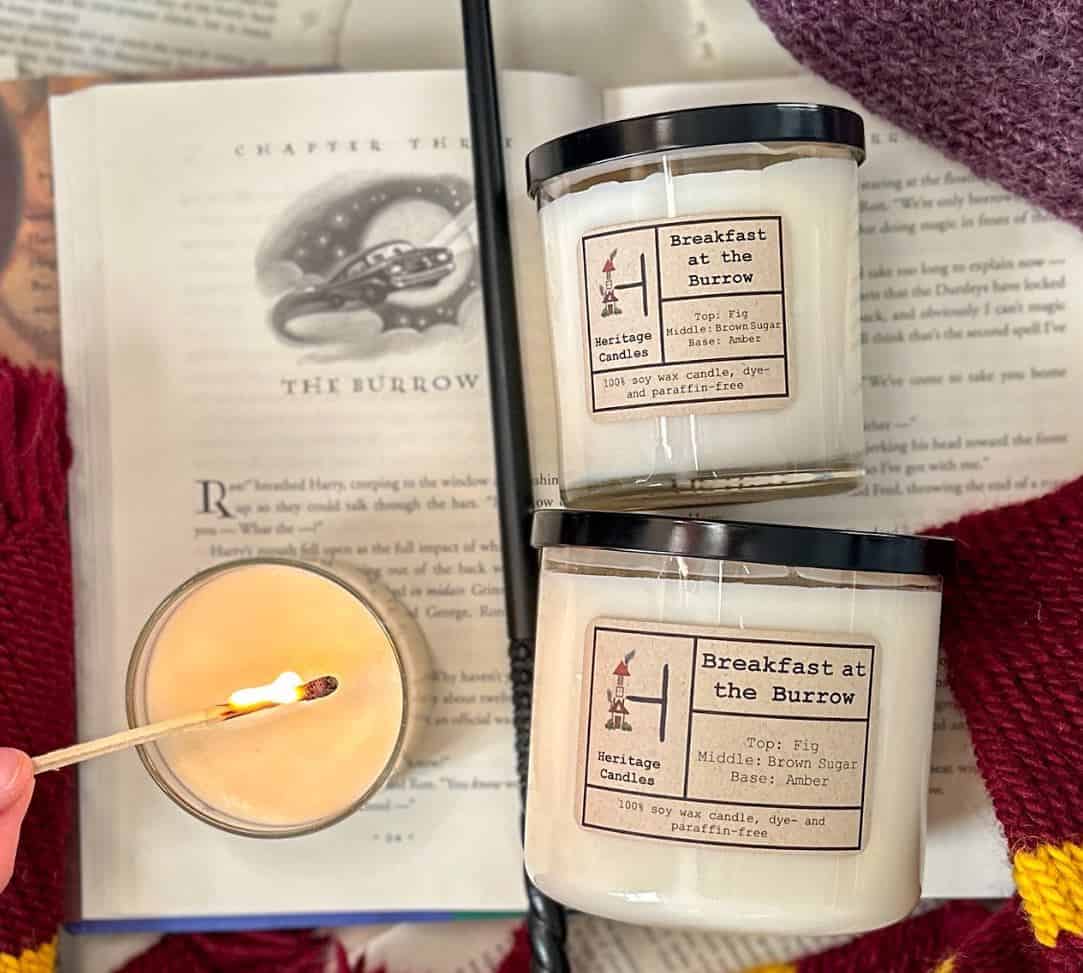 Breakfast at the Burrow features a neutral design that perfectly fits the cozy aesthetic of the Weasley home.
The scents of amber, fig, and brown sugar bring to mind Molly Weasley cooking in the kitchen with pots and pans flying around the room washing themselves as she rolls out dough for a puff pastry to make pumpkin pasties for a sweet breakfast treat. Nothing beats the smell of home cooking first thing in the morning.
Scent Profile: Fig, Brown Sugar, Amber
Pros
It comes in multiple sizes, 4oz, 8oz, or 16oz
Paraffin-free
Dye-free
The triple wick option is great for large spaces
Essential Oils used for scents
Cons
Slow shipping times
Difficult website to navigate to make purchases
Must trim wicks 1/4in. Between burns to ensure an even burn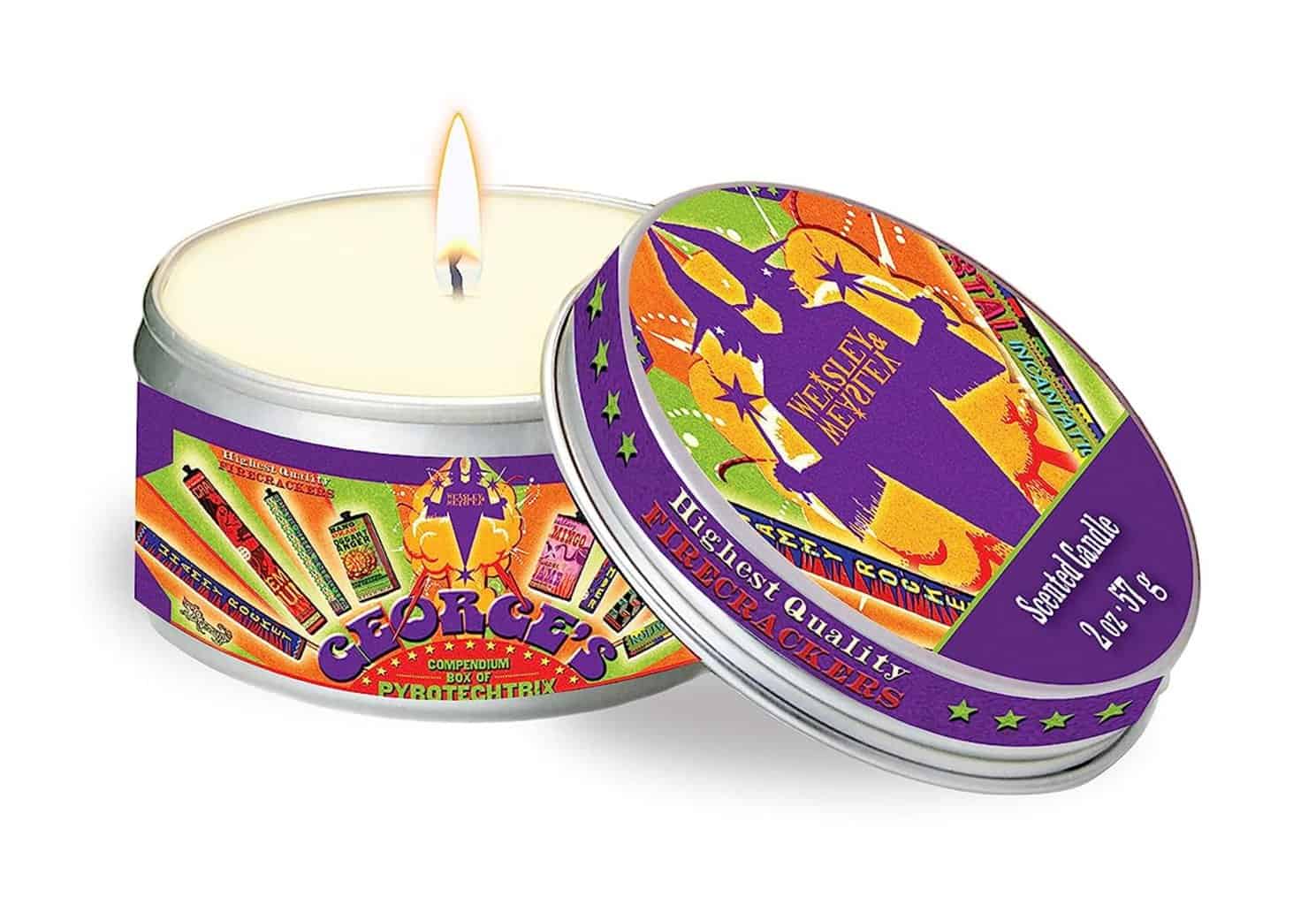 A colorful tin candle is a perfect design to embody the bright inventions found within Weasley's Wizard Wheezes shop. As such, this candle makes a fine addition to any Weasley display alongside some Skiving Snackboxes!
Scent Profile: Mint
Pros
Colorful design
The cheerful and bright mint scent fits the energetic Weasley twins
Design can be used as decoration long after the candle is completely burned
Cons
Small size, which is really only suitable for burning in a small space
Can be difficult to find in stock, so the best bet is to purchase on Amazon or Insight Luminaries
Tin container, which isn't as preferable as a glass.
For Those Making Polyjuice in the Girl's Bathroom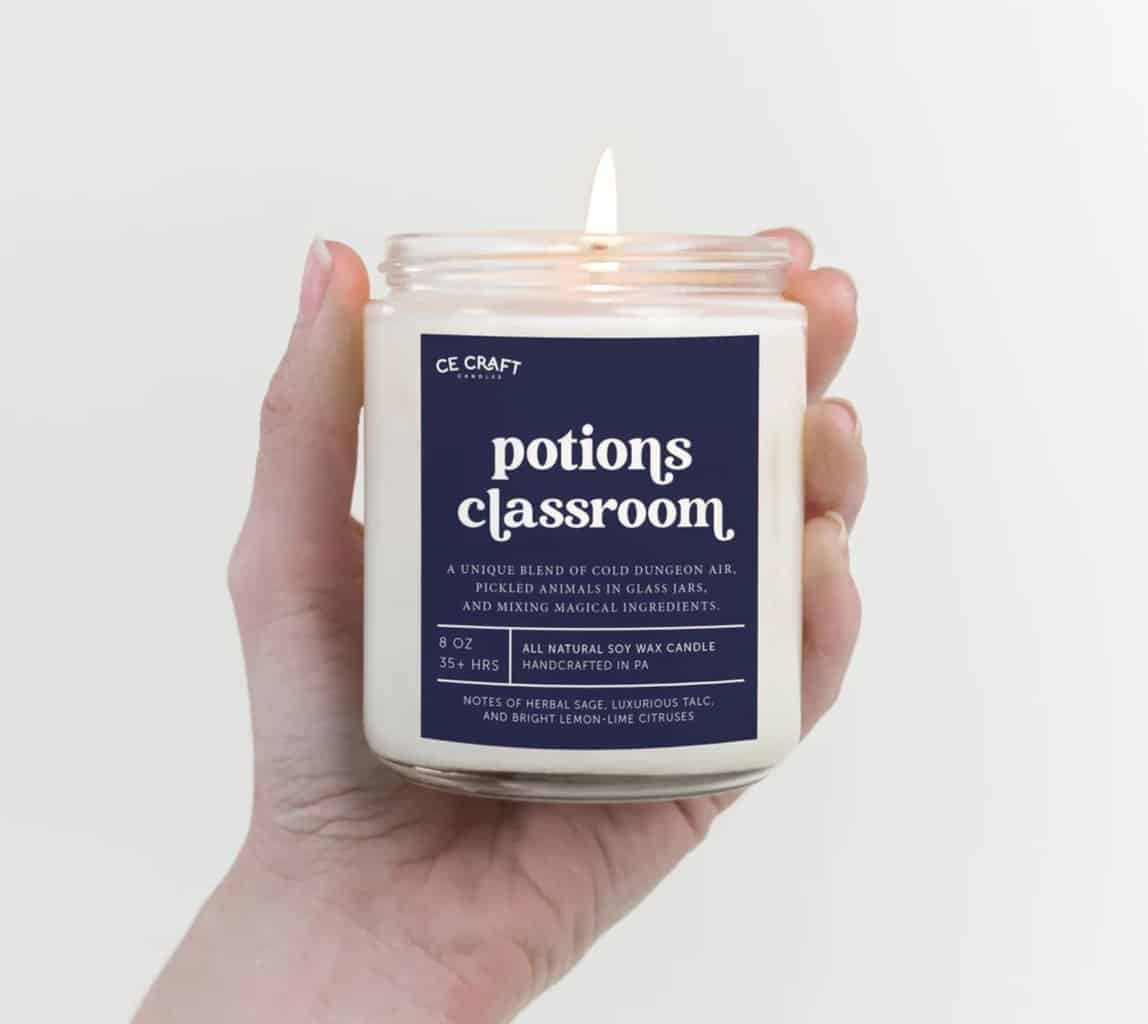 The minimal design of this candle label makes it the perfect pick for someone who enjoys subtle Harry Potter merch in their home. I love the cheeky on the label: "a unique blend of cold dungeon air, pickled animals in glass jars, and mixing magical ingredients." Sounds delightful, but I much prefer its actual notes of citrus and sage!
Scent Profile: Lemon-lime citrus and Herbal sage
Pros
Available in two sizes; 8oz and 16oz
Vegan
Handcrafted in Pennsylvania
Cons
Only available in one color
Only has an average of 35 hour burn time
Available in single-wick options only, which isn't ideal for large spaces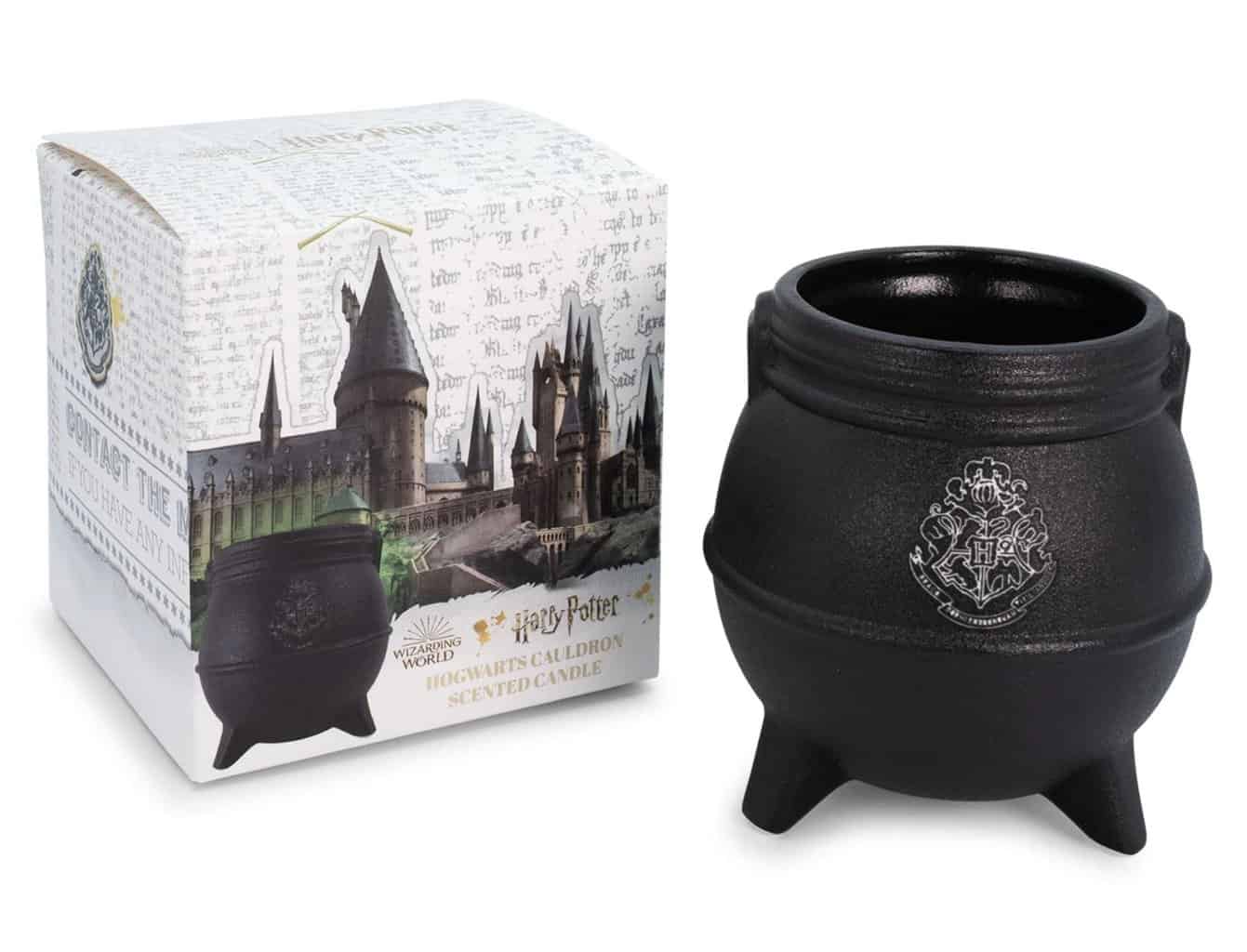 A cauldron that could be seen on any Hogwarts student's school supply list, this candle would make a great addition to any potion-masters bookshelf. I love that it features a green wax that reminds me of Harry, Ron, and Hermione brewing and ingesting Polyjuice potion in their second year at Hogwarts.
Scent Profile: Eucalyptus, Clove, Cypress, and Cinnamon
Pros
50-hour burn time
Soy wax
Great scent profile that is both clean and spicy- perfect for any potion
Reusable container
Cons
Does include dye
Small size cauldron, I wish it was available in a larger size to make more of a design statement
Subpar packaging makes it less ideal to gift
For Those in Their Marauders Era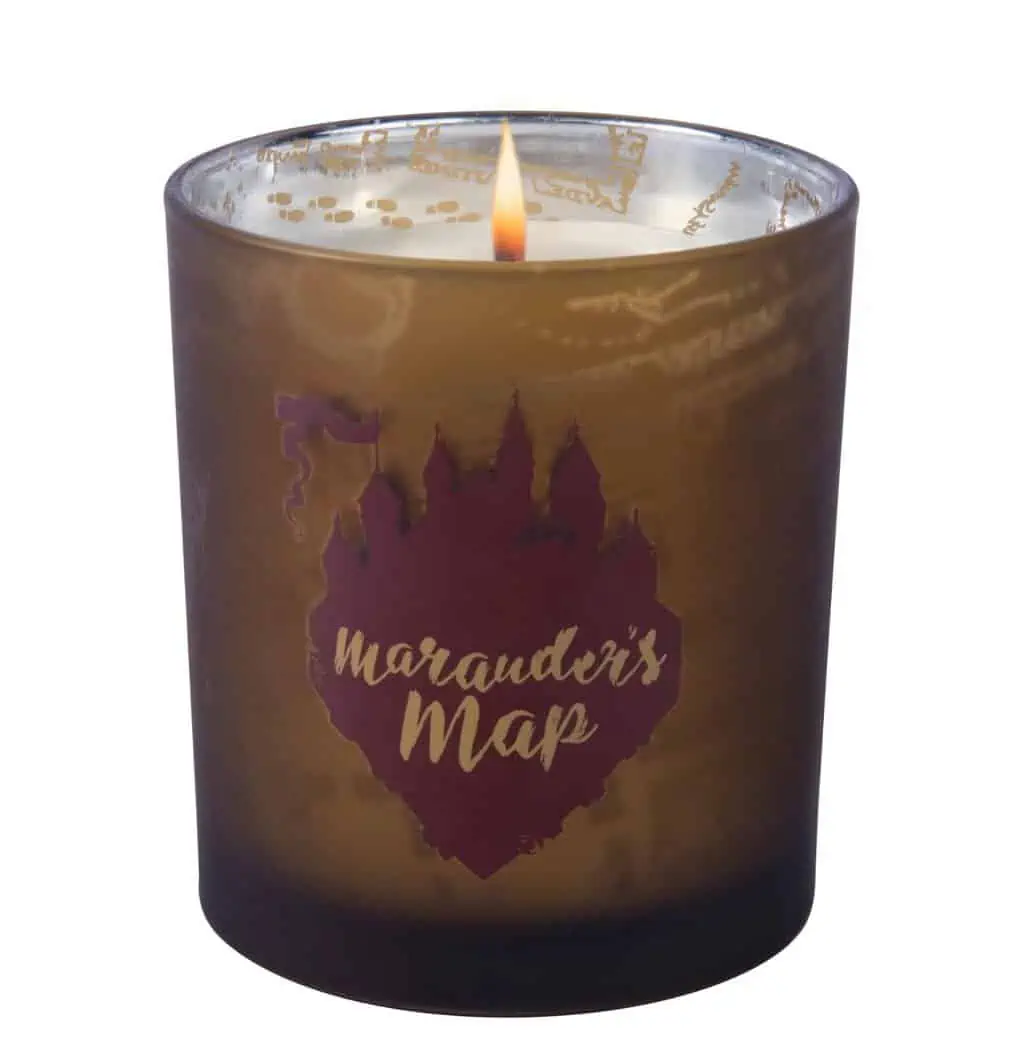 This candle features Marauder's map design. When lit, the map's hallways are revealed- Couldn't hurt to throw in "I Solemnly swear I am up to no good" as you light it, too- just in case! And naturally, don't forget to say 'Mischief Managed" as you blow it out!
Scent Profile: Unscented
Pros
Features revealed when the candle is lit
Classic Marauder's design easily recognizable by Harry Potter fans
Gryffindor's red and gold color theme is perfect for Mooney, Padfoot, and Prongs.
Cons
Only one small votive size is available
No lid included
Not paraffin-free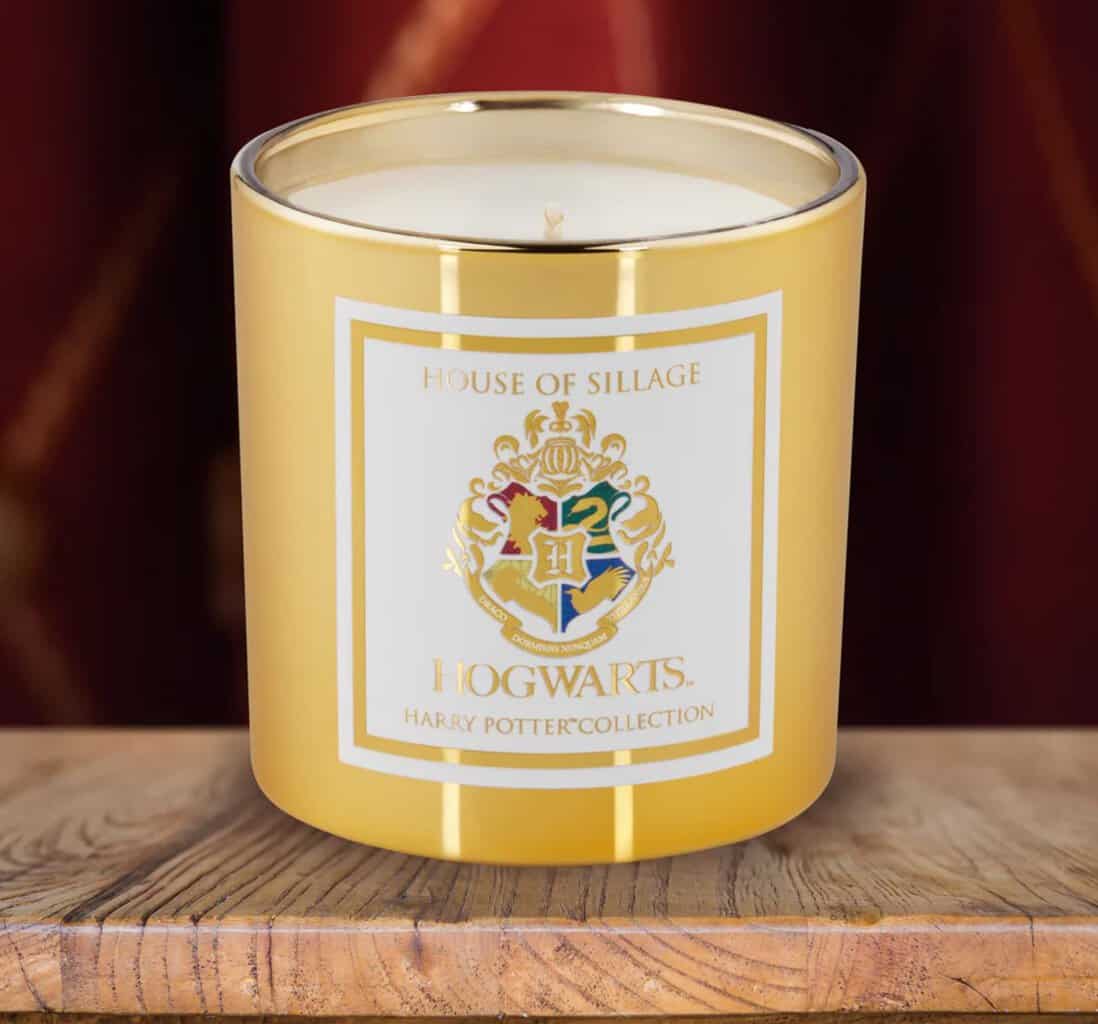 This is one of the most expensive candles on the list. It offers a high-quality Harry Potter candle choice that would be perfect for gifting to a Potterhead. House of Sillage is known for fine quality fragrances, and this candle is no exception. It boasts beautiful packaging along a side complicated and sophisticated scent profile.
Scent Profile: Clearwood, Ambergris, Ginger Blossom, Birchwood, Sweet Hay, Mandarin Sfuma, Blue Lavender, Black Pepper, and Blackcurrant Bud
Pros
Limited Edition
High quality
Made in USA
60-hour burn time
Cons
The high price point for one 8oz candle
Does not include lid
Must trim wick 1/8 – ¼ in. between burns
For a Trip to Hogsmeade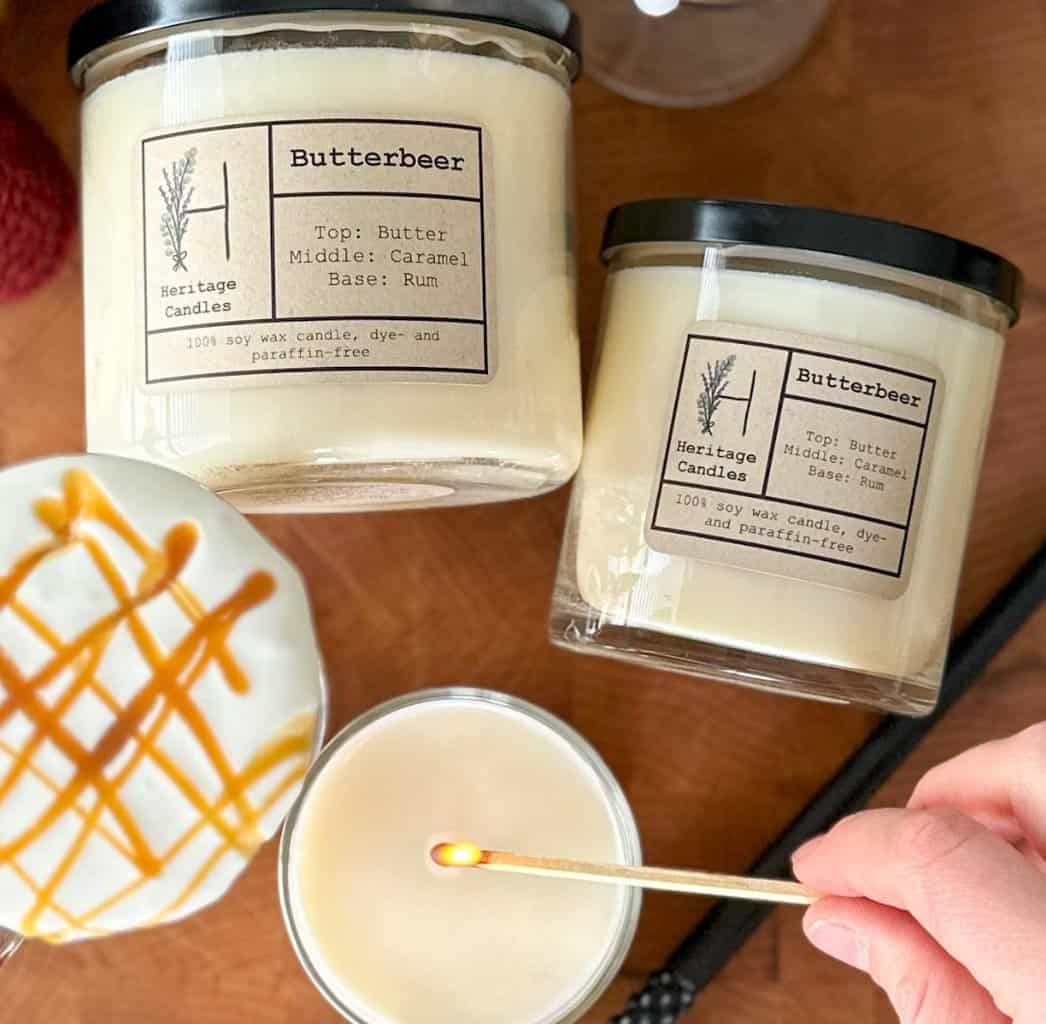 For many Harry Potter fans, Butterbeer is the perfect way to bring some of the Wizarding world into our own. With this candle, experience the smells of sitting in the Three Broomsticks as you sip on a sickeningly sweet Butterbeer.
Scent Profile: Butter, Caramel, Rum
Pros
Available in a three-wick size of 18 oz
100% Soy wax
Dye-free
Comes with a lid for each size
Cons
No small candle option is available
Recommended that you only burn this candle for 4 hours at a time
Difficult website to navigate for purchase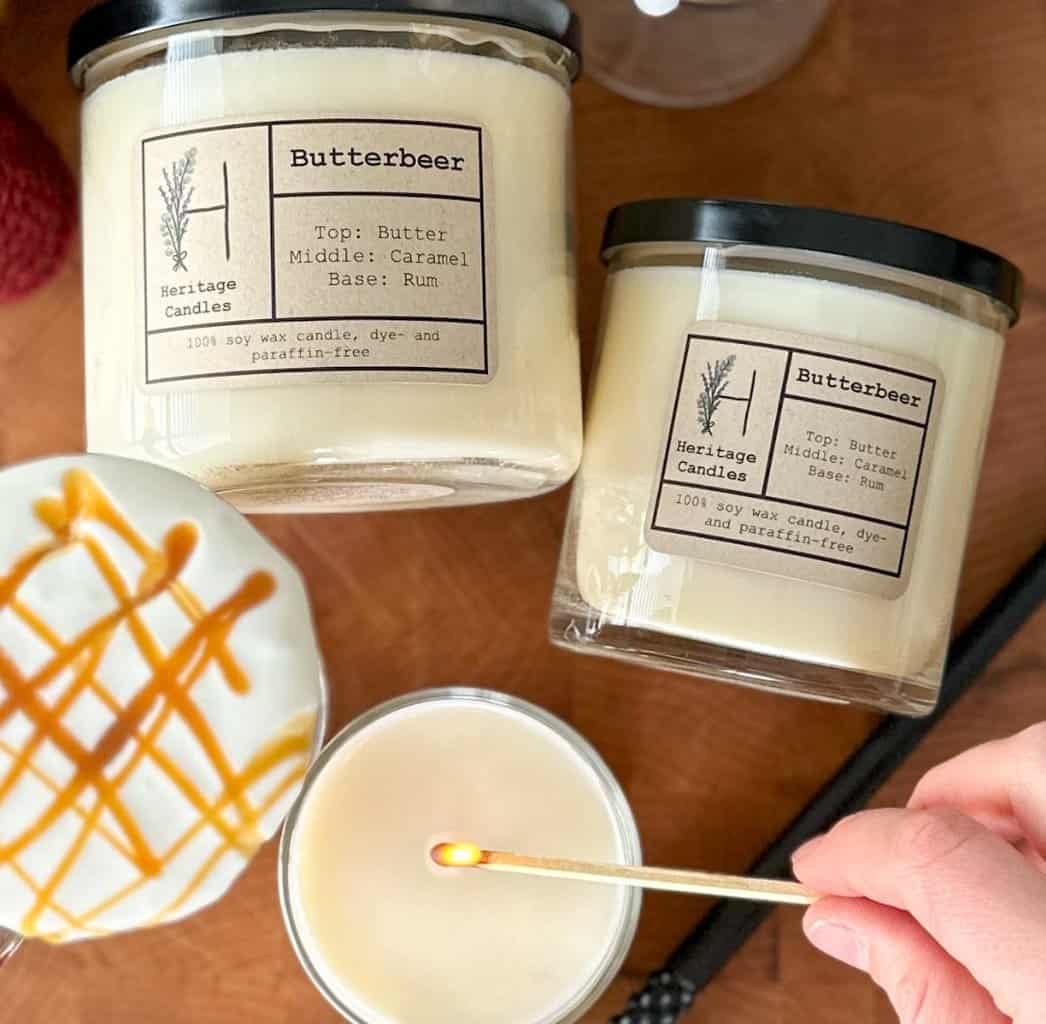 This Honeydukes candle set comes with three different single-wick candles. This set is perfect for splitting up between friends so you can all remember your trip to Hogsmeade. With candles representing Exploding Bon Bons, Chocolate Frogs, and Sugar Quills, you are each bound to find your favorite!
Scent Profile: Dessert
Pros
25-hour burn time per candle
100% Soy wax
Candles stack onto each other for cute display
Cons
Only available as a set
Metal tin containers
When split, only one candle has a lid, while two do not.
All three have the same generic sweet scent. I wish they would have correlated the scent to the Honeydukes dessert they feature on the design of the tin.
For Those Who Reside in Malfoy Manor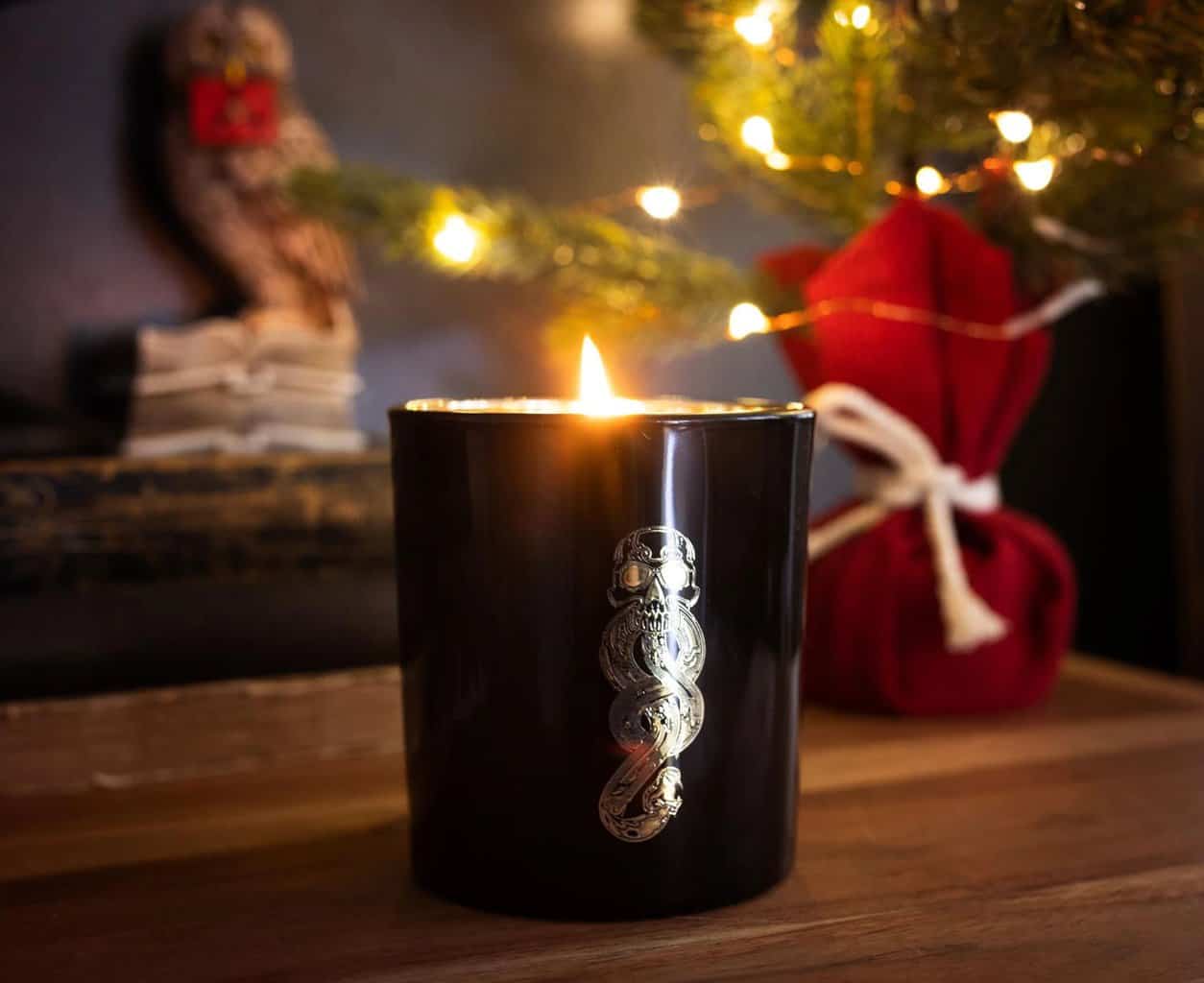 The Dark Mark is prominent on this black and gold candle. Its simplistic design and quality packaging make it an excellent gift for any Death Eater. I love that the design highlights the dark mood of the dark arts while emphasizing Tom Riddles's Dark Mark in gold. The scent profile for this candle is complex and moody, making it exude Malfoy attitude in spades.
Scent Profile: Dark fruit, Lemon, Crushed Pepper, Apple, Jasmine, Patchouli, Birch, Black Amber, Oakmoss, and Musk.
Pros
Complex scent notes
100% Soy wax
Quality packaging
50 hour burn time
Comes in nice packaging also features the dark mark
Cons
Only available a 4in. x 3in. size
Machine-made, not hand poured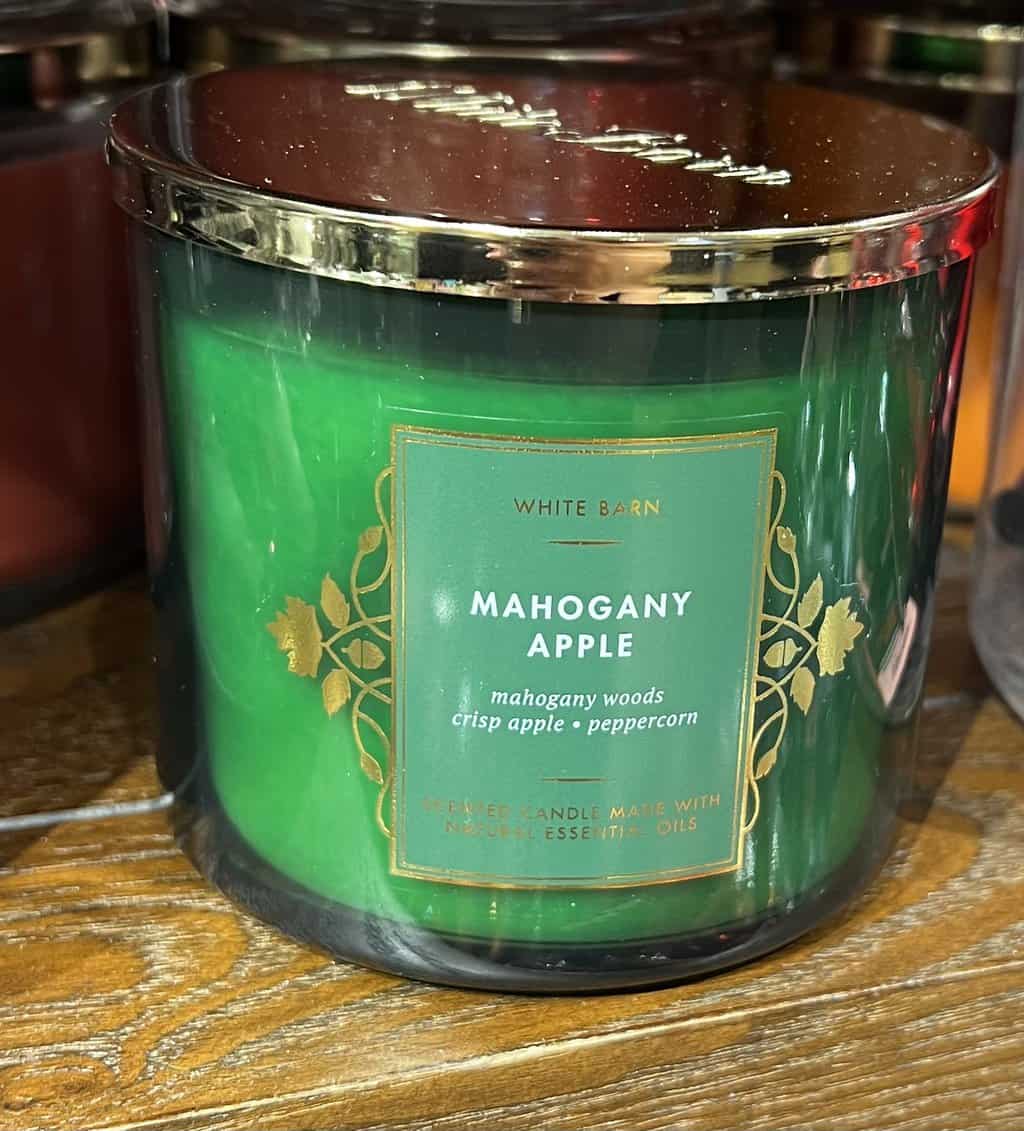 This three-wick candle from Bath and Body Works is known throughout the Harry Potter fandom as the candle that smells like Draco Malfoy.
This concept originated from the character's penchant for eating green apples. For those who aren't sure about the scent, this candle is found at almost all Bath and Body Works stores which makes it easy to smell it in person before purchasing. I will say I love how this candle smells; however, it is very potent.
I can usually burn mine for about an hour before I blow it out because the scent is overwhelming. In a way, that is a good thing because it will last for a long time and certainly scents a large room easily.
Additionally, because this candle isn't outwardly Harry Potter themed, it is a great way to add a little subtle Wizarding World magic to your home without it being blatantly Harry Potter merch.
Scent Profile: Red mahogany woods, delicious golden apple, pink peppercorn, and fresh lavender.
Pros
Easily found in stores to smell before purchasing
25-45 hour burn time
Lead-free three wicks which work well to fill a large room with scent quickly
Cons
The strong scent could be overwhelming for those with sensitive noses. I am not that sensitive to smells, but still only burn it for about an hour.
Machine-made, not hand poured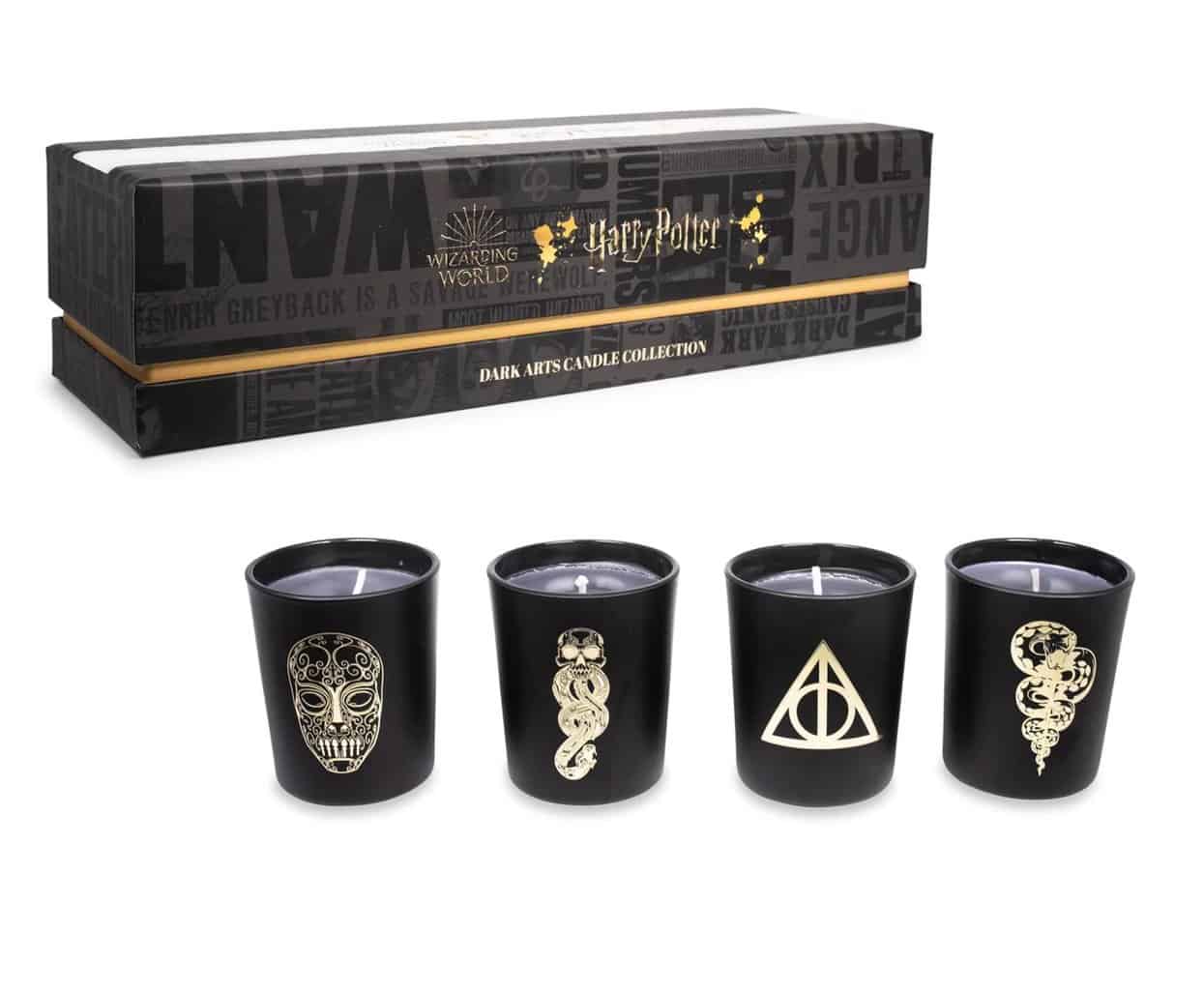 This Dark Arts votive set includes candles with a Dark Mark, Death Eater mask, the Deathly Hallows, and a snake. The set is perfect for adding a touch of Death Eater aesthetic to your home. I can easily picture this set dispersed among certain Slytherin dorm rooms, making this set a great choice for those who like to cast the Morsmordre and terrify their companions.
Scent Profile:
Deathly Hallows- Cypress, Herbs, and Sea Salt
Death Eater Mask- Blood Orange, Crushed Spices
Dark Mark- Dark Fruits
Snake- Smoked Honey and Black Rose
Pros
20-hour burn time per candle
Different scents between different candles in the set
Varying designs highlight the most prominent Dark Arts symbols
Cons
Not sold separately, only as a 4-piece set
Non-consistent scents make them best to burn separately, not together
Ideal for smaller spaces as they are only available as single-wicks
For Those Who Would Spend Every Afternoon on the Quidditch Pitch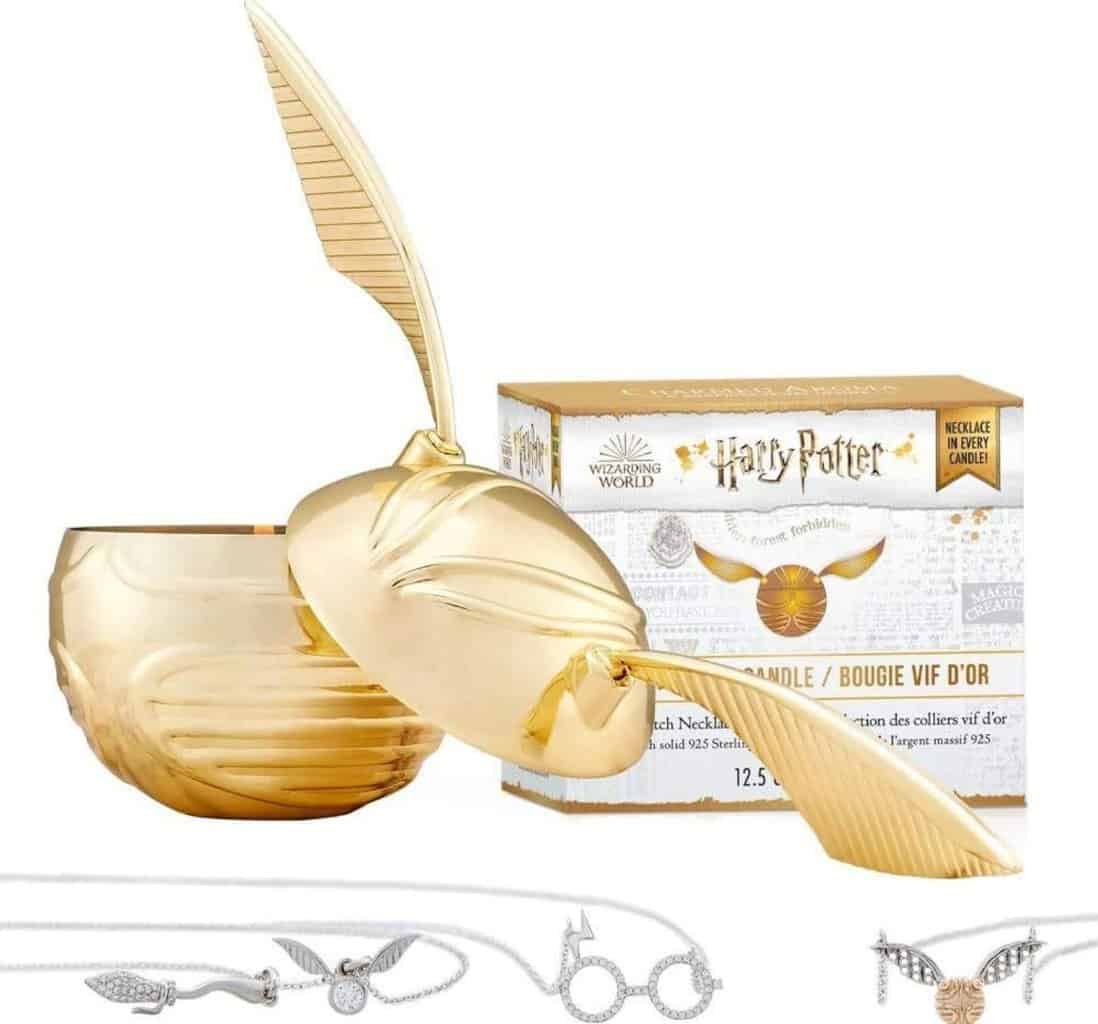 The officially licensed golden snitch shines in this Quidditch-inspired Harry Potter candle. Not only does it feature an incredible Snitch design, but it also includes surprise jewelry held within its wax! As the candle burns, it will reveal either a broom, snitch, or Harry Potter glasses-themed necklace.
Scent Profile: Champagne Shimmer
Pros
Candle casing can be used as decoration after the candle is burned
Includes surprise jewelry
40-hour burn time
Officially Licensed
100% cotton wick
Cons
Contains Paraffin
Packaging is lacking in design
Wings of snitch are made of plastic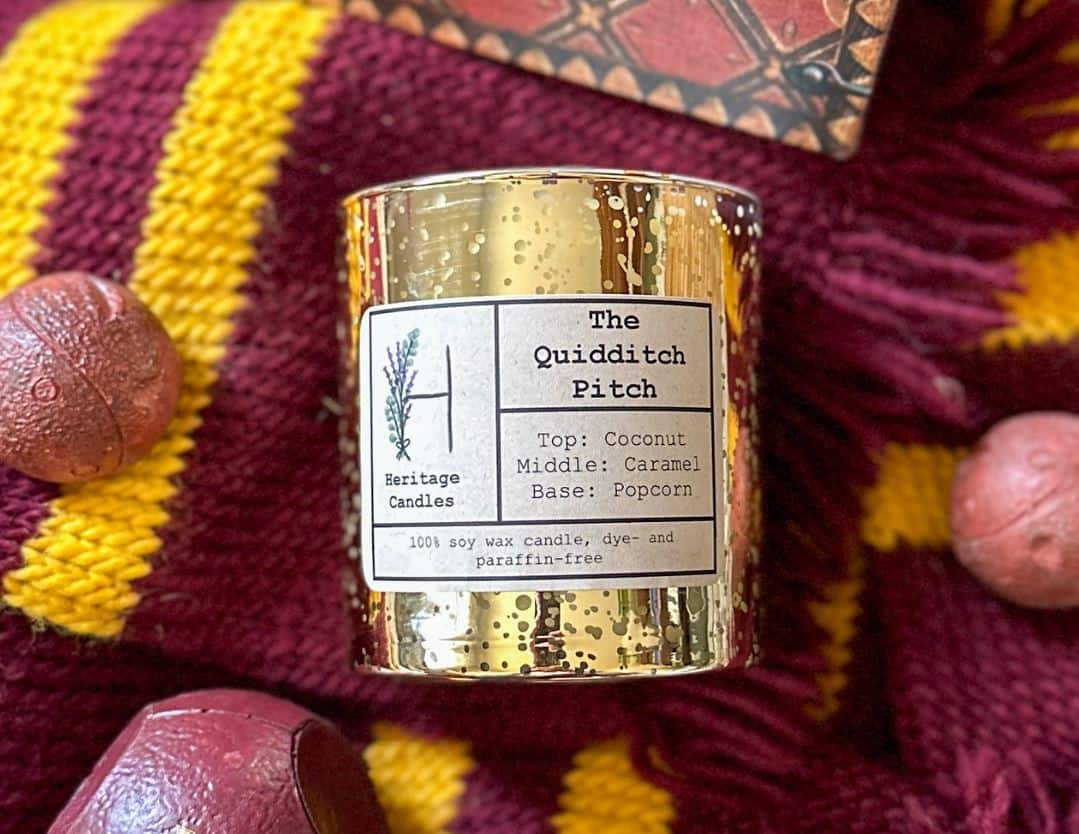 For those who would spend their free time honing their seeker skills on the pitch, this candle is the perfect scent to transport them to Hogwarts. With notes of caramel and popcorn, I imagine it embodies the experience of cheering "Fight Fight Gryffindor" for your favorite house team from the high height of the Quidditch pitch stands while snacking on caramel corn.
Scent Profile: Coconut, Caramel, Popcorn
Pros
Unique scent profile
Snitch golden color
100% soy wax
Paraffin and dye free
Cons
No lid included
Only available in one size
Single wick suitable for small spaces which might struggle to fill a large room
Hogwarts House Candles by Homesick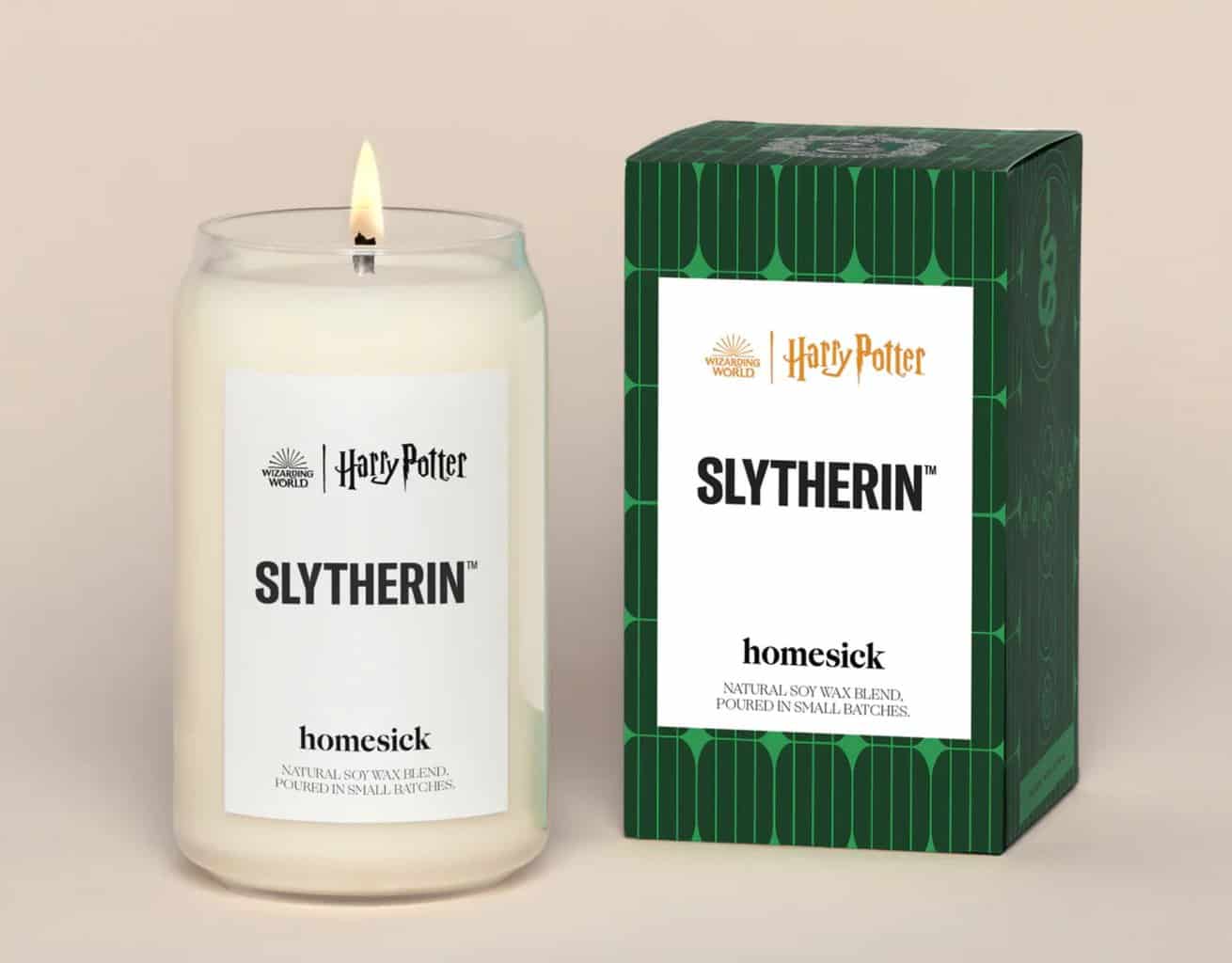 For Those Who Prize Cunning Above All Else- This minimalistic Slytherin candle from Homesick is a great way to show your house pride in a subtle manner. With notes that capture smell of the Slytherin common room with hints of the Black Lake, rich undertones of clove and vetiver, and layers of suede and oakmoss.
Scent Profile: Lake Water, Clove, Vetiver, Dark Plum, Oakmoss, Suede
Pros
60-80 hour burn time
No parabens
Scents that capture the feeling of being inside the Slytherin common room with its view of the Black Lake.
Cons
Only available in 13.75oz size
Only available in a single wick which may not be able to scent a large space
I would have liked to see this available with a green or black wax, instead of only white.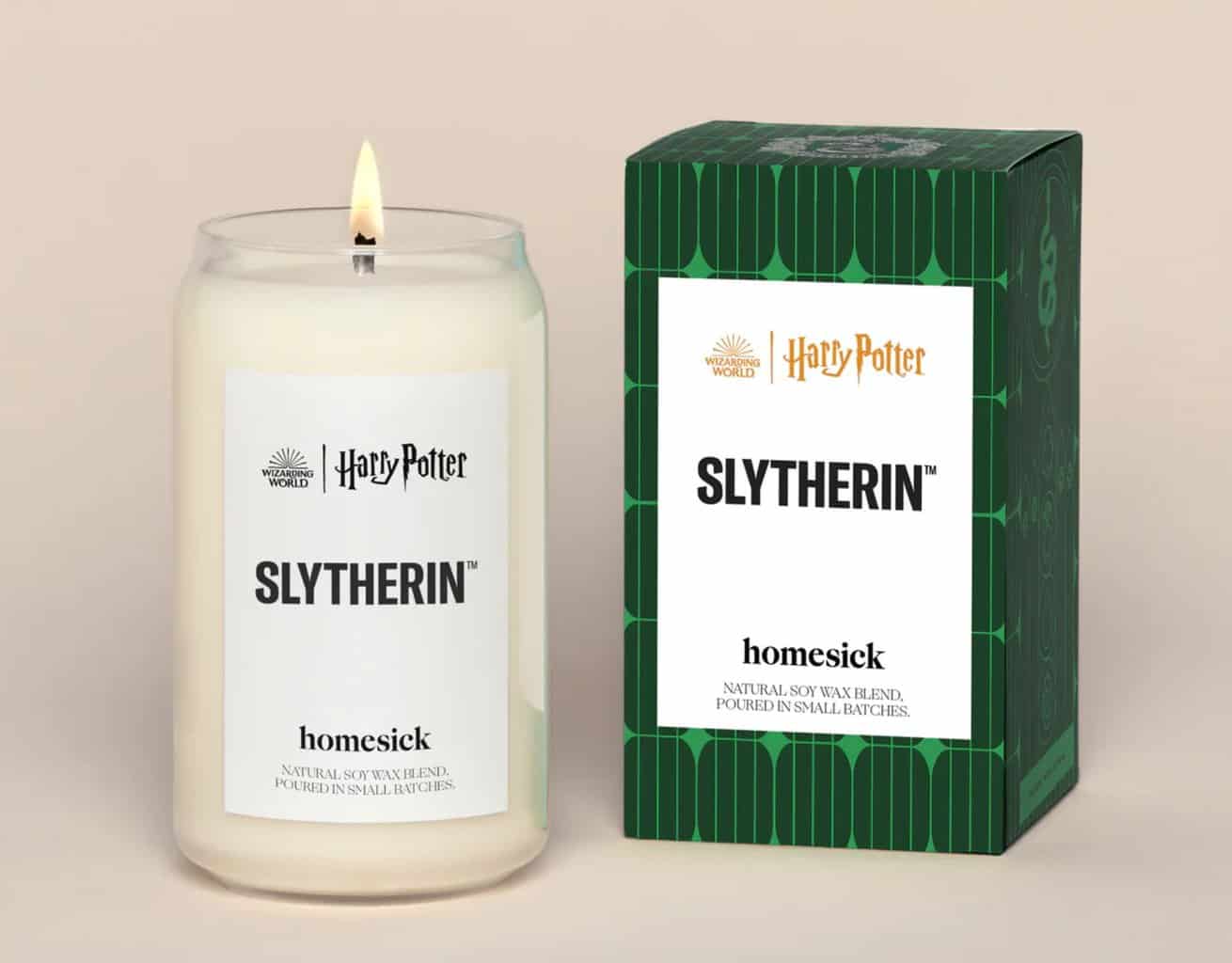 For Those with a Ready Mind Full of Wit and Learning- this minimalistic Ravenclaw candle from Homesick is the perfect gift for a new Potterhead to share in their house pride!
You can even personalize a note to be printed on the back of the candle. With notes of Parchment and musk it evokes a sense of opening an old tome for study in the stacks of the Hogwarts library. Once burned, a surprise design is visible!
Scent Profile: Sage, Parchment, Velvet, Mint, Musk, Vanilla
Pros
No dyes
No Phthalates
Blue Ravenclaw label
60-80 hour burn time
Cotton wicks
Cons
High price point
Frequently sold out due to high demand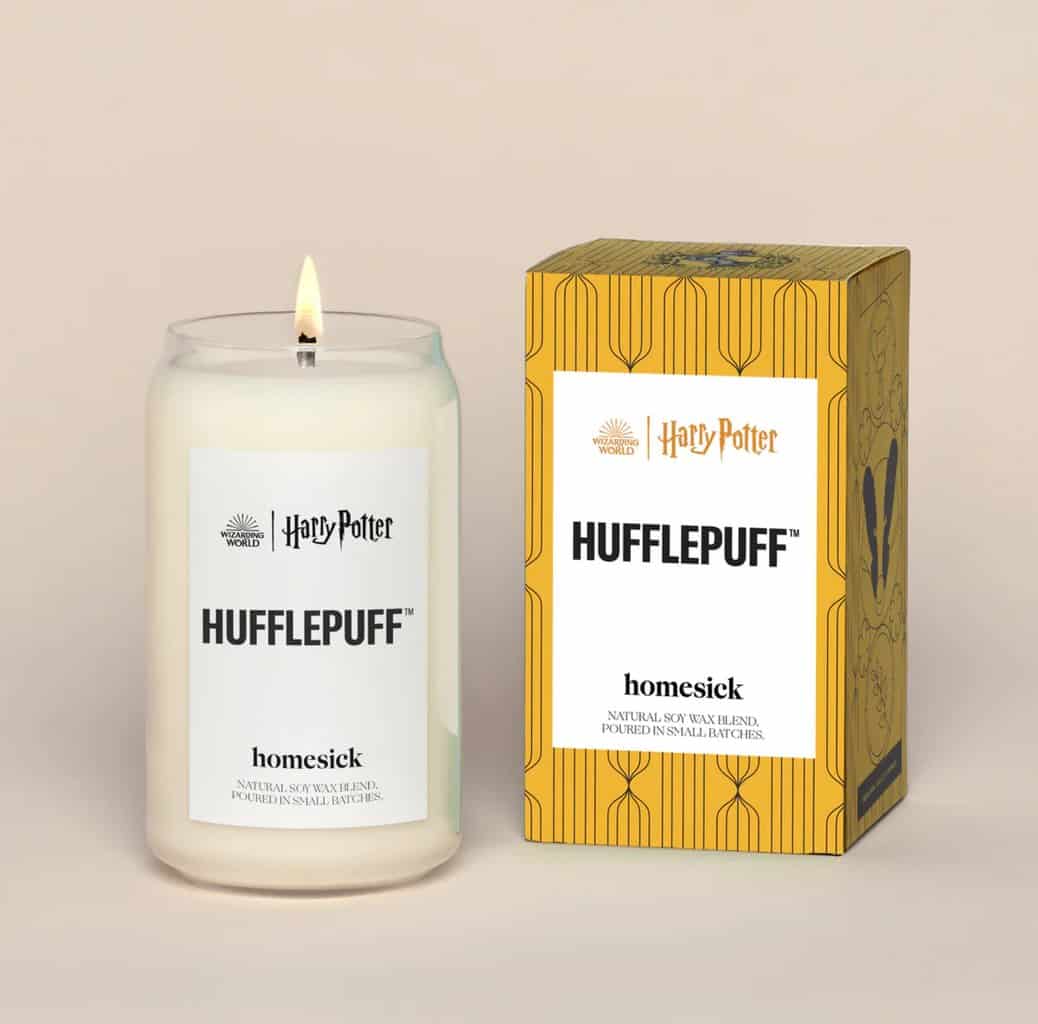 For the Loyal and Patient Unafraid of Toil- with its delicious aromas, this candle captures the scents of the Hufflepuff common room, located right next to the Hogwarts kitchens. As delicious notes of apple, honey, burnt sugar, and hazelnut waft to your nose, you will crave a trip to the kitchens to ask the house elves for a midnight snack!
Scent Profile: Green Apple, Chamomile, Honey, Patchouli, Burnt Sugar, Hazelnut
Pros
Natural Soy Wax Blend
Cotton Wicks
Long average burn time
Cons
Often sold out due to high demand
Only available in white wax, no yellow for house pride
Shipping costs for one candle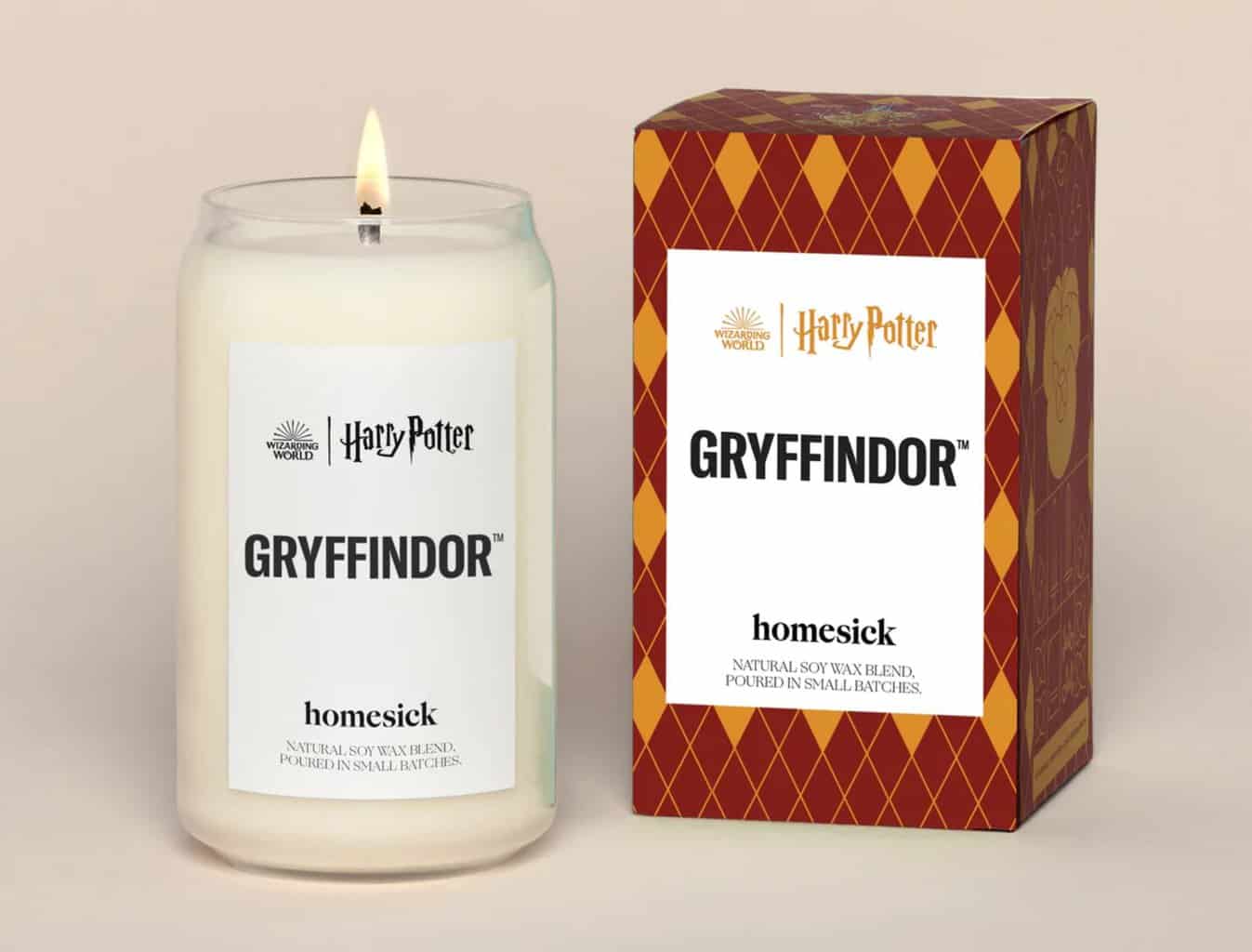 For the Brave of Heart with Daring and Nerve to Set Them Apart – In classic Gryffindor packaging, this candle embodies the spirit of the brave with a minimal design.
Once the wax is burned, it will reveal a hidden design, making this container reusable for décor purposes. The scent notes of nutmeg, fireplace, and cinnamon stir recollection of Christmas time at Hogwarts and Harry's first Christmas with a family alongside his new friend Ron.
Scent Profile: Lemon, Nutmeg, Fireplace, Cedarwood, Cinnamon, Sandalwood, Amber, Vanilla
Pros
Gryffindor styled packaging
Hidden design revealed after burning
Soy wax
Cotton wick
Cons
No lid is included
Single wick style may struggle to fill a larger room with scent
Only available in white wax; no burgundy or gold available
For Those Who Can't Cast an Incendio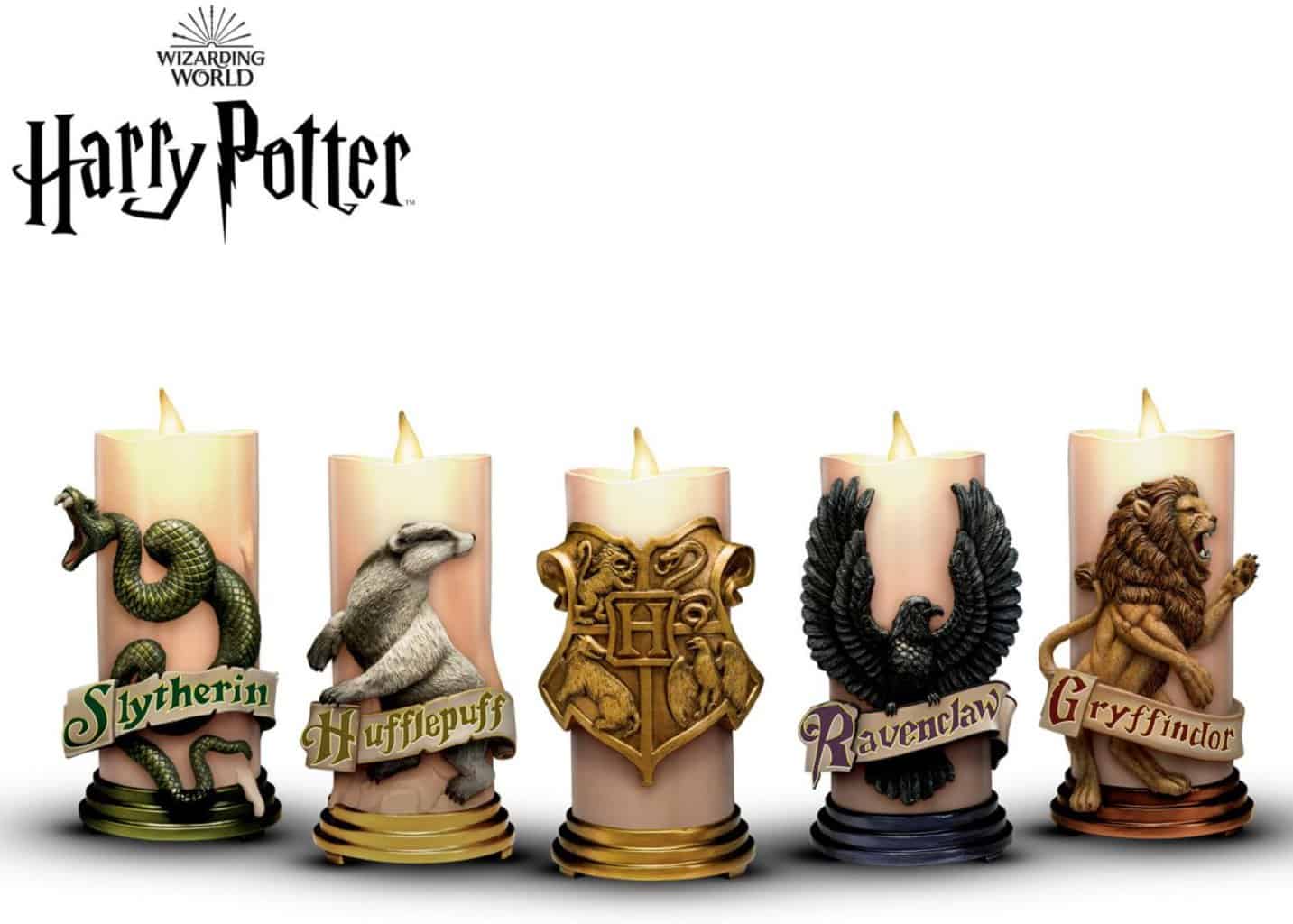 These well-designed Hogwarts House pillar candles feature flameless operation perfect to leave "burning" throughout your entire Harry Potter movie marathon.
The sculpted design of the Hogwarts house mascots makes them appear as if they come straight from the castle itself- and with a remote, you can feel a little bit like a wizard yourself- switching them on just as the Harry Potter theme music begins.
Pros
Quality design that mimics Hogwarts House mascots
Great price for the set
It comes with a remote
Free returns offered for 365 days
Cons
Only available to purchase as a complete set
High shipping costs of $10.99
The base metal colors for both Hufflepuff and the Hogwarts crest are the same. I would have rather seen a change to silver for Hufflepuff to keep the set more aesthetically pleasing when lined up together.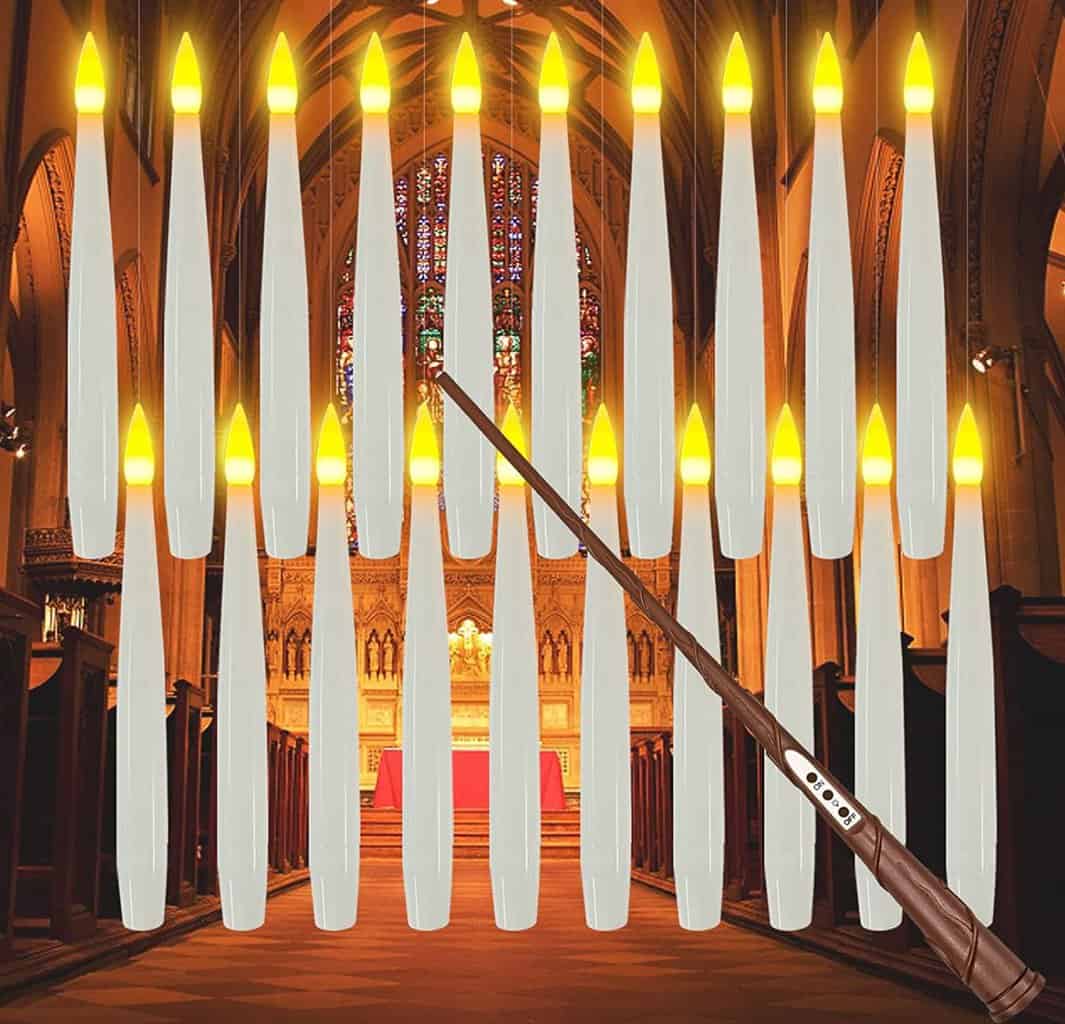 No list of Harry Potter candles could ever be complete without the floating candles we all adore from the Great Hall. These flameless candles are the best option for those wishing to turn their home into the Great Hall of Hogwarts. With a remote wand to turn them on or off, you can finally feel like you accepted that letter from Hogwarts. I love that they flicker to mimic real candles.
Pros
It comes in a pack of 20
Includes a remote wand
Flicker setting available to mimic the appearance of real candles
Includes string and glue dots to adhere to the ceiling
Cons
Does require batteries for operation, which are not included
Priced at $1.90 per candle
Some users report intermittent functioning of the wand remote
FAQs
Question: When did Harry Potter Books come out?
Answer: The first Harry Potter Book was released in 1997.
Question: When does Harry Potter take place?
Answer: The Harry Potter books are primarily set in the years 1991-1998.
Question: What is the order of the Harry Potter books?
Answer: The order of publication for the Harry Potter books is as follows:
• Sorcerer's Stone
• Chamber of Secrets
• Prisoner of Azkaban
• Goblet of Fire
• Order of the Phoenix
• Half-Blood Prince
• Deathly Hallows
Nox
Nothing is quite as satisfying as curling up with a good book next to a lit candle while you listen to the rain outside. When I do my annual re-read of Harry Potter, I enjoy surrounding myself with the scents of the magical wizarding world.
From candles that pull me into the aromas of reading in the Hogwarts library to the cozy nutmeg-based tones of what I imagine the Burrow to smell like, you can't go wrong with a Harry Potter candle.
For your next Harry Potter movie marathon, try burning a Butterbeer candle while you snack on your homemade treacle tart. It is sure to bring a little extra magic to your home
Are You Looking for More Harry Potter Merch? Check Out These Links Below!
• Ultimate Harry Potter Pajamas
• An Expert's Buying Guide on the Best Harry Potter Merch
• Best Harry Potter Blankets Guide To Survive Hogwarts' Chilly Nights!