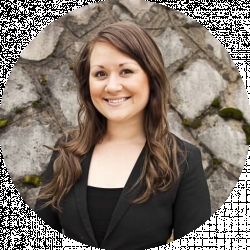 Latest posts by Lacey Jackson
(see all)
I have half a dozen Harry Potter sweaters at this point and counting. Whenever I visit a Harry Potter show (especially the Forbidden Forest Exhibition), I nab another souvenir sweater. But out of all my generic Harry Potter sweaters, I really only wear two of them around Christmas time, the two best sweaters.
Why are they the best? Because they are unique and tell a story. They aren't too busy or too generic (why bother with an embroidered "H" and nothing else?), and they are comfortable. Yes, one of them has a big, fat decal on the front, so I have to be careful about washing, but I have plenty of clothes that require the same (minimal) effort, so it isn't the end of the world.
I regret wasting money on the row of sweaters hanging limply in my closet that were far from "the best," so I've put together this lineup so that you don't have to waste money like I did.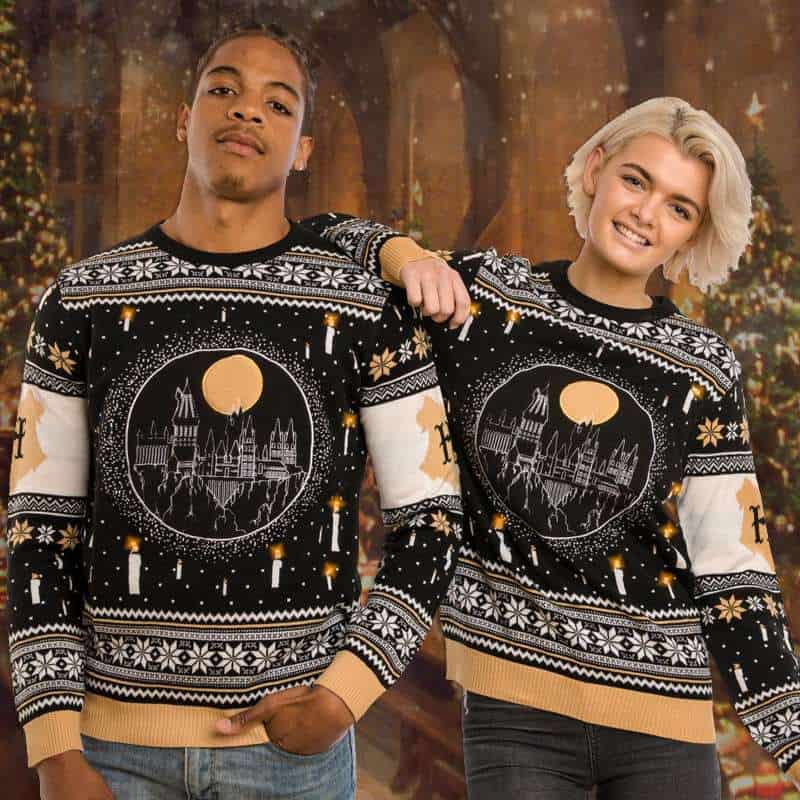 Bottom Line Up Front
The best Harry Potter Christmas sweater is the Ugly Sweater from Just Geek. Yes, shipping for the first takes a bit longer for US residents, but it is one of the few that keeps to a controlled color theme without trying to shove all the house colors into one sweater. It tells great stories about gifts and Santa with a fun Christmas flair.
What Makes the Best Harry Potter Christmas Sweaters? My Selection Criteria
Like anything I buy, it isn't worth it if it doesn't jump out at me as unique if it doesn't tell a story. Generic sweaters that just say "Harry Potter" or have a cartoon representation of a character don't make the cut.
With sweaters, too, I am picky. I live in a cold place now, so I want sweaters that are soft, comfortable, and warm. But I moved from California, and while there, I received countless Harry Potter scarves, sweaters, and hats that I never found occasion to wear because they were simply too warm for the climate (of course, now that I am somewhere with snow, they are all finally coming up for air).
So, I narrowed my results to include the following:
A balance of warm and cold options as noted in their descriptions, so you can pick something for California winter or East Coast winter.
A unique design that tells a story and has some pop.
Good sizing and shipping options (no, I won't wait four weeks for my new Harry Potter Christmas sweater to arrive).
Ugly Sweater from Just Geek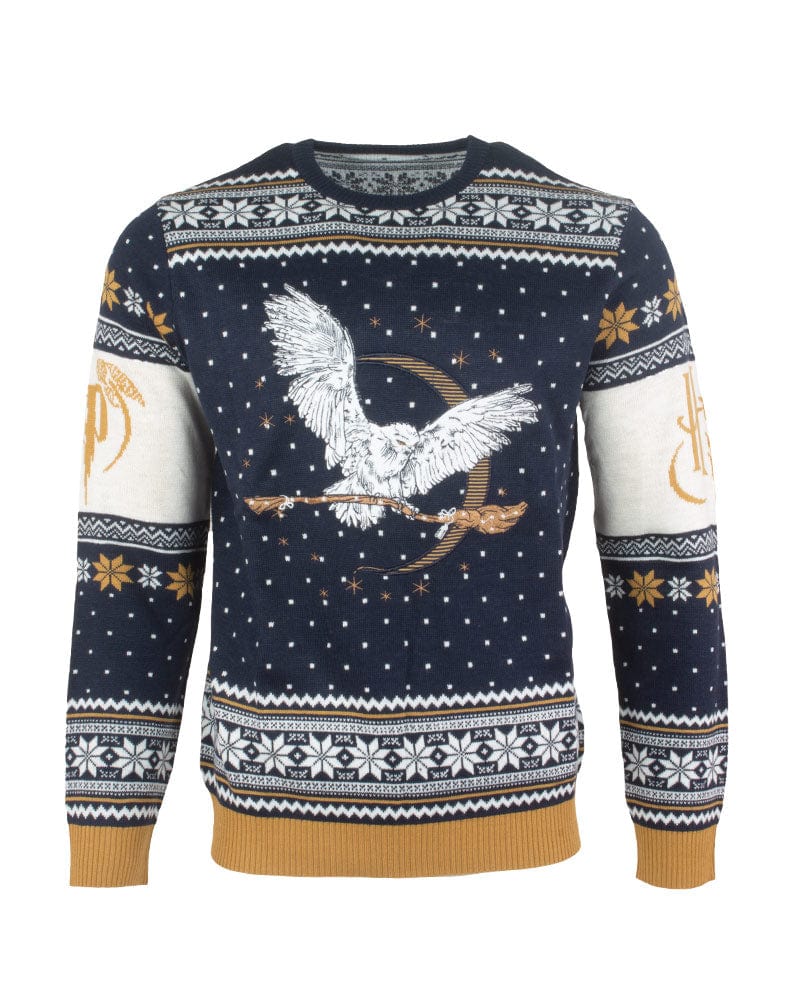 Ok, so admittedly, this is labeled as an ugly sweater meant to be worn in competition with friends and family, but I see much more potential here. First of all, for an "ugly sweater," it certainly doesn't look so busy that you would think the sewing machine exploded. It is just busy enough to be controlled.
This sweater jumped out at me because it told a story. It even told an accurate story of when Hedwig swooped down over breakfast in the Great Hall, depositing a tightly wrapped broomstick on Harry's lap.
Now, it lists sizes in EU and US sizes (beware of this because they correspond differently) because it comes from the UK. However, I have lots of generously proportioned family members for whom I can never seem to buy Christmas sweaters because they never carry large enough sizes. Not a problem here; sizes go up to 4XL.
The only hiccup is that Hedwig looks weird. Her feathers are big and beautiful, and while I like the giant wingspan, I don't like the eyes. Still, not a deal breaker.
Pros
I love the colors. It isn't the typical crimson of Harv–oh wait, Hogwarts, but rather, a mild navy blue with gold and white.
It has some of the biggest sizing options around.
Very thick and warm.
Cons
Hedwig is more of a demonic-looking owl in this rendition.
It ships from the UK, so US buyers will have longer shipping times.
Avada Kedavra Sweater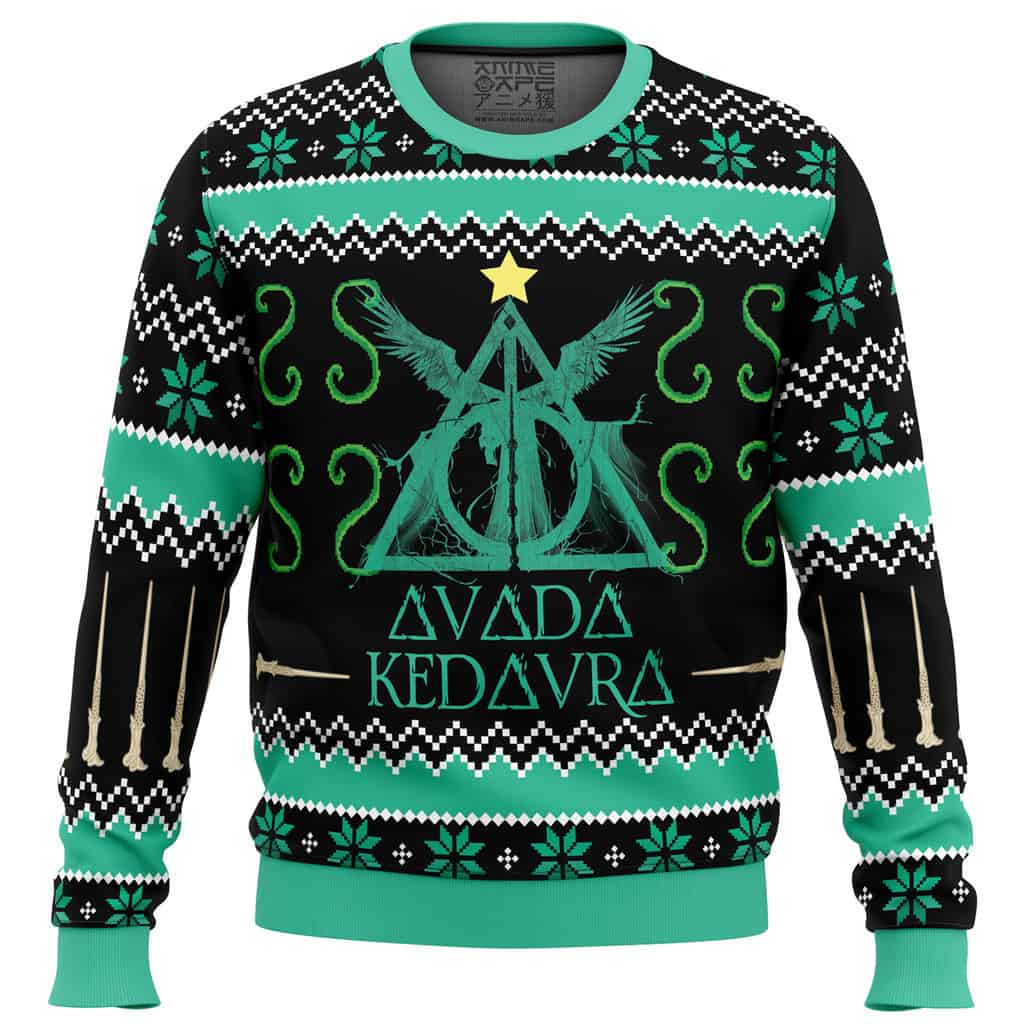 Some Christmas tales have a more sinister side (like Belsnickel, who whips impish kids with his broom). So if you have a Slytherin member in your house or just someone who wants something unique this Christmas but without the tendency toward "holly" and "jolly," the Avada Kedavra sweater is your winner.
The center point of this sweater is the Deathly Hallows which tells a story from Harry Potter but also integrates the image of Death from the films with the wings from the graveyard. The entire design is set up as a Christmas tree with a star on top.
I like the mint green and black combination and especially like that the sleeves and waistband are more elastic, so they stay in place. I could have done without the bones on the sleeves or the lime green "S" shapes, but at least the bones are part of when Voldemort took his father's bones to bring himself back.
Pros
It grabs attention by converting the Deathly Hallows into a Christmas tree design, complete with the star on top.
It has a tighter waistband and sleeves so that it stays in place and doesn't ride up.
They go up to 5 XL.
It uses heat-dry applications, so none of the images are decals. Wash it in a carefree fashion.
Decently warm but good for light winters (or worn under a coat).
Cons
There aren't kid sizes, but they can probably grow into the small.
The delivery time is pretty long for those accustomed to Amazon Prime, so order early.
Hogwarts Sweater
Now, for those members of your family who want something a little less scary than the Avada Kedavra sweater (it does have a chilling effect), there is the Hogwarts Ugly Christmas sweater. This one replaces the Deathly Hallows Christmas tree with the Hogwarts crest, featuring the animals from all four houses.
I like that it, too, has the same tighter elastic trim on the sleeves, collar, and waistband, so it stays in place. I just wish it had more to do with Christmas. As it stands, it is really just an ugly Hogwarts sweater you could wear any time of the year.
Pros
It has a mellow black, white, and gold coloring to it.
The design features the Hogwarts house animals.
Warm and cozy, perfect for moderate winters.
Cons
It doesn't have any distinct Christmas theme to it.
It only goes up to 2XL.
Hogwarts House Christmas Sweater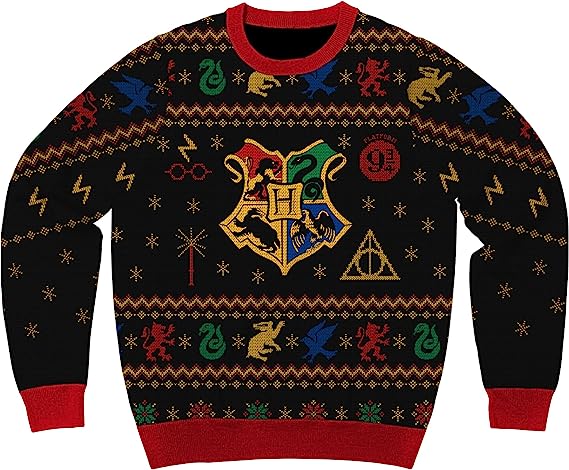 Now, what the Hogwarts Ugly Christmas sweater lacks in Christmas themes, the Hogwarts House Christmas sweater tries to compensate. It has the same centrally located Crest with the animals from all the houses, but the animals have a more realistic design compared to the Hogwarts ugly Christmas sweater.
In and around all of the animals, you get what appear to be snowflakes of various sizes and a few other images associated with the series, like the deathly hallows, Platform 9 and 3/4, and Harry Potter's glasses. His lightning bolt mark is also found across the sweater design, which isn't exactly a Christmas theme, but it tells a story.
This sweater has a red trim around the collar, waistband, and sleeves, so you won't look like a child in a grown-up sweater with the droopy sleeve dangling. However, out of all the sweaters on this list, it's the only one with a bold, distinct color, making the trim much more noticeable. This isn't something I like, but that doesn't mean it's bad.
Personally, I would only wear it to an ugly sweater party, and I wouldn't necessarily buy it to wear around the holiday season shopping or running errands. But if you have a company invite sitting on your desk, this might be the best option for you.
Pros
It goes up to 3XL.
Very thick and meant for cold weather.
It has a lot going on, so it is sure to win an ugly sweater contest.
Cons
Has brightly colored trim on the edges.
There are a lot of colors mixed together, so don't try and mix this sweater with anything other than jeans.
Happy Christmas Sweater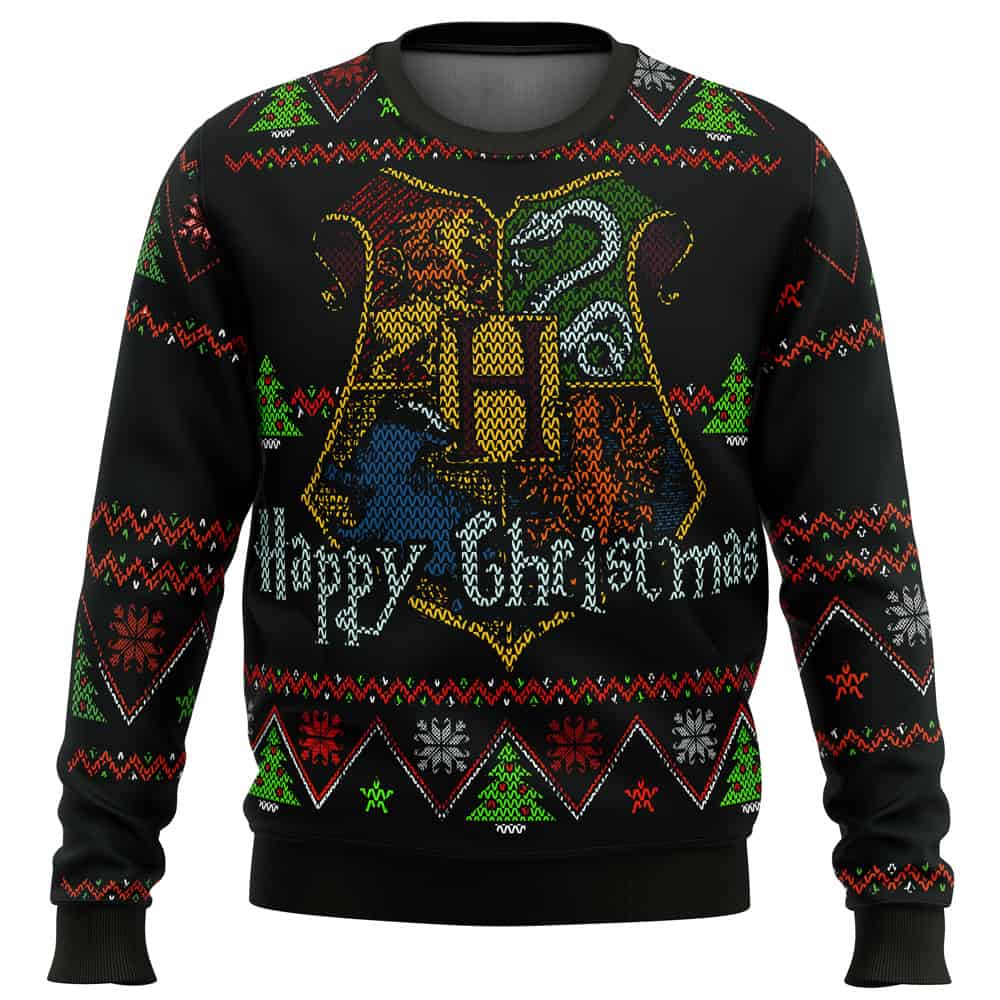 This Happy Christmas sweater might be the actual winner of the ugly Christmas sweater competition. It looks very similar to the Hogwarts House Christmas sweater, but it does away with all of the business of the deathly hallows, Platform 9 and 3/4, Harry Potter's glasses, and lightning bolt mark and replaces them with actual Christmas images such as snowflakes, stars,, and Christmas trees.
And in case that isn't clear enough, it has the words "Happy Christmas" embroidered across the front. Speaking of embroidery, this is the only sweater that is completely embroidered. None of the images are silkscreen or decal; they are all sewn into the sweater with different color threads, making care and maintenance significantly easier.
Pros
It goes up to 7XL.
All the images are anime, block-style images.
It is one of the only sweaters that is completely embroidered, so washing it won't be a hassle.
Good for cold winters.
Cons
It is full of Christmas decorations but has a lot of colors combined that maybe shouldn't be.
It has long delivery times (well, only about 10 days, but still).
Hogwarts Happy Christmas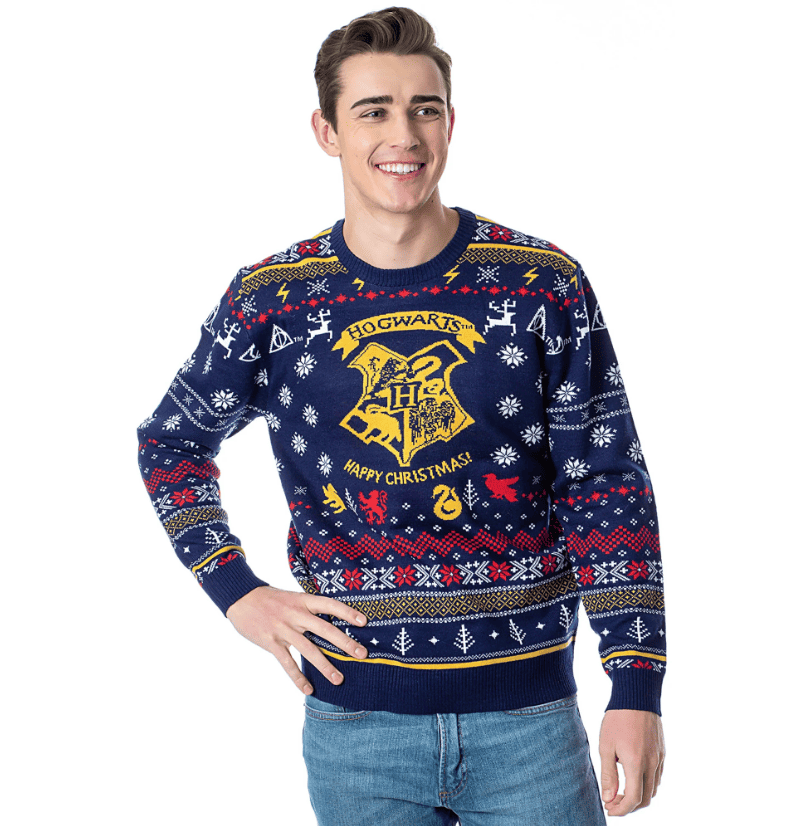 If you were on the fence about the Happy Christmas sweater and the Hogwarts House Christmas sweater, then make way for the Hogwarts Happy Christmas sweater.
This Hogwarts Happy Christmas sweater combines elements from both of the sweaters above to make a truly horrifying (but ugly sweater-winning) final product. You don't have any options for changing the sweater color with this one, so I hope you like Navy blue.
On top of the navy blue is an eye-catching red, white, and yellow, which is presumably meant to be gold. You have the Hogwarts crest in the center with all the respective house animals underneath, which says "Happy Christmas."
Instead of filling the rest of the sweater with Harry Potter images, you get a few things like the Deathly Hallows icon but mostly a lot of Christmas ornamentation, Christmas trees, snowflakes, and stars. So where the others really fall short of the Christmas theme, this one brings it all home.
Pros
It has decent coloring, with a navy blue sweater topped with gold, red, and white.
It is surprisingly easy to wash.
Thinner, meant for warmer winters.
It is (almost) clearly a Christmas sweater from far away.
Cons
It doesn't come with a lot of sizing options.
Hogwarts Express Knitted Sweater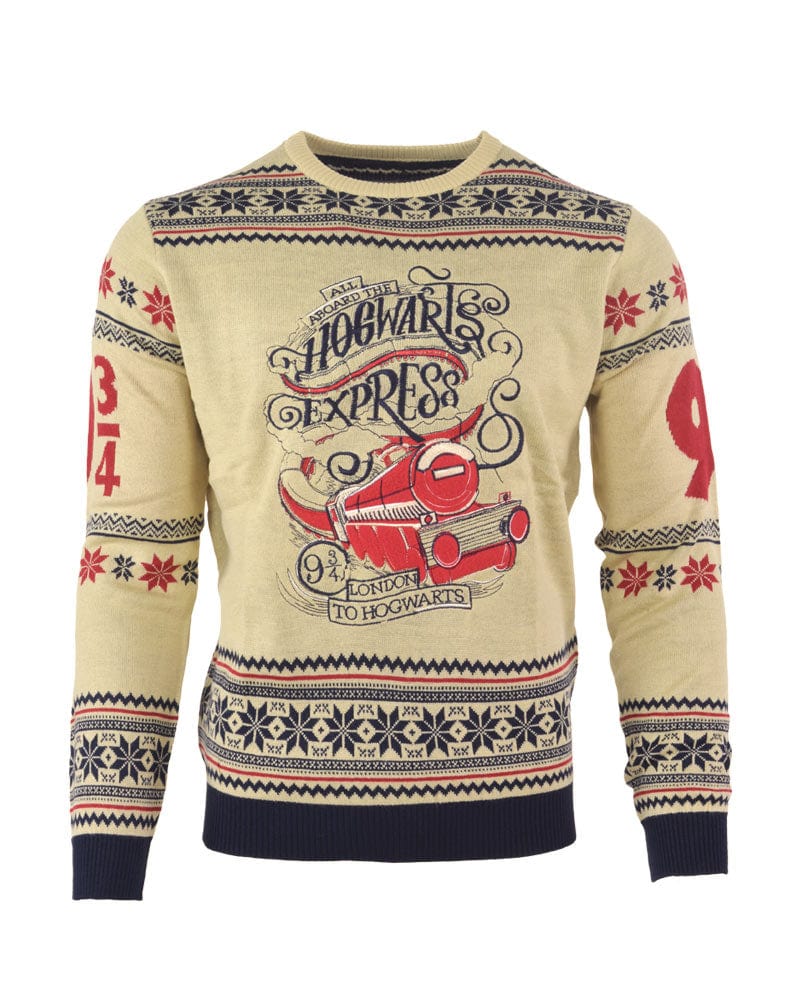 This Hogwarts Express knitted sweater is another for the "Ugly Sweater Party" list, but I like that it has elements from the series that go beyond the traditional house animals or house prints.
It has a color combination I really like, with basic red, beige, and black. Not all Harry Potter sweaters need bright green or yellow. The train on the front is a felt material, so it feels really soft (yes, I ordered it, and yes, I got distracted running my hands across the train like a child).
I also like that even though it has Christmas colors when you look at the red and the black, and it does contain Christmas patterns around the chest and the arms, it's easily something you can wear all year round if the weather suits.
Pros
It isn't overly warm, but it does the job.
It is knitted with yarn, so it feels very soft; the front pattern is knitted and embroidered, too, so it won't break apart like decals.
Cons
The knitting is very thin, and the highly detailed patterns on the front will likely be the first to break down (also, don't snag a nail on it, or you will tear it like I did).
Ron Weasley Knitted Sweater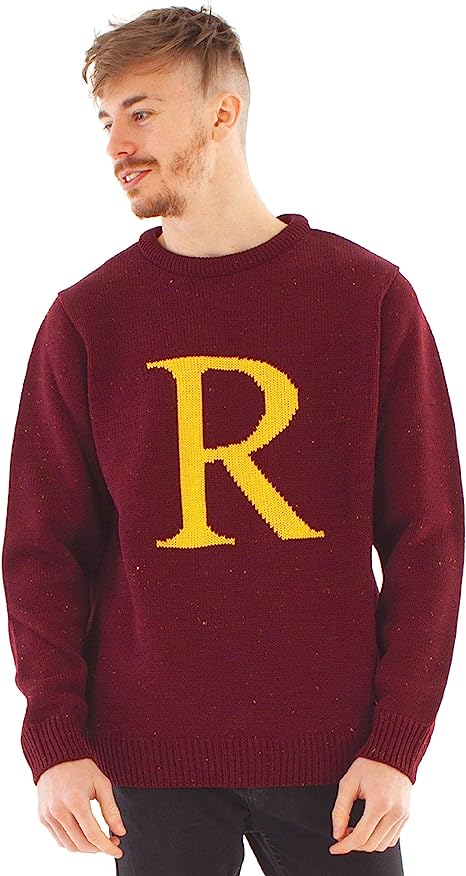 For true fans of Rupert Grint's young and horrified face upon opening his maroon "jumper," the authentic Harry Potter Christmas Knitted Sweater is a delight. It is a classic sweater, one that is knitted acrylic, so it will certainly keep you warm and won't be a pain to wash.
Acrylic yarn, like the kind used in this knitted sweater, is particularly durable, so it won't shred; it doesn't shrink; you can throw it in the washing machine, it takes years to degrade, and it feels soft. This makes it perfect for adults who are looking to wear something cozy, children who are prone to tarnishing their clothes within minutes.
Side note: Obviously, those who are worried about products manufactured from petroleum might want to consider another sweater.
Pros
It is official merchandise.
It looks great without being in-your-face about Harry Potter (except, of course, to true fans).
It is something featured in the films, so it's a classic sweater to have.
You can wear it all year round, not just at Christmas.
Cons
They only have the version Mrs. Weasley made Ron, not the "F" or "G" iterations.
Muggleland House Sweaters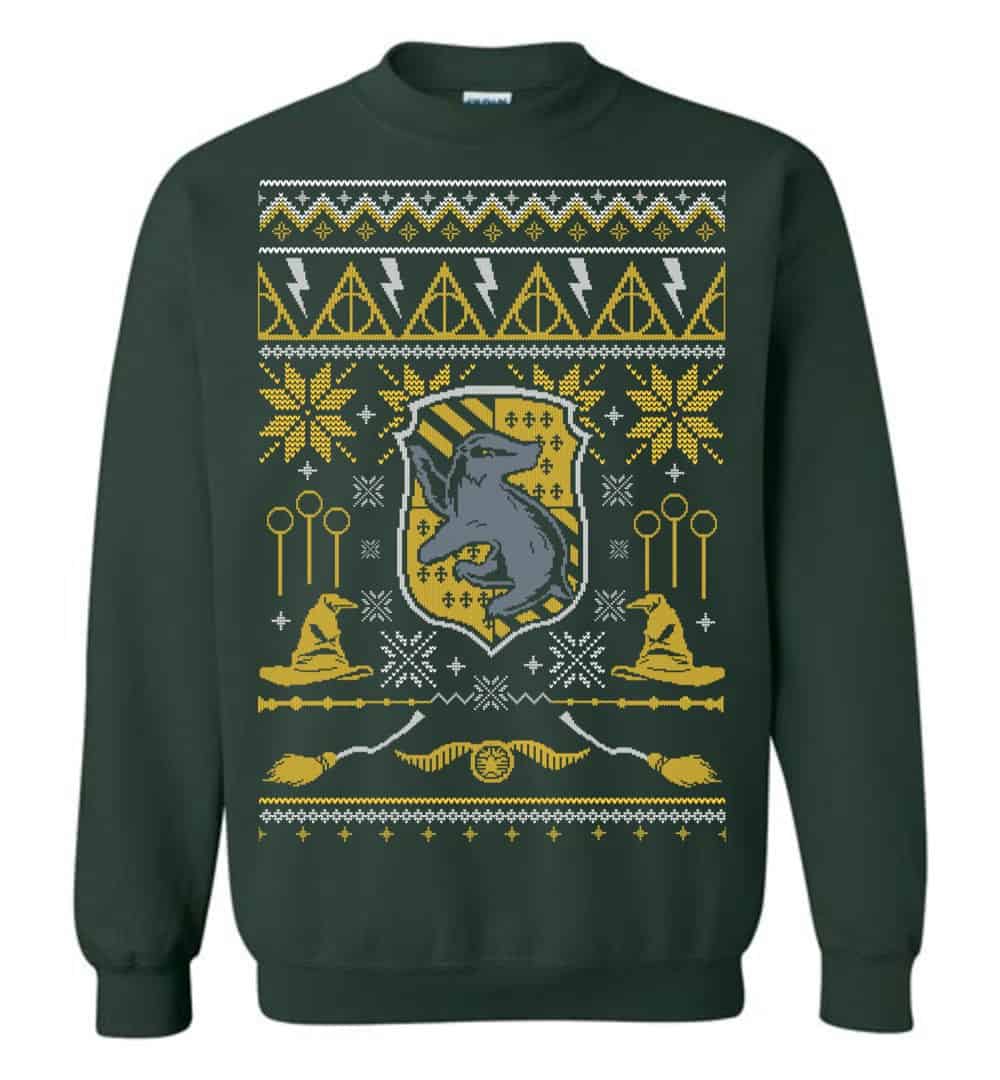 If you want to stick with your respective house, official merchandise from Muggleland offers Christmas sweaters for each house.
This Hufflepuff Ugly Christmas sweater, like most of the other house sweaters, features the house crest in the center, surrounded by other themed icons from the series like broomsticks, Quidditch goalposts, and the Deathly Hallows. What makes it a Christmas sweater is the fact that they throw in several stars and snowflakes.
It's a very well-made sweater that is easy to care for and will last a long time. You don't have any decals, and everything is shown in the design, so you can easily toss it in the washing machine or the dryer. However, it doesn't really tell as much of a story as other items on the list, but it's a good way to represent your house during the holidays.
Pros
You can pick from nine different sweater colors with the same print on the front.
They have several sizes for children and adults.
Thick and warm, good for the snow.
It is a crew neck design with cotton and polyester, which uses double needle stitching (this means you can wash it more easily).
They ship internationally for a small fee.
Cons
It takes about one week for shipping because the products are made to order.
FAQs
Question: Can You Machine Wash Harry Potter Christmas Sweaters?
Answer: Some of these sweaters can be put in the washing machine, but if it's acrylic or synthetic, which most Harry Potter Christmas sweaters are, you should always look at the label. Almost all of my sweaters get washed separately and inside out using cold water and a lower setting so they don't endure as much friction. But each of these sweaters has distinct instructions on the label.
Question: How Do I Dry a Harry Potter Christmas Sweater?
Answer: I don't put my Harry Potter Christmas sweaters in the dryer because I don't want to damage the decals. Any sweaters that have wool or synthetic materials can tolerate a dryer on a low setting, but delicate materials should simply be laid out to dry or draped over your kitchen chair like I do. The instructions for each sweater will tell you what the manufacturer recommends.
Question: Should I Turn Harry Potter Christmas Sweaters Inside Out When Washing?
Answer: I always turn my Harry Potter Christmas sweaters and shirts inside out when I put them in the wash. If you don't, the fibers on the surface of your sweater can break, and they get tangled. This causes "pilling," where clumps of broken, tangled threads form the balls that you might find on your clothes. This usually happens in the spots that get worn down the most, like the armpits or around the sleeves.

If you turn them inside out, there's less chance of this happening, and it protects any designs that you have, like decals on the front, against unnecessary friction, which can cause the decal to split over time and peel away.
Bottom Line
The best Harry Potter Christmas sweater is the Ugly Sweater from Just Geek. It is not overbearing and can be worn throughout the holiday season and not just to an ugly Christmas sweater party. It tells unique stories fans will love with a clear Christmas theme that some of the other sweaters lack.