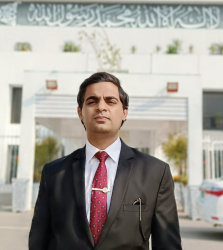 Latest posts by Boo Ali Khan
(see all)
"It matters not what someone is born, but what they grow to be." J.K. Rowling
I waited many years for an owl to deliver my Hogwarts acceptance letter, but it never did. And while no Hagrid arrived to knock down our door, my childhood was still significantly impacted by Harry Potter, the Boy Who Lived. I am sure it was the same for you as well.
I am a massive fan of the Harry Potter series. I still remember reading the series on a friend's recommendation but then ended up liking it so much that I even binged all the movies. This cycle was repeated many times. Every time I reread, I found details I had missed earlier, diving ever deeper into the imaginary and fantastical world created by J.K. Rowling.
Since I discovered Harry Potter merchandise, it was only natural for me to order several collectibles, including wands, chocolate frog cards, and toys. And one such category that has led me to spend so much money is Harry Potter-themed blankets. They come in a wide range of colors, designs, and themes for Potterheads like me to help them keep the evils at bay.
In this best Harry Potter blankets guide, I will share various tips and recommendations to help you find your favorite Harry Potter blanket. And I will also be answering some frequently asked questions so you can avoid the problems I encountered. Mount your broomsticks; we have some magical blankets on the run.
Bottom Line Up Front
Although I have suggested several Harry Potter blankets in this guide, my favorite is none other than the Harry Potter Tri-Wizard Throw Blanket due to its distinctive layout, quality print, and decorated borders. Not only is it incredibly cozy and soft, but it also presents a lot of certain artistic appeal, which is very hard to ignore; I wonder if it has been stained with a love potion or something.
However, if you are not into The Triwizard Tournament, there are various other options for you to pick from.
My Top Harry Potter Blanket Picks

My Selection Criteria
Before adding any Harry Potter blanket to this guide, I have tried to make sure that it satisfies the following criteria:
All the blankets I have mentioned have pleasing visual aesthetics and designs.
The blankets are available across the states and aren't out of stock.
They display iconic scenes and characters that appeal to most Harry Potter fans.
All the top picks are made of soft and durable materials.
Buying Tips
Now it is time to tell you all the secrets that will make you the Tri-Wizard champion when it comes to Harry Potter Blankets.
Set Your Location
Whichever website I use to buy a Harry Potter blanket, I first set my location to check whether the blanket is available for shipping to my area. I'd advise you to do the same; otherwise, you will waste your time scrolling through the pages for blankets that aren't even available in your state.
Check Its Size
It is essential to note the blanket size before adding it to your cart. For this, I recommend checking the product descriptions, as most sellers add the exact dimensions in that portion. I am certain that you want Dementors eating your feet out of the blanket.
Form A Budget
Perhaps the most crucial tip in this guide is to ensure you don't exceed your budget. Even if you have thousands of Galleons in your underground vault at Gringotts, I suggest making a budget range before you begin your hunt for these Harry Potter blankets.
I would also recommend you visit various sites to get the cheapest rates to save money. Using chrome extensions such as Honey could also be beneficial as it automatically finds any discounts or coupons available and applies them on checkout.
Use Filters
On most websites, such as Amazon and Walmart, you can use the filter buttons to your advantage. You can sort by price, materials, or user reviews to get the most economical, comfortable, and reliable Harry Potter blanket.
My Top 12 Harry Potter Blanket Recommendations: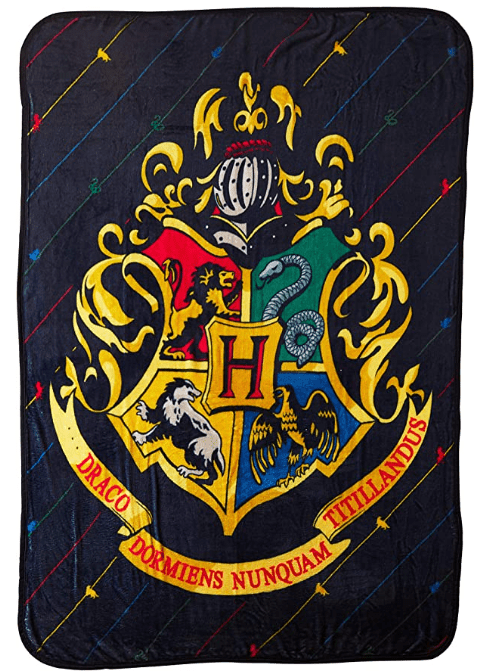 Proclaim your allegiance to your magical school with its rich history, and remember all the great wizards who were educated here through this lovely blanket. Embroidered with the Hogwarts crest, this Harry Potter Houses Pinstripes Crest Blanket will be a fantastic addition to your bed.
I have had this blanket for about a year and found it particularly colorful and vibrant. The emblem on a field of navy blue looks stunning. And the Hogwarts motto inscribed beneath the logo, which translates to "Never tickle a sleeping dragon," reminds me of the ferocious Hungarian Horntail which chased Harry as he attempted to retrieve the Golden Egg.
Circling the letter 'H' in the heart of the crest is the Hogwarts Coat of Arms, which includes the Gryffindor lion, the Slytherin serpent, the Hufflepuff badger, and the Ravenclaw eagle. All in all, this is a perfect choice for any Potterhead, and I'm personally a massive admirer of its design.
Pros
It is made of polyester, which makes the blanket wrinkle-free.
It is cheap, therefore, easier to fit into a tight budget.
The dark blue color will help conceal small stains.
Cons
The blanket is too thin, so it doesn't provide much warmth.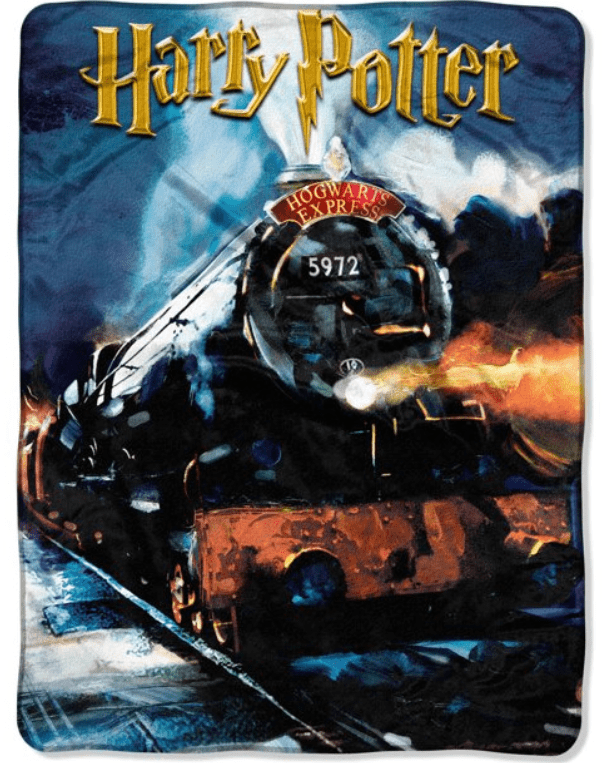 Enter the magical world of Harry Potter through platform nine as the Hogwarts Express waits for you to take you on a journey like no other with this Hogwarts Express Blanket.
The old steam engine hurling through the countryside with smoke rising from the top gives this blanket an almost eerie feeling. And its overall dark theme reminds me of the dementor's scene in the Prisoner of Azkaban when they board up the train, causing despair and gloom. However, the bright yellow headlights on the blanket give rise to hope and belief, like a Patronus Charm driving off the dementors.
The blanket is made of 100% polyester and is really fluffy. What I especially like about the Hogwarts Express blanket is that even though it is lightweight, it is still extremely warm. The edges encircling the veil have a very decorative feel to them. And on the top of the blanket is the golden logo of the Harry Potter franchise. If I talk about its visuals, I find it extremely enticing and a perfect gift for any young Harry Potter fan who is not afraid of the dark.
Pros
It features a 46" x 60" design, which will be big enough for younger fans.
The blanket comes with a 30-day return policy.
Cons
The inside of the blanket is somewhat grippy, which does not feel smooth as a normal blanket.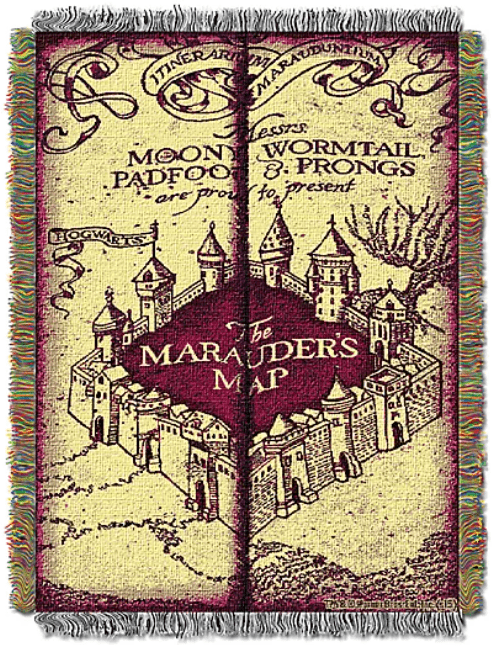 With a highly precise and elaborate design, the Harry Potter Marauders Map Woven Tapestry Throw Blanket is sure to reveal all the hidden secrets and passages that could lead you to Hogwarts. Travel the castle hallways, and don't forget to thank Moony, Wormtail, Padfoot, and Prongs, the four partners in crime.
An ornamental castle design with the Marauder's names engraved above, this blanket is the perfect gift for a Potterhead with a mischievous mind. Made from polyester and lined with decorative fringes, it has terrific imagery and attention to detail. Although the material might be a little too coarse to use as a blanket, it is still a warm choice. The fabric doesn't lose color, and the threads remain intact even after years of use and repeated washings.
However, before you add the Marauders blanket to your cart, I'd suggest solemnly swearing that you're up to no good. And don't forget to whisper "Mischief managed" when you're done scouting the Hogwarts halls after curfew.
Pros
It works perfectly as a tapestry.
Its design is highly detailed and comprehensive.
Cons
Its fabric is a little on the rough side.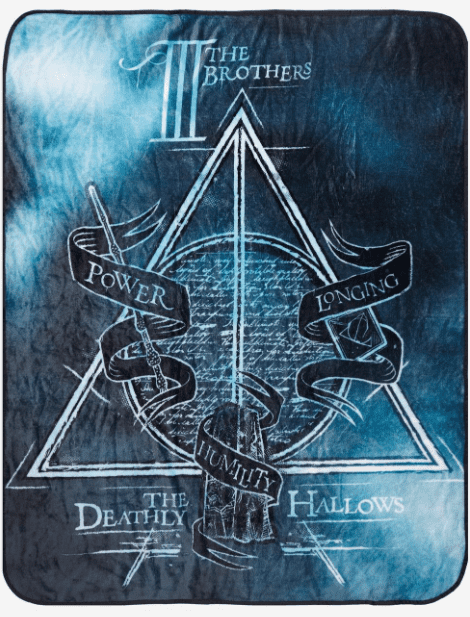 While the Deathly Hallows may have been created by Death, this Harry Potter Deathly Hallows Blanket is put up only with love and care. It features pretty graphics in an overpowering dark shade, which helps the blanket give the sensation of night and gloominess. The heading highlights the Tale of the Three Brothers, each receiving an artifact from Death itself.
The Elder Wand, a straight vertical line in the middle, and a circle to showcase the Resurrection Stone are both enclosed inside a triangle to exhibit the Invisibility Cloak. Altogether this blanket will make you the Master of Death.
I recently acquired this fabulous blanket as a birthday present. Soft, cozy, and warm, it is an excellent choice as a couch companion whenever I'm reading a book or watching a movie. The color has remained as good as new even after several washes. And the icing on the top is the price, which is relatively low compared to some of the other blanket options on this list.
Pros
The dark theme goes well with both black and white bed sheets.
It's economical and comes with free shipping.
Cons
The lighter parts of the blanket tend to get dirty very quickly.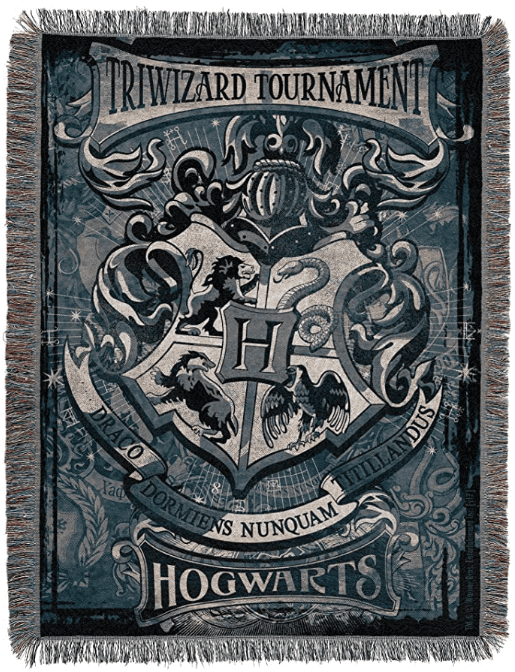 The Harry Potter Tri-Wizard Throw Blanket is evocative of the Tri-Wizard Tournament, a magical contest between three of Europe's largest wizarding schools. Even if you're not the Champion chosen by your school, I'd suggest ordering one to show your support.
Remember when Harry summoned a broomstick to evade the dragon in the first task of the Triwizard tournament? Because I surely do by watching this Triwizard Tournament blanket. Accio Blanket!
Under the title is a meticulous Hogwarts Crest, together with the animals of all the Houses, to signify unity under the banner of the Tournament. The material is so soft and fluffy that I am sure even your doggo if you have one, is not going to lea. The blanket is almost weightless, while its greyish hue, in my view, gives some sort of unnerving feeling reminiscent of the graveyard scene where Lord Voldemort rose again.
Highly detailed and donning a beautiful design, I believe this blanket would be a fabulous addition to the wall or bed of your Harry Potter-themed house. And I can also guarantee it will be a fantastic gift for any Harry Potter fan.
Pros
It has somewhat ornate edges, another factor that adds to its appeal.
Its big size also makes it a comfy rug.
Cons
Threads may start to come apart after repeated use.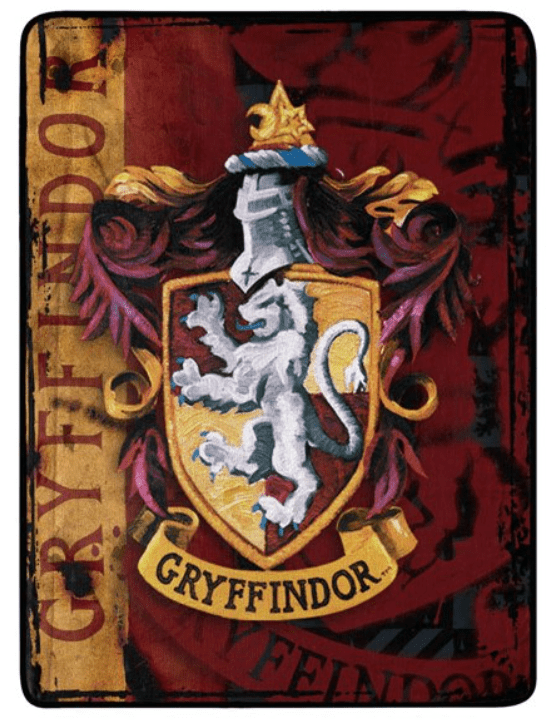 Want to become an honorary member of House Gryffindor and help them win the House Cup against arch-rivals Slytherin or just chill around in the Common Room? Or maybe you'd instead raise an army in the Room of Requirement? Whatever floats your boat, look no further than this Battle Flag Gryffindor Blanket.
In Gryffindor's colors of scarlet and gold, the Harry Potter Battle Flag Gryffindor blanket demands nerve and determination. The scarlet color corresponds to the element fire, reminiscent of Godric Gryffindor, the house's founder.
It is made from synthetic material, which helps make it cost-efficient. And the black edges are also a nice touch, which, when combined with the rest of the color scheme, add a lot of depth and glamor to the blanket. However, it is only about 5 feet long, so I wouldn't recommend it unless you're buying it for a teen or child. Except If you are an avid fan of the Gryffindor House, I would urge you to get it despite its size, even if it's only as a collectible.
Pros
It comes at a reasonably low price, making it an easy purchase.
The scarlet and gold colors complement each other beautifully.
Cons
A little too short in length for adult fans.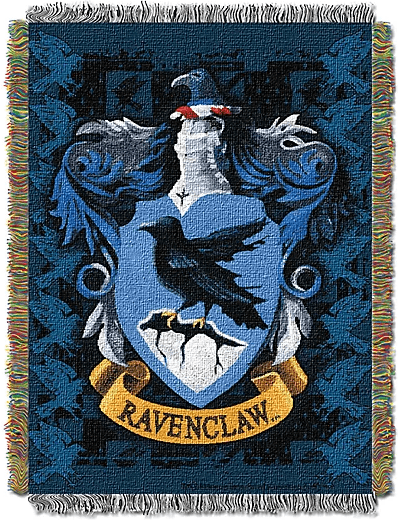 Known for its intelligence and academic prowess, House Ravenclaw is one of the four mighty houses of Hogwarts, founded by Rowena Ravenclaw. And what better way of showing your intelligence than snuggling in a blanket themed around Ravenclaw.
The Ravenclaw Woven Tapestry Blanket features an elaborate and meticulous pattern embellished with the house colors of blue and bronze. I am especially fond of the small ravens, the house's animal, astride the centered logo. This blanket has edges lined with fringe trims that also depict the house colors. Furthermore, it can withstand repeated washing without losing the vibrancy of its colors or textures. Although, compared to Gryffindor and Slytherin-themed blankets, this is more of an expensive option.
And remember, even if you don't possess the intellect and wit required to be a member of House Ravenclaw, it is hard to go wrong with this choice. After all, even the Dark Lord, a through and through Slytherin, sought the Lost Diadem to transform it into his fifth Horcrux. However, rest assured, he won't be coming to claim this spectacular blanket from you.
Pros
The vivid color scheme used makes the overall design mesmerizing.
It also works great as a wall hanging due to its relatively large size.
Cons
It is slightly expensive.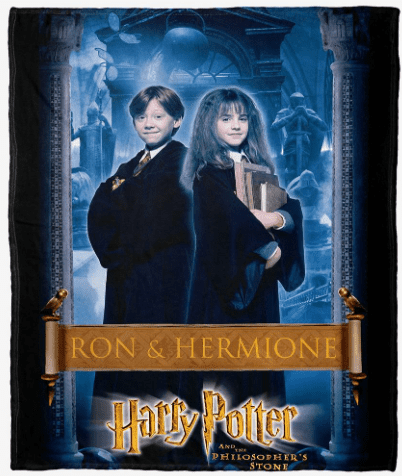 "Books And Cleverness – There Are More Important Things; Friendship And Bravery."
The blanket reminds me of this quote as it encapsulates the relationship of Harry with Ron and Hermione. Featuring vivid imagery of Harry's two best friends, this Ron and Hermione Blanket is a tribute to camaraderie and loyalty itself.
On the bottom is engraved the logo of the first movie, Harry Potter and the Philosopher's Stone. Just like it marks the beginning of a true friendship, this blanket would also be the commencement of a beautiful companionship for you in your home.
If you ask me, this blanket will last a long time. It is silky, warm, and soft to the touch. And I am sure keeping this blanket on and remembering how the series ended with Ron and Hermione getting married will make you even happier. I also enjoyed the small feature in the background of the Room of Requirement, almost as a foreshadowing for the things to come in the later movies and books. While the black outline on both sides of the graphic looks fitting, the bluish shade on the top does look a little intense. Moreover, it's only five feet long, so keep that in mind if you plan to gift it to a fan of Hagrid.
Pros
The polyester build gives it a soft feel against the skin.
Being a machine wash-safe option, it will be relatively easy to clean.
Cons
Not suitable for tall people due to its short length.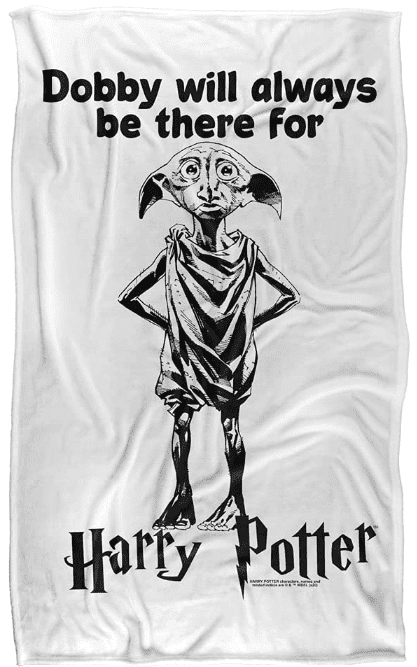 "What a beautiful place to be with friends. Dobby is happy to be with his friend."
I wouldn't believe it if you told me you didn't cry during Dobby's death scene. Pay tribute to our selfless hero, Dobby, the Free Elf, by ordering this lovely and expressive Harry Potter Dobby Blanket.
Dobby was one of my favorite characters in the Harry Potter Universe. Freed by Harry from his cruel and abusive masters, the Malfoys, Dobby never fails to repay him. Whenever you use this blanket, it will remind you of Dobby's sacrifice to save Harry, eventually dying in his arms but happy to be with his friend in his last moments.
I saw this blanket at a shop and loved its simplicity and minimalism. It includes a black and white hand-printed image of Dobby on a white background. In my opinion, the black-and-white contrast is also very impressive. It feels as if the elf is just about to punish himself before Harry eventually stops and forbids him from doing it again. And don't worry, the black text is fade resistant and won't lose its color after a few washes.
Enjoy your winter reading with this elegant blanket because it will always be there for you, just like Dobby was there for Harry Potter.
Pros
Available in two sizes, perfect for both adults and kids.
It is very much breathable and lightweight.
Cons
The fabric is relatively thin and doesn't provide much warmth.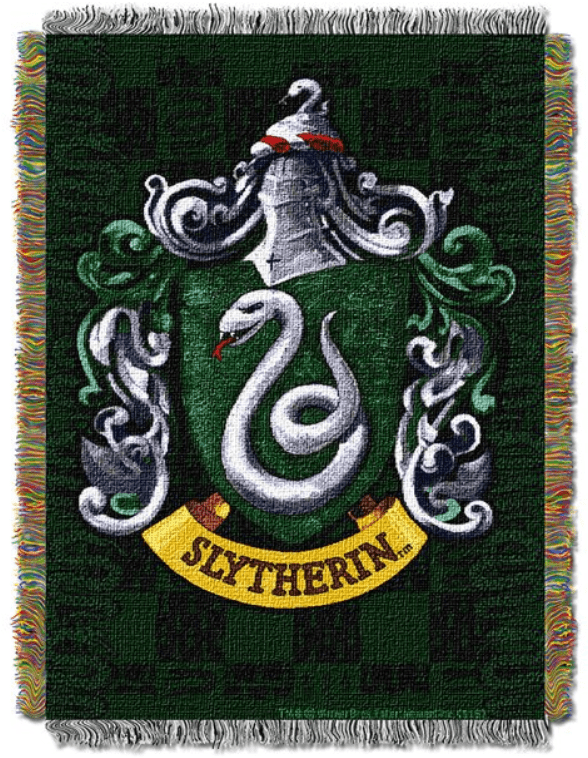 If you're a Potterhead who blows your own trumpet for your cunningness and resourcefulness, you might as well don the Sorting Hat and summon this Slytherin Shield Throw Blanket immediately. The shades of House Slytherin, green and silver, highlight the blanket, with an ominous and intimidating serpent emblazoned in the middle.
Vivid colors, intricate designs, and regal patterns are the hallmark of the Slytherin Shield blanket. As the fabric content is entirely made from polyester, I believe it makes the blanket an exceedingly comfortable and snuggly choice. I would recommend considering giving it as a birthday or Christmas present, and while it won't be delivered by elves, the recipient would be grateful regardless.
Although the colors on this House Slytherin blanket are reminiscent of the darker arts used by He Who Must Not Be Named, the bright yellow and silver shades remind me of some of the more loyal and trustworthy wizards, the house has ever produced, such as Severus Snape. But even if your loyalty lies elsewhere, it wouldn't hurt to have a piece of memorabilia from Lord Voldemort's house on your bed.
Pros
Beautiful, checkered pattern beneath the Slytherin logo.
Its mix of light and dark colors will appeal to a broader audience.
Cons
The material is relatively thin and doesn't feel very premium.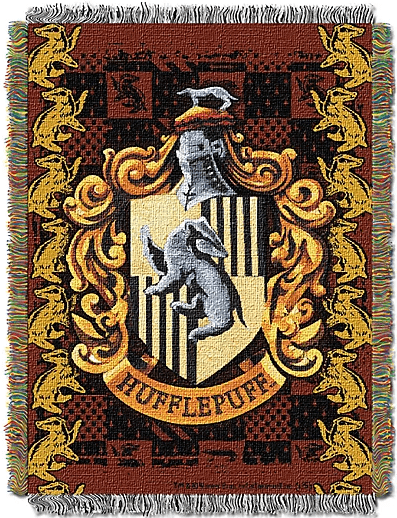 A wonderful hue highlighted by Hufflepuff colors of yellow and black, this Hufflepuff Crest Tapestry Throw Blanket is for the loyal members of the house. In the center is embedded a badger, the symbolic animal of House Hufflepuff.
If modesty, hard work, and patience are some traits that set you apart, then go ahead and earn your membership into the most inclusive house in Hogwarts through this magnificent blanket. It is made of polyester, although the material often seemed a little itchy and uncomfortable to me.
One of the main reasons I bought this blanket was its vibrant colors and patterns, which accompanied my room's interior quite superbly. The checkered design beneath the badger reminded me of the giant human chessboard designed to guard the Sorcerer's stone. However, the word "Hufflepuff" in the corner saddens me as it prompts me to remember Cedric Diggory, the poor soul who got killed by Wormtail on the orders of Tom Riddle.
Pros
The colorful fringes look gorgeous.
This blanket sure looks like a great tapestry to hang in your room.
Cons
The material is a little uncomfortable to sleep in.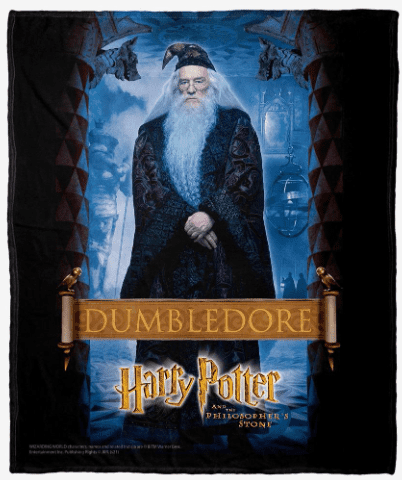 What are you waiting for if your eyes are fixed on this magnificent Harry Potter Dumbledore Throw Blanket? Follow your heart and attain this treasure immediately.
Our favorite Hogwarts Headmaster, Albus Dumbledore, was among the very few people who influenced Harry's life, and this blanket will surely do the same for you. Known for his intelligence, wit, and power, this blanket perfectly captures his three unique attributes and reminds me that he was the only wizard Tom Riddle ever feared. Throughout the books, I was always mesmerized by Dumbledore's eloquence and poise, and it seems to me he's waiting for you to settle down to sing you a lullaby.
The print is high quality, and I also found the blanket quite silky and smooth. In the midst stands Dumbledore, in all his glory and tranquility. Through those glasses, it seems as if he's scanning me from head to toe. A shade of ominous blue covers the background, which showcases Dumbledore's office. It almost appears as if his phoenix, Fawkes, might appear any moment from behind and perch on his shoulder.
Pros
Attractive design with high-quality print which lasts a long time.
Machine washable, so you don't have to worry about the design fading in the washer.
Cons
It might be a bit scary for those kids who have not watched Harry Potter.
FAQ's
Question: What is the Most Common Material Used for Harry Potter Blankets?
Answer: Most Harry Potter blankets are made of a super smooth and cozy high-quality microfiber fleece fabric with double stitching to ensure softness and durability. The microfiber also makes them a warm and lightweight option as your couch companion.
Question: Are Harry Potter Blankets Machine Washable?
Answer: Yes, most Harry Potter blankets are machine washable. But to be sure, I recommend you look at the product descriptions or the corner tags, as they are usually marked with such info. Also, remember, whether a Harry Potter blanket is machine safe or not depends on the weight of the blanket, as usually, blankets above 20 pounds are not suitable for your washing machine.
Question: Where can I Use Harry Potter Blankets?
Answer: Wherever you wish. You can snuggle up with one in your bed while binge-watching Harry Potter, curl up near a fire with a hot chocolate in your hands, or hang them on a wall. You can even take them out on a picnic.
Harry Potter Blankets: The Final Volume
Since the release of the first Harry Potter book, the world of Harry Potter has found global critical acclaim. Due to this popularity, several artifacts of the magical world have found themselves in the mainstream, and one such is the Harry Potter-themed blankets.
The buying tips and recommendations above will help you get started on which blankets to choose. Try to stay within the limitations of your budget and check the sizing to ensure you get the best Harry Potter-themed blankets for your loved ones. Using filters and browsing other similar sites can ensure you get the highest quality blankets at the best possible price.
From the above recommendations, my utmost favorite is Harry Potter Triwizard Throw Blanket. It is relatively affordable and won't significantly burden your budget. The Hogwarts crest, along with the school's motto as well as the name of the Tournament, is printed exquisitely in a light shade of grey, surrounded by black on the edges. If I had to pick one blanket on visual charm alone, this would be my choice.
I hope you're now an expert wizard on Harry Potter blankets and will buy some of the best blankets this series offers. Now it is time for me to get into my favorite blanket; Bye-Bye!