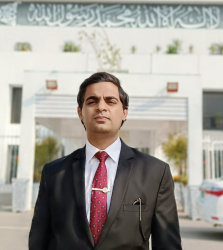 Latest posts by Boo Ali Khan
(see all)
"It does not do to dwell on dreams and forget to live."
-Albus Dumbledore
This quote is one of my favorites as it reminds me to live the moment and appreciate what I already have instead of wanting what is ahead of me. I still have my Harry Potter jammies with me; I will appreciate them as much as possible.
Harry Potter is a unique fantasy world that I love to get lost in. It is not just me; the extensive details and well-written characters leave something for everybody to fall in love with. Since its publication 25 years ago, it has amassed tons of fans, or as we call them, Potterheads. It remains one of the most captivating stories I have read.
With the fame of this series, there is something for us wannabe wizards who like to get in touch with Harry Potter at their favorite part of the day. Not to mention, Harry Potter's wizarding world is a place that comes to life during the day, yet it is the night when the magic seems strongest.
Therefore, today's guide is for those wizards who want to spend peaceful nights in the world of their favorite series. What better way to ensure a restful night's sleep than to doze off in a Harry Potter pajama?
Let me introduce you to my Ultimate Harry Potter Pajamas guide, but this does not mean it is bedtime. These pajamas carry all of the magic that has bewitched me since I got them, and maybe you can get to dream of being in Hogwarts like I sometimes do. So keep your wand at hand; you may need it in your dreams.
Bottom Line Up Front
Being a Gryffindor myself, I love this Gryffindor Unisex Pajama Set the most. The red lion on its front gives me the courage to confront my fear of darkness, which can be more pronounced on some stormy nights. The pants are in red checkered color, while the top is also in a scarlet red color with a golden yellow lion on its chest. This set also features a unisex design, making them ideal for any Gryffindor fans.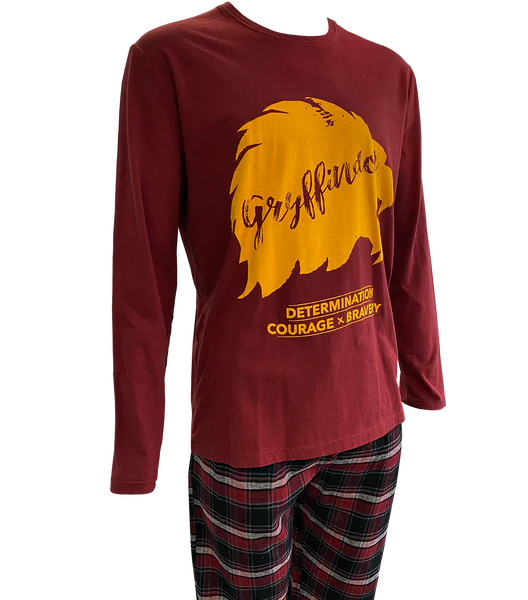 My Top Picks:
My Selection Criteria For These Pajamas
These magical jam-jams that I included in my top picks fulfill the following criteria:
They are mostly affordable.
They are in stock and easily found online.
They are comfortable.
They are durable.
They have pretty designs.
Buying Tips For Harry Potter Pajamas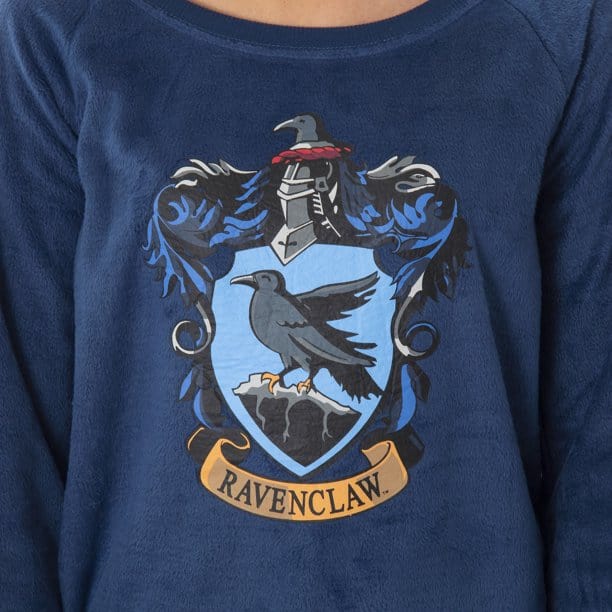 Buy From Legitimate Sellers
Harry Potter pajamas are a novelty item; therefore, you may get a few fakes on the market offering pretty poor stuff. To avoid being unsure whether the Harry Potter pajamas you bought are magical, you must carefully select the stores you purchase these pajamas from. It is most probable that if you buy from an authorized seller, you can rest easy that your pajamas are the real deal.
Have A Budget
While you can get Harry Potter pajamas at a reasonable price, you can save more when you set a budget and try to stick to it. The variety of pajamas available can tempt you to spend more than intended, so deciding how much you want to spend beforehand can help you avoid cutting your right hand off.
Check The Reviews
If you decide to purchase a Harry Potter pajama online, you might want to take a look at the reviews of the pajama to make an informed decision. The reviews can tell if most buyers were satisfied with the pajama or if it had any flaws or problems. This way, you can avoid purchasing a pajama set that may leave you dissatisfied.
Try To Shop Retail
If you are in the market for Harry Potter pajamas, then I would recommend that you go and buy them in person rather than ordering them online. When purchasing these pajamas at retail, you can easily find something you like and identify any defects or problems that may have been overlooked when ordering online. Through retail shopping, you will also be able to avoid the long refund and return periods common in online shopping.
My Top 11 Harry Potter Jammies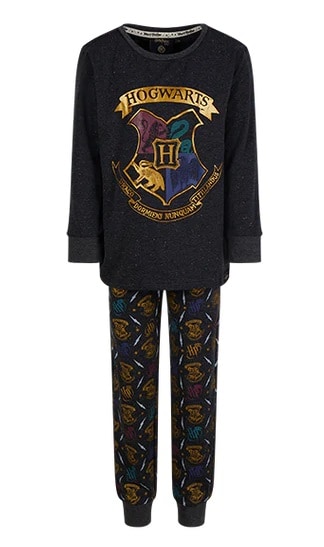 Description
Imagine being in Hogwarts for your first sorting ceremony after a long ride on the Hogwarts express. But the Sorting Hat could not sort you to any house. Worry not; with these pajamas, with the Hogwarts crest, you can at least spend your night in the Great Hall.
This set has a dark grey long-sleeved shirt that looks warm and furry to me. The pants are also made of the same grey-colored material but now with a little blue hue.
A stencil of the Harry Potter logo, a lightning scar, and the Hogwarts crest can also be seen running down the length of the trousers. These lighting scars remind me of how it always hurt Harry when Voldermort was around, and somehow it did the same for me when my mother was about to catch me doing something naughty.
These pants are made of wool, which guarantees a lot of warmth and no skin irritation. They have a fair price, which won't disturb your budget. And the best thing is that they are available for children aged 5 to 10, making them ideal for any young witches or wizards looking to practice magic while they sleep.
Pros
They are made of wool, which is excellent for those looking for organic clothing.
The Hogwarts logo is made with a golden foil, giving the design a sure pop.
Cons
This pajama material shows lint after a few washes.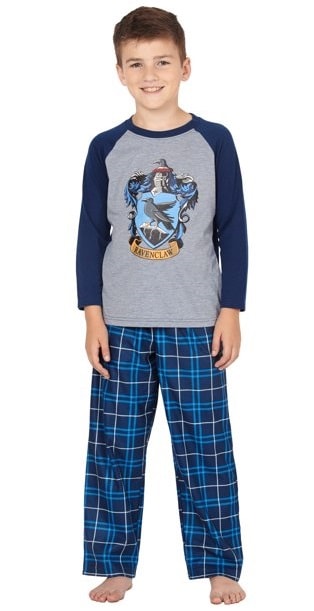 Description
There's nothing better than having matching outfits with your kids or younger siblings. With this set of pajamas available in both children's and adult sizes, you can rock your PJs together and turn your boring nighttime into a magical adventure every time you put these on.
These pajamas are a great treat for any Harry Potter-loving household, and I can surely say so because I got them for myself and my brother. If you're wondering, Yes! he loved them. The best thing about these pajamas is that they are offered in all the Hogwarts houses so that no one is left behind.
If for some reason, you and your siblings are fans of different houses, you can buy them accordingly and duke it out in an all-out wizarding match. I can't help but imagine a duel between the Slytherin house and my favorite Gryffindor.
Talking about the material, these are made of polyester, so they are pretty stretchy and comfortable to wear. However, the prices for these pajamas can vary according to the size, so keep that in mind.
Pros
These are available in four different house themes.
They are perfect for young Potterhead girls.
Cons
The material of the pajama pants is pretty thin.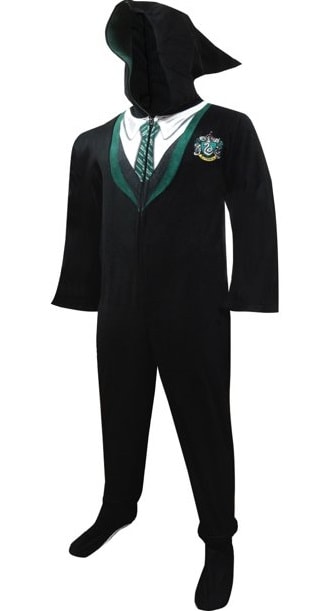 Description
The Slytherin house is perceived to be the house where most villains end up, But allow me to counter that by saying Snape, one of the most influential persons in Harry Potter who was also a Slytherin, was a great Slytherin hero.
These pajamas are dedicated to all such heroes. These Slytherin pajamas remind me of Snape's sacrifice to help Harry. After all, protecting the memories of our first love is a sacrifice we all are willing to make!
Made in a one-piece suit, these pajamas will help keep you warm, and their loose fit makes them very comfortable. The Slytherin crest is depicted on these pajamas on the pocket side, while the full uniform, complete with a sweater, shirt, and tie, is printed on its front.
If you are wondering how to get into these pajamas, worry not. They have a zipper at the front that runs down from the neck to the waist. They also feature a hood which is great for those extra cold nights or, if you're like me, the mere feel of a hoodie on your head.
Pros
These one-piece pajamas are an exact replica of the Slytherin house uniform.
These pajamas have a hoodie which is a great added feature.
Cons
The zipper can sometimes get stuck and may require replacing after a while.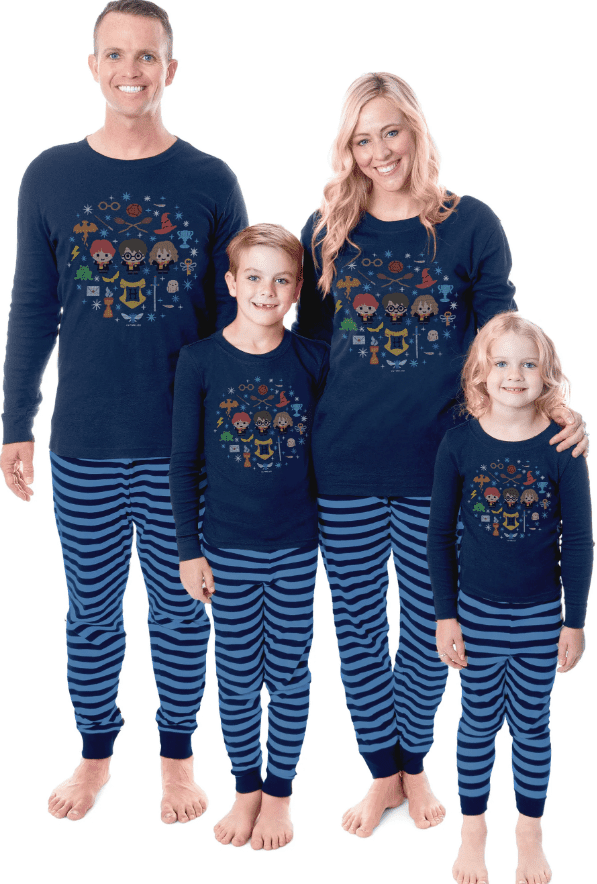 Description
I can't wait to have my kids and introduce them to Harry Potter. They would probably love the golden trio as much as I do. These pajamas depict Harry, Ron, and Hermione in a cute embroidered style.
This design also has some of my favorite things from Harry Potter, like the sword of Gryffindor, the goblet of fire, the phoenix Fawkes, and Trevor, Neville Longbottom's pet toad, which used to go missing quite frequently; but Longbottom does not have to worry anymore, now it's safely kept in this pajama set.
These pajamas are a perfect gift for those Potterheads who want to reminiscence the memories associated with their favorite trio. Hermione always helped them through the challenges using her wit. Ron was there when stupid bravery was needed, and Harry Potter was the one destined to finally vanquish Voldemort. Now it's up to you which hero you are going to follow.
One of the best things about this set is that you can buy them for your whole family; just imagine your whole family decked out with these Harry Potter pajamas next Christmas. Isn't it exciting?
You will definitely be the coolest family on the block. Plus, since they are made from pure cotton, they are perfectly suited for those with sensitive skin that requires special care.
Pros
These pajamas have a reasonable price range.
These pajamas' cotton material is breathable and comfortable, saving your skin from irritation.
Cons
The sweater feels pretty baggy.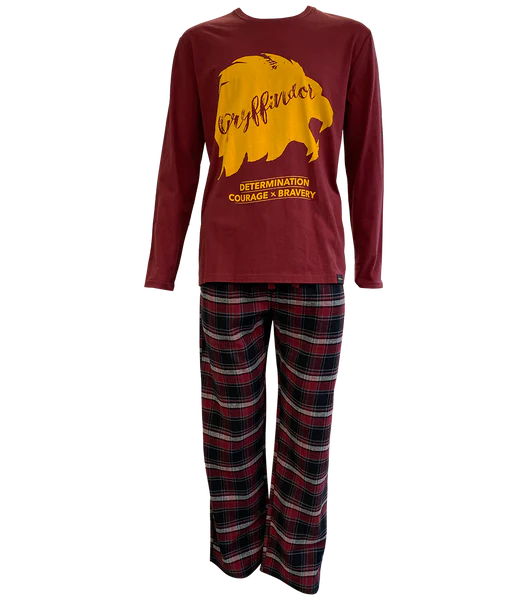 Description
With a bright golden lion on the front, these pajamas have been a great help for me in confronting my fear of the dark. They come in all adult and kid sizes. Now, no Gryffindor fan can be left behind.
The long-sleeved top's bright scarlet red hue perfectly captures the iconic color of Gryffindor. It reminds me of the blood of all the heroes and friends that the Gryffindor house has sacrificed in their quest to stop Voldemort and his Death Eaters.
The pants have an excellent checkered design with the same scarlet red color as the shirt. These pajamas are available from the officially licensed Harry Potter shop, which means you can be assured that these are genuine Harry Potter pajamas of good quality.
These pajamas are made of pure cotton, showing how the manufacturers have gone above and beyond to ensure everything is perfect. Their waist is also lined with an elastic band which guarantees a comfortable fit when wearing them.
Pros
Available in different sizes for kids and adults.
Due to the dark tone of the pajamas, they don't show stains.
Cons
The red color of the top can quickly run off when used with strong detergents.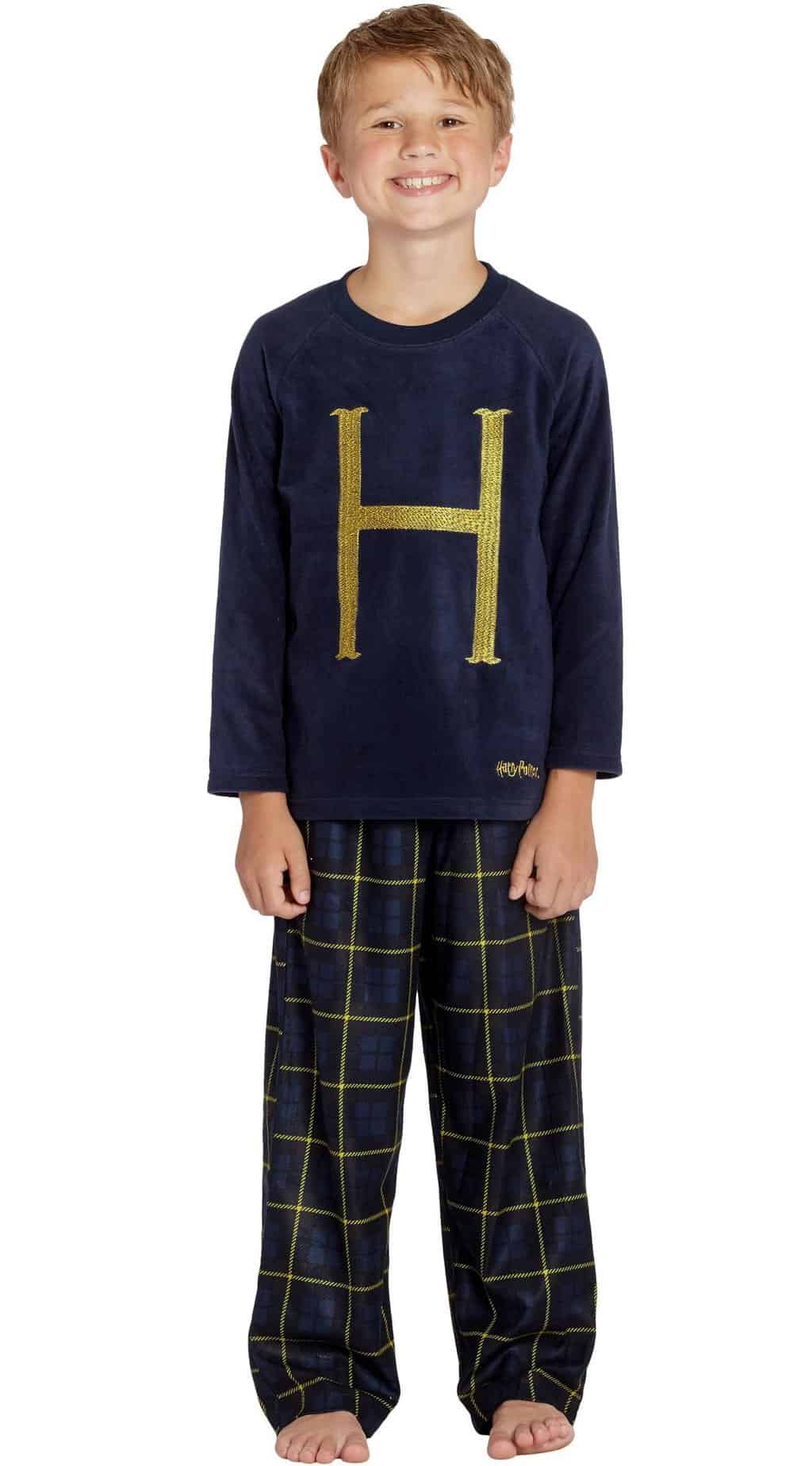 Description
Molly Weasley, Ron's mum, was the only mother figure with whom Harry Potter had a strong connection. It felt nice when she included Harry Potter in the Weasley family activities. She presented Harry with a handmade itchy sweater with the letter 'H,' which is exactly what this pajama set looks like. I can assure you these pajamas will surely make you a part of  Weasleys too.
While the sweater in the series may look itchy, you can rest assured that this pajama set is as smooth as silk. Remember that these pajamas are made from polyester, so you need to take special care when ironing them as they can get burnt easily.
Another great thing about this pajama set is its availability in children's sizes. This might not seem like a significant attribute, but if you gift it to some Potterhead, they will know that you consider them a family.
The fact that these are available at a meager price makes them appropriate for any fans looking to save up on their galleons, just like Mr. Arthur Weasley.
Pros
These are machine wash safe; you don't have to get your hands wet if they get dirty.
They are available at an affordable price.
Cons
The embroidered letter H gets worn out pretty quickly.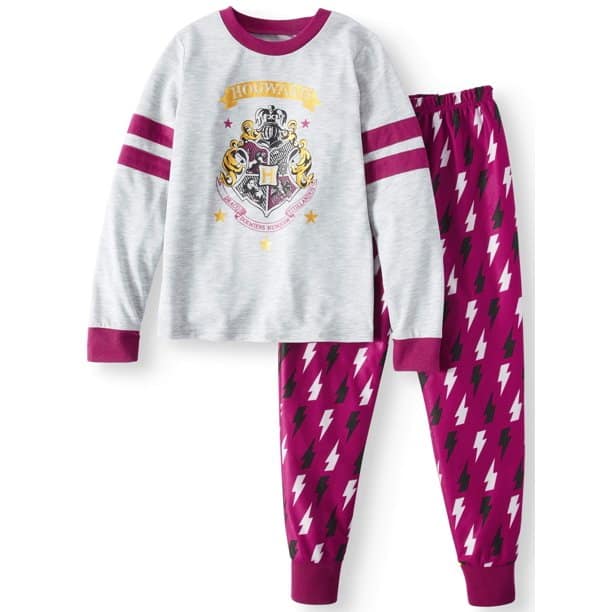 Description
These pajamas will be perfect for all the witches out there looking to keep warm and fight against Voldemort in their dreams. But if you're a boy who can bear the color pink, wearing this pajama set will also make you popular with the girls.
These pajamas' trousers offer a bright pink color with black and white lightning scars drawn along the length with a slight angle, showing off the twisted plot of the series. This makes them stand out, making it pretty apparent for any Harry Potter fan to recognize them from a distance. The pajama top is grey in color, with the Hogwarts crest drawn neatly on its chest.
Made from polyester, these are excellent for the cold seasons. However, they might not be a perfect fit for those with skin allergies. However, they are available for under $20, making them affordable for any girl looking to have a Harry Potter slumber party.
Avoid using strong detergents as the bright pink color can start to wash off and mix with your other clothing. But maybe you might even like that unless you have your brother's clothes in the laundry.
Pros
They have an elastic waistband which helps ensure a comfy fit.
They have a decent enough price tag, especially considering the quality.
Cons
Frequent washes can fade the color.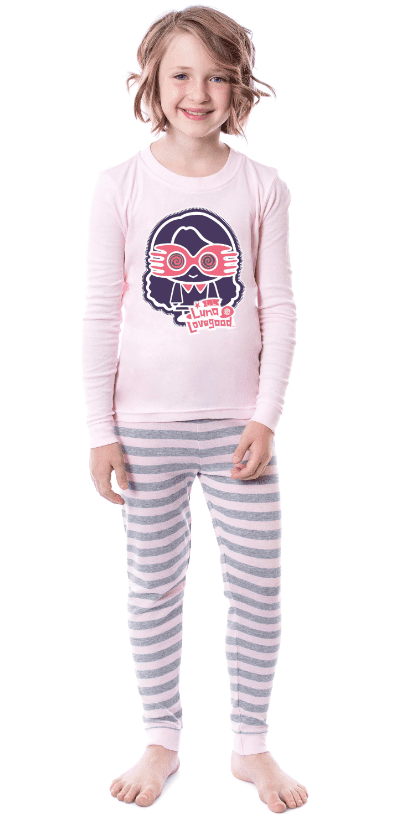 Description
Luna Lovegood was one of my favorite characters with her goofiness and eccentric personality. She was always perceived as weird and odd but fiercely loyal to Harry Potter. All these traits are perfectly captured in this pajamas set with her true essence.
On the front of the top, she is printed in a relatively goofy style and is seen wearing Spectrespecs, which have become her most iconic and recognizable look. The Chibi art style is cute, making me wonder why Harry Potter doesn't have a cartoon yet. Just remember that the cotton fabric used doesn't make the pajama a bit delicate to clean; maybe some spells will do the trick.
The pajamas are only available in small girl sizes, so any teens wishing to rock this design can pray that Pjammy starts manufacturing them in bigger sizes. But, did I mention that these come at a very affordable price?
Pros
They are very warm and suitable for cold seasons.
The pink color of the pajamas attracts every girl, whether they are Potterhead or not.
Cons
They tend to have a bit tight fit, which can be uncomfortable for some older kids.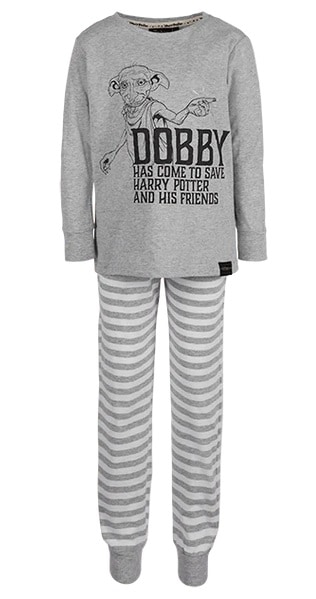 Description
Dobby, a character that is still close to my heart, helped Harry a couple of times despite being the Malfoys house elf. It was kind of  Harry to repay the favor by helping him get his freedom, and this tale is perfectly captured by the lines printed on it.
It also features a striped design on the pants, which I think is similar to the uniform the prisoners used to wear in Azkaban.
Another great thing about these pajamas is that they are from the authorized Harry Potter shop, and you can be assured of their quality. After all, you would not want your clothes getting worn out like Dobby's.
This pajama also has an affordable price, and this is something Dobby has always wanted.
Don't worry; these pajamas have a comfortable fit despite their appearance.
Pros
They have a decent price considering they are official Harry Potter pajamas.
It has a nice fit that is both snugly and comfy.
Cons
The Dobby's face on the top does not match its original shape.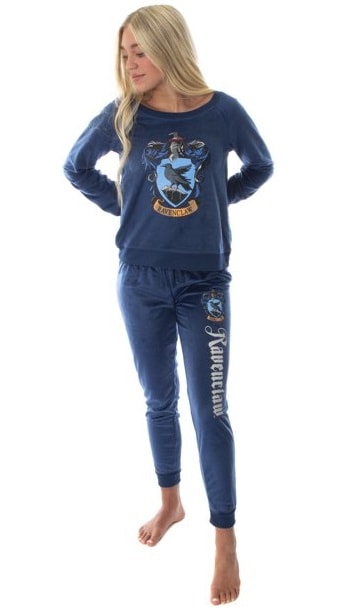 Description
Looking for a gift for a Harry Potter fan and spoilt for choice? Relax, I got your back. You can safely bet on these pajamas. It would not be wrong to say that there is no Potterhead who does not want to receive the Hogwarts acceptance letter and board the Hogwarts express. These are also my biggest fantasies, and the customization option of these pajamas is a sure answer to them.
Although the pictures attached with the product's description make this pajama set specific to the Ravenclaw house, you can place your order for any of your favorite houses. The top and trousers would offer the same color as your favorite house, with its crest at the front of the top and its name written down the side-length of the trousers.
However, in my view, the trousers seem to be a bit tight. Therefore, you should confirm the chart size before ordering and maybe buy a bigger one if you are still unsure about its fit.
Pros
The quality of the prints is pretty amazing.
They can be available in four different house colors and styles.
Cons
The trousers are a bit tight compared to the shirt of the same size.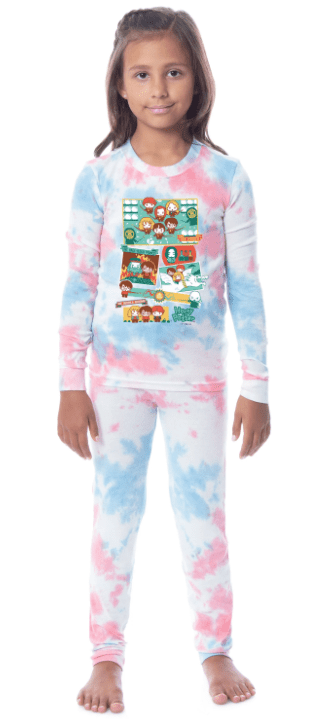 Description
Harry Potter was definitely one of the most well-written series, and this pajama set reminds me of many events in it. This pajama's front design will make an excellent talking point for any Harry Potter fan as it seems to have captured the magic of the seven books excellently. These kid-sized seeking a deep and magical slumber.
They have a stained tie-dye, which was quite popular when I was still a kid; therefore, this design makes me pretty nostalgic. The top of these pajamas has a detailed picture that includes a lot of characters and scenes from the series. We can see the golden trio riding on a dragon and Harry Potter dueling with Voldermort at the battle of Hogwarts.
We can also see the five original Order Of The Phoenix members fighting Death Eaters while wearing masks. But my favorite part of the design was the illustration showing Harry with Dumbledore as they tried to get the locket Horcrux in the cave in the Half-Blood Prince. But, although I love the designs printed on the top, the mix of blue and pink dye does not seem good to me.
Pros
Available in sizes from 4 to 12.
These jammies come with a reasonable price tag.
Cons
These light color pajamas are easily stained.
Frequently Asked Questions
Question: Are Harry Potter Pajamas Only for Children?
Answer: It would be totally wrong to say that these jam-jams are only meant for children. Harry Potter pajamas are available in many sizes, and you need not worry about your size if you are an adult who is a proud Potterhead. Their designs are also no exception and are appropriate for most adults as well.
Question: Are Harry Potter Pajamas Expensive?
Answer: No, Harry Potter pajamas are pretty affordable. But, some designs may end up being a bit pricey. It all depends upon the brand and the stuff of the pajamas.
Question: Are Harry Potter Pajamas Durable?
Answer: Yes. The Harry Potter pajamas, normally made of polyester and cotton, are pretty durable. Still, I would recommend using mild detergents as the colors can sometimes easily wash off due to strong detergents and bleach.
Question: Where can I Buy Harry Potter Pajamas?
Answer: Harry Potter pajamas can easily be purchased at your favorite retailers like Walmart and Target. But if you're more into online shopping, you can check them out on Amazon or even directly from the officially licensed Harry Potter shop.
Wrapping Up
Harry Potter is a story full of courage. It is about being brave, trying to confront your fears, and standing up for what is right no matter the outcome. The popularity of Harry Potter makes every Potterhead wants something from its merchandise, even if it comes to pajamas. These pajamas are undoubtedly filled with magic and allow you to explore the hidden world of wizards.
It would be wise to buy these pajamas from authorized sellers. Also, remember to prepare a budget beforehand. When ordering Harry Potter pajamas online, check the reviews of the product you want to buy. If you can get Harry Potter pajamas in retail stores, I recommend going for them rather than buying them online.
My favorite Harry Potter Pajama would be the Gryffindor Unisex Pajama Set. This pajama set comes with a red long-sleeved shirt with a roaring golden lion on its chest, and this lion will help you fend off any nightmares in your sleep. I also love that these pajamas are unisex and, therefore, suitable for every Gryffindor fan.
So now I believe you can sleep well in these Harry Potter pajamas knowing that you may be able to visit Hogwarts after all.
Continue reading:
Best Harry Potter Blankets Guide To Survive Hogwarts' Chilly Nights!
The Best Harry Potter Sweatshirts Guide for Fans of the Franchise