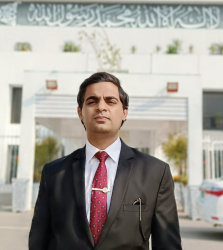 Latest posts by Boo Ali Khan
(see all)
Over the years, Harry Potter has grown an incredible fan base, and I love how it has also become a multicultural phenomenon. More and more younger people are being introduced to the magical concept of Harry Potter, leading to many things being themed after the concept of Hogwarts and its students. Of course, these things also include Harry Potter-themed cakes, which have recently flooded the market, as many Potterheads want a piece of the pie.
I have read the Harry Potter novels from cover to cover countless times now. I've also amassed a sizable collection of Harry Potter memorabilia, such as my Nimbus 2001 broomstick and Elder wand.
One thing that never ceases to amaze me is the creative ideas these hardcore Potterheads always come up with. If you are a Potterhead, you would agree with me that the Harry Potter magical world has no end. In today's guide, I will talk about one yummy element of the Harry Potter universe, Harry Potter cake ideas.
So take out your muffins; we have some cakes to bake for the Great Magic Hall.
Bottom Line Up Front
With the massive Harry Potter fanbase, there's an abundance of Harry Potter cake ideas brimming with magic. Some of them are so nicely done that I don't even want to imagine a knife cutting through them.
My favorite cake idea would be the Harry Potter Multi-Tiered cake. This cake is filled with a lot of places and characters. With up to six tiers of cake, this is a beautiful delight. I love Hedwig the most in this cake as he looks so cute inside the little cage. This is an excellent cake for Harry Potter-themed weddings and is large enough to cater for multiple guests.
My Selection Criteria For These Ideas
Level Of Detail
These Harry Potter cake ideas seem taken directly from the Harry Potter universe. I would dare say they have bewitched me into loving them. They are craftily made with great enthusiasm, and their designs have perfectly captured the essence of what they're trying to represent: magic.
Amateur And Professional Cakes
Most of these cake ideas can easily be baked at home. Still, for some Harry Potter cake ideas, professional help is required to bring out the design's true potential.
Famous Characters And Places Are Included
While compiling my list, I looked for cake ideas with my favorite characters and places from Harry Potter. So, you will find many ideas based on Hogwarts, Harry, Dobby, Wands, and Golden Snitch.
The Harry Potter Cake Ideas That Are Close To My Heart
With so many Harry Potter fans out there, there are even more cake ideas to choose from, and you may become overwhelmed with choices, so I did the job of sifting through them for you. I hope you will definitely find an idea you like.
Harry Potter Scarf, Wand, And Glasses Cake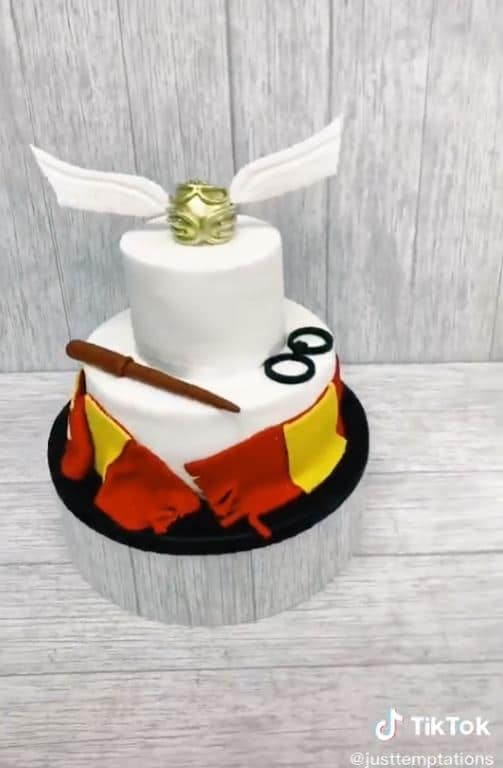 This cake contains everything that I love about Harry Potter. The scarf is done expertly with such great detail that it compels me to put it around my neck. The glasses are also another iconic Harry Potter item that can be easily recognized. This doesn't mean you can forget the wand. This wand always tempts me to pick it up and try a couple of spells myself. I believe this is a risk I am too afraid to take unless the Golden Snitch starts to fly.
However, be careful with the finish and try to get a professional to help you if you want to nail the design.
Harry Potter Shirt With Scarf Cake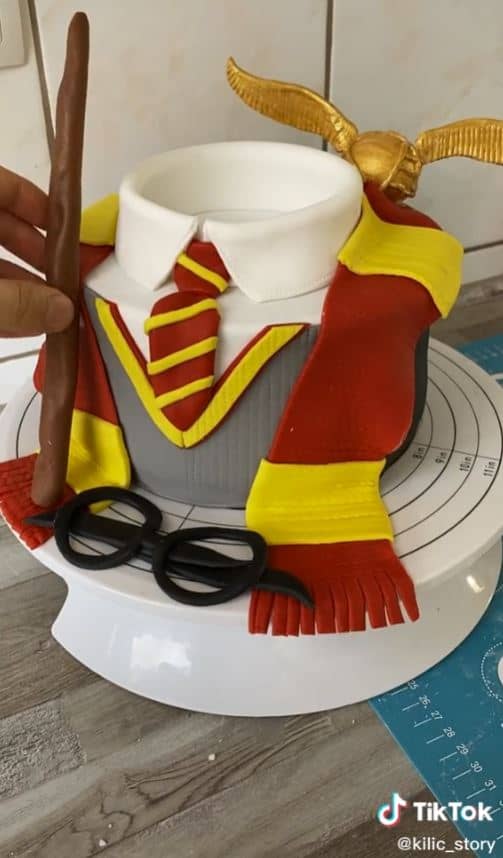 The wand and glasses appear on many  Harry Potter cakes. This cake idea has taken it one step further with a realistic Hogwarts uniform. It has a black robe on top of the sweater and a shirt underneath. The collar and the tie also add more realism to this cake design. To complete the uniform, a Gryffindor scarf can also be seen draping down the ends.
A Golden Snitch can also be seen resting on the top of his design, but I'm scared it might fly away, so make sure you keep an eye on it. This cake design would be perfect for a Harry Potter fan's birthday who also happens to be a Gryffindor.
Mandrake Harry Potter Cake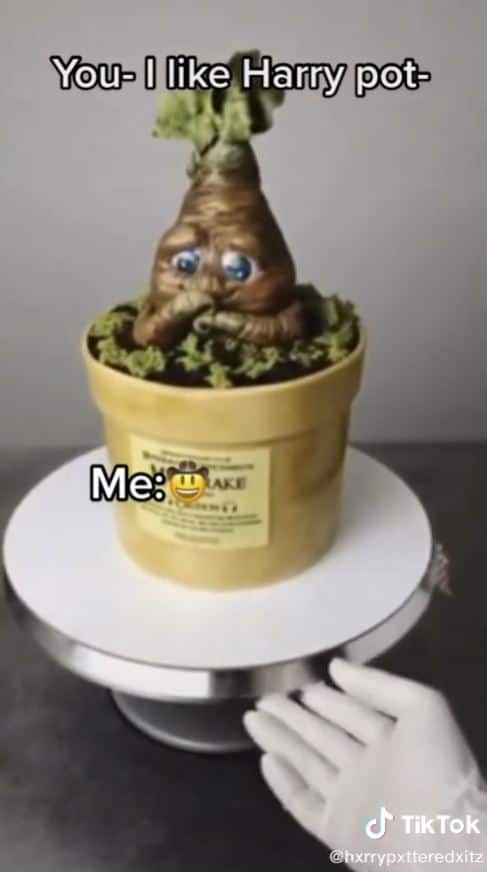 Do you remember how cute the little mandrakes were? They seem like cute babies when they shriek, except their cry is fatal to anyone who hears it. That's why you should always have ear muffs when handling this cake design, just to be safe.
This cake clearly shows mandrakes, just like in the movies, and I love the warning label on the pot's side. The mandrake's eyes are watery, and it looks like it's just about to cry. The pot is also filled with dirt and green, which you can probably do with chocolate shavings and some green MnM's at home.
Harry Potter Deathly Hallows Cake Idea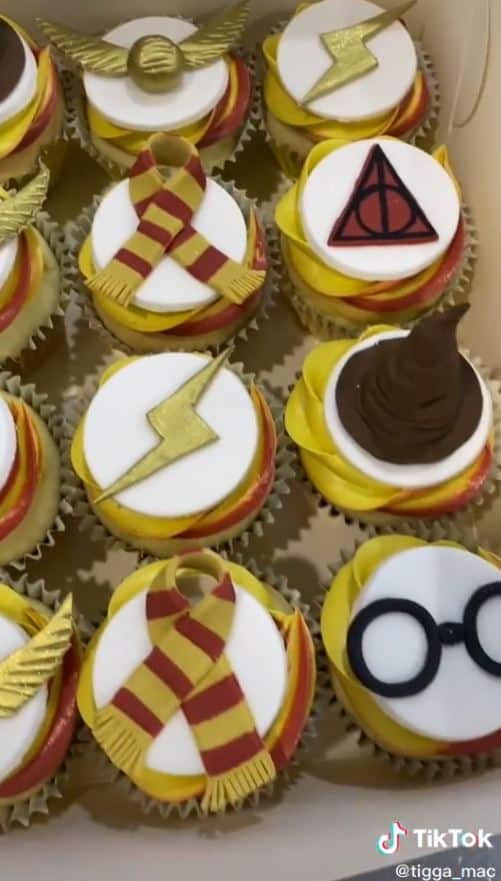 This idea is suitable for having a group over for a party. These cupcake designs come with different toppings, each being completely unique to the last. One of them is a small Sorting Hat design, and it makes me wonder which house I would be in if I ever made it to Hogwarts.
The Deathly Hallows sign is also a great touch and is not commonly seen on cakes. I also love the tiny Snitch and the small scarf designs, which are so adorable. I think the lightning scar is the best design, as it's simple yet easy to make.
If you want every Potterhead to have their own personal Harry Potter cake, this idea is your way to go.
Cake With A Harry Potter Sorting Hat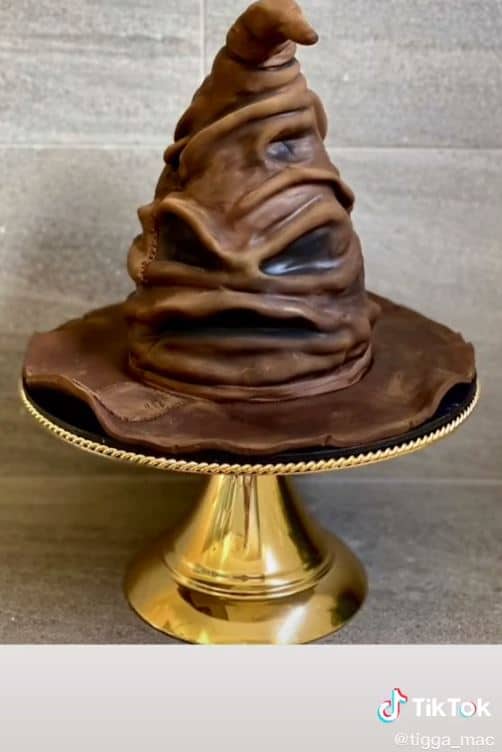 Sorting Hat! The grumpy and scary hat that used to decide which house to place you in, and its decision was also permanent. Amazingly, it never made a mistake.
Just like the Sorting Hat, the face of this cake is wrinkled and freckled. It looks just like the movies, and I was almost tempted to put it on and find out for myself which house I would be sorted into.
The edges of the hat design are also a bit wrinkled, which helps give the cake an antique look. This cake idea is almost as old as Hogwarts itself, and if you're like me, you will be mesmerized by the level of detail on it. This also makes it challenging to produce at home, but I know you can do it with some magic.
Harry Potter And Hermione Cake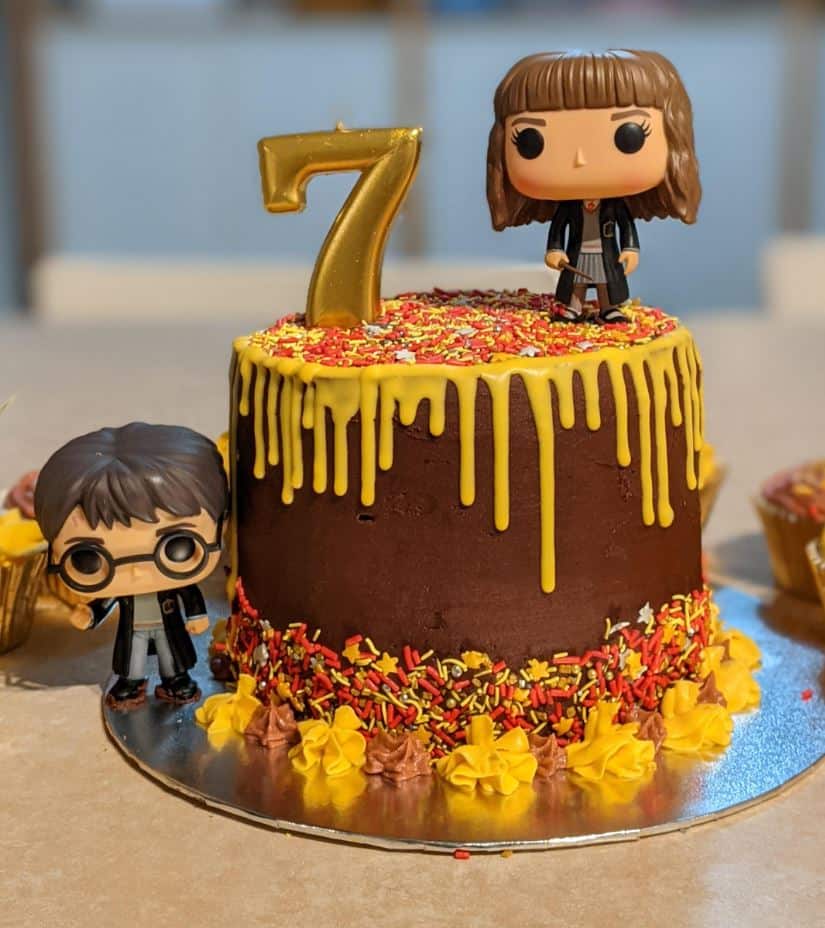 This cake idea is one of the simplest in this guide. You can just bake a typical cake with any style and design you like. With this particular idea, the cake is a brown fudge color topped with a bright yellow icing that seems to flow down from the cake like a fountain.
The flowers at the base of the cake are a cute addition, reminding me of the time Luna Lovegood had a flower in her hair at Bill's and Fleur's wedding. Furthermore, place your Harry and Hermione Funko Pops on top of the cake, and Voila! You're done! You have a simple Harry Potter cake. You can just add any number on top, which correlates with the age of the birthday wizard.
Cake With A Harry Potter Book And Wand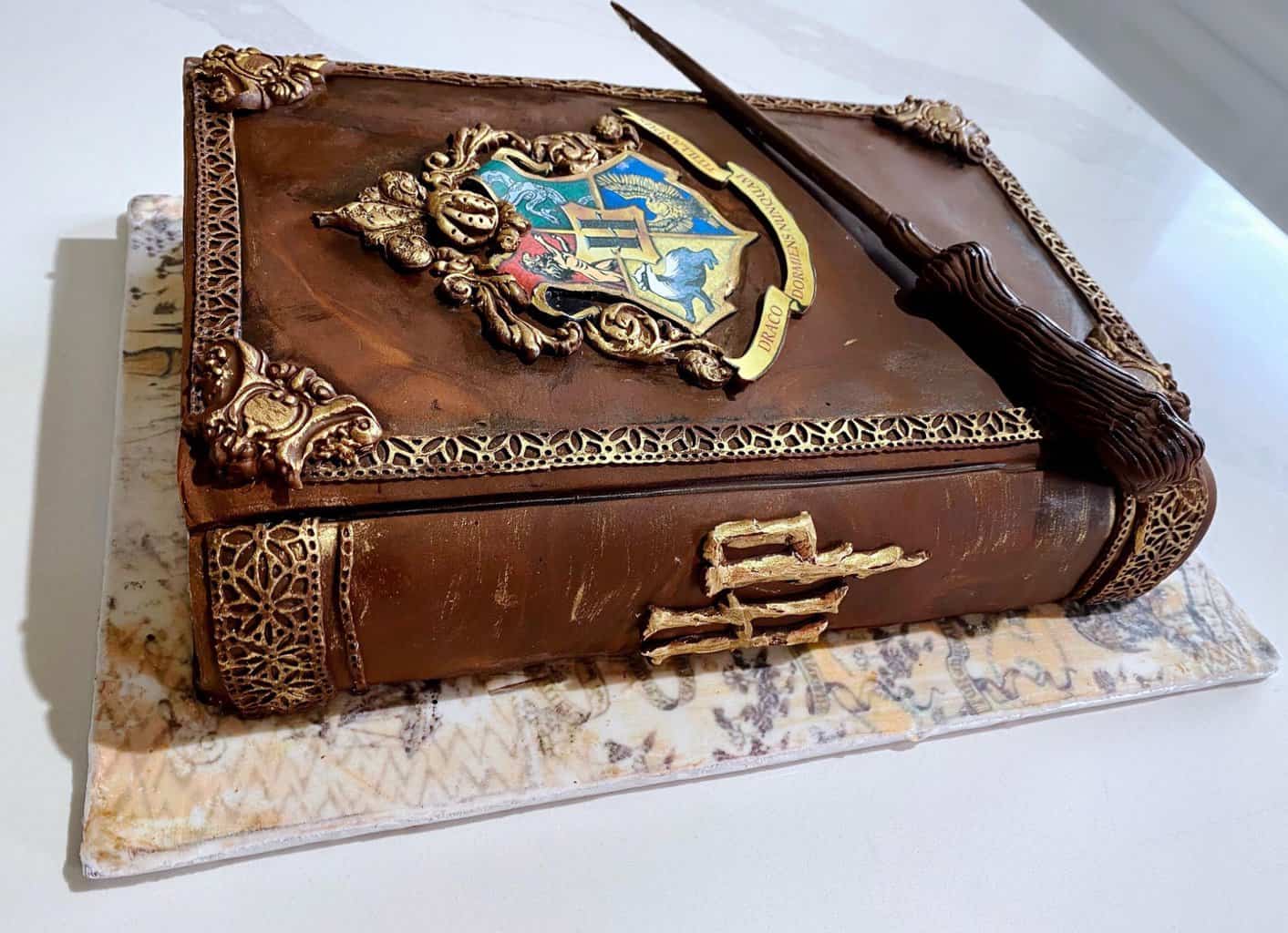 At first glance, this cake design feels like an ordinary book. However, this cake is highly detailed and seems to have been done professionally. If you ask me, magic must have been used in coming up with this cake idea because it leaves me mesmerized each time.
The book's outer cover is excellently done. I must say it looks exactly like the book straight out of Dumbledoor's library. And the wand on the top will have you practicing spells in no time, but it's a little flimsy for strong spells.
If you want this cake for your next birthday, just remember to pick chocolate as the outer layer, as it really goes well with the rugged texture of the design.
Harry Potter Cake with Ron And Hermione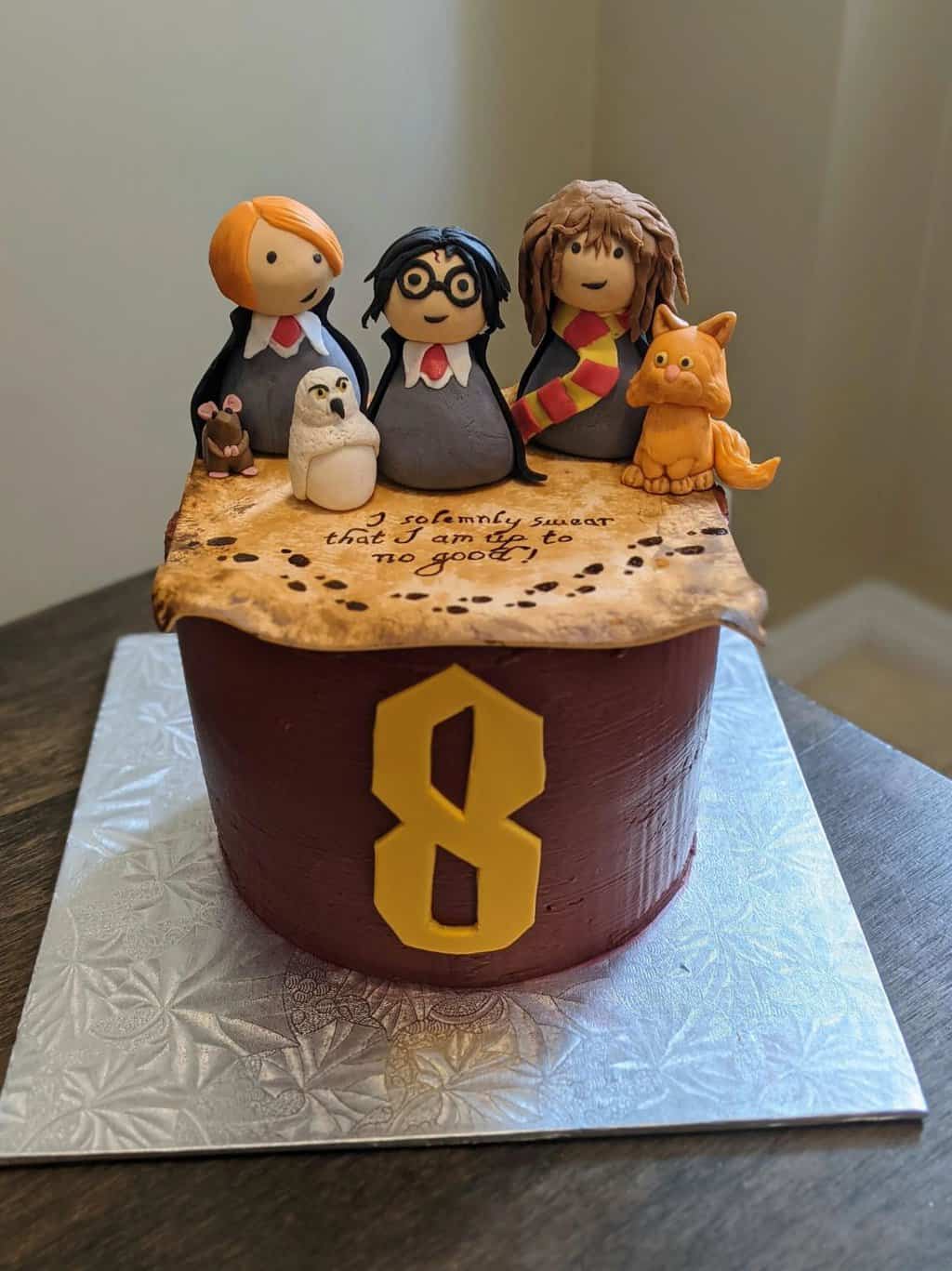 This cake idea doesn't need much work and can be easily done at home. Looking at it, I can easily recognize Harry, Hermione, and Ron. I have to say this cake gives me homely vibes, and it also includes Scabbers, Crookshanks, and Hedwig.
Although it has cartoonish art, it fits in well with the rest of the cake and increases its appeal even more. Hermoine's hair looks like dreadlocks to me, maybe the designer liked them that way, and I love how Marauder's map was also incorporated into the design. Just remember to use food-safe ink for the text.
Harry Potter And The Deathly Hallows Cake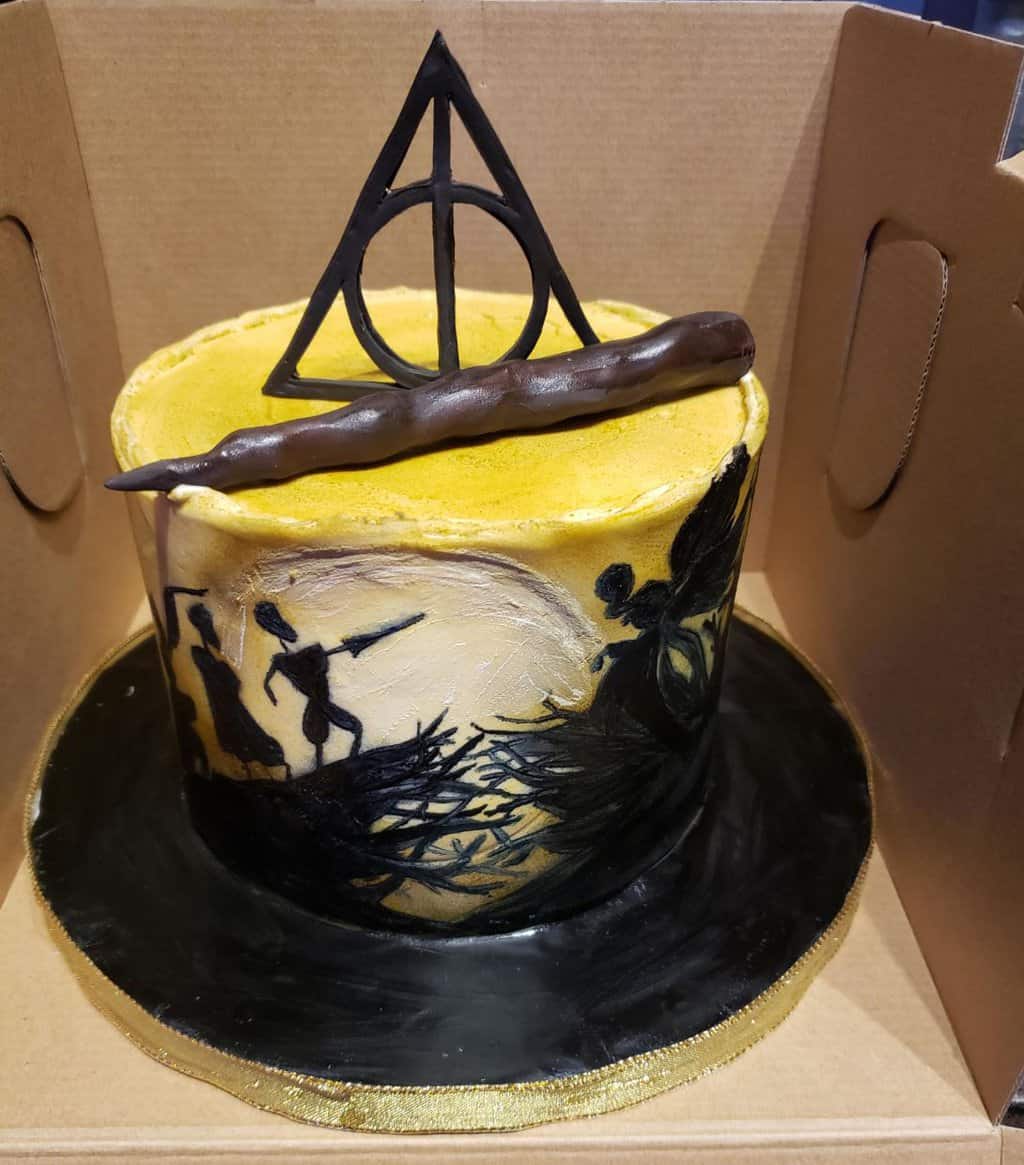 My favorite aspect of the Harry Potter series was the Deathly Hallows, the three items that, when used together, can help a person escape from death. This cake design perfectly captures the scene from the movie the Tale of the Deathly Hallows.
The three brothers are pictured together battling death. The art style is stunning, and the Deathly Hallows sign on top of the cake makes it fit the style of the movie. This cake idea also has a wand on top, which I recommend making from chocolate or fudge, so you can eat it.
Harry Potter Multiple Tiered Cake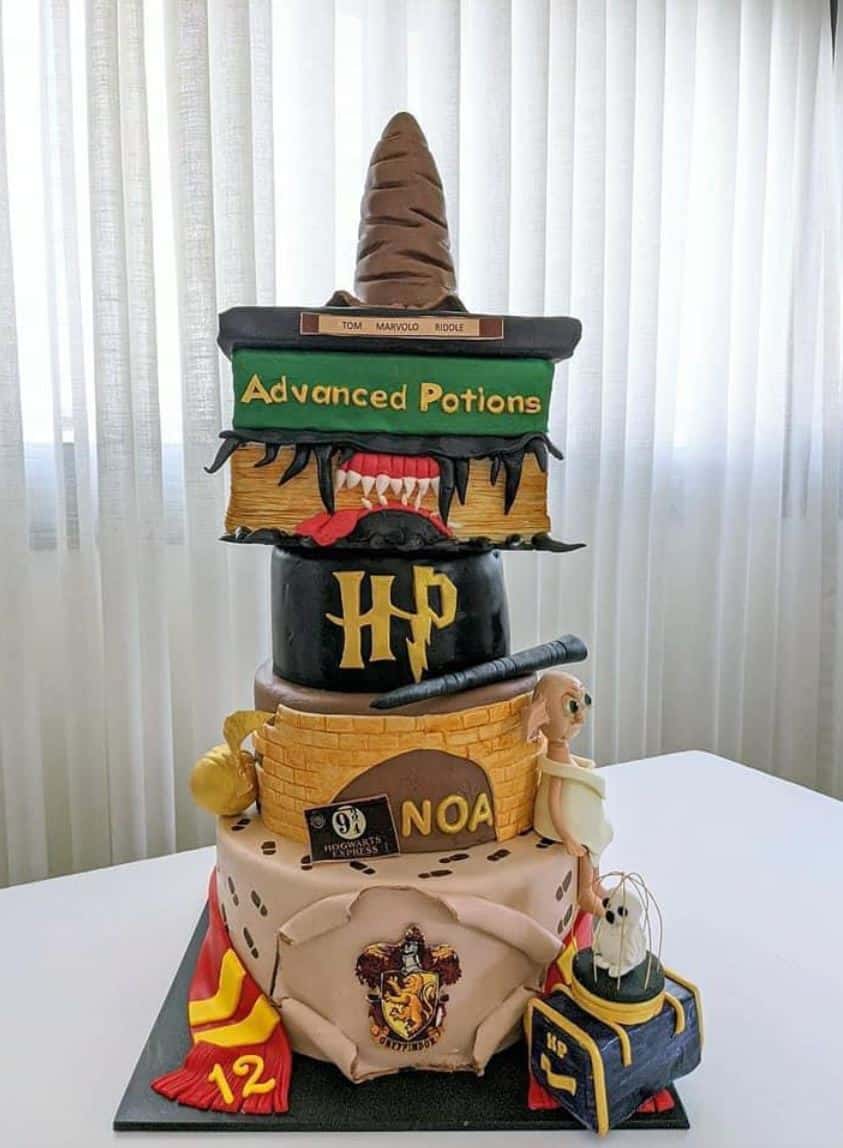 This cake idea feels like a bit of overkill with almost the same levels as a wedding cake. The first cake layer is the Sorting Hat with a bit less character than usual. Tom Marvolo Riddle's diary is right below it. Then there is Hagrid's course workbook, and the Monster Book with literal jaws is just underneath it. A black circular cake with the Harry Potter logo and a wand next can also be seen in the middle.
At the lower part of the cake, we can see the entrance to Diagon Alley with a small Dobby figurine and a Golden Snitch on the opposite side of the cake.
I wouldn't recommend this for any everyday occasion as a design like this takes quite some time and should be reserved for a special occasion. This cake idea also features many customizable parts like if you are picking this for a birthday party, you can write the age of the wizard on the scarf just underneath the whole thing. You can also add the couple's name beside Dobby if you plan to have this for a wedding.
Harry Potter Quill With A Candle Cake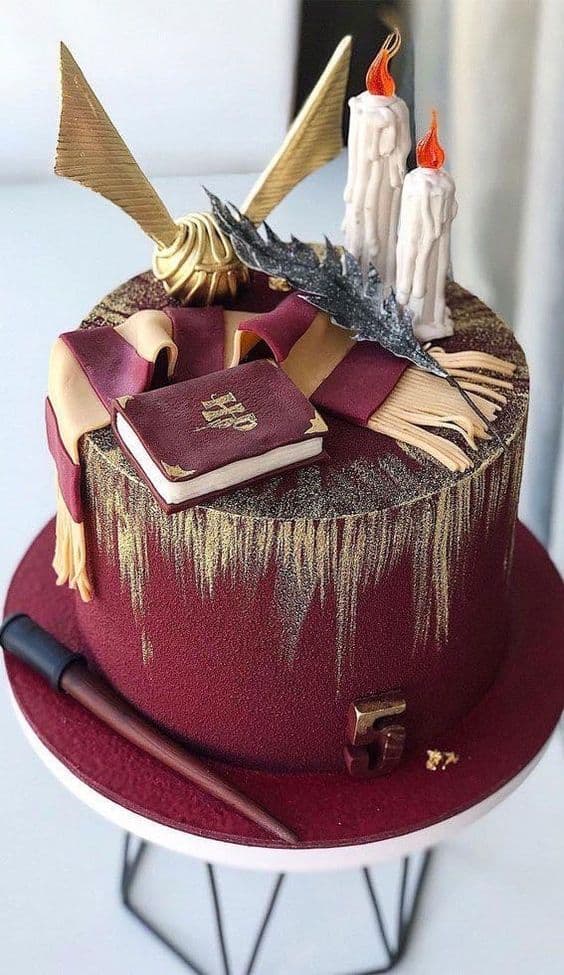 I've never seen a quill on a cake idea before; maybe I had health concerns, but this cake nails it perfectly. Due to the popularity of Golden Snitches in Harry Potter cakes, I would be correct in assuming that many Potterheads want to play Quidditch in real life. The scarf on the top of this cake idea is also a nice touch that accentuates the Harry Potter theme. My favorite part of this cake design would be the candles. I love how the wax has been molded, and the flame is realistic. The wand at the bottom is so lifelike I almost thought it was real. Remember to choose an edible material for all the details if you plan on eating them afterward.
Hogwarts Cake Inspired By Harry Potter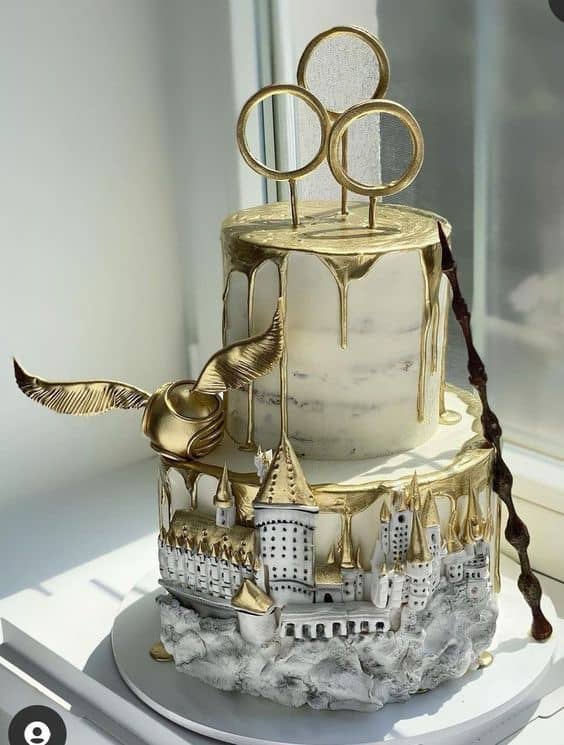 If you love Quidditch, you're going to love this cake idea. I love the goalposts on top, resembling the Olympic logo, albeit with only 3 loops. Hogwarts Castle is also beautifully depicted in the winter, with the castle walls painted a stormy white. The roofs are also gold-plated, and I cannot forget the golden Snitch on top that calls me to chase it.
In case you need magical help, this cake idea also comes with the elder wand as a bonus, which I, of course, recommend molding from chocolate.
Harry Potter Raven's Claw Cake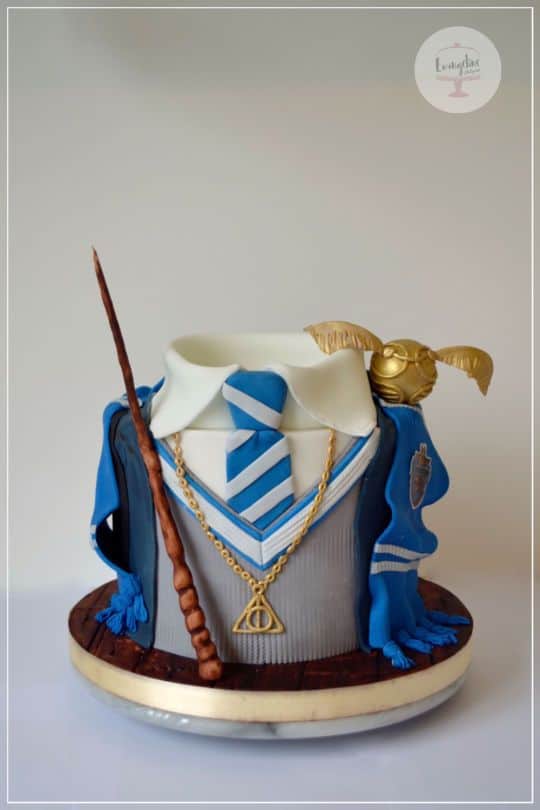 The Raven Claw house was filled with eccentric members with unconventional wit and wisdom. This wisdom is perfectly baked in this cake idea. I love this Ravenclaw Uniform cake design because it's in my favorite blue color.
I also adore the golden Deathly Hallows necklace as it gives a certain level of detail to this cake idea, which is difficult to ignore. How can a Harry Potter cake be complete without a Golden Snitch and a wand? The sweater is also well patterned and looks realistic. You easily customize the sweater yourself by poking small holes on the surface with a toothpick. Also, it has my favorite Golden Snitch and the deadly Elder wand.
Harry Potter The Daily Prophet Cake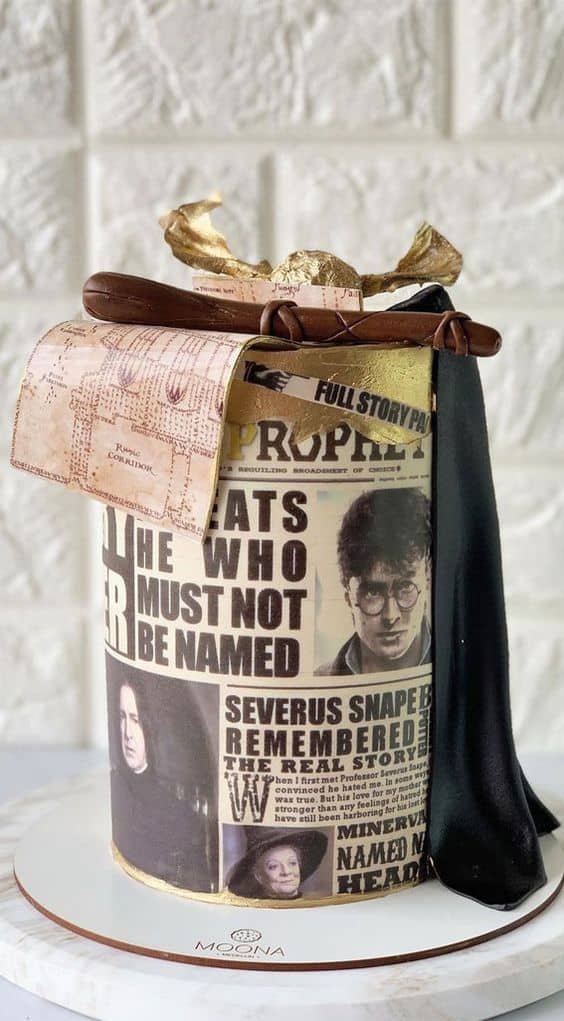 The daily prophet has never been tastier. This cake idea has a professional quality to it. If you print these Daily Prophet pages with food-safe ink, you don't have to worry about it being hazardous. A wand is also placed nicely on top of the Marauder's map, which looks like it's made by rolling the fondant into a few loops. How can you forget the Snitch at the top? If you want to add this Golden Snitch, you can add some wings to a Ferrero Rocher, which looks the same.
Harry Potter With Dumbledore And Luna Lovegood Cake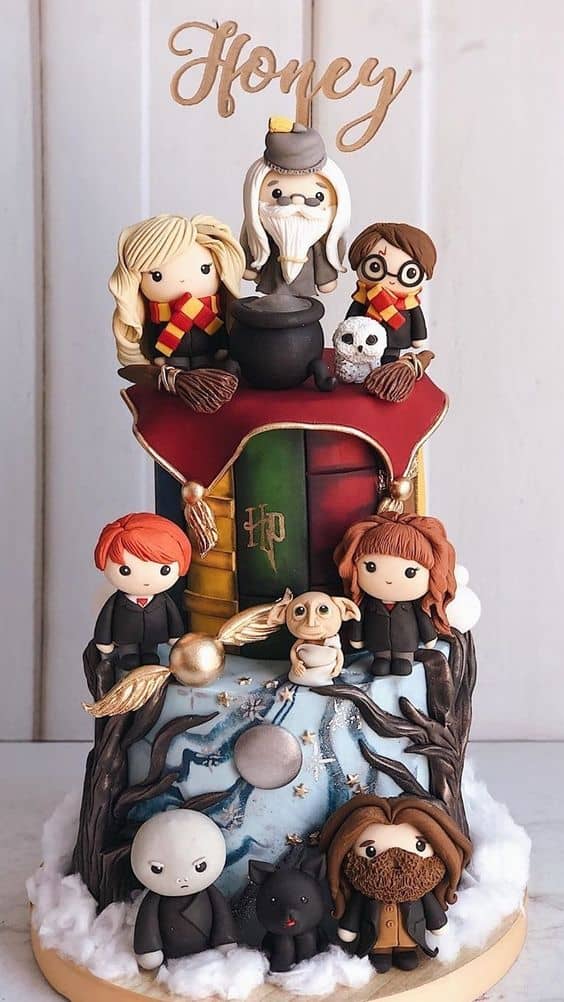 This cake is filled with most of the characters I like in the series. Harry Potter is shown at the top of the cake with Dumbledore in his signature glasses and with Luna Lovegood, as lovely as ever. With a brewing pot in the middle of the top cake, it also includes Hedwig and two broomsticks.
Remember, you may have to bake two large cakes and stack them to follow this idea. We can see a bunch of books forming the first layer of the cake. Ron and Hermione can also be noticed at the outer corners of the cake, who have Dobby and a Golden Snitch in the middle.
The bottom layer of the cake has a whomping willow covering most of the cake with a pale silver moon. This explains why Sirius Black is in his wolf form. Voldemort can also be seen at the bottom of this cake idea, with a lack of a nose and personality, just like in the series. Hagrid is also staring at us through his bushy face. However, you can't tell he is a half-giant from this cake's unique visuals.
This cake may be a challenge to make, but a challenge I would gladly accept.
Harry Potter Slytherin Cake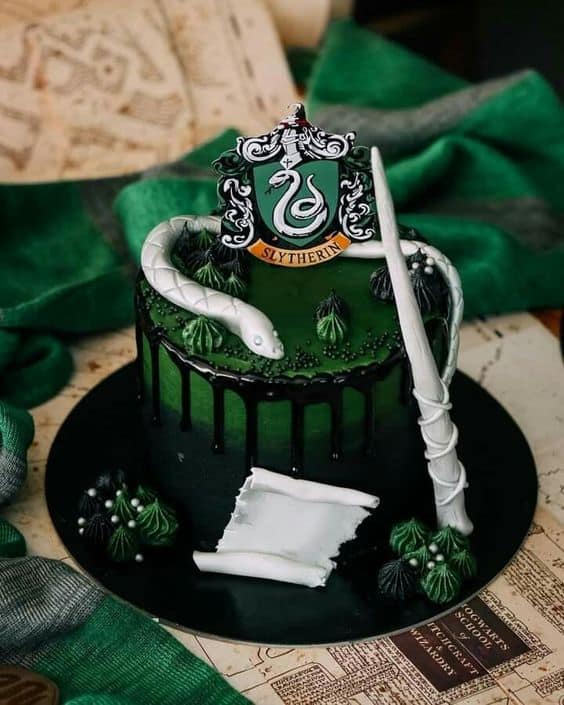 Are you a Slytherin and have never seen a cake themed around your house? Well, now, you can with this Harry Potter Slytherin Cake Idea. The Slytherin crest colors are nicely portrayed in this cake design. Seeing it reminds me of some of its members' links with the dark forces; don't recreate this cake idea if you're scared of the unexpected.
The Basilisk is so well done that I was scared of looking at its eyes directly. It has a pale white color, which makes one think that it may have seen its reflection and got petrified instead. The wand is also an excellent addition, with a textured design around it.
This cake design would be a perfect addition to any Slytherin fan's Birthday party.
Harry Potter Simplified Monster Cake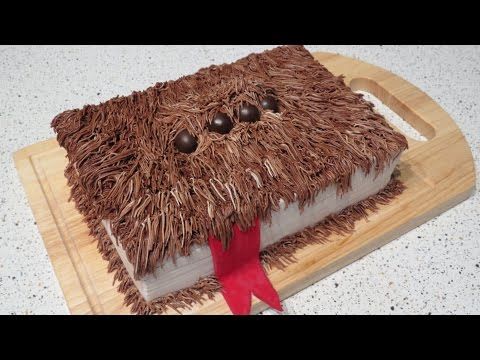 Disclaimer: this cake is not a safe option for those who don't want to unleash the monster on their home. It captures the bushy cover of the monster book, which bears an uncanny resemblance to the baboon's skin. The four eyes are also an excellent addition that makes me wonder if this cake is watching and waiting for the right moment to strike.
The bookmark is also strategically placed, making it resemble a tongue; I wonder if it will open its mouth if I get close to it. If you're wondering how to replicate the hairy texture yourself, try shaving a chocolate block on top of the cake; it looks the same.
Harry Potter Face Cake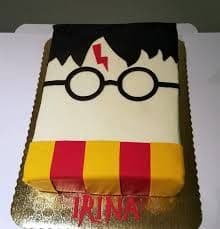 If you are just looking for a simple idea that you can quickly complete without much hassle. Then this Harry Potter face cake will perfectly fit the bill. It's easy to make, and you just have to replicate the face with a picture of Harry, and as it has no small details, the process isn't that hard.
Of course, who can forget the iconic Harry Potter scar, which is a great talking point for fans? The Gryffindor patterned scarf at the bottom is also very easy to replicate with only two colors, red and yellow, the two primary colors of the house. You can also add the name of the birthday wizard by cutting it out of fondant.
Harry Potter In The Forbidden Forest With Aragog Cake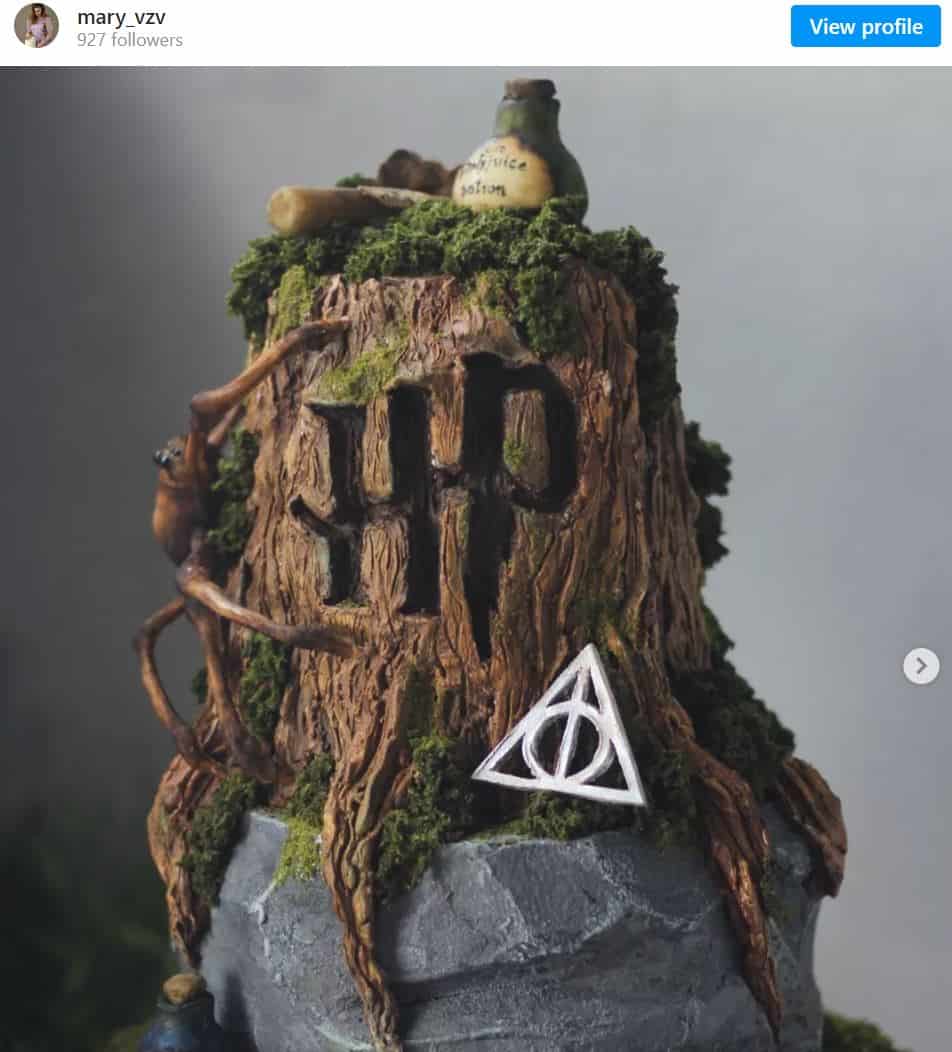 This Aragog cake idea has brought back all my fears with a detailed tree and Aragog with all his eight legs creeping on it. Aragog is the highlight of this cake, and the six eyes looking back from his head send chills down my spine.
The tree is also excellently done, and the HP logo is carved into the tree's bark with the Deathly Hallows sign on the tree roots. Liquid luck, dragon claw, and Polyjuice, three famous potions from the series, are also included in this cake design. A wand is added just below the tree, which signifies the magical process behind replicating this cake idea. Although it may seem magnificent, you can only make it if you have the right set of skills.
Harry Potter Books With Platform 9 and ¾ Cake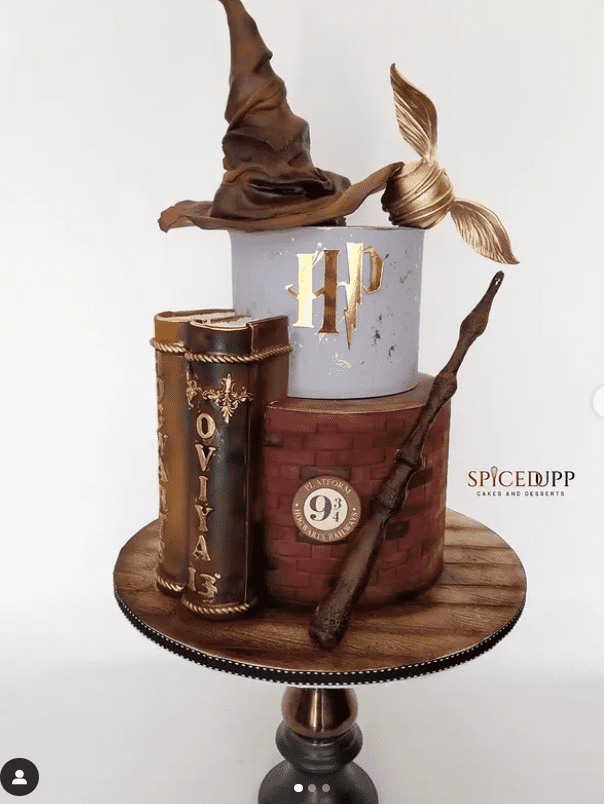 I love reading the Harry Potter books, but the movies made me realize just how important the series is to me. I could now see everything I had imagined by reading the books, and this cake idea has perfectly replicated all that in an edible form.
The sorting hat was always a great mystery to me. Like, how could it know what house to put you in? The Snitch, another staple in Harry Potter cakes, is hanging on the edge, almost hinting towards its departure.
There are also two books on the base of this cake idea, and seeing them, I got all fired up to make this cake for myself, only if I knew how to knead the dough. The wand is a nice final touch that adds more to this cake design.
Harry Potter Snape Patronus Tribute Cake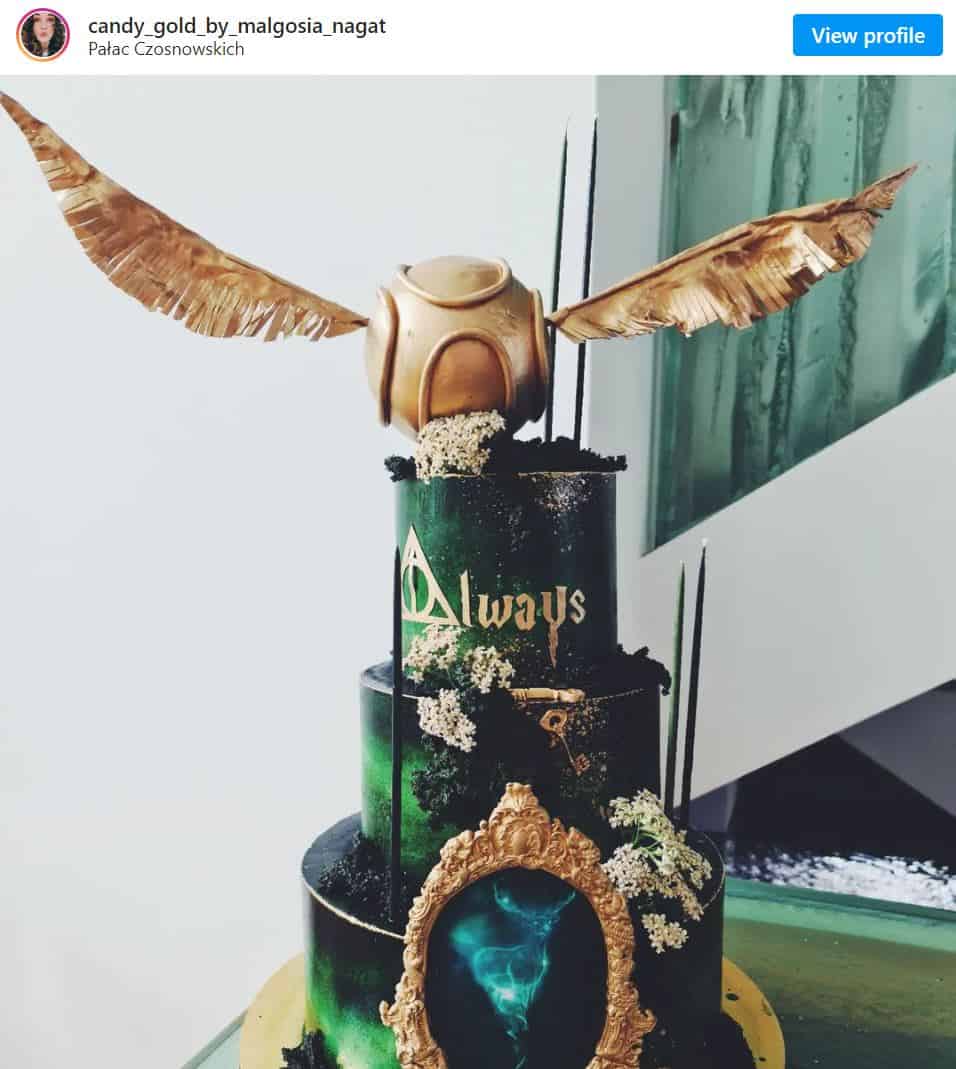 While Snape's moves and actions toward Harry Potter always seemed sinister, I still get teary-eyed when I remember what he did for his forever love, Lily Potter. His Patronus even changed forms due to his pain over her death.
The green color of this cake will remind you that Snape was still a Slytherin, and the Patronus framed at the bottom is that of a doe. The Patronus is so well placed that I was waiting for it to float out of the cake. A golden key is also at the bottom of this three-tiered cake with green shrubs running around it.
One glorious Snitch is also on top of the cake, ready to fly off any moment. Did I forget to mention the adorable little flowers on this cake too? You can easily replicate these flowers by cutting them out of chocolate and coloring them with edible paint.
Harry Potter Books With Classic Covers Cake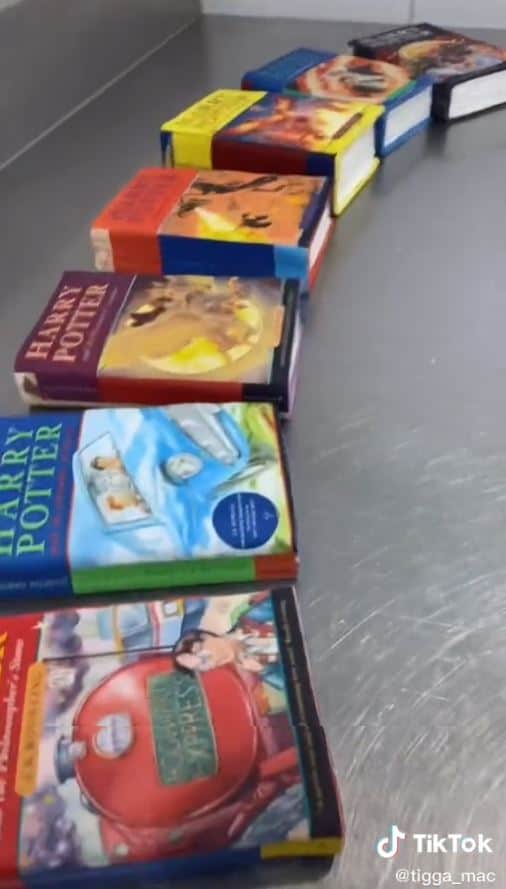 Do you love the original Harry Potter book covers? Then this book-sized cake idea will make you nostalgic and hungry at the same time. Before you ask if we can eat this, yes, you can. It looks like a book, but remember that this is still a cake. These books are a great idea, not to mention that these book covers are made of sweet edible paper.
These book-cakes can be a perfect birthday cake for any Harry Potter nerd. Trust me; these cakes will remind them of all their favorite book moments. If you are still worried about recreating the outer covers of the book, don't worry, as you can quickly get them done by a professional.
Harry Potter Monster Cake With Jaws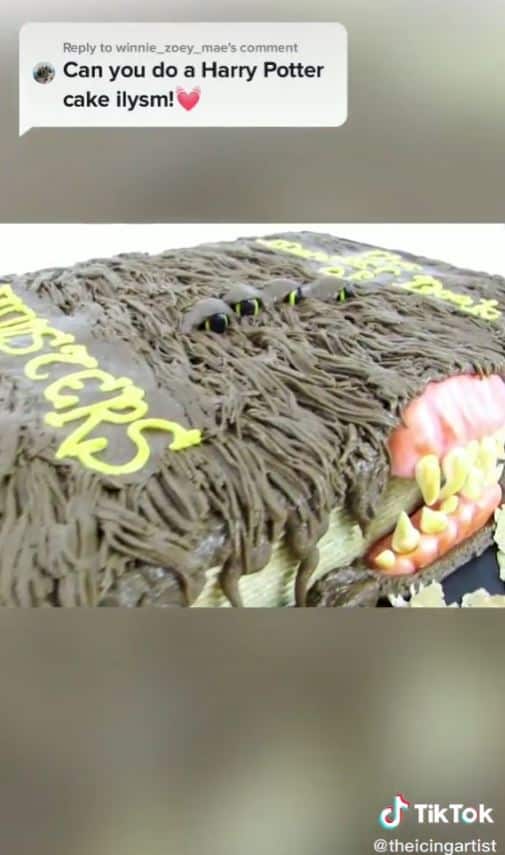 Remember how the monster book almost bit Harry's hand clean off? I do. You might be wondering if I already shared this idea before, but did you get your hand munched when you touched that cake? I believe not. The jaws on this cake idea will make you wish you could have a rope to keep them shut.
The fur on this book makes it look like a warm snuggly blanket, but don't let that fool you. This cake is a monster, albeit a much tastier one than usual. You can easily recreate it by making a cake base and then decorating it with icing and chocolate shavings.
Harry Potter 11th Birthday Cake From Hagrid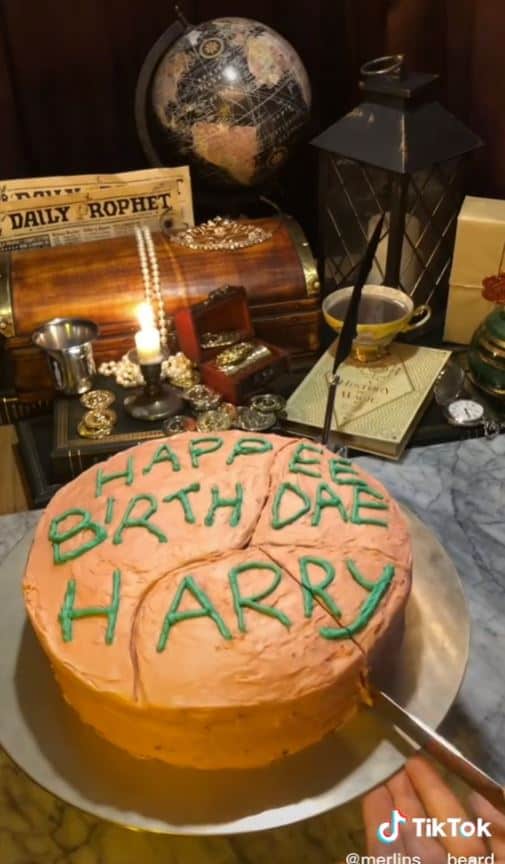 This is the first cake we see Harry Potter getting from Hagrid inside the Weasley shack. It's slightly misspelled as "Happee Birthdae Harry." I love the green icing and the crack that runs throughout the cake. This cake also reminds me of when Dudley was given a pig's tail for tasting the cake without asking Harry, which served him right for his selfish nature. This cake is relatively simple and easy to make. It will surely bring back many memories for your next "Birthdae" party.
Harry Potter Cake With Hermione And Crookshanks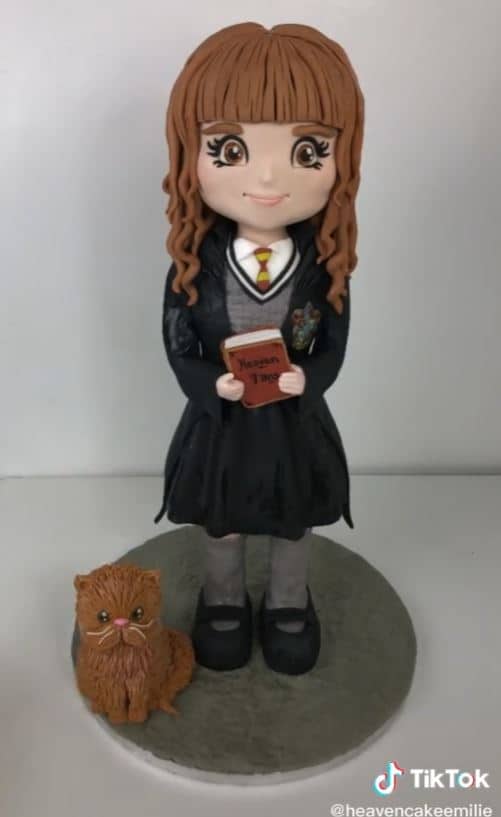 Honestly, I had a big crush on Hermione, who was my favorite female character. It might be the reason why I wrote a bio guide on Emma Watson. She was always quick at solving problems and coming up with plans. This cake design captures her essence as she stands holding a book in her hands.
Ms. know-it-all loved reading books on any topic, and this idea is a perfect tribute to her nerdy nature. Crookshanks is also included beside Hermoine in this cake idea and shows how loyal he was to her.
If you plan to make it yourself at home, I recommend taking your time because nailing the small details on the books and Hermione's face can be very hard.
Frequently Asked Questions
Question: Can I Make These Harry Potter Cakes at Home?
Answer: Yes, of course, but it all depends on your skill level. Some of these Harry Potter cakes can be easily made with basic steps and instructions. However, some are a bit complicated and may require a bit more of a professional approach.
Question: Can I buy These Harry Potter Cakes Ready-made?
Answer:  I don't believe you cannot buy the Harry Potter cakes featured in this guide. However, you can show these ideas to your baker or try to make them yourself and see how they turn out. As most of these designs are complicated, I would stick to the former option.
Question: Where can I get the Ingredients for a Harry Potter cake?
Answer:  Well, they are available at any major grocery store or supermarket. I recommend that you read up on the ingredients required so that you may substitute products that you may be allergic to or don't want to use. For example, if you are lactose intolerant or have a peanut allergy, you can easily modify the recipe.
Baking Up
The Harry Potter universe is filled with many magical creatures. This magical connection has become a common ground for Potterheads. What better way to share this love for the series than with a cake?
As a huge Harry Potter fan, I've always enjoyed having Harry Potter-themed cakes and always urged my friends to bake them too. My favorite cake idea is the Harry Potter Multi-Tiered cake. It's a large cake with an alluring design that conjures up some magic for me; I feel a bit bewitched just looking at it. You can even try this idea for your wedding and leave your guests talking for years to come.
If you ever wanted a Harry Potter-themed cake and had no idea where to begin, now you have an array of choices to choose from. So, what are you waiting for? Make your vision come to life and ensure it tastes good.
Continue reading:
Harry Potter Robe Ideas for Your Next Theme Party