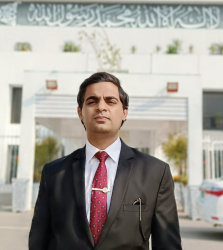 Latest posts by Boo Ali Khan
(see all)
Every part of the Harry Potter series sends me on a roller coaster ride between hope and passion while letting me believe in something like magic. At this point, I have watched and read it so much that I have developed an eternal bond with the series, and my love for its merchandise further adds to the love spell cast upon me. How can I talk about Harry Potter merchandise without discussing earrings? They're a stylish way to incorporate your love for the Harry Potter series. After all, who doesn't need magical accessories?
Harry Potter earrings come in all themes and sizes and, being versatile, can be worn at various events. As they are mostly small and lightweight, they aren't very expensive either. If your whole family is a Potterhead like mine, these are the perfect gift for them, especially my mother and sister, who are so in love with the Deathly Hallows earrings.
So Potterheads, I have a bunch of tricks and techniques to help you find the best Harry Potter-themed earrings. Not just for yourself but also for your friends and family. So before the dark forces unite against us, let's get into the Weasley's car for a bumpy ride to Diagon Alley to get some magical earrings.

Bottom Line Up Front
To be honest, the Harry Potter jewelry dealers have something against men, as most of the ornaments available are for women, mainly earrings. Anyway, this Harry Potter-themed earrings guide will display my insight on the available earrings that I found most fascinating.
Every Harry Potter-themed earring is based on a unique prop or character from Harry Potter and has distinctive self-explanatory contextual history. The earrings that caught my eye the most was the small sterling silver golden-snitch earring. This pair always invokes my desire to fly a broom and be the best seeker this world has ever seen. I gifted them to my sister, and as a fan of Harry Potter, she was ecstatic to see the present. Obviously, who does not like the golden snitch anyway?
Here are my top recommendations that can save your life as they saved mine, especially if you have a family of Harry fanatics.
My Best Picks
My Reasons For Choosing These Items
You must be wondering why I picked these earrings sets, so here are my ground rules for them:
These earrings are not expensive.
They are available to be shipped around the world.
The sellers are trusted and deal in Harry Potter items.
The selected items are part and parcel of the Harry Potter's merch collection.
A Recipe For Buying Best Products
So, these tips and tricks are not less than any charm or spell to find the best earrings. Some of my top charms include:
Always Go For Trusted Sellers
One of my best tips is to find a trusted and worthy seller. It's the first mistake one can make while buying a Harry Potter-themed jewelry online. You can also develop a false narrative about a trusted online company after receiving a fake product from a random site. So, before buying earrings, dig into the trusted Harry Potter jewelry sellers. But if you don't want to, you can always check out the Harry Potter shop, house of spells, and Amazon.
Fix A Budget
I don't have access to the vault of Bellatrix Lestrange — neither my parents are wealthy, pure-blood wizards. So, I have to be very careful before spending money. We all have a vague idea about our budget, but we are unsure if we will find something that fits in. For that, I have a super-duper trick. Scan the Harry Potter jewelry page and turn on the low-to-high option to get the cheapest earring first. I know you will eventually find something worth spending money on by performing this low-price spell.
Read The Reviews First
Reading reviews is something I always recommend to my friends who show their interest in buying Harry Potter earrings online. Search the trusted sellers, select your favorite items and then read the reviews. And make your own judgment. Sometimes only one comment is not good, while others are positive. So, look at the ratio of negative and positive reviews, and don't let one bad review spoil your favorite product.
My Top 10 Picks
1. Fixed Time-Turner Earrings
When I found this masterpiece, I was searching for a gift for someone special in my life. Since it was a gift, I wanted it to be perfect.
The time-turner is something I am fascinate with — I have always wanted to have it. To be honest, I accidentally found this time-turner earring set while scrolling through the jewelry section on the houseofspells. It made me recall that this was something that was in the sole possession of Hermione Granger and should only belong to a beautiful person like her.
It might be weird, but I believe that if you are a Potterhead, there is a great chance that you are going to end up with a Potterhead. The relation of time-turner earrings with women's power made me think it was the best pick for the special woman in my life, who was no less than Hermione. It also complimented her personality. Not to mention, she is a huge Harry Potter fan and someone that really deserves to be a part of that magical world.
I was excited to see what was inside the box when I ordered this set. Those small golden earrings shone like glitter with a fixed sand glass in the middle. They also came with pretty good quality small hooks. And their elegant design makes them go well with any outfit. But yeah, if you are in your Gryffindor uniform looking for the goblet of fire, they are A-maze-in.
Pros
They are affordable and easily fit into a tight budget.
Time-turner glass is fixed, so it will not accidentally fall out.
Cons
They are heavy, so they can hurt your earlobes if you wear them for a long time.
2. Harry Potter and the Deathly Hallows Earrings
The sign of Deathly Hallows and the story attached to it make it a perfect symbol to be transformed into a jewelry item. When people like something, they try to keep it close to themselves or, in this case, their ears.
It's designed in a very gothic manner and eradicates the vibes of antiquity. It's something for dark wizards, after all. This sign of deathly hallows on these earrings will remind you of the three brothers running their fate. And the emotions attached to it will surely give you goosebumps.
Seeing these earrings makes me feel like I'm sitting at the residence of Mr. Xenophilius Lovegood, and someone is narrating the story to me. Unlike men, except for Sir David Attenborough, women are good at storytelling. So, it was the best pick for my sister, who is also a Potterhead and never stops coming up with her new theories.
These earrings are silver in color and metallic in nature. Imagine wearing earrings constantly whispering what happened to those three brothers and warning you never to mess with Death. These also have a compact design, making them suitable to wear in schools, colleges, and even at family gatherings.
Pros
It is coated with a silver base which protects it from rust.
Not heavy on earlobes; it keeps your ears from getting numb after extended use.
Cons
A minimal design that isn't clearly visible from a distance.
3. Harry Potter Dobby the House-Elf Earrings
Dobby, who can forget him. A beacon of dedication, devotion, and trustworthiness who got slain for the sake of love and loyalty. With his help, the trio learned that the Umbridge locket is one of the Horcruxes of Voldemort. The manufacturer of these earrings seems to be highly influenced by our beloved fallen hero, Dobby, as they have perfectly preserved them in this earring set.
These are small silver-plated Dobby miniature earrings. Wearing them does not just portray your love for the series but also symbolizes that you acknowledge Dobby's sacrifice. If you see someone wearing them, do not consider them a muggle-born.
You will notice that Dobby's feet in both earrings are in the same direction. However, they are supposed to be in opposing directions, just like two shoes in one pair. But I guess it was intentional as it perfectly plays with Dobby's relatively twisted personality.
Dobby earrings are the best gift to someone who loves freedom, and it's not just a present but also a reminder to stay loyal, firm, and never let your beloved ones down.
I feel that if you become like Dobby, you free yourself from society's norms and set patterns. And it does not take much to break the chains holding you from becoming your true self, except for a sock, perhaps. So, it's time to free yourself by wearing these Dobby, the free elf, earrings and send your message to the world.
Pros
The figurine is not murky, and the facial features are prominent.
It is silver coated; hence it's rust-resistant.
Cons
Your hair may get stuck in Dobby's arms.
4. Harry Potter Stud Earrings Set
It became difficult for me to hide my rich spending on Harry Potter merch. Therefore, I started ordering Harry Potter-themed items in a moderate price range. Ranging from home décor items to jewelry, I never bothered if something would be of any use as long as it fits my budget. And guess what I found? This set of three stud earrings and for a fairly reasonable price.
My whole family are Harry Potter lovers. Even most of my younger cousins changed their eyeglass frames to Harry's, thanks to my sister for using her memory charm. When I found this set of three stud earrings, I kept them as a part of my merch collection. But at the instance of my mother, I had to give my sister Harry's glasses stud. Anyway, she loved them. And why wouldn't she have? It was for free, after all.
However, one of the weirdest things about these three sets of earrings was that not all of them were in pairs. The first set is of fixed time-turner earrings, while the second and third pairs are a mismatched duo. The second pair has a frog and chocolate box earrings, and the third pair consists of a golden lightning bolt and silver-colored Harry's glasses.
In my view, they work perfectly as some cute pieces of collectibles. But if you have a kid Potterhead's birthday approaching, you can gift any pair to them, saying you specifically bought this unrelated pair for them. I am totally sure they will find it the best birthday present ever.
Thank me later for the tip!
Pros
The set of three is highly economical.
Comes with a beautiful packaging card that helps display the earring neatly.
Cons
They are pretty small and can easily be lost.
With mismatched pairs, they are more of a collectible than earrings
5. Harry Potter Sterling Silver Golden Snitch Stud Earrings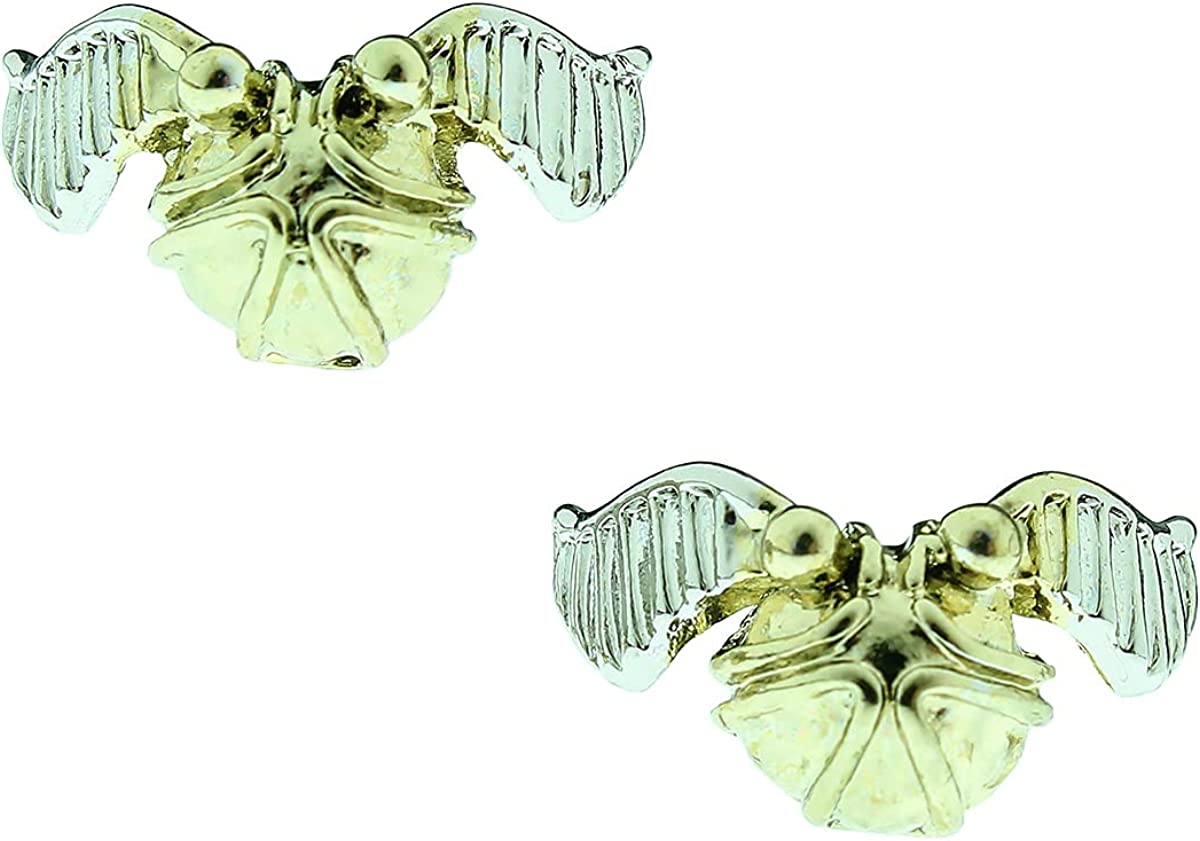 In addition to the time-turner, the golden snitch is also my favorite item. I always wanted to be a seeker like Harry, who can fly a Nimbus 2000 and catch the golden, cute, and shiny flying ball. And even though these snitch earrings can't fly, they still remind me a great deal of havoc that unfolded in the first Quidditch match.
These are a small pair of beautifully designed stud earrings. As my sister preferred studs more than dropping and hoop earrings, I found them perfect for her. Well, she is annoying sometimes, but we both share the same passion for Harry Potter. So, most of the girly Harry Potter products end up with her. It is a win-win situation for me; as we live under the same roof, I don't have to say goodbye to the products close to my heart.
As she is also a fan of Quidditch, like me, she was delighted to see these earrings, but I still believe I am a better seeker than her.
Harry received a golden snitch in Dumbledore's will, which had a resurrection stone. But unfortunately, these stud earrings don't have the same contents. The snitch in the middle of the stud gives the look of a golden rosebud, and the tiny wings look like petals, making them perfect for casual to formal gatherings.
Pros
The golden and silver color scheme makes them a perfect match for a minimalist daily look.
These are officially licensed Harry Potter earrings.
Cons
Its wings are delicate and can be broken easily.
6. Official Harry Potter Diadem Stud Earrings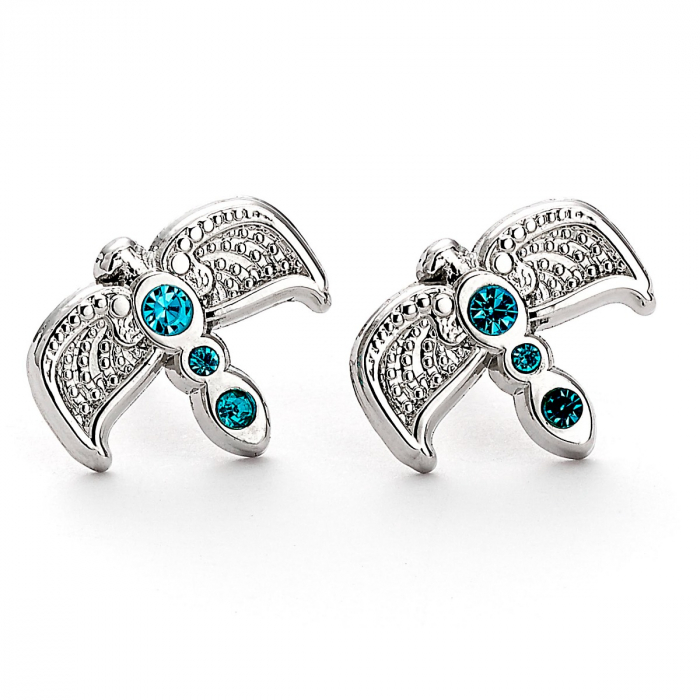 These silver-plated diadem earring studs do not symbolize that you should steal them from someone, as that is what Ravena Ravenclaw did by stealing her mother's tiara out of jealousy. You don't have to do that with these beautiful crystalized earrings, as these are available at an affordable price online. Did I mention these Diadem earrings radiate some majestic Ravenclaw vibes when you wear them?
People who are wise and intelligent, like Mr. Dumbledore or Prof. Snape, deserve these earrings. These are there to showcase your intelligence and thoughtfulness to the world. I bought these beautiful small stud earrings for my cousin, and let me tell you, she was the only person I heard saying Leviosa the correct way; and she is not even three! Her cute, witty words made her so adorable and lovable that I couldn't help but buy her these beautiful silver and turquoise ear studs.
The three turquoise beads in the center enhance the embellishment and give the earrings a pleasing look. No doubt, they are perfect for wearing at weddings and birthday parties.
Pros
It is not too expensive.
Worldwide shipping is offered by the seller.
It can easily be cleaned with a piece of microfiber cloth.
Cons
The turquoise color crystals don't go well with every dress.
7. Eusense Owl Earrings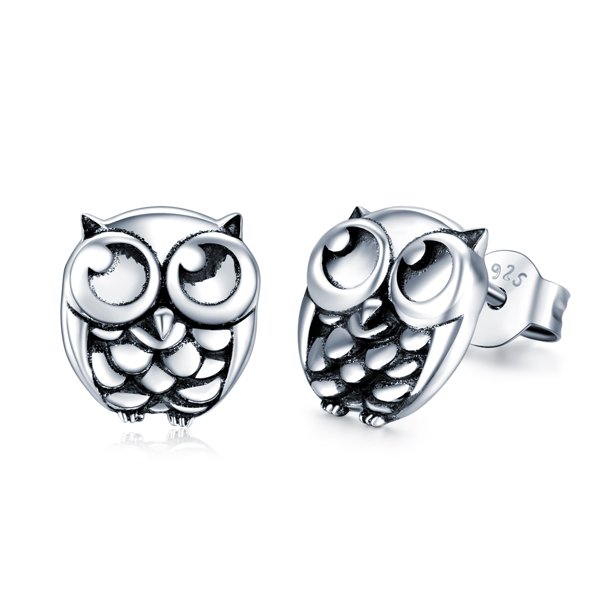 These owl earrings are inspired by Harry's close friend Hedwig. I hope you have not forgotten Hedwig came as a gift from Hagrid to Harry. I can vividly remember when Hagrid took Harry to Diagon Alley on his eleventh birthday and bought him this snowy white owl from Eeytops Owl Emporium. So following Hagrid's footsteps, these Owl earrings became a unique gift idea.
These Owl earrings symbolize the epitome of sacrifice Hedwig made in the Battle of Seven Potters. These stud earrings are sterling silver metallic hence, a little bit expensive. These Owl stud earrings have beautiful round eyes radiating wisdom, and the body has down feathers drawn over it.
One thing I really like about these earrings is that they come in a beautiful small jewelry box, making them a perfect gift. These studs look elegant on the earlobes of a small girl. However, I feel them a bit heavy for the little angelic earlobes. But still, if they wear them for only a few hours, they won't hurt their little ears.
Pros:
Free shipping is available.
A simple design with no overhanging structures.
Cons:
The black impression on the earrings might wear off after daily use.
8. Harry Potter Silver Plated Hogwarts Platform 9 ¾ Drop Earrings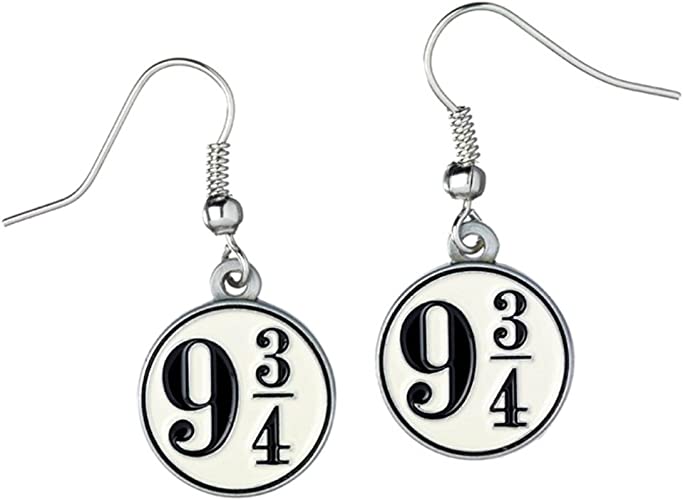 I don't know if It is just me or if no one else has found the secret platform no. 9 ¾ to take them to Hogwarts. Still, these beautiful 9 and ¾ earrings are a perfect addition to your Harry Potter thematic earring collection. This junction bridged the gap between the outer world and the wizarding world. And with the power of these 9 and ¾ platform earrings, you can travel your way to and from Hogwarts.
If you want to surprise a wizard-head at her birthday or graduation party, it's the perfect gift for her. These platform 9 ¾ drop earrings contain a round teardrop in silver metallic color, attached with an ear wire, and the surface of teardrop 9 ¾ is engraved in black. I also loved the way both the earring came in a Harry Potter-themed card that made it very much presentable without much wrapping.
I believe Hermione and Ginny had no idea that something like this would be coming from the Hogwarts; otherwise, they would have gone for them. These earrings are best to wear at a school party or on a theme day in college. But I don't advise wearing them for a formal presentation, as they may be a little funky for that.
Pros
Free and fast shipping is available, so you don't have to wait long for them to arrive.
The earrings holder card can be used as an earring organizer.
Cons
These earrings are a bit on the expensive side, so keep that in mind if you're on a tight budget
9. Harry Potter Gryffindor Crest Earrings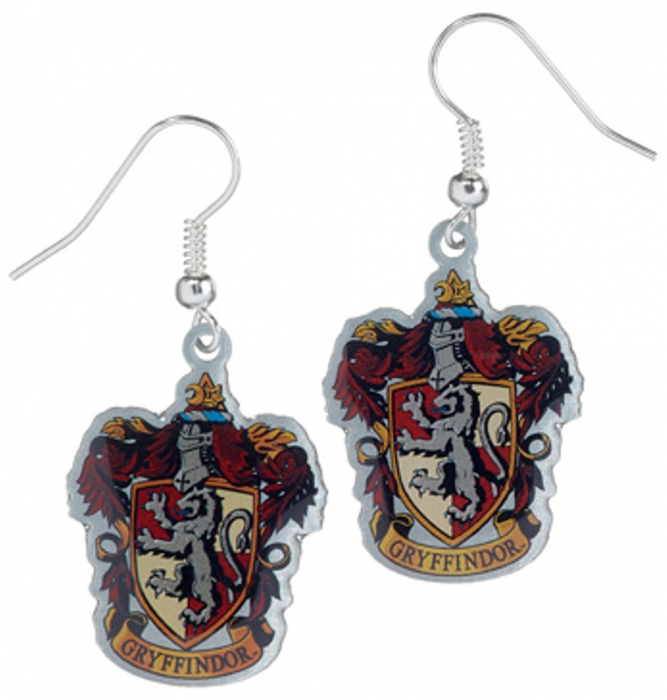 I know a lot of you might be wondering that I call myself a true soldier of Gryffindor, but I have not included any earrings from my favorite house. Wait no more. Because I am and will always be loyal to Gryffindor. So here for our most beloved house, Gryffindor — a pair of beautiful Gryffindor crest earrings.
The earring set contains the house emblem of Gryffindor. The crest is of red color with a lion in the middle, symbolizing the element of fire. I must say, this lion is a metaphor for bravery, courage, valor, and dare.
A mere look at them is enough for a true soldier of Gryffindor to fall for them. These emblem earrings show the unique qualities of the house Gryffindor. And by wearing them, you also send a message that Gryffidnor's talents are permanent and irreplaceable.
The loop earrings contain an emblem-shaped leaf hanging with the ear wire. The disk is silver plated, with the red badge attached over it. Not to mention, these are drop earrings and not studs, so they look trendy with jeans and a top. Still, in a world of muggles, I wouldn't recommend wearing them at a formal function like a wedding or a social event.
Pros
The crest color doesn't fade with time.
Come with a beautiful postcard with earrings attached to it.
Cons
The metal isn't coated with an anti-rust coating, so it is prone to rust if exposed to water.
10. Harry Potter Chocolate Frog Earring Set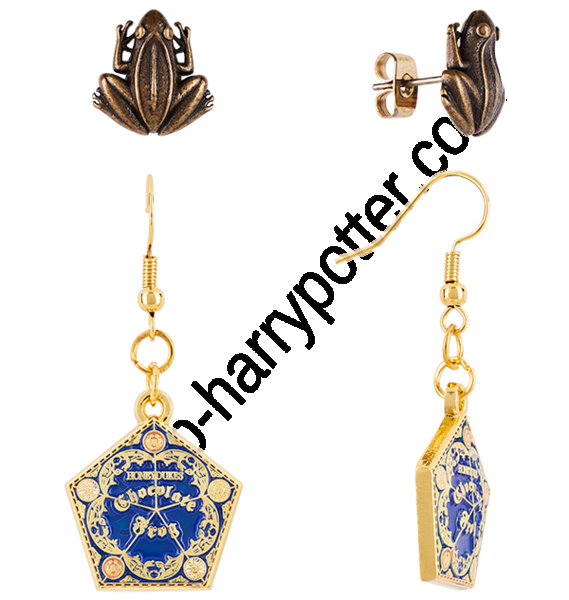 This set of chocolate frog box charms and studs isn't just a spell like Ron's chocolate frog. They are real. There are two sets of earrings, one is a drop chocolate box, and the other is a bronze frog stud earrings. And don't worry, when you wear these frog stud earrings. I am sure these frogs won't jump out of your ears. However, they do not come with a collectible card, a real bummer.
The drop earrings come with an ear wire attached to a small blue and golden chocolate box. They have a stark resemblance to the actual chocolate box that Harry holds in the Hogwarts Express. The golden design looks prominent on the blue background.
Honeydukes Chocolate Frog is engraved with golden color over the drop earrings. You can wear them occasionally, but I wouldn't recommend wearing them daily. The small stud frog earrings have bronze coloring to give them a chocolaty look, Yummy!
This earring set offer is perfect for my wallet, allowing you to buy two earring sets for the price of one. However, they don't come to you just by saying Accio; you have to put them in your cart.
Pros
This pair is perfect for a mother and daughter duo.
Quite affordable.
Cons
The gold color of ear wire of drop earrings can get dull with time.
Frequently Asked Questions
Question: Can we Buy Customized Harry Potter Earrings?
Answer: Yes, several manufacturers deal in customized earrings. You just need to reach them out through the given contact details on their website and send them your required product picture, and they will make them for you and send them to your given address. These Ron Weasley earrings are examples of customized earrings, and you can even get your favorite character earrings through various Etsy listings.
Question: Should I Buy From Local Retailers or Big Online Retailers?
Answer: There is a common misconception among Potter fans that local retailers are unreliable. Well, I have to disagree with that. I am not saying they are better than big brand online retailers, but they are not that bad. For example, from a local retail shop, you also get the chance to check the product in your hand before paying for it. That way, if the product is faulty, you can just avoid buying it. However, with online retailers, you don't get that options, and you can get a different quality product than what you excepted.
Question: Is Buying Harry Potter-themed Earrings in Bulk a Good Idea?
Answer: Wholesalers deal in bulk orders, whereas you can buy limited earrings at a time with retailers. Both are good, in my opinion. But it is also a fact that with wholesalers, you can purchase these earrings at a lower price than retailers. Sadly, the downside to wholesalers is that they mainly sell in large quantities and do not offer items in retail.
Summing-Up
The availability of Harry Potter-inspired jewelry items, particularly earrings, is nothing less than a blessing for the wizard heads. The variety of earrings at different stores indicates a number of emotions they contain to make them more alluring. However, the difference you can see is that these earrings are not only for the pure-blood wizards but also for the half-bloods and mud-bloods.
In this Harry Potter earrings guide, I have enlisted some buying tips to make your shopping more seamless. In my opinion, you should buy from trusted sellers rather than going to random sites to order earrings. Also, fix a budget, keep your spending in check, and always read the reviews before buying.
If I am to vote for the earrings close to my heart, I will vote for the golden snitch earrings. Being a fan of the Quidditch match from the series, going for these earrings was a no-brainer. Plus, getting them for my sister made me the Harry of my house. After all, it was not easy to catch these flying golden snitches. And I can assure you if you gift this to your loved ones, they will surely love it. Okay then, see you at the next Quidditch match, don't be late!
Continue reading:
A Complete Harry Potter Pottery Barn Guide
Ultimate Harry Potter Bookends Guide