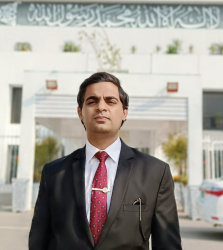 Latest posts by Boo Ali Khan
(see all)
It is unfathomable to me that you are a Harry Potter lover and have never bought a goodie or an accessory that reminds you of all those magical years.
When I was a child, I learned almost all the spells from the series, and I was the only one among my friends who knew where to stress in Leviosa.
I used to bewitch my friends while playing with an imaginative wand wearing a mock gown of Gryffindor's house. Yes, I was a Gryffindor fan. I hoped I would find these real magical items from Hogwarts someday. And the wish came true with Harry Pottery Barns.
The discovery of Pottery Barn proved a shooting star for me. It provides an all-inclusive range of home accessories, kitchen wares, bath wares, and more.
It gained more popularity when it partnered with famous Pop Culture franchises like Harry Potter.
Pottery Barn is my Diagon Alley, and I bought my favorite and most appealing items from this collection. So in this guide, I'm going to help you find the most attractive antique items from the Harry Potter collection of Pottery Barn. While also making sure you don't face the same problems I met during my adventures.

Ok, Potterheads, make a line and stand in the fireplace. Throw this Floo powder and repeat after me, Diagon Alley!
Bottom Line Up Front
Neither Harry Potter nor Pottery Barn needed assistance or a shootout to become famous. Pottery Barn provides its items in three different sub-categories. They are:
Harry Potter Pottery Barn Teens
Teens, pre-teens, and post-teen wizard lovers love the items available under this category. It provides lamps, bedspreads, bath accessories, room décor, and more. Each house item for room transformation is related to a specific vibrant color, transforming your ordinary room into the room of your favorite house.
Harry Potter Pottery Barn Kids
This category currently offers blankets and sheets with Harry Potter visuals printed on them for your babies and toddlers. These products are only available in crib and toddler sizes currently. The collection includes swaddle sets, baby blankets, and nursery decor. The collection previously included bedding for twin mattresses, sometimes full and queen. Keep an eye out for new items for this line geared towards children instead of toddlers.
Harry Potter Williams Sonoma
Suppose you are raising a family or just love cooking and decorating your kitchen with stylish kitchenware. In that case, Williams Sonoma is perfect for you. Imagine a wizard head embellishing their kitchen with pots inspired by the Great Hall dining tables.
My Top Picks from Harry Potter Pottery Barn
General Harry Potter Accessories Offered by Pottery Barn
Harry Potter Pottery Barn for Teens
Most of the Harry Potter Pottery Barn items are for teens. Here is an overview of some general teen items available.
Clothing and Bathing Line:
The clothes available at Pottery Barn (PB) are not for casual wear or parties. And the purpose of PBs clothing line is to transform you into an ideal Hogwarts student. Hence it provides the following items:
Pajamas Suits
Pottery Barn offers you the pajama sets of all four houses, some of the most comfortable pajamas you can wear in bed. My favorite pick includes the one with Patronus Damask print. I'm sure you will love the colors of your house pajama sets. Unfortunately, the size range is limited for teens and some styles, in only a small, medium, and large. Other styles are available in the usual XS-XL range.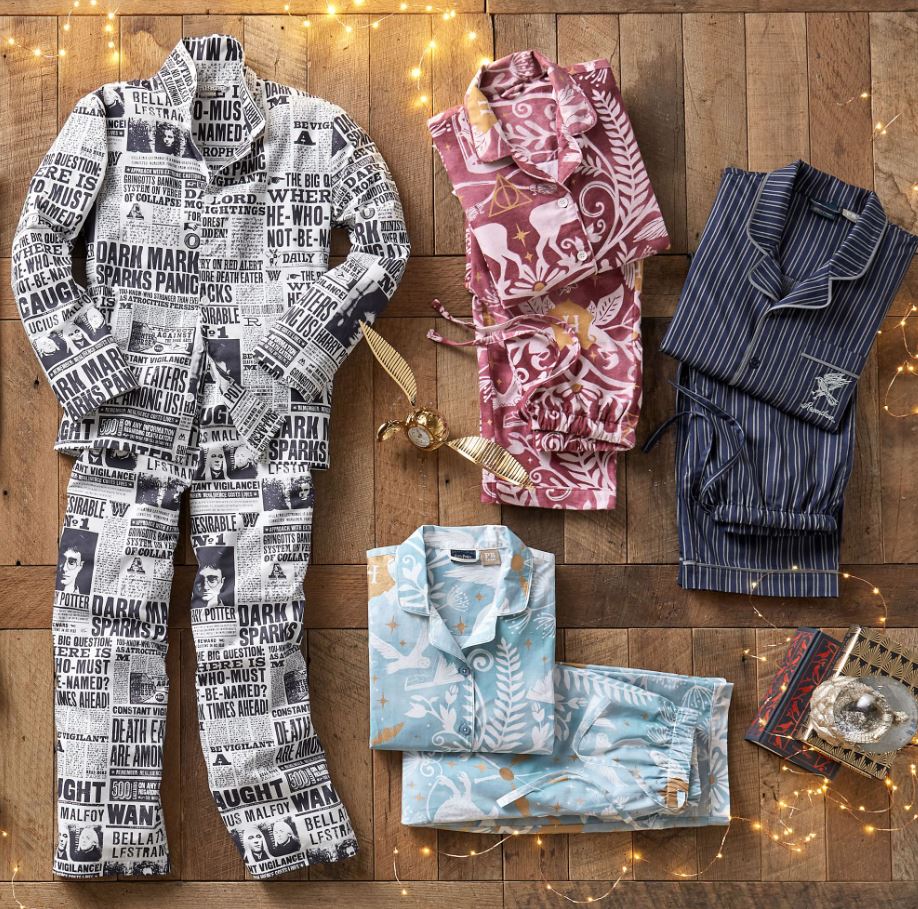 Bath Robes
The velvet bath robes PB offers with the emblem of each house on the chest give them a priceless look. They are available for teens and adults in multiple sizes with matching pajamas. Did I mention that the green velvet robe of house Slytherin comes with a green striped pajama set?
Towels
You must have never thought that PB is offering towels as well. Maybe, you don't consider a towel an accessory. Well, it's not because it's a necessity. PB offers single beach towels and a set of three towels. And my personal favorite is the Crimson Red beach towel.
Room Decor
Now here is another of my favorite category. I have bought most of the items from this category and was surprised by their versatility. It includes décor items for walls, ceilings, and even scents.
Clocks
These include wall and table clocks, primarily in golden and brown colors. As these colors give your Hogwarts-themed room a complementary touch. Some PB's original clock-themed merch includes Time-Turner and a Hogwarts Express clock. Unfortunately, they cannot take you back in time.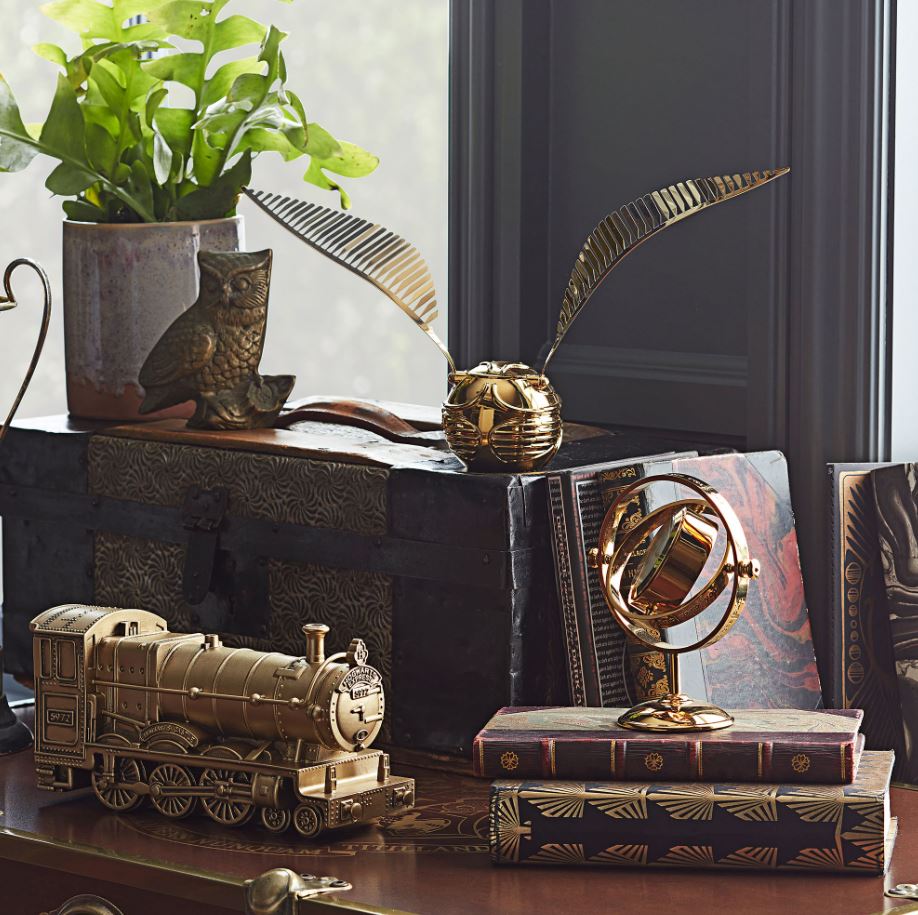 Mirrors
Some are full-sized mirrors, some small, and some for the walls only (I think I might have said a new spell). PB got the idea of manufacturing mirrors from the Mirror of Erised. These mirrors are available in different sizes and prices. personally love the full-length mirror, as it tells me how I look from head to toe.
Scents for Room
I cannot help but mention that I love beautiful room fragrances. And this is another favorite item. Candles have an association with the Great Hall and the scents with the lab classes of Professor Slughorn. Some more popular scented items include Harry Potter Reed diffusers.
Harry Potter Pottery Barn for Kids
As I said earlier, Pottery Barn provides a separate line for the kids or children. Some of the categories in this line include:
Children's Bedding And Room
It includes the kids' blankets, pillowcases, and crib fitted sheets, all themed around Harry Potter. Providing a narrow but unique range of kids' collections.
However, these children's care items are available in standard size only.
Kids Bed Sheets
Imagine a room decorated on the theme of Harry potter's Ravenclaw house, but a Ravenclaw bedsheet is missing. Would you still call it a thematic room? I doubt that. PB does not just provide a whole range of room décor but also bed supporting accessories like bedsheets, quilts, shams, pillowcases, and bed skirts. You can now bring up your toddler on a Harry Potter Enchanted crib-fitted sheet.
Kids Pillow Cases
What better it can be than dreaming about Hogwarts while asleep. Well, if you missed that chance, you don't have to deprive your kid of it. With the wide variety of pillow cases, ranging from Gryffindor house to Slytherin house, you can let your kid live at Hogwarts.
Kids School Supplies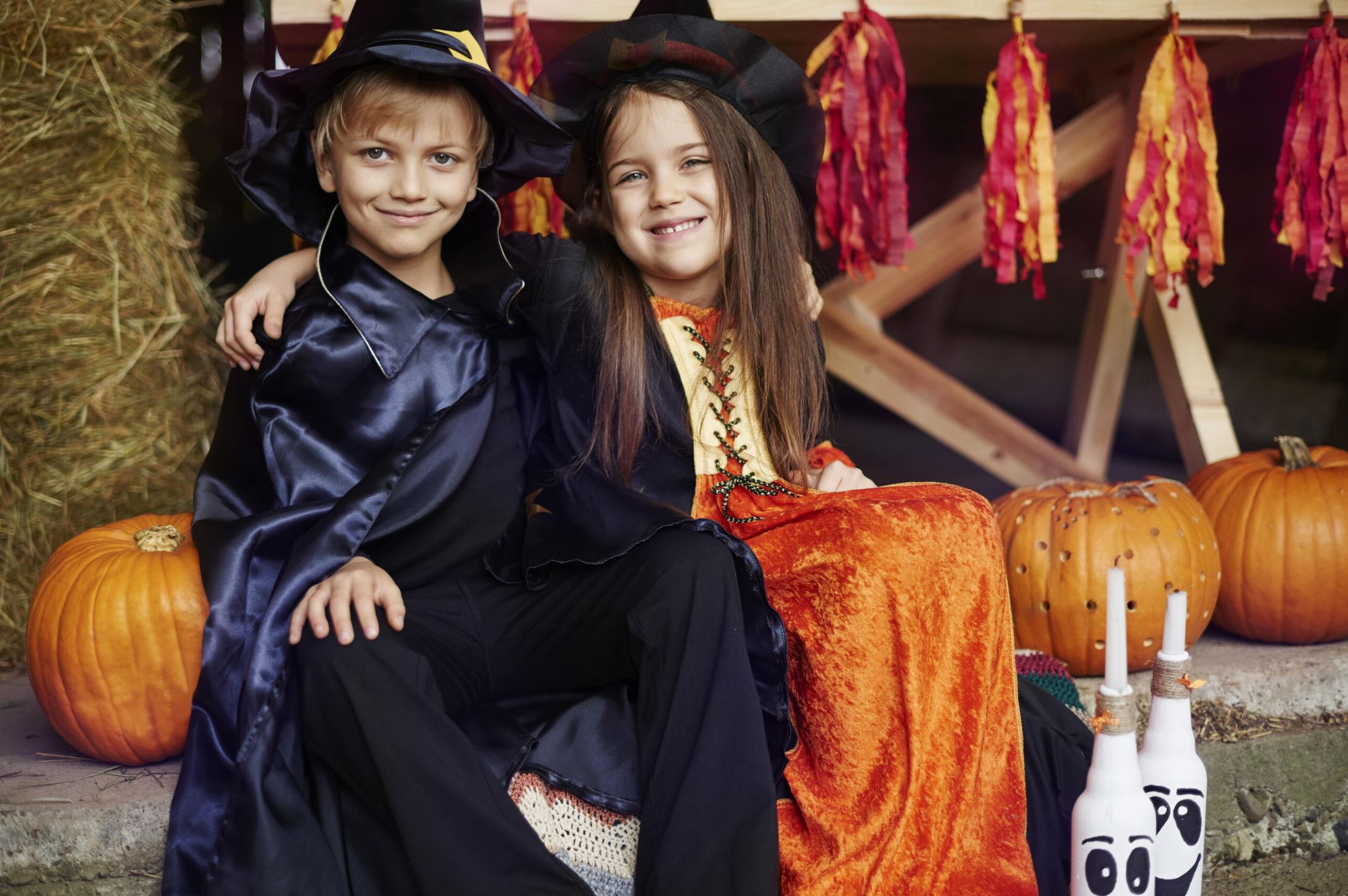 School Bags
Going back to the Hogwarts at the start of a new academic session and you don't have a new bag is not appetizing. PB cares about you and has launched school backpacks which will be a worthy companion to your next class. Not to mention my favorite Mackenzie backpack that comes in two sizes and glow in the dark.
Pencil Cases and Lunchboxes
I far as I remember, I have always been fascinated by quills. I even remember dipping a rooster's sickle in ink to write my name, but it was not a success. Well, if you are a person like me who thinks it's hard to write with a quill, you can gift your kids the Mackenzie pencil case.
Also, I believe not all of us can have the honor of dining in The Great Hall. But you can still make your kid's lunch magical with the Harry Potter Mackenzie lunch box.
Kids Lights and Lamps
As a kid, I was always scared of the dark. But you don't have to with these Pottery Barn-made lights and lamps. This category always reminds me of those sky-hanging candles in the Great Hall of Hogwarts.
PB offers several sorts of lamps, ranging from side table lamps to corner lamps. Some contain the stand of Hedwig's figure, and some have Nagini winding around the lamp. Most of these lamps have metal stands and yellow light bulbs. I have to say. These night lamps will create a soothing ambiance in your kid's room.
Harry Potter Williams Sonoma
You cannot turn a blind eye to Pottery Barn if you call yourself a Potterhead. It's like the maze from the Goblet of Fire. In addition to the room, your kitchen needs your attention to be transformed into something magical.
There is still no magic on earth that can cook food. So, you have to do it yourself. But if you are a Harry Potter lover like me, cooking gets more fun with Williams Sonoma.
Pots
These pots include cooking utensils, including a pan and a cooker. You would love to do this once you start cooking in Harry Potter-inspired pots offered by Pottery Barn. Though they might seem like some casual pots, not everyone can feel the magic inside the Lord Voldemort stoneware.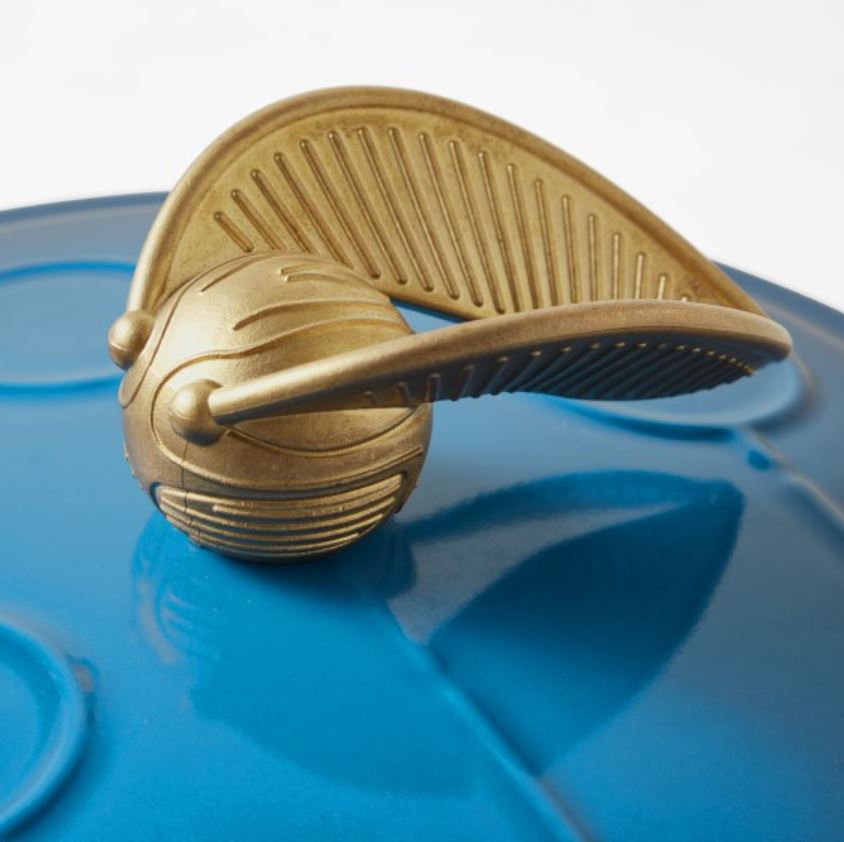 Aprons
Ever wondered what would be going on inside the Hogwart's kitchen? Well, now you can. With the aprons offered by Willaims Sonoma, you can tell yourself and the people around what goes behind those magical kitchen doors. I am not a big cooking fan, but I can make some magical dishes with my Gryffindor Maroon apron.
My Tricks To Buying The Best Harry Potter Pottery Merch
Before buying your favorite Harry Potter Pottery Barn items, remember the following tricks.
Scan The Whole Page
Pottery Barn provides a lot of good stuff and products. Maybe, you didn't explore the whole Pottery Barn page and missed the item you were looking for. But keep looking as most Horcruxes are hidden pretty deep.
Look For The Discounts
My favorite thing to do. When you go to the Pottery Barn website, you'd see an option of 'sale' on the right upper corner. Just click on that, and you will see many items on sale. You can also turn on a filter for only Harry Potter items on sale.
Sometimes you see two similar items on the website and are unsure which one to pick. Then check if one of them is providing a discount. Some extra pennies in your bank account are always worth it.
Don't Forget To Change Your Location
Pottery Barn ships the items to almost all the major countries in the world. When you open their page, you will see the location option in the upper right corner, and a single click on that gives you the list of countries where they ship.
If you are a US citizen, you can even check their physical store in your state. I would definitely suggest visiting your nearest store. But hand our purse over to somebody else, as you may be unable to break the spell those items would cast on you.
My Top Picks Recommended for You
Golden Snitch Clock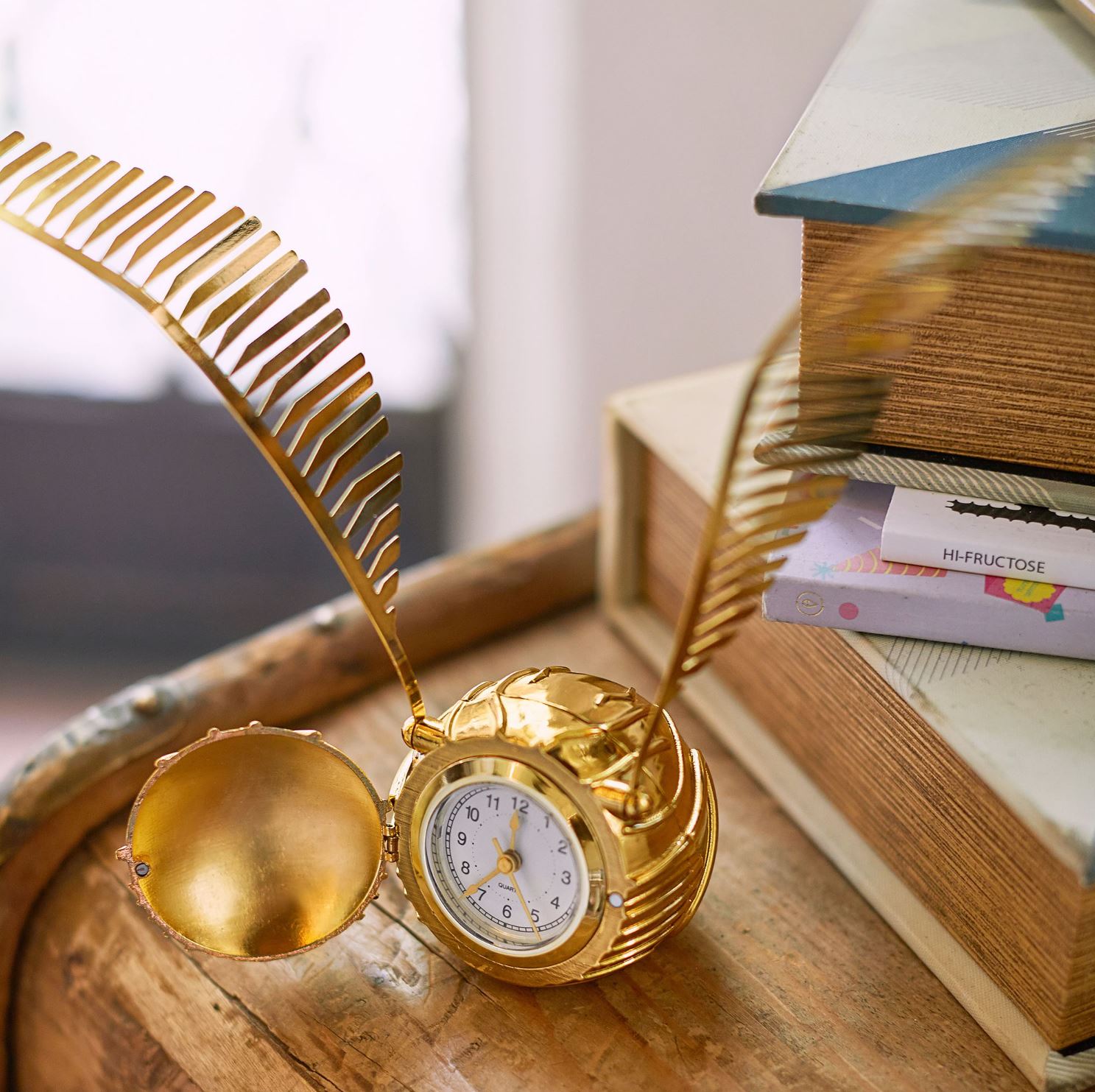 It's challenging to get over the wizarding world Harry Potter introduced me to. I wish I had a Nimbus 2000 so I could fly to capture the small golden snitch flying at the speed of light. If you ask me, the golden snitch is one of the few cutest props in the whole series. And Pottery Barn did not fall behind in introducing this beautiful gold-plated snitch clock.
It's a table clock with two golden soft side wings. Its body is round with a flat base. Making it perfect for my bedside table, dressing table, or even my wall shelf. It looks very classy and chic in almost any corner I put it.
Looking at its build and practicality, it is a sure-fire item for a die-hard Potterhead. And Pottery Bard has done all of this in a very professional manner while also keeping it at an affordable price point. But I think Pottery Barn should have added some support to the wings, as it is pretty delicate and easy to break.
Pros
An affordable item from such a reputable brand.
It's rust-free as it is made of zinc and Aluminum alloy with steel.
Cons
Wings are very delicate and likely to get broken easily.
Patronus Pajama Set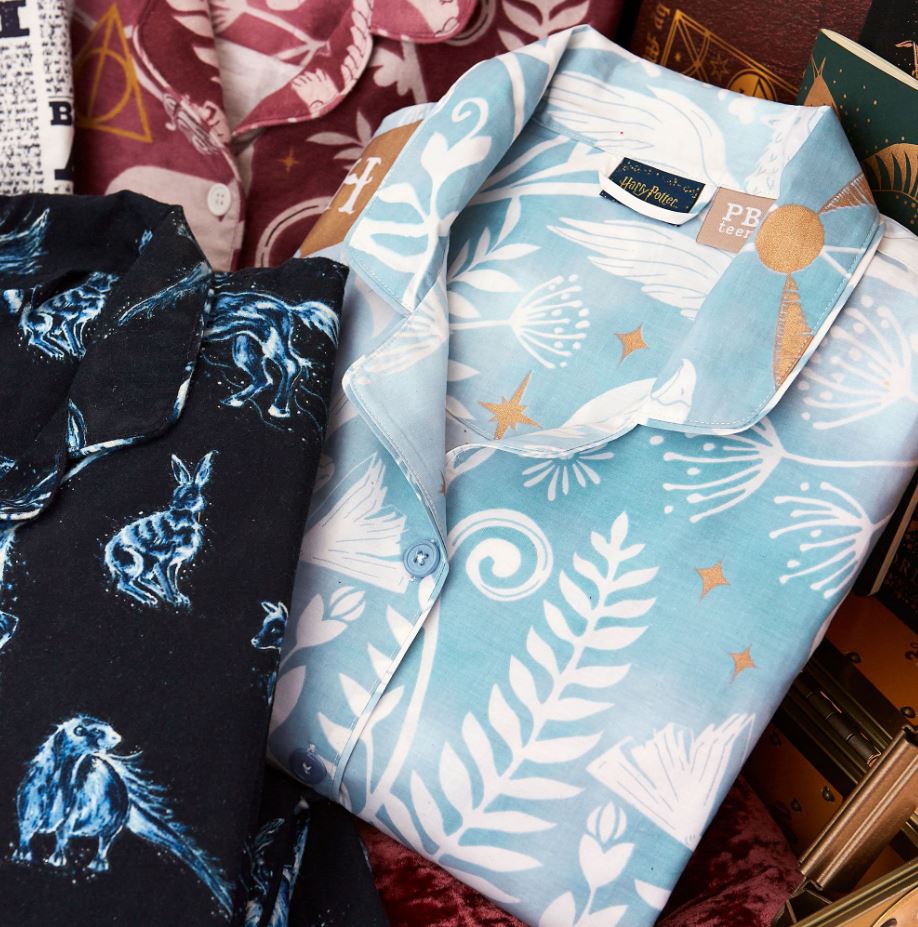 I'm a real wizard, and I believe that dementors will never harm me. What if they enter my dream, turn it into a nightmare, and start haunting me? Well, this Patronus pajama suit helps me to sleep peacefully at night. Did I mention it has Hedwig and Buckbeak aiding your Patronus?
This pajama set is best for you if you want to avoid Sirius Black and Dudley's situation when facing dementors. Thanks to its super-soft finish, I've been using it for a long time. But don't wear it all day long; otherwise, you'll start feeling lazy.
Pottery Barn offers these pajamas in different sizes, and people of every age can wear them. It is suitable for adults too, not for kids only. You can go to their website and check the sizes and colors available.
Pros
The fabric is highly breathable, making it very comfortable to sleep in or do house chores.
The trousers have an elastic band which is adjustable according to your waist.
Cons
Pretty expensive for a pajama set.
Harry Potter Reed Diffuser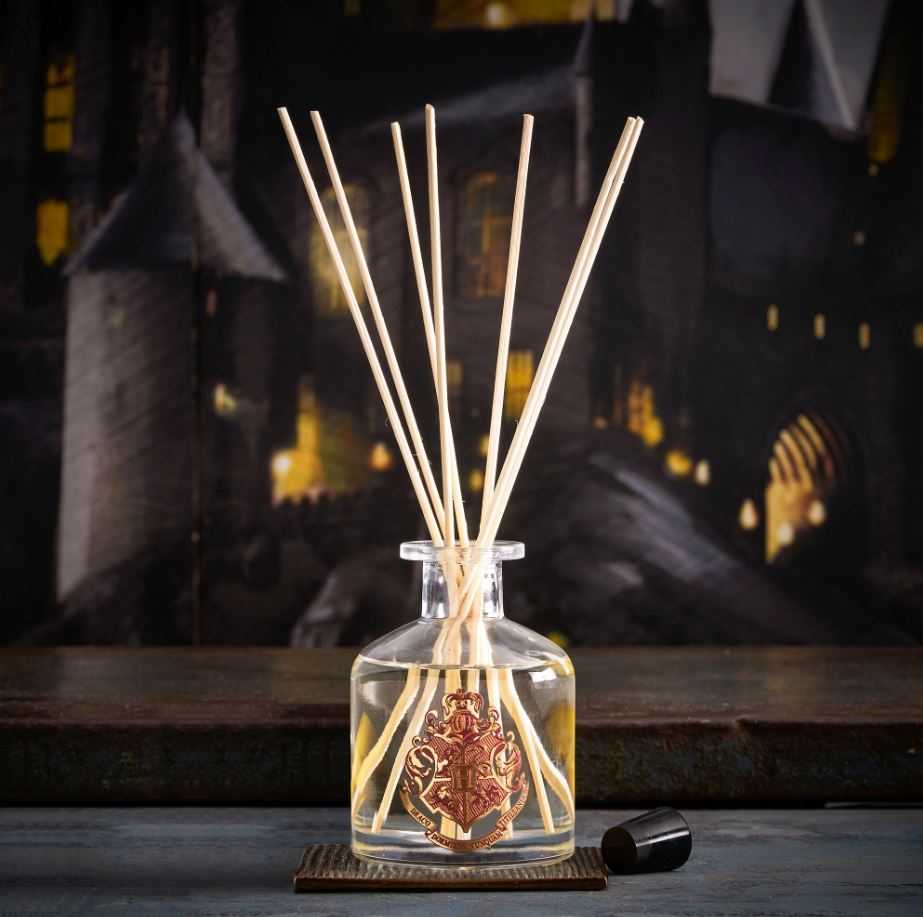 I know a lot of diffusers are available in the market. But I am a fan of these scented sticks. Maybe I am biased when it comes to anything related to Harry Potter. And why shouldn't I be?
Do you know how does Gryffindor smell? According to PB, it smells like oud (my favorite smell), tonka beans, and patchouli.
I believe you would not feel good if someone entered your home and it smelled terrible unless you are a half-giant like Hagrid. To save yourself from this embarrassment, you need to buy these diffusers. The reeds are about one foot long, helping the scent reach every corner of your room. Not to mention, the diffuser has a beautifully printed Hogwarts coat of arms.
One more thing you should keep in mind is keeping the bottle away from kids, as the liquid inside the bottle isn't some potion you would want your kid to drink.
Pros
It has a soothing effect on your health.
I also help me to calm down whenever I'm tired
It lasts for almost 4 months.
Cons
The scent can be allergic to some people (especially if they are Death Eaters).
Marauder Map Keychain
There are chances that you will lose your important keys. The best way to assemble the keys is to keep them in a key chain. And if you are a Harry Potter fan and find a Potter's key chain, I don't believe it is less than a treat.
The way Marauder Map guided Harry to follow up the steps of others, this keychain guided me to choose the right key. It has saved me several times, as I often forget where my keys are. Harry had to use magic with both hands, but I have the magic at my fingertips with this keychain. Without memorizing the spells or needing a wand.
Pottery Barn has manufactured this keychain from zinc, saving it from rusting. At the same time, the gold-plated finish gives it a magical charm. You can also observe a small metallic folded paper attached to the ring with a chain. I believe you can now roam freely through Hogwart's corridors.
Pros
It's lightweight and handy
Zinc build makes it rust-free.
Cons
These have a small build, making them a choking hazard for smaller kids.
Hogwarts Express Clock
You may say that I'm obsessed with clocks. And Pottery Barn never leaves me going after my obsession. Also, I have been closely associated with Hogwarts Express from the start of the series. And what better it can be than two of my favorite things fused.
Hogwarts Express clock offers a cute little train with a clock in front of its engine. The watch is covered with a lid and is more of a décor item than a timepiece. I think it can also make a perfect trio with the Timer Turner Clock and the Golden Snitch Clock. Also, this has a smooth finish and a golden glow, making it a conversation starter, be they a Potterhead or not.
Pros
It's handy and easy to move from one room to another.
Comes in at a moderate cost, so it isn't too difficult to fit into a tight budget.
Cons
It is difficult to clean it, and you must use a brush to clean the dust.
Mackenzie Harry Potter Hogwarts Reflective Glow-in-the-Dark Backpacks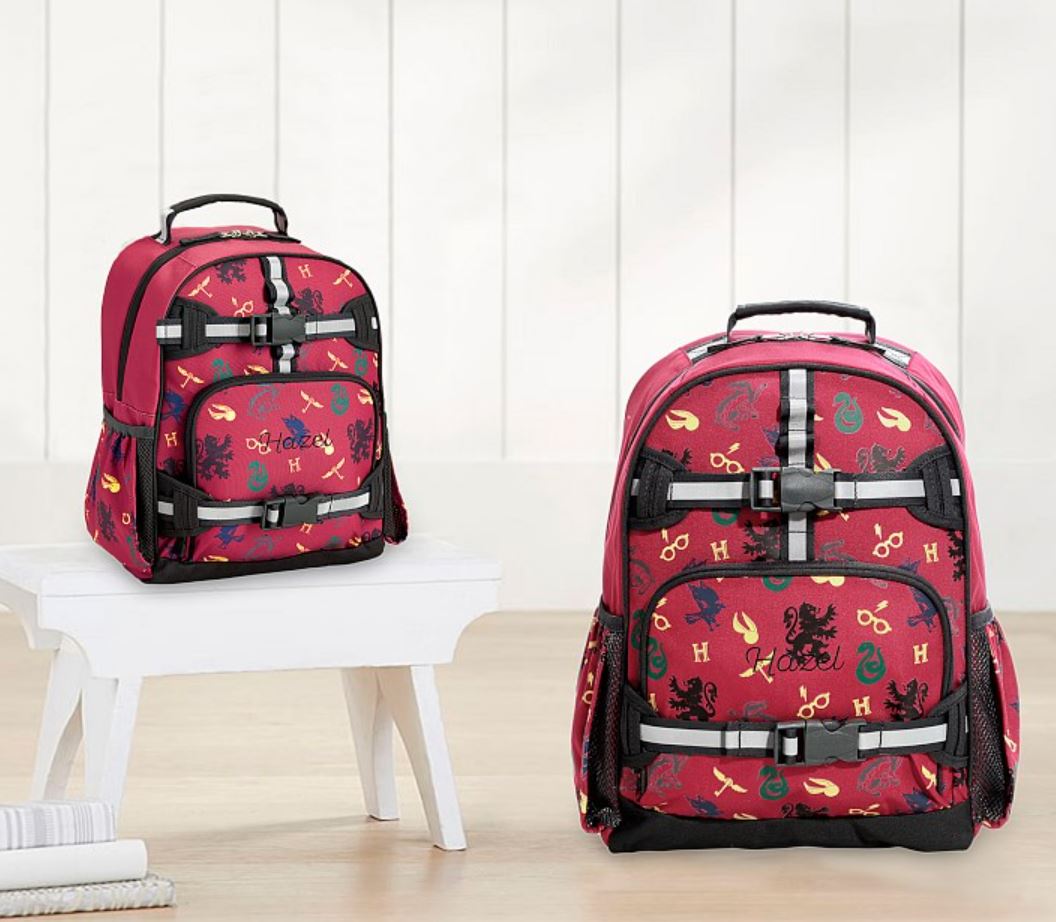 It sounds impossible that someone deals in Harry Potter or Hogwarts items and does not manufacture school backpacks. Hogwarts is a magic school; you can't go there without a bag.
This bag offered by Potter Barn has a spell that makes it reflects light in the dark. Although it is a perfect fit for young Potterheads, you can also take it to trips and tracking.
This bag is available in two different sizes. There is a holder on the upper side of the bag and two shoulder straps, making it no different from any other good quality bag.
It is available in rust-red color from my favorite house. However, it has the symbols of all the houses printed on it.
Pros
It is affordable
It's water-resistant, so it keeps your books dry in rainy weather.
Different sections to hold water bottles and other items.
Cons
With excessive and daily use, the glow-in-the-dark element fades.
Harry Potter Muslin Swaddle Set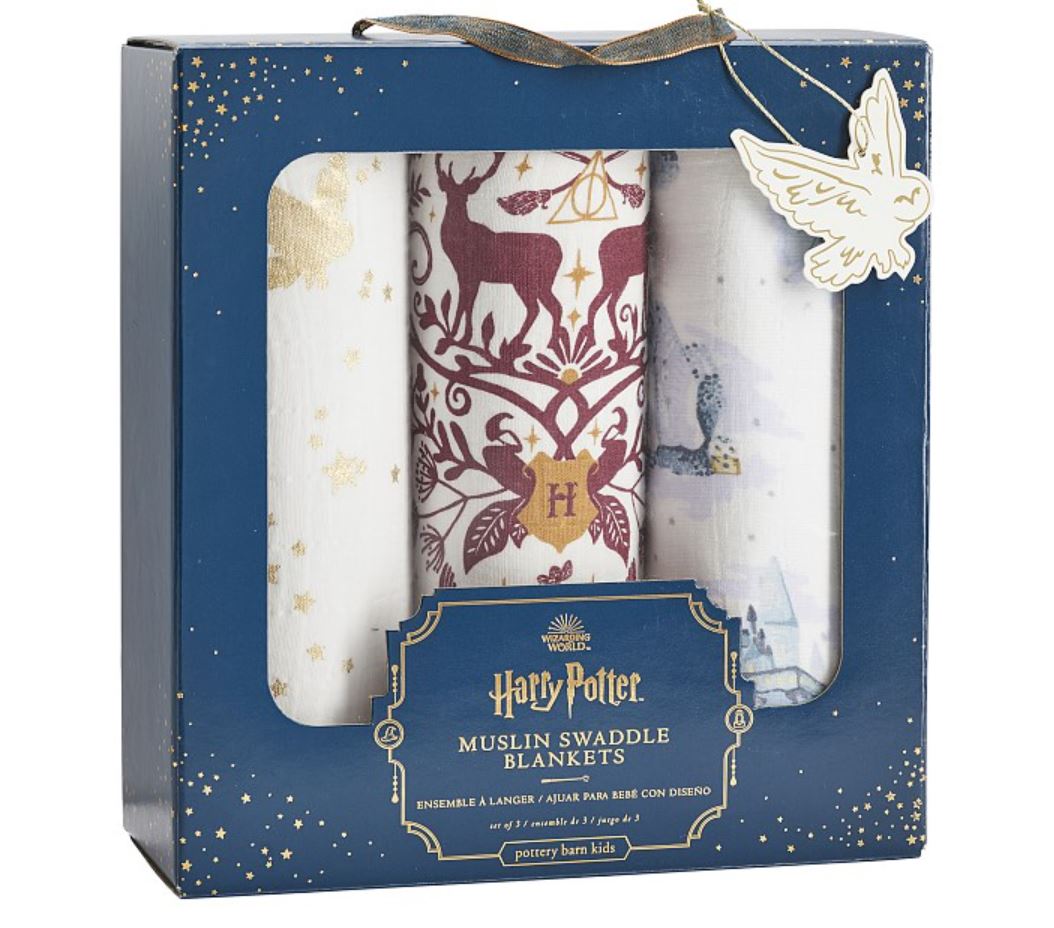 Remember when Dumbledore with professor McGonagall went to hand over baby Harry to his aunt and left the baby at the doorstep. They did not leave him uncovered on a cold night in a strange place, and you must have noticed he was covered in a swaddle. And this product is dedicated to one such item that kept our hero safe from cold.
Pottery Barn kids provide you with a set of three swaddles. These blankets are perfect if you have a newly born kid from one to six months. These baby blankets are super soft and made of cotton. They contain the variegated damask print of Harry's Patronus, Hedwig with stars, and our Hogwarts castle.
The thing that particularly impressed me was its packaging. It feels as if Hedwig has brought it directly from Hogwarts. I am thinking of gifting this swaddle set to my niece, but I think I might keep its packaging. I hope my sister does not come across this guide.
Pros
the price is affordable for a set of three.
It is easily washable in a machine.
Cons
I would not suggest Canadian fans rely solely on these swaddles to keep their baby warm. Not meant for extreme cold weather.
Harry Potter Hedwig Lamp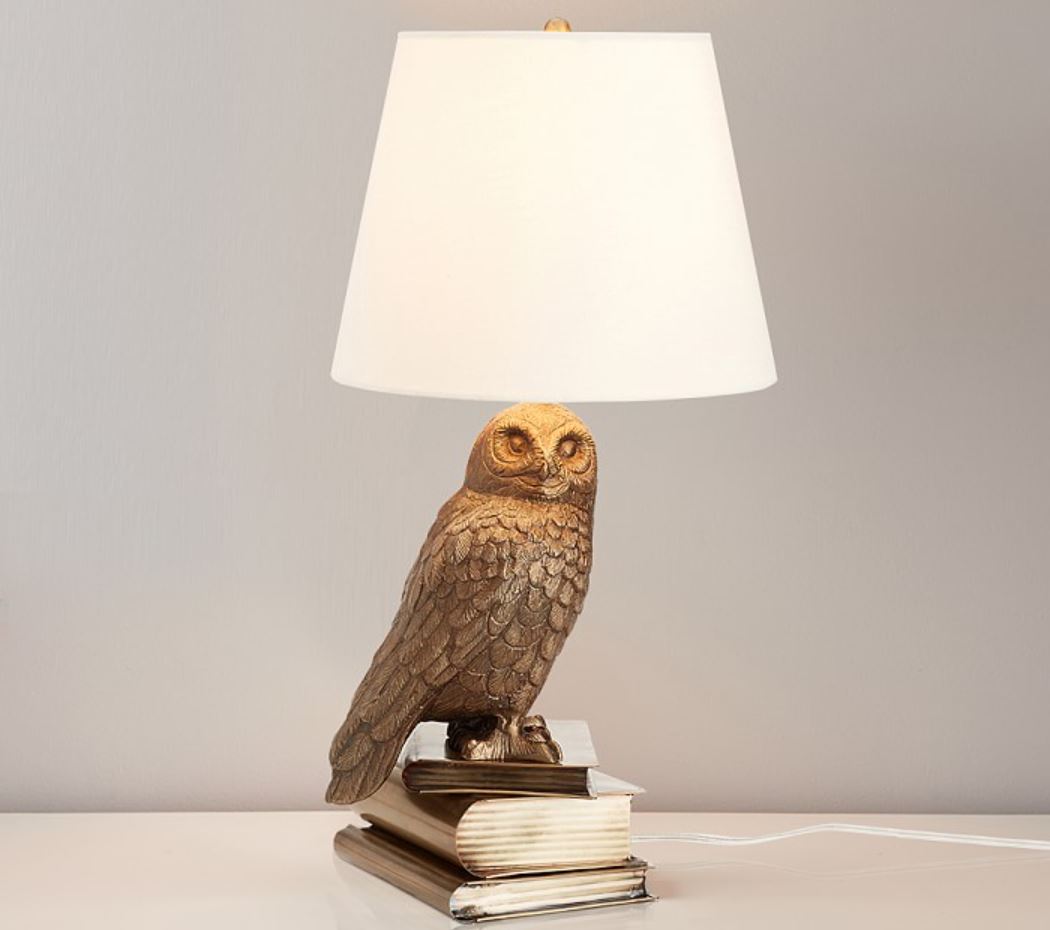 Pottery Barn blessed Harry Potter fans with another beautiful room décor ideal for any kids' room: the Hedwig lamp. As the name applies, it is a lamp inspired by Hedwig's figure, the one friend Harry never doubted.
Although meant for kids, this table lamp is also a perfect addition to any Potterhead collection. The gold finish makes it captivating to every eye. Not to mention, the level of detail Pottery Barn can get into the lamp is unbelievable. This lamp offers a yellow LED light that perfectly matches the warmth of gold.
I believe you can trust Hedwig watching your kids sleep. After all, we all know Hedwig never backs off protecting the one she loves, even if it means sacrificing herself.
Pros
It can complement any Hogwarts-style room décor.
The bulb is electricity efficient.
The light has a soft glow that is not too heavy on the kids' eyes.
Cons
It has a relatively large footprint, which can be unsuitable for smaller bedside tables.
Quidditch Round Dutch Pot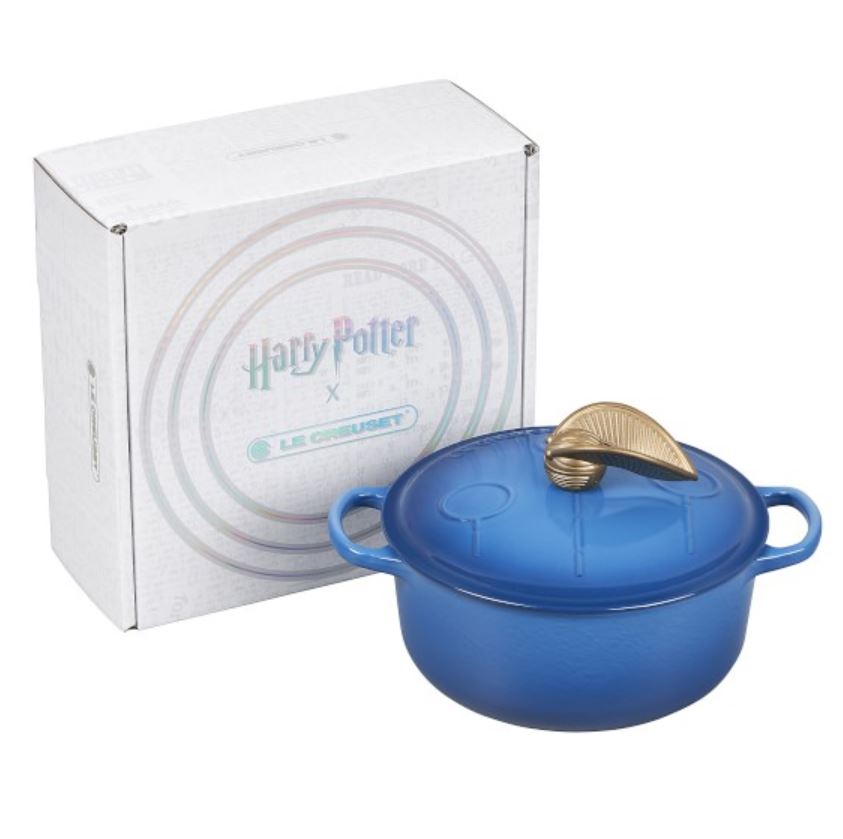 If you are a wizard head and love cooking, you must know cooking is nothing less than a quidditch match. You act as the seeker, chaser, and keeper in cooking quidditch matches yourself.
Finding a pot that helps you cook more perfectly and magically makes cooking much easier. In collaboration with Harry Potter, Pottery Barn introduced a quidditch round pot to cook magical food.
I bought this pot because it was a bestseller. The lid of this cooking vessel has a knob made of the golden snitch. You might have guessed there was a hidden reason for going after this bestseller. The outer blue surface of the pot and golden snitch knob complement each other.
Your stirrer is your Magical wand. Just twirl it and cook the delicious food.
Pros
You can use it on fire and electric stoves alike.
Cons
Its enamel coating can wash away with frequent use.
Hedwig Cookie Jar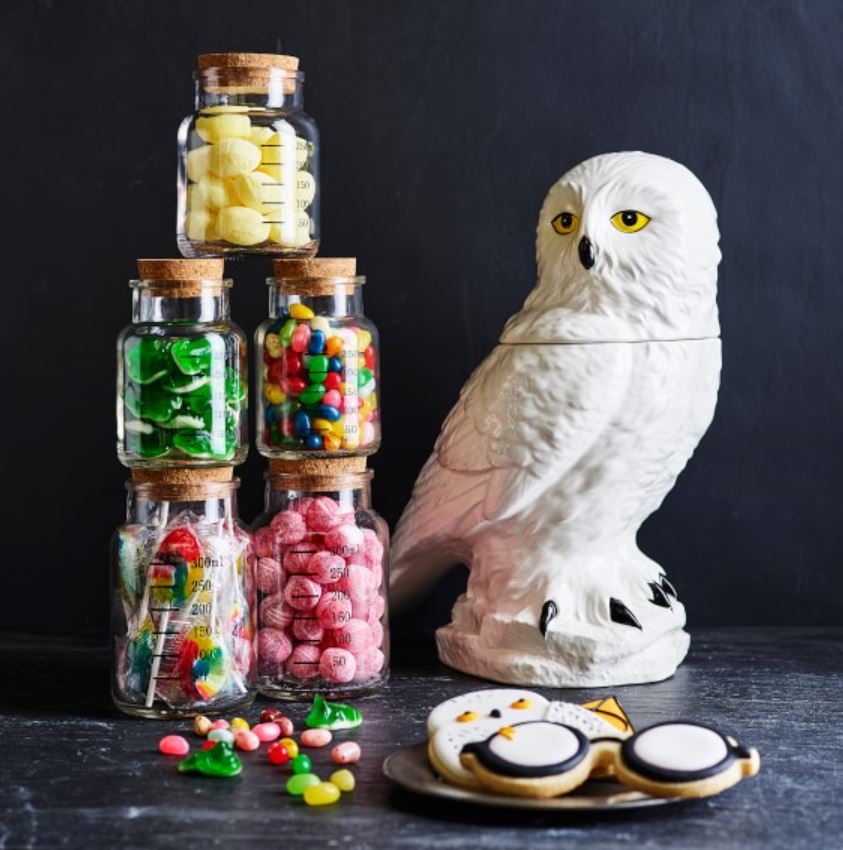 How can I conclude my guide without referring to our fallen heroes? Hedwig wasn't an ordinary owl; she always conveyed our prayers to Harry, helping him fight against the Dark Wizards. She was and still is the symbol of trustworthiness. And when it comes to cookies, I cannot trust anyone other than Hedwig. Not even Fluffy!
William Sonoma of Pottery Barn offers this beautifully crafted earthenware Hedwig Cookie Jar. The eyes on the jar are pretty intimidating, but that does stop me from stealing the cookies inside it at 2 am. Well, Hedwig can make exceptions for her friends.
One very intimidating thing about the jar is its high price. Also, I recommend you be careful with it. Because, unlike its natural counterpart, it will not fly if you drop it.
Pros
It can fit in your kitchen cabinets.
It is air-tight, and your cookies don't go stale.
It can fit a lot of cookies inside it.
Cons
FAQs
Question 1: What Harry Potter Items Does PB Williams Sonoma Provide?
Answer: It is a retail company that sells Harry Potter pots, utensils, and other kitchenware. One of the more famous items in the William Sonoma Harry Potter is the Quidditch round Douch oven. Alongside this, several other kitchen items on the William Sonoma can be a magical start to your cooking experience.
Question 2: Can we Find Pottery Barn Items from Other Sellers?
Answer: You can find some Harry Potter Pottery Barn items from sellers like Amazon and Walmart, but these are pretty rare. Pottery Barn is a retailer and e-commerce shop with a separate line of Harry Potter merch. It likes to keep these items to itself.
Therefore, I recommend buying directly from Pottery Barn as it's not as expensive. But if the item you want isn't available, you can also check other retailers.
Question 3: Does Pottery Barn Deal in Pottery Mainly?
Answer: It is a common misunderstanding because people read Pottery Barn separately. It is the name of a company, and it is not just about pottery or Barn. It is an e-commerce trader where you can buy Harry Potter-themed products and home décor items.
Wrapping Up
For all the wizards and magic lovers, Pottery Barn is a blessing. A die-hard fan's ultimate desire to keep the merch of their favorite series or films. Pottery Barn is a platform for the Harry Potter army to unite. It provides different items for all the age groups ranging from kids to adults.
Before buying, keep in mind the location of its store. I would also suggest you browse around the whole page and don't forget to look for discounts and sales.
Among all the things I have bought from Pottery Barn, the time-turner clock and the Hogwarts Express clock are my favorite. The time-Turner clock with its gyroscope enhances the ambiance of my bedroom. And the Hogwarts Express clock outshines my TV lounge.
If you are a Potterhead like me and want to get closer to your favorite series, Pottery Barn is the answer.
Continue reading:
The Best Harry Potter Sweatshirts Guide for Fans of the Franchise