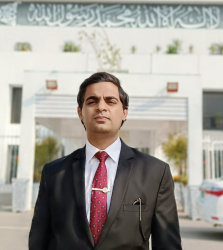 Latest posts by Boo Ali Khan
(see all)
"Bookends are the eternal ends of a life, whose chapters are already written."
–Gordan B. Hinkley
Since its arrival, Harry Potter has been more than just a series; it has been a way of life for me. And the love and respect this series has in my heart are beyond the same runes these bookends come from. Like most Potterheads, my journey with bookends started with Harry Potter books.
With time, I bought all the seven volumes, but I wasn't sure where and how to put them nicely. However, this problem was solved with Harry Potter bookends which gave me another excuse to add something new to my Harry Potter collection. They not only kept all of my Harry Potter books in one place but also cast a particular spell that could lighten up my bland-looking bookshelf.
Of course, I wasn't going to buy just one bookend, and I purchased every Harry Potter-themed bookend I could get my hands on. And this turned me into the Harry Potter bookend nerd I am today. After all, a collector does not know an end to their journey. Or do they?
As I started to collect more and more bookends, I began to face more and more hindrances. And most of them could have been avoided if I had known the buying tips I am going to mention in this ultimate Harry Potter bookend guide.
Alright, Potterheads! In this guide, alongside my best picks suggestions, I will also be sharing my undisputed top choice for Harry Potter bookends. So, clutch your quills and begin writing down on your Harry potter scratch pad. The History of Magic class is about to start.
Bottom Lines Up Front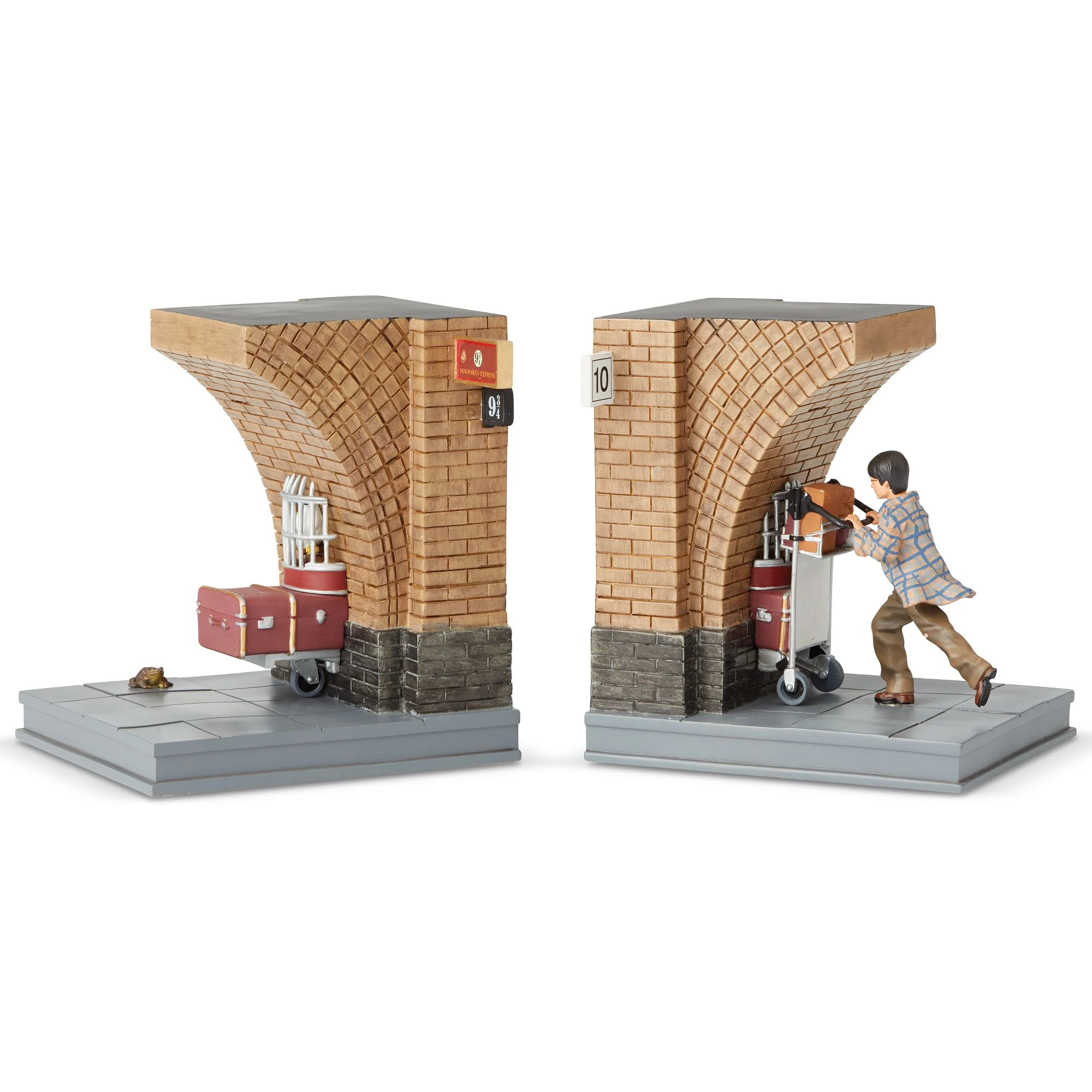 If you are a Potterhead who likes reading books and wants a secure way to support your hobby, then Harry Potter bookends will be a perfect choice. And while Harry Potter offers several different bookends designs, my favorite has to be the Enesco The Wizarding World of Harry Potter Platform 9 3/4 Decorative Bookend. It reminds me of where the magical journey of all non-Muggles began. Moreover, Harry pushing the luggage looks like he is also taking my books to Hogwarts.
Following are a some more of my top picks that can also be a great addition to your magical world:
My Top Picks:
My Reasons for Picking These Bookends
These are the reason I choose these bookends for my guide:
Heavy enough to keep multiple books together.
Remind of any particular moment from the series.
Matches other Harry Potter-themed merch, e.g., toys, figures, lamps, etc.
Available at either retail or online shops around the state.
Some Buying Tips to Remember While Buying Bookends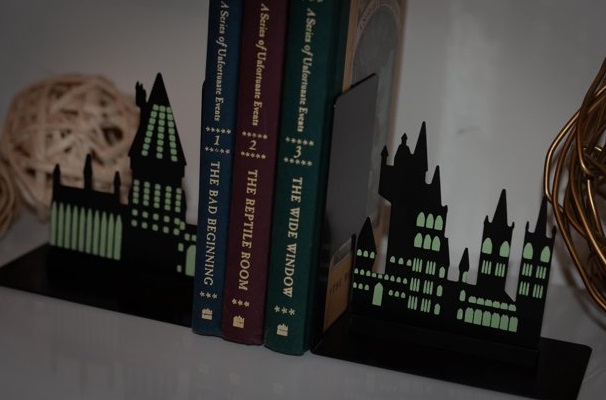 My experience with Harry Potter merch has gone far beyond a normal Potterhead. So there is no surprise that I have a list of tips I recommend you follow if you want the best experience buying Harry Potter bookends.
Shopping From Well-Trusted Sources
When it comes to Harry Potter bookends, many fans still mistake buying them from random websites or shops. Search online, read forums, and list the most trusted stores in the Potterhead community. And then set off to find the best Harry Potter bookends offered by these trusted stores. Some of my personal go-to online stores include Amazon, Walmart, and Enesco.
Don't Buy Light and Small Looking Bookends
I have faced a specific problem with many Harry Potter bookends: their weight. When buying Harry Potter merch, I look for more delicate items that I can quickly move around. But with bookends, it is rather the opposite. I look for more heavy and robust-looking bookends, which I am sure can support multiple volumes of this eccentric storyline. Another thing I recommend is to go for bigger bookends, along with their weight, as they usually have a sizeable supporting capacity for books.
Choosing a Material and Finish That Matches Its Surrounding
When I first started buying bookends, it gave me a stylish excuse to present my Harry Potter Books right in my living or guest room. So, more of my friends could see my elegant collection. But this isn't possible if you choose a bookend with a finish that doesn't compliment your room or book covers.
To counter this, I recommend making a list of the primary color of the room where the bookend will end up. And then picking colors or finishes that compliment those colors. For example, a golden bookend in front of a black wall will look perfect.
I recommend you do this beforehand, as this will reduce your options, making your buying experience much more streamlined.
Ask For Real Life Pictures of the Bookends From the Seller
If you choose to shop online for these bookends, I recommend asking the seller for their real-life pictures. Many sellers edit their product images beforehand to remove any product impurities. So having the unedited photos of the product can help you make a lot more informed decisions.
My Top Picks
Enesco Wizarding World of Harry Potter Deathly Hallows Bookends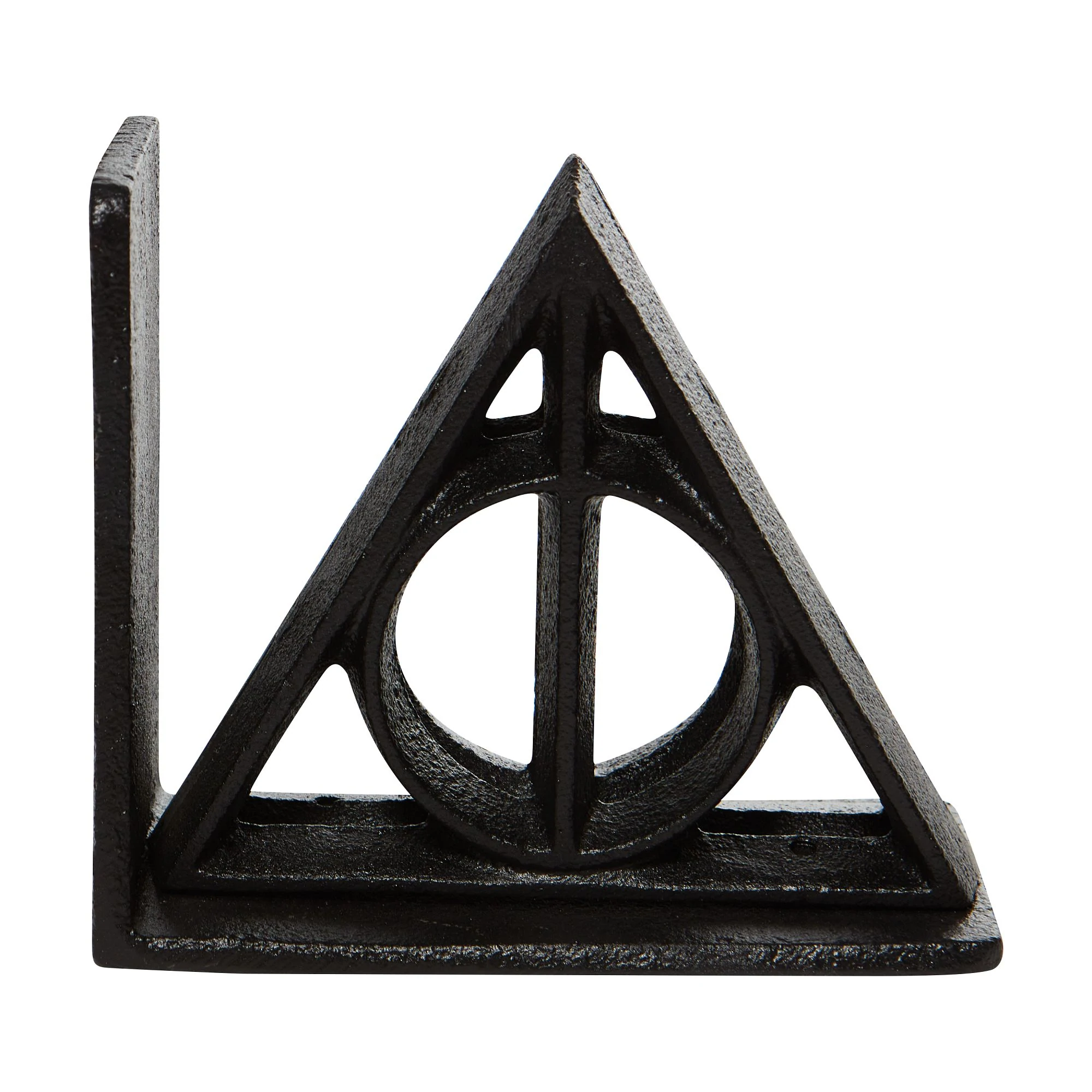 This bookend is themed after the book Deathly Hallows, the last book in the series Harry Potter. Seeing how such a dark and gloomy concept was captured in such a small package, I would have been a muggle if I had not bought it. And alongside symbolizing the end of the series, it also brings a sense of victory to my table, earning it one of the top positions in my bookend collection.
Seeing the Deathly Hollow, marked in the center of the bookend, would take me back to the defeat of the evil in the magical world. And having this on my bookshelf was a constant reminder that good will always win. The delicacy with which this bookend is designed is remarkable. And the material and paint used in its production make it all the more unique. The deep black color gives it a certain flair that makes it very hard for me to keep my hands off it.
It is also fairly heavy, so it was able to tightly pack my book collection between its two halves. And its cast iron construction.
Pros
Small and heavyweight, so books cannot easily move.
The rough matt finish makes it safe from fingerprints.
Cons
The cast-iron build is prone to rusting over time.
Harry Potter the Noble Collection Wizard Chess Knight Bookend-Black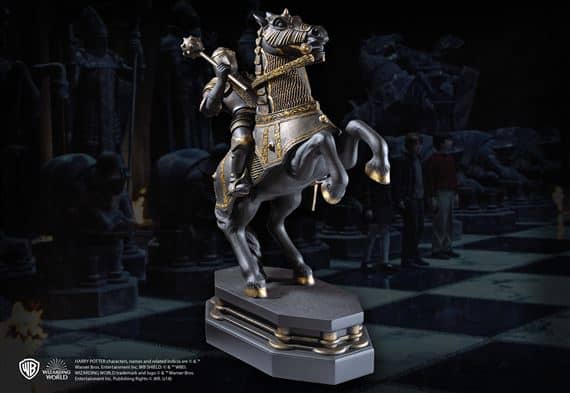 When it comes to Harry Potter, very few fans can forget the ingenious chess match played by Ron Weasly in the Chamber of Secrets. Somehow, this Noble Collection bookend matches the sense of victory and excitement we Potterheads had during the moment. It has a matt black finish with hand-painted gold accents that make it stand out on my bookshelf. Unfortunately, I had to buy the two halves separately.
It is made of resin, so it was reasonably easy to move around, and I almost made it move like the self-moving chess pieces seen in the series. Its large size was somewhat of a hindrance, but nothing a true Ron Weasley fan can not overcome. It also comes in at a reasonable price of around $60. Still, the price quickly increased when I had it.
Pros
Hand-painted accents make it highly detailed.
Resin build makes it more durable than plastic and light enough to move around.
Cons
Each end has to be bought separately.
Hallmark Harry Potter Metal Bookend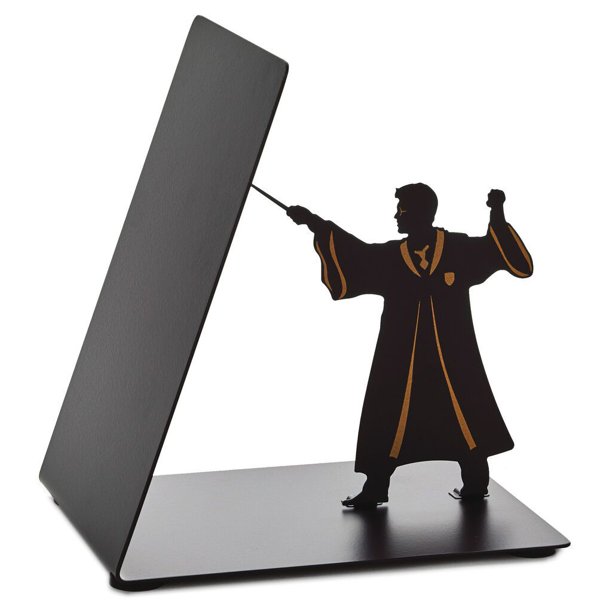 Whether you want to experience real magic or just want to keep your books together in style. This Hallmark bookend will be perfect for both jobs. It features a thin miniature version of Harry welded to an equally thin piece of metal to hold your books in place. And the small wand in Harry's hand is pointed towards the book giving the sense that magic is used to keep the books in place.
The bookend reminds me of the spells used in the series, especially "Wingardium Leviosa." It takes me back to Flitwick's charms class, where Hermoine patronized Ron after learning the spell on her first try. What a memory to remember!
Something I wasn't a fan of about this Hallmark bookend was its light build and tilted structures, stopping it from holding more than a few books at a time. But it does come at a pretty low price and free shipping, so it was worth it in the end.
Pros
Low price that can easily be managed by fans on a small budget.
Impressive use of negative space to show Harry's robe.
Cons
The thin metal build isn't heavy enough to hold more than two books.
Enesco Wizarding World of Harry Potter Diagon Alley Light Up Bookend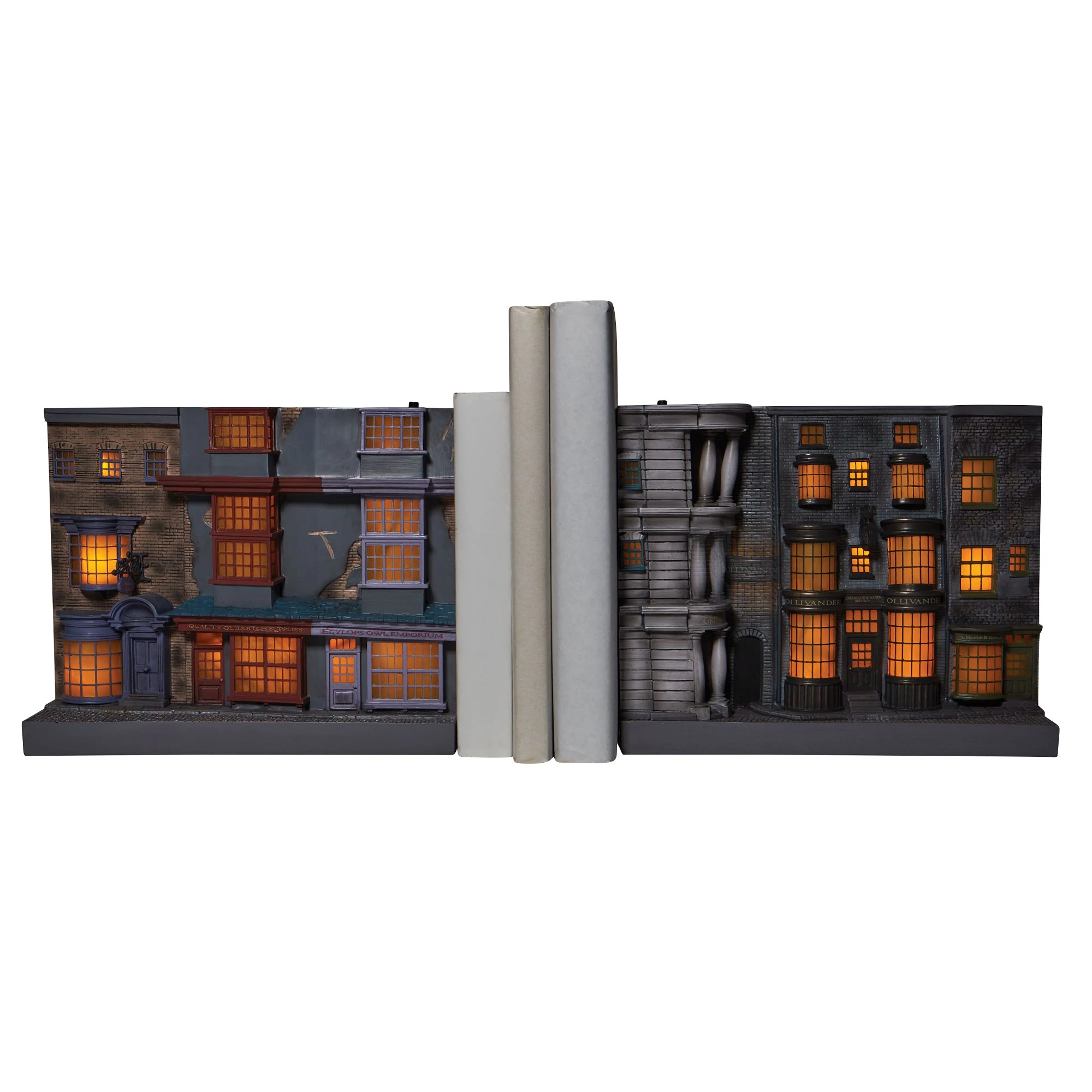 With the long and broad plot of Harry Potter and its delightful landscapes, there are few spots that resound well with the overall series, such as Diagon Alley. And this is impeccably caught into one of the most definite Harry Potter bookends I have seen.
Looking at it on my bookshelf reminds when I first saw Harry purchasing his enchanted supplies. And, with every sight, my craving to visit the dim rear entryways turns out to be stronger.
This bookend remembers the relative multitude of most popular wizards like Harry, Hermione, Ron, Hagrid, and a few other notable figures from the series. And likewise incorporates the structure acquainted with the Diagon Alley, giving me long recess periods. And keeping in mind its somewhat exorbitant cost, "it's just coherent that the set has remarkable form quality."
Pros
Hand-painted gives it a depth that is difficult to ignore.
Its 7 inches tall build can easily hold several books.
Cons
It is hand-made, so the stock is minimal, making it difficult to find at times.
Noble Collection – Harry Potter Serre Livres Hogwarts Express 19cm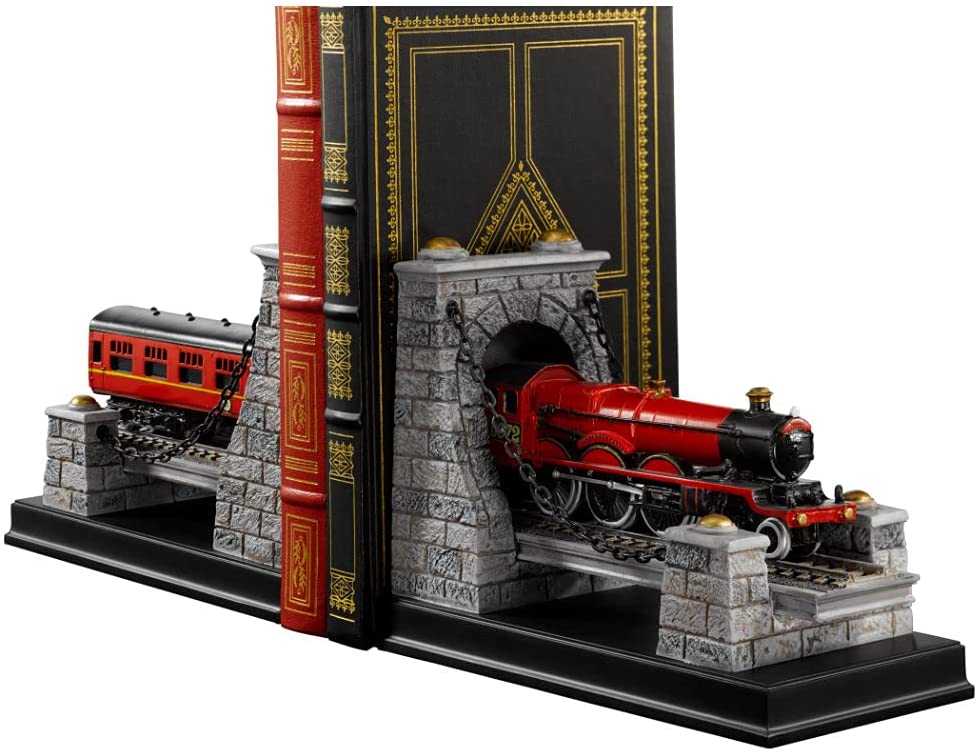 This bookend is designed to depict the Hogwarts Express, and boy, does it do that! The whole bookend is a perfect replica of the train seen in the series, and its bright red colors give this bookend a sure pop that is difficult to ignore. The bookend is made so that it makes a whole scene more fascinating and magical. When appropriately placed with books, it gives the impression that the train is going through all these books.
Alongside using it as a bookend, I also used it as a toy. Placing it on one side of the wall and seeing the train come off the other was nothing short of magic. And my cousins definitely agreed.
It has an enormous footprint but is made of wood, so it isn't that heavy. Not to mention, it also comes at a hefty price, so I recommend you start saving if you want this locomotive to circle around your books.
Pros
Exceptional wood build. It isn't breaking any time soon.
Vibrant, pooping color makes it the center of attention.
Cons
A pretty high price isn't straightforward to afford on a tight budget.
Harry Potter Hogwarts Castle Metal Bookends | Glow In The Dark Castle Design
This bookend always reminds me of the magnificent architecture of the Hogwarts Castle shown in the series. And with its tiny stature, it wasn't too tricky to place it on my small desk.
It is made up of a single sheet of metal, and its glow-in-the-dark feature gives an impression of magical qualities. Its design shows such a spectacular view that I am awestruck every time I look at it. Imagine you are all alone in your room at night, staring at this glowing castle. Just wonderful! Isn't it?
But despite all these perks, the metal sheet is thin and can easily bend. So if you're looking for a bookend that can hold several books, this might not be the one.
Pros
A detailed view of Hogwarts Castle with small CNC-cut windows.
The lightweight and small footprint make it easy to handle.
Cons
The thin metal build makes it easy to bend and deform.
Enesco the Wizarding World of Harry Potter Platform 9 3/4 Decorative Bookends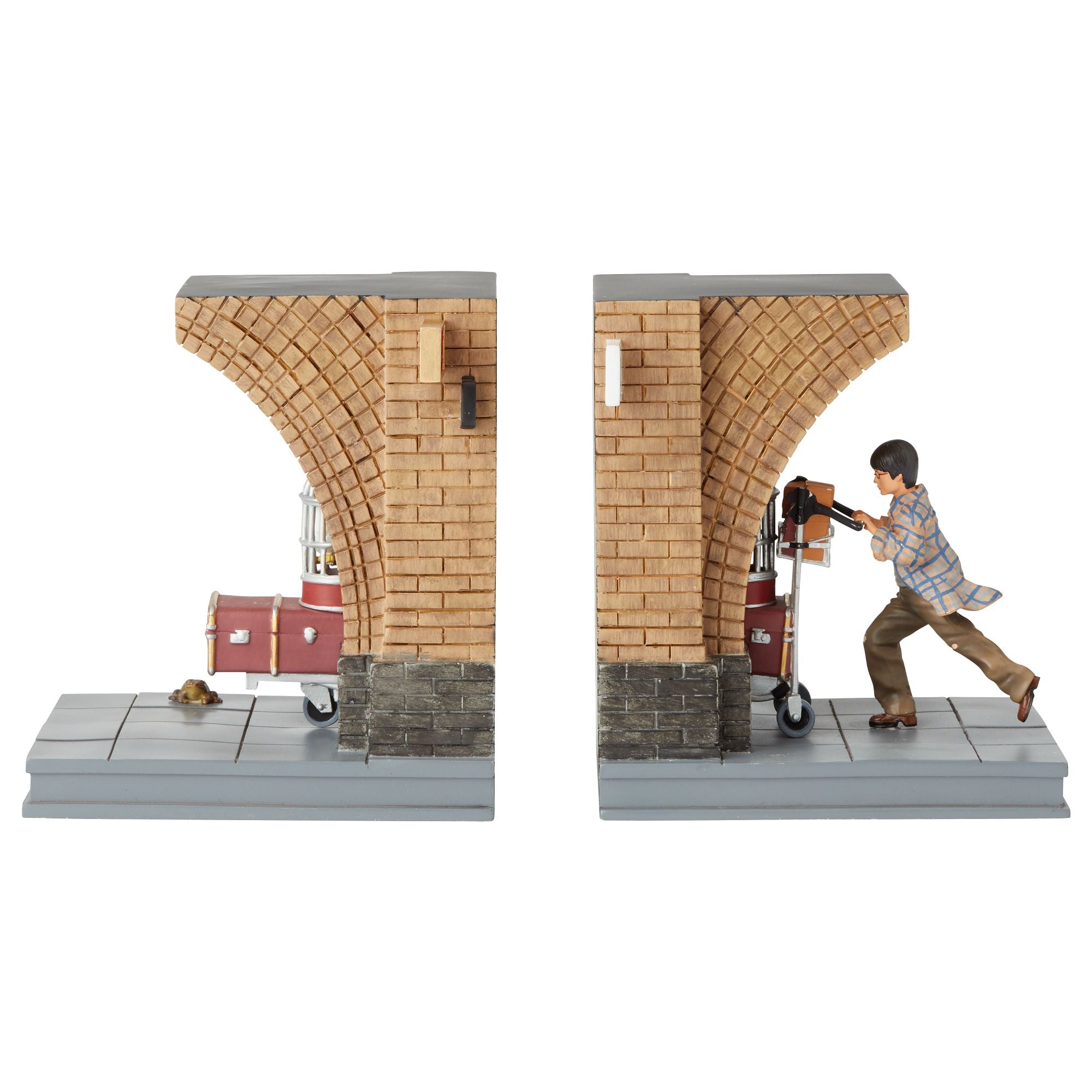 As a fan of J.K. Rowling's smash-hit series, King's Cross was one of the most iconic buildings seen in the series. And the importance it carries is perfectly captured in this bookend, making it my favorite of the bunch.
Its color is a beautiful mix of red, blue, and black. And every time I see it, it never ceases to bring delight and charm. The bookend is a gateway into the magical world for someone like me, who always dream of going to Hogwarts.
The detailed platform seen in the series is intricately entailed in this piece of art. Remember when Harry and Ron smashed their trolleys into the station's walls after the magic had already faded? I indeed do after seeing this bookend.
Its high price point is also justified by its extravagant build. And the attention to detail of this bookend further adds to the value. Cutting it short, this was a perfect addition to my collection and hopefully will be the same for you.
Pros
It is delivered in complete gift packaging.
The half-cut station is a perfect example of a well-thought-out bookend.
Cons
Very high price at about 130 USD, which can be burdensome for fans on a tight budget.
Harry Potter Dobby the House Elf Single Collectable Bookend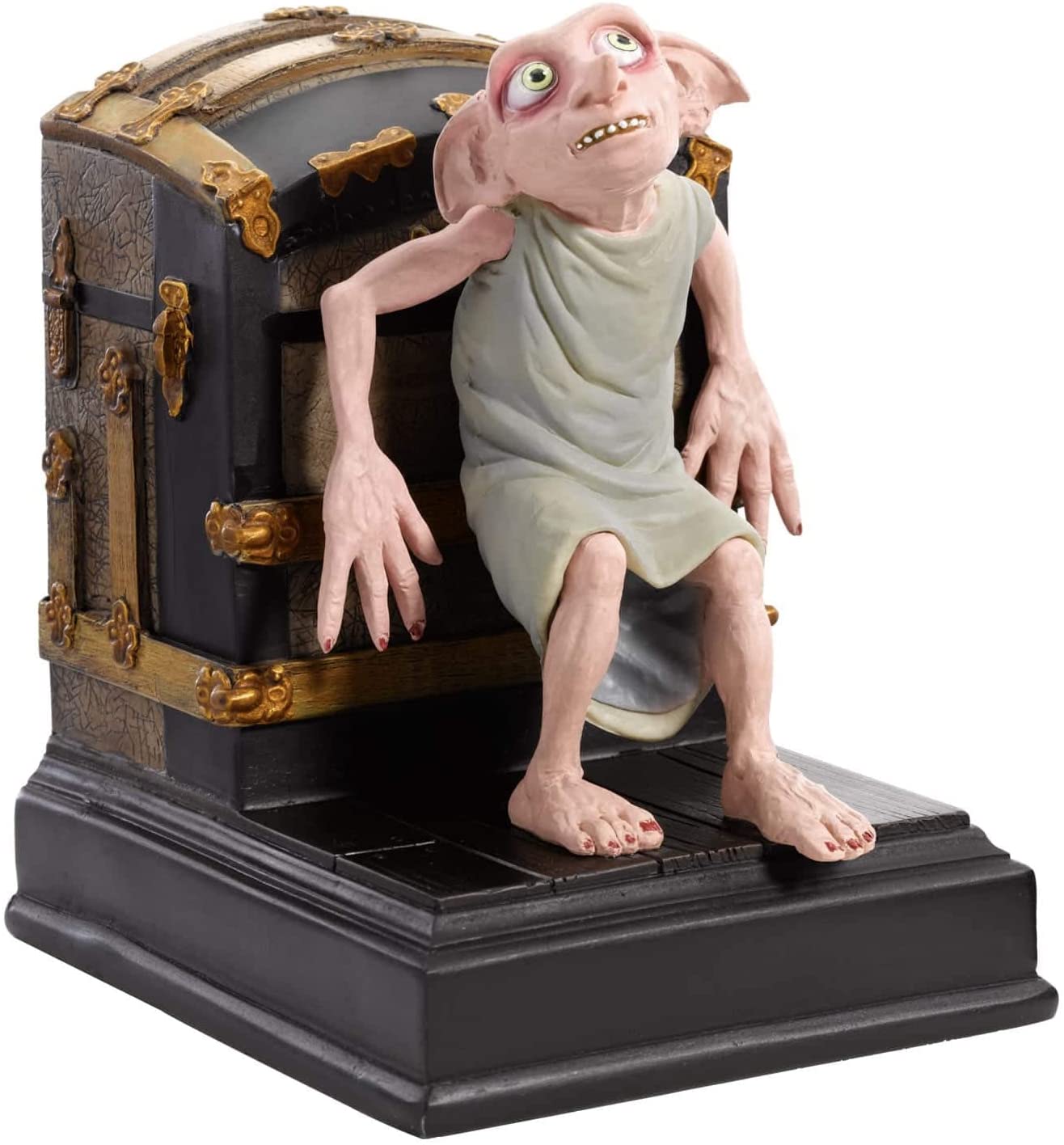 Among the vast Harry Potter assortment, very few Dobby-themed items are as good as this bookend. Growing up with the cast of characters, Dobby has been one of my favorite characters. And seeing him serving Lucius Malfoy was just unacceptable to me. So looking at him as a bookend was perfect, as it meant now that Dobby could serve me.
Like in the series, Dobby's bookend is found in a similar thistle excuse for a dress. Furthermore, seeing him holding my books reminds me of his hardworking personality and constant urge to please his master. After realizing that I am Dobby's master, this bookend made me even happier.
This bookend comes at an entirely reasonable value, and its scrupulousness further adds to its worth. It is made of plastic which is not difficult to break. However, remembering its low cost, it was an easy buy for me, and would be the same for you.
Pros
The simple finish matches several background colors making it perfect for any room.
Affordable for Potter heads on a small budget.
Cons
Cheap plastic build, which can easily break under load.
Harry Potter Metal Bookends – Black Hogwarts House Gryffindor Diecast Design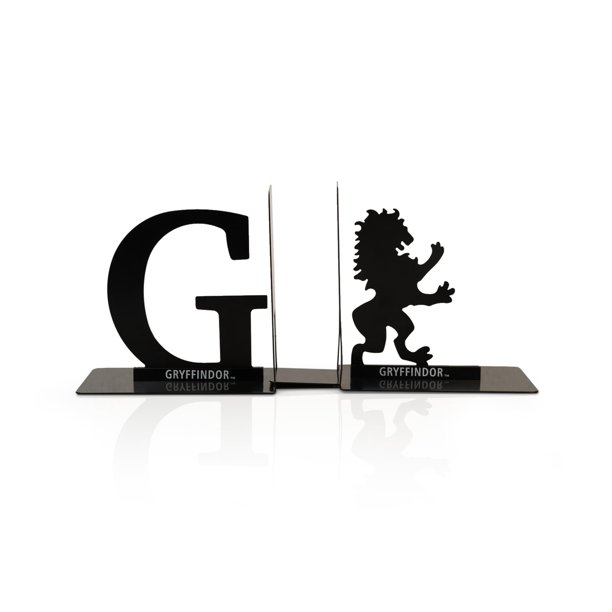 Gryffindor was one of the four Houses of Hogwarts School of Witchcraft and another I love. And seeing its bookend was just another candy for my eyes. It features the same sense of justice and courage seen in the member of Griffindor. It Reminds me of how Harry and his gang fought the Dementors without having an ounce of fear in their hearts while also giving me the courage and power to fight my own problems.
It does have a charming dark black finish that can easily be distinguished on a bookshelf. And keeping in mind its meager cost made it all worthwhile to add to my Harry Potter collection. But, as It is relatively light and bendable, I wouldn't recommend placing more than a couple of books on it.
Pros
Its Matt finish keeps it from getting fingerprints.
The lion cut out perfectly matches the persona of Griffindor.
Cons
Sleek design that is easy to deform.
Harry Potter Metal Bookends – Black Hogwarts House Slytherin Diecast Design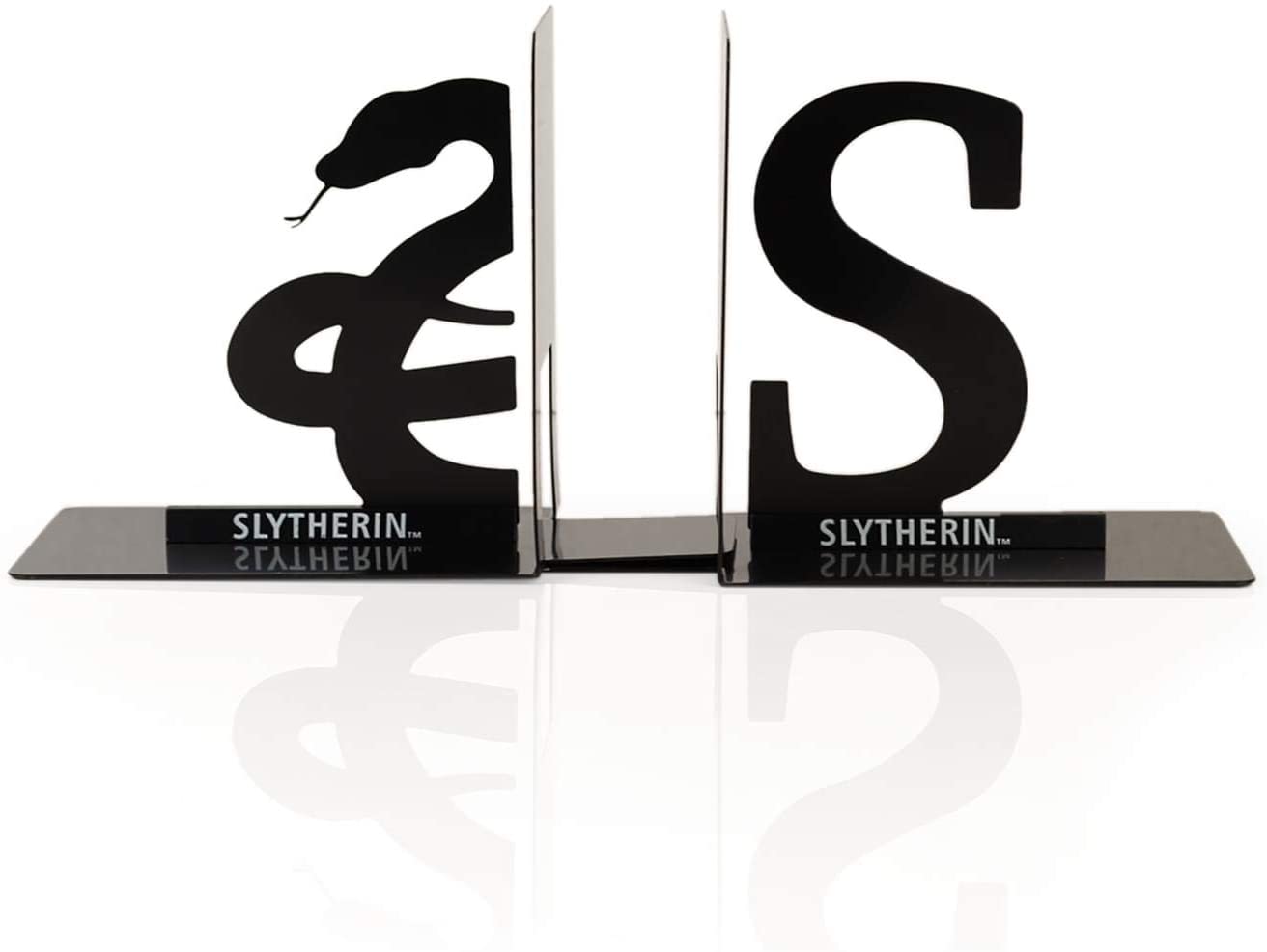 I am a die heart fan of Professor Severus Snape. And many of my memories of Professor Snape are attached to the Dark House of Hogwarts. And thus, to me, this bookend is a perfect example of what makes Slytherin the greatest house of them all.
The attention to detail that has been paid to this bookend is eye-catching. And the colors used in this bookend resonate perfectly with the dark vibes of the Slytherin House. I personally added night lights behind it as it gives it a prominent dark shade to the books inside at night.
It includes a remarkable built quality and free global transportation. Making it an unquestionable requirement for any Slytherin House fan who wants to have a dark art vibe around them. However, it has sharp corners, which can easily bite you. So, be careful around it, and don't let it near you.
Pros
Low cost and free international shipping.
The name Slytherin is written on the base.
Cons
The Basilisk's tongue is easily breakable.
Frequently Asked Questions
Question: Is it Worth Buying Harry Potter-themed Bookends?
Answer: From personal experience, Harry Potter bookends are an elegant way to express your love for the series while also being practical, keeping all your volumes in one place. Anyway, the ball is in your court, whether you want to buy these bookends or not.
Question: Why is Harry Potter Bookends so Expensive?
Answer: Well, this mainly depends on the build material that is used. In most cases, bookends are made of metal to give them the weight they need, which can significantly bump their price. Another thing is the amount of detail on the bookend. The more the details, the more the cost of the bookend.
Question: Are Harry Potter Bookends Collectible?
Answer: This depends on one wizard to another. Many find how these bookends represent their story unique and tend to buy several of them to make their own collection. While some just buy one or two and use them as intended. Anyway, it all depends on you. It is your money, after all.
My Final Thoughts on Harry Potter Bookends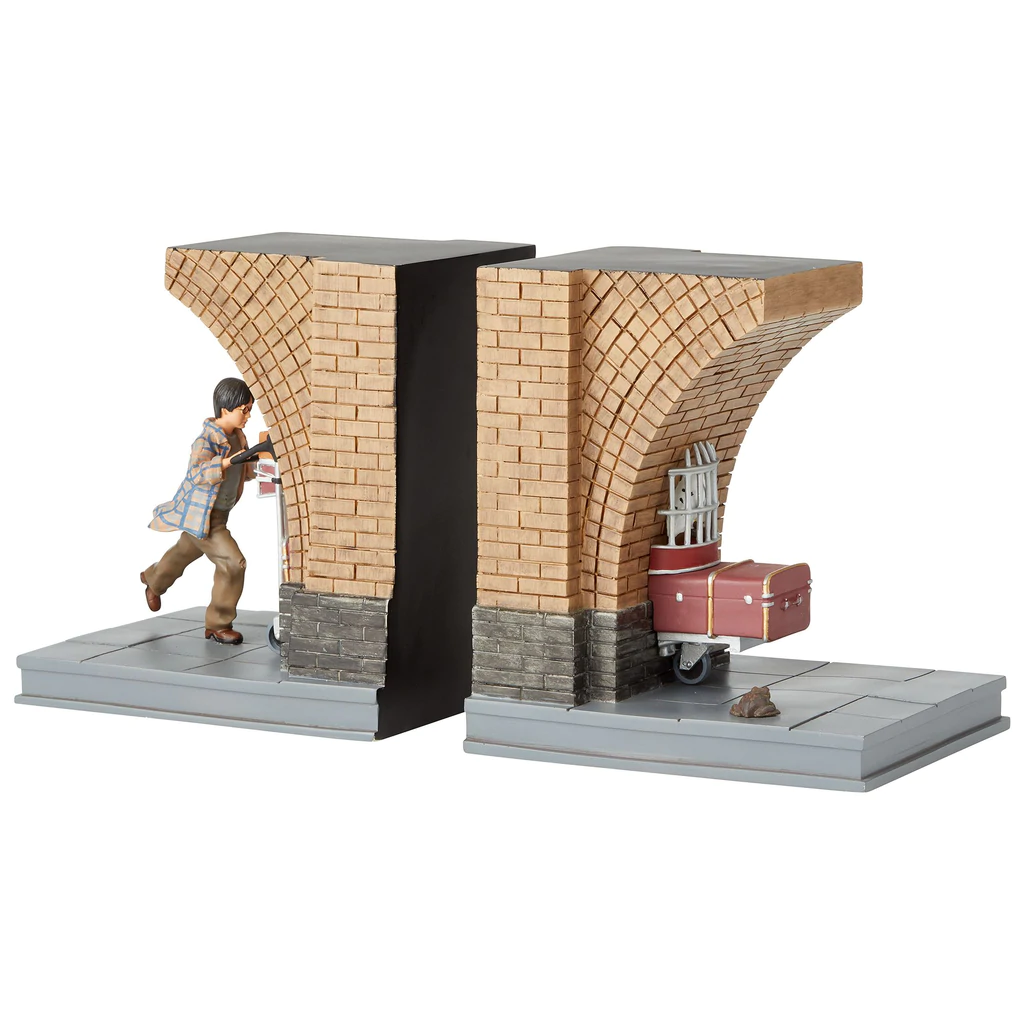 Harry Potter is a collection of different emotions and moods. The story is written so uniquely that every reader can comprehend it according to their very feelings. But with the revelation of bookends, this magical journey jumped ten folds. Finally, there was a way to express your love for the series beyond traditional toys and figures. And the utility they provide makes them all the better.
With the introduction to this unique product segment, many of you may still be unaware of the challenges that await you. But don't worry. I have added some tips in this guide to help you easily navigate this vast biome of pure magic and mystery. Remember, always shop from a well-trusted seller; make up your mind on the finish; always go for more heavy bookends. And if possible, ask the seller for unedited images of the end product.
Harry Potter bookends offer various terrains and finish to choose from. And each represents a specific memory from the series. Amongst them, my favorite pick has to be the Enesco The Wizarding World of Harry Potter Platform 9 3/4 Decorative Bookends. Watching the platform always makes me giggle, remembering how Harry's journey started with him running into a wall. However, it does come around 100-120 dollars, so if you are on a tight budget, you can look at more budget options on this list. See you on the next train to Hogwarts.
Continue reading: