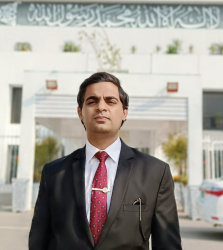 Latest posts by Boo Ali Khan
(see all)
"It is our choices, Harry, that show what we truly are, far more than our abilities."
Albus Dumbledore
When I think of Harry Potter, I get transported to a place of wonder and intrigue with an intense desire to become a wizard. The potions, the magic, and the unlikely characters, all cast a spell over me.
I have to admit, I grew up with Harry Potter. I loved walking through Diagon Alley looking for a new wand or even tasting the lemon drops with the unpredictability of never really knowing what flavor they were. Imagine riding off on Buckbeak with the ground growing smaller and smaller as we soar above. Maybe even playing Quidditch and finally catching up with the snitch, the world of Harry Potter is filled with endless possibilities.
I can never stop penning my thoughts whenever I hear about Harry Potter. However, to keep our readers' bond strong with this magnificent series, allow me to take you through my favorite Harry Potter Funko Pops.
I have been an avid collector of Funko Pops and have amassed quite a collection myself. I don't want to brag, but I will be giving you some of my observations, hidden tips, and secrets that only an expert or pure blood may have to hunt your favorite Pop without trouble.
So let us aboard the Hogwarts Express and go through this Ultimate Harry Potter Funko Pop Guide together.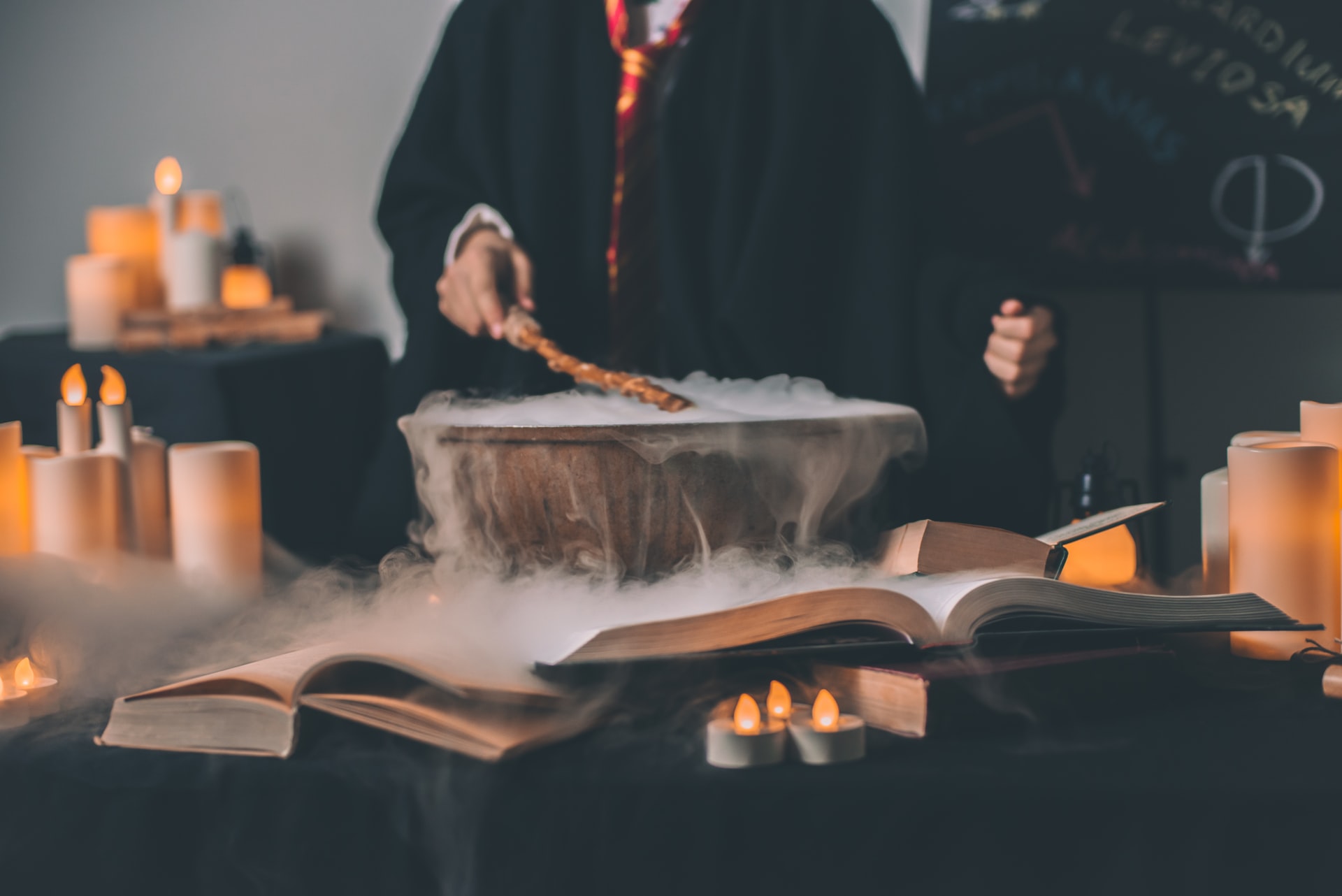 Bottom Line: Up Front
The wizard community may be hiding from our eyes, but we can become a part of their universe through these Funko Pops.
The Harry Potter Funko Pop still close to my heart is the Funko POP Deluxe: Harry Potter 20th Anniversary-Harry Potter Pushing Trolley, Multicolor. It depicts the classic movie scene where I was curious about how Harry would get to Platforms 9 and 3/4. This Funko Pop also reminds me of the onset of Harry's beautiful friendship with Ron when he meets Ron's family going through the wall in King's Cross Station.
My Top 12 Ultimate Harry Potter Funko Pop Picks:
My Reasons for Picking These Harry Potter Funko Pops
They are readily available.
They are based on some unforgettable characters and scenes from Harry Potter that are quite popular among fans.
They are collectibles that may go up in price with time.
Most of them are easy on the pocket.
Best Buying Tips For All The Collectors Out There!
Have A Budget And Stick With It
Some exclusive and limited-edition Harry Potter Funko Pops are expensive. It would be wise to save up in advance to have enough cash to buy your favorite pieces. The good thing is that Harry Potter Funko Pops have a thriving resale market. Not only this, but Harry Potter Funko Pops also go up in value after some time.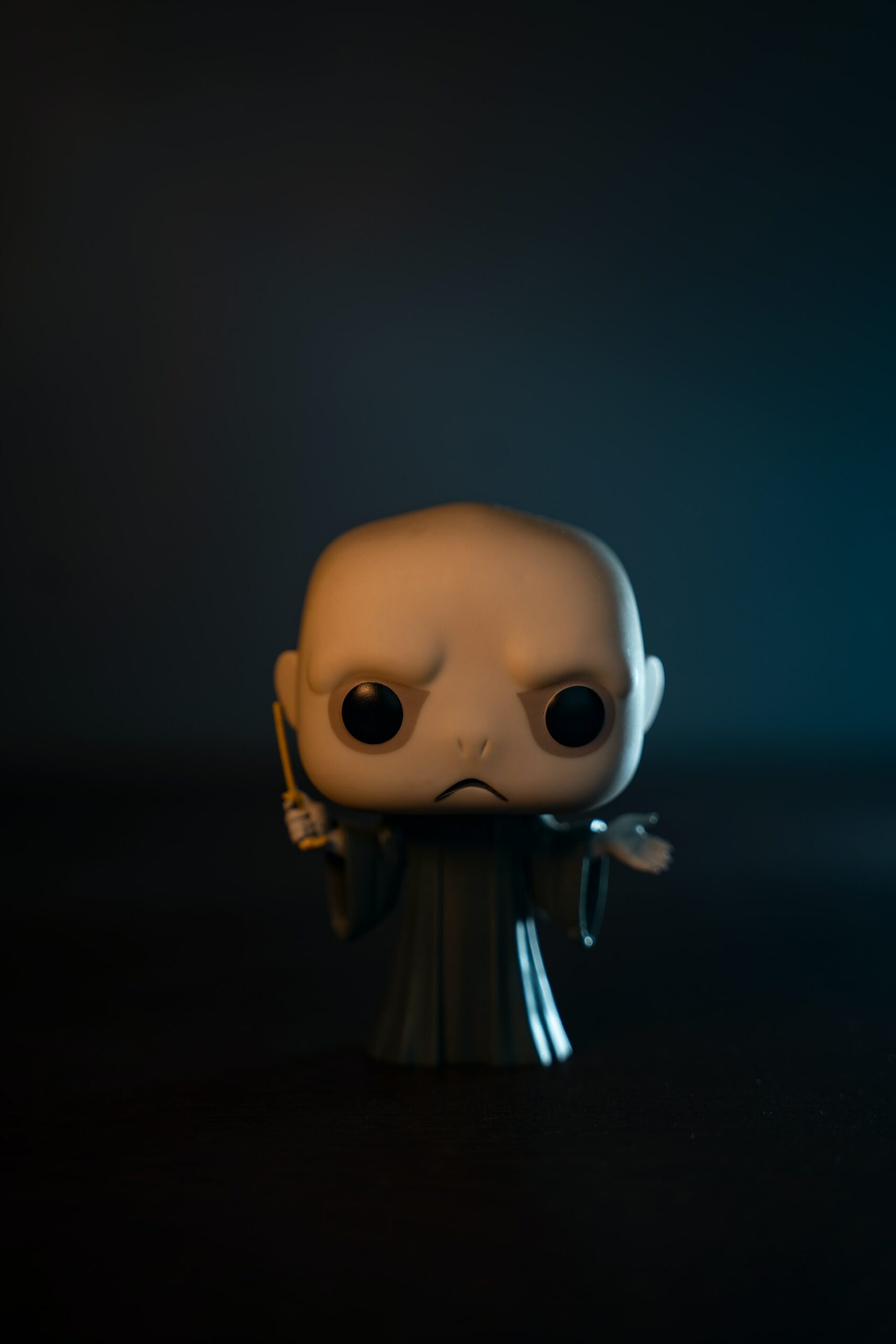 Do your research to compare the prices of the Harry Potter Funko Pops before you boil down your choices. I would suggest going through different sellers to estimate the price range of the Harry Potter Funko Pop you desire. Then finally, choose the cheapest one, but also beware of hidden shipping fees that may increase the cost even more.
Ensure You Purchase From Verified Sellers
Because of the popularity of Harry Potter Funko Pops, some fakes have entered the market; the best way to avoid this is to only buy from trusted sources like Funko.com, Amazon, or Walmart. When buying from eBay, getting a fake is much more probable. Original Harry Potter FunkoPops have a Funko LLC logo either on the feet, on the neck, or below the chin. If your Pop is missing this logo, it is most likely a fake.
Have A Network Of Harry Potter Funko Pops Sellers
Funko Pops are generally cheaper at the moment of release and then tend to increase in price as time goes by. It would be best to have a good network of Funko Pop sellers that will notify you whenever a new one is in stock. It would not be wrong to join Facebook groups or follow the Instagram pages of your local vendors or online shippers.
My Top Picks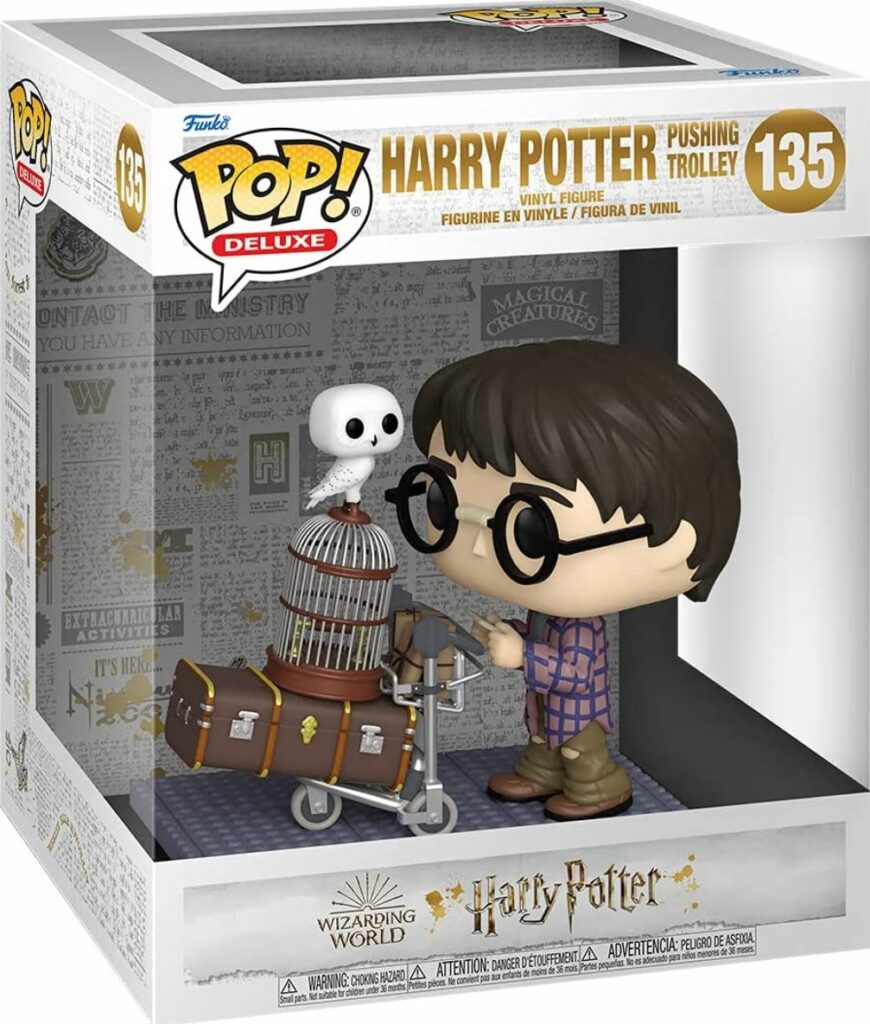 Harry Potter is undoubtedly the most loveable character for any series fan. And with this pick, you can get yourself the moment when Harry is on his way to the Hogwarts express. No charms or spells are attached to it, but it will leave you with a little bit of magic.
This Pop always evokes emotions of a new journey and wonder when I take a look at it. Harry Potter is shown pushing a trolley; on top is his dark brown suitcase with Hedwig's owl case. If you are a true fan like me, wouldn't you like to go to Hogwarts too? But we have to wait for our mail from Hogwarts.
I hope you remember that Harry Potter's clothes have mostly been hand-me-downs from the Dursleys, and this Pop shows it perfectly with lime green pants ripped at the knees. But at the same time, this Funko Pop makes me feel happy for Harry, who is about to start a new life as a wizard.
This Pop clearly shows Harry Potter with signature glasses held together by tape. This was before Harry met Hermione, who fixed them easily with a spell. A reminder to use that Reparo spell for all my minor repairs. A lightning scar is also visible on his forehead, giving Harry a dashy look. Oddly, Harry has no mouth, and so I am left to imagine what emotions he must be going through. But I guess they would be no different than relief.
Pros
It can be instantly recognized by fans of the series, making it quite popular among Harry Potter fans.
The addition of Hedwig to this pop makes it a two-in-one pop.
Cons
Hedwig can break off from the cage. Maybe she is just trying to escape?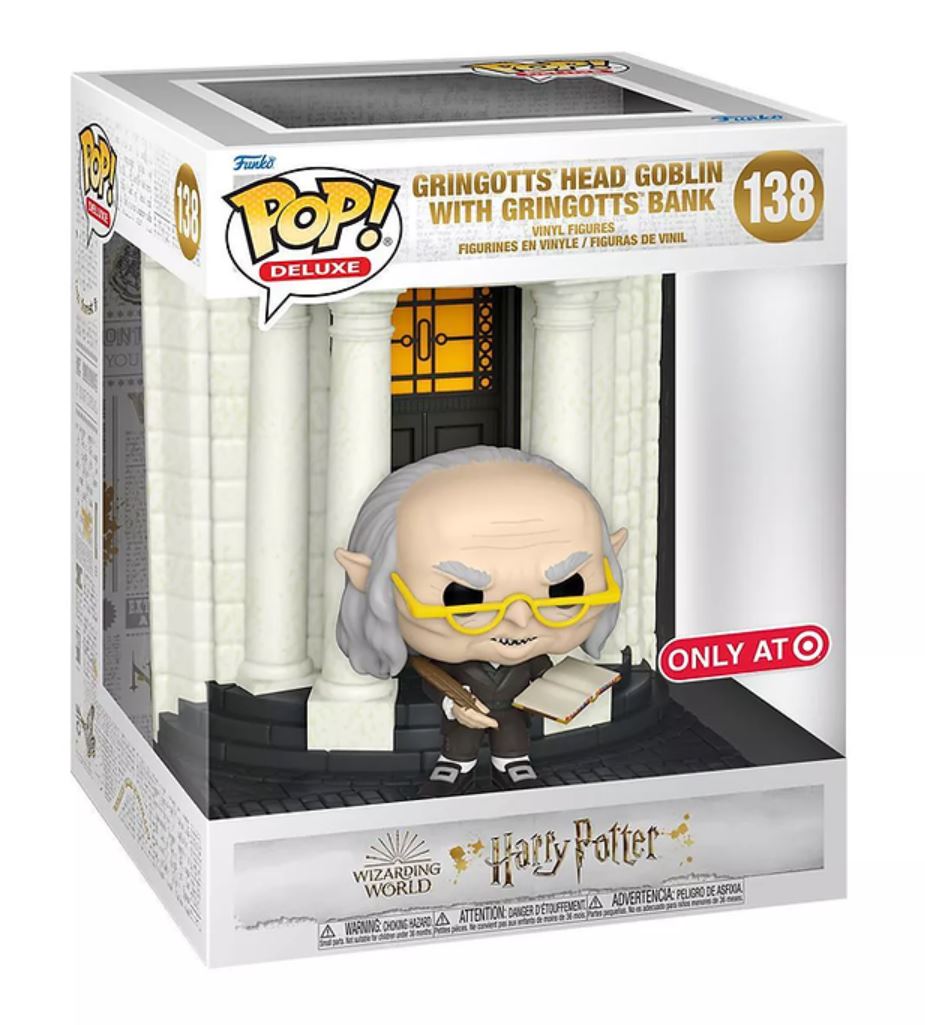 Remember when Harry discovered that his parents had left him a significant sum of inheritance? At Gringotts, with Hagrid, we were introduced to Griphook, a goblin who worked at the bank. This Funko Pop reminds me of that joyful moment when Griphook takes Harry to his vault filled with Galleons.
I still remember the astonished look on Harry's face after seeing all the gold. This Griphook Funko Pop symbolizes the change it brought to Harry's life. The poor soul living a hand-me-down and abused life at the mercy of his aunt and uncle in Privet Drive had a noticeable boost in his confidence, thanks to the keeper of his inherited wealth.
This Funko Pop shows Grip Hook wearing half-moon glasses with his pointed nose and ears in black attire. Remember, this is a goblin, so don't keep him too close to any valuables. Griphook is standing outside Gringotts Bank, holding a quill in his right hand and a book in his left.
I can clearly feel his professional demeanor in this Pop, which reminds me to start saving up some Galleons of my own. There is also Gringott Bank looming large behind him. To me, the bank is perfectly depicted with its white walls and classical Roman columns.
Have you deposited some Galleons here already? If not, Griphook is at your service!
Pros
This is a unique piece with the potential to increase in value as Funko's official site does not sell this item anymore.
Cons
This pop may be a bit scary for children as Griphook's face is quite ugly.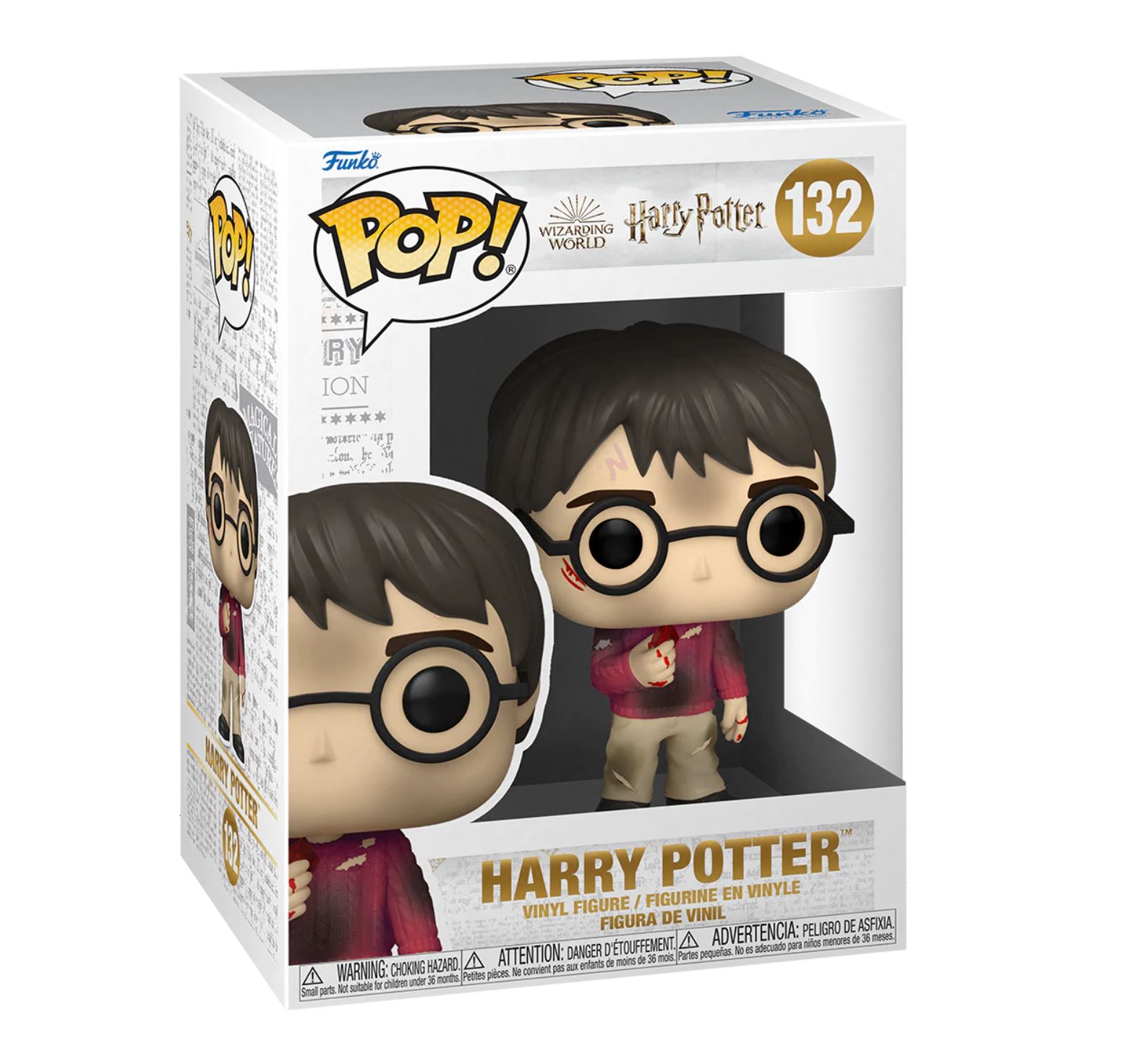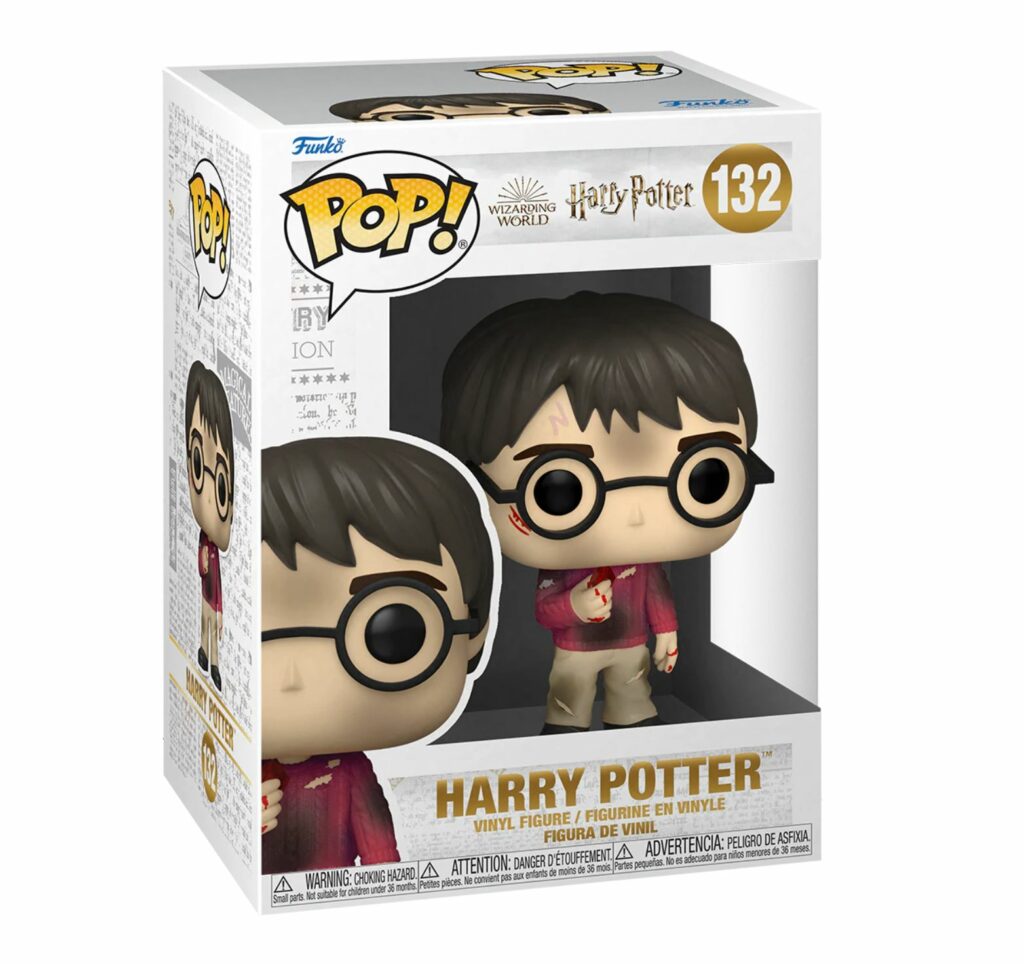 When I first saw Voldermort, he was weak and attached to the back of Quirrell's head, and he remained concealed inside his turban. At the end of the first chapter, he tries to regain his full form through the Philosophers' Stone. This Funko Pop reimagines the moment when the stone magically appears in Harry's pocket after the Mirror of Erised shows his lack of greed, rendering him worthy.
Looking at this Pop reminds me vividly of the obstacles Harry had to go through to get the stone. The soot on his clothes is a testament to his resilience. Are you worthy? You just might find the Philosopher's stone in your own pockets.
This Pop gives a detailed view of Harry with a maroon sweater and ripped khaki pants covered with soot. The Philosopher's stone is held in his right hand, while bloodstains are visible on his hands and the edge of his glasses. This Funko Pop always keeps my head high. It never allows me to forget the moment when my prayers were answered, and Harry had his first victory against Voldemort.
Pros
This piece is part of the 20th-anniversary celebrations and has a good resale value.
Cons
It can be easily damaged by UV light, and it's best to keep it inside the packaging.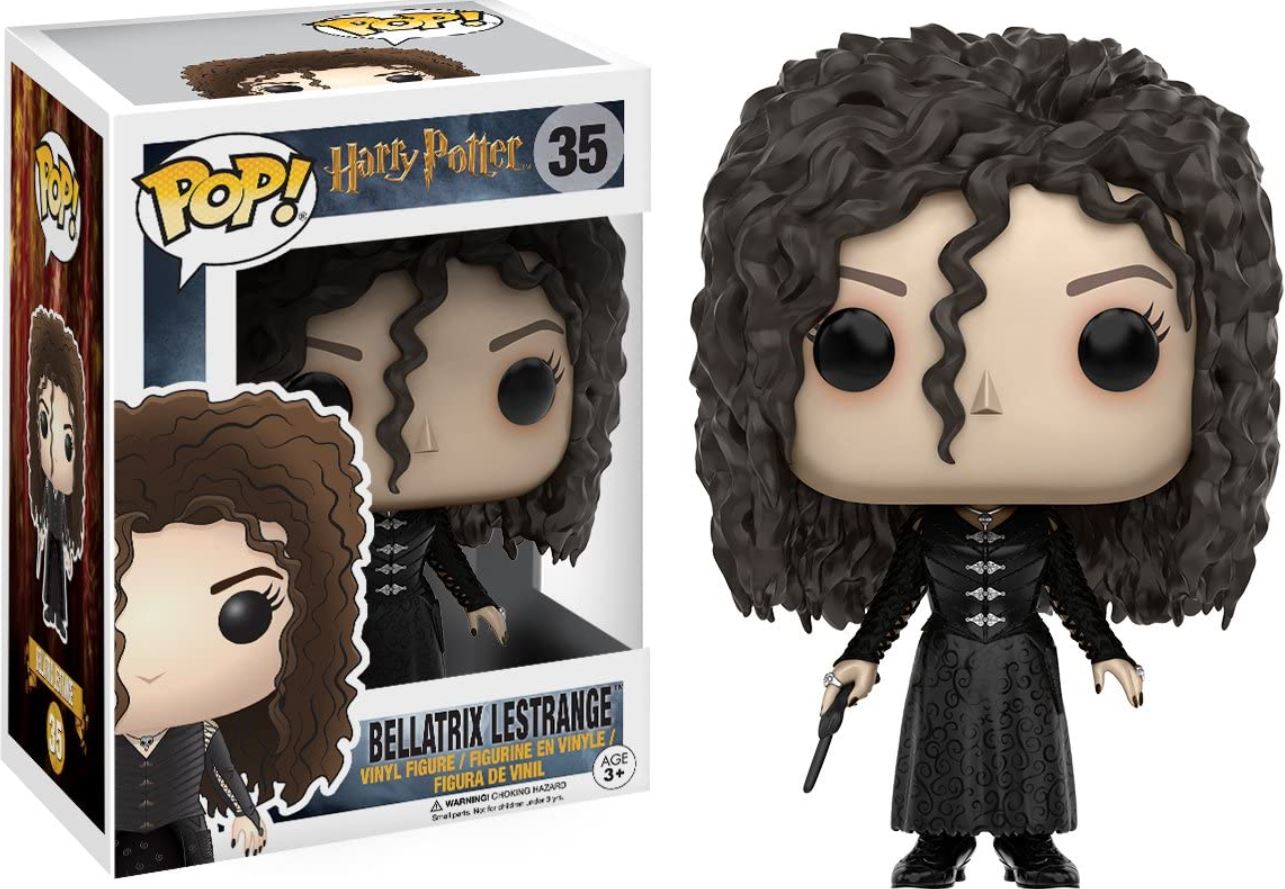 Bellatrix was one of those villains I always loved to see. Her snarky personality made me love and hate her in equal measure. She was a cousin to Sirius Black and can be very bitter and scary when she chooses to be. In my experience, this Pop can make the room quite chilly. Or maybe, that's just me.
This Funko Pop shows her in her Death Eater gown in full black. She holds her wand almost menacingly as if taunting me to make a move. I am confident this Bellatrix Funko Pop will take you to the world of darkness. So here is my tip. Do not sleep with the lights off, or it may cast a spell on you.
The figure is expertly made, and the finish leaves you wanting to stare at it for hours; after all, she is the hottest villain I have ever seen. This Funko Pop is among the few pieces resting on my study table. She was a mighty witch, and this Pop never stops resonating with her power.
Pros
Bellatrix is a villain character, so this Funko Pop is a bit of a novelty item. You don't come across villain Funko Pop quite often.
This is a relatively cheap piece.
 Cons
Its packaging may break when shipped inappropriately.
The finish is shiny and prone to smudges.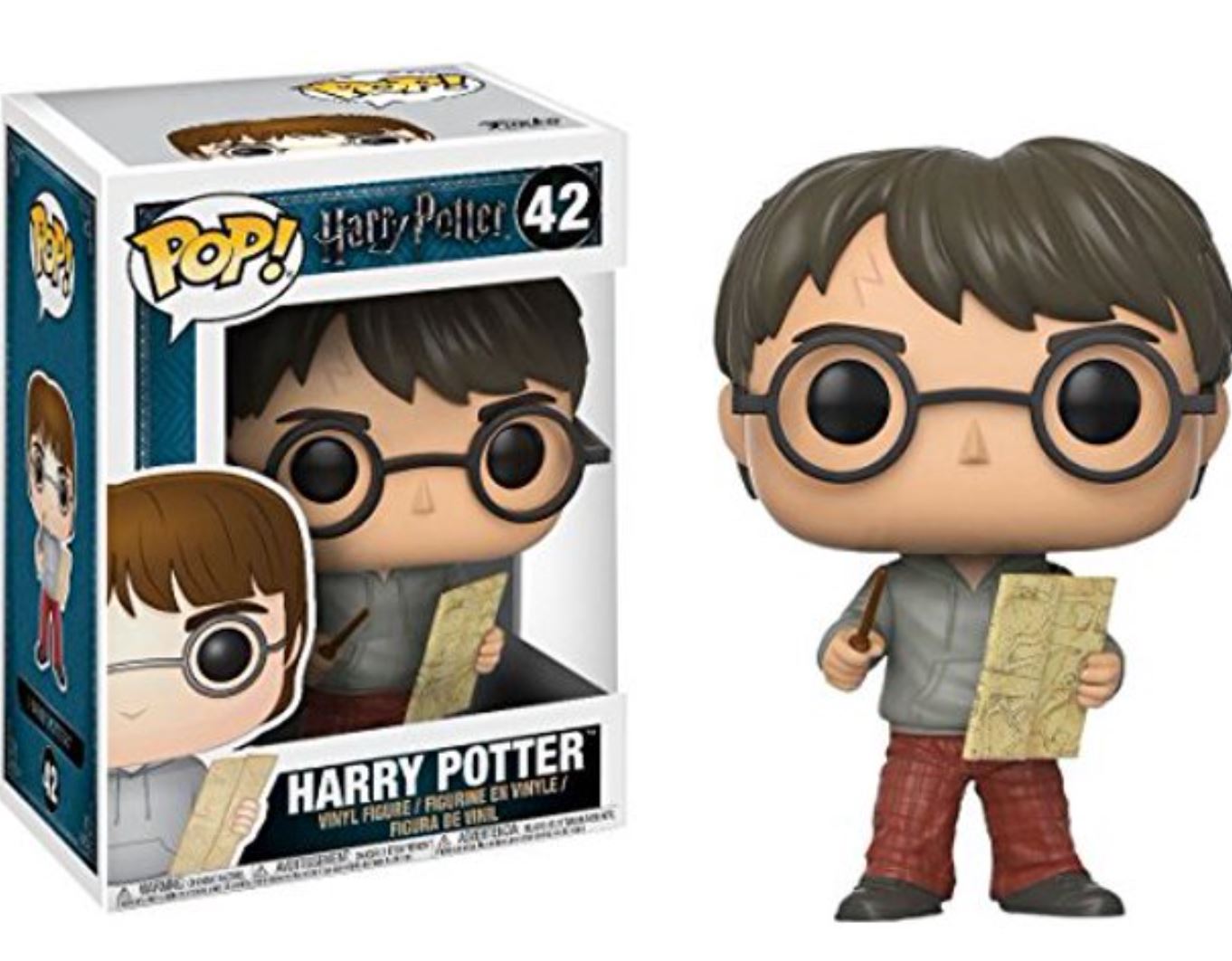 The Marauders' Map is one item from the Harry Potter series that has fascinated me for a long time. Imagine being able to walk around Hogwarts after curfew, avoid Filch, and visit the Forbidden Forest. All these adventures are waiting for those who possess this map. I have to say; this Funko Pop helped me avoid my teachers or anybody I don't want to meet.
This Pop perfectly displays Harry Potter holding the Marauders' map, which is expertly drawn. Harry Potter can be seen wearing a grey hoodie with brown pants and black shoes, and the infamous scar is visible on his face.
This Pop is great for any Harry Potter fan. Looking at it, I can tell you the finish is fantastic. The marauders' map looks realistic as if it was bewitched to show the characters moving around.
Pros
This Pop offers a perfect dark shade, suggesting Harry holding the map at night.
It is widely available at retailers.
Cons
The map can easily break off. I recommend getting a Funko Pop protector and avoiding displaying it in the open.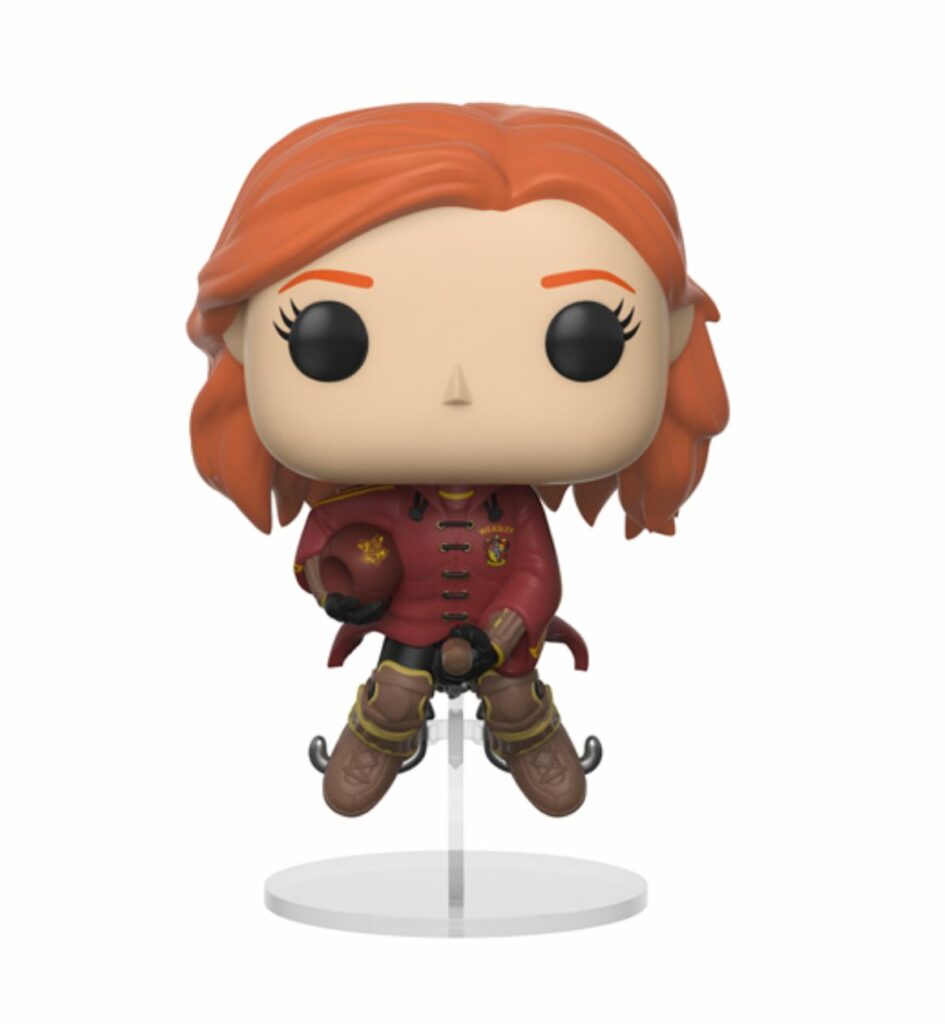 Now, allow me to talk about the partner of my favorite hero, Harry. This Funko Pop is based on Ginny, Ron's younger sister and Harry's eventual wife. This Funko Pop reminds me of the beautiful journey she shared with Harry. From developing a crush on Harry to falling under the influence of Tom Riddle's diary, this Ginny Pop beholds all these feelings.
This Pop shows her on a broomstick, reminding me of her talent at playing Quidditch. She is in my favorite Quidditch team, Gryffindor, uniform. The Pop excellently shows her in a maroon blazer, black pants, and brown boots.
Looking at Pop, I would say that her gaze is focused straight ahead, almost as if she intends to catch the Golden Snitch. I think, sometimes, this Pop floats around when I'm not looking. It also includes a stand to hold Ginny in her iconic flying pose.
Pros
It has an inclusive stand that can be used to display the flying pose.
The attention to detail on this pop is incredible, and I am pretty impressed by the color of her hair and boots.
Cons
The broomstick breaks under pressure.
It may be expensive for young Potterheads.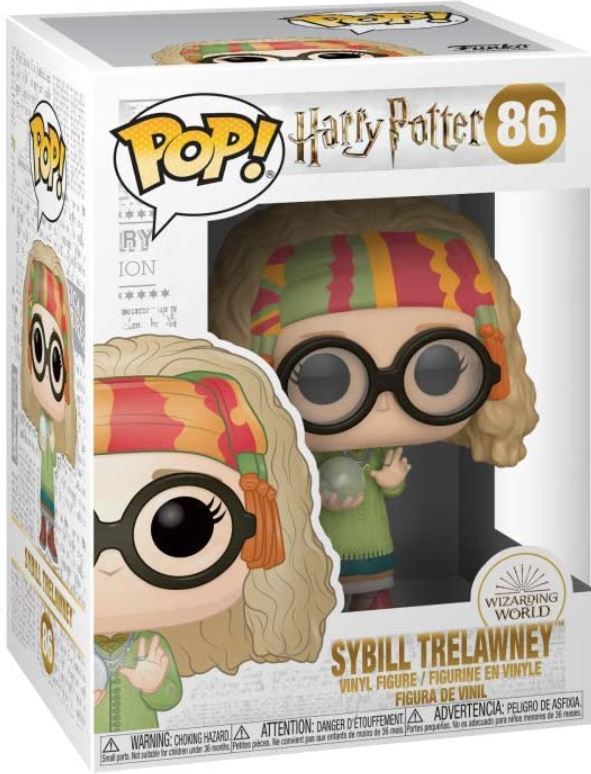 Are you uncertain of your future? Worry no more. This Funko Pop of Professor Sybill Trelawney will help you unravel the turbulent clouds of your future and tell you what is to come.
In my opinion, this Pop is a must-have for any Harry Potter fan. I love the way Trelawney was portrayed in the movies, and this Pop captures that look perfectly, with the headband on her face. She also wears her spectacles, giving thus Funko Pop her famous nerdy look. This Pop shows her holding the orb in one hand, ready to peer into the future.
She looks mysterious and yet very homely. After all, she is the one who made the prophecy about Harry Potter and Voldemort.
Will you remember to add this Funko Pop to your collection? Or, will you forget like Professor Sybill? I have a feeling it might not stay that long on the market.
Pros
The orb in her hands is an excellent addition. The best collectible for Trelawney fans
This cute figure is liked by both kids and adults.
Cons
It is not as famous as other Harry Funko Pops.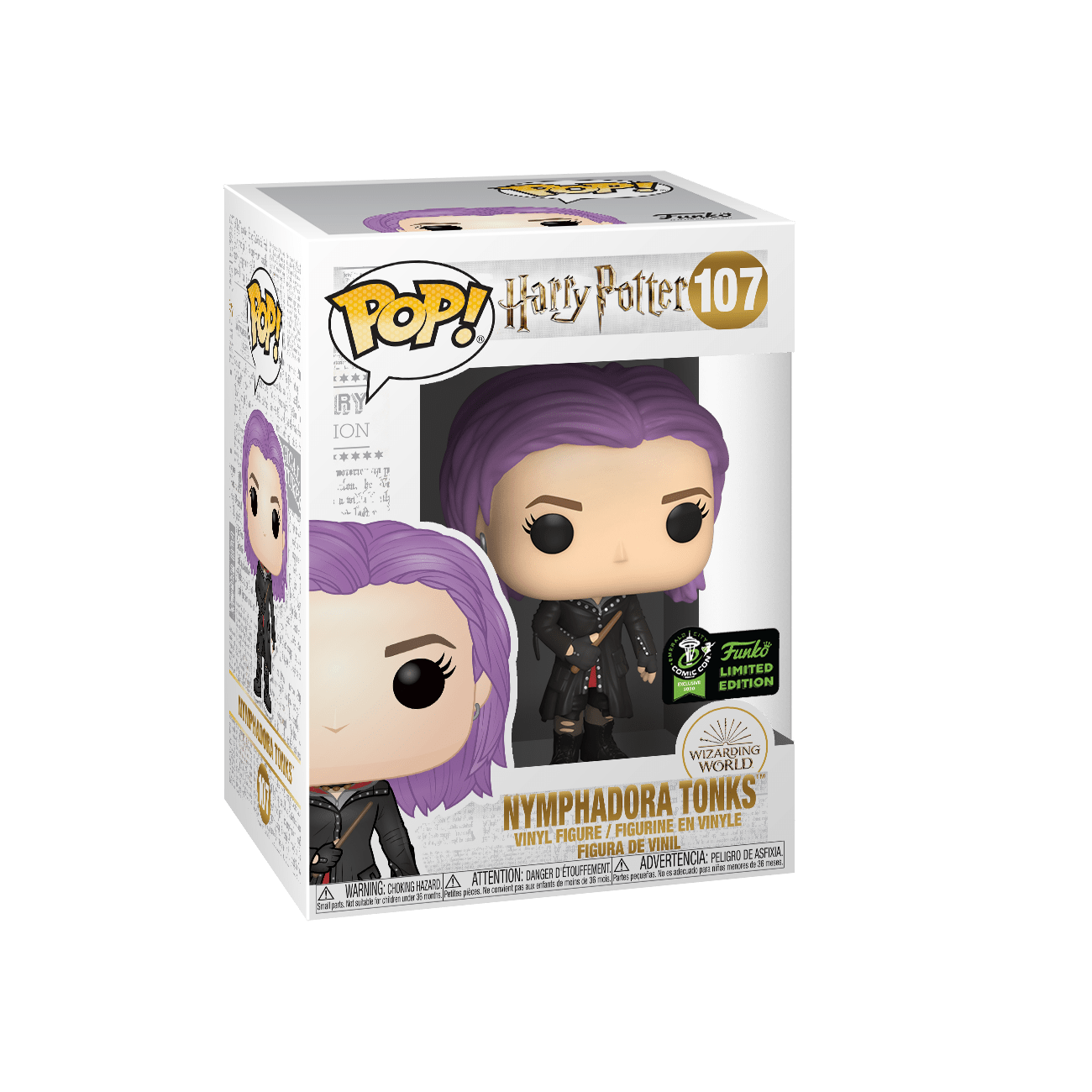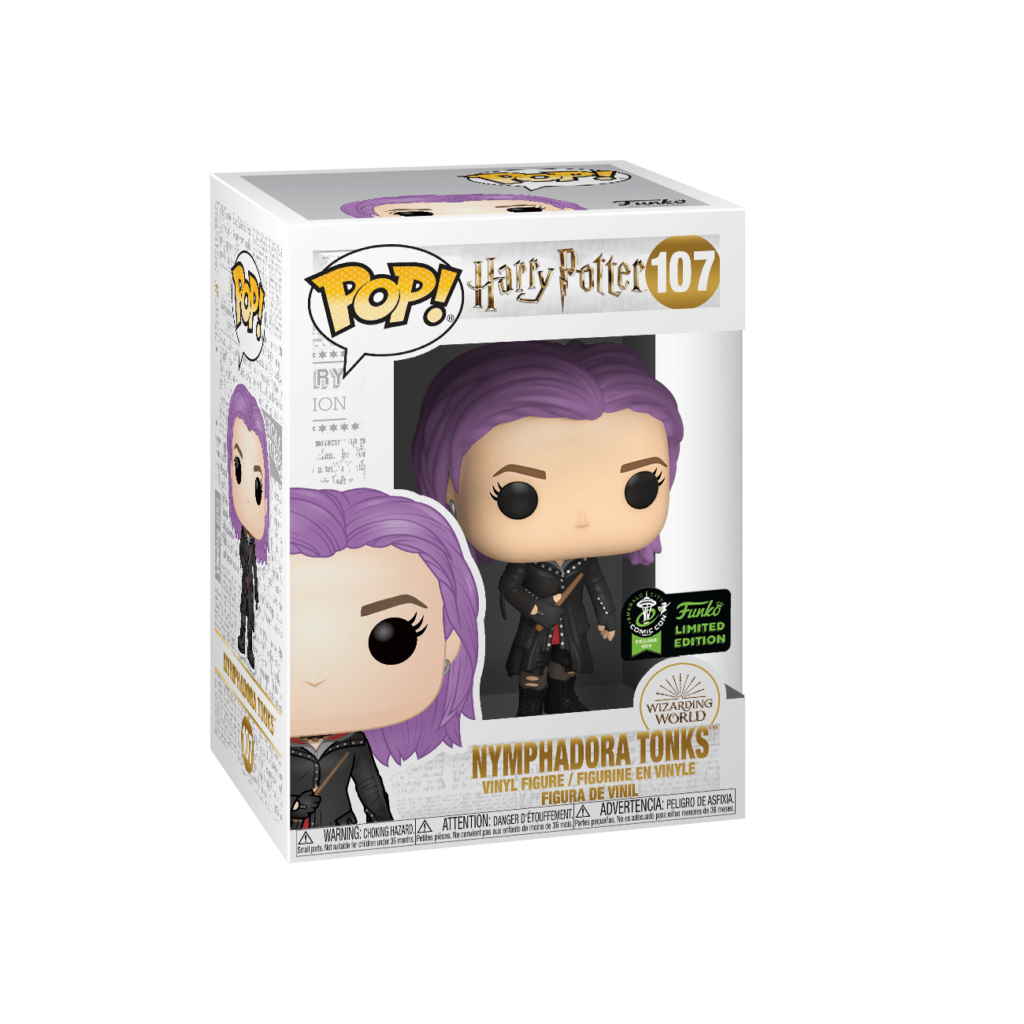 Tonks was one of my favorite characters in the series. Her shape-shifting abilities and hair-color changing kept everyone on the edge of their seats, anticipating her subsequent transformation. She broke my heart when she got married to Remus Lupin. But at least I can keep her Funko Pop close to me.
This Pop is exclusive and shows Tonks in purple hair with her wand in hand. It reminds me of her being an excellent Auror, and I could trust her with my room's safety. Sometimes I think the color of her hair changes, but you just have to buy it to find out. The level of detail in this Pop is astounding, and even the tiny buttons on her black coat are very nicely drawn. Her red undershirt is also visible, and the wand adds perfection to the figure.
Pros
It is an exclusive release, and its price is guaranteed to go up with time.
It has excellent attention to detail, with Tonks's coat drawn perfectly.
Cons
It is pretty expensive and needs quite some budget to get it.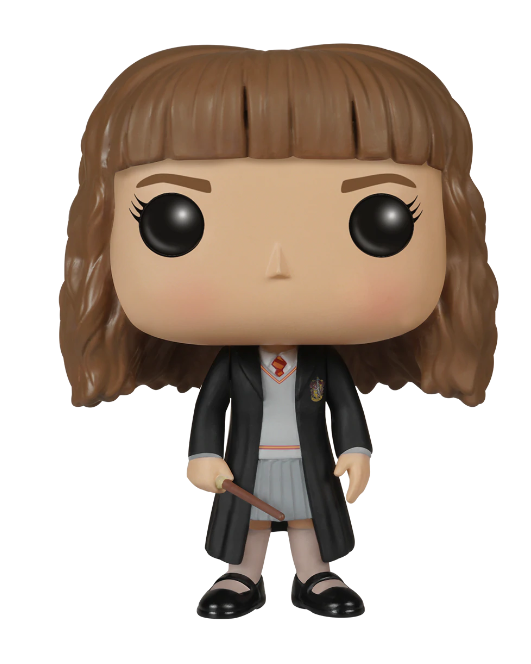 Hermoine is probably one of the series' best characters, and for a good reason. She was the brains behind all the escapades they had with Harry and Ron. Maybe this Pop can help you too in your adventures?
You can let this Muggle-born Pop stand watch over you to ensure you're OK. After all, no one knows more about spells than our insufferable know-it-all. This Pop becomes even more tempting if you are a fan of Emma Watson. And who isn't?
Did I mention that this Pop can fix broken things and help with contingencies with a wand in Hermoine's hand? This Pop elegantly shows Hermoine dressed in Hogwarts robes, a skirt, a sweater, and an undershirt underneath. She can also be seen wearing black school shoes.
Buy this Pop and let Hermoine teach you a thing or two at least. I believe you would not be able to learn everything from her. Or would you?
Pros
It is cheap and widely available.
The Hogwarts uniform is drawn in great detail.
Cons
Her expressionless face makes it hard for non-Potterheads to recognize Hermoine.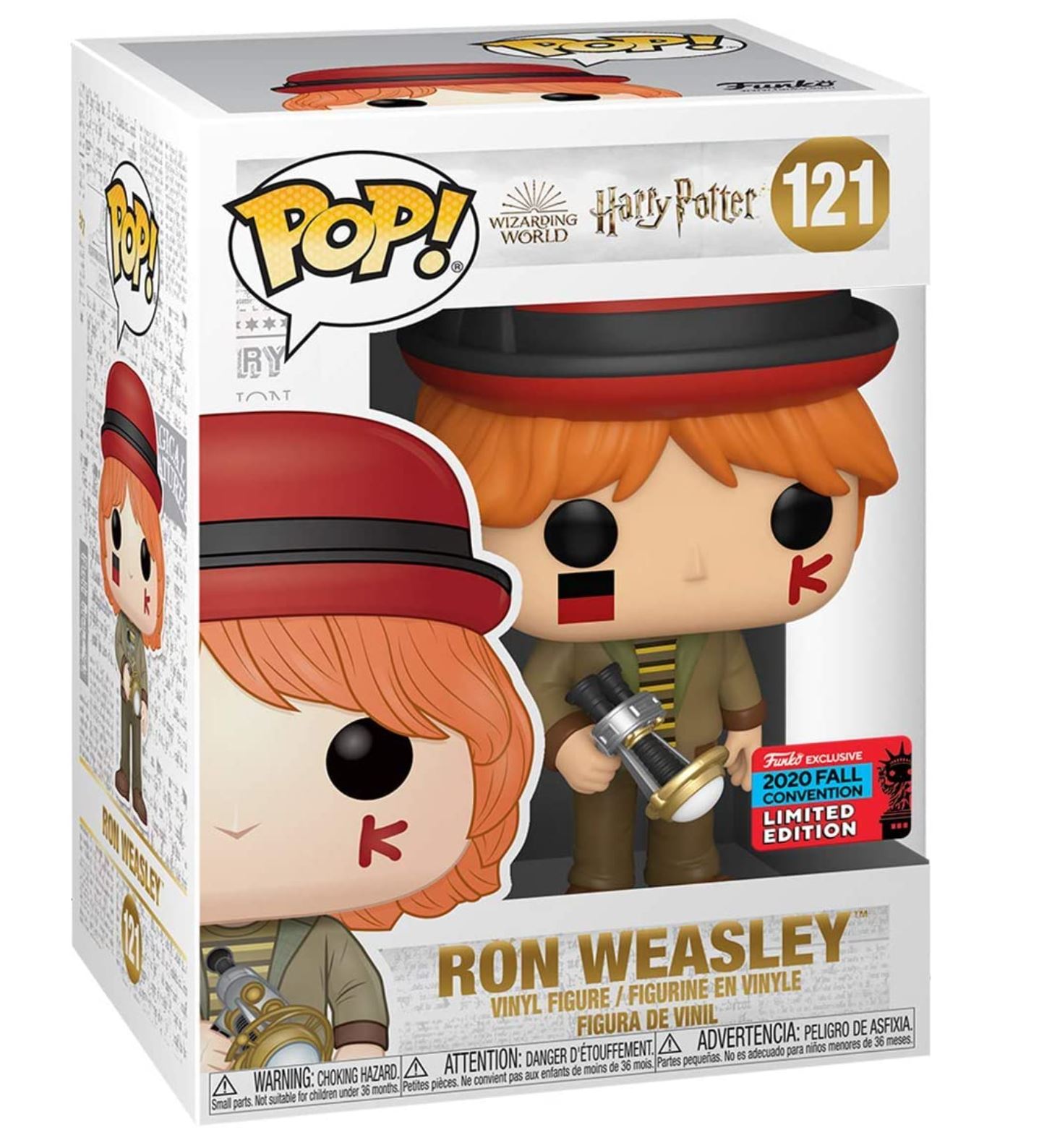 The 1994 Quidditch World Cup in Bulgaria was a grand spectacle that even the Weasleys could not miss. No wonder Ron was incredibly excited about it, and this Pop depicts it nicely. Ron can be seen dressed in brown pants that look good on him and a lighter shade of brown jacket with a t-shirt underneath. This Pop never fails to remind me that Ron was a true Irish and how proud he was watching his team win.
This Funko Pop beautifully captures the happy Ron, with K drawn on his face and holding Omnioculars. Imagine watching games on this Omniocular. Want to know how it works? Then you can purchase this Pop and find out. This pop is exclusive, so my personal advice is to get it before it goes out of stock and the price starts soaring in the sky on Nimbus 2001.
Pros
For an exclusive release, it has a highly affordable price.
Cons
The Omniocular may break off with slight pressure.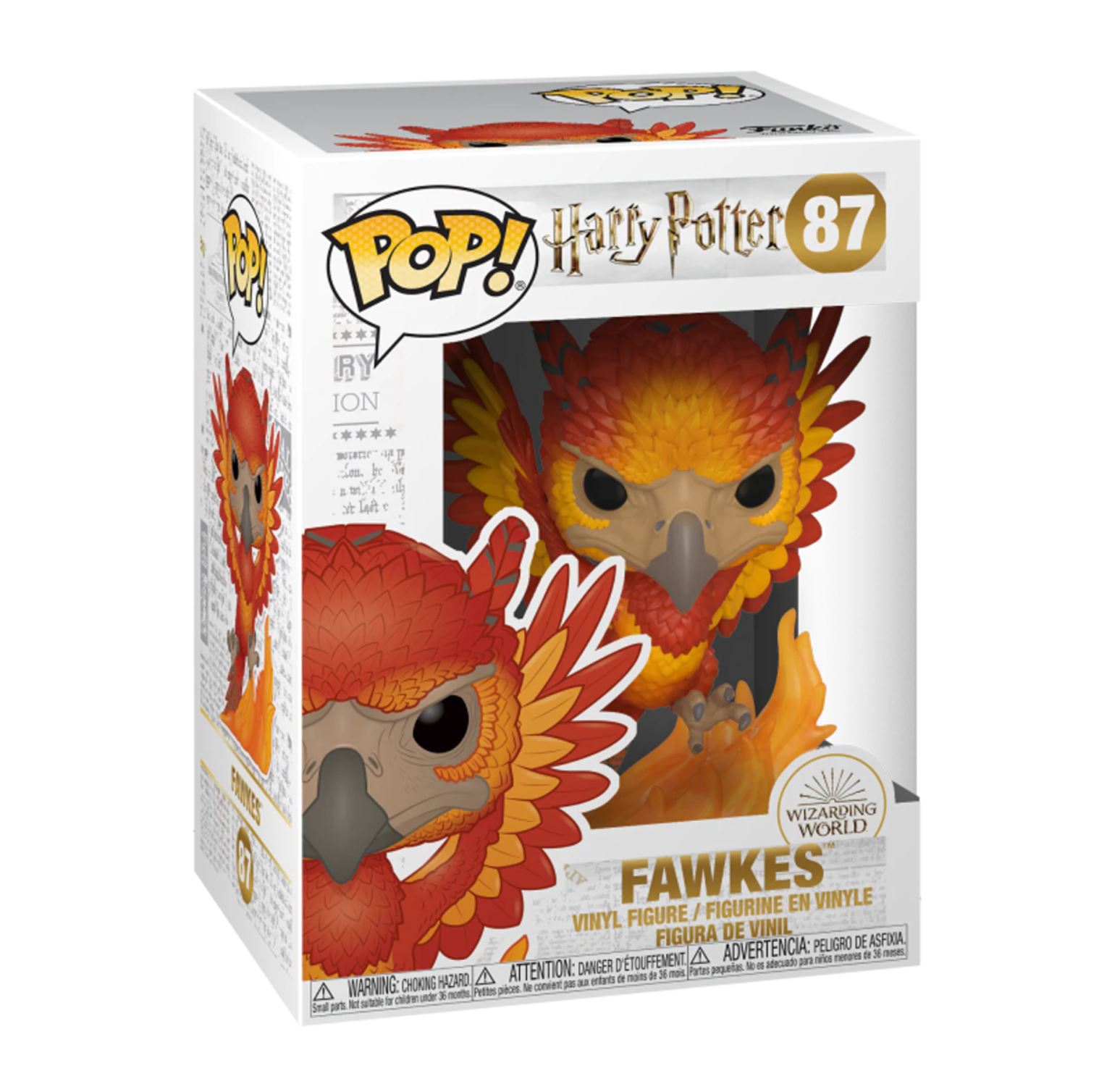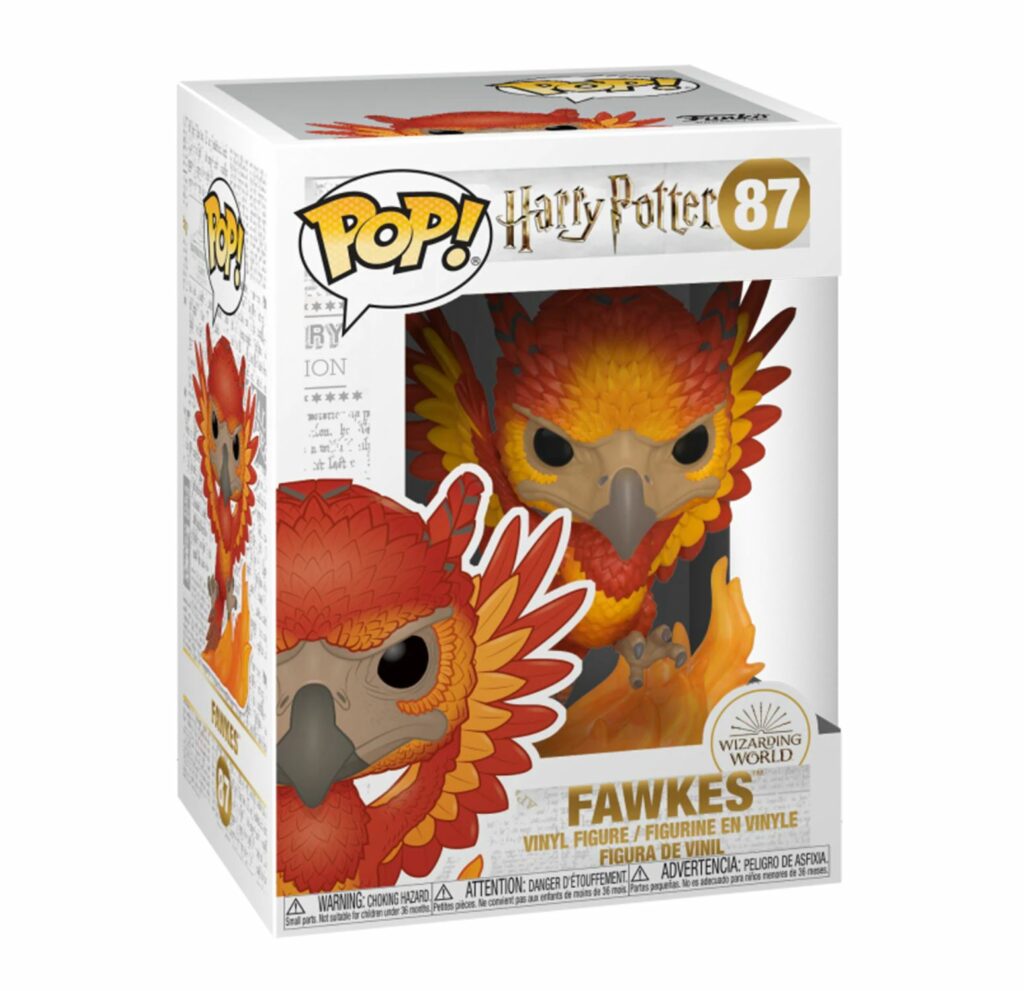 How can I not talk about the Golden Phoenix who saved our hero from the curse of the Dark Wizards? This Pop shows Fawkes in the air looking almost about to pounce. It takes me back to the moment when Fawkes saved Harry by purging the eyes of Basilisk and healing Harry's stab wounds with its tears. Fire is shown at the base of this Funko Pop, reminding me of the Phoenix's beautiful transformation, which happens after it is completely engulfed in flames. Glamorous, isn't it?
This Funko Pop is in the flocked category, with the phoenix feathers craftily shown, reminding me that both Harry's and Voldermort's wands had this bird feather at their core. This Phoenix Pop has piercing black eyes with a grey beak, waiting for another Basilisk to appear.
Let this Pop stay on your shelf, and forget about any snakes that may be lurking around you. One day it might self-combust, but don't worry. It's all part of its normal life process.
Pros
It has bright colors.
The feathers are depicted in great detail.
Cons
The colors can quickly fade when exposed to sunlight.
This Pop may be sensitive to people with Chromophobia.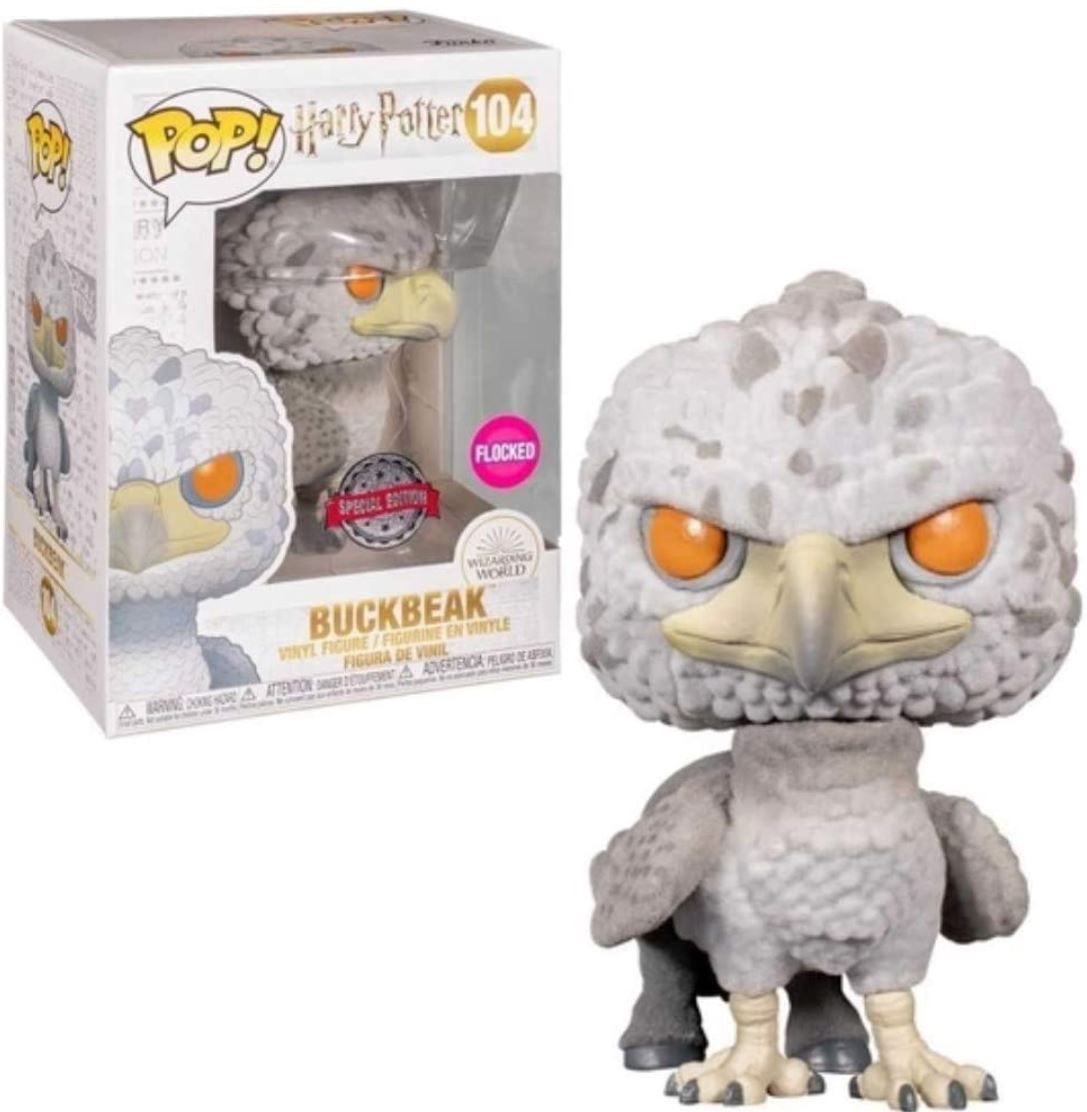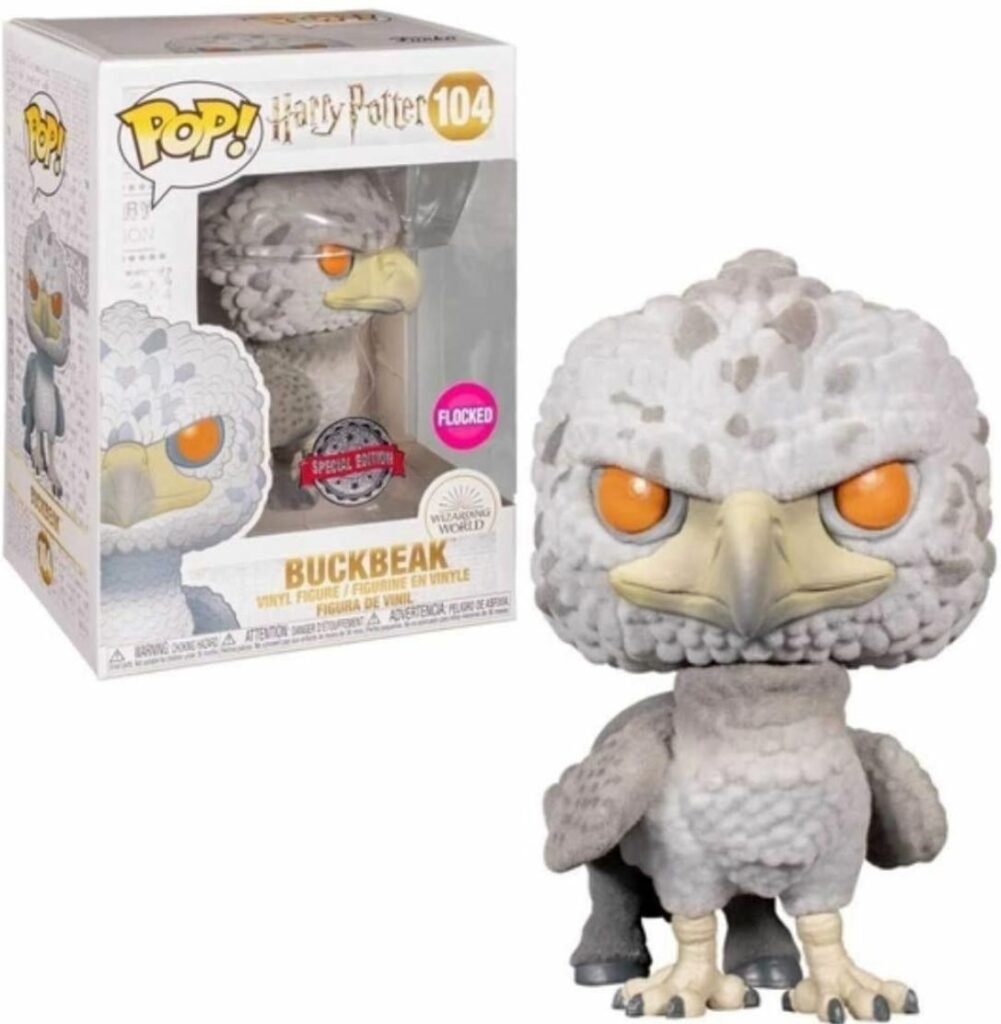 Buckbeak is another fabulous creature without which this guide will never be complete. Even if he was saved from execution by Harry Potter, it led to my hate for the Malfoys. Buckbeak later went on to save Harry's godfather, Sirius Black, a debt well paid.
This Buckbeak Funko Pop falls under the flocked category and is a close image of the original Buckbeak. Its wings are resting, with the front legs displaying hawk feet, while the hind legs end with hooves. It also has bright orange eyes, and the beak is crafted with high accuracy. The color of its feathers is grey with black spots at the top of its head.
This Pop may occasionally fly away, but don't worry; it will soon return. Unless you have any association with the Malfoys.
Pros
Its unique design makes it a great addition to any Funko collector's collection.
It has no breakable parts, making it safe for small children.
Cons
It may be disturbing to look at, especially if your kid fears animals.
Frequently Asked Questions
Question: Will my Harry Potter Funko Pop Increase in Value?
Answer: The exclusives and special edition Pops are the most valued ones. Even some Harry Potter Funko Pops may become vaulted. The general rule is that the rarer it is, the more valuable it will be. However, not all Funko Pops will increase in value, and it is better to collect Pops as a hobby rather than as a business.
Question: How can I Tell Whether my Harry Potter Funk Pop is Genuine?
Answer: If you have bought the Harry Potter Funko Pops from a verified seller like Amazon, Target, Walmart, or any trusted source, then your pop is most likely genuine. Still, to be authentic, the Pop must bear the Funko LLC logo somewhere on its body. They are usually found in the feet, but if not, check the neck or under the chin.
Question: Do Harry Potter Funko Pops Lose Value After Removing them from the Box?
Answer: For the resale market, having its packaging gets a better price than without it. However, you can display your Harry Potter Funko Pops howsoever you feel like, as long as they have adequate shelf space and will not fall, or this may scratch them. Still, when openly displaying them, keep the box in a safe place and avoid squishing it. Who knows, you might be holding a valuable Pop.
My Final Thoughts:
The Harry Potter universe is an excellently crafted story of resilience, determination, and hope. It teaches us how to love and how to let go. I stayed with Harry from his 11th birthday to when he grew up to have his own children and join Hogwarts.
Funko has given us a unique opportunity to get close to our favorite Harry Potter characters. It does not matter if you are a fan of Dumbledore, Hermoine, Ron, or even the animals like Fawkes and Buckbeak. All you have to do is choose your favorite moment or character from the series and buy that Funk Pop.
As Funko Pops are a collector's item, it may be wise to save up beforehand to have enough to purchase the Pops you need. I would recommend you always buy from genuine sellers to avoid fakes. Be sure to have a list of shops you can compare prices to get the best deal.
Harry Potter Pushing Trolley Funko Pop is undoubtedly my favorite from the collection. It reminds me of where it all started with Harry. His journey to Hogwarts changed his life, and we were there to watch it step by step. Not to mention, Hedwig is also one of my beloved characters, and this Pop has both Harry and Hedwig in one pack.
However, if you are a Death Eater and do not like this Harry Potter Funko Pop, you may choose from my other listed items. See you at platform 9 and ¾!
Continue reading:
Best Harry Potter Themed Hooks