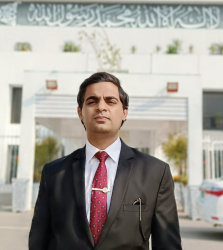 Latest posts by Boo Ali Khan
(see all)
"Happiness can be found even in the darkest of times if one only remembers to turn on the light." –Albus Dumbledore
For Harry Potter fans, happiness can only be found in Hogwarts school of Witchcraft and Wizardry. The love for Harry Potter transcended everything! The pure connection of love and admiration that Harry Potter and the world of magic have built with the Potterheads is one of a kind, and I'm glad to say that these Harry Potter snow globes are here to keep you connected.
What's there to not love about Harry Potter? The characters, the story, the direction, cinematography, the magical world built in it, everything is just top-notch and immaculate. Words could never do justice to how great of a series it is. My passion for Harry Potter led me to get lost in the Diagon Alley of its merchandise. Not to mention, Harry Potter snow globes are my absolute favorite. I have collected them throughout the years, and let me tell you; they are the treasures closest to my heart!
This Harry Potter snow globe guide is going to be a treat for all Potterheads. Don't forget to check out my buying tips to avoid the obstacles I faced. Hop on your brooms, and let's explore the World of Magic together!
Bottom Line Up Front
Being a snow globe lover and a true Harry Potter fan, their amalgamation is nothing less than a wish come true for me. I get to experience my favorite world inside a globe in my hands. What more could I have asked for? My favorite one from the collection is definitely "I'd Rather Stay At HOGWARTS" Rotating Musical Glitter Globe. This reminds me of Harry staying back at Hogwarts during the Christmas holidays as he had no loving home to go to. A snow-covered Hogwarts, cherishing the Christmas festivities with students who chose to remain at Hogwarts even during Holiday. What a sight! Also, the Harry Potter music playing in the background is a cherry on the top!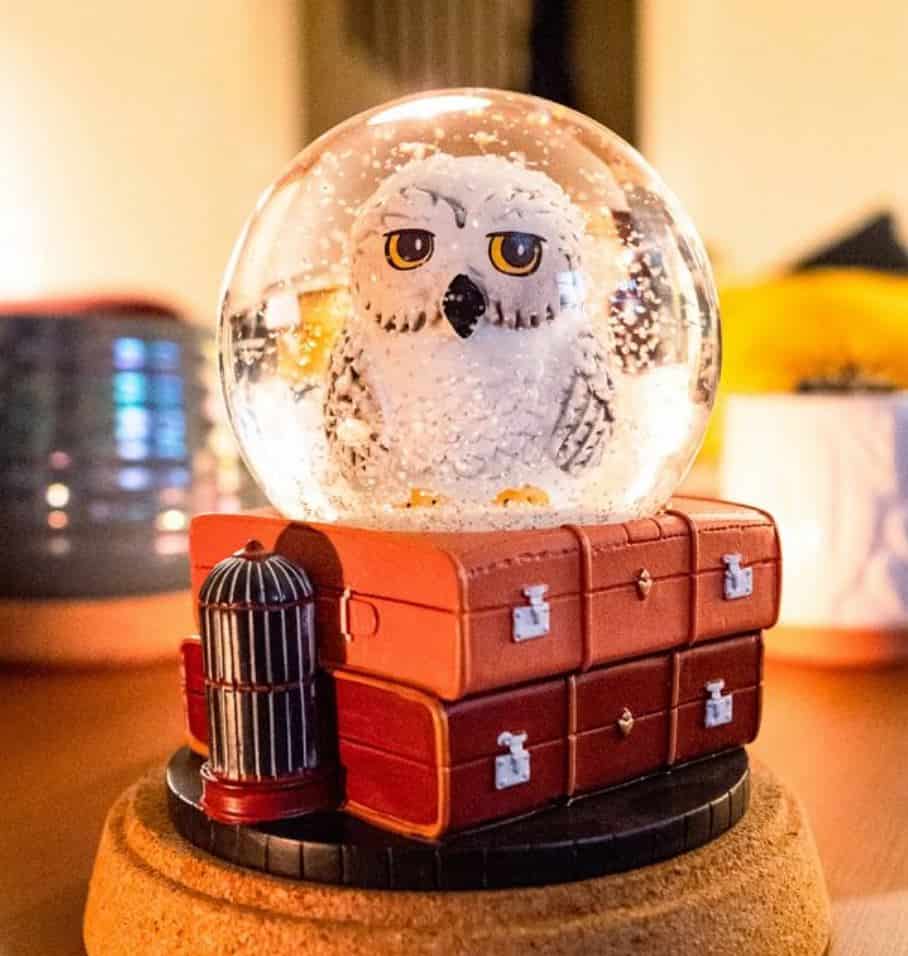 My Top Picks
My Criteria For Picking These Snow Globes!
You might think my love for (read: obsession with) Harry potter has blurred my judgment in picking these snow globes, but I have some genuine reasons for opting for these specific ones:
1: Availability: They are readily available online and offline across the State.
2: Quality and built: They are of excellent quality, and the built is solid.
3: Pricing: Reasonable pricing for these snow globes is also a plus point.
4: Attention to detail: The fine detailing on Harry Potter Snow globes makes them stand out
5: My Experience: I have a great experience with these globes. You can trust me on this one!
The Ultimate Buying Guide for you
Online shopping is all fun and games until a broken, unworthy, and "Not-up to-your-expectation" product falls into your hands. But don't worry! Let me tell you my tried and tested tricks to avoid such issues.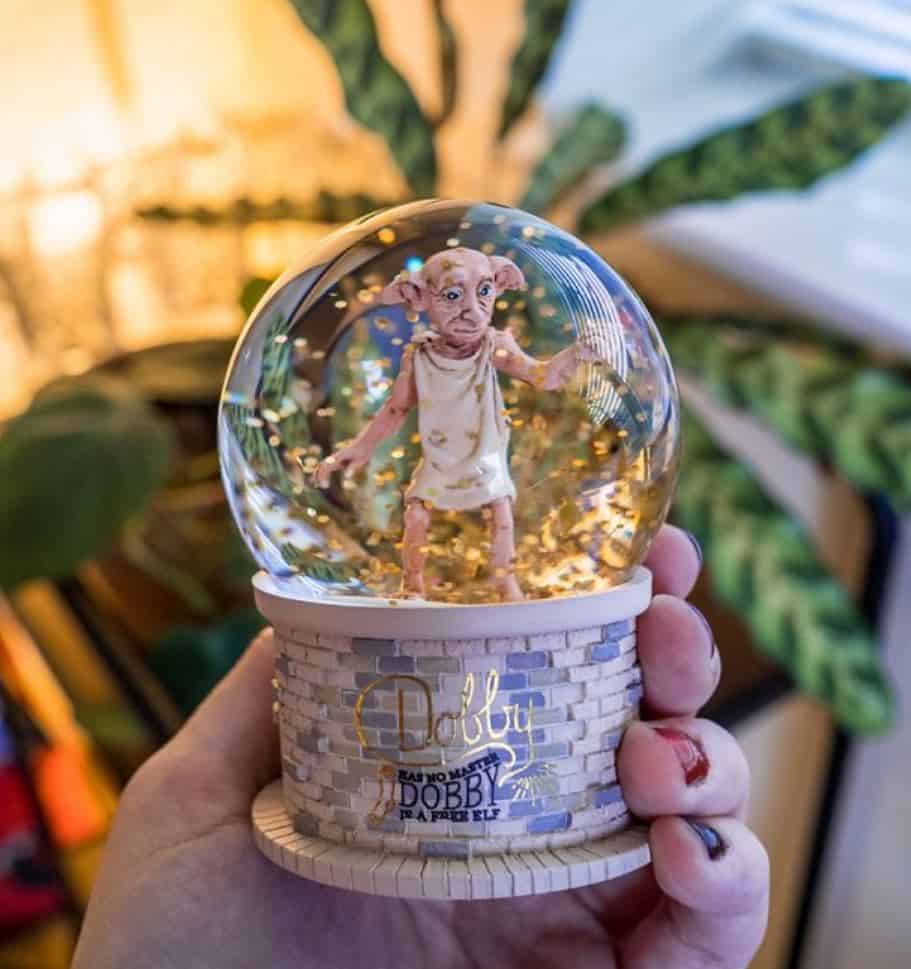 Go For The Authentic Sites
The worst mistake anyone can make while purchasing Harry Potter snow globes online is opting for an unreliable or fraudful site. Many online stores sell Harry Potter snow globes, but only a few can be trusted with your money. These money grabbers often sell fake and poor-quality products, ruining your buying experience and making your money go down the drain. To get good quality products, look for authentic sites and sellers. Don't forget to check seller reviews and make sure the website is legit and reliable. My all-time favorite and preferred sites for Harry Potter snow globes are obviously Amazon and Truffle Shuffle.
Look For The Product Reviews
I cannot stress this enough, but checking the reviews before buying any product online should be your number one priority. Only buy the products with maximum positive reviews. Prefer the ones with pictures of the actual product attached. You will get the idea of its quality and real-life feel from the review section. Also, don't forget to check multiple sites for better quality and better-priced products.
Check The Size Of The Snow Globe
Harry Potter snow globes do not have a standard size. Therefore, I suggest you look for the size of the product in the description box and see if it fits your requirement. Use a measuring tape to measure the area where you want to put the globe and compare it with the measurements provided by the seller. After all, having a perfect place for your Harry Potter snow globe is a must, right?
My Top 10 Picks
1: Enesco Wizarding World of Harry Potter Hogwarts Castle Water Globe, 7.1", Multicolor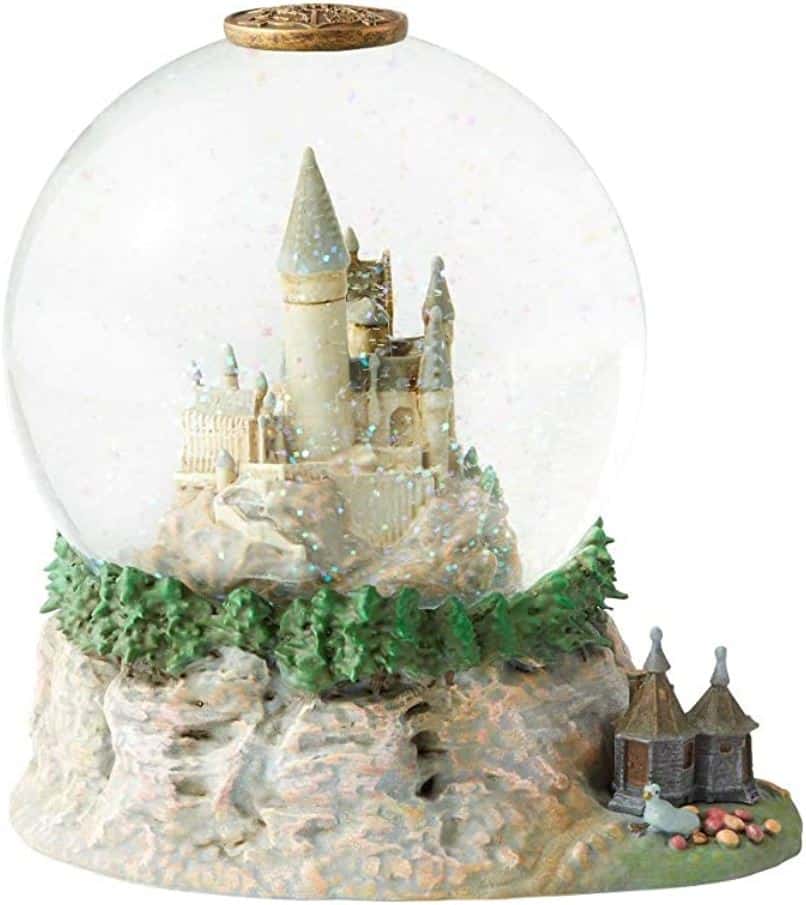 You are not a true Potterhead if you have not dreamt about leaving your school and moving to Hogwarts. The hardest part for me was waiting for Acceptance Letter (which sadly never arrived). The Hogwarts castle is a world in itself, and this water globe gives the closest experience of being there. The tiny detailing, the design, everything is just mesmerizing, and the quality of the globe is something that surprised me the most.
It has a stone resin white sculpture of the castle with little grey towers and windows encapsulated inside a glass globe. It has a rocky base resembling the one on which Hogwarts stood, and Hagrid's hut and Hippogriff on the exterior are worth mentioning. The top of the globe is covered with a bronze-colored Hogwarts seal. When shaken, the iridescent glitter spreads everywhere, making it look all the more magical.
I bought two, one for myself and one for a friend as a Christmas present, and trust me; she loved it as much as I did! The fact that it's hand-painted and hand-crafted makes it all the more worthy. I would recommend being careful with the glass; it's just a small kick, and it's broken. I know no one wants that.
Pros
It's heavy and sturdy.
The seller offers quick delivery and returns or exchange within 30 days.
Cons
The glass is fragile, so you need to look out for that.
The smaller parts are a choking hazard for children under 3.
2: Harry Potter – Hedwig 65mm Snow Globe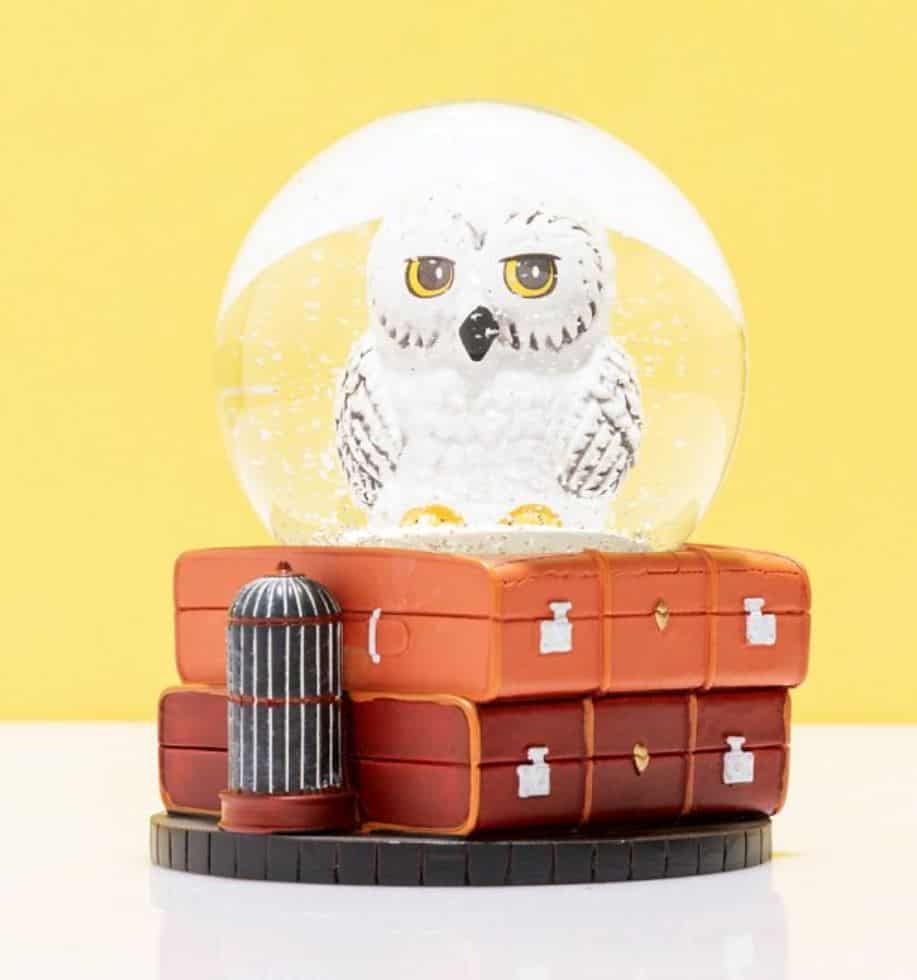 Hedwig, a snow owl, a birthday present from Hagrid to Harry Potter, and one of his closest companions, was loved by all Potterheads. Her death felt something personal, and I couldn't keep my tears in. I mean, who could? Hedwig was hands down my favorite, and my love for this snow globe is evidence of that.
This snow globe features polyresin sculpted Hedwig in all her glory. The base featuring Harry's suitcases that he prepared for Hogwarts shows how much dedication is put into making this snow globe close to Harry fans. Furthermore, Hedwig's miniature cage placed alongside Harry's bags gives the final touches to this piece of art.
This snow globe is light in weight, making it easy to carry and move around. It would make a perfect decoration for your bedside table, reminding you of the value of friendship and loyalty. Its reasonable pricing was another selling point for me. But I only wish it were a bit bigger to take my letters to and from Hogwarts!
Pros
It's priced reasonably, at only 37$.
The seller provides multiple payment options, not to mention the international tracked delivery for the US fans.
Cons
It's a bit small in size.
3: Silver Buffalo Harry Potter Hogwarts Express Light Up Snow Globe, 100mL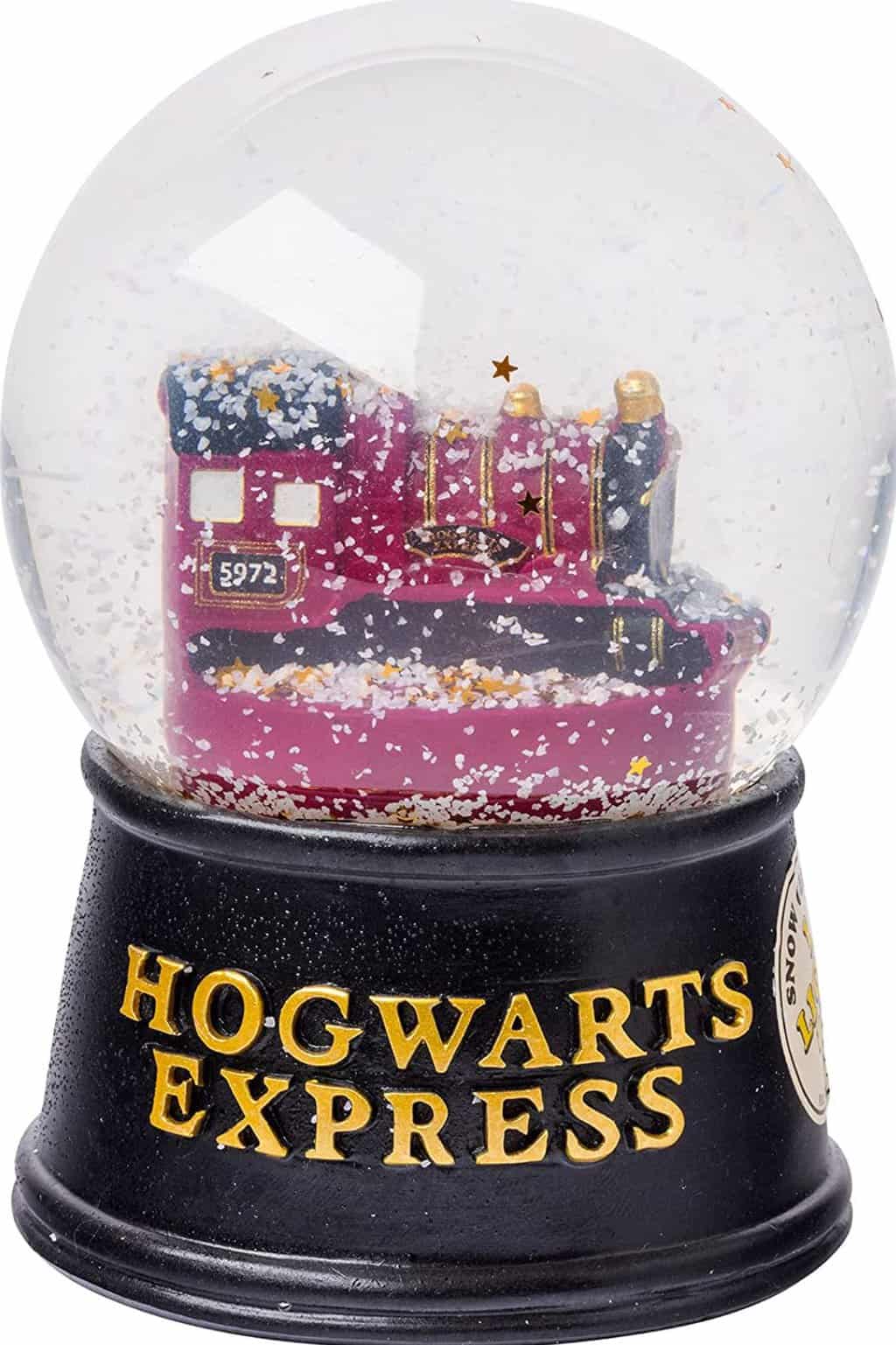 The Hogwarts Express was a dream ride for every Potterhead while growing up. I remember going to a train station and ending up feeling blue, as no Hogwarts Express was waiting for me. When I first came across this Hogwarts Express snow globe, I didn't think twice about going for it. After all, I could not afford to miss Hogwarts Express again and again. This enchanting piece of art made it to the top of my bookshelf and is still resting there peacefully.
This Light up snow globe features a beautiful magenta-colored train with exquisite gold detailing. The base is sturdy and black, with Hogwarts Express written on it. And, do you know the best part? It lightens up! Now you don't have to cast Lumos spell to bring things around you to light. It's battery-operated and will never leave you in the dark. The tiny stars with snowflakes are the 'stars' of the show.
This snow globe is perfect for decorating your room, lounge, or workspace. The pricing is also very reasonable (only 29.96$). I am in total love with its considerable size and vibrant colors. However, in my view, it should have had some music to make it a whole package. Still, overall, it's a must-have for all Potterheads.
Pros
The seller offers 30 days return/exchange policy.
The size is perfect for a decoration piece.
The price justifies this product.
Cons
The product delivery is often late, so keep that in mind.
4: Universal Studios The Wizarding World Of Harry Potter Sorting Hat Snow Globe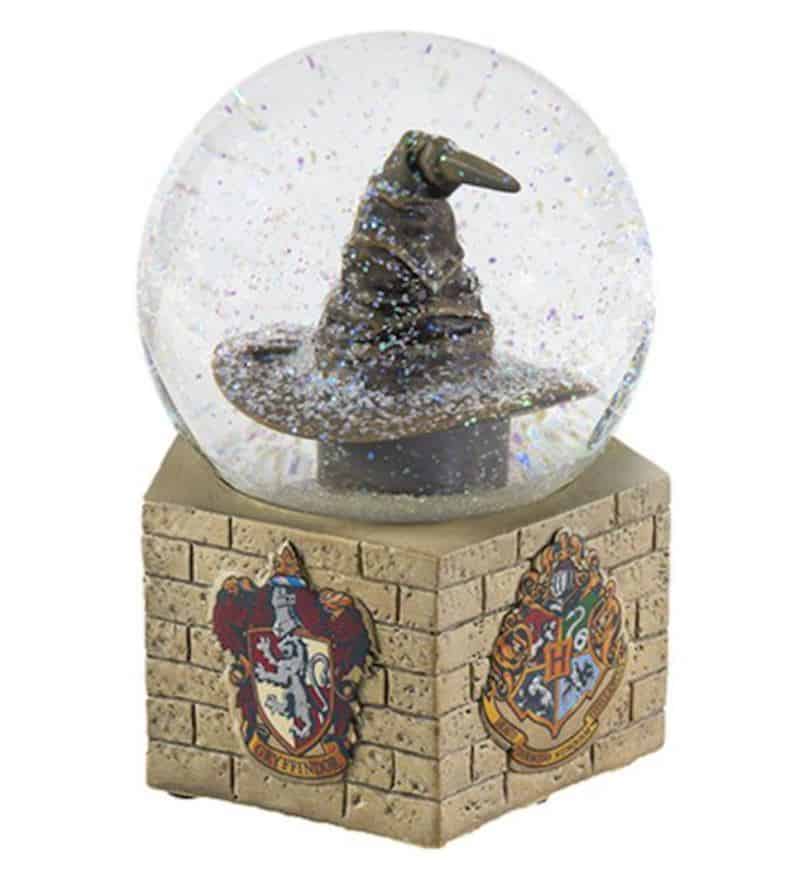 Did the sorting ceremony keep you on the edge of your seat, or was it just me? A talking hat was a bit creepy, to be honest. But creepy is another word for magical in the world of Harry Potter. I self-sorted myself into House Gryffindor. My obsession with snow globes and lookout for a sorting hat one lead me to buy this sorting hat snow globe, a decision I'm proud of.
This hand-painted snow globe features a sorting hat inside a glass globe (obviously!). The brick-textured base is made of polyresin and affixed with the coat of arms of the four Hogwarts houses on each side. The attention to detail in this globe is just remarkable. The vibrant colors of the logos make them more appealing and attractive.
This snow globe will never cease to allow you to forget the famous sorting ceremony. It's a perfect present for Harry Potter fans and even the other people who are (unfortunately) unaware of the world of magic. It's a little more fragile than its counterparts, so avoid playing around with it.
Pros
The seller provides free shipping and free returns within 30 days.
Cons
It is a bit pricy, which might be burdensome for the Harry Potter fans.
It is also a bit small in size, considering the price.
5: Harry Potter Snow Globe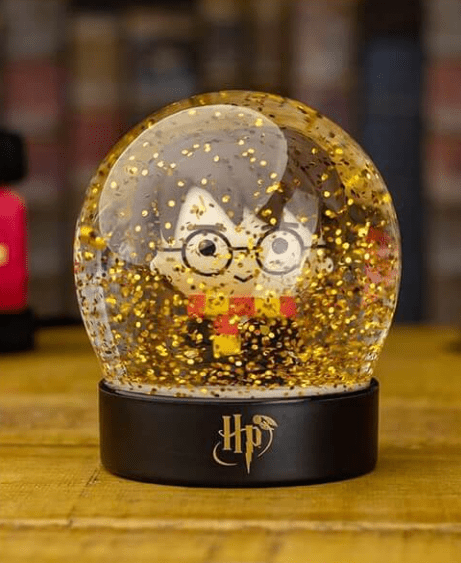 "I don't go looking for trouble. Trouble usually finds me." – Harry Potter.
Well, this single quote by Harry sums up his entire life. His life was full of hardships and challenges (just look at Dursleys, Yikes!), but one thing was for sure, he never gave up! This cute little snow globe with a miniature figure of Harry always reminds me of his strength, resilience, and bravery!
This snow globe features Harry in all his glory. His figure is standing upright with his Gryffindor scarf wrapped around his neck, his rounded spectacles resting on his smiling face, and the infamous scar carved on his head. When shaken, the golden glitter showers over Harry's head. Also, the base is round and sturdy with an HP logo on it.
You can get a similar snow globe for other characters too. I also got the one with Hermione and have placed both of them side by side. However, I only wish it were a bit bigger in size! Frankly speaking, it gives a feel of the Harry Potter Funko Pop encased in a globe.
Pros
Very adoring speculation of Harry Potter that attracts kids and adults alike.
The seller offers worldwide delivery.
Cons
Unusually small for a snow globe.
6: Harry Potter Dobby the House Elf Snow Globe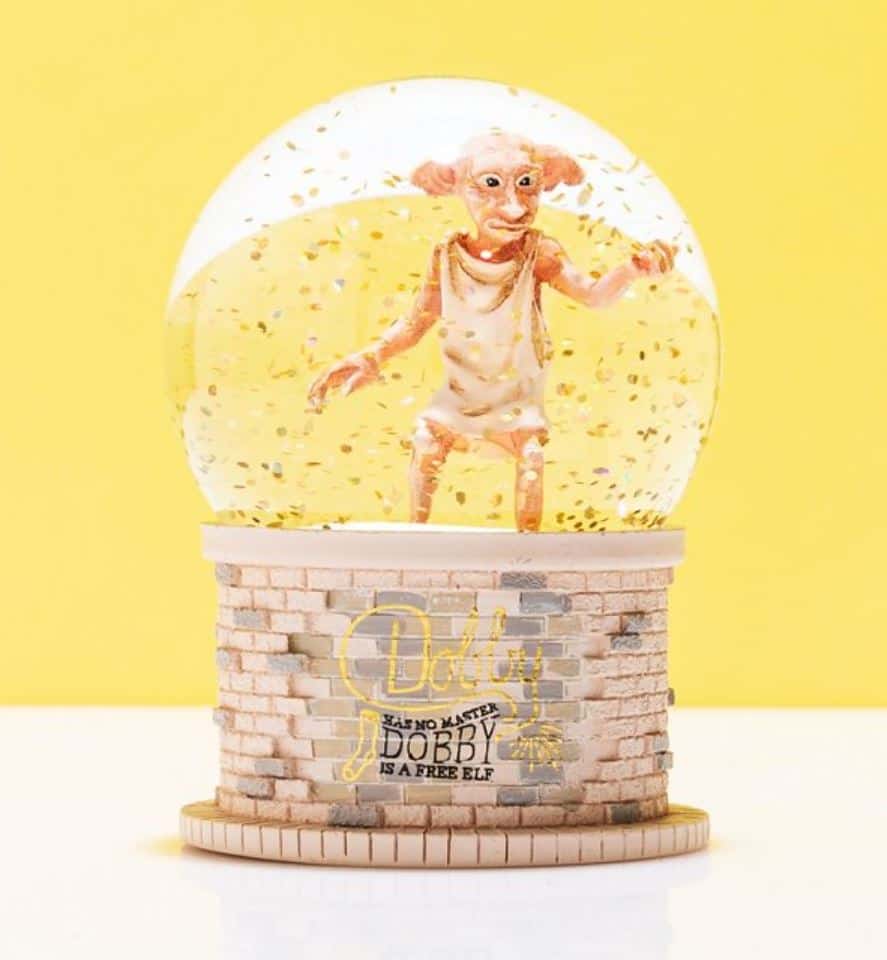 Dobby was one of the most loyal friends Harry had. He was one of my personal favorites from the show, and all the credits go to J.K Rowling for creating such a unique and meaningful character! His fondness and obedience towards Harry was so heart-warming. This Dobby snow globe adorns my mom's room, never leaving her bedside table.
This snow globe offers Dobby's miniature figure with accurate facial expressions standing inside it. The base is brick-textured with Dobby's famous quote, "Dobby has no master, Dobby is a free elf," written on it, and also the sock that freed Dobby drawn on it makes it more meaningful.
Unlike some old-school snow globes, this one is lightweight. The quality is top-notch, and brownie points for the gift packaging! I am quite sure it is a must-have on every Dobby fan's bucket list.
Pros
This snow globe is quite famous among Harry Potter fans, especially Dobby lovers.
The seller has 60 days return policy, not something you see on your other online orders.
Cons
It would feel heavy on the pockets of Dobby's fans.
The painting on the base is not very durable and might chip off, especially the golden inscription.
7: Harry Potter Platform 9 3/4 Snow Globe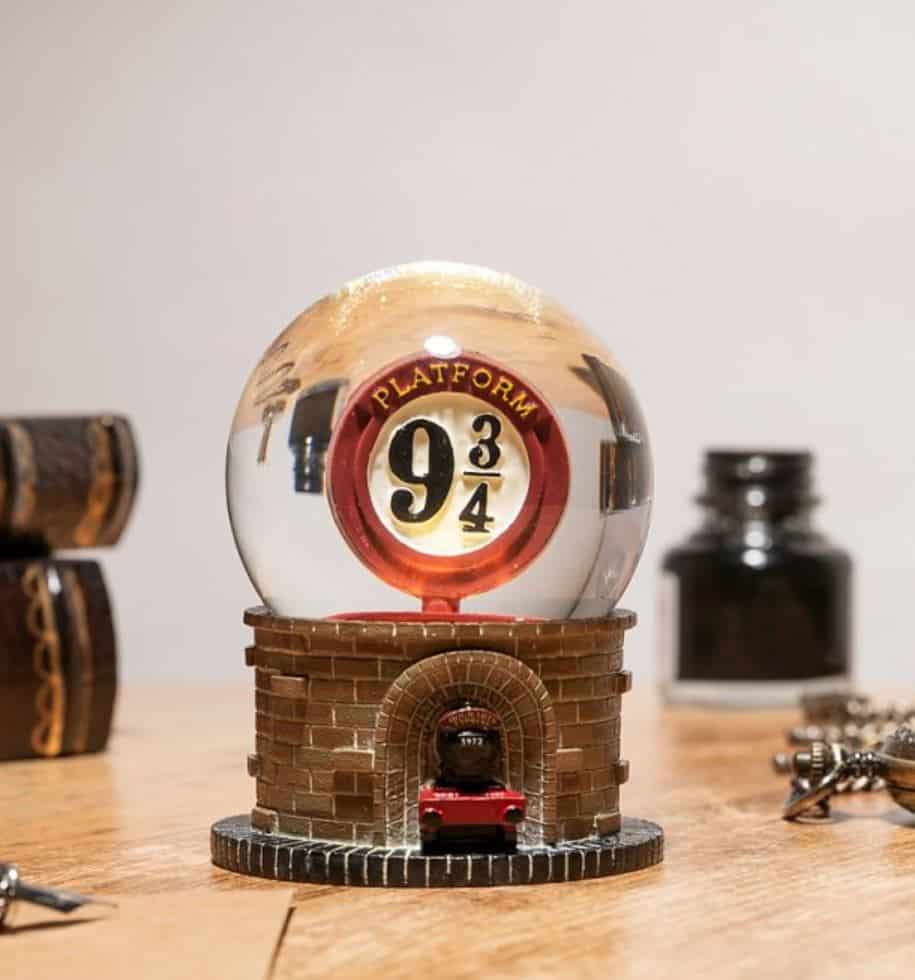 Boarding the Hogwarts Express in itself was a magical task, thanks to the platform 9 3/4. Running towards a brick wall and entering the world of magic is still a dream for Potterheads. This dazzling snow globe featuring the platform 9 3/4 sign board is truly a piece of art. And I have to admit; it is one of the best quality snow globes I have ever owned.
On a brick-textured base stands a glass globe with the platform 9 ¾ sign board guiding where you should be heading. The detailing adds to the value of this snow globe. This round maroon board covered in golden glitter makes me reminisce many beautiful memories attached to this phenomenal series. The tiny Hogwarts Express coming out of one side of the base and the luggage on the other gives the final touches to this beauty.
This snow globe is from the official Harry Potter merchandise and comes enclosed in a special Harry Potter gift box. The glass that is used offers excellent quality. Disclaimer! I still don't recommend dropping it.
In my view, it would have been perfect if the music and lighting were added to it. Not to mention, it goes without saying, but keep this away from children under 3. Not everything is a child's play, after all.
Pros
This snow globe portrays an entire journey to Hogwarts. From platform number to the train, everything is perfect
The seller offers fast delivery options.
Cons
The smaller attachments might come off easily.
8: Enesco Wizarding World of Harry Potter Quidditch Waterball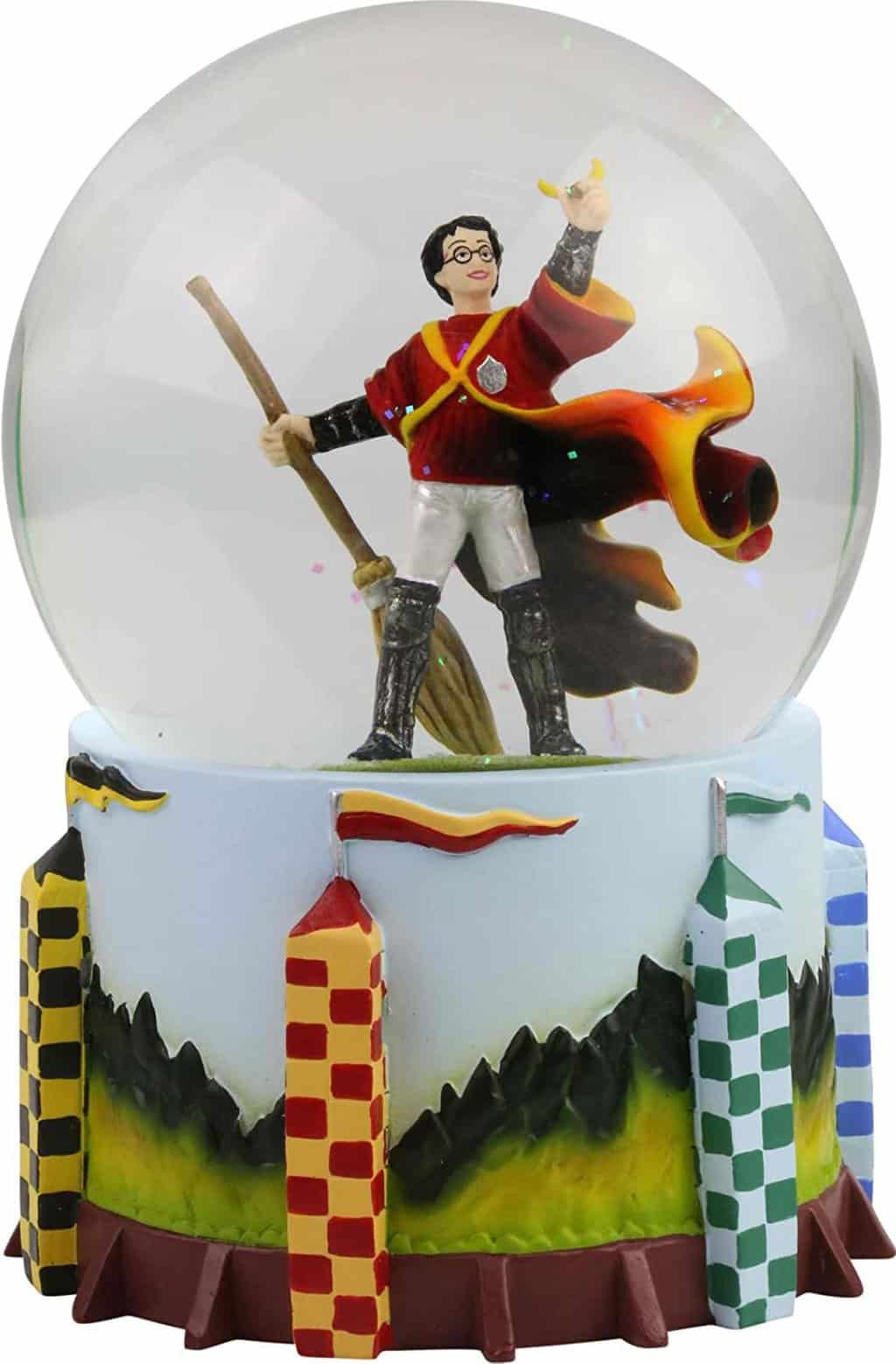 Who else was obsessed with Quidditch matches like me? The flying, the chasing, everything was a treat for sports lovers. My mom gifted this Quidditch Waterball to me on Christmas, and just like Madam Rolanda Hooch, she told me not to fly unnecessarily in my room.
This Water ball features Harry Potter in his Quidditch gear, with his famous Firebolt broom in one hand. His flying Gryffindor robe and golden confetti, symbolizing his win in the game, add a unique character to this beautiful waterball. The base of this decorative piece of art portrays the Quidditch theme, with towers and flags of four Hogwarts Houses set in the backdrop of mountains. The snow globe really brought the Quidditch game to life!
Resin is used in the making of this hand-painted waterball. However, I am least impressed by its attention to detail. If I were to speak the truth, I would have been unable to recognize Harry if it wasn't for the box. Anyway, you can still gift it to fellow Quidditch lovers or keep it as a souvenir. Buy before its out of stock!
Pros
Cons
Limited stock
A miserable finish. The only Harry Potter collectible in my possession that I am least impressed with.
9: Funko Mystery Mini Snow Globes: Harry Potter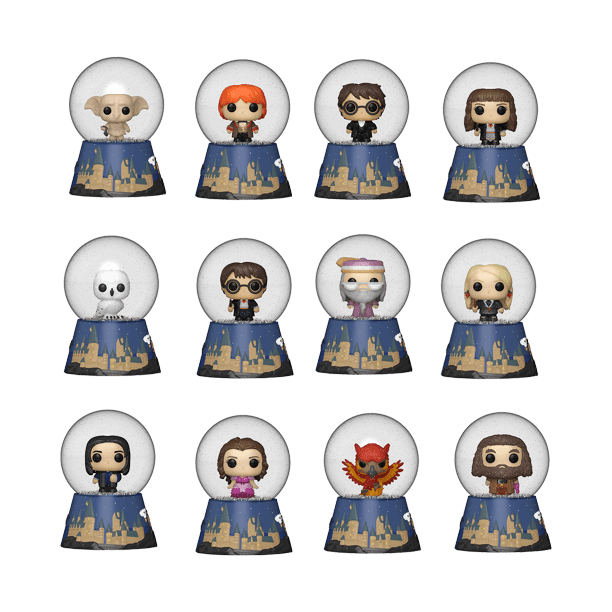 Who doesn't like surprises, except for my father? Well, you are in for one with this snow globe. These mini snow globes of all famous characters from the Harry Potter series are must-haves. My brother ordered 4 times already and is vexing mum for the 5th time. I am sure he is going to get the budget for it; after all, the youngest siblings are the favorite. Right?
These mini Funko globes are available in 12 different characters, e.g., Harry, Ron, Dobby, Luna, etc. The miniature Funko Pops are placed inside a glass globe and stand on a base that features Hogwarts. It comes in blind packaging, and as I said, you are in for a surprise. By the way, I have plans of sneaking my brother's Phoenix snow globe if he gets his hands on it.
Funko makes the cutest miniature figures, and I think we can all agree on this. This snow globe can be a perfect pick for all the Funko Pop hunters, and it will definitely add a cute addition to your Funko world. However, I would recommend keeping it away from children under the age of 3. You don't want your favorite globe broken, do you?
Pros
The seller offers free shipping.
Free 30-days return.
Cons
A bit small, only 2 inches, i.e., almost half of an average Funko Pop
A bit pricy (21.94$) considering the size.
Since it comes in blind packaging, you might receive the same one twice.
10: "I'd Rather Stay At HOGWARTS" Rotating Musical Glitter Globe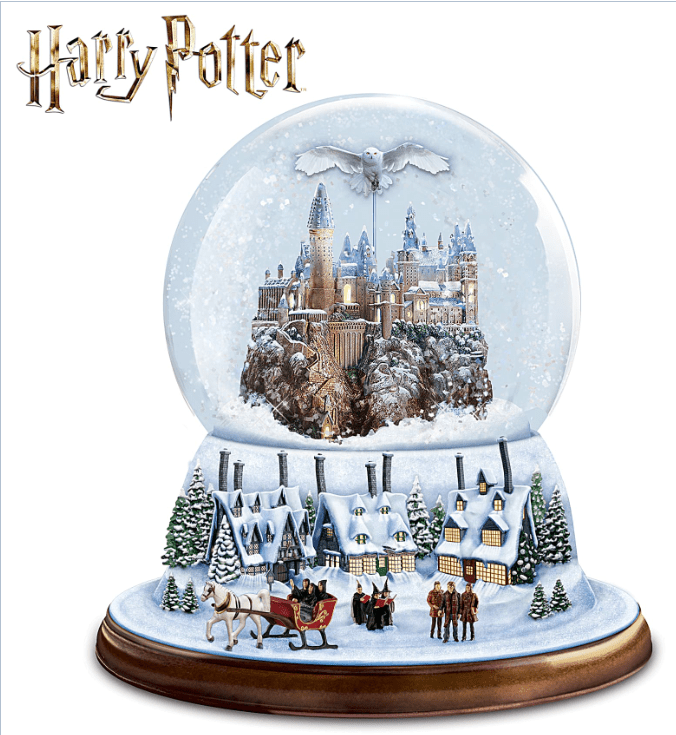 I have saved the best one for the last! This hand-crafted masterpiece is truly a work of art. Hogwarts during Christmas was a sight to behold, and this globe featuring Hogwarts covered in snow with Christmas festivities occurring around fulfills my heart with so much nostalgia. I must say that this glitter globe still remains one of my prized collections of Harry Potter merchandise.
This rotating musical glitter globe has a meticulously crafted Hogwarts building enclosed inside a clear glass globe. When shaken or rotated, the tiny snowflakes cover the Hogwarts in snow, something that sits perfectly with the Hogwarts castle.
Furthermore, extra points for Hedwig standing on one of the towers of Hogwarts. The Rotating base of this globe depicts Hogsmeade village's houses covered in snow, mini-figures of Harry, his friends and carolers, and of course, a horse cart. The Harry Potter movie's original song playing upon rotating is something that makes this snow globe complete.
The quality and detailing of this globe are exceptional. It is a bit expensive, so you might need to save up if you are on a budget unless you have an account in Gringotts Wizarding Bank.
Pros
Available in installments.
Comes in the perfect size.
Cons
A bit pricey if you are on a budget.
FAQs:
Question: Are Harry Potter Snow Globes Suitable for Children?
Answer: As you know, snow globes are usually used as decorative pieces and not as toys. The glass globes are fragile and break easily, so I would not recommend them for children under 6 years. Go for plastic globes for younger children but be warry of small pieces as they might be a choking hazard.
Question: How can I Check the Quality of Snow Globes Online?
Answer: It is difficult to assess the quality of snow globes online as the pictures can be misleading. I suggest you refer to the review section to get a better idea of quality. Check out the reviews with attached photos of the actual product. Also, you can message the seller directly and ask him about the material used and for real product pictures of the snow globe.
Question: Can I Gift These Harry Potter Snow Globes to Non-Potterheads?
Answer: These Harry Potter snow globes make beautiful decorative pieces that can add extra character to anyone's house. You can definitely gift them to people unaware of the world of magic. Also, their exquisite designs will make your friends intrigued about the series, and they'll definitely become your fellow Potterheads!
Final Thoughts!
Harry Potter is an unequaled magnum opus, and the love Potterheads have for it is eternal. These Harry Potter snow globes beautifully capture the scenes and the characters from the series. Their simple yet exquisite designs will definitely give you the real-life experience of being in the world of magic. They are perfect for decorating your house and flaunting your love for Harry Potter to your friends.
I recommend buying the Harry Potter snow globes from authentic online shops and sellers and do not fall for the scammers. Also, check its reviews before you place your order and keep your budget in your mind.
Snow globes make for a beautiful decorating item, and if someone says they don't like them, they are some lying Muggle-born! My favorite one from the collection is definitely "I'd Rather Stay At HOGWARTS" Rotating Musical Glitter Globe." This beautiful work of art is just phenomenal. The best part is that it rotates and plays music from original Harry Potter movies. And it never stops to talk about reliving the experience. It's a bit pricey but worth all the bucks. Go buy your favorite Harry Potter snow globe ASAP. I promise you are in for a great experience!
Continue reading:
Best Harry Potter Loungefly Guide