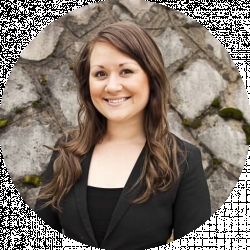 Latest posts by Lacey Jackson
(see all)
If you love the world of Harry Potter, don't be afraid to show it with Harry Potter stickers. 
Let me start with a story. 
When I was younger, Harry Potter came out and everyone in my grade was excited because we were about the same age as the characters. However, I was taught not to succumb to peer pressure from an early age and not to do what everyone else was doing just because they said it was cool.
I didn't realize this was meant to apply only to things like drugs and alcohol. I thought it applied to everything, which is why when every other student in my grade was reading Harry Potter, I vehemently refused. I didn't want to pick up a book series just because all the other kids were doing it.
Once all the books were released, there wasn't as much pressure. And then the movies came out. I watched half of the films only because they were always playing at my friends houses, but I didn't quite understand the stories. Some friends took it upon themselves to explain aspects of the books that were included in the movies so that I would have a better idea of why certain things transpired, but usually only when I pointed out that there was a flaw in the storyline.
I picked it up when I was older, and of course, now I read it every year. Harry Potter is the perfect place for me to go when I can't get out of my own head or when stress is so bad that I can't focus. Harry Potter is the one thing that helps reset me no matter what's going on. And I almost forget that it's meant for kids. 
So, I've made up for lost time by hosting lots of Harry Potter parties and showing off my fandom with things like the best Harry Potter stickers. I put a great deal of effort into it because I'm an adult, and I have the freedom to do so, so every party I throw is a little different and uses some of the same elements like top-of-the-line Harry Potter stickers.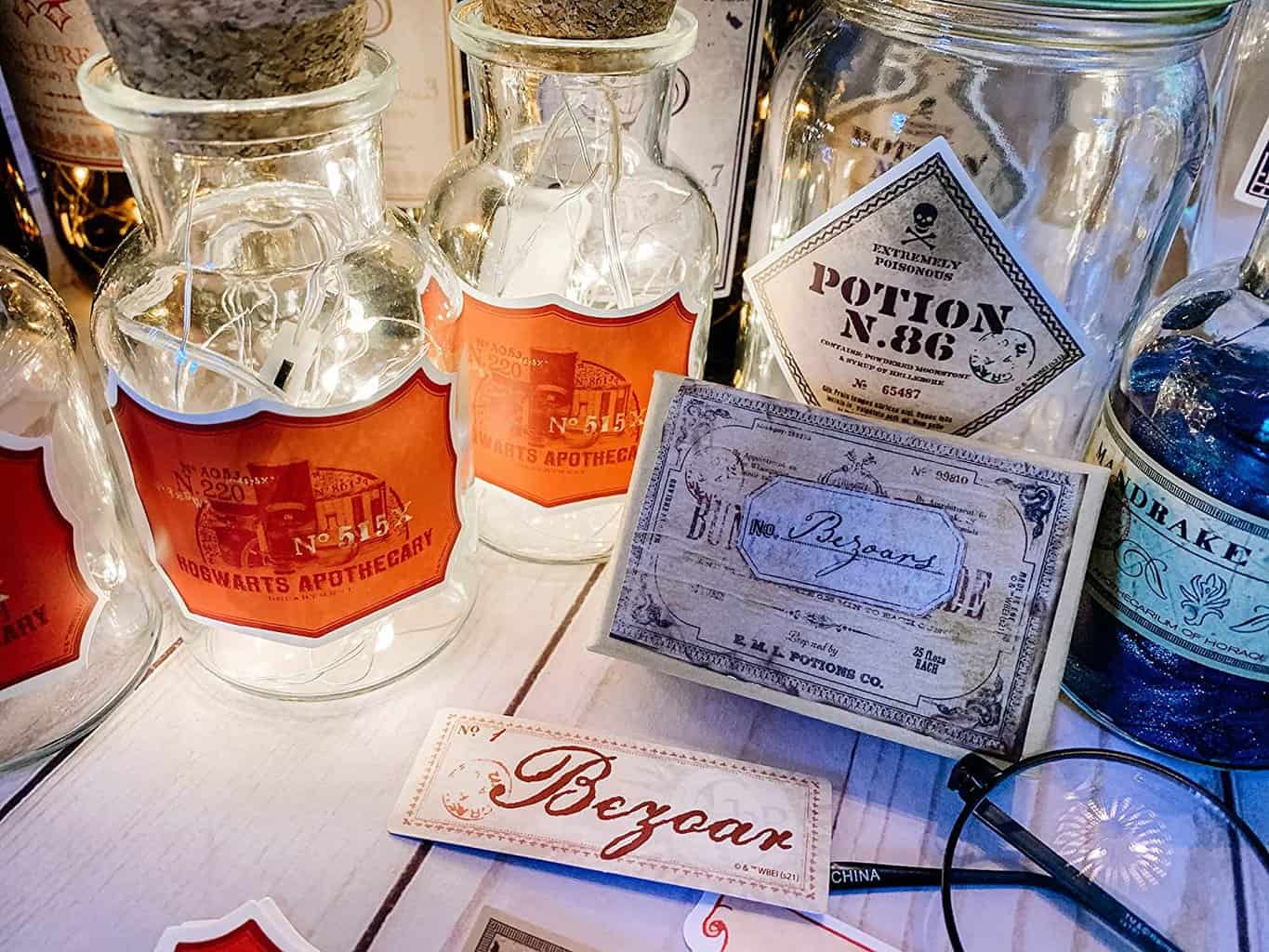 Bottomline Upfront
Do yourself a favor and consider going the extra mile with the Conquest House Sets. They are fun, unique, and give you the sense that you successfully achieved your N.E.W.T.'s and are onto bigger and better things. 
Selection Criteria: Aren't All Stickers the Same?
Not all stickers are the same. The material used for the sticker can vary. What you want is something like vinyl. Some stickers are waterproof or UV protected. This is very important if you're going to put the sticker on something like a water bottle because regular exposure to sunlight damages the color, and eventually, that fun Harry Potter sticker won't look like anything.
Obviously, getting a waterproof sticker is important for anyone attaching stickers to a water bottle, but it's equally important if you plan on using the stickers as a car decal.
Type of Sticker
This brings me to my next point, which is that not all stickers are made for the same use. If you are trying to find a sticker to put on your car, you want to be very careful that you look for car decals and not things like generic notebook stickers. Most of the best Harry Potter stickers are meant for scrapbooking or putting on your gadgets and home items, but they might not stand up to driving 65 mph on the freeway in a rainstorm.
Sticker Sets vs. Individual Stickers
If you plan to use sticker sets, they usually come to you as individual stickers, so you peel each one off its respective backing and put it where you want. There are some sets that come as a sheet, but these are usually perforated, so you can easily peel off the stickers you want to use.
Adhesive Material
All stickers have some sort of adhesive on the back. It's what makes them stick. You don't have to use them all at once, but if you don't use them immediately, you want to safely store them in a cool, dark space like a closet. Exposure to the elements can reduce the adhesive over time, and in the span of a few years, the items might not stick anymore. So don't be stingy with your stickers. 
The Best Harry Potter Stickers
Sticker Paper: at Home Harry Potter Stickers
Let me start by saying I LOVE stickers. Stickers and a laminator can make just about anything ten times better. Allow me to demonstrate:
For my last Harry Potter party, I couldn't find a lot of stickers that came pre-made. So I made them myself. With sheets of sticker paper, you can turn your entire world into whatever you want–as long as you have an image to print and far too many hours to hand-cut uniquely shaped items. Luckily, I did.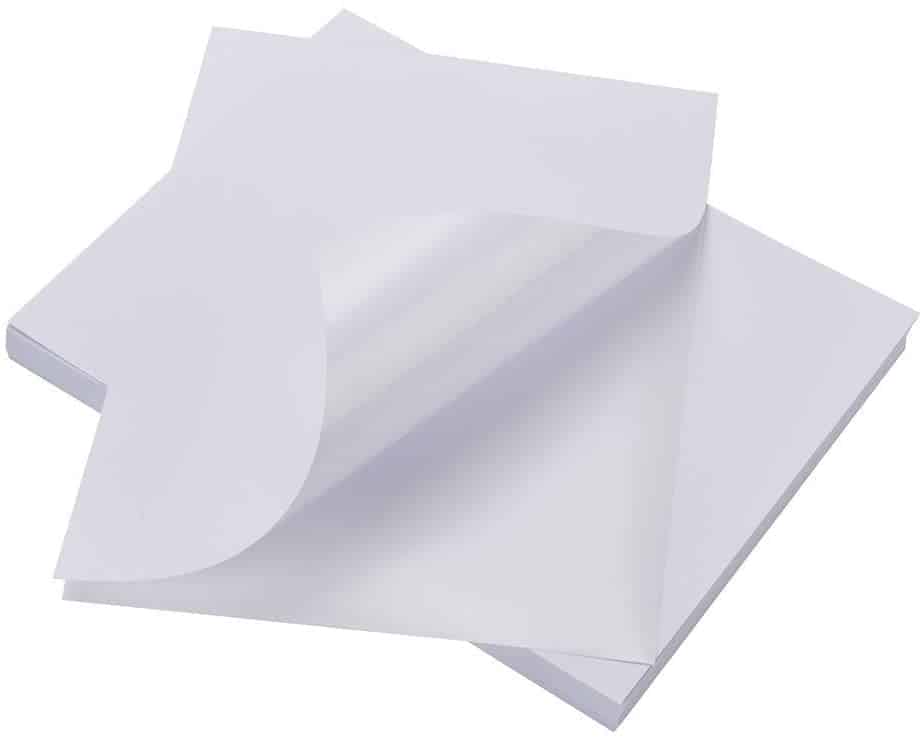 In this picture, you can see that I supported Etsy (there are almost 2,000 results for Harry Potter printables, so you'll have to take it upon yourself to refine that search) by purchasing the printables I liked most. Each room in my home was a part of the HP world, so printables were purchased accordingly.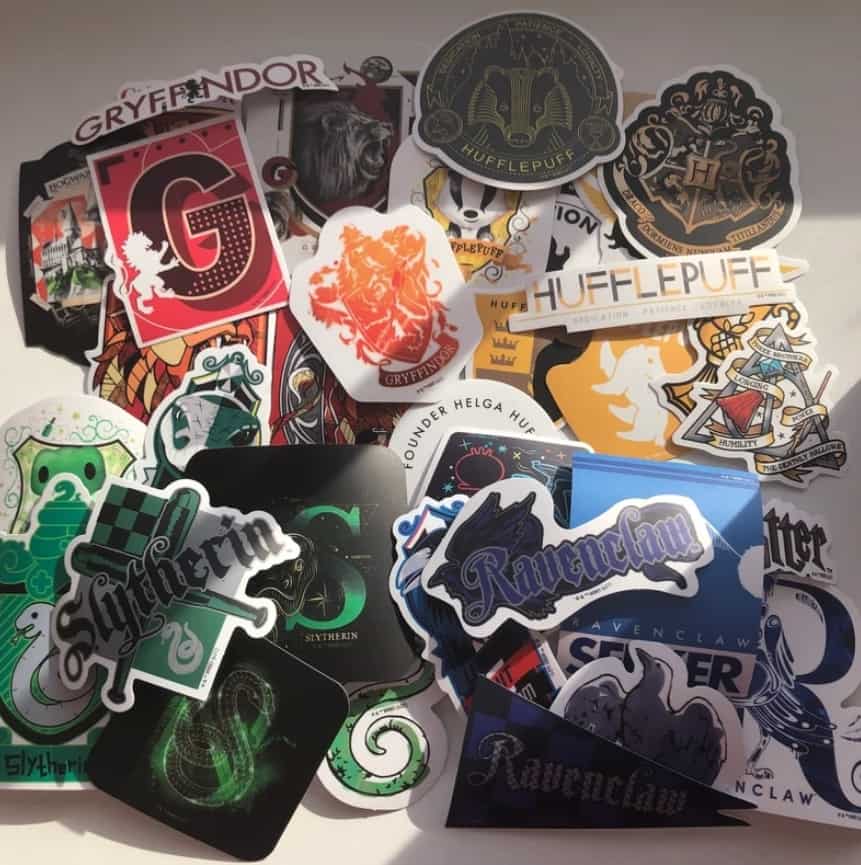 First, we have The Three Broomsticks, where guests could pick up many beverages. I simply bought some fan-designed images and printed them on sticker paper, then affixed them to empty whiskey and maple syrup bottles (both cleaned ahead of time). It saved me on recycling and gave everything an authentic feel.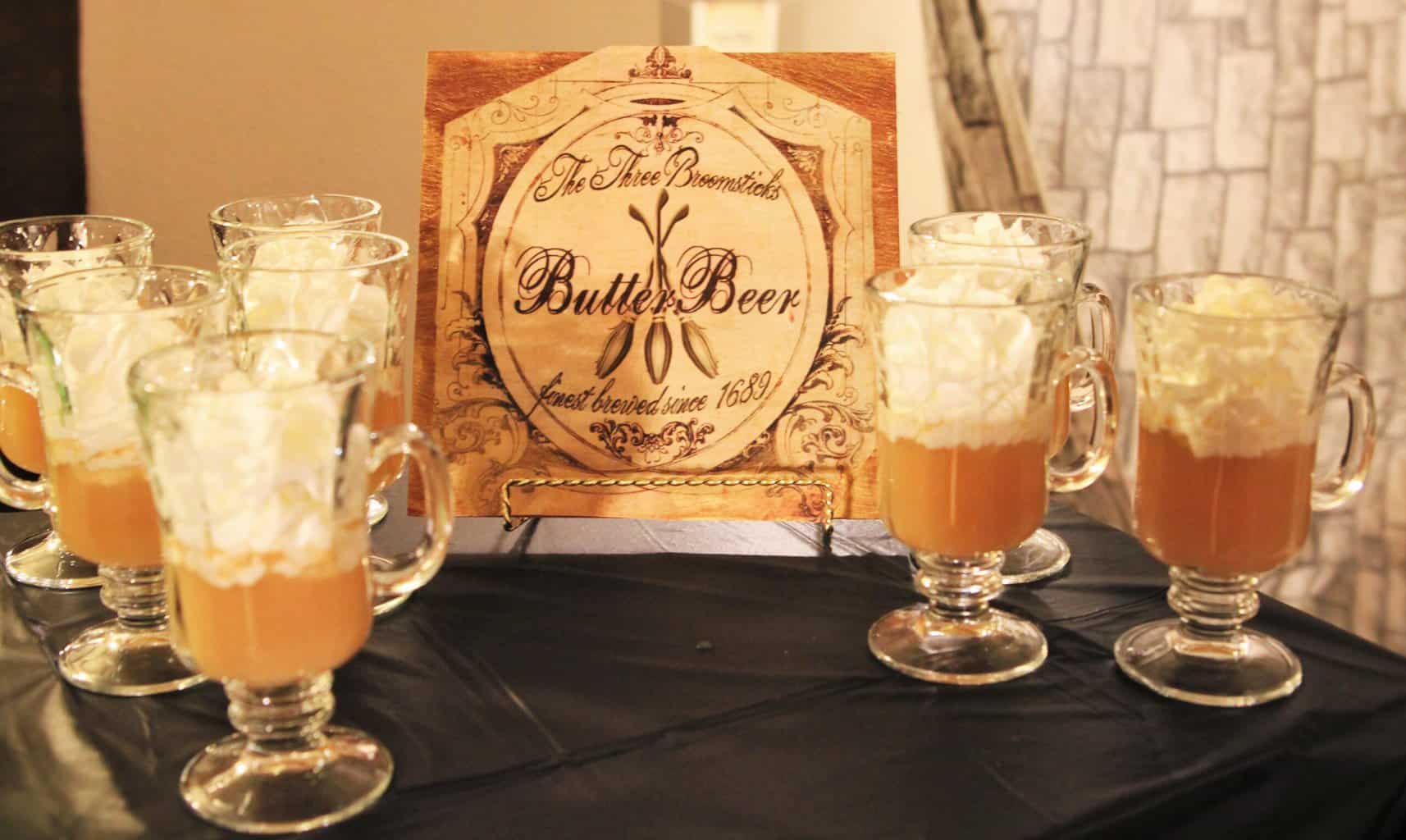 Honeydukes made all of the children in attendance very happy because it consisted of bags with printed labels and all the candy they could fit into said bags. For the record, one of the younger attendees didn't bother to ask or confirm this was intentional-she just walked right in, squealed, grabbed a bag, and started shoveling everything her tiny fingers could reach.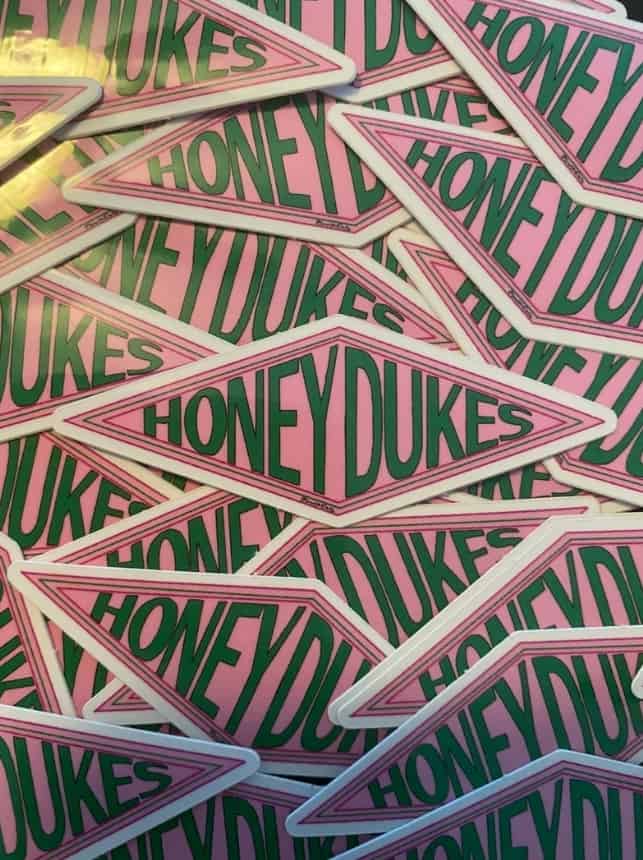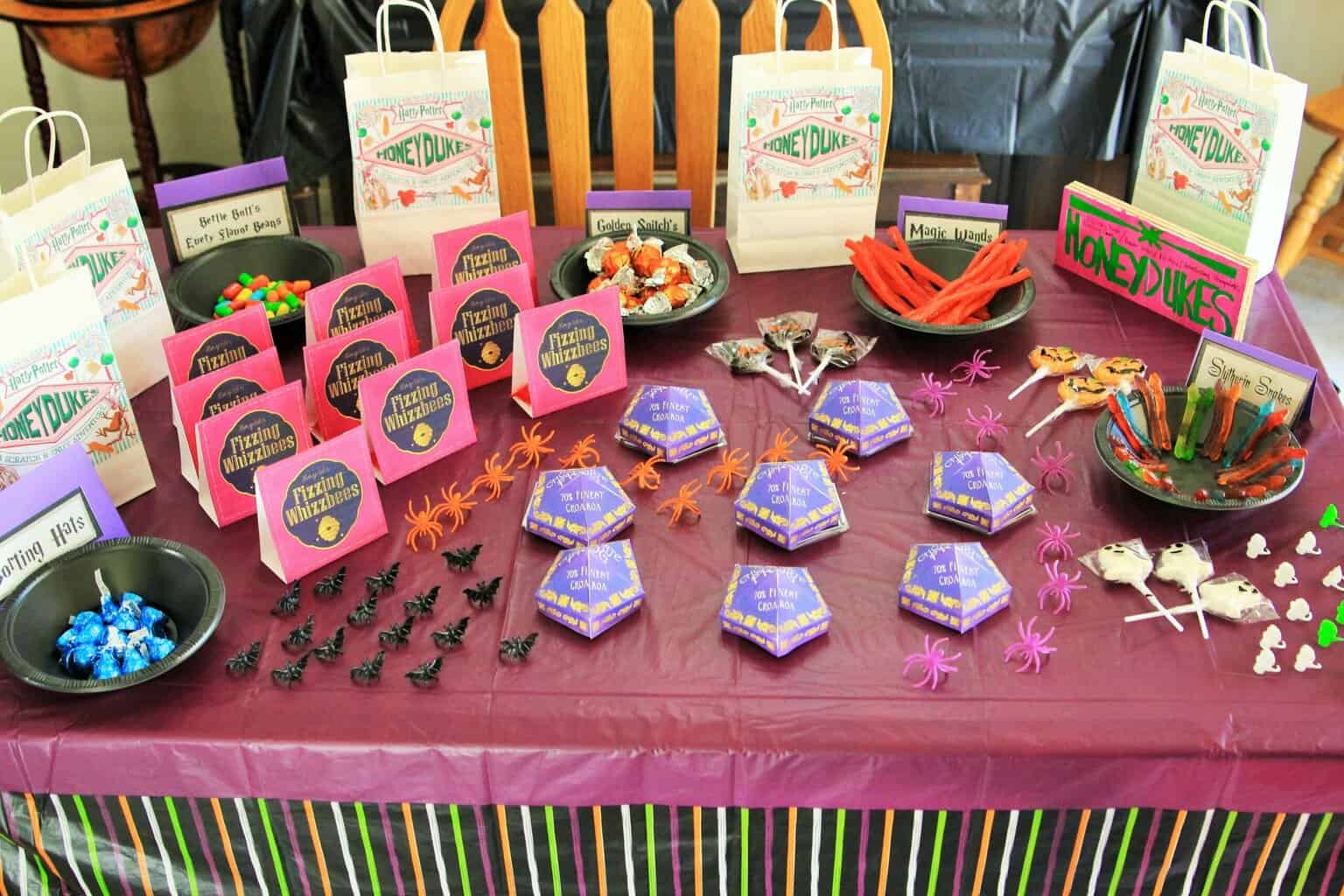 And no party is complete without souvenirs. For my last party, everyone got to pick out badges to wear and take home. These represent the most time-consuming part of the preparations because each had to be printed on sticker paper, then put on cardstock, then laminated (remember that thing about a laminator making things better? Yeah, right here… this is where the machine paid for itself), then attached to pins so people could wear them.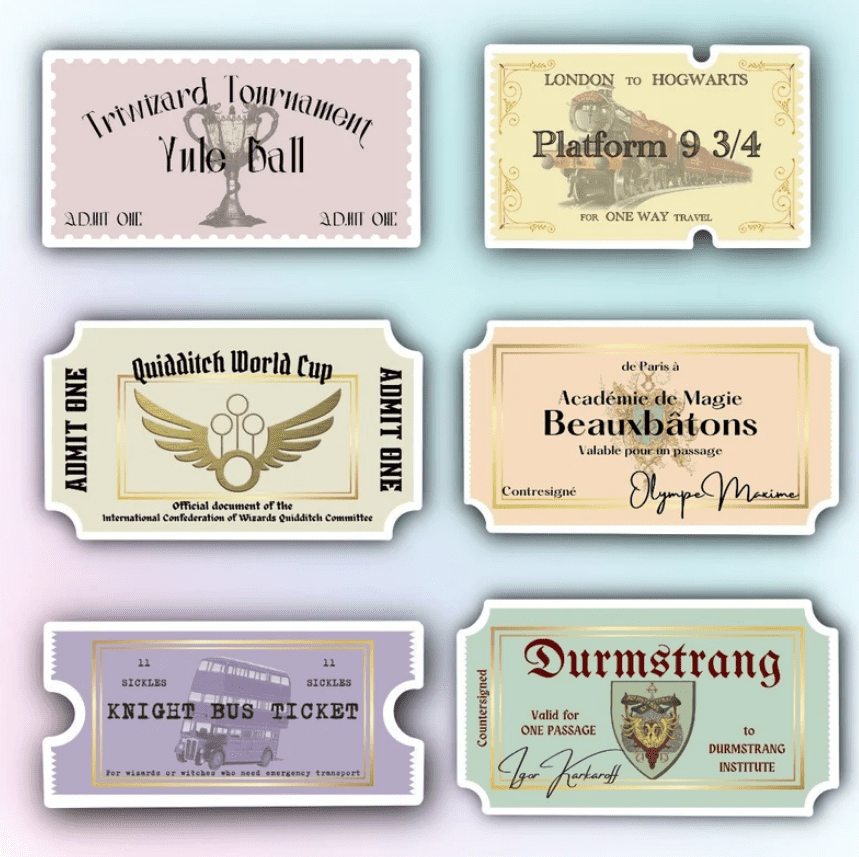 Time-consuming as it was, it turned out to be one of the best parts.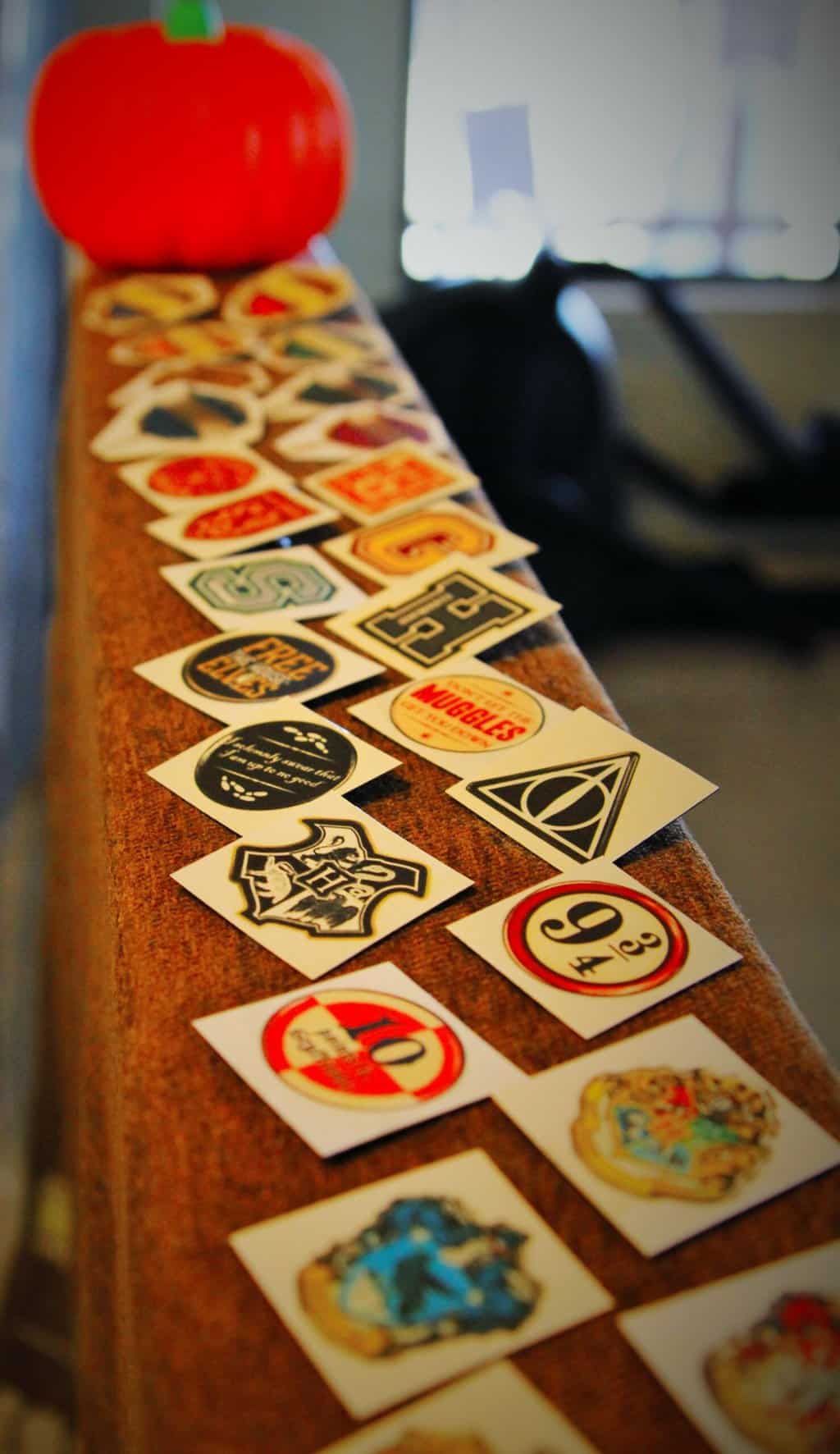 Graphics and More HP Stickers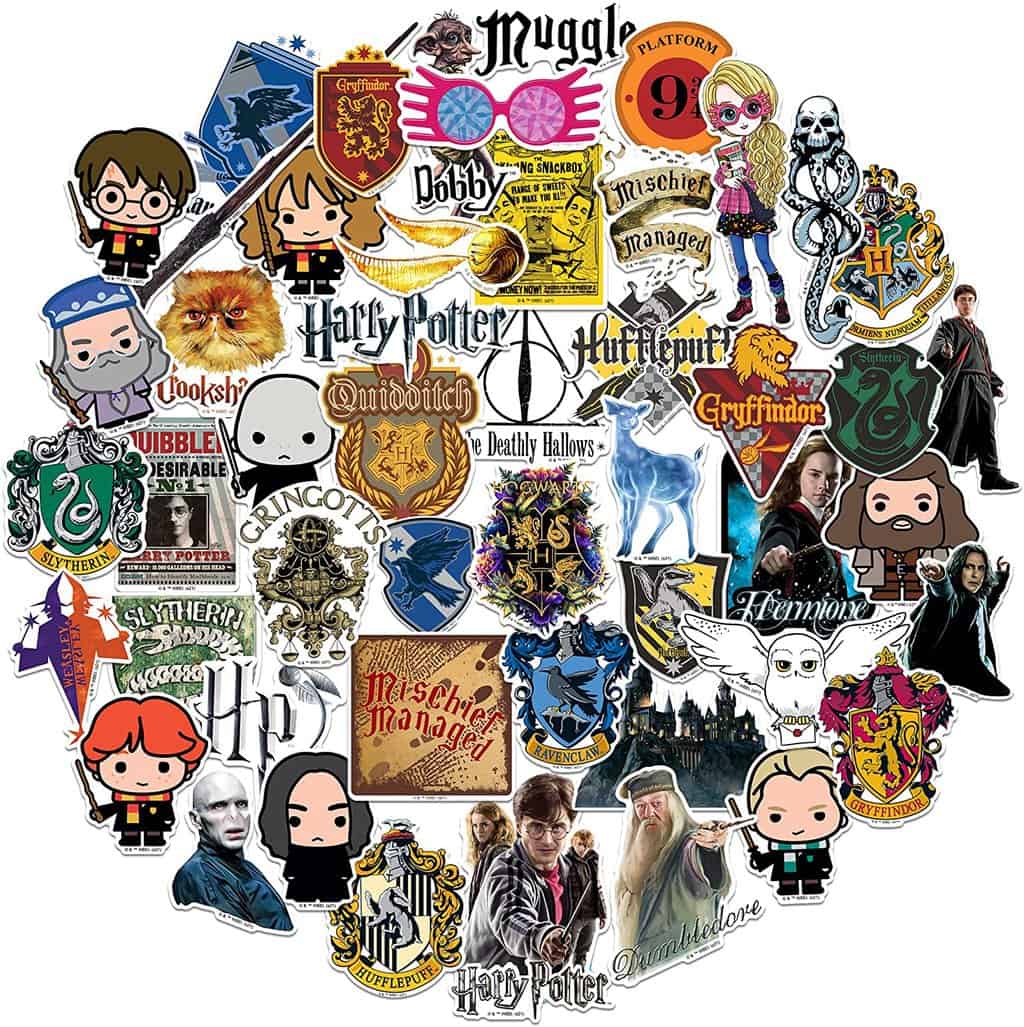 Graphics and More produces this vinyl set of 50 Harry Potter stickers. They include a wide range of real-life images from the films, cartoon renderings, and Funko Pop! Renderings. Personally, I don't like sets like these because my OCD requires they all be the same theme, i.e., a set of stickers from the films or a set of stickers with cartoon renderings.
I don't like the whole mix-and-match thing. But I know plenty of people who do. In fact, for some, the mix-and-match is the only way they get specific stickers they are looking for. 
Pros
Vinyl stickers can be put on water bottles, laptops, tablets, tablets, skateboards, etc……

Suitable for indoor or outdoor use

You get 50 in a bunch
Cons
It is a mixture of odd things like the Funko Pop! Images for characters such as Hagrid, pictures of the main characters from the movies, fun cartoonish images of people like Luna, and then really clear, vibrant stickers for places like Gringotts. 
Conquest Vinyl Stickers: Potions Labels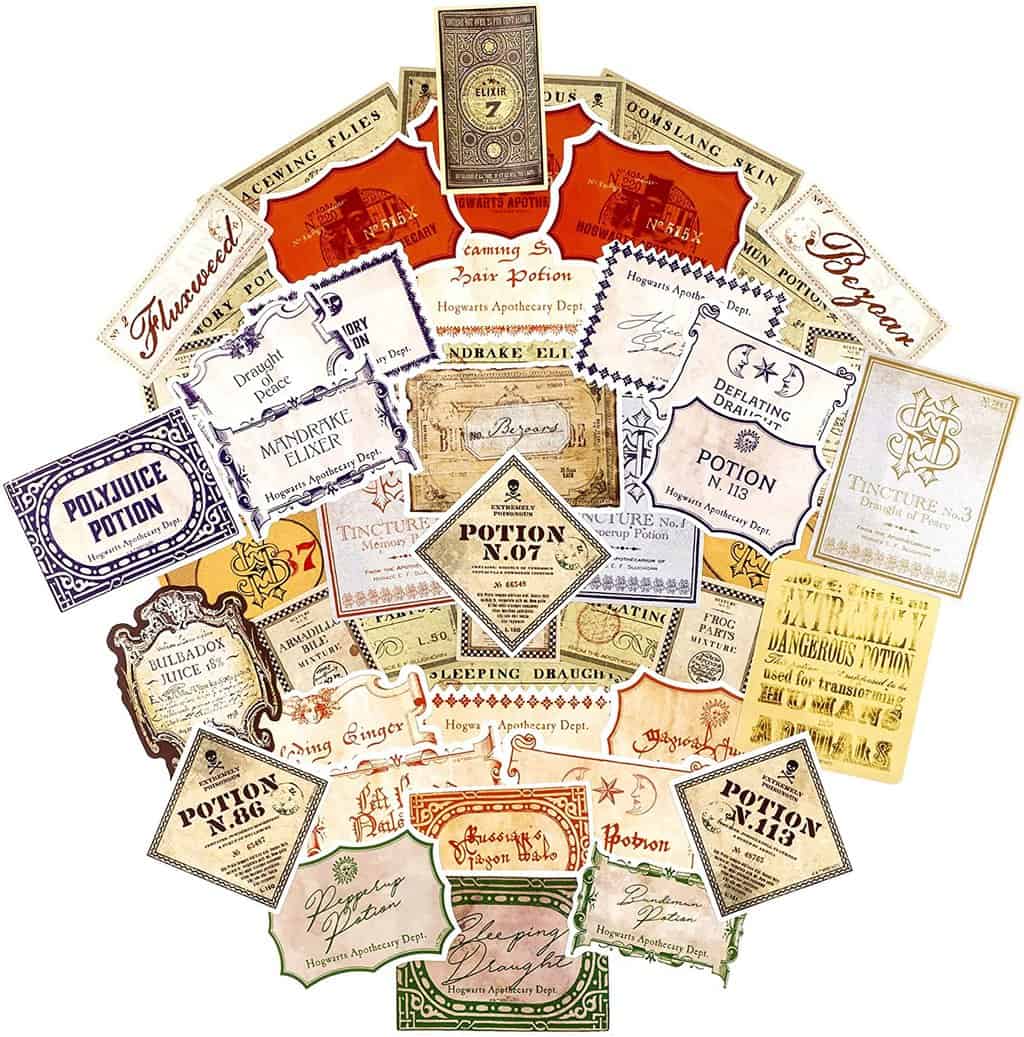 Just like I did for my Harry Potter parties, you can invest in potions labels. These are waterproof and UV-resistant potion labels that you can stick to all sorts of bottles and containers in your home. Around Halloween and Christmas, I like to bring these out because they add something fun to our bar and social areas.
Pros
Waterproof

UV resistant

Tons of potions, and each sticker is different.
Cons
Some of the potions repeat themselves, but honestly, I use that to my advantage by placing stickers on multiple items or wrapping them around both sides of a particularly large bottle, as seen in the image below.
Some random bottles of hydration drops and other tinctures were collected months before the party and, once empty, were also covered with appropriate home-printed stickers. 
Platform 9 ¾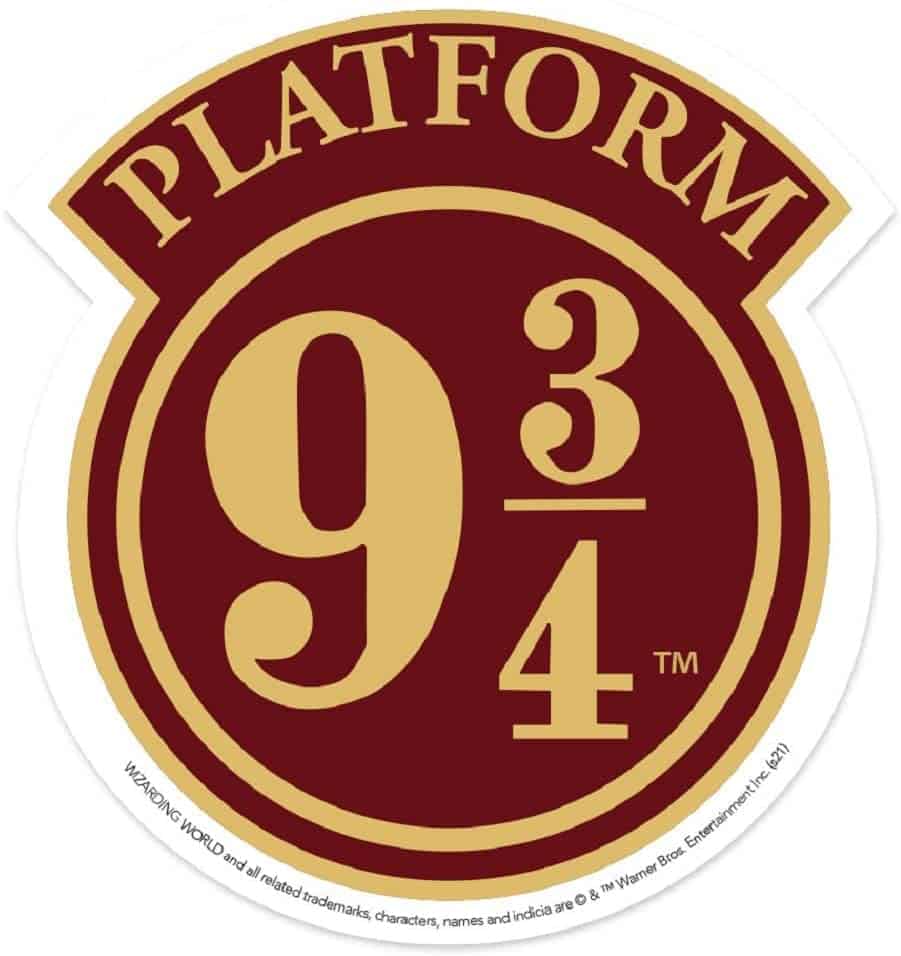 If you want to make an epic sign above your doorway, use this Platform 9 ¾ sticker. I used it to make the Hogwarts Express entrance to my home during a party, as seen in the image below:
Pros
Larger size, big enough to look real

Vinyl sticker

Waterproof
Cons
Only available in a darker maroon background
Marauder's Map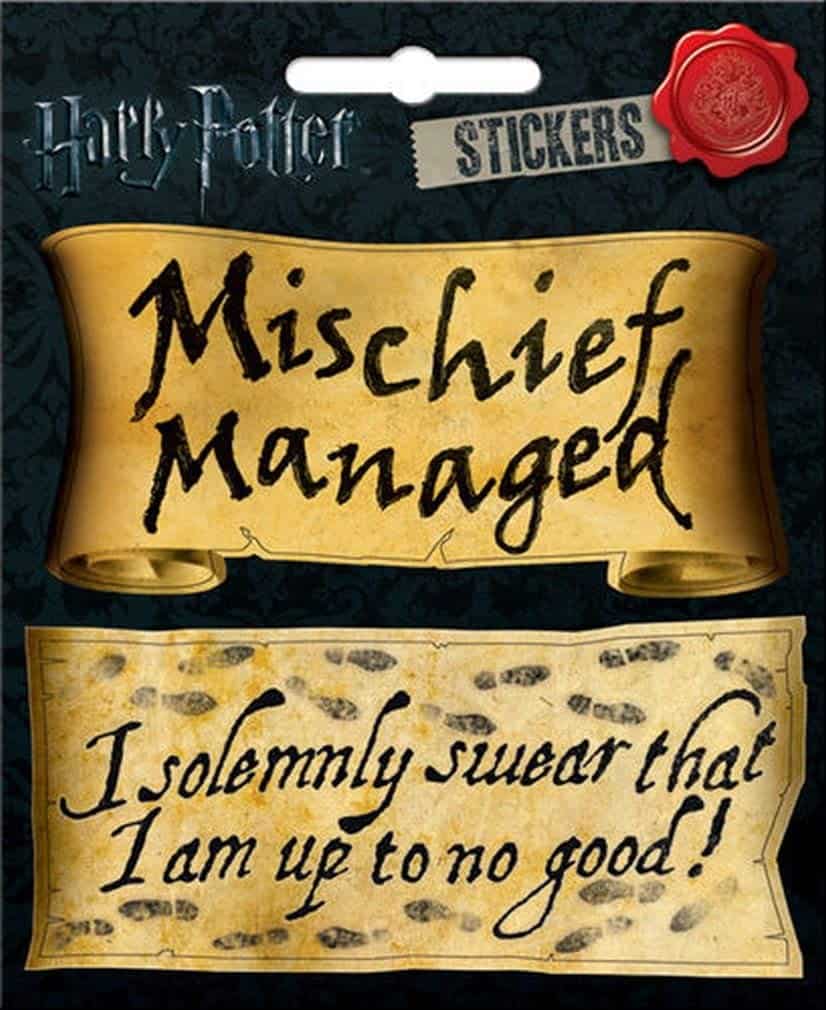 This isn't technically the sticker of the Marauder's Map, but it is a set of 2 stickers that have elements of the Marauder's Map, like Mischief Managed and up to no good. If you don't want both, you can buy a single sticker of the same size for one or the other.
Pros
Half-sized stickers or full-size stickers available

Four inches wide

Colorful graphics
Cons
Conquest Vinyl Stickers Watercolor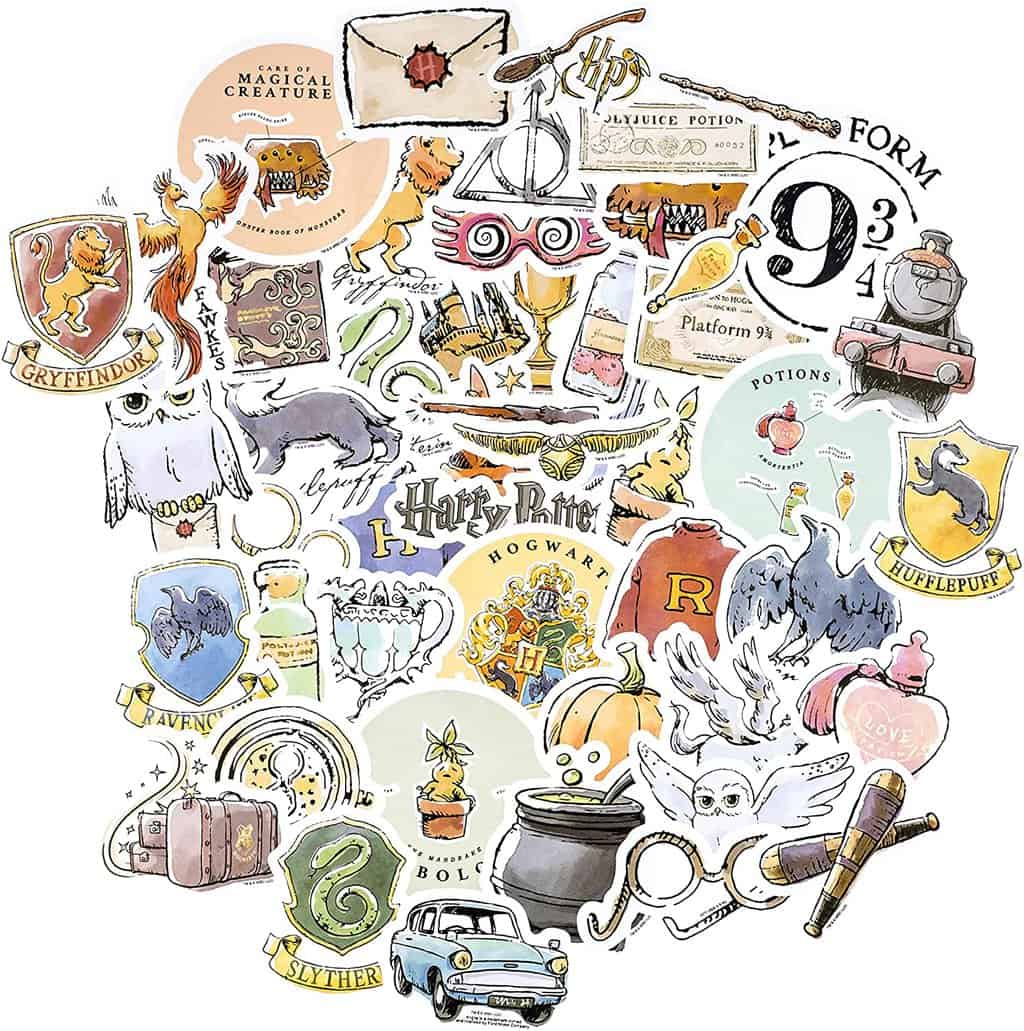 Next on the list is from the brand Con*Quest. They are one of the official providers of HP stickers. Each set comes with up to 50 stickers, with an array of fun ideas like beater clubs, the Ford Anglia, the Triwizard Cup, Liquid Luck, a Hogwarts Express sticker, the Elder wand, and love potions. This set is the watercolor set, so everything looks like it was painted with watercolors: lots of pastels and blurred edges. 
They are very sturdy and thick. This isn't applicable to all stickers, which is what places these sets among the best Harry Potter stickers. What's more, they are easy to peel and place. Just make sure you put them on a flat, clean surface. Once they are on, they are really on. 
Pros
UV resistant

Waterproof

It can be used on gadgets, car windows, notebooks, luggage, and more
Cons
The theme is watercolor for this set, so it has a lighter, pastel hue, and everything is made to look like a cartoon
Conquest House Set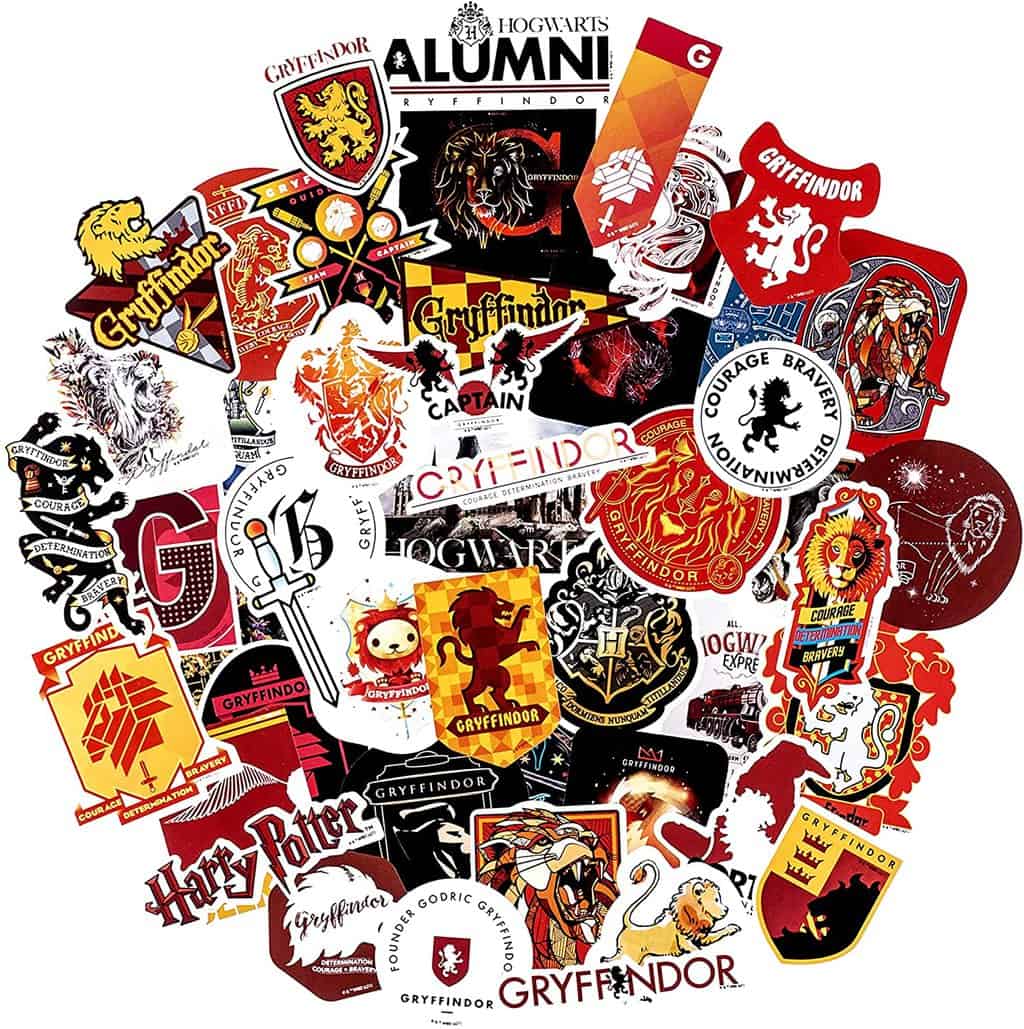 Conquest has funhouse sets intended for alumni. So if you want to pretend you are a graduate of Hogwarts, this Gryffindor sticker set is one of the best Harry Potter stickers for anything: water bottles, laptops, pencil cases, skateboards, and anything else in the house you want to claim (but get permission from mom first).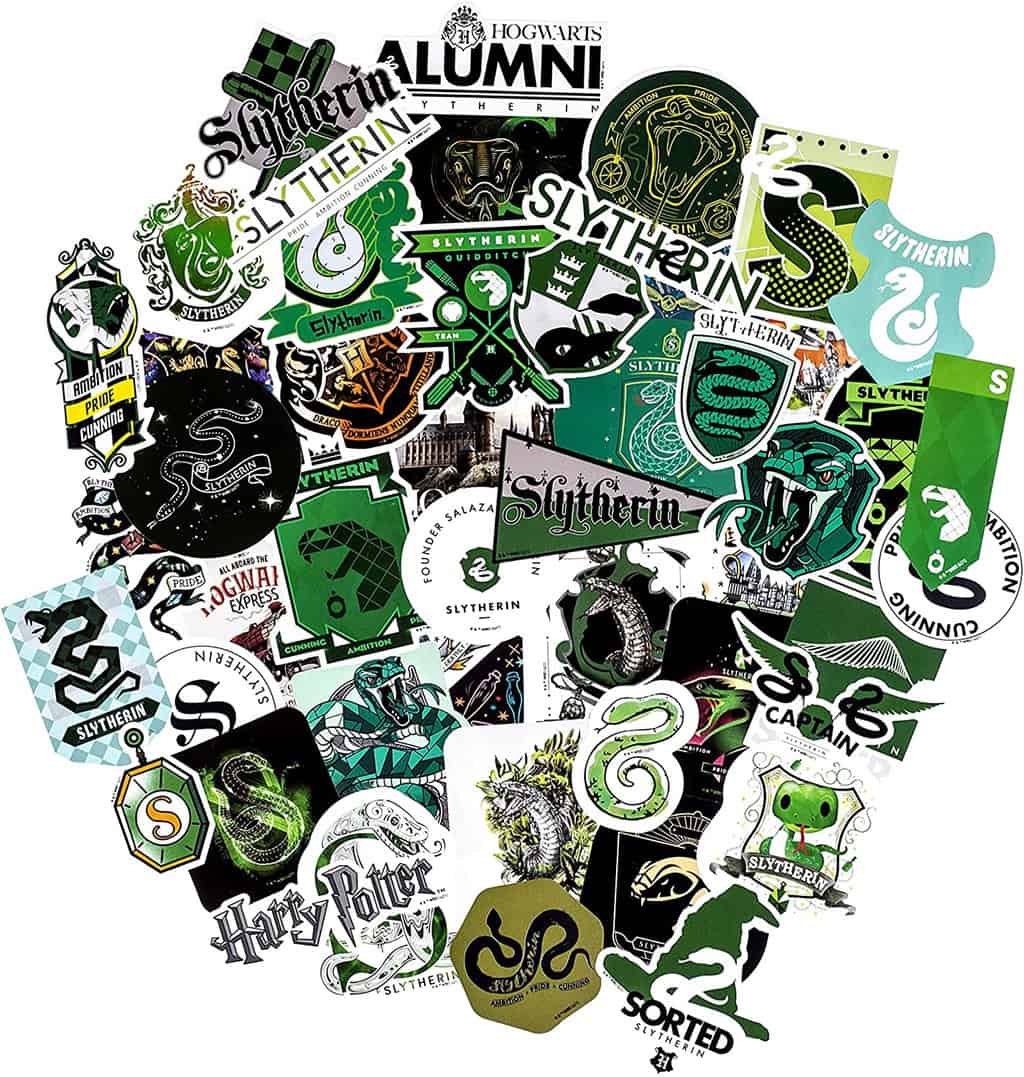 In this kit, you get a range of expressive stickers that have different takes on Gryffindor, the emblem, and the mascot. There are some that look like badgers, things you received for acts bestowed upon the school. Others look like the cover of the Hogwarts Alumni magazine for Gryffindor students (who reads those? Really?).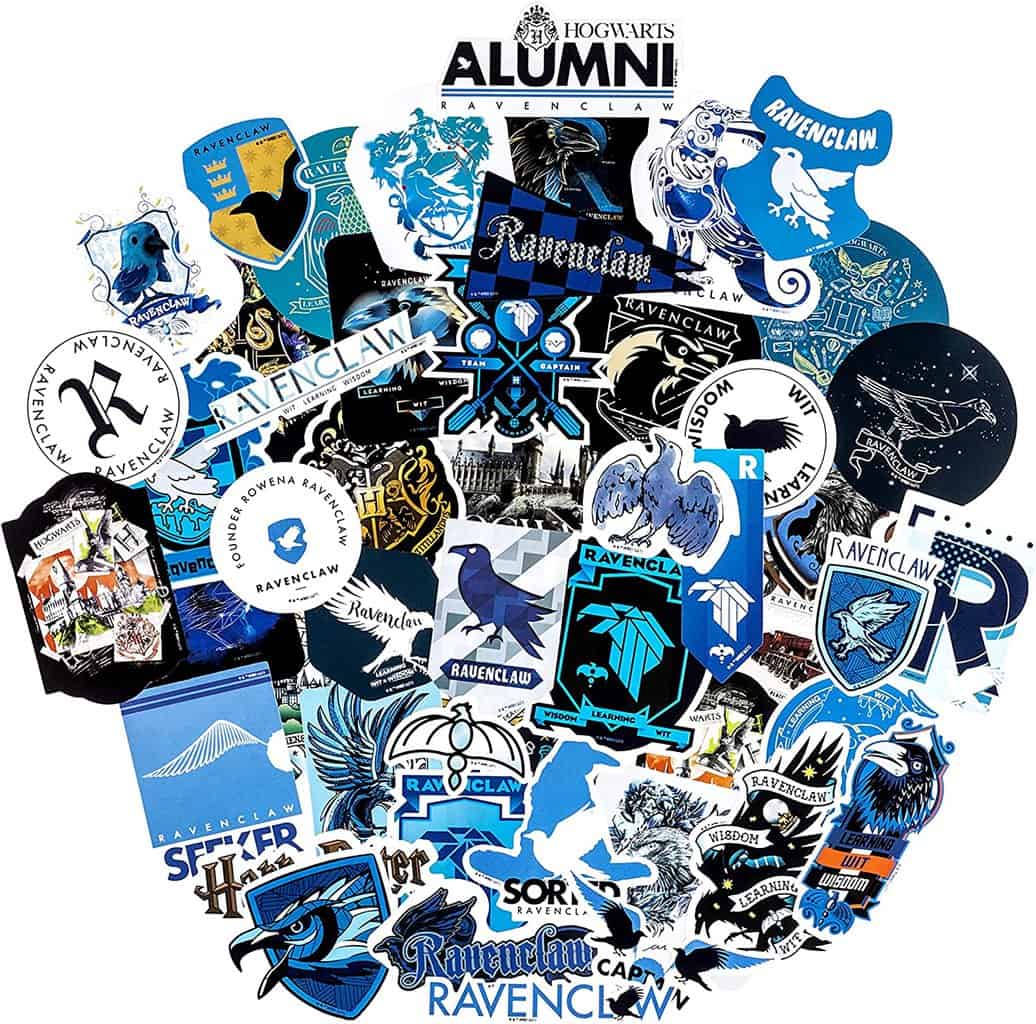 If you want a different house, you can get the same set but for Slytherin or Ravenclaw (the Hufflepuff set doesn't come from Conquest, but rather, the other company mentioned above: Graphics and More. Why does everyone ignore poor Hufflepuff? No wonder one of my boys started crying when a house-placement test put him in Hufflepuff). These can be used the same as I did for parties: placed on bottles, bags, and notebooks, all for a themed experience.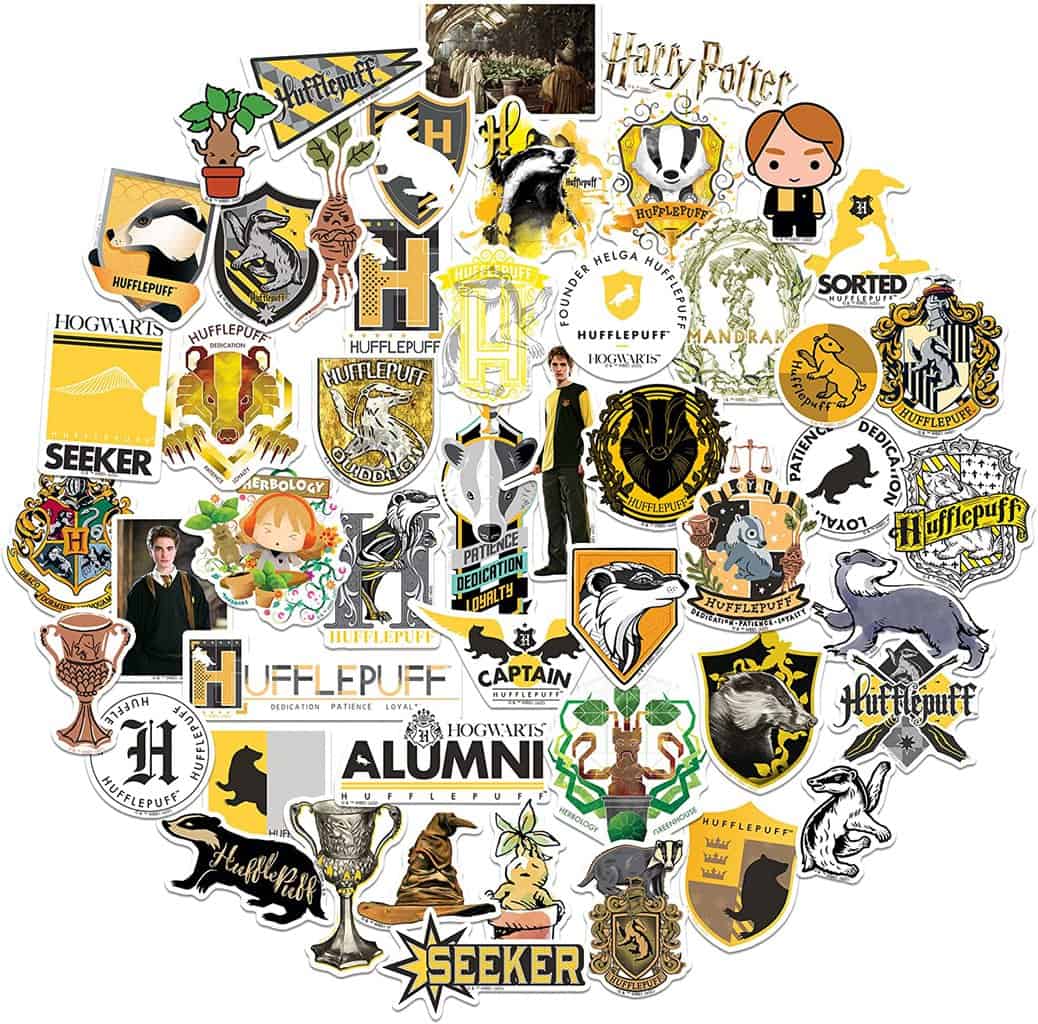 Pros
House based sets of stickers

Waterproof

Big set for under ten dollars

You can pick your house team and show off your loyalty

Self-adhesive
Cons
These decals range in size 

The company doesn't have all houses or a mixed house set like this
Wall Decal: Dumbledore Quote
If you want to go a different way with your stickers, beyond just water bottles and parties, there are some amazing wall decals that you can place in your home. This particular quote is from Dumbledore about our choices, but the manufacturer can change the text if there is another quote you like better. You can alter the words to fit around the hat and stars, using the same Harry Potter font.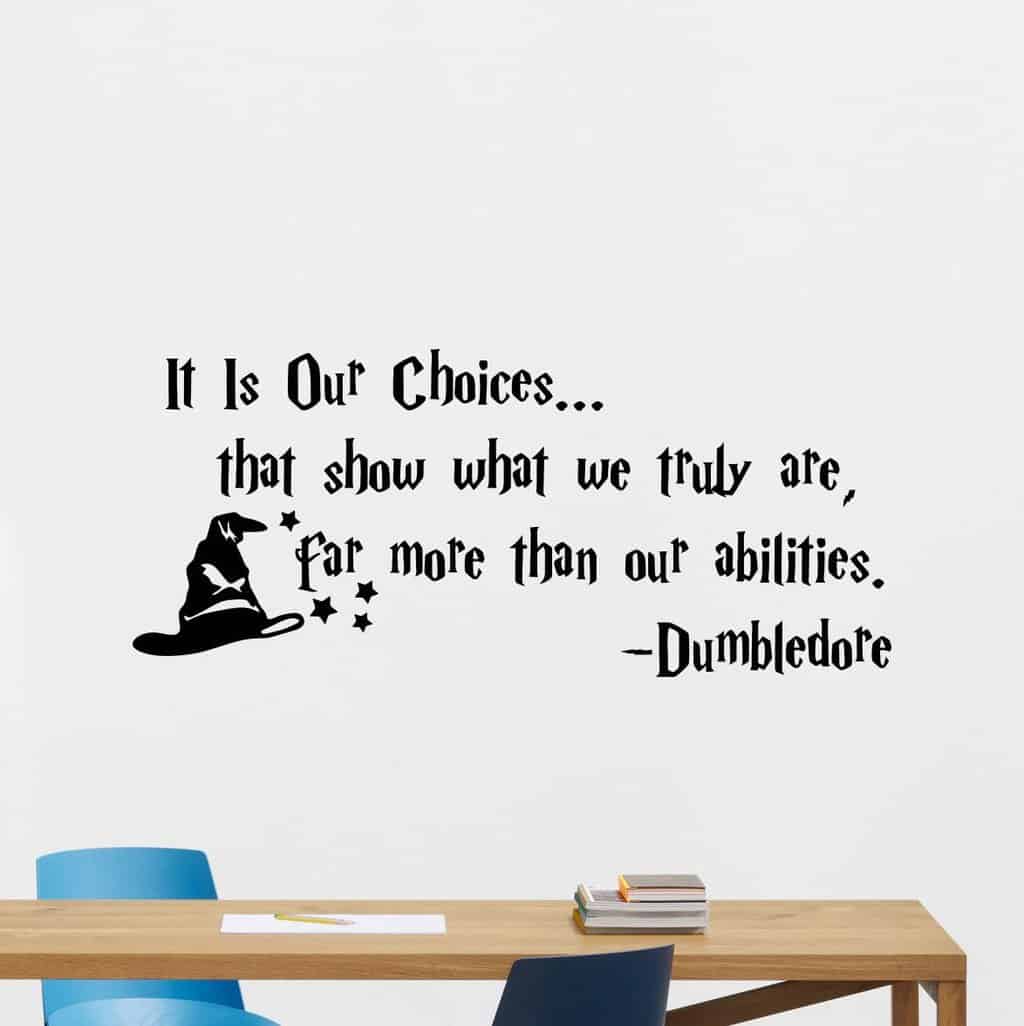 Pros
Made from vinyl

Has a great quote perfect for an inspiration
Cons
It only sticks best to plastic or metal
Wall Decal: Symbols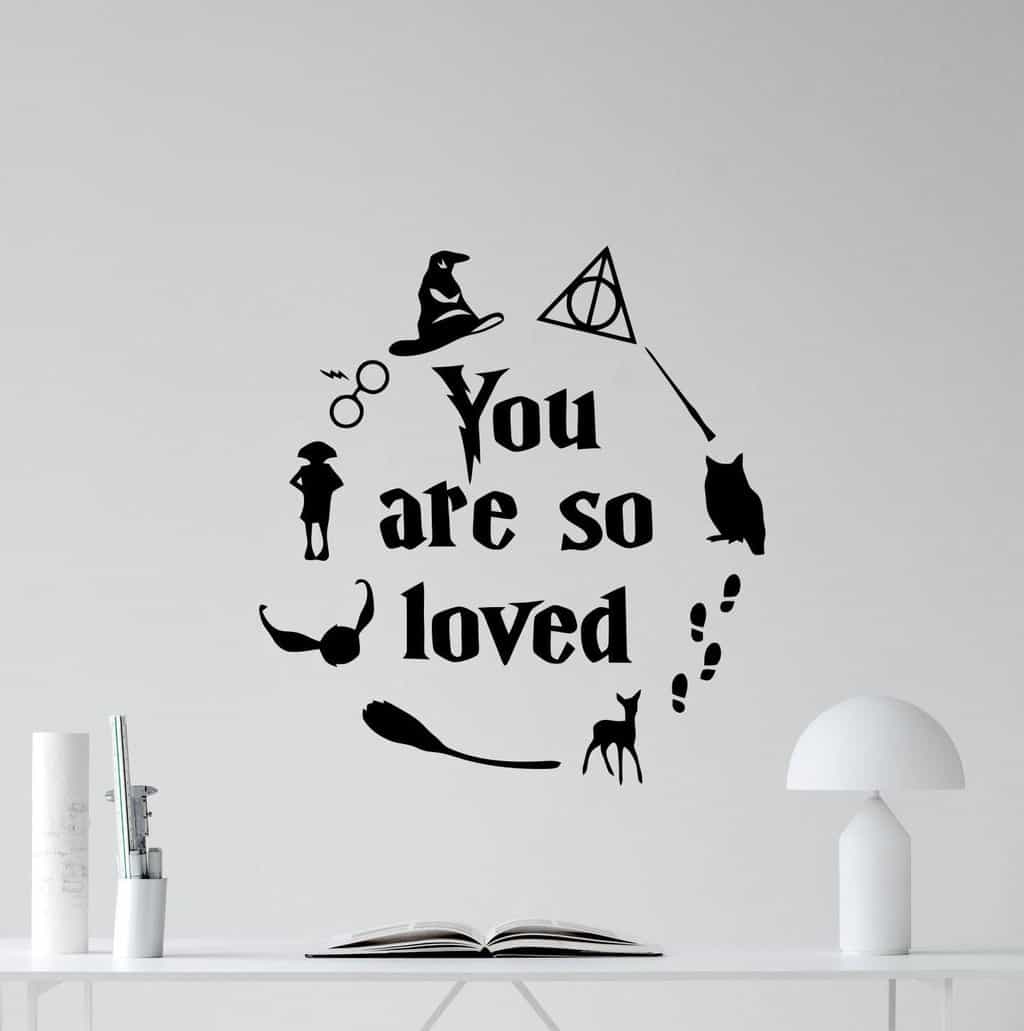 This is another Harry Potter wall decal you can use to stick on a kids' playroom wall. It is from Harry's mom, about how he is loved, and it is encircled with symbols from the book. It is best to use it on a metal or plastic surface, but it also sticks to doors, closets, tile floors, windows, and so on. The material is vinyl, so you can easily apply the stickers and remove them. They are waterproof but not reusable, so make sure you put them where you want them to live permanently. \
Wall Decal: Signs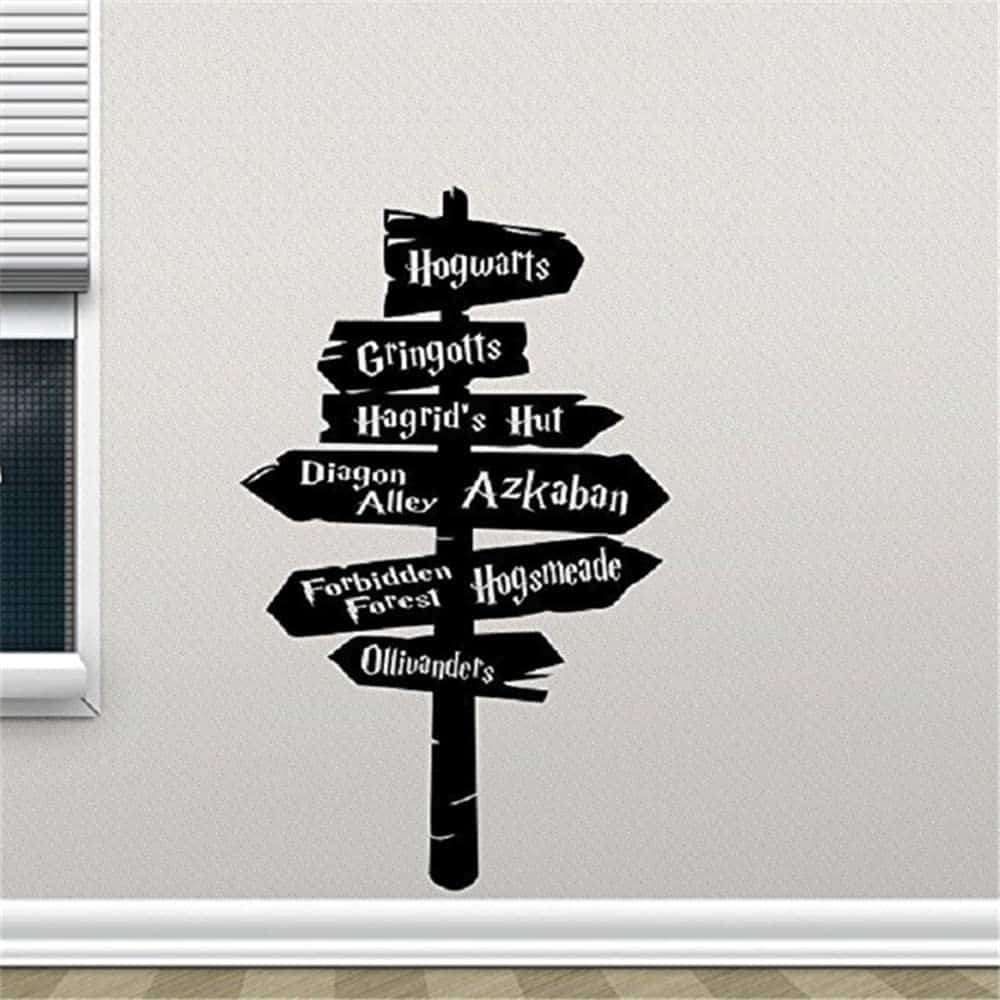 If you want a wall decal with signs pointing to all of the main Harry Potter areas, this is the Harry Potter sticker to use. I actually used this for a party once, and then after two months of staring at it and remembering I needed to take it down, it was finally removed. It is quite fun though and points to all of the most popular areas. I positioned it so that Azkaban was indicated as upstairs, where guests were not allowed. 
Pros
Perfect for a nursery or kid room wall or door

Black and white

30 inches by 23 inches
Cons
House Sticker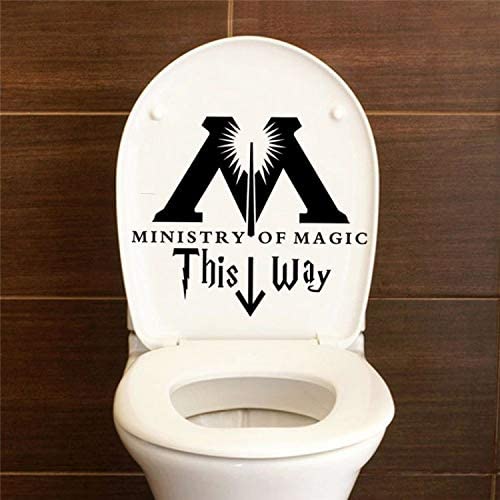 Not all of the best Harry Potter stickers have to be inspirational and loving. This Ministry of Magic sticker is hilarious and an accurate ode to the series. It is 7.5 inches by 6.4 inches and goes on the inside of your toilet seat. No one will know it is there until they lift the lid, and then they will get a fun surprise. 
Pros
Toilet seat sticker for Ministry of Magic access

Very large, so it should fit all toilet lids

Waterproof (for obvious reasons)
Cons
Car Sticker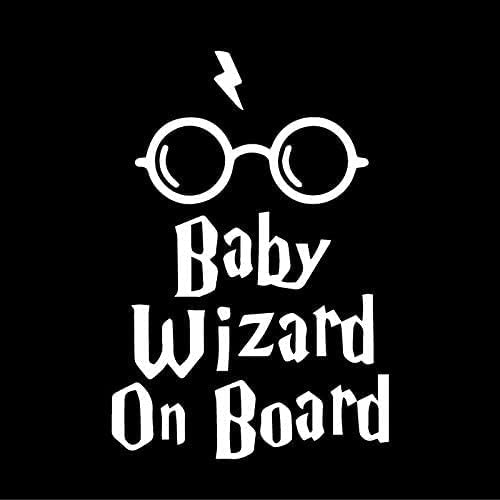 If you want to move outside the home, there are some fun Harry Potter stickers for your car. This is probably only something to consider if you actually have a baby on board. It is smaller and can go on a window or on the bumper. 
Pros
Vinyl

8 inches by 5 inches

Waterproof and UV proof

Black background with white print
Cons
You can easily remove them without damaging the car, but they can't be used for more than one
FAQ
Question: Can I use Any Stickers for my Car?
Answer: If you are buying Harry Potter stickers, you want to make sure that they are designed as a car decal. It will say it in the description. You won't have good luck if you buy regular notebook stickers made of vinyl and try to stick them to your car.
Question: Are Harry Potter Stickers Expensive?
Answer: Generally, no. You can usually find all types of Harry Potter stickers for your phone, stickers you can download and print at home, or stickers that come in a 50 pack for well under $10.
Question: Are there Harry Potter Stickers for Specific Characters?
Answer: You might be able to find sticker packs that include images of the main characters from the films.  However, most of the best Harry Potter stickers have to do with elements of the stories, symbols, images, and fun facts.
Bottomline 
Consider going the extra mile with sticker paper and homemade stickers for specific events like parties. For all other concerns, consider the wall decals and the Conquest House Sets. You can use them for all sorts of things, like signs, notebooks you give away, laminated bookmarks, fake magazine covers, souvenir pins, and more. 
Continue reading:
The Best Harry Potter Snow Globes Guide
Best Harry Potter Loungefly Guide