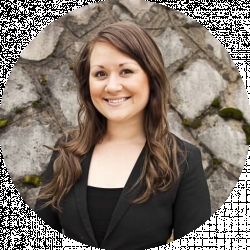 Latest posts by Lacey Jackson
(see all)
Hooks make organization so much easier. In small part because I have pets, but in large part because of my OCD, I love having the floor space clear. I don't like when things pile up or when we leave too many things strewn across the floor when they could just as easily be hung. And that is why finding the best Harry Potter-themed hooks are so important.
Bottomline Upfront
Harry Potter-themed hooks can be understated, so you can use them in your home without compromising the overall aesthetic or making it feel childish.
I love the Hogwarts Houses in Gold. Out of all the best Harry Potter-themed hooks, these are the best because they are subtle, with a vintage look, and you can hang many things from them using the hardware provided. Go for the handpainted, beautiful Hogwarts House Panel if you don't want subtle.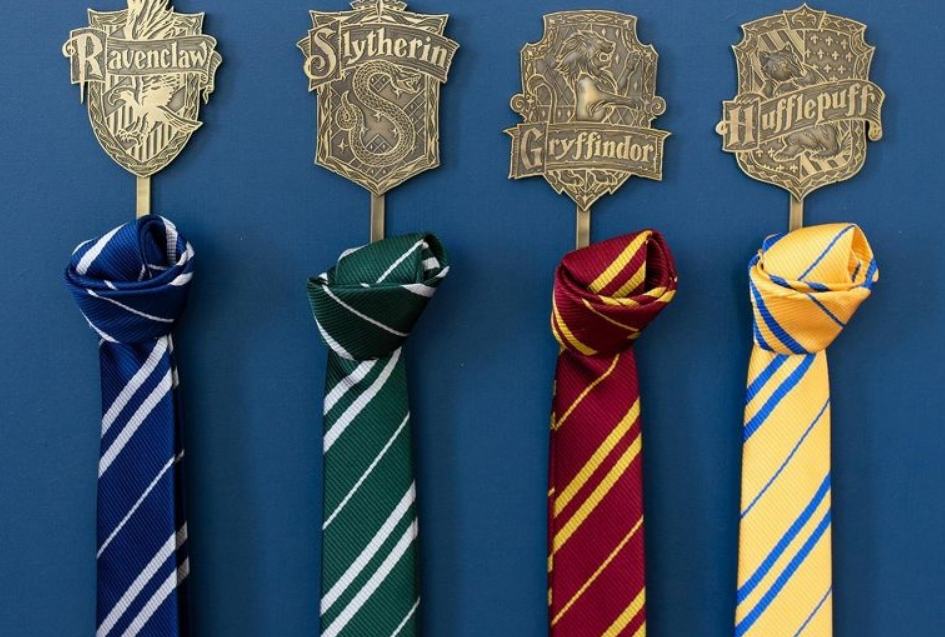 Selection Criteria: How to Choose Hooks
Each of the best Harry Potter themed hooks I have included adhere to the following selection criteria:
Thematic
It almost goes without saying, but I'm obviously going to say it anyway, the first selection criteria are that the hooks are thematic. Official Harry Potter hooks might be thematic, but they tend to be generic, only representing the Hogwarts houses which is why I also extended this definition to pieces like the Alohomora hook because it sticks to the theme of the series.
Hardware Included
Hardware included was a big component because the last thing you want is to purchase something fun for your home to realize you now have to make a second trip.
Anyone who has gone to fetch batteries the day after Christmas can sympathize.
Durable
Durability was the final component of my selection criteria. Using a Harry Potter hook, you need to trust that the material is durable enough to support whatever you feel like hanging from your hook. You certainly don't want to invest $20 or more in a hook that can only hold a hand towel because then you can't hang a full-size towel or your jackets, scarves, gloves, and hat.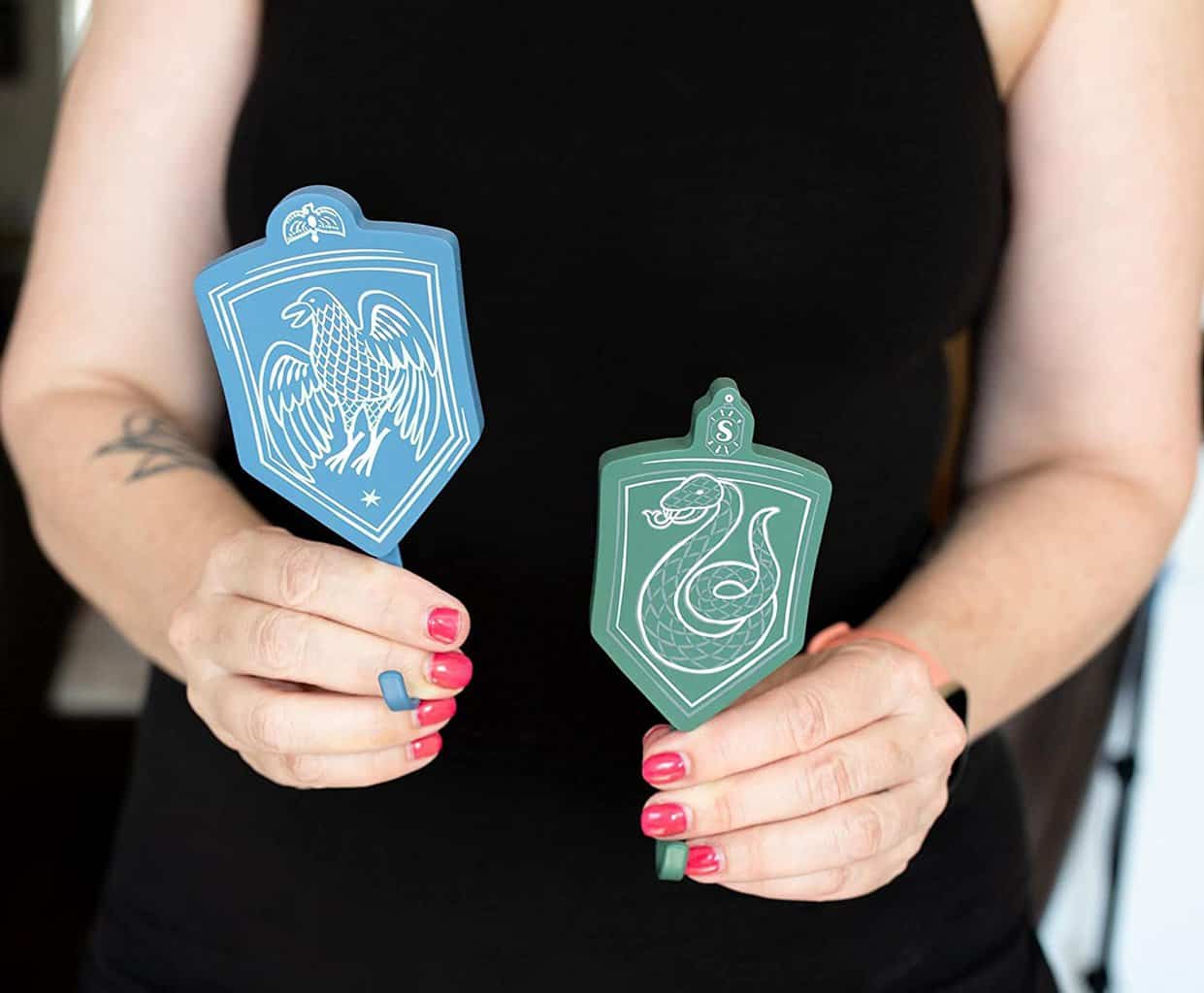 Tips
Invest in an electric drill if you don't already have one. This is a standard piece of equipment for all adults, and you can use it in just about any application. If you don't have one, it will make this process much easier because it will allow you to pre-drill a hole where you can put the drywall anchors and screws. 
Consider replacing the hardware that comes with it. Even though I picked only the best Harry Potter-themed hooks that come with hardware, there's no evaluation of that hardware's quality until the product arrives. 
I have purchased many items with all the hardware and technically come with a screwdriver. Still, all you get is that tiny little handheld thing, common with Ikea products and screws made from the cheapest material possible. If you don't know what the cheap material looks like, don't worry, it will break almost immediately and reveal itself to you.
If you want to maximize the weight your Harry Potter hooks can carry, replace the screws that come standard with something longer. You can head to your local hardware store or, in my case, to the workshop in the garage and find thicker screws that are longer and more durable. 
Obviously, if you plan on just hanging your keys, you don't necessarily need to do this. It's entirely up to you. I always err on the side of caution because it allows me the greatest flexibility down the line if I decide I want to no longer hang my keys but hang my winter coats.
Look for studs. If you've never done this before, it's a pretty simple process. Wait until you are angry, and then take out your anger by pounding on the wall where you want to put your Harry Potter hooks. The lumber is installed for the wall frame at specific lengths apart when buildings are constructed, usually about 16 inches. This means every 16 inches should be another piece of lumber built into the frame of the house. 
In between that space, you should encounter insulation of some kind. At different points in the wall, where one wall frame joins another or where you need extra support for a particularly large room, you might find four by four posts in your wall. In any case, take out that aggression by banging on the wall and trying to hang your hooks around the studs or those large wooden frame sections.
Best Harry Potter Themed Hooks
Hogwarts Houses in Gold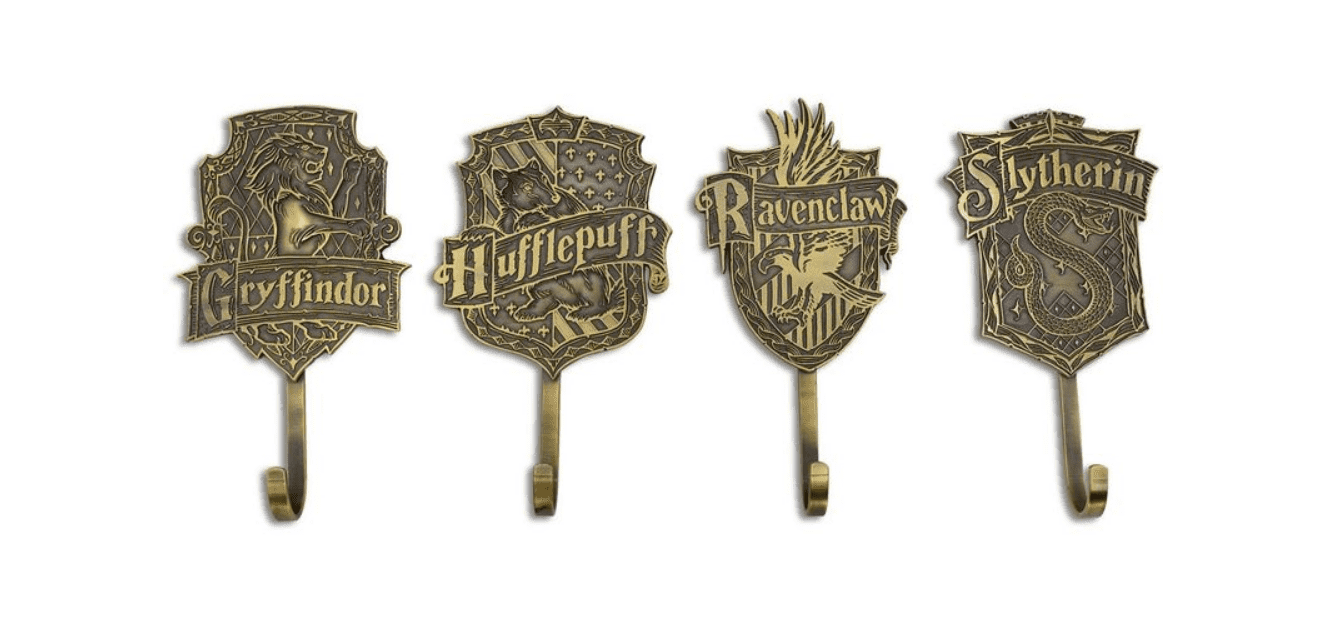 These Hogwarts Houses in gold are quite large, substantial enough to serve as tie hooks, a place for jackets, or to hang your keys. You get a set of four, one for each house. All four are gold. If you want to get organized and hang your wizarding robes or your jacket, you can do so in style. These are the officially licensed Harry Potter-themed hooks.
They are quite large, each measuring five inches long, three inches wide, and one inch deep. They are made from metal with a faux gold plating that makes them very elegant. Their size and material mean you can hang heavy objects from them like your jacket.
Pros
You get four house hooks–so here is hoping each member of your family is from a different house.

They are all gold plated, so they are classy and blend into the decor of just about any space.

You get four drywall anchors and screws (tip:

if you plan to hang jackets or heavy objects, do yourself a favor and install the drywall anchors first. Too many people skip this step because 'it's hard, but good things take hard work, and doing it correctly the first time will save you the embarrassment of the screws falling out, littering your floor with dust, and leaving behind a giant hole you now have to fill).
Cons
They only come with all four houses, not a set of just one house.
Hogwarts House Hooks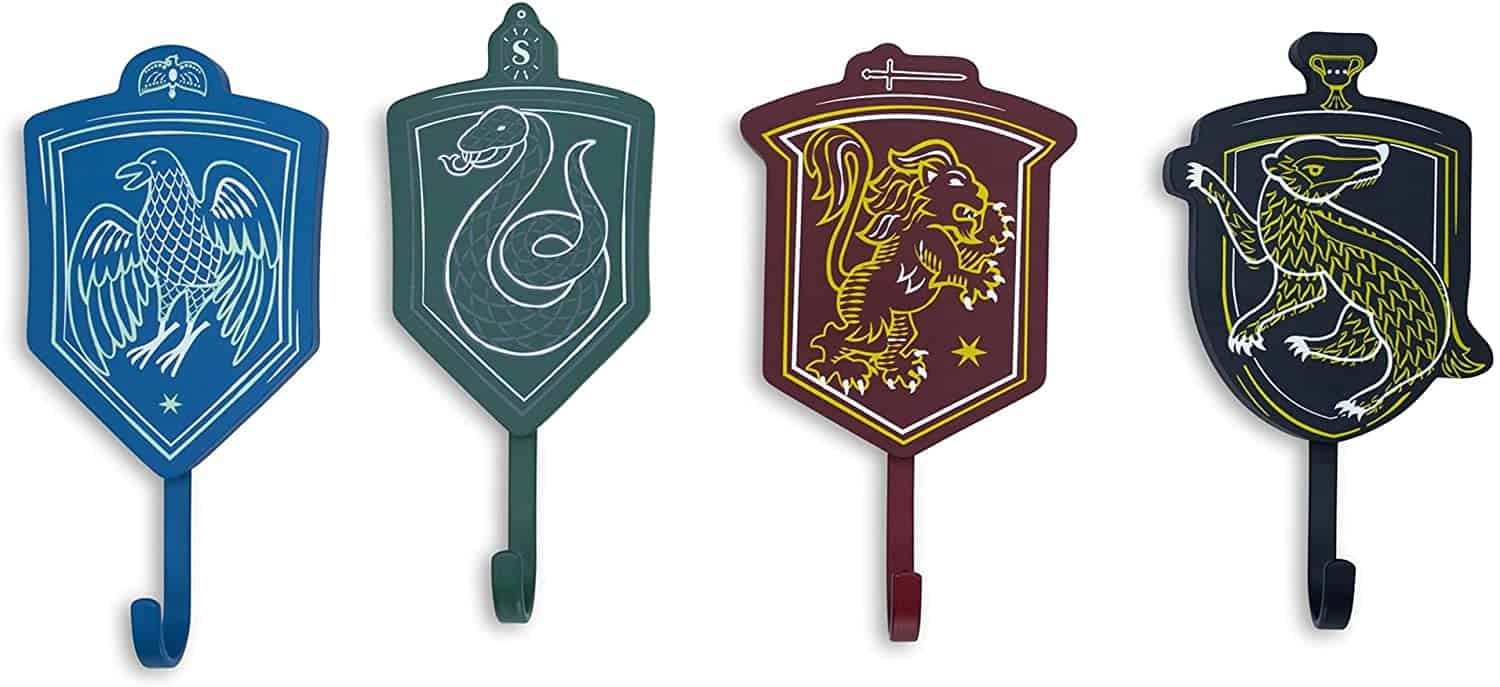 These Hogwarts House Hooks are technically official collectibles, but they have a very different appearance than the Hogwarts Houses in Gold set. You still get a set of four hooks, one for each of the houses. They are roughly the same size as the gold alternatives. Instead of being gold with a realistic design on the front, they come in a different color representing each of the different houses, with a cartoonish representation of the house animal.
Slytherin has a very cartoonish-looking snake silhouette exit onto the front, while Ravenclaw has the oversized bird silhouette and so forth. These are much better suited for a kid's bedroom or playroom. 
Pros
You can hang HP items like scarves, glasses, or ties.

They are a fun, colorful option for kids.

They are 5 inches by 3 inches by 1 inch, so they can also hold towels in a bathroom or keys and jackets in an entryway.

They come with the hardware you need to install them securely. 
Cons
The images are cartoonish silhouettes.
Flying Key Hooks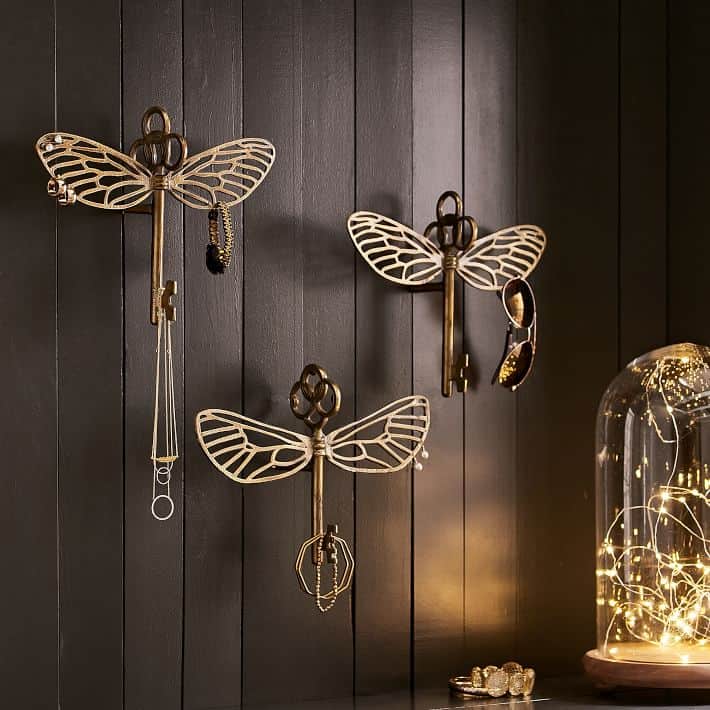 These PB Flying Key Hooks are made from aluminum with a gold finish. You get all of the hardware included. They are the perfect place to store your smaller jewelry in a classy but still Harry Potter-themed way. They come in three styles, and each are about nine inches tall and thirteen inches wide, so there is plenty of room for all the jewelry you have. They get wiped clean with a dry cloth with ease. 
I love their design, but they are only sturdy enough for jewelry, so consider investing in this and another of the best Harry Potter hooks if you want someplace for jackets. 
Pros
It is beautifully thematic, with a design just like the flying keys from the first book. 

You get a set of three with hardware.
There are spaces for rings, necklaces, watches, earrings, and bracelets.
Cons
They are designed to hold jewelry only, not jackets or towels.
Hogwarts Crest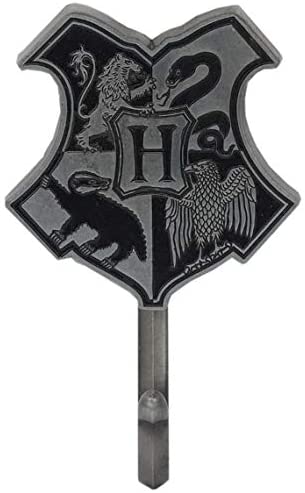 This Hogwarts Crest wall hook is probably the most durable on this list. So if you want something strong, give this a try. However, that durability comes at a cost. It is certainly the most expensive, and it has only one hook per purchase, not a set of four. It is the only one made from cast iron which means once you install it correctly, you can pretty much hang anything you want from it.
You can line your garage, office, man cave, entryway, or bedroom with these Harry Potter-themed hooks. They are not only striking and subtle with the black and gray but can hold tools in the garage, jackets, and keys in your entryway, mugs in a bar area, and more.
Pros
It has the Hogwarts crest, not individual houses. 

The theme is black and grey with a vintage look. 

It is made with durable cast iron so that you can hang pretty much anything from it, and it will be fine. 
Cons
Hogwarts House Panel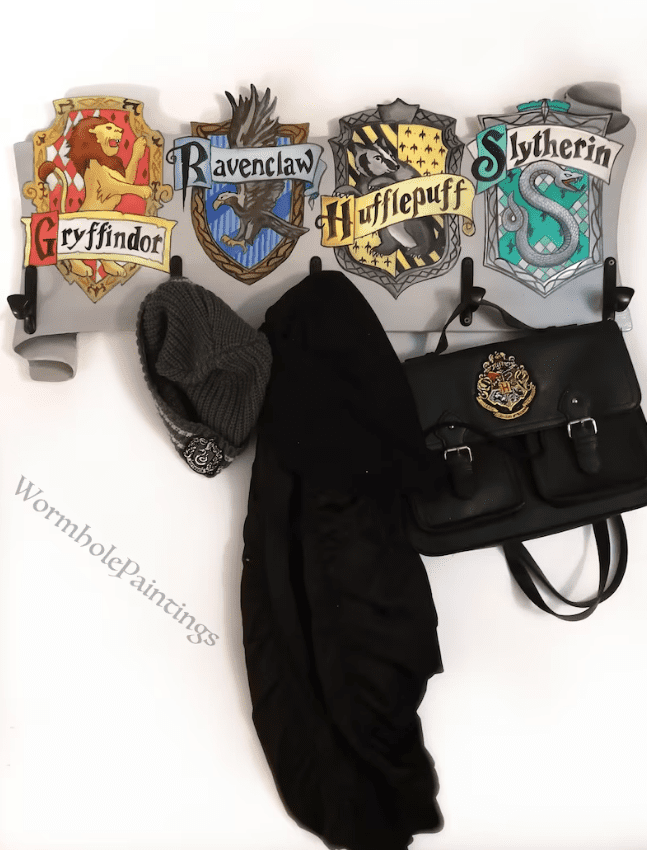 This Hogwarts House Panel contains five hooks spread across a single sheet of wood. This is obviously the coolest one because it's the largest and handmade. If you look at the product details in the link, you can see pictures of the artist hand painting all four of the house crests.
The detail on the acrylic paint is stunning. What's more, the design is made from plywood, and the acrylic paint is given a layer of a transparent furniture varnish. Speaking as someone who has used varnish on multiple projects, that will protect the original colors from sun exposure or scratches and make it significantly easier to clean if you need to dust off the panel.
This is one of the most beautiful out of all the hooks, but it's also the largest. This is meant to be the item you mount to the wall in your mudroom, coatroom, entryway, or bedroom. It's not going to blend in subtly, but rather, it will be your talking piece of a coat hanger.
Pros
It is handmade, including all of the paintings for the House crests.

It is the largest, not just a five-inch hook but an eighty-centimeter by thirty-five-centimeter design. 

The material is plywood and acrylics, covered with furniture varnish for protection.

It has different hooks you can order, which are durable enough to hold all the coats your family owns at once. 
Cons
It is expensive and large.
Love Wall Hooks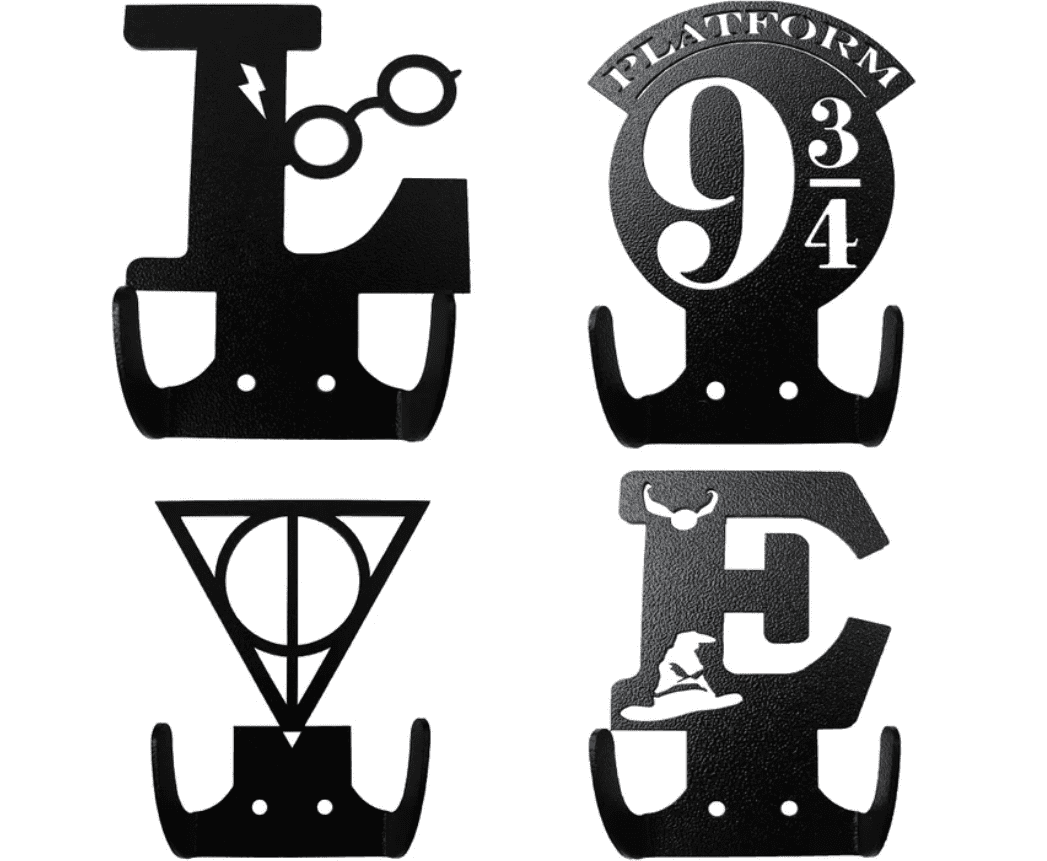 These Love Wall Hooks are a package of four: one for each letter of the word "love." However, each letter looks like the corresponding letter but with a fun Harry Potter theme. The "O" in "love," for example, is the platform 9 ¾ circle, while the "V" is an upside-down representation of the Deathly Hallows. You will find the lightning bolt and glasses, sorting hat, and snitch all contained in this magical set of hooks. 
Not only is it thematic, but it's easy to install. You only need one hook and two screws for the four individual components. The package comes with the wall hooks and screws you need. It's very casual but very durable. All four hooks are made from steel, and they are given a black powder coating that makes them resistant to corrosion, so you can hang them in any room and put wet coats on them or wet towels and not have to worry about rust or water damage. 
Pros
There are four plates, but each wall mount has space for two hooks. 

They are large and durable enough to hang towels, tools, or anything else. 

They have the mounting hardware you need. 

They are heavy-duty steel with a corrosion-resistant black powder coat, so don't worry about hanging wet towels. 
Cons
They are black and metallic, with no other color options. 
Alohomora Key Hook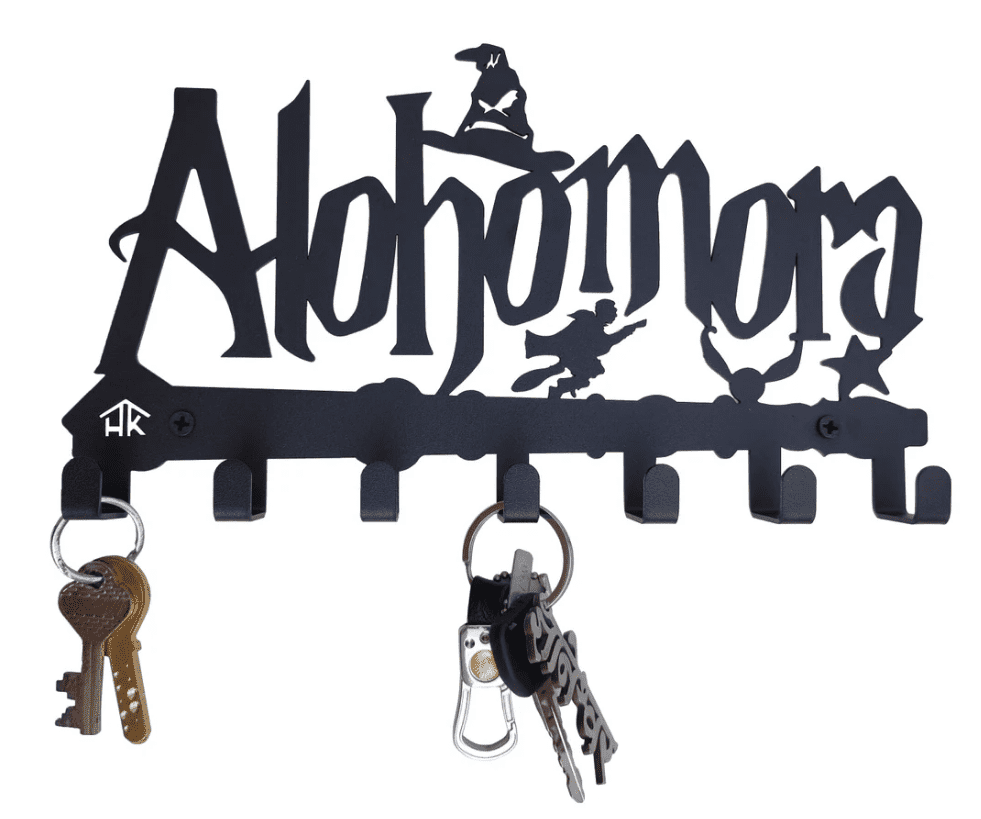 This Alohomora key hook is an HP hook for all your keys. It can hold seven sets of keys (or whatever you want to store) and is perfect for an entryway.
If you have a mother-in-law like I do, who had her home remodeled so that each and every cleaning item has its own cabinet with a hook ("Well, I have two swiffers, so they each needed a place to rest when I am not [obsessively] cleaning"), being able to mount this keyholder inside an entryway cabinet or in a bedroom gives you a place to hide away all of your magical unlocking devices too.
It is 15 centimeters high, 27 wide, and 2.5 deep. It comes with screws and anchors to hang it yourself (assuming you have a screwdriver which, if you are an adult, you are required to have–power, obviously). 
Pros
Holds up to 7 items.

It can be mounted to a wall or inside an entryway cabinet.

It has the Harry Potter font for the magical unlocking spell, "Alohomora."
Cons
It is meant for keys, so it is not durable enough to hold seven jackets instead.
Hallows Hooks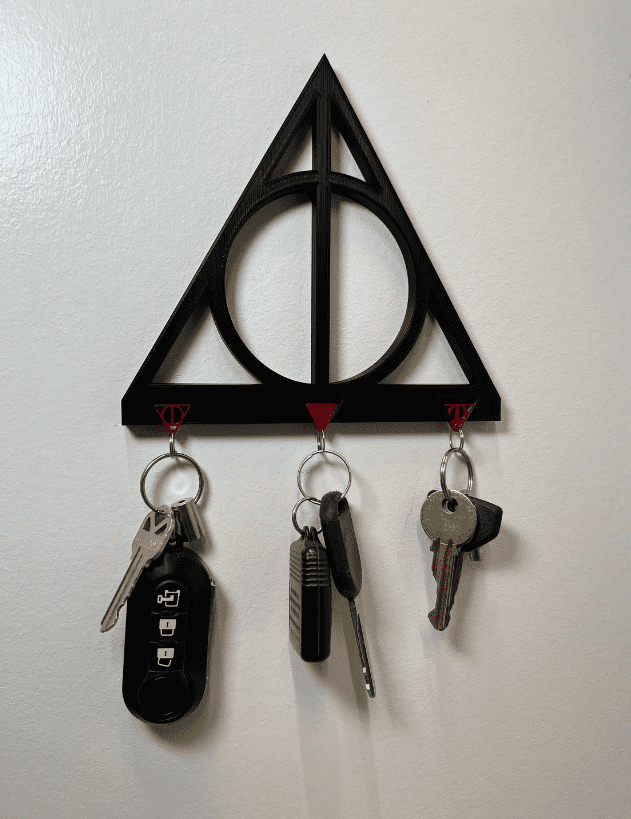 This is another key hook. The Hallows Hook is crafted with the Deathly Hallows and space for three sets of keys. This is not a Harry Potter hook for your towels or coats but an understated place to keep your keys, watch, or scarf. Because this is a handmade item, you get a lot of flexibility.
You can customize the design by swapping out the different ring charms where your rings would actually hang. You can also order different colors for the ring charms and the amount. The charms are made of stainless steel, with the mount itself made of plastic. It's a little less than six inches high and wide. 
Pros
It comes with the key mount, mounting hardware, and stainless steel rings. 

You get three solid ring charms to serve as hooks or three Deathly Hallows-themed charms. You get to choose. 

You can order the mount and charms in any color.
Cons
It only holds three items.

The Deathly Hallows part is made of plastic
FAQ
Question: Do I Need any Tools to Install the Best Harry Potter-themed Hooks?
Answer: Usually, it would help if you had a drill and a screwdriver. If you have an electric drill which all adults should do at a bare minimum, the process will be much faster. Most of these best Harry Potter-themed hooks come with the hardware you need as part of their selection process, so you don't necessarily need to buy other hardware.
However, you might be like my father, who throws out the hardware that comes standard and replaces it with something more durable. In that case, get ready for a quick trip out to the garage or a trip to Home Depot if you don't have a garage-converted-to-workshop.
Also, check for studs. You don't want to make the job harder than it needs to be.
Question: How Much can the Hooks Hold?
Answer: This is based entirely on the type of hook you choose. Most hooks will specify what they are designed for. Individual hooks that are larger and made of metal like the Hogwarts House sets can hold heavier jackets and towels, whereas the Alohomora key hook is meant only for keys.
The type of hardware you use for the installation process will also determine how much they can hold. If you use the standard hardware and the screws are only 1 inch long, physics will dictate how much weight and leverage can be placed on that one-inch screw when driven into your wall. If you are like my family and replace all standard hardware with three-inch screws, it can hold much more weight.
Question: If I Rent, can I Still Use These?
Answer: Generally yes, but most rental contracts require that you fill any of the holes you make, so when you move out, be ready with the putty and a spackling knife. 
Bottomline
My favorite is the Hogwarts Houses in Gold because it is classy and understated. Something an adult can put in their house without turning the entire room into a Harry Potter-themed room. Of course, if you are looking for a Harry Potter-themed room, invest in the stunning and handpainted Hogwarts House Panel. 
Finding the best Harry Potter-themed hooks can make organization much easier. It's a subtle and understated way to show your love for Harry Potter, and it's easily something adults can incorporate into their house in a way that's not a toy. 
Continue reading: 
Iconic Harry Potter Posters Guide