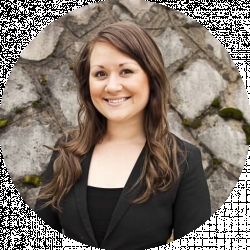 Latest posts by Lacey Jackson
(see all)
I didn't start wearing sweaters until my twenties, my late twenties. When I was at University, I believed that sweaters were the mark of lazy people who were comfortable with being ill-productive. My aunt, who owns the largest collection of sweaters I have seen to date, would always laugh at me and say, "that's exactly WHY you wear a sweater: to relax." 
Since I didn't plan on being comfortable or relaxed at any point in my busy schedule, I didn't see the purpose.
Time and maturity have brought with it a better appreciation for the art of relaxation and, with it, a love of the best Harry Potter sweaters. I don't buy sweaters unless they serve a purpose and, in the words of Marie Kondo, bring me joy. 
Bottomline Upfront
My favorite among these best Harry Potter sweaters is the Popfunk Harry Potter House Sweater. I have this one (bought years and years ago). I love it because of how soft it is on the inside and how beautiful the print is on the front. 
Exercise caution because it is a heat transfer print. It has a raised print directly on top of the material. If you wash it or dry it regularly, it will break down that material with time. Unfortunately, this is true of just about every printed sweater you find.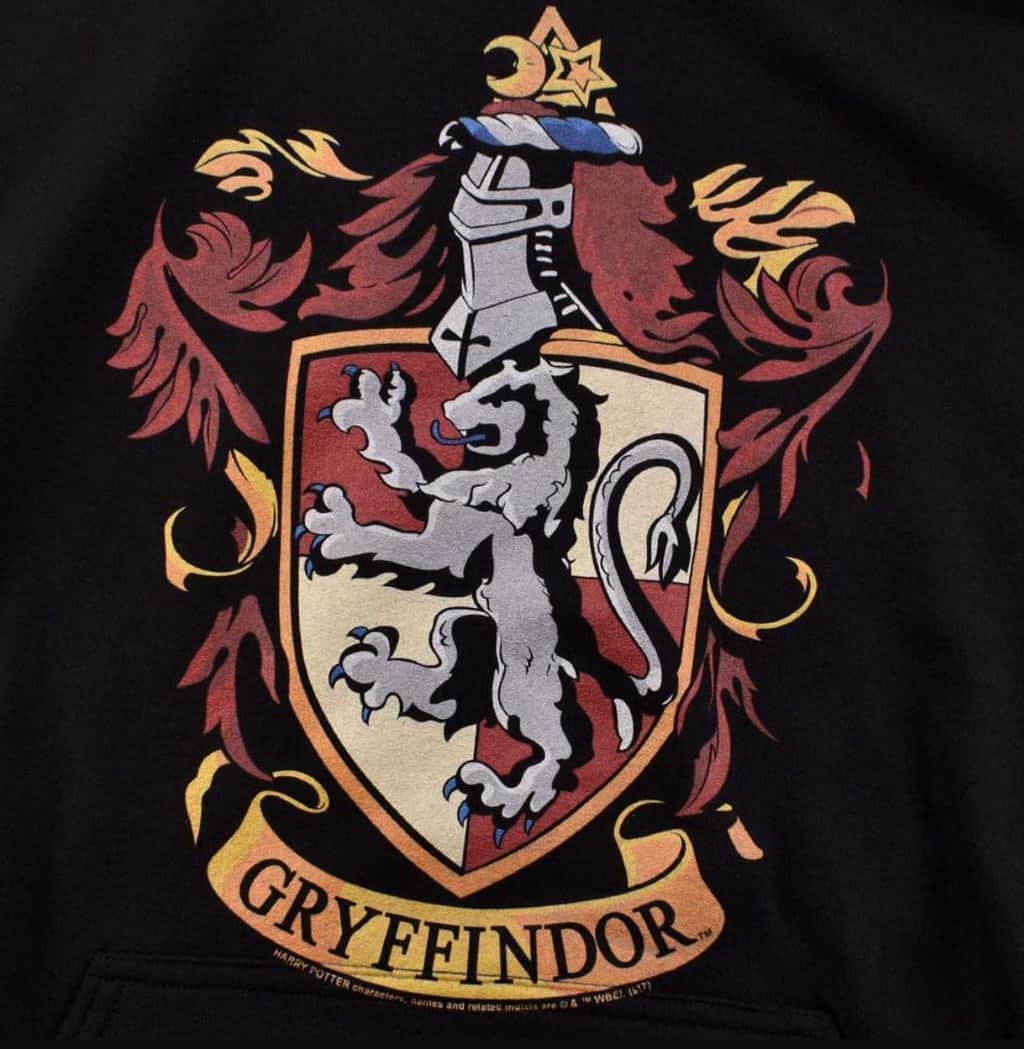 Other top picks:
The House Open Front Cardigan because it is a stylish sweater you can throw over a shirt. Don't rely on it for warmth, but for completing an ensemble. 

The Harry Potter Gryffindor Men's House Varsity Zip Up Hoodie because it is the only one with a zipper. Sometimes you want a zippered shirt you can safely remove when the weather turns (without the classic entanglement of shirt and exposed stomach). 

The Wizardly Motors sweater because it is so unique, not just a quote lifted from the book or an image. But a story that encompasses more than one moment from the book fans will love. 
Selection Criteria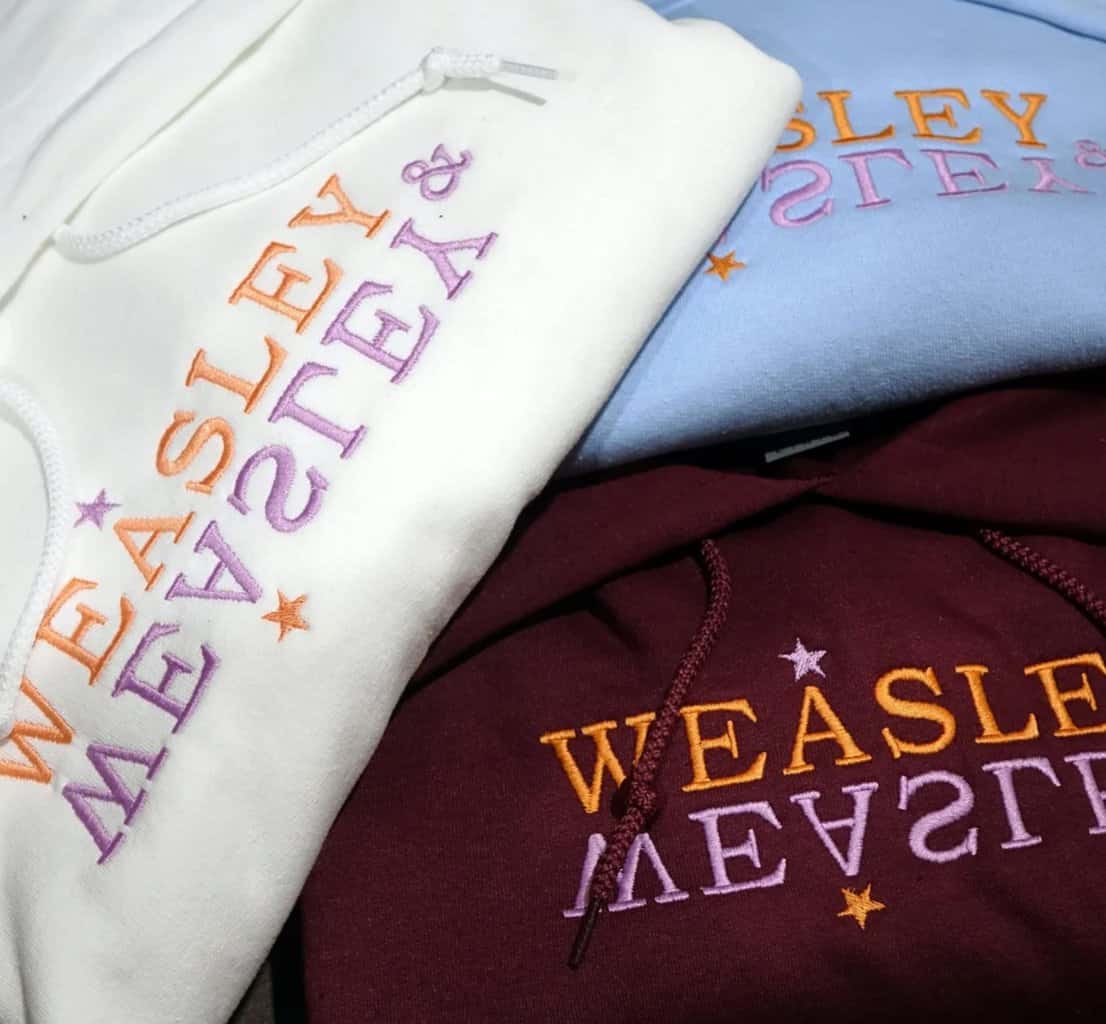 So how do you choose the best Harry Potter sweaters? I applied the same criteria for my sweaters for everything included in this list of the best Harry Potter sweaters.
Material
First is the material. Nobody wants to get cozy and snuggle in an itchy sweater. So, the material is essential. While most sweaters are some form of cotton blend, I also took the time to look into the reviews by customers to make sure that the material was something you would want to wear. 
I detest wasting money, and I detest purchasing something that I really loved in terms of the design or the print but turned out to have really poor quality material. The goal here is to save you that same struggle.
Design
Design refers to all the other elements of the sweater. Because the term 'sweater' has so many variations depending on where you live, I wanted to cover all of them.
I like designs with hoods with drawstrings and pockets in the front, specifically for when I am lounging around the house or otherwise quite comfortable and at ease. 

If the weather is finicky and indecisive, I like having a sweater with a zipper or a pullover jumper to easily shed my layers as the weather warms up and puts them back on.

If I want something to wear in a social setting, a button-down jumper or pullover sweater is best because it can go over a base layer and still be slightly classier than the standard sweatshirt. 
Print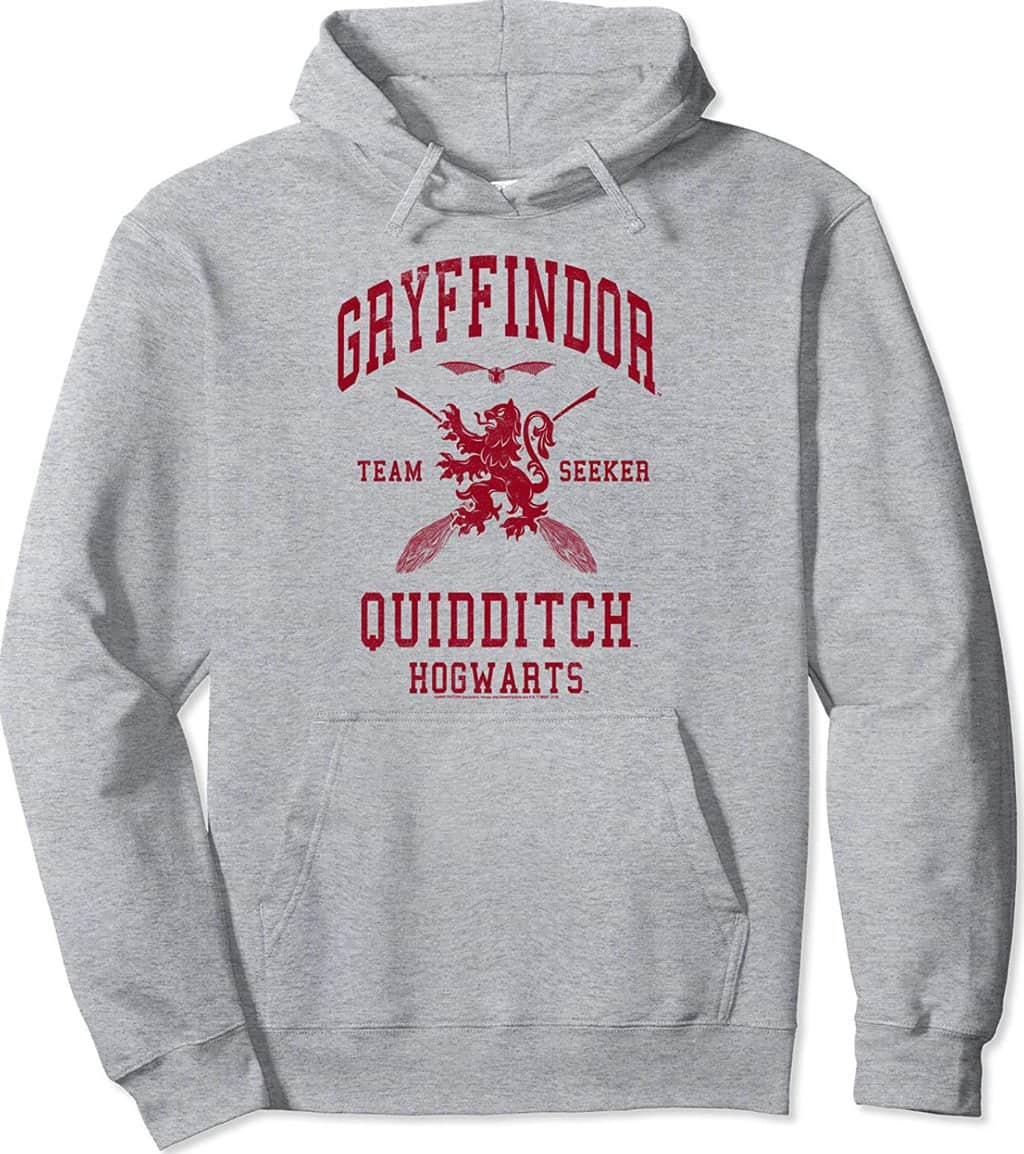 And of course, the print or image on the front is essential. You shouldn't buy any of the best Harry Potter sweaters if you don't like the theme or the print it has. I picked a wide range of prints, so everyone should have something.
Some have embroidery, which is literally just sewing a design onto the front. This can be done by a machine or by hand, although usually by a machine. Embroidery can tear if it gets snagged, just like a knitted sweater can tear.
Then there are the sweaters that use some form of direct printing on the garment. Let me take a moment to explain the different shirt printing methods and how to care for these sweaters based on the print used. 
Note: Almost no manufacturers tell you which production method was used to print the sweater. But understanding the process behind different types of printing helps you identify what the finished result should be and, therefore, what type of printing was used for the best Harry Potter sweaters you select.
Screen Printing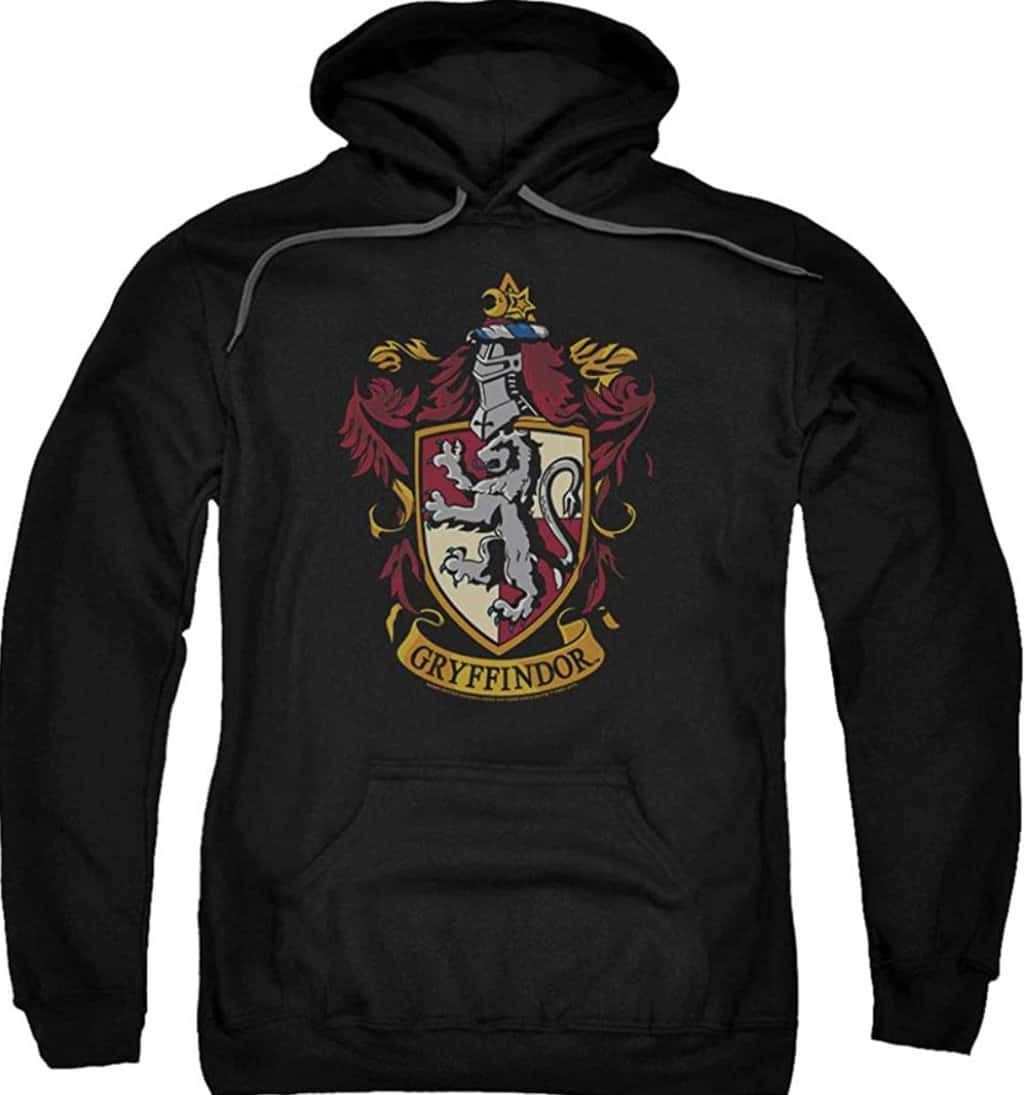 Screen printing is the most popular method, and it's actually quite cool. It uses an actual screen or pane of glass onto which stickers are placed with whatever print you want. Once those are heat set onto the screen, the screen is placed on top of the sweater with screen printing ink spread over the print. 
Almost as if by magic, simply squeegeeing an even coating of the screen printing ink over the screen or pane of glass resting on top of the shirt leaves a perfect screen print that is then heat set.
This is usually what you find for high-volume production with one color. Low-quality inks fade rather quickly, so depending on what ink was used during the manufacturing process, the text or image across the front of your sweater can fade away within a few washes. 
Plastisol Transfer Printing
There is an alternative to this which is called Plastisol Transfer Printing. You print a logo (like a Harry Potter House emblem) on special transfer paper with this type of printing. After that, a heat press is used to affix the image onto the sweater permanently.
This is usually what a manufacturer relies on if they are printing smaller images like the Hogwarts crest or a Hogwarts house crest because several designs can be printed on a single sheet of transfer paper, cut individually, and transferred to different sweaters saving a lot of money.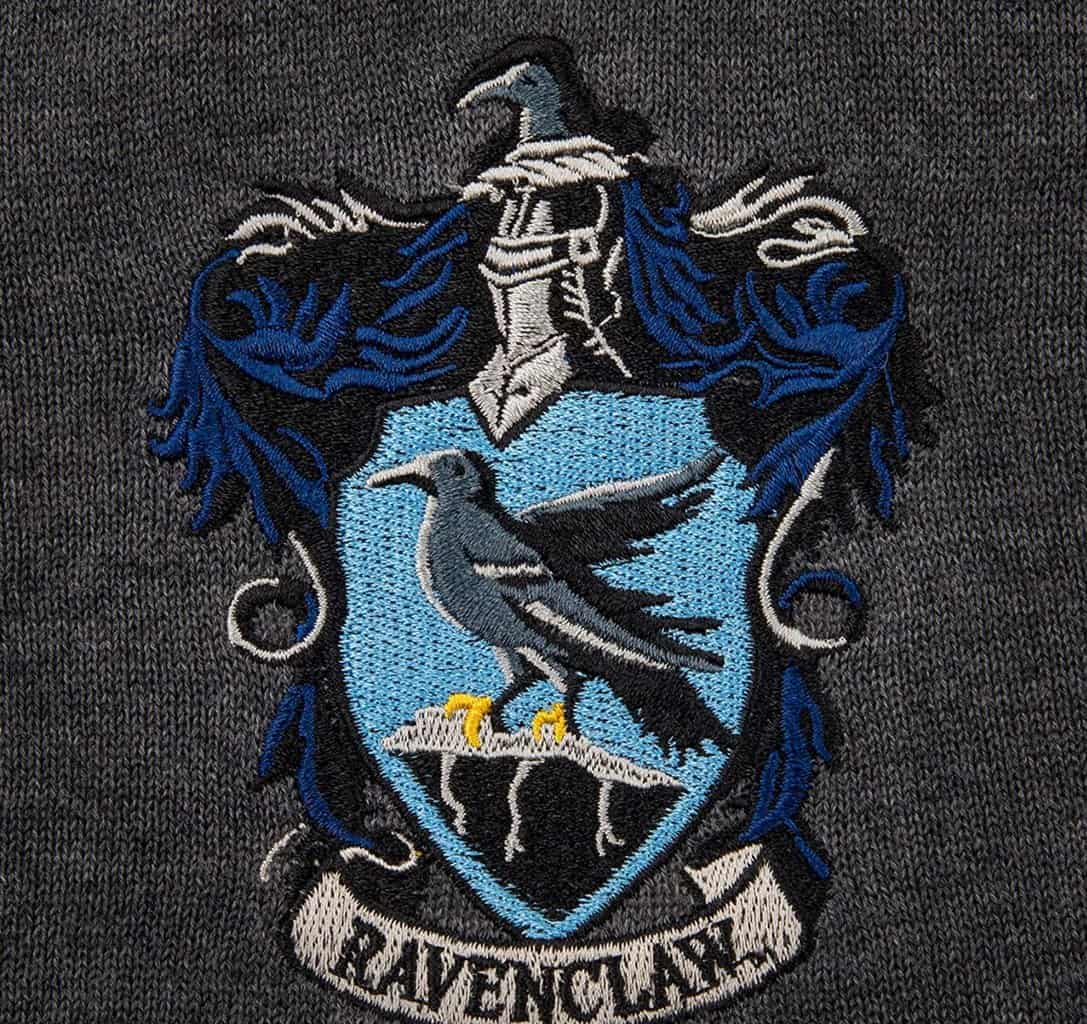 Direct to Garment (DTG) Printing
This uses an actual printer, but you can't get away with the printer you have in your home office. First, you design the print or image you want on the best Harry Potter sweaters and export that file to the software directly linked to the printer. 
The way the file is designed helps the printer know when to print things like white first and then color on top so that you get as crystal clear an image as possible without smearing the colors. 
The special shirt printer has a pull-out drawer where you put the sweater for pre-treatment. Using a heat press, the sweater gets dried. That same heat press is used to cure the final product. Then it is placed back into the epic clothing printer. The printer prints the image on top exactly like your printer prints a recipe. 
This can only be used on cotton because it produces the most vivid results. You don't feel the print on the fabric when you touch it because the printer injects ink directly into the fabric. The best Harry Potter sweaters that use this type of printing during production will maintain the integrity of the image for much longer than other printing methods.
Heat Transfer Printing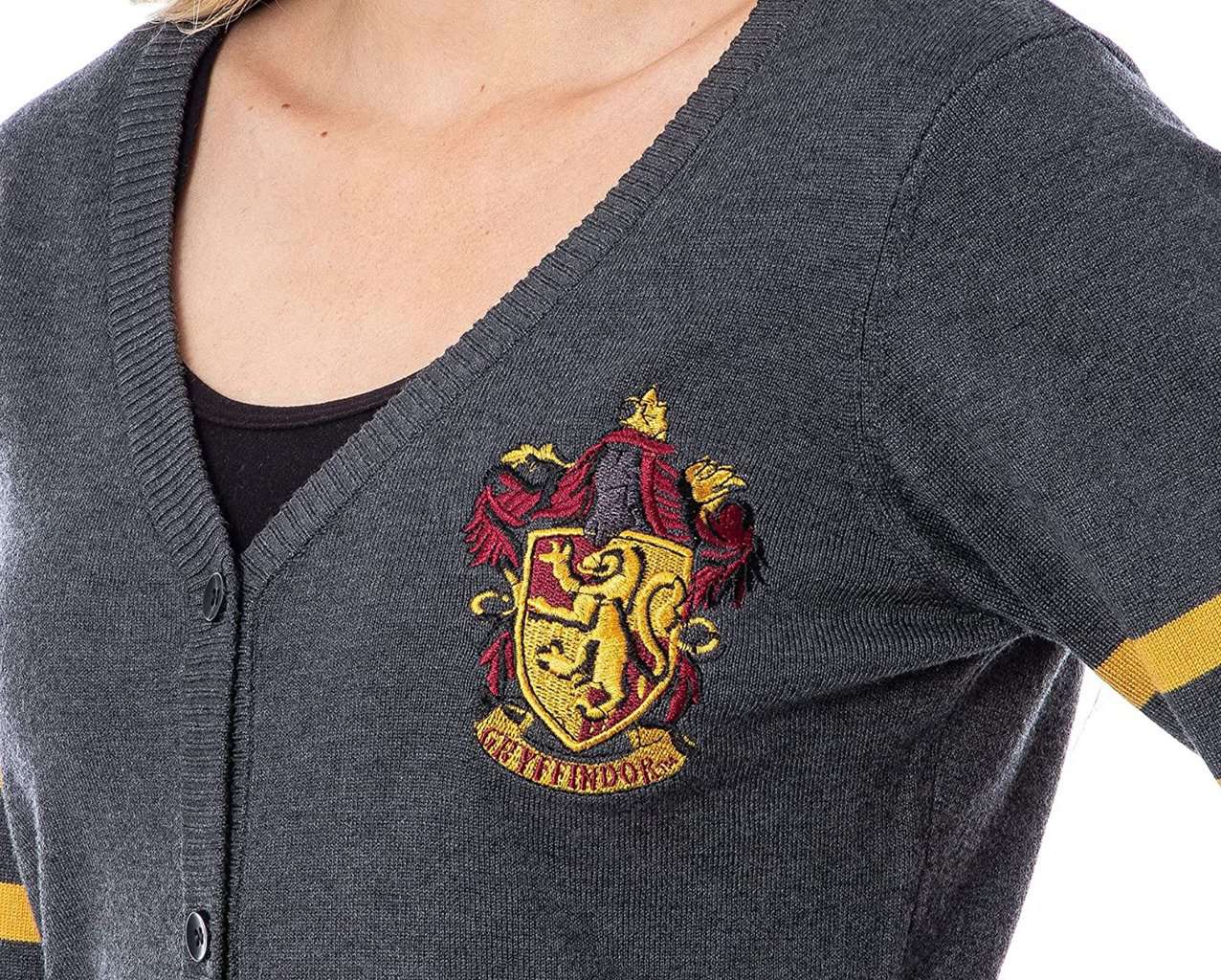 Heat transfer printing involves transferring layers of material and images on top of the sweater with heat. The same type of heat press is used for the direct to garment printing, but in this case, it's used to permanently apply the graphics on top of the sweater. This can be used on just about any material, so it's so popular for sweaters.
This will give you some of the most beautiful print on top of your sweaters, but that print is transferred directly on top and has a different physical feel. If you run your hand over it, you'll notice that it is slightly raised. This type of print might look outstanding but can break or crack with long-term washing and drying. 
I recommend a gentle wash cycle with the sweater inside out and hanging it to dry if you want to maintain the print long-term.
Best Harry Potter Sweaters
Now that we have that out of the way, let's dive into the best Harry Potter sweaters. 
Embroidered Crew Neck Weasley and Weasley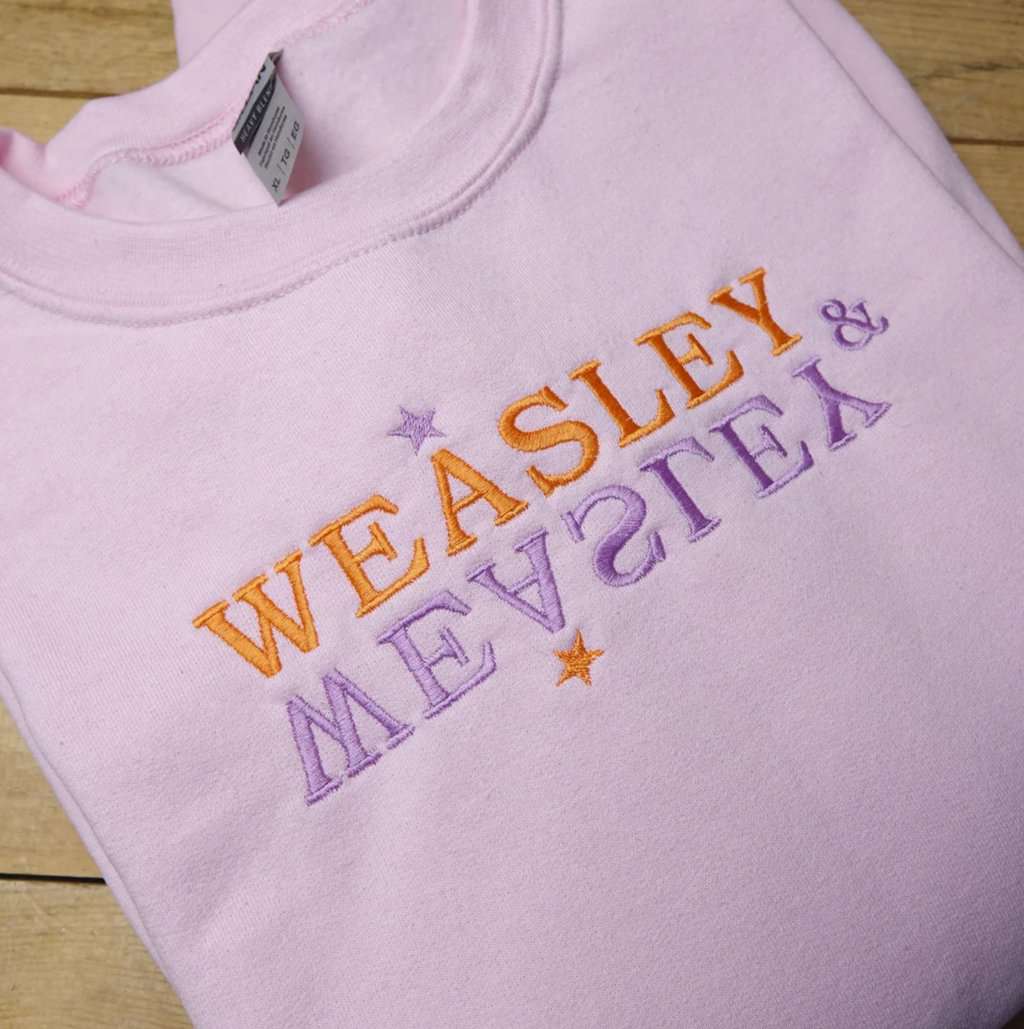 This embroidered crew neck Weasley and Weasley sweater is custom made. I love custom orders because you have so much more flexibility. You get to shoes the color of the thick, plush sweater with the Weasley & Weasley print on the front. For fans of Fred and George's (later, George and Ron's) entrepreneurial pursuits, this is the perfect way to show support. 
The creator goes so far as to instruct you not to iron or bleach the embroidery, to avoid drying the sweater in any dryer, and to wash in cold water inside out. Phew. 
It reminds me of the handmade mittens Phyllis gave Michael Scott on The Office, "You can't get them wet, and they can't be dry cleaned either. You have to hand wash without water, rain dry gently, and use a hairdryer on cool."
Pros:
You can choose a crew cut or a hoodie. 

This sweater is embroidered and not printed so that you won't have any problems washing and wearing off the print. 
Cons:
It is a 50/50 cotton and polyester blend, so be prepared for some minor shrinking. 
Wizardly Motors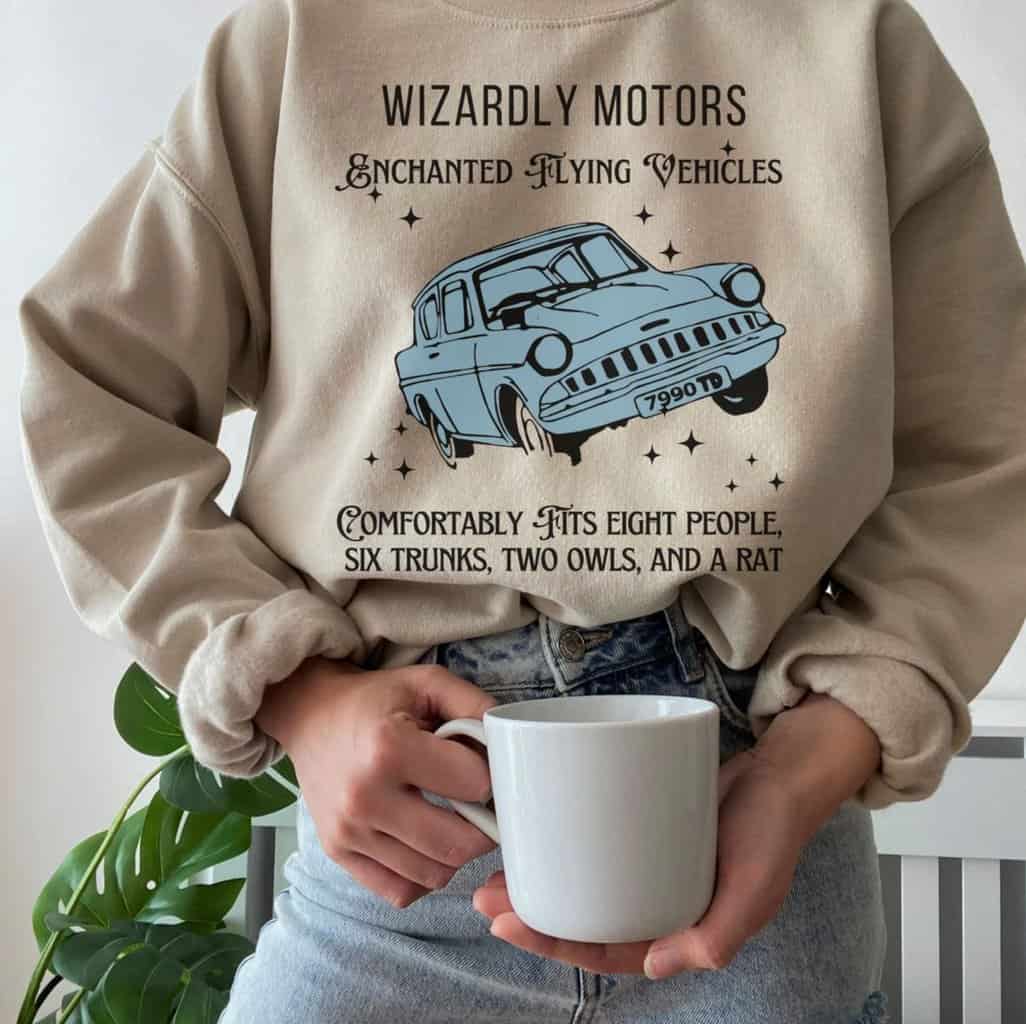 This Wizardly Motors sweater is fun, unique, and just a treat for everyone. While most of the best Harry Potter sweaters follow the same vein of house crests or Hogwarts, this takes a fun play on the Weasley flying car. It says, "Wizardly Motors, Enchanted Flying Vehicles, Comfortably Fits Eight People, Six Trunks, Two Owls, and a Rat." 
This shirt is an ode to the Ford Anglia that Mr. Weasley bewitched not only to fly but to extend and fit the entire family. When the group herded into the car to get to Platform 9 ¾, Mrs. Weasley was impressed with how well-designed muggle cars seemed to fit all of them and their luggage. Fans of the books alone will appreciate this. 
Perhaps the best thing about it is you can wash and dry it normally. It is preshrunk, so you won't be surprised after the first time you wash it, and you don't have to follow any complicated instructions about rain drying your sweater gently. 
Pros:
Great print on the front with a universal fit. 

You can pick from six sweater colors. 

This comes in the biggest range of adult sizes. 

It is preshrunk, so the size you get is the final size.

You can wash and dry normally. 
Cons:
Luna Lovegood Sweater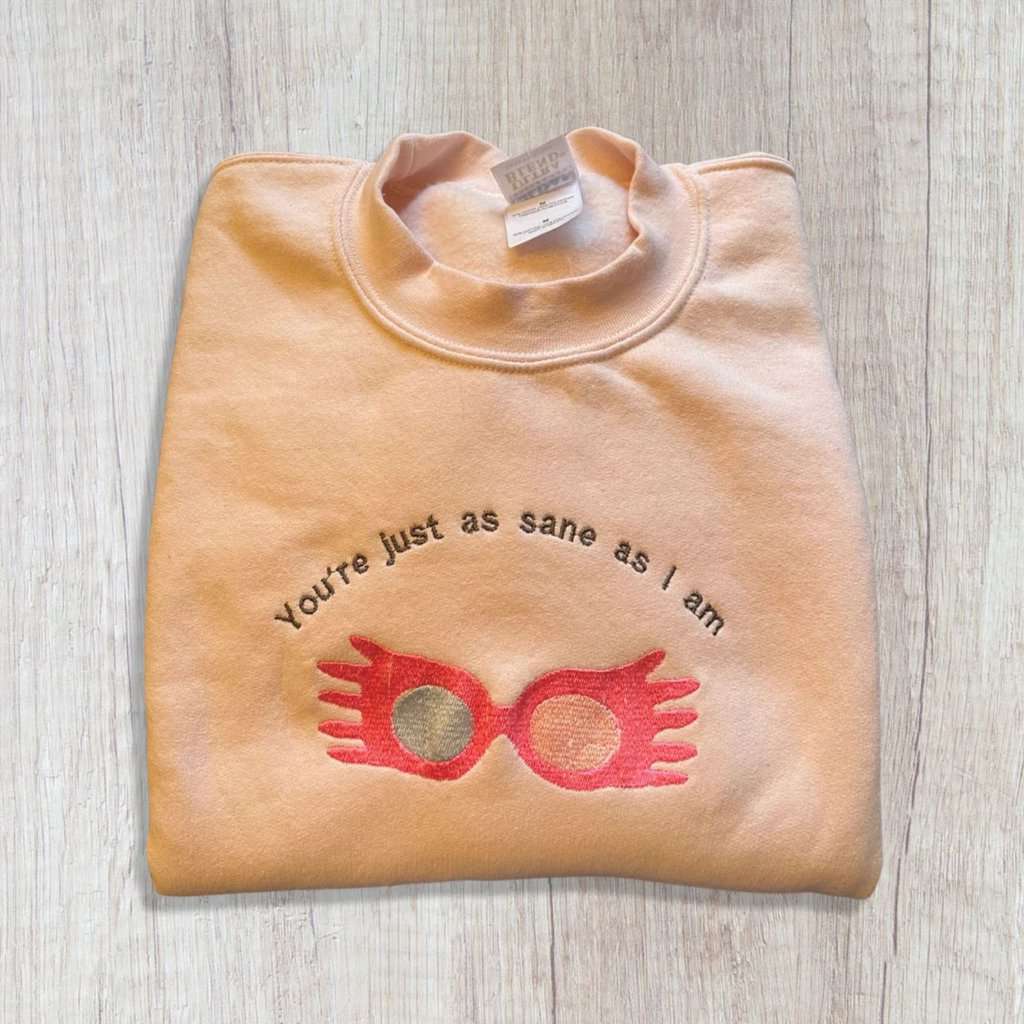 This Luna Lovegood sweater earns a place in the best Harry Potter sweaters list because I have a soft spot for Luna. It has her spectrespecs and the line "you're just as sane as I am ."It only comes in pink for the sweater, and since it is made to order, you should expect a few extra weeks for shipping. Again, it is embroidered as soon as you order it, not just sitting on a warehouse shelf somewhere, pre-printed. 
The creator says you can send a message asking to change the colors for the embroidered part, and if they have those colors available, they can fulfill your request. You can wash it and dry it normally. The cotton is preshrunk, so no surprises there. 
Pros:
It, too, is an embroidered sweater, so you don't want the print-style issues. 

It is preshrunk, so the size you get is the final size.
Cons:
It seems like it's for girls, without color options for boys.
Tip: If you don't like pink for girls, there is a grey sweater of the same thing, but it has pink spectrespecs. 
Harry Potter Gryffindor Men's House Varsity Zip Up Hoodie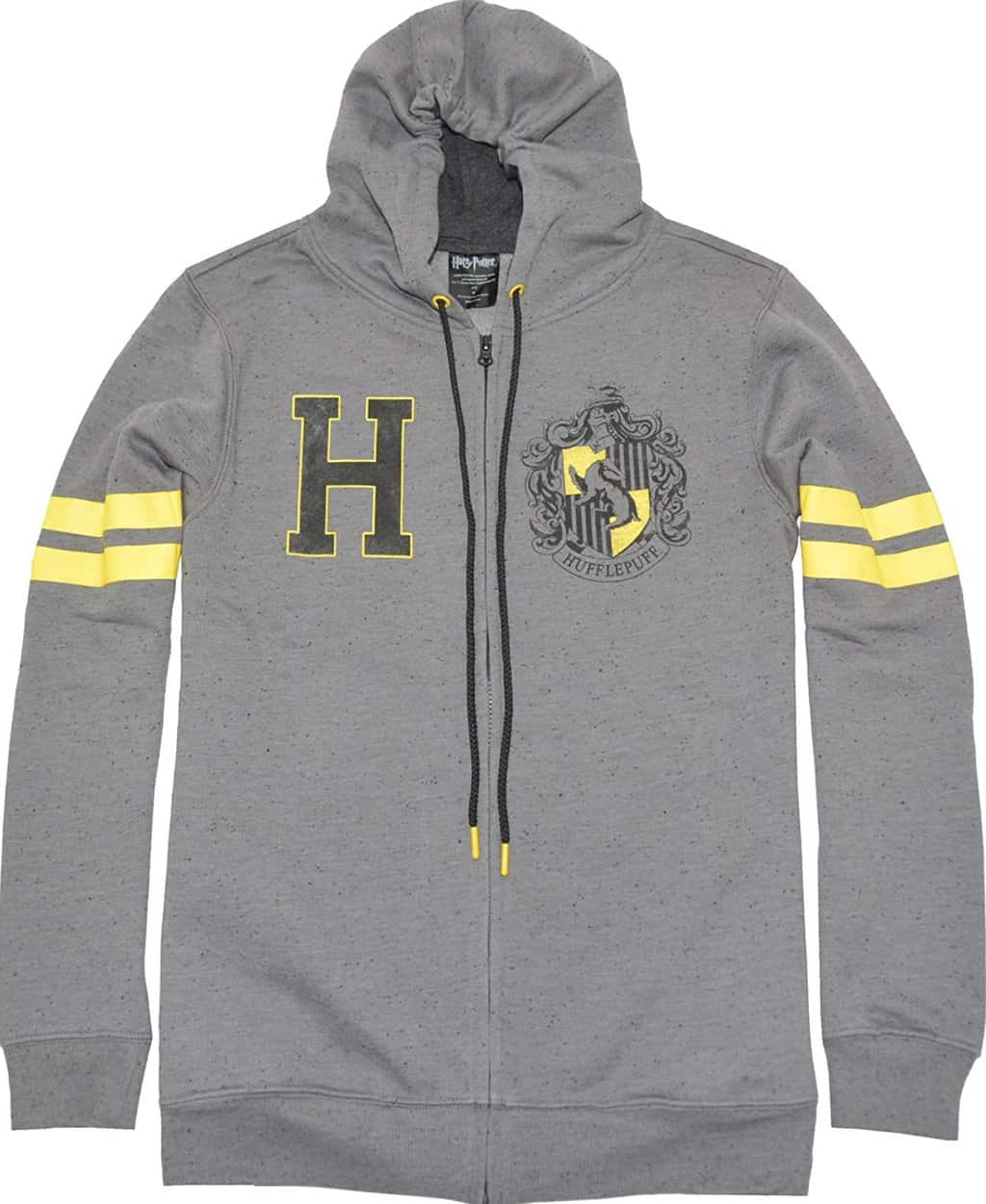 The Harry Potter Gryffindor Men's House Varsity Zip Up Hoodie is one of the few zippered Harry Potter sweaters. I love that there are different colors/variations for each house and for Hogwarts. This is another that you shouldn't count on to warm you up (unless you live in California) because it is lightweight but still comfortable. You won't get much shrinkage with it. 
Customers have only noted that it is a bit long for anyone who is shorter than six feet tall, but that may or may not be what you want. Other customers have noted that out of all the sweaters they have, this one is worn the most, especially by children. It quickly became the favorite of one child, as noted in an Amazon customer review:
"Winter, spring, summer, and fall feel like every day he wore you. It was never too heavy for heat, never too thin for the cold. Went on an airplane from WA state to and through Florida theme park and back again. Saw my son to high school as a freshman and first high school dance. And clubs, and band, and trips. A favorite jacket is the best security for anxious teens. Worked great undercoats, over clothes, as 'cover' on the way to and from a pool. In the rain, wet, you kept warm but not too warm…."
Pros:
It fits well and is very soft on the inside. 

It has a nice zippered front with a hoodie. 
Cons:
There are no pockets. Why do people seem to hate pockets these days?
Popfunk Harry Potter Houses Sweater
The Harry Potter Houses sweaters come in multiple colors and variations. 
I have a Heat Transfer Printing variation of this one.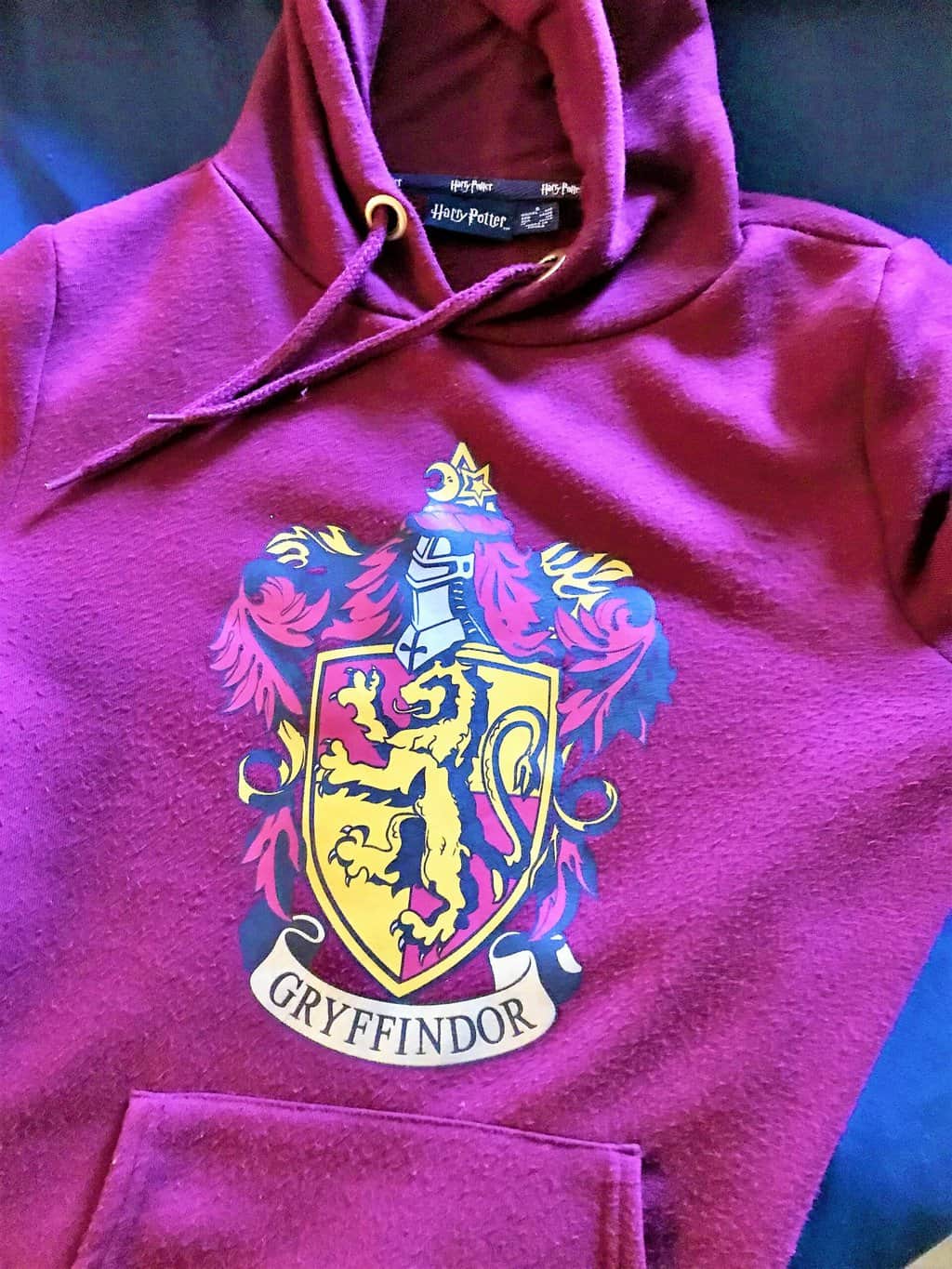 Honestly, I can't tell if heat transfer printing was used for this rendition. As I mentioned, manufacturers don't tend to disclose which type was used. It simply says that the design was printed in a high-tech printing facility in Detroit. Since it is a combination of 50% cotton and 50% polyester, it could be any of the printing methods I listed above.
It does say that the design was created by an in-house graphic art team who illustrated each design. This implies that it was a direct-to-garment print. The in-house team simply drew the image or artwork before it was printed and transferred to the material.
You can pick the generic Hogwarts house or pick one of the four houses for the front print design. Customers like the fit and how soft it is on the inside. I agree. The soft material for the inside of the sweater is what solidified my decision to purchase it originally. Admittedly I got to buy mine in London at a store where I could feel the inside of the sweater.
The only downside people have is that the image on the front sometimes starts splitting or breaking apart. Something I mentioned happens with most heat transfer printing variations when the sweater is washed and dried, so be careful.
Pros:
It is unisex, so it is suitable for adults and children.

The sweater is machine washable.

It has pockets and a hood. 

There are seven colors for the sweater. 

It comes with two free Harry Potter stickers. 
Cons:
You have to be careful with washing/drying to preserve it long-term. 
Harry Potter Ron Christmas Jumper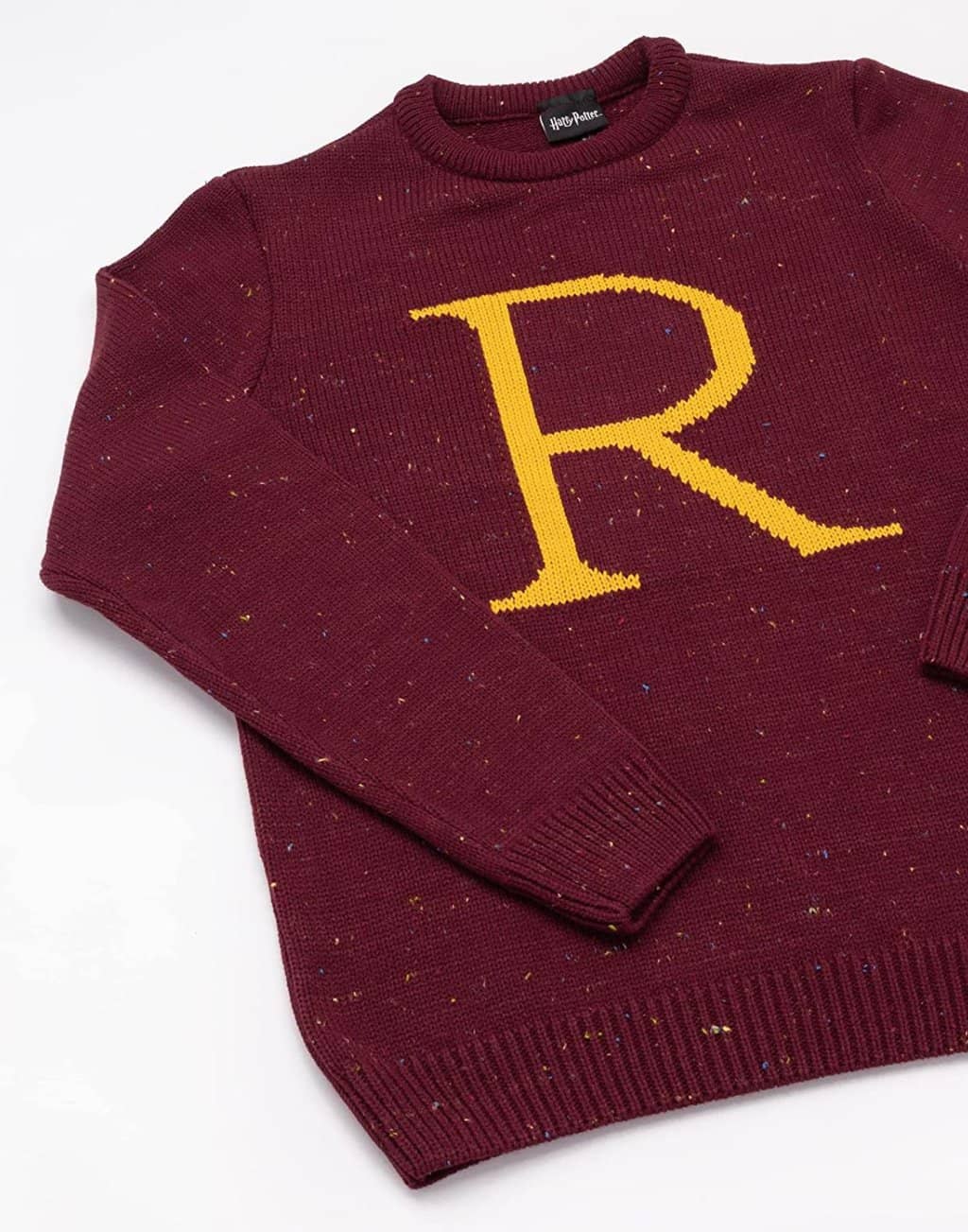 Want the perfect gift for Christmas? Consider the Harry Potter Ron Christmas Jumper. This is a knitted sweater, so it is certainly much warmer than the cotton blends. It comes in multiple sizes and is unisex in its design. As a knitted sweater, it has the ruching along the bottom and the ends of the sleeves, with a thick neck. There is no hood, and there are no pockets, but anyone who loves the unwrapping of the Weasley sweaters will get a kick out of this theme. 
Pros:
This is a knitted sweater, so you won't run into the common printed sweater issues the other options have. 

It is the perfect Christmas sweater for true fans.

It is a unisex sweater.
Cons:
You can only find Ron's sweater with the large letter "R" on the front.
Harry Potter Gryffindor Team Hoodie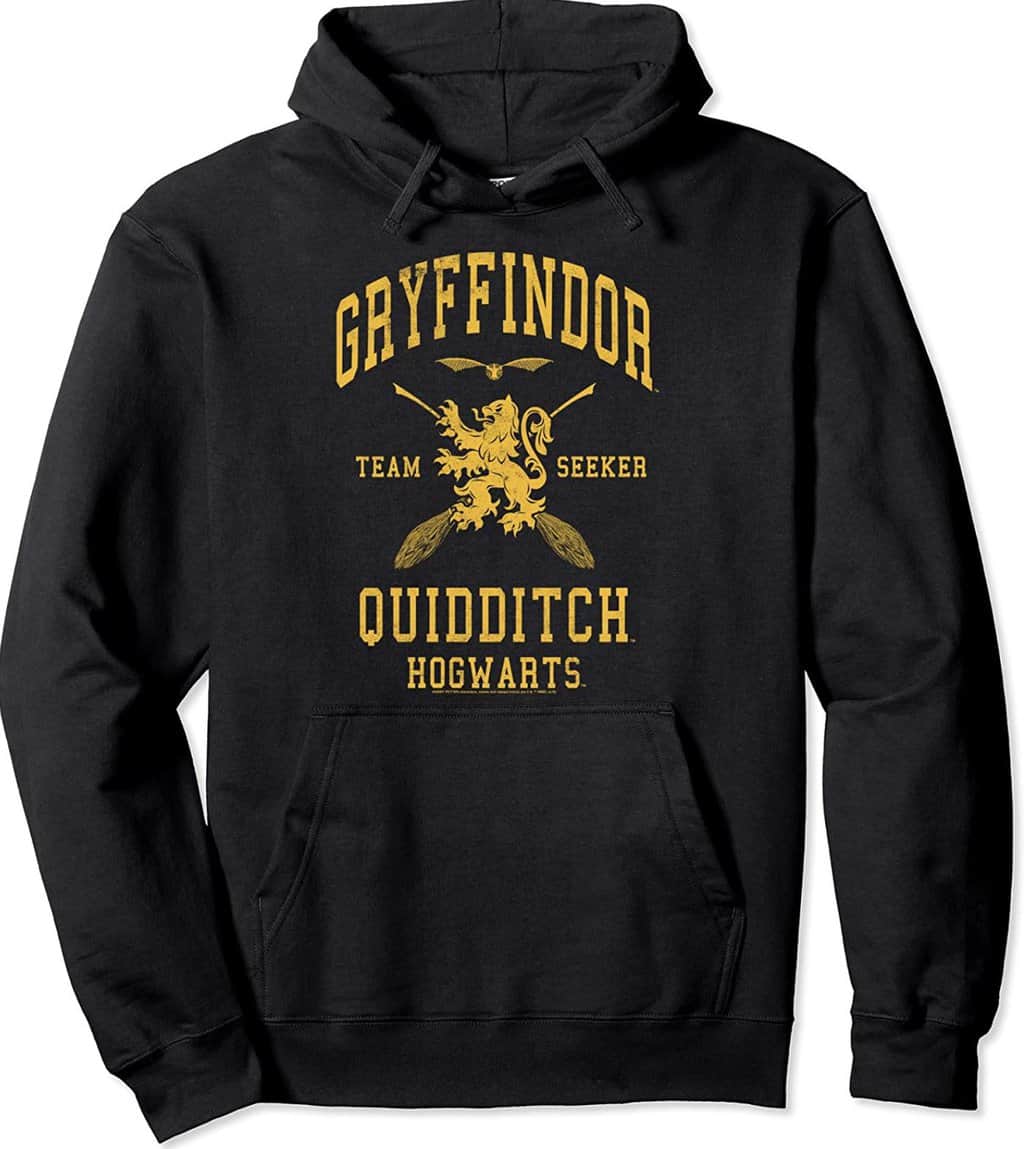 This Quidditch Sweater is great for fans of the game. If you, too, want to be a Gryffindor seeker, this is a great sweater. This is just one of many seeker designs, though, available in black or grey. If you want one in grey with a red print, you can find it here.
Most people were delighted with the fit, the softness, and the print. The downside was one customer who washed it a few times and found that the image began to fade almost immediately. 
Now, I have a similar shirt version to this, which has faded to nothing. However, I wore it as an exercise shirt, so it got used 3-5 times per week, washed and dried the same, and was put through the wringer. I got careless pretty quickly, not bothering to turn it inside out or let it air dry. It was worn off but still visible within a year, and within two years, it was almost entirely gone. 
So, just note that the more you use it and wash/dry it (especially if you ignore the washing instructions), the faster it will fade. 
Pros:
It is a unisex design, so it is perfect for all adults. 

It has a classy print on the front, declaring you as the team seeker with the Gryffindor crest. 

It is a cotton blend, so it will shrink a bit the first time you dry it. 

It has a twill-tapered neck with a hood and drawstrings. 
Cons:
It only comes in two colors.  

Follow the machine wash instructions or suffer the consequences. 
House Open Front Cardigan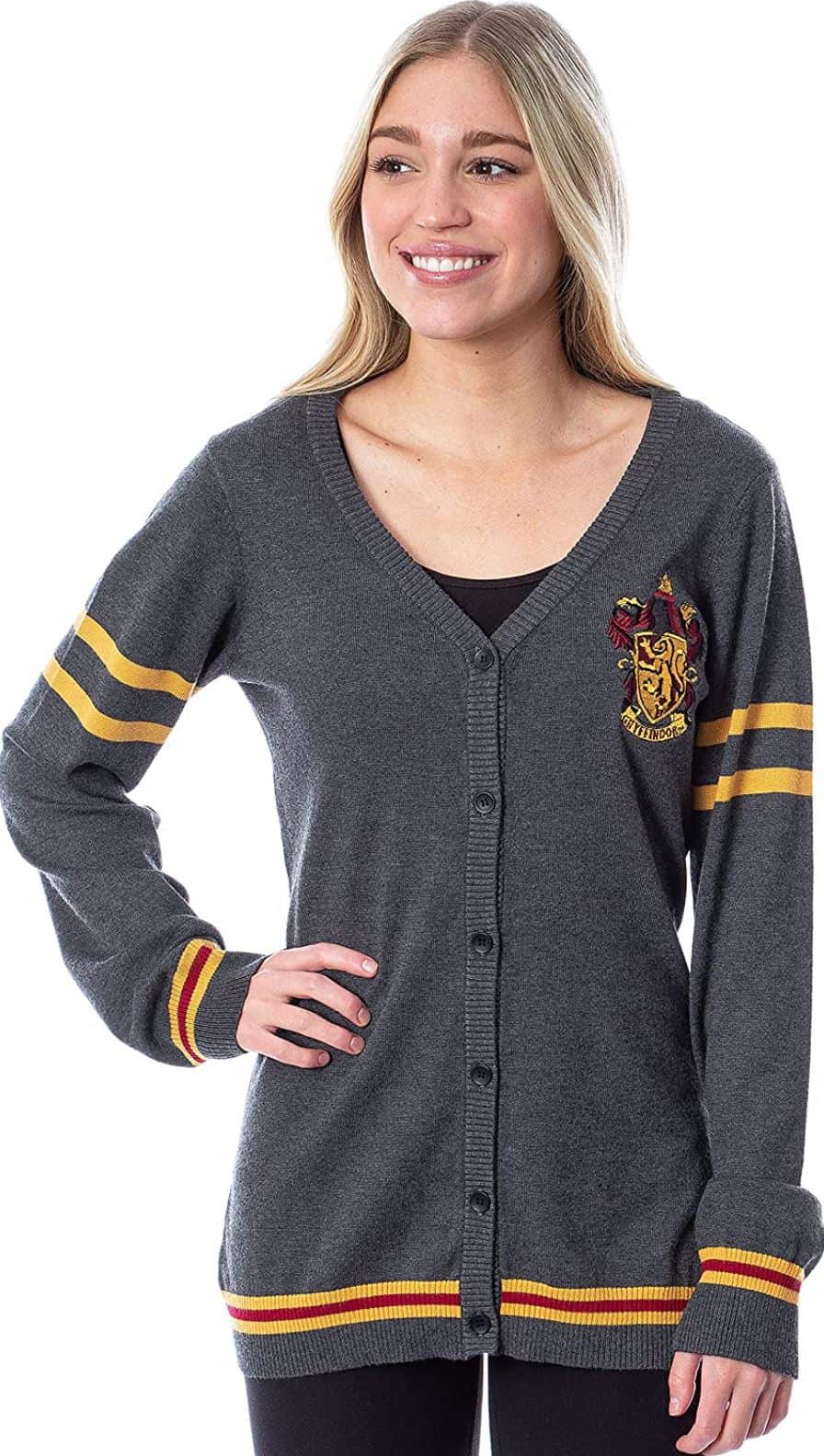 I love the cardigan style of this House Open Front Cardigan! I don't own this one (yet), but it is another excellent way to beef up a Harry Potter costume or just have something classy to wear when you long for your prep school days. 
Customers say that it is comfortable and somewhat soft, but the material is fragile. Don't count on this sweater to be what you wear when it's cold. This is something you wear when you have a long sleeve shirt underneath, or it's not that cold out, and you just want to throw something thematic on top.
Beware the fact that it is sized for juniors. They have five sizes, so adults have been able to get away with the bigger sizes. But don't make the mistake of ordering a small if you normally wear an adult small because it won't end well. 
Pros:
It has a wide V-neck with an open front. 

It is a knit sweater with the logo on it. 

It is junior sizing, but you can find different houses. 
Cons:
It is only for women, without men's sizes. 
Harry Potter Hogwarts Crest Pullover Hoodie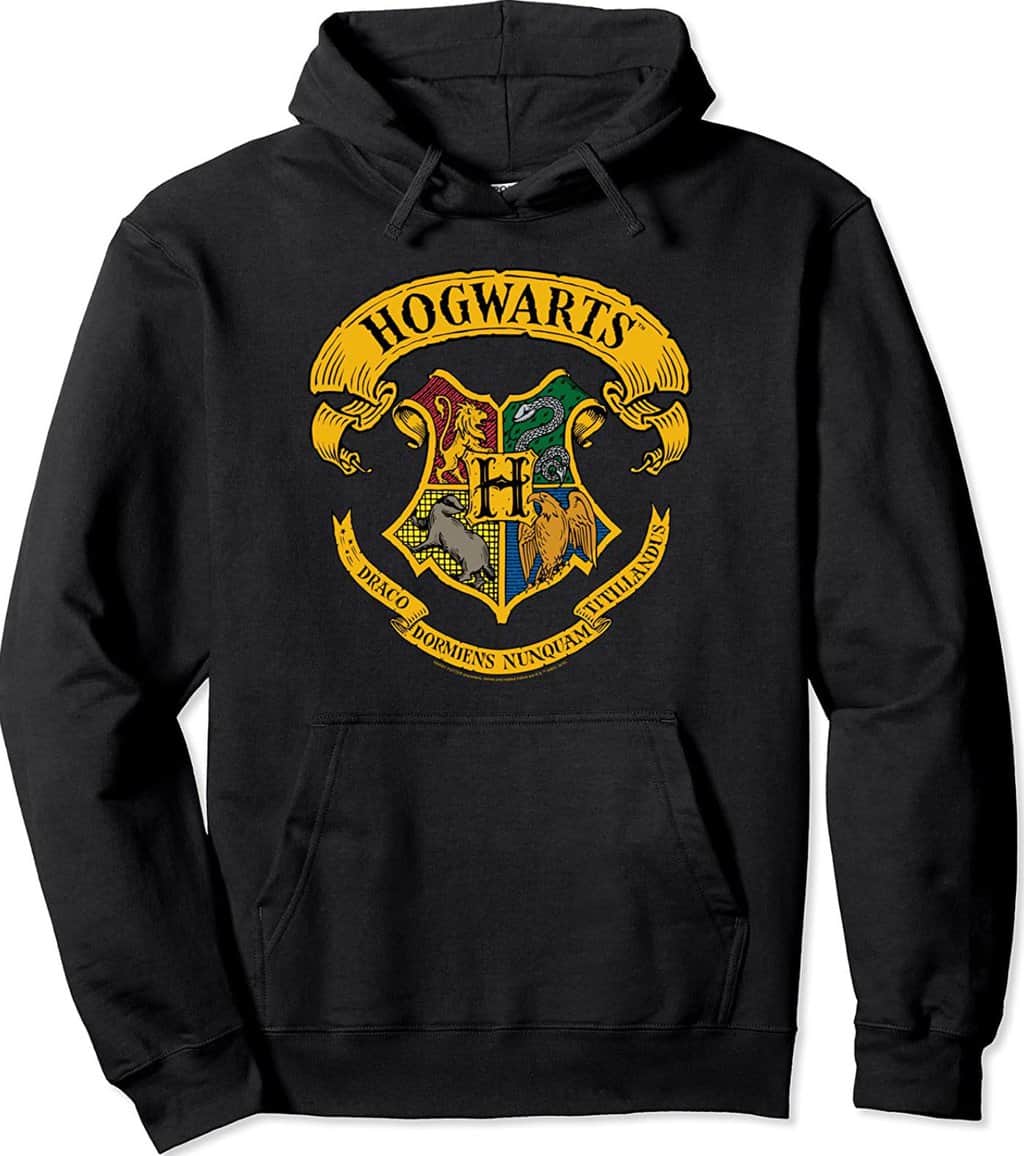 This Harry Potter Hogwarts Crest Pullover Hoodie is almost precisely like the Popfunk sweater. Still, instead of having Gryffindor on the front, it has the Hogwarts crest instead. This is a classic fit with a twill-tapered neck, pocket in the front, and comfortable hoodie. Unlike the pop-funk sweaters, the transferred image for this consists of the Hogwarts crest in the center and the two separate pieces that wrap on top and under the Hogwarts crest. Having three separate pieces instead of one direct print means there is less room for cracking and breaking with regular use.
Pros:
There are five colors available. 

It is incredibly comfortable.

It has a pocket in the front, tight sleeves so they won't hang down over your hands like a child, and a hood. 
Cons:
You have to be careful washing and drying it to extend the lifespan of the pattern on the front. 
Cinereplicas Potter V-Neck Sweater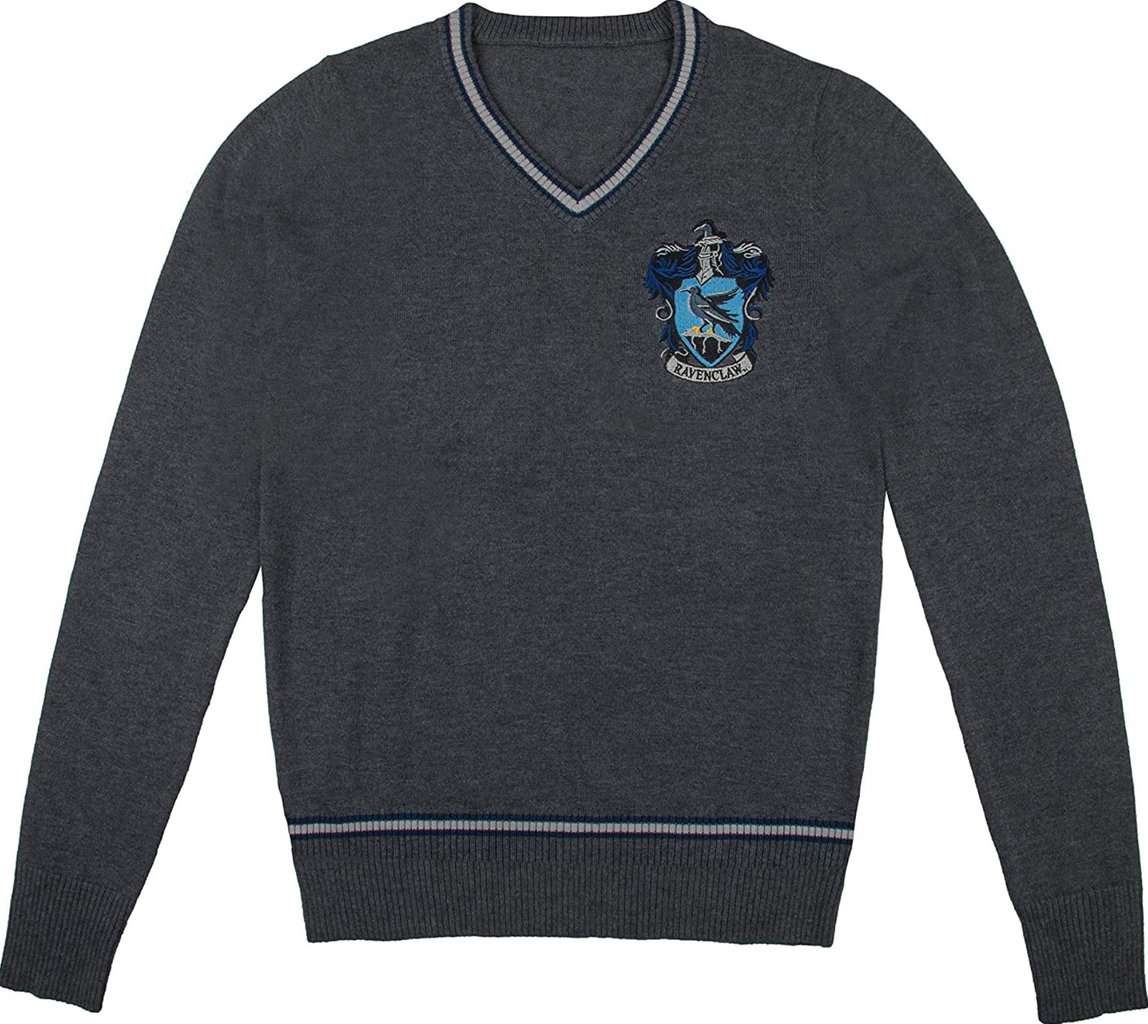 This Cinereplicas Potter V-Neck Sweater is one of my favorites. It is a replica of the house uniform sweaters seen in the films. So, it looks exactly like the pullovers they wear in the movies with nothing more than the crest for each of the four houses in the upper left corner over the chest.
This is the perfect pullover to wear on top of a white button-down shirt and some slacks. It's something my neighbor's child wore as part of her Halloween costume to look like Hermione. 
It's an easy way to make a Harry Potter costume if that's what you are going for. It's also something very soft, thin, and discreet enough that it doesn't look like a costume but rather it looks like something you can wear all the time.
Most of the reviews were the same situation as my friend's child: they bought it to complete a costume for a party or a holiday. They then had a fun sweater they could wear thereafter when the weather was cold.
Pros:
It looks just like the sweaters they wear at Hogwarts. 

You can get all four houses. 

It is very soft knit with a cotton and polyester composite. 

This has sizes for children through adults.
Cons:
It doesn't come with matching robes and a tie, but you can undoubtedly buy those yourself. 
Slytherin Alumni Sweatshirt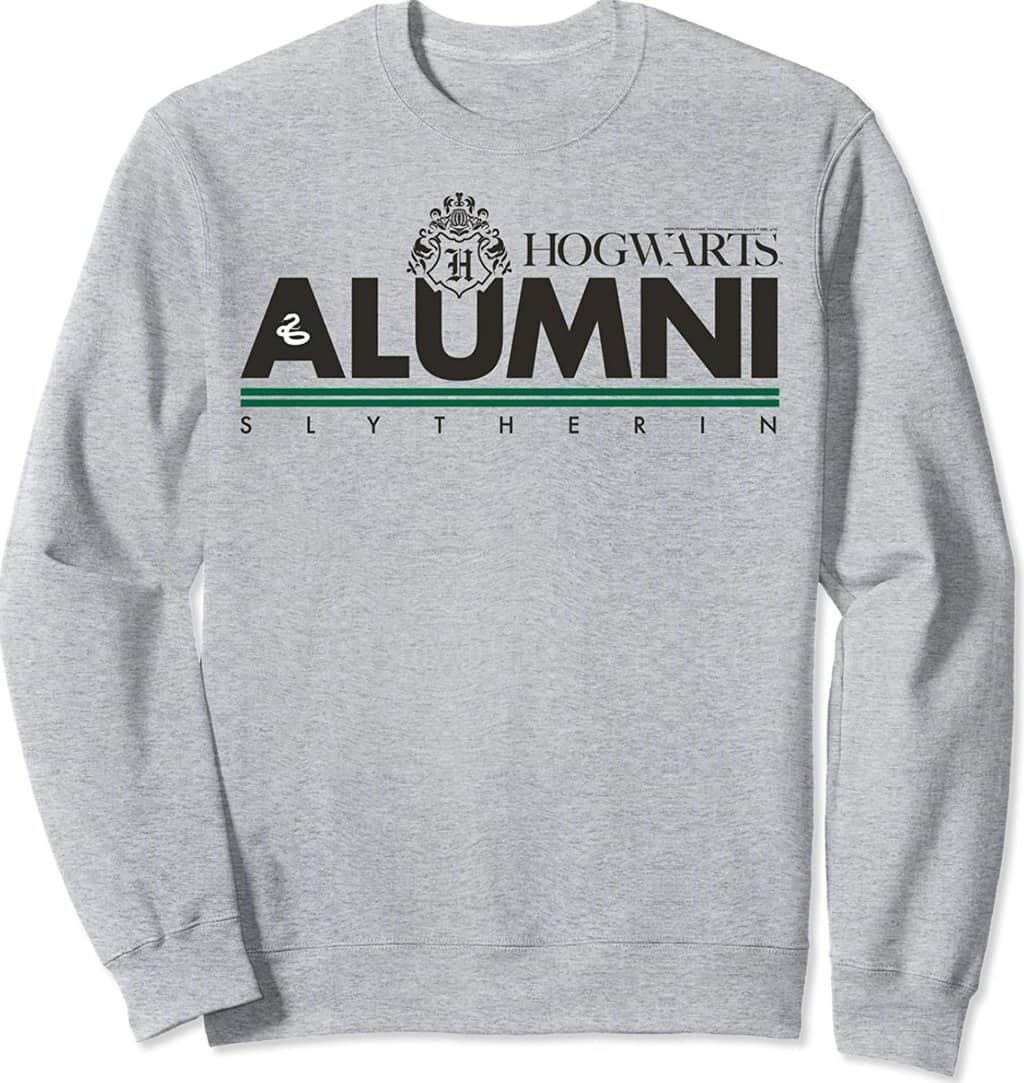 This Alumni Sweatshirt is an understated alumni pullover. The sweatshirt doesn't have a hood or pockets of any kind, and one has to look closely at it to realize its association with the franchise. This may or may not be appealing to you. The largest part of the text is the alumni part, underneath which you can see Slytherin's name and above which you can see Hogwarts. The Hogwarts Crest is also on the sweatshirt.
It's an understated alumni pullover for adults who like the idea of boasting about their alma mater. I wish it had pockets, but it otherwise is quite comfortable and durable, and the print on the front won't crack or break the first time you put it in the washing machine.
Pros:
It is a heather gray color with a mix of cotton, heather, and polyester. 

It is official, licensed Harry Potter swag.

You can machine wash it. 

It has a tapered neck. 
Cons:
The design is relatively simple. 

Only for Slytherin.
FAQ
Question: How Should I Wash my Harry Potter Sweater?
Answer: This should be explained on the tag for the sweater you purchased. In general, you want to machine wash with cold water and if you put it in the dryer, tumble dry on low. But again, refer to whatever instructions come with the sweater because each sweater has different material and different printing methods used. 
Question: What Material is Used for the Harry Potter Sweaters in the Films?
Answer: Knitted sweaters are used in the films because it gets pretty cold in the United Kingdom. Some of the options included on this list of the best Harry Potter sweaters are knitted. Still, most of them are a mixture of cotton because cotton is one of the primary materials that multiple printing methods can use.
Question: Will my Harry Potter Sweater Shrink?
Answer: Check out the material on the tag when you order your best Harry Potter sweater. Mine, for example, was a cotton blend. I put it in the dryer once on low, inside out, to protect the print on the front. It shrunk a little bit but mostly in the sleeves. It hasn't shrunk since. If you are worried about shrinkage, put it in the dryer the first time you get it on low, inside out, and that should give you the final size. 
Bottomline 
My favorite among these best Harry Potter sweaters is the Popfunk Harry Potter House Sweater. I bought it years ago in London because of how soft it is on the inside. That softness hasn't changed. The exterior is also stunning; just be careful when you wash and dry it. 
My other top picks include the House Open Front Cardigan. The Harry Potter Gryffindor Men's House Varsity Zip Up Hoodie is a stylish sweater. After all, it is the only one with a zipper. Finally, the Wizardly Motors sweater because it is unique and something only true fans of the books (not just the films) will appreciate (plus it's the easiest to maintain).
Continue reading: