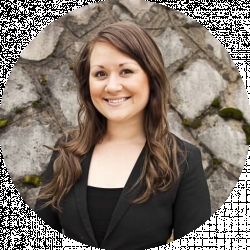 Latest posts by Lacey Jackson
(see all)
Sometimes it's just more exciting to personalize all of the things we make at home. With just a needle, thread, and a pair of scissors (or, if you are fancy, a sewing machine), you can take the best Harry Potter Fabric and make literally anything you can think of, ranging from potholders and oven mitts to curtains for a kid's playroom, clothes, masks, accent pieces, and even fun bedding or pillowcases. 
Bottom Line Up Front
The bottom line up front is that I personally recommend something that isn't as obvious as a big Hogwarts house sign. I recommend the Quidditch fabric. It is fun, there are a lot of aspects to it, not just one symbol repeated over and over. It is a personal favorite and is used throughout my home. 
My Top Picks
Quidditch Fabric because it is very detailed but so much fun, and it's understated in a way true fans appreciate.
Marauder's Map 2 fabric because of the bold color choices. Great for situations where you want a fun color and not just black, beige, or white.
House Prints are great for unique items which identify your house. If you are making a set of potholders and oven mitts for a child heading to college, sew a set with their designated house print (and make one for yourself, too).
Finding Fabric: Selection Criteria
Let me start by explaining my (more recent than I'd like to admit) struggle with fabrics. Once upon a time, many years ago, I purchased a piece of clothing, a sports bra. It was perfect. It still is. However, it's starting to fall apart. That makes sense; it's been worn for very active engagements and washed multiple times per week for the better part of the last six years. It's amazing it's lasted this long. That said, I figured there must be someone in the local community, quilting groups, or churches who could sew another one for me. It's a pretty simple request.
As it turns out, no one seemed to want to risk my wrath by making one incorrectly. While everyone bragged about their sewing skills to the general public, as soon as I needed an actual piece made, no one seemed to have any skills anymore. They were overcome with humility. 
I have purchased a sewing machine on four separate occasions. I have returned all four because I could never figure out, no matter how hard I tried, the beginning parts of setting everything up and making sure the stitch was perfect. Growing up, my great-grandmother taught me how to sew by hand, but that can be time-consuming, and today people mock me for it when I could just as easily use a machine and get the job done in seconds.
So, in light of everyone's sudden modesty, I decided I would replicate the clothing myself, but I would do it by hand. Since I wasn't sure how well this endeavor would go, I opted to buy cheap cotton fabric that had a little bit of spandex in it because, after all, I wanted a little bit of room for when my muscles were swollen. 
It was a hot mess. Or rather, a cold, stretchy-fabric mess. I had the templates and the right measurements, I cut everything, but I couldn't get the fabric to stay still.
My better half bought me an older, more reliable sewing machine, and I decided it was high time I learned to use it. So I found someone to come over and give me a private lesson for two hours. I recorded videos, and she made me practice over and over until I figured out exactly how to use every part of the machine.
She also took a look at the fabric I was using and made to throw it in the trash, but then she remembered it wasn't her house and it wasn't hers to throw away. I got an impromptu lesson on the quality of fabric and thread. As it turns out, the thread I had been using for years for my hand sewing wouldn't work on a sewing machine. The fabric I was using for the sports bra in question was obviously ill-fitted. 
Now I remember the lessons she bestowed upon me and take the time to find good quality fabric that won't stretch too much — not everything is supposed to be a maxi dress. I also find fabric that won't bleed and won't shrink once I take very precise measurements for my sewing activities. 
Now, a little bit about fabric. 
What Makes the Best Harry Potter Fabric?
Not everything is about the print. More important is the quality of the fabric. The type of fabric you choose will be heavily contingent upon what sewing projects you anticipate. For the most part, the best Harry Potter fabrics are polyester or 100% cotton. 
As almost all of us know, after buying something new, cotton tends to shrink. However, it only shrinks the first time we wash and dry it, which is why any fabric you get which contains a high percentage of cotton should be washed before you use it. By washing and tumble drying on low, you can avoid the mishap of taking precise measurements, sewing something new, and having it shrink after the fact.
With each of these fabrics, you can order different sizes. Most of them are sold by the yard, but if you buy multiple yards, they don't give you multiple pieces that are pre-cut. Instead, they give you the full length of whatever size you ordered. This is what allows you to order multiple yards and create bedding or quilts.
The Best Harry Potter Fabric
Quidditch Fabric
The best fabric for Quidditch is found on sites like Etsy and Amazon (and, if you are really lucky, at Joann's fabrics). I actually used this fabric to make masks for a Harry Potter party held in honor of a respiratory therapist friend who retired. We decided since it was the end of COVID that masks were still a good safety precaution, but since some attendees were vehemently against masks, a good friend hand-made thematic masks of different sizes. This turned out to be a HUGE hit because the anti-mask wearing among the group made faces at the suggestion of wearing a mask, but when I handed everyone a souvenir-themed mask upon entry, the kids screamed in delight, and their parents followed suit. I still use this as my go-to mask, and when people take the time to look closely at it, they love it. 
For the record: this took place prior to my sit-down lesson on sewing, which is why my glorious friend had to give input on which fabrics to choose and which to avoid.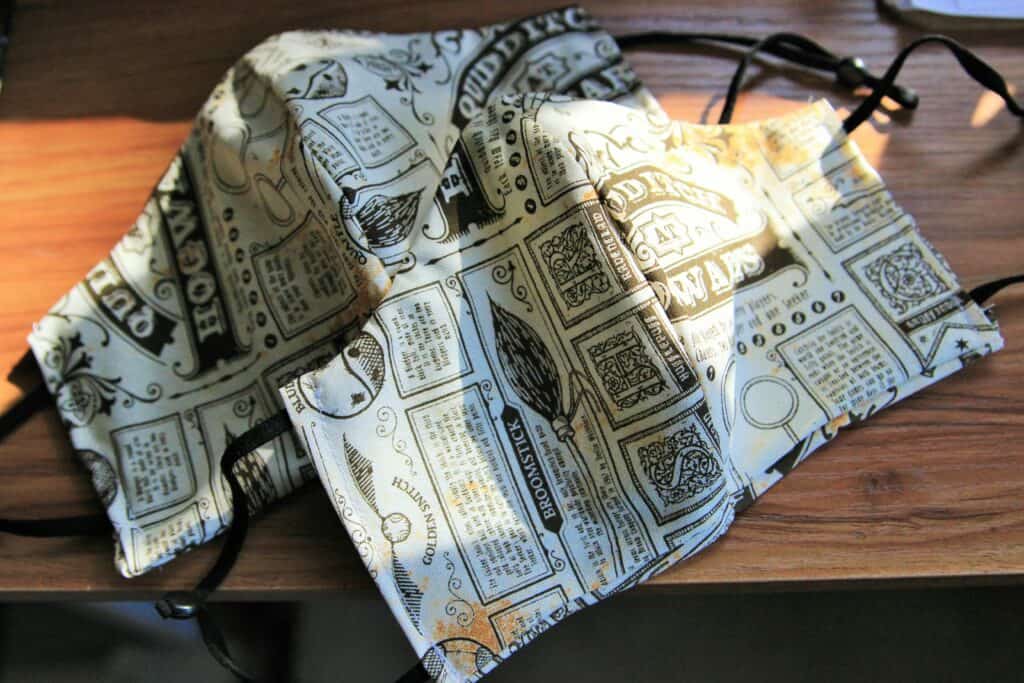 Pros
You can machine wash it

100% cotton
Cons
The print is very detailed, so you have to look closely at it to realize what it is
Marauder's Map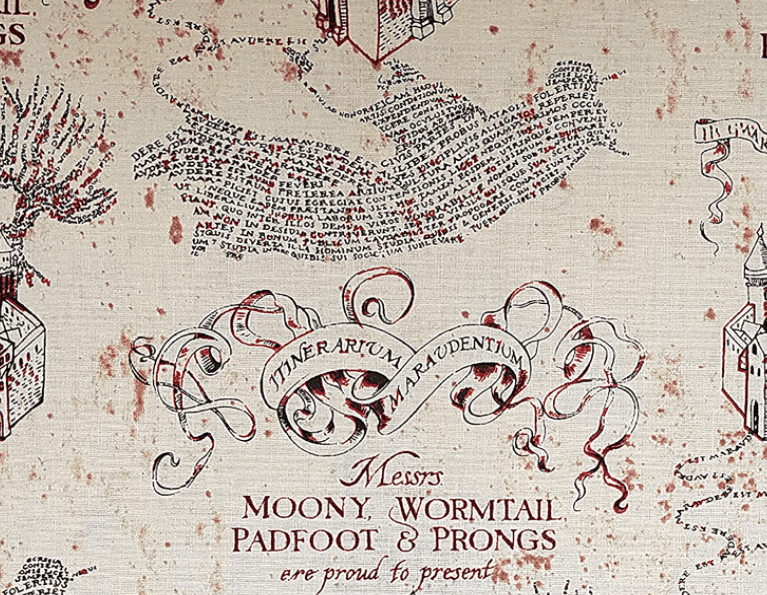 I strongly considered the Marauder's Map print as the fabric of choice for our aforementioned masks, but I knew that given the fact it is a map, only one person would get a mask that had the names on it while everyone else just got a piece of the castle. That said, if you plan to use it for a shirt, scarf, blanket, or another item big enough to display the entirety of it, this is a great choice. 
Pros
You can machine wash it

It won't change colors with heat

If you order a large enough cut, they will give you a continuous piece rather than sections
Cons
If you are making something small, you will only get a part of the map
Marauder's Map 2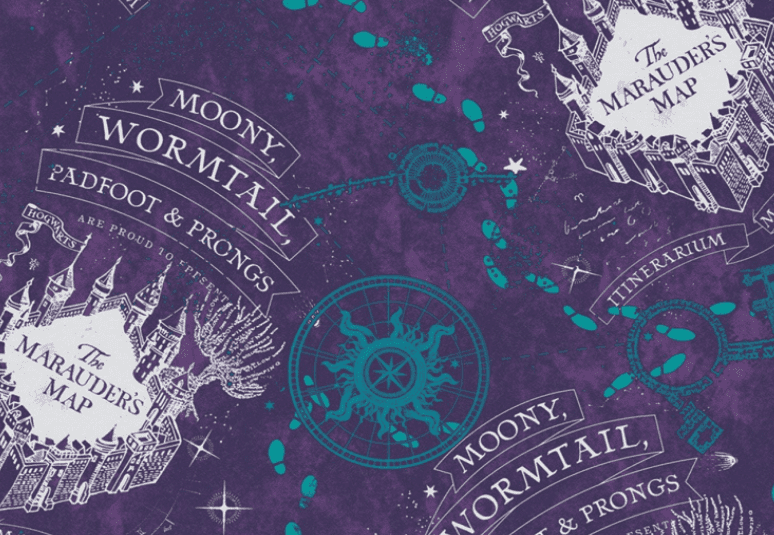 This other Marauder's Map fabric is a fun spin because it is purple. I love that the background is purple, and the footsteps are a vibrant teal because so often, the best Harry Potter fabrics are rather plain black, white, or beige. This also comes from Camelot, so it is the same company, just a different iteration. I like to think of it as what the map looks like if you turned on "night vision mode." 
Pros
Cut by the yard

Can be machine washed and tumbled dry

Different colors with a deep purple background, teal, and white on top
Cons
It doesn't have the entire map like the other fabric, but just the label and some symbols. Still fun though
Daily Prophet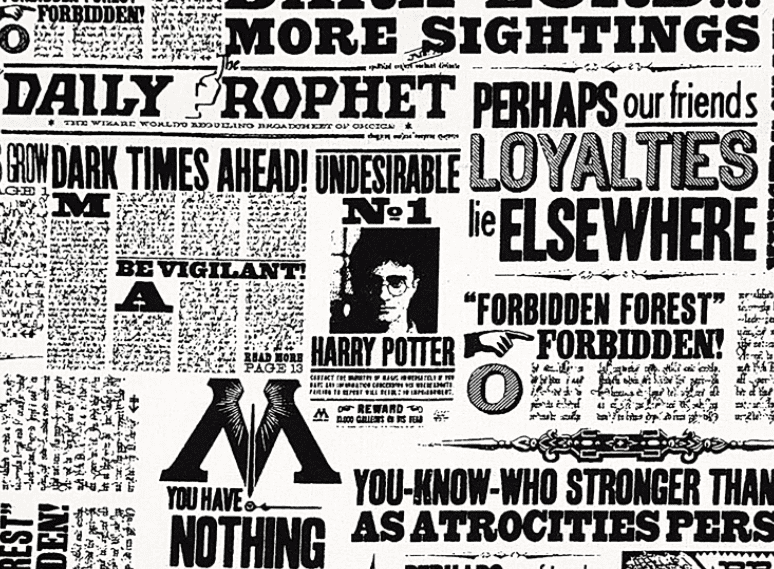 Along the same lines as the Maurader's Map, this Daily Prophet print is fabulous for people who are sewing something large enough to display the entirety of the newspaper. Be advised that this is 100% cotton quilting fabric, so it is meant for making pillowcases or blankets used around your home. It is thin enough that if you have a particularly Mormon mother, they can creatively cut pieces of the fabric to line a coat so that when you turn up the collar, you get this fun, hidden gem. 
Pros
Lots of Harry Potter references in one piece

Lightweight fabric, perfect for lining clothing
Cons
Unlike the books or film representations, there isn't real print under each of the headlines, just squiggles, and lines
House Prints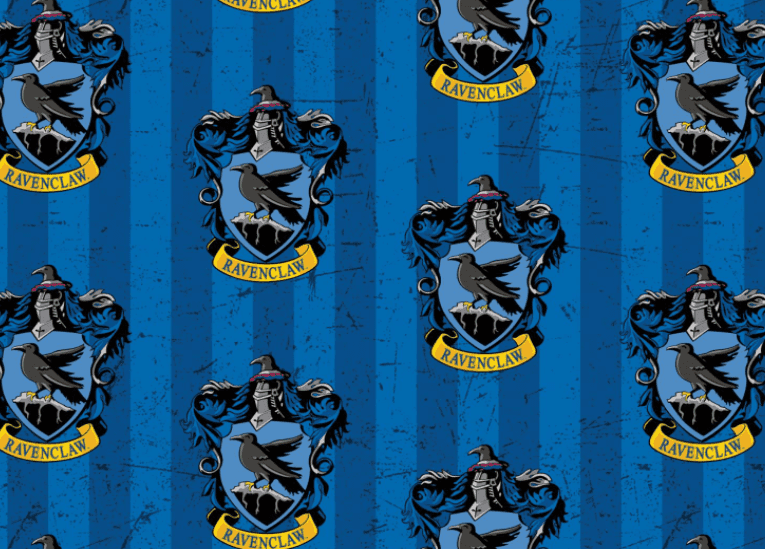 If you are interested in showing off your house (don't act like you don't already know which one you are), then consider these house prints for Ravenclaw, Slytherin, Gryffindor, and sweet Hufflepuff (incidentally, the least popular and hardest to find). This company, Camelot, has been licensed to provide official Harry Potter prints, so most of the fabrics you find come from them. The reason is they have the best stuff. 
Now let's say you don't want to pick sides. Maybe you have three kids sorted into three houses (beware the Slytherin child), and you want a family blanket fit for all. In that case, this multi-house fabric is a better choice. 
These house prints are perfect for clothes, costumes, curtains (DO IT!), pot holders, towels, bedsheets, tablecloths, pillowcases, and even masks. 
You can buy soft fat quarters or quilt squares depending on the item you are making. This just means you can buy little squares if you want to make a little mask or a big, long sheet of fabric to make a bedspread (embrace your inner nerd!). 
The materials are non-toxic with a tight weave. They are tough and warm, and they can be put in the washing machine. This is the most important for me since I use them for things like shirts, masks, and blankets — the latter, of course, doubles as a cat bed and needs regular washing. They won't shrink in size or fade when you wash them. 
Pros
Polyester

Available in 58/60 inch yards

Perfect for many sewing projects
Cons
The only official license for HP house prints, so other brands just won't look as official
Deathly Hallows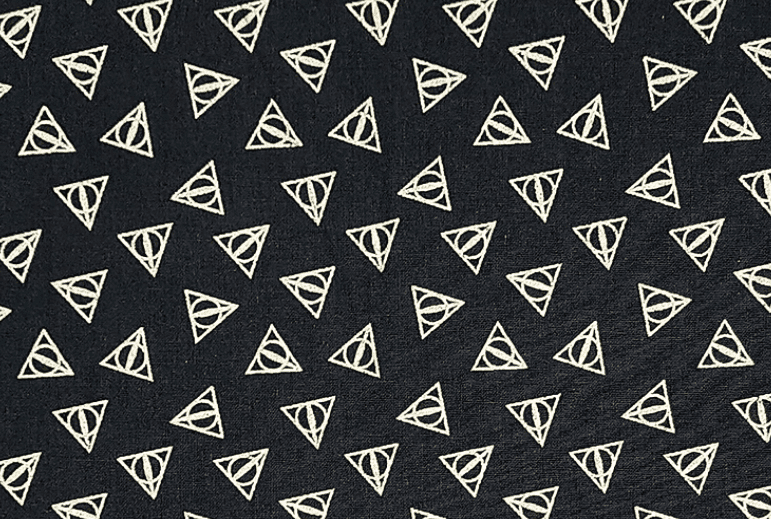 This Deathly Hallows print is gold with metallic throughout. The metallic is what produces the Deathly Hallows symbol. It's a very versatile fabric that can be used for button-down shirts, dresses, bags, home decor, or quilts. I have a friend who loves sewing bags, so I have plenty of cotton bags for music supplies, books, folders, and groceries, all using themed prints. The fabric should be pre-washed so that any shrinkage (it should be minimal, if at all) happens before you cut and sew. 
Pros
You can iron it and wash it

The fabric is one of the few best Harry Potter fabrics with a black background

It is subtle–only real fans will get it
Cons
The Deathly Hallows is printed small, so if you make a dress or blanket with this fabric from far away, it will just look like polka-dots.
Wizarding World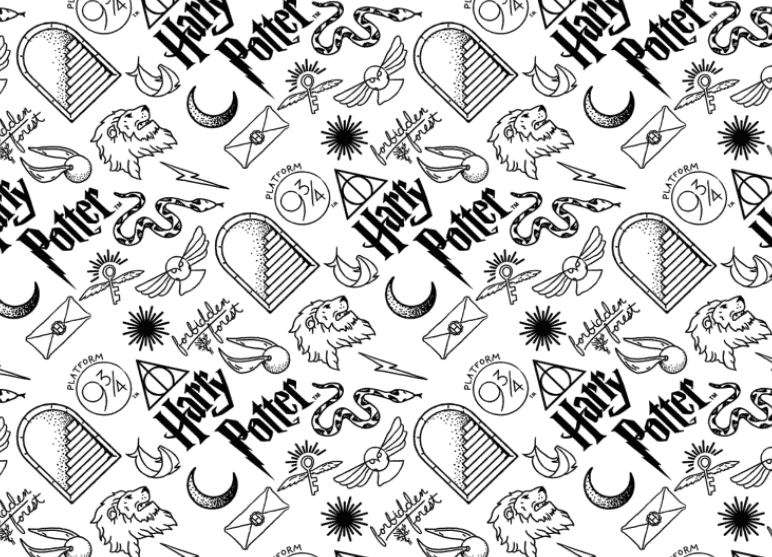 This print from Camelot is an ode to the Wizarding World. It includes some of the Deathly Hallows, the platform, a staircase, a Gryffindor, the title, and a few random items like a snitch. It is a black print on white fabric, so there isn't a lot going on, but it is perfectly fun if you just want something themed Harry Potter but not something specific.   
Pros
Good for throws, crafts, quilting, and more

Easy to wash without it shrinking

Made from 100% cotton
Cons
It is only available in black and white
Platform 9 ¾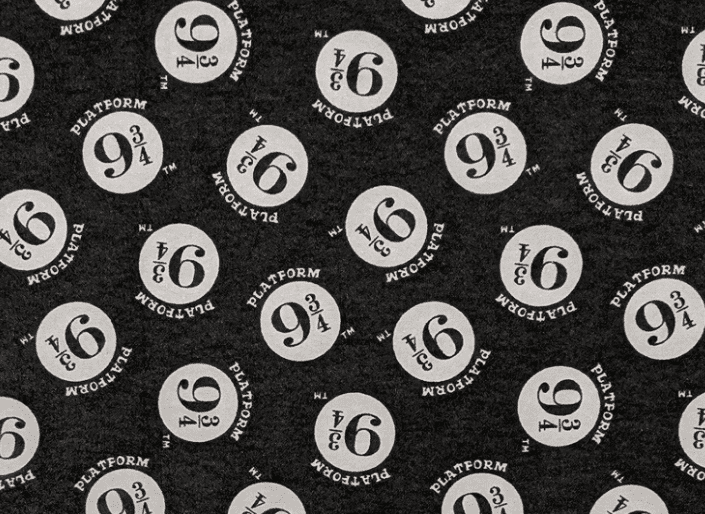 This is a simple yet effective fabric. It features the symbol for Platform 9 ¾. You can purchase a black background with the platform symbol in white, or you can do the classic red background with the symbol in gold. If you are feeling really frisky, you can buy both and make pillowcases or oven mitts that have one print on either side so you can turn them over depending on your mood. I wouldn't recommend this fabric for large projects because it can get somewhat boring and, from a distance, will only look like polka dots, but if you are doing something small like an oven mitt or a mask, it's perfect. 
Pros
Comes in black with white on top or red with yellow on top

100% cotton

Soft material

It can be used for clothing, curtains, oven mitts, and even bedding
Cons
It can be a boring piece if you are making something large like a pillowcase or blanket because the symbols are rather small.
Harry Potter Hogwarts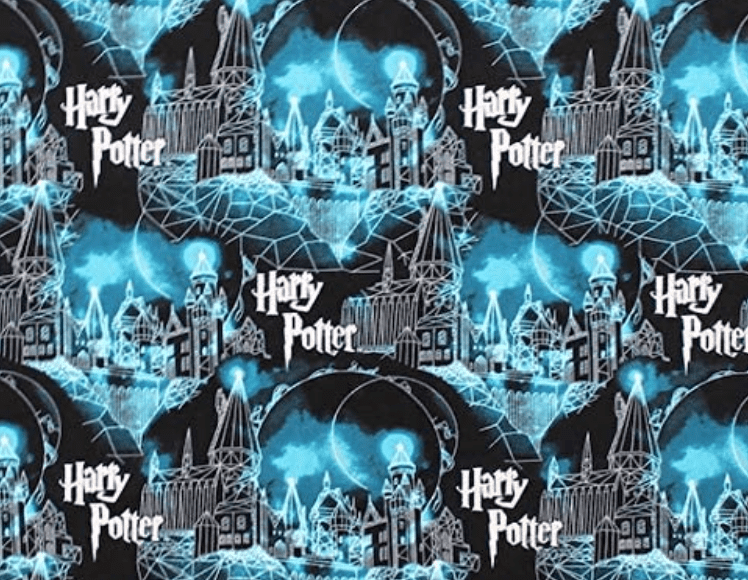 This is a print of Hogwarts. It's not my favorite for a few reasons: it is very busy, and it is just the silhouette. Still, that doesn't mean it is without merit. It is a nighttime view of Hogwarts, so you get the outline of the castle set against large moon shapes. The background to the fabric is black with turquoise and blue behind the center of the castle silhouette to add contrast. 
Pros
One of the only Hogwarts prints

Black background with blue on top

100% cotton
Cons
Very busy, and only a silhouette of the castle
FAQ
Question: How Big is a Yard of Harry Potter Fabric?
Answer: One yard of fabric is 36 inches long. On average, that's about three feet in length but only about 33 inches wide. It's up to you to do the complicated math on whether this is enough for you based on what it is you are sewing. When I ordered one yd of fabric, it was barely enough to make ten masks. 
Question: What can you Make with one Yard of Fabric?
Answer: You can make a lot with one yd of fabric, depending on the style. It's easy enough for you to make small accessories, tops, bags, masks, and maybe a few pillowcases. 
Question: How do I Know How Much Fabric to Buy?
Answer: When ordering fabric for a project, you want to measure the width of fabric divided by the width of 1 piece of your project. This will give you a total of how many pieces can fit into that total width of fabric. Then figure out how many pieces you are planning to make, and from there, determine how many yards of fabric you need. I always advise people to buy more fabric than they think, especially if things like 1 yard cut it close. It's always better to have extra when you invariably make a mistake.
Bottomline 
The bottom line is that while there are many great fabrics, I personally recommend something that isn't as obvious but isn't small. I recommend the Quidditch fabric. It is fun, with a lot of symbols to it. However, if you need a house-specific fabric for your sewing endeavors, each of the house prints is equally fun. 
Continue reading:
The Best Harry Potter Toys Guide You Can Find Anywhere