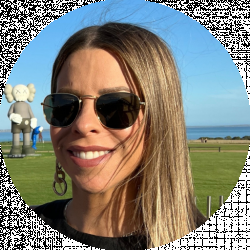 Latest posts by Maddy Chiffey
(see all)
Albus Severus Potter was born in 2006. He was a Half-blood wizard and the second son of Harry Potter and Ginny Weasley (Ginevra Potter). Albus had two siblings, James Sirius Potter, his older brother, and Lily Luna Potter, his little sister.
Albus was named after the two Headmasters of Hogwarts, Albus Dumbledore and Severus Snape, both great wizards who impacted his father's life through his school days. I feel as though this was a massive statement in the series, and it shows the respect that Harry showed for his former Headmasters and the love he had for his parents, who, though he doesn't remember, sacrificed themselves to save his life.
In 2017, Albus began his journey at Hogwarts School of Witchcraft and Wizardry with his friends Scorpius Malfoy and Rose Granger-Weasley. The sorting hat placed him into Slytherin house, which nobody ever expected of a Potter, and I presume must have been extremely daunting to him. After this, he quickly built a strong bond with Scorpius. A bond that, over time, would become even more profound. I would imagine this would be extremely unnerving to Albus; after all, his father, Harry Potter, was now the most famous Gryffindor in history.
I think that the pressure Albus would have felt in school would have been immense because of his father's legacy. He probably always felt like he was in Harry's shadow. This would have a considerable impact on his performance in school, as he may have been concentrating more on keeping up the "Potter" appearance rather than focusing on his personal growth and education.
Albus Potter Quick Facts
Full Name
Albus Severus Potter
Birth Date
2006
Birth Place
Great Britain
Nick Name
"Al"

"Slytherin Squib"

Death Date [if applicable]
N/A
Age When Series Starts
11 or 12 years old
Zodiac Sign
Unknown
Siblings
James Sirius Potter (Brother)

Lily Luna Potter (Sister)

Children
Unknown
Partner / Spouse
Unknown
Most Memorable Moment
Using the time turner to try and go back and save Cedric Diggory
Magical Heritage
Half-Blood
Species
Human
Special Abilities
Charms
Hogwarts House
Slytherin
Wand
Cherry (Length and core unknown)
Patronus
Unknown
Actors Who Played
Arthur Dylan F. Bowen – Deathly Hallows Part 2

Sam Clemmett – The Original West End and original Broadway

Theo Ancient – West End May 2017

Joe Idris-Roberts – West End 2018

Nicholas Podany – West End 2019

Sean Rees-Wemyss – The Original Melbourne

Dominic Short – West End 2020

Benjamin Papac – The Original in San Francisco and West End 2018

Vincent Lang – The Original in Hamburg

James Romney – On Broadway in 2019

Luke Kimball – The Original in Toronto

Last Updated
May 2022
Albus Severus Potter Birthplace
Albus Severus Potter was born around 2006. He was the second-born child of Harry and Ginny Potter. His name came from two of Hogwarts' most famous and memorable headmasters, Albus Dumbledore and Severus Snape. It is unknown exactly where Albus was born.
Albus Severus Potter Parents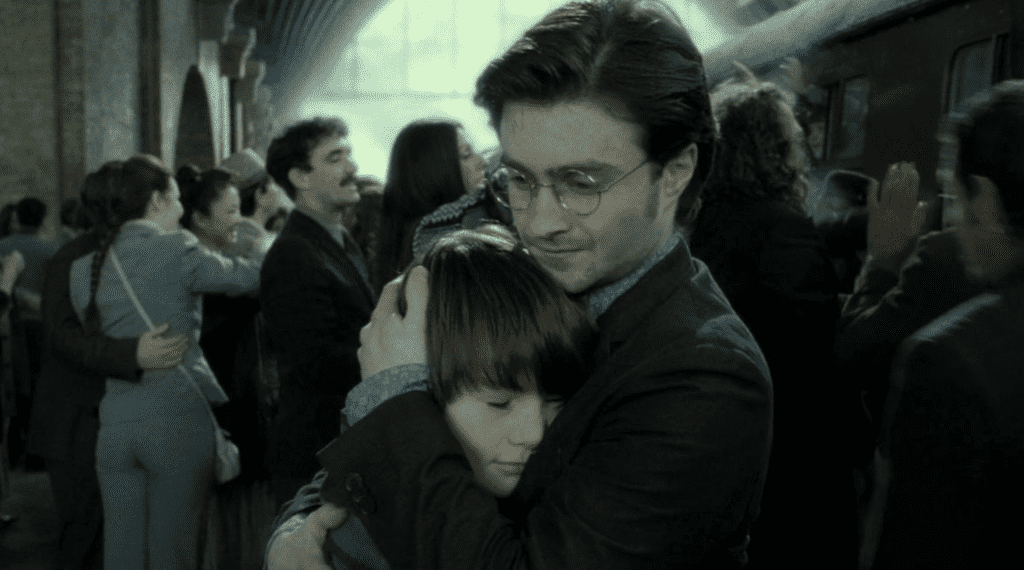 Albus's parents were, of course, the famous Harry Potter and Ginny Weasley.
Albus was very close with his parents. When he felt apprehensive about starting Hogwarts, his mother and father were very reassuring. I think the relationship between Albus and his parents is very touching. Even though he clearly shows resentment towards his father, the love he has for him and the need to impress him is always strong.
Albus looked up to his father and confided in him with things he felt he couldn't tell anyone else, such as his fears of ending up in Slytherin. He hugged him tightly when he left for his first year at Hogwarts.
Albus's relationship with Harry started to struggle when his school life became more complicated. Albus resented his father for his legacy and believed he couldn't live up to the Potter name. This eventually led to Albus telling Harry that he wished he wasn't his son.
Despite Harry's efforts, the relationship continued to be strained until they sat down and talked. After Albus returned from his trip back in time, he mumbled "dad" in his sleep, proving the need for his father. Albus eventually risked his own life to save his father.
Albus's relationship with his mother, Ginny, never changed throughout his school years, and they remained very close.
His older brother, James, loved to tease Albus. They were close, but James was a very outgoing person, unlike Albus, who was more of an outcast like his younger sister. It is thought that James and Albus often had arguments. I believe this could also be because Albus felt insignificant next to his older, more confident brother.
Albus managed to see his grandparents, Lily and James, when he traveled back in time. He was in awe of them, and when he saw them wrapping baby Harry in the blanket, it became more apparent to him why his father had tried to gift him the blanket. I think at this moment, everything started to make sense to him about the history of his father and what Harry went through in his younger life, giving Albus profound respect for his dad.
He stayed by his father's side and held his hand right up until the end of his grandparents' lives.
Neville Longbottom was given the honor of being Albus' Godfather. I thought it was great to see Neville's involvement in the Potter children's life after his large part in the final demise of Lord Voldemort.
The Weasleys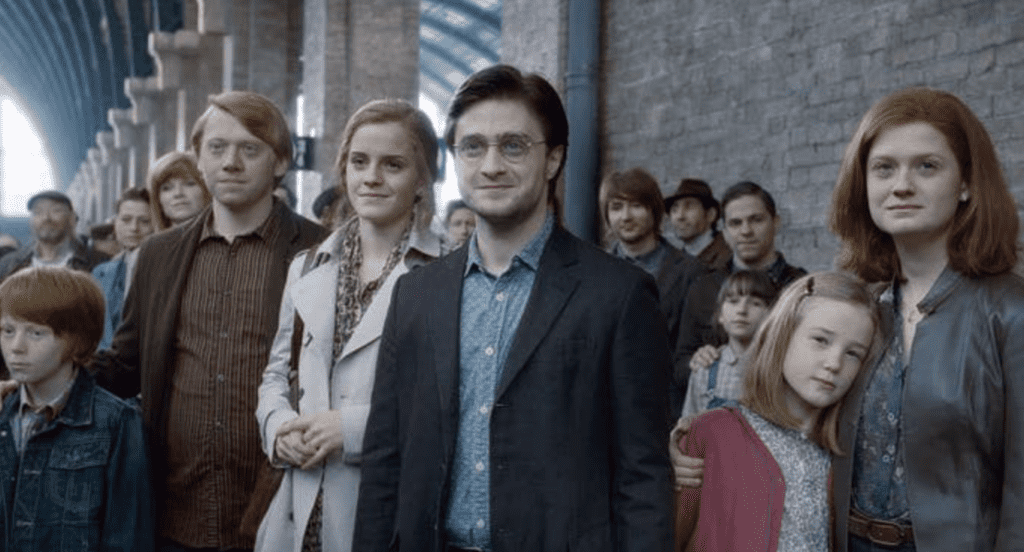 Album's father's best friend throughout school, Ron Weasley, remained a very close family friend to Harry. He was the older brother of Ginny, Albus's mother, making him Albus's uncle, and his daughter Rose, Albus's cousin.
Albus and his cousin are close in age and begin Hogwarts at the same time. They both shared the same worry about which houses they would be sorted into when they arrived at Hogwarts. They helped each other get through those first-day nerves.
Through school, they had a distanced relationship. I put this down to the fact that Rose wasn't happy about Albus spending his time with Scorpius. However, they fixed their relationship and were close once again by the end of school.
Albus Potter Physical Traits
Albus Potter had a considerable likeness to his father, Harry Potter. He had the same jet black hair, often described as unkempt and messy. He had a relatively thin face and was quite short. It was expected that Albus would be around the same height as Harry as an adult.
Albus was the only child of the three Potter kids who inherited his grandmother, Lily, and father's well-known bright green eyes. He was described as being an attractive, handsome boy. However, just like his father, he was unaware of this, maybe due to his hand-me-down robes, which made him uncomfortable around the other students.
Albus Potter Early Life
Before School
In 2014, when Albus would have been around the age of Eight, he attended the 427th Quidditch World Cup finals with his family. While there, their father, Harry, introduced him and his older brother, James, to Viktor Krum, the Bulgarian Seeker.
For the final game, Albus wore green to support the Brazilian Quidditch team, while the rest of the family wore red, supporting the Bulgarians. According to his mother, this was because he was a big fan of Brazilian Chaser, Goncalo Flores.
He seemed so excited when Flores scored the game's first goal that he almost fell out of the V.I.P box where they were seated. Luckily, his uncle Ron grabbed him by the robe and managed to stop him from tumbling out. Of course, Rita Skeeter, who was nearby reviewing the match, took great pleasure in trying to say that maybe James pushed his younger brother. Harry distracted Albus with some of Luna Lovegood's sweets, which calmed him down.
Albus was later seen cheering for Bulgaria when they won the tournament. Rita Skeeter reported that this was because of his fame-hungry father's prompting. Ginny overheard this and was quick to hex Rita before she could continue. I loved how Ginny stood up for her family and thought it was just one example of how she cared for her children and husband.
Starting School
Albus began his journey at Hogwarts School of Witchcraft and Wizardry on the 1st of September 2017, along with his older brother, his cousin Rose Granger-Weasley and new friend Scorpius, son of Draco Malfoy. His brother James had already attended Hogwarts for two years and had a habit of telling Albus make-believe stories to tease him.
While they were standing on Platform 9 ¾, waiting to board the Hogwarts Express for the first time, Albus told his father that he was scared he might get sorted into Slytherin house. Harry said to him that one of the bravest men he ever knew, Severus Snape, whom Albus was named after, was, in fact, a Slytherin. I found this a very emotional moment. It indicated the end of the much-loved Harry Potter series but opened the door to a whole new journey.
This statement from his father put Albus' mind at rest slightly as he realized that perhaps not all Slytherins turned out bad. Harry also assured Albus that if he genuinely wanted to be a Gryffindor, the Sorting Hat would consider this, as it had done for him when he started school. This was the first time Harry had told this to his children. Albus boarded the train and waved goodbye to his mother and father from the train window.
Once on board the train, Albus and Rose wandered the corridors, looking for an empty compartment to sit in. Rose reminded Albus that their parents had met on the train, so finding the right place to sit was extremely important, as they may meet their lifelong friends.
Once they found a compartment, they opened the door to find Scorpius Malfoy sitting by himself. The cousins introduced themselves to him, and Rose left to see if there was anywhere else to sit. Albus opted to stay and keep Scorpius company. They got along well and soon shared stories and snacks on their journey to their new school.
Albus Potter Hogwarts Years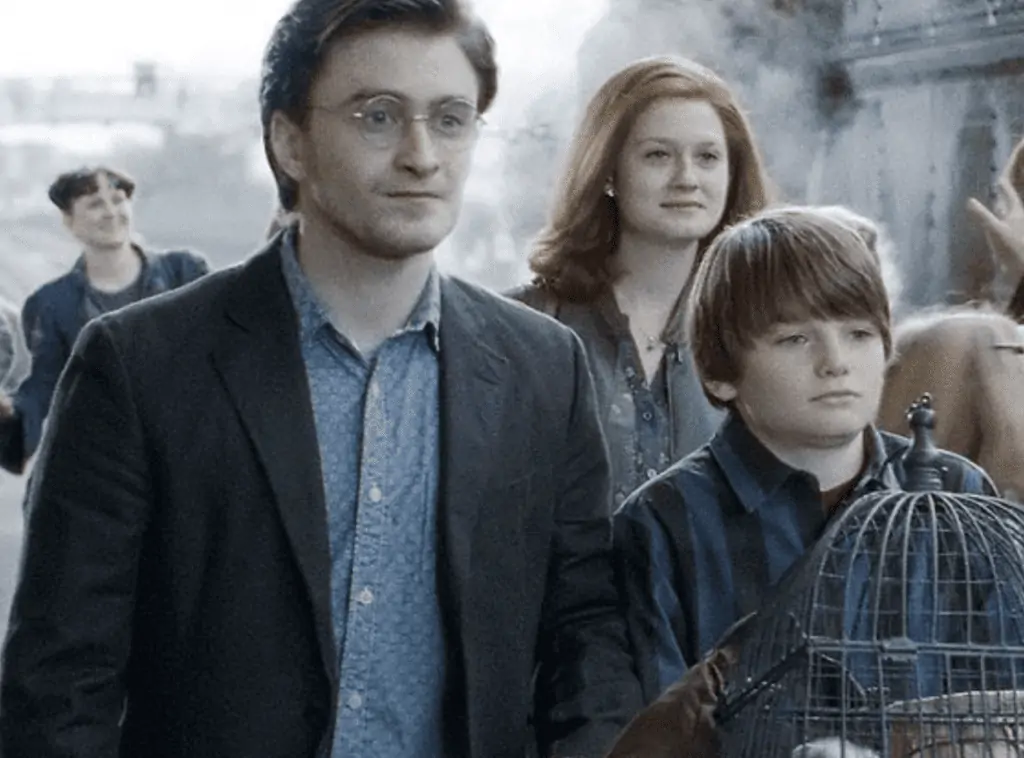 Year One
Once they arrived at Hogwarts, Albus and the rest of the new students attended the Sorting Ceremony. The sorting hat placed Rose in Gryffindor House, and Albus and Scorpius were placed in Slytherin. Everybody was shocked that a child of Harry Potter could be a Slytherin. Other students mocked Albus for this.
He was mocked even more so when he found out, throughout his first year, that he hadn't inherited his father's natural talent for magic. He struggled in classes such as Potions, and during his first flying lesson, he was the only student who didn't manage to get his broom off the ground.
After this, he was cruelly nicknamed the "Slytherin Squib." This gives me a feeling of sympathy towards Albus, as he was concerned with his status as a Potter. His magical abilities were beginning to let him down, further increasing his concerns about not being good enough to carry the Potter name.
For the next three years, Albus continued to feel the burden of his father's fame, and he struggled to live up to the expectations that everyone had for "the son of Harry Potter."
Year 2
Albus told his father that he wanted to be alone this time while he was waiting to board the train to school. He explained that it was because he was having a hard time at school. This upset Harry, and he thought that perhaps Scorpius was the cause of his son's sadness. He told Albus that he should end his friendship with Malfoy, but Albus refused to stop seeing his best friend.
Year 3
Once again, on the platform, ready to begin his third year at Hogwarts, Albus burned the permit his father had given to him, stating that he did not want to visit Hogsmeade. He left his angry father behind and went to find his best friend. This was when he discovered that Scorpius's mother had sadly passed away during the summer due to an old family curse on her ancestor. His friend was heartbroken, and Albus promised that he would be by his side at her funeral.
Year 4
Over the following summer, Albus overheard his father's conversation with Amos Diggory. Amos had shown up at their home with his alleged niece, Delphi. Amos Diggory had heard a rumor that the Ministry of Magic held an illegal Time-Turner, and he wanted Harry to go back in time and use it to save his son Cedric's life. Harry stated that not only was the rumor not true about the Time-Turner but that there was no way he could risk meddling with time.
This was the first time Albus and Delphi had met, and the pair of them listened in on the private conversation together. Delphi told Albus to go and visit her where she worked at St Oswald's Home for Old Witches and Wizards.
Before he returned for his fourth year at Hogwarts, Harry spoke to Albus with the hope of getting him to change his behavior. Harry gave his son the blanket he was first wrapped in as a baby when he was left on the doorstep of the Dursleys.
Albus wasn't impressed by the gift and tried to make his father understand how things were for him at school. Albus confessed that he sometimes wishes he wasn't the son of "Harry Potter" as that was causing him so many problems at school.
Harry responded by telling Albus that he sometimes wishes he wasn't his son either. He instantly regretted what he had said, but it was too late; Albus was hurt, and the damage was done.
The Escape
The following day, Albus was still incredibly hurt by what his father had said, and I imagine that at this time, he was feeling at an all-time low and maybe starting to show signs of anger and frustration in day-to-day life.
When he boarded the train, Rose attempted to befriend him again, they had grown apart over the last three years, and her parents had asked her to try and put things right, although I think deep down she likely wanted to heal the relationship with her cousin.
When Albus realized she had only approached him under the instructions of her mother and father, he told her that he didn't want anything to do with her. Rose, however, did manage to slip into the conversation that the Ministry was keeping an illegal Time-Turner, which they acquired during a raid.
Albus was now more determined than ever to put right what his father wouldn't. He was going to go back in time and save Cedric. He convinced Scorpius to leave the train with him and go in search of the Time-Turner. They climbed up through the window and ran into the trolley witch who tried to stop them from leaving the train. However, she failed, and the pair jumped from the moving train.
Albus and Scorpius proceeded to St Oswald's Home for Old Witches and Wizards and met Delphi and Amos there, who were happy to help with the plan. With Delphi's help, the three used Polyjuice potion to disguise themselves as Harry, Ron, and Hermione.
I found this scene quite amusing, as it had similarities to when the famous three used polyjuice potion in the Chamber of Secrets to catch Scorpius' father, Draco. They continued to sneak into the Ministry, and Albus convinced the honest Hermione to go elsewhere while they searched her office. They solved a series of puzzles from Hermione's bookcase and eventually discovered the Time-Turner.
The Time Turner
Delphi was considerably older than Scorpius and Albus, so she decided to stay behind to save drawing attention to themselves. The boys used the Time-Turner and traveled back in time to the first task of the Triwizard Tournament.
They disguised themselves as Drumstrang students and moved through the crowd. When Cedric attempted to perform the task, Albus disarmed him, which prevented him from winning, saving his life. After five minutes had passed, Albus and Scorpius returned to the present.
Harry, Ginny, and Ron had been frantically searching for the children and eventually found them in the Forbidden Forest, where they had returned from the past. Albus had injured his arm and so was taken to the Hospital Wing; when he awoke, he was healed, but he started to realize that he had created an alternate timeline.
His cousin, Rose, no longer existed because Ron had instead married Padma and not Hermione. Harry demanded that Albus end his friendship with Scorpius and told him that he would be watched very closely.
When Albus returns to everyday school life, he does as his father told him and tries to avoid Scorpius. During classes, they realized that Hermione was now the Defense Against the Dark Arts teacher.
Eventually, Delphi turned up at school and forced Albus and Scorpius to rebuild their friendship. The three of them then decided they had to put things right and travel back in time once again to save Cedric without changing the present timeline.
After succeeding, they returned to the present time. Scorpius soon realized that they had created yet another alternate timeline, where Cedric had indeed survived.
He had become a Death Eater and killed Neville Longbottom, who, in the actual timeline, was crucial to the demise of Lord Voldemort. This now meant that Albus had never been born. Scorpius must go back in time again, this time alone, to try and bring back his best friend.
The Truth About Delphi
Albus, Scorpius, and Delphi decided it was best to destroy the Time-Turner. Scorpius then spotted Delphi's Augurey tattoo. It reminded him of the symbol he saw in the alternate timeline with Voldemort. When Delphie later mentioned that she was related to the notorious Death Eater family, the Rowels, Scorpius, started to become suspicious.
With the secret now out, Delphi told the boys that she planned to use the Time-Turner to save Voldemort. She broke their wands and killed Craig Bowker Jr, who had accidentally come across them. She forced the helpless children to travel back in time with her to the third task and restore the alternate timeline in which Voldemort had lived.
Albus and Scorpius knew that the Time-Turner only kept them in the past for five minutes, so they tried stalling Delphi. They bumped into Cedric Diggory in the maze, and he freed the pair, presuming that this was all part of the tournament. Before he left, Albus and Scorpius told him that his father loved him.
Delphi managed to get the Time-Turner to take them back even further, to the day before Albus's grandparents were killed. She destroyed the Time-Turner and left, leaving Albus and Scorpius behind.
Albus thought that Delphi was going to go and kill Harry herself so that the curse wouldn't rebound onto Voldemort, so he and Scorpius went to Godrick's Hollow, where they saw Lily and James with their new baby, Harry Potter. They tried to warn everyone about what was happening in the future, and they used Harry's blanket to send a message through time. Harry, Ron, Draco, and Ginny worked out the message and used a more advanced Time-Turner to join their children in 1981.
Ginny realized that Delphi only wanted to stop Voldemort from going to kill the Potters, meaning his downfall would never happen. Harry transfigured himself into Voldemort and tried to apprehend Delphi. She pleaded with him to accept her, revealing that she was, in fact, the daughter of Voldemort and Bellatrix Lestrange. The spell started to fade, and when Delphi saw it was actually Harry, the pair began to duel.
Albus and the others helped Harry and eventually stopped Delphi. Harry paused and decided to watch his parents be murdered as a form of closure. Albus stood beside his father and held his hand.
Back to Reality
When they returned to real time, Delphi was sent to Azkaban. After the traumatic experience, Albus and Scorpius returned to everyday life. Albus and Harry went together to visit Cedric's grave on a beautiful hill, and they started to rebuild their relationship.
Albus Potter After Hogwarts Years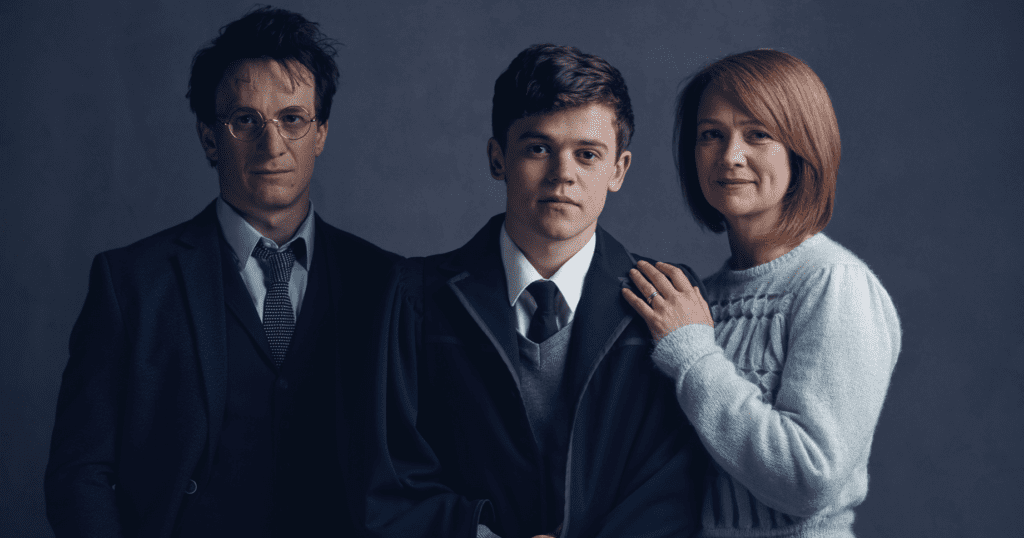 We don't know anything about what happened to Albus after his time at Hogwarts.
Albus Potter Spouse / Partner, Kids
We don't know whether Albus ever married or had any children, as unfortunately, the Harry Potter stories ended with the Cursed Child.
Albus Potter Magical Abilities and Special Skills
Albus never displayed a natural talent for magic as his father had. He struggled to perform even the most basic of charms. During his first flying lesson, he was the only student who couldn't make his broom rise off the ground.
Although he didn't think he would ever amount to a great wizard or live up to the Potter name, Delphi told him that she sensed great talent in him. It appeared that he was suffering from a psychological block when it came to magic. He had the talent, but the pressure of being Harry Potter's son was too much and resulted in him not being able to work to his full potential.
He was capable of casting charms such as the Engorgement Charm, the Fire-Making Spell, the Cushioning Charm, and the Unlocking Charm. He also had a natural affinity for casting his father's signature spell, the Disarming Charm.
Albus Potter Wand
It is thought that before he attended Hogwarts in his first year, Albus's parents took him to Ollivanders in Diagon Alley, where they would have bought his wand.
It was made of cherry, but the length and core material are unknown.
Delphi broke his wand in half during his fourth year at school, so I would presume that he will have replaced this before his final year at Hogwarts.
Albus Potter Trivial and Fun Facts
Albus was seen with two animals throughout his appearances. When he boarded the Hogwarts Express, he was carrying a ferret in a cage resting on top of his trunk. He also owns an owl, which he took to Hogwarts in 2017.
Neville Longbottom was Albus's Godfather.
Albus was close with his father's godson, Teddy Lupin.
Albus had a crush on Delphi.
Albus is a distant cousin of Lord Voldemort.
J. K. Rowling once said that she found Albus the most interesting out of all the Potter children.
Albus Potter Appearances in Books
Harry Potter and the Deathly Hallows: Epilogue
Albus Potter Appearances in Films
Harry Potter and the Deathly Hallows – Part 2
Albus Potter Quotes
"Albus Severus Potter, you were named for two headmasters of Hogwarts. One of them was a Slytherin, and he was probably the bravest man I ever knew." — Harry Potter to Albus Potter in the Deathly Hallows – Part 2 
So what would you like me to do? Magic myself popular? Conjure myself into a new house? Transfigure myself into a better student? Just cast a spell, Dad, and change me into what you want me to be, okay? It'll work better for both of us." — Albus Potter in the Cursed Child
FAQs
Question: Why Was Albus Placed in Slytherin?
Answer: Like his godfather Sirius Black, Albus came from a family who had all been placed in different houses than himself. Sirius was placed in Gryffindor when his family was mainly Slytherins, whereas Albus is a Slytherin when his family is all Gryffindors. Albus struggled with this for some time until he realized that not all Slytherins turned out bad.
Question: Why Doesn't Harry Want Albus to be Friends with Scorpius?
Answer: Scorpius Malfoy is the son of Draco Malfoy, who, during Harry's time at school, did not get along with Harry and his friends. Scorpius's grandfather, Lucius Malfoy, is also a Death Eater who serves Lord Voldemort. Harry felt that Scorpius would be a bad influence on Albus because of his family's history.
Question: Is Albus More Like His Mother or His Father?
Answer: Albus has similar traits to both his parents. In appearance and personality, he is very much like his father. Still, he has his mother's sense of humor and has a habit of accidentally falling into a web of dark wizards, as Ginny did with Tom Riddle in the Chamber of Secrets.
Question: Are Scorpious and Albus Related?
Answer: Albus and his cousin Rose Granger-Weasley are fourth cousins, once removed of Scorpius Malfoy. They are descendants of Phineas Nigellus Black. Phineas was once the Headmaster of Hogwarts.
Research Citations: 
Harry Potter and the Cursed Child, Act One, Scene Four
Harry Potter and the Deathly Hallows – Part 2
Harry Potter and the Deathly Hallows: Epilogue – Nineteen Years Later
Harry Potter and the Cursed Child
Harry Potter and the Cursed Child: Act Two, Scene Four
Continue reading: