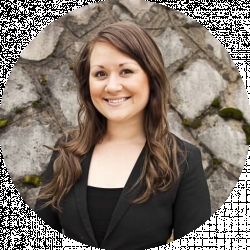 Latest posts by Lacey Jackson
(see all)
Harry Potter fans are always looking for new thematic games. Finding the best Harry Potter chess sets is high on any fan's list because of how the game of wizarding chess is incorporated throughout the series. If you already have a chess set, consider investing more in the best Harry Potter chess sets to flesh out your collection.
Bottom Line Up Front
If you are looking for the best Harry Potter chess sets, you are in luck. The Harry Potter Magnetic Chess Table is the ultimate choice, a complete standalone table with magnetic pieces. All you need is a sitting room to host it and two matching chairs for participants. If you're an average person with an average home and need something you can shove into the game board box or closet, choose the classic Harry Potter Wizard Chess Set. 
My Tricky Chess Relationship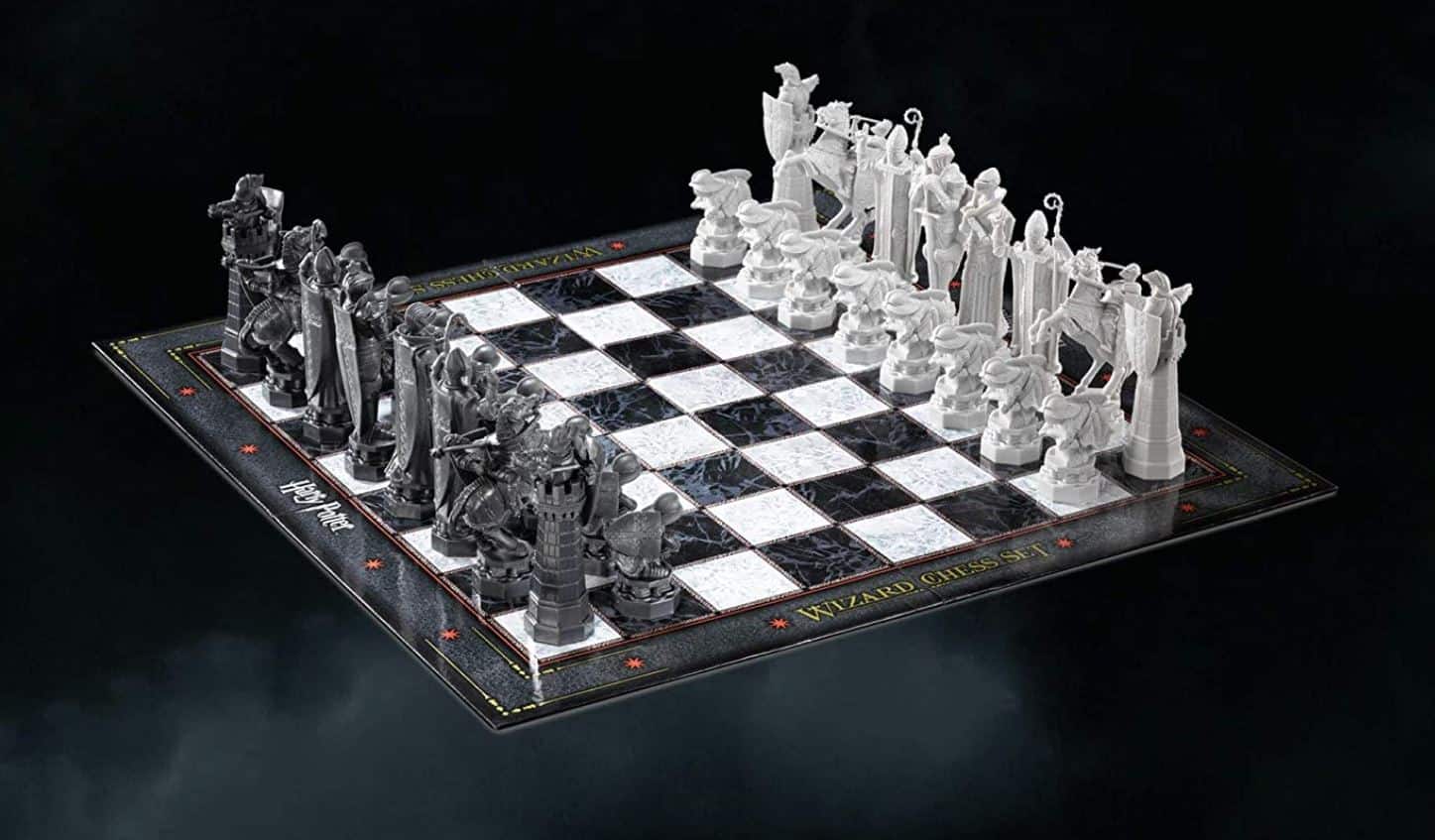 I have never won a game of chess against my better half. The closest I've come is when we vacationed at a castle (yes, an actual castle). Part of the sprawling lawn contained one of the largest tree houses I've ever seen, an endless array of bookshelves built into the retaining walls, and a life-size chess set.
For some reason, the life-size chess set was easier for me because I could walk around the board. We ended in a stalemate (I still mark this in my "win" category when they aren't around). 
My partner couldn't believe how well I played. My success was attributed to the simple fact that I was able to walk around the board and better visualize it in a way that made sense to me.
To this day, we continue the play now and again, usually when we're sitting down on the weekend with our morning coffee, because the chess set is nestled atop the shared coffee table in our library, with pieces out and ready to play. 
Yes, I have to dust each piece individually even though it has a home underneath the board in a special compartment. Having all the pieces out and ready to go makes it easier to start a game whenever the mood strikes.
I always give my partner a hard time because they grew up playing chess with uncles and fathers who taught them classic opening moves. I maintain that if all you've done as a chess player of any kind is memorize moves based on their mathematical probability, then you aren't trying anything new. You aren't just moving the peace wherever at the start of the game and trying your best to work around the process you have created. 
Then I get a mathematically dizzying lecture on how that would be a waste of time. They've already done the math, and they know which moves will lead to what end at precisely what point in the game. Sheesh. 
Selection Criteria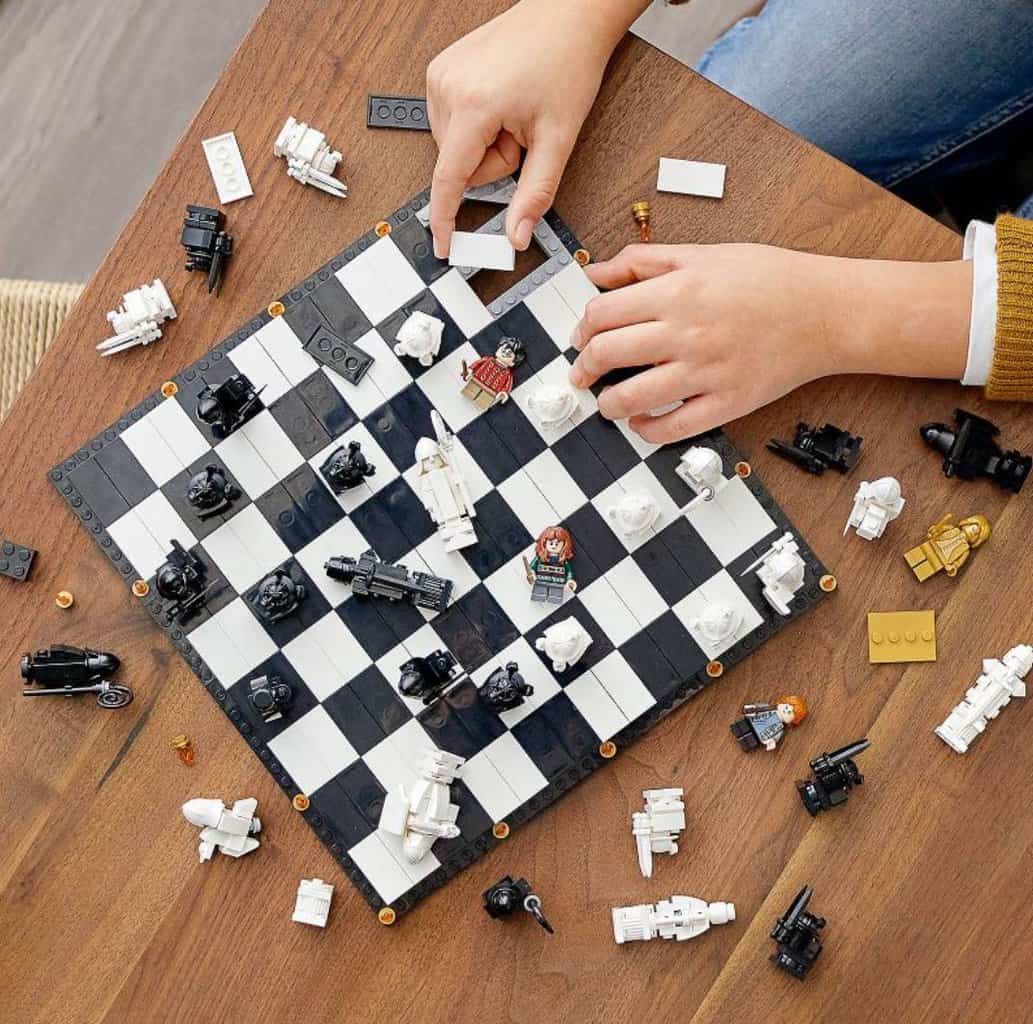 So back to the best Harry Potter chess sets. If you can swing it, having a life-size chess set is what I recommend. Just because there's no better way to scream that you are an arrogant, bourgeoisie up-and-coming middle-class member than to have so much space in your yard that you can afford to allocate a small percentage of it to a life-size chess game (I wish). And what's more, you can pretend to be Harry Potter characters and substitute yourself for different pieces on the chess set.
Most of us aren't that fortunate, and that's why the other recommendations I've included on this list of the best Harry Potter chess sets are much more realistic, things you can leave on your library coffee table as well.
I've picked everything based on the materials used. I don't like board games that aren't sturdy and aren't going to last a long time. I've also narrowed down my selections based on how well they align with themes from the series. Let's dive in…
Harry Potter Magnetic Chess Table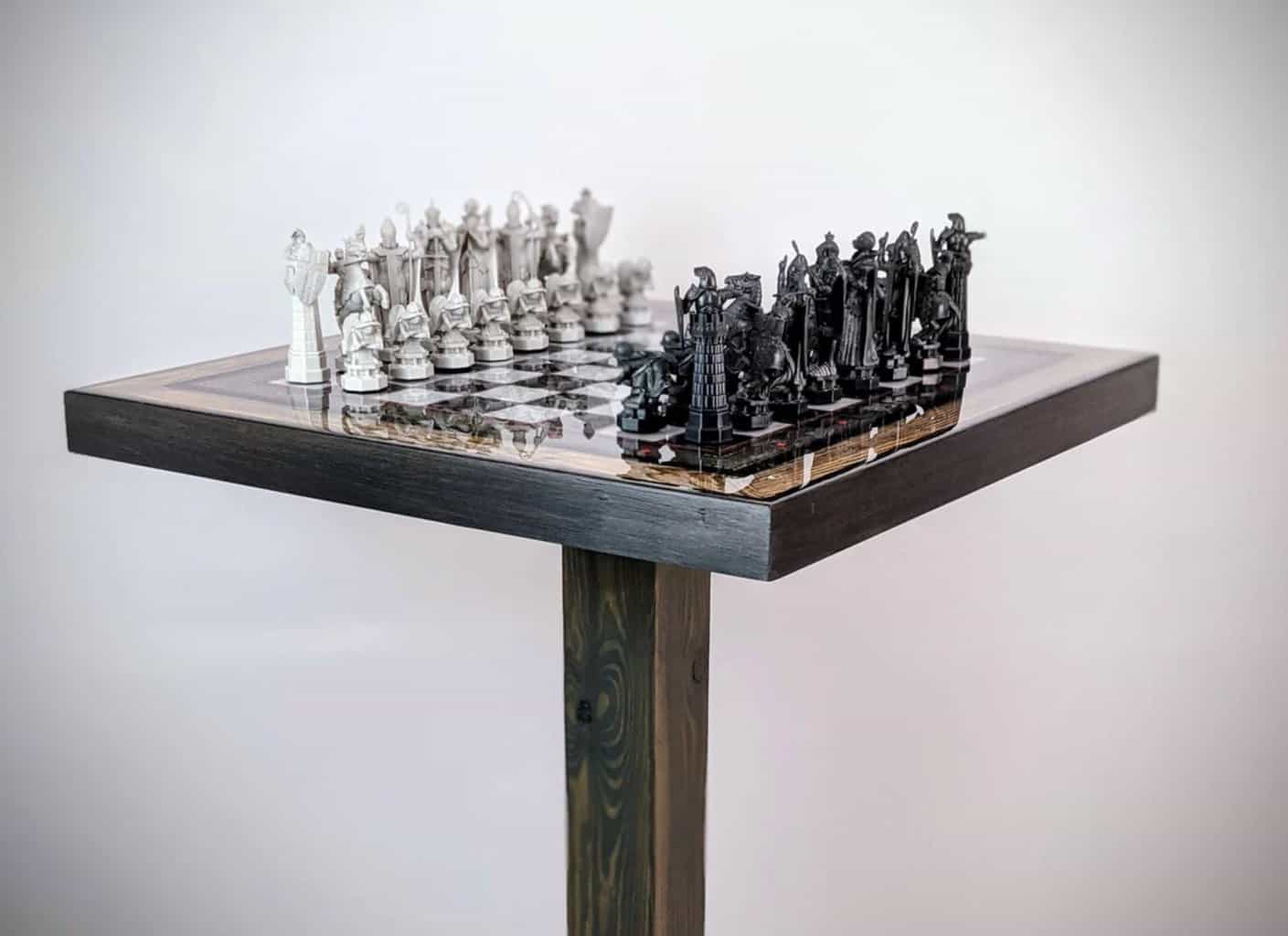 HOLY QUIDDITCH BALLS. This game is insanely great. I own a magnetic chessboard, but it is a travel board, something we take on hikes so that we can sit on top of a mountain and play in the sun. It is nothing quite as spectacular as this standalone magnetic beauty. If you have the room for it and five hundred dollars to spend, go for the Harry Potter Magnetic Chess Table. 
When I saw this, I screamed out loud with glee and frightened the cat. This is the type of chest table we had on our castle vacation in every room, only those tables weren't magnetic, and they weren't Harry potter-themed.
Pros
It has a pedestal base with solid wood construction and a magnetized tabletop.

The pieces in the set are all 3D-printed plastic with magnets at the bottom. 

The pedestal is crafted from poplar and oak hardwood.

The chessboard on top has a marbled appearance with black and white squares surrounded on all sides by wood planks and stained with black.
Cons
These are pricey, coming in at around $500, and they're so well made there are only a few in stock at any given time.
Noble Collection Quidditch Chess Set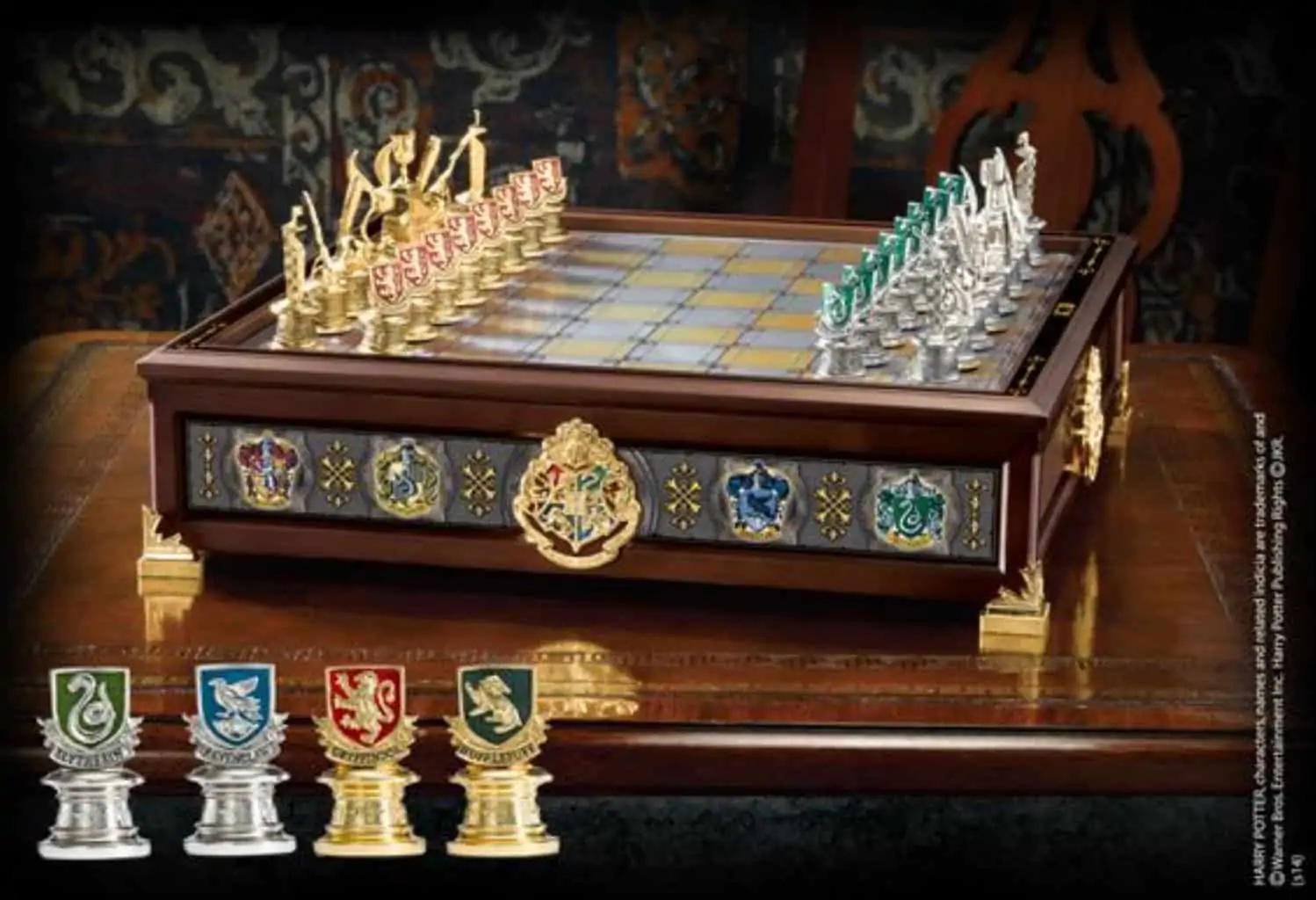 The Noble Collection offers a range of great official gifts and collectibles (definitely worth exploring other offerings, too). Still, the Quidditch Chess Set is among them. It is indeed, truly, beautiful. I have never seen a chess set with such an intricate board design. If you can't get the full table and magnetic pieces, get the chess set big enough to have faux-gold official seals on every side.
This is my top recommendation for anyone who wants a standalone board. The board has beautiful dark wood around the body, with 24k gold plated Hogwarts seals acting as handles for the four sides. There are gold-plated feet at the base of each corner too. Only woodworkers will appreciate how a lathe was used to cut patterns and shapes into the perimeter. It is the only Harry Potter board with drawers inside where all the pieces fit.
And speaking of pieces, each piece is die-cast, very solid, with gold or silver. Ravenclaw and Slytherin are silver. Gryffindor and Hufflepuff are gold. The pawn pieces all have the house flag on top of a sold or silver base.
Pros
You can play against all the house teams.
The pieces fit inside the board game when not in use.
The pieces are die-cast and enameled, either gold or silver, with house flags on top of the pawns.
The board is made of hardwood, and the attachments on the board, including the feet for each corner and the seals, are 24K gold plated.
Cons
It's expensive for being a standalone board, but as my family always says, "you only think about the price once."
HP Wizard Chess Set with Chess Board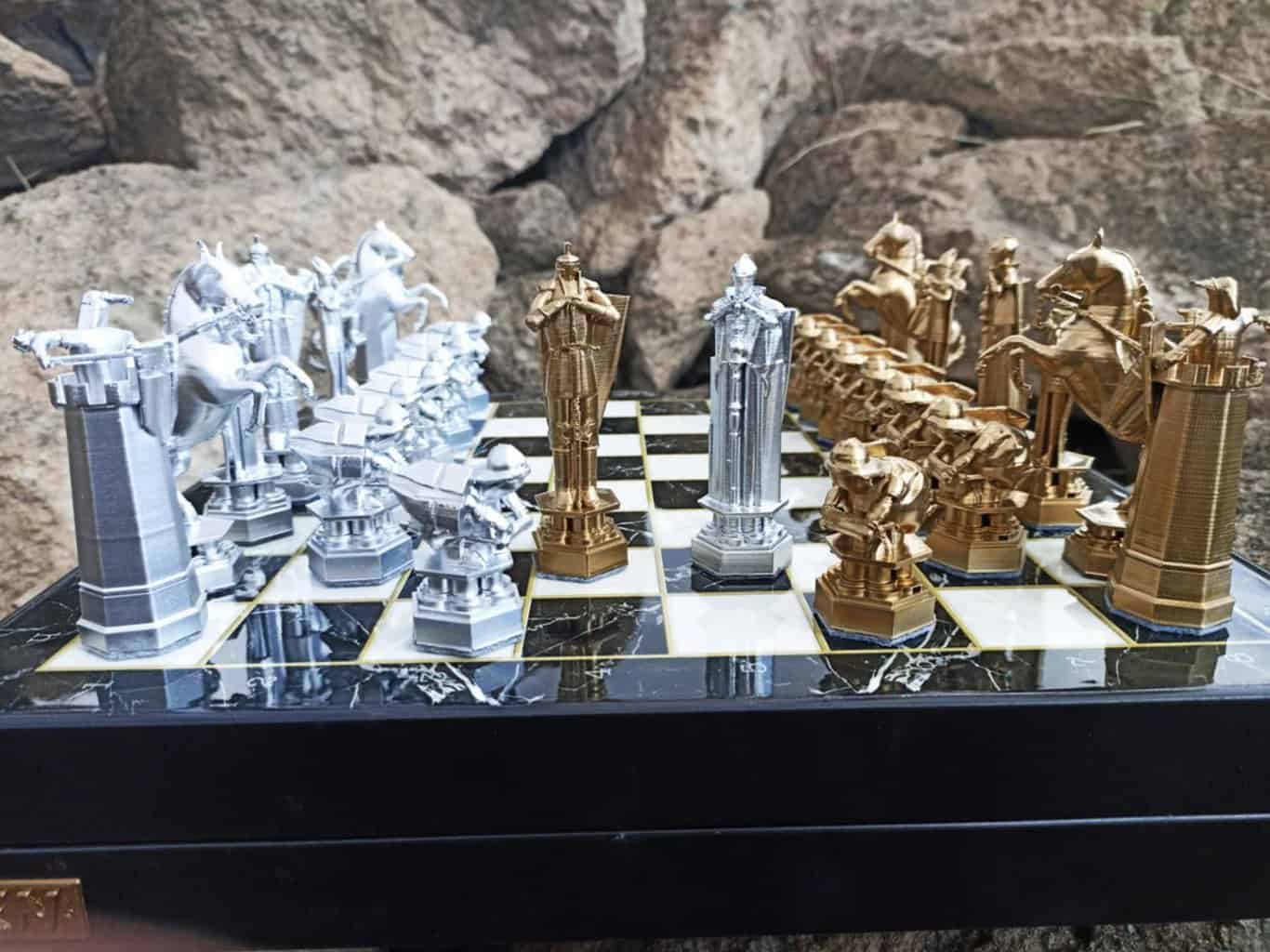 Another epic board, though not with a table, is the HP Wizard Chess Set with Chess Board. It looks like a marbled top, but it is environmentally friendly plastic. It is quite a large board, though, and until your dinner guests touch the pieces, they won't know it isn't all stonework. 
Pros
All of the pieces look just like they did in 

Harry Potter and the Philosopher's Stone.

The pieces are gold and silver instead of black and white, accented by the gold lining around the chessboard squares.
Cons
It is made of plastic without any storage for the pieces. 
Harry Potter Chess Set, Customisable Colours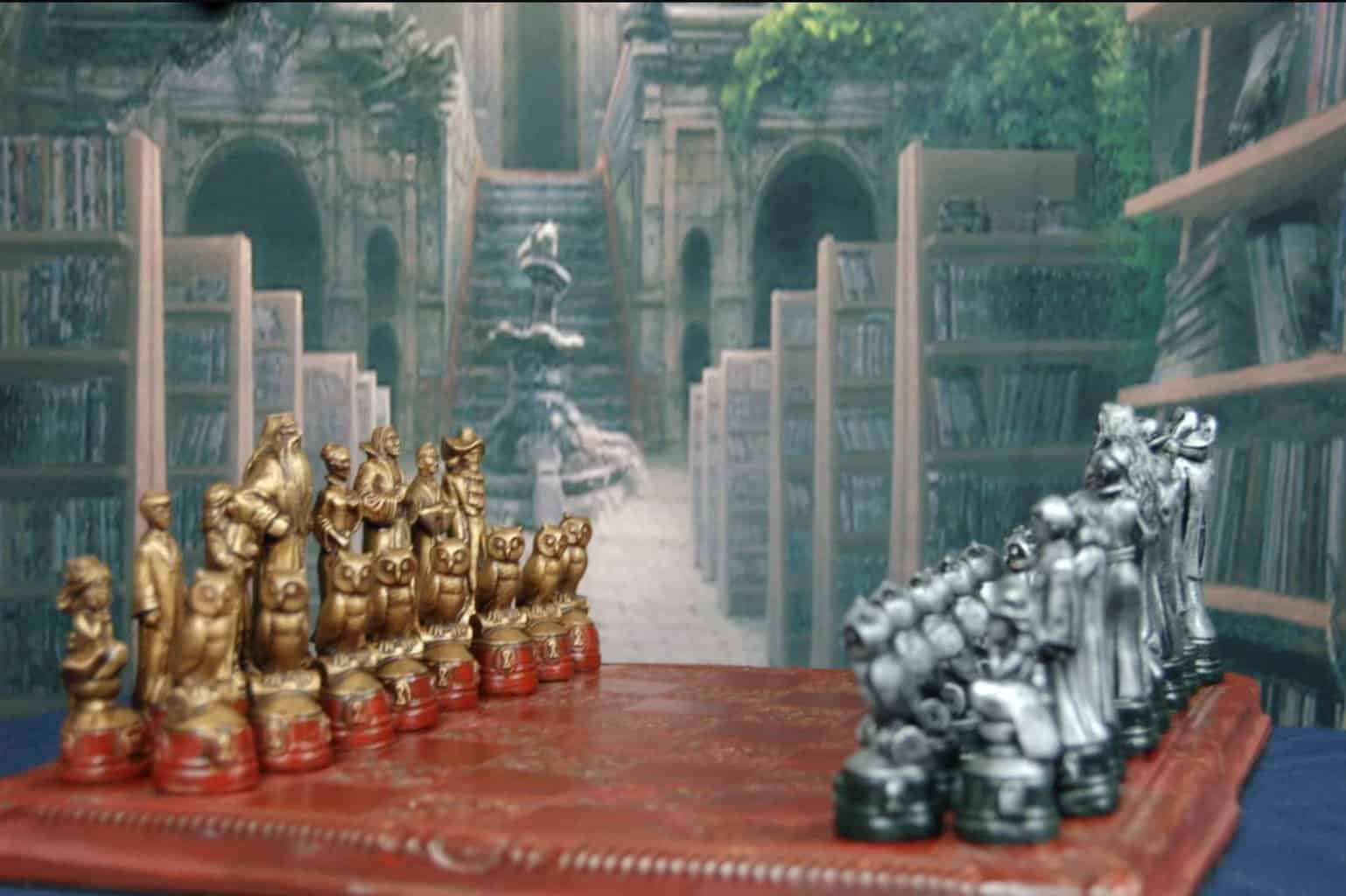 Let's say you already have a beautiful chess board, something handcrafted from wood or marble. Still, you want the option of converting it into one of the best Harry Potter chess sets. 
You are in luck. 
The Harry Potter Chess Set, Customisable Colours is exactly what you need. This is a manufacturer of the chess pieces, not the board. However, it is worth the investment if you already have a reliable chess board because you can customize the colors of your set. They have dozens of color samples from which to choose, including all the colors of the rainbow, five different iterations of gold, an assortment of metallic varieties, and more. 
The pieces themselves represent characters from the series. Instead of pawns, you get owls. These are each customized, which means it's made to order. You can choose competing colors for things like Slytherin vs. Gryffindor (Harry could have been in Slytherin, after all) or Ravenclaw vs. Hufflepuff. 
Pros
You can customize the colors in your chess set.

The characters are mostly people from the series, like Hedwig, Ron, Harry, Moaning Myrtle, and others.
Cons
These are each made to order, so it can take about three weeks to complete the casting of your pieces–the upside is you will have a unique chess set. 
Harry Potter Wizard Chess Set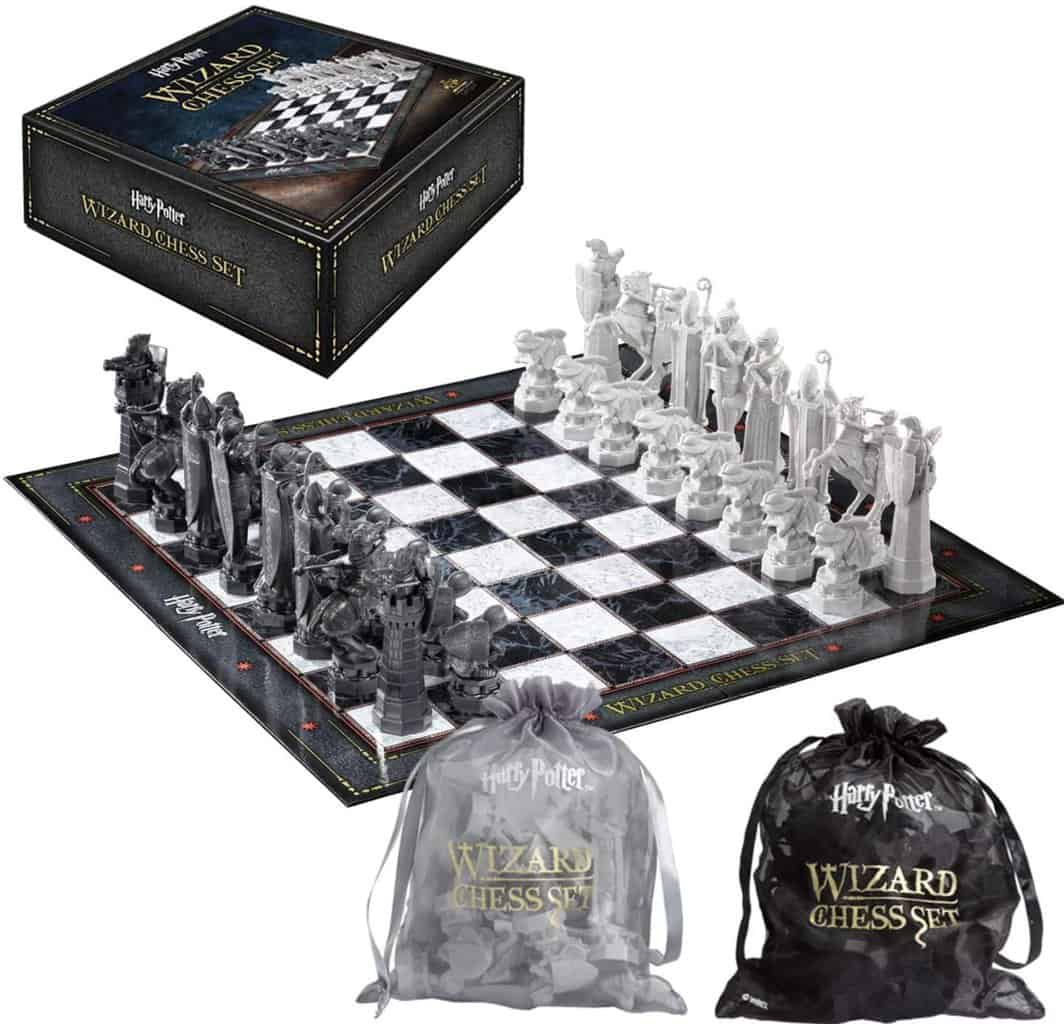 The Harry Potter, Wizard Chess Set, is a classic, all-around choice for families. Since it is Wizard's chess, it is the only officially licensed Harry Potter Wizarding chess set complete with a black and silver bag in which the pieces are stored. The board itself is very flat, and it has words along the perimeter like "Harry Potter" and "Wizard Chess," a clear nod to the series.
Each of the pieces is shaped like the iconic pieces from the movies. It comes in a large box, just like a board game, and the chessboard and pieces fit in that box so you can store it in a closet or with your other board games. 
Pros
It is the official Warner Brothers chess set.

It has a very thin chess board which can be easily stored with the pieces inside the game box.
Cons
It is made of plastic, and the board is exceptionally thin. 

There isn't any storage for the pieces except in bags.
Mattel Harry Potter Wizard Chess Set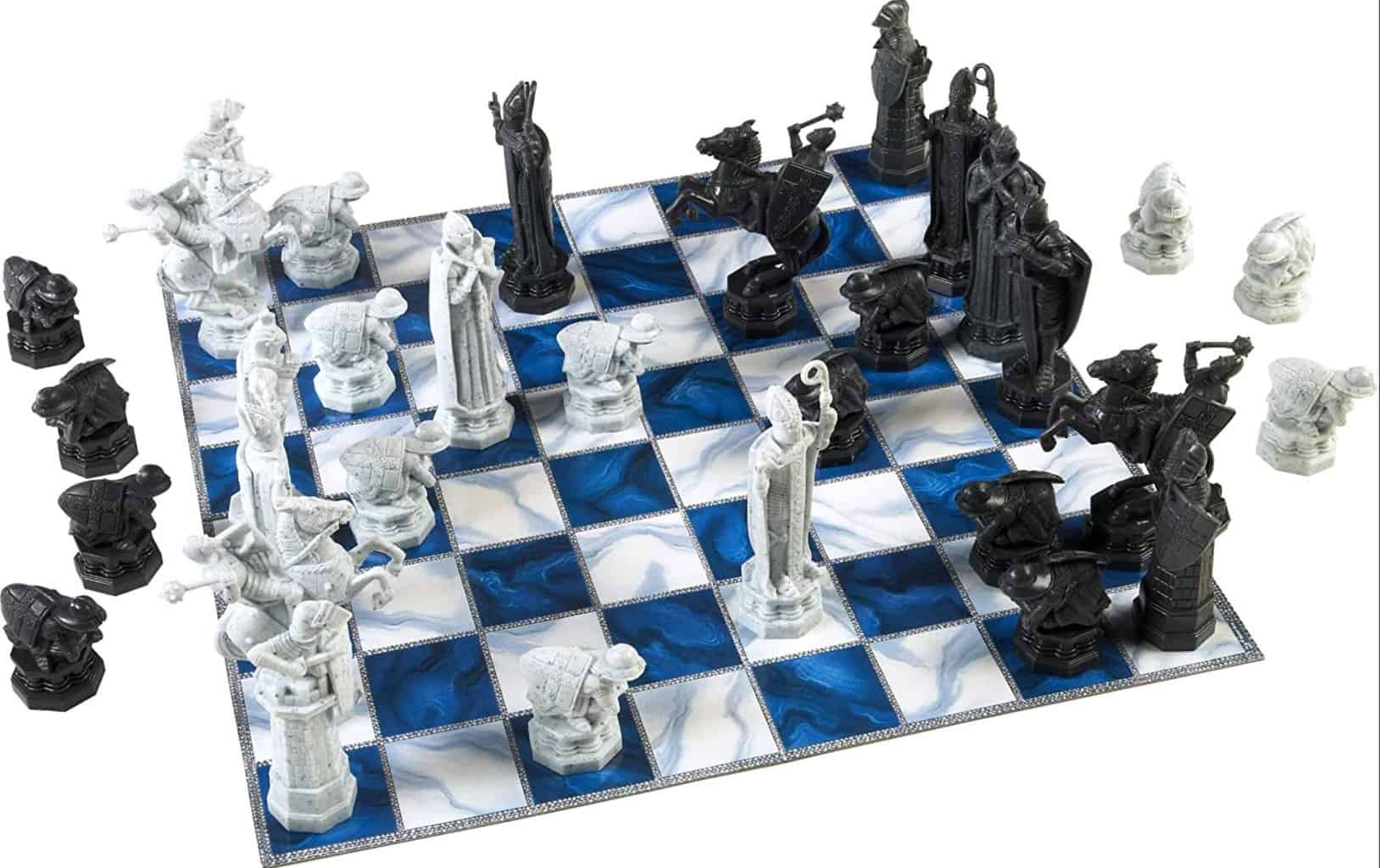 Mattel makes another Harry Potter Wizard Chess Set. The first film inspires it with characters that look just like them, including the crouched pawns. This set is slightly different from the classic Harry Potter wizard chess set because the pieces are black and white, and the board is a rich navy blue and white marble pattern. 
It has all of the pieces you need and a fold-out board. This is fine for travel, road trips, or a break on a camping trip. I don't particularly like folding boards because any fold line will allow the pieces to wobble and fall off the board, especially if you don't have a flat surface to rest the chessboard.
The pieces are a plastic composite that looks like stone, but they aren't fragile. This is basically plastic toy chess set for kids.
Pros
It can easily be taken with you when you travel.

This is meant for kids.
Cons
The board is a full outboard, so it folds down when not in use.
LEGO Harry Potter Hogwarts Wizard's Chess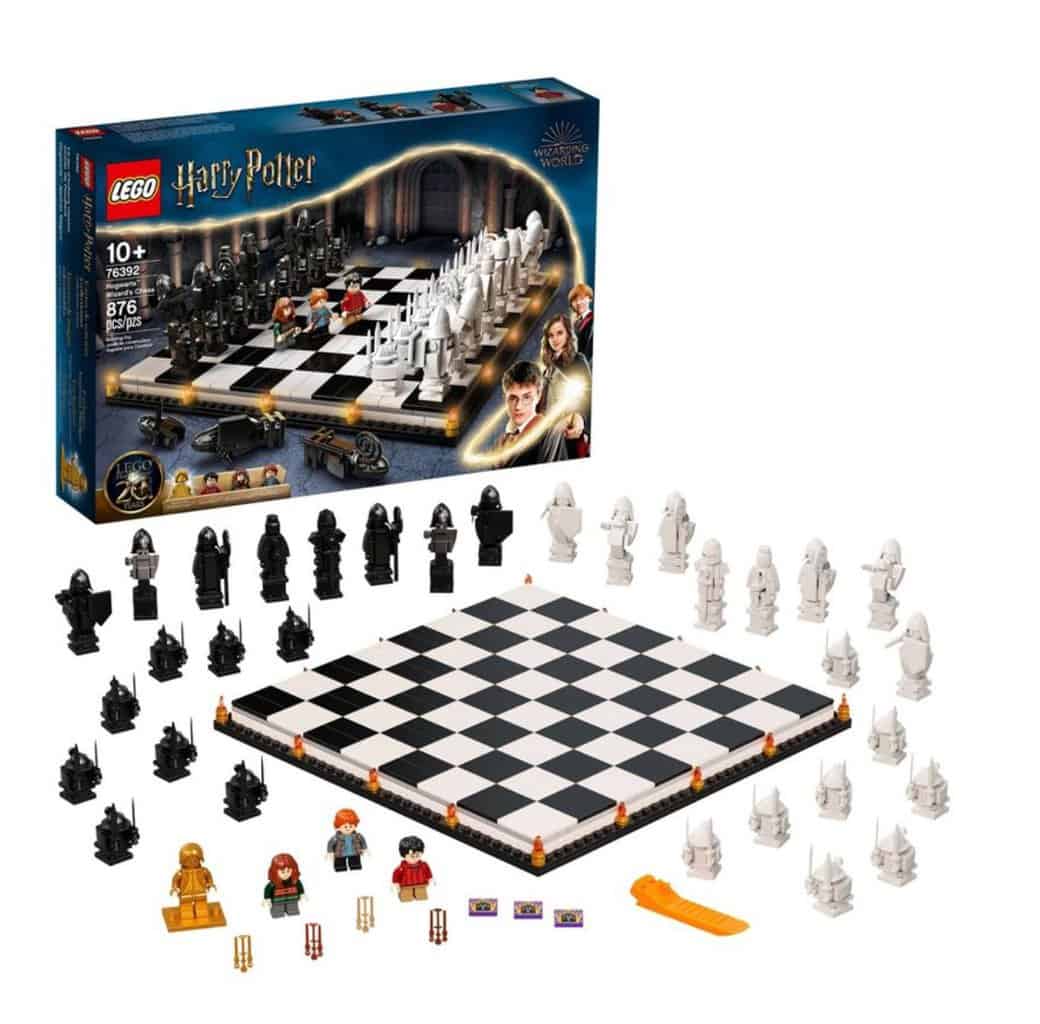 If you have kids, a great way to get them interested in such an old-fashioned game as chess is with the LEGO Harry Potter Hogwarts Wizard's Chess. You can find this at Target and have it shipped to your house or ready for pick up directly at the store. What I love most about it is that you have the main Harry Potter characters in their Lego form ready to substitute for any of the pieces on the board, just like Harry Potter and the Philosopher's Stone. 
Pros
Lego-themed, so it is perfect for those who love Legos.

The board had a full set of chess pieces plus magic wands, Harry, Hermione, and Ron, so you could choose to be one of them, playing for a particular chess piece.
Cons
Definitely for kids (or adults who wish they were still kids), not for a class library or den. 
FAQ
Question: Which chess set was used in Harry Potter?
Answer: Out of all the best Harry Potter chests sets listed here, the chess set from the Noble Collection is closest in its accurate representation of the characters used in Harry Potter. The Harry Potter version of Wizard Chess can't be recreated entirely, but this is the closest. 
Question:
Is Wizard Chess the same as normal chess?
Answer: The game is played in the same way. The critical difference is that with wizard chess, the pieces move. They regularly taunt the players throughout the books, yelling out advice and criticism when necessary. 
Question:
Who is the best chess player at Hogwarts?
Answer: Surprisingly, Ron is considered the best chess player at Hogwarts. He regularly plays chess not only against Harry but against Hermione and his brothers. At the end of the first book, he immediately takes charge during the chess match, dictating where Hermione and Harry must go. At the end of the term, during the House Feast, he was awarded 50 points for the best game of chess ever played at Hogwarts.
Bottom Line
If you are looking for the best Harry Potter chess sets, your holy grail as an adult should be the Harry Potter Magnetic Chess Table. This standalone table with magnetic pieces is always ready for a game for proper use. If you want something the whole family can enjoy, stick with the classic Harry Potter Wizard Chess Set. 
Continue reading:
The Best Harry Potter Toys Guide You Can Find Anywhere
Best Harry Potter Monopoly Guide