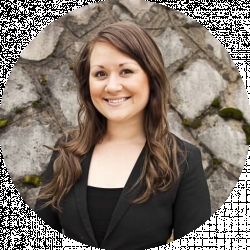 Latest posts by Lacey Jackson
(see all)
As early as Middle School, my friends used to make fun of me because I dressed like their mothers. My favorite store was Express, and I didn't own clothes that you might call comfortable or fun. I dressed like an attorney from fourth grade onward. To be clear, I wore lots of frilly dresses with lace and gloves and matching hats, and apparently, one day in fourth grade, I came home and told my mother I didn't want to wear those dresses anymore. That was the end of the lacey dress phase of my life and the start of the female CEO phase. 
I worked in law firms starting at age 15, so it was professional, business casual outfits day in and day out. When I came home, I made myself stay in my work clothes because I knew the minute I took them off, I would ease into jammies, and all productivity would go out the window. By staying dressed, I still had the option of cleaning, cooking, or going out if necessary to run a last-minute errand.
I didn't have t-shirts that weren't used for pajamas, and I didn't even own sweatshirts. They were far too comfortable. How could a person be productive while wearing a sweatshirt?
Now I work from home, so I have a newfound appreciation for t-shirts and sweatshirts. Sure, I still don't wear sweatshirts if I plan to be productive in any capacity. They feel too much like a full-body snuggle for me to care about leaving the house. But t-shirts are now my daily bread and butter. So I like my shirts to have a purpose. The shirts I wear around the house should represent an event I attended, a marathon I ran, or something I love.
To that end, I have a handful of special Harry Potter shirts. I love to wear them while reading. But what are the best Harry Potter shirts? 
Bottomline Upfront
I love the Burrow and Flourish and Blotts shirts. While other shirts are certainly fun, and you can wear them just about anywhere, the shirts are slightly more unique and represent important but often less appreciated aspects of the books. 
My Top Picks
Selection Criteria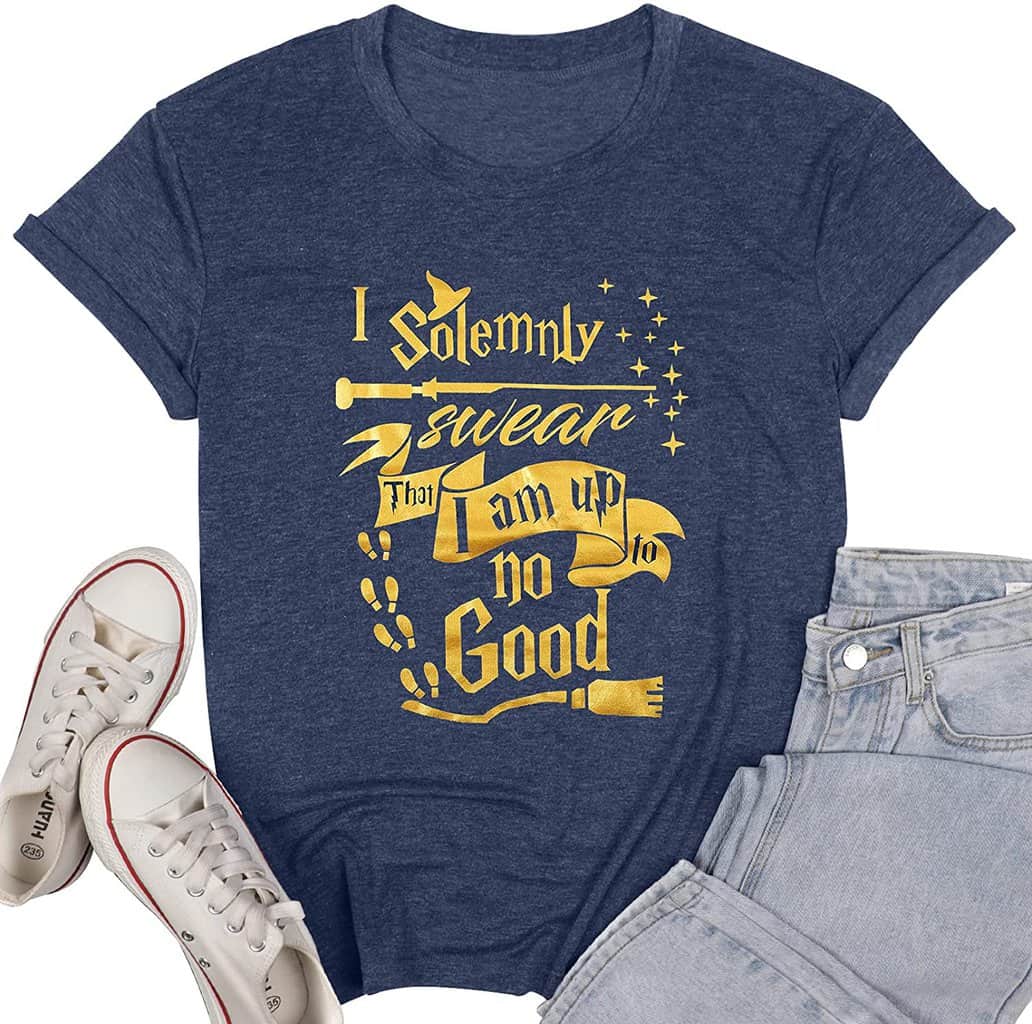 When I pick the best Harry Potter shirts for myself or for anyone else, I consider the quality of the material. It's not worth it for me to invest in a shirt no matter how cool the print is if I know the fabric will fall apart after three uses. I want something that I can wear during heavy workouts, while hiking, or out at dinner. That durability only comes with good fabric.
I also pick things that are comfortable. I own some versions of almost all of these shirts because I have tested the manufacturers and the materials, so I know what's comfortable.
The next set of criteria involves how unique the print is. I don't necessarily want a Harry Potter shirt that has something very common that everyone has. I prefer things that are understated or fun. Quidditch shirts, for example, can make it feel like I am a member of the team, while a shirt representing Flourish and Blotts can be a tribute to how much I love to read and write.
Finally, consider shipping and quality control. I grew up in a time when things regularly took between four and six weeks to get to you if the company had superb shipping, so I don't mind waiting for a good shirt, but I certainly don't enjoy dealing with customs delays or something that takes three months to arrive. And I certainly don't like working with companies that don't have flexible return policies or have poor customer service because there are quality control issues in just about every company. If something arrives and it doesn't fit right, or it isn't as expected, or the color just clashes, I need to be able to send it back and make an adjustment. I ordered a shirt that was white once, thinking it would be lightweight and fun, only to find out that it was the thinnest fabric possible and completely transparent no matter what I did. I returned it and exchanged it for a dark blue.
So everything included here holds up to this criteria. 
Best Harry Potter Shirts
The Burrow
My mother sent me a link this year to a website that had uniquely crafted Harry Potter shirts. She sent me one that had something to do with butterbeer or coffee; I can't remember. What I do remember is looking through them and finding one about the Burrow. She didn't think I would like that one because apparently, in her mind, the most important facets of my character include drinking, coffee, and writing.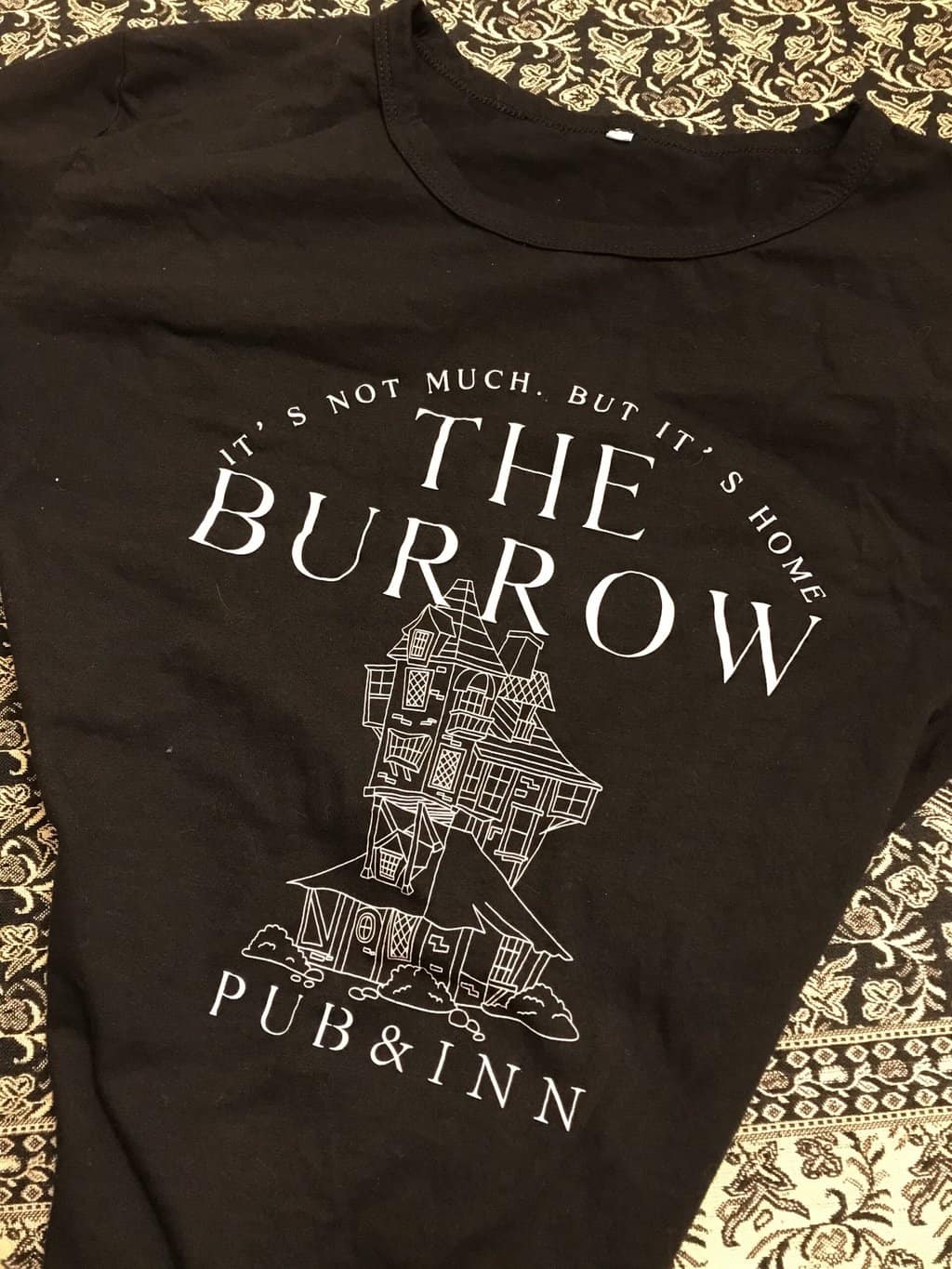 In the end, I bought this particular shirt (see above) because it reminded me of home. Maybe I'm old enough to be nostalgic and truly appreciate everything that my mother did for me growing up, but I really saw a lot of my mother's best qualities personified by Mrs. Weasley. When I had friends over whose family had mistreated them for coming out, my mother, though devoutly religious, was mortified and took my friends in just like Mrs. Weasley took in Harry Potter and Hermione without question. Our home wasn't much, but it was full of love and warmth and everything Harry Potter adored about the Burrow. People always hung around our house even though it was small and crowded, preferring the coziness over the spacious mansions of my friends.
So I personally think this is one of the best Harry Potter shirts because it means something to me on a very personal level, and it relates to my childhood, not just the childhood spent reading the Harry Potter books but rather my real childhood. I casually shared this with my mother when I confirmed that I did not, in fact, purchase the shirt she recommended, but I did purchase another shirt. That turned out to be the highlight of her week. Too often, we have kind thoughts about family but forget to share them with those involved. 
Pros
It is simple and subtle, and people have to really understand the series to appreciate the shirt

It is not a common print
Cons
Shipping takes a long time. It is so long, you will forget you ordered it until it arrives. 

There is limited quality control, so order larger than you think.
Gryffindor House Shirt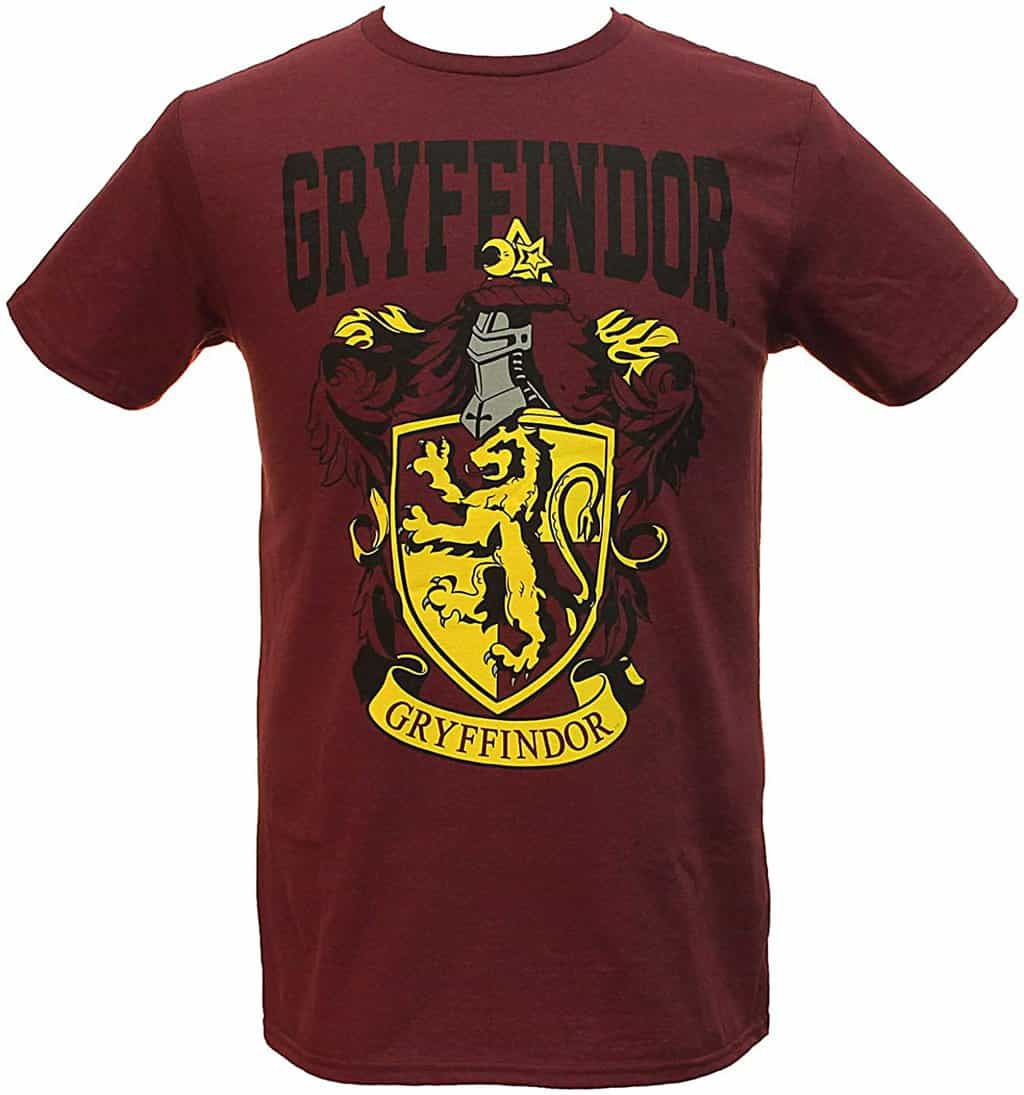 If you want a fun house shirt, consider this Gryffindor shirt. I have this print but from a different manufacturer. It's very comfortable, although a little on the thicker side. It will shrink when you wash it, but I try to tumble dry on low with the shirt inside out to protect the image on the front of the shirt, although it doubles as a way to protect against shrinking. They don't have other team shirts, but most people like to support Gryffindor regardless of their actual house team, and the shirt is the perfect way to do it. 
Pros
Maroon

100% cotton

Has a good graphic that blends into the fabric of the shirt, not just put on top directly, so it won't break down as easily
Cons
Men's shirt only, but women can likely get away with it
Quidditch Shirts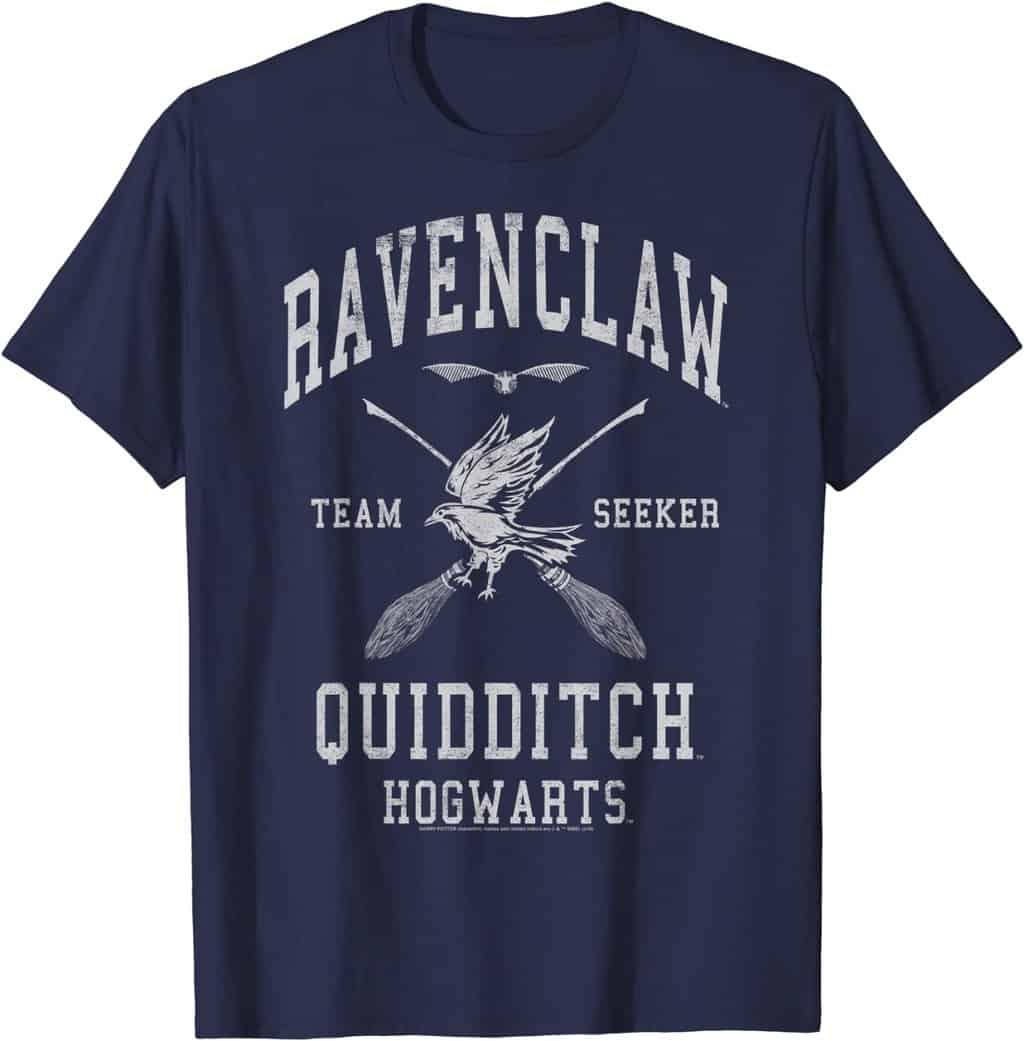 Who isn't a fan of Quidditch? I have such a profound fear of heights that sometimes, even the movie renditions of the games make me nervous. But that hasn't stopped me from getting a Quidditch shirt. I love these particular shirts because, while they are basic, they come in four colors and are made for men and women. You can pick the Gryffindor Seeker, Ravenclaw Seeker (which comes in three colors), Hufflepuff Seeker (also only in three colors instead of four), and Slytherin Seeker.
Pros
Men's and women's designs are available

All four houses available

You can get lots of colors
Cons
They are a cotton mix, so be prepared for some shrinkage 
Solemnly Swear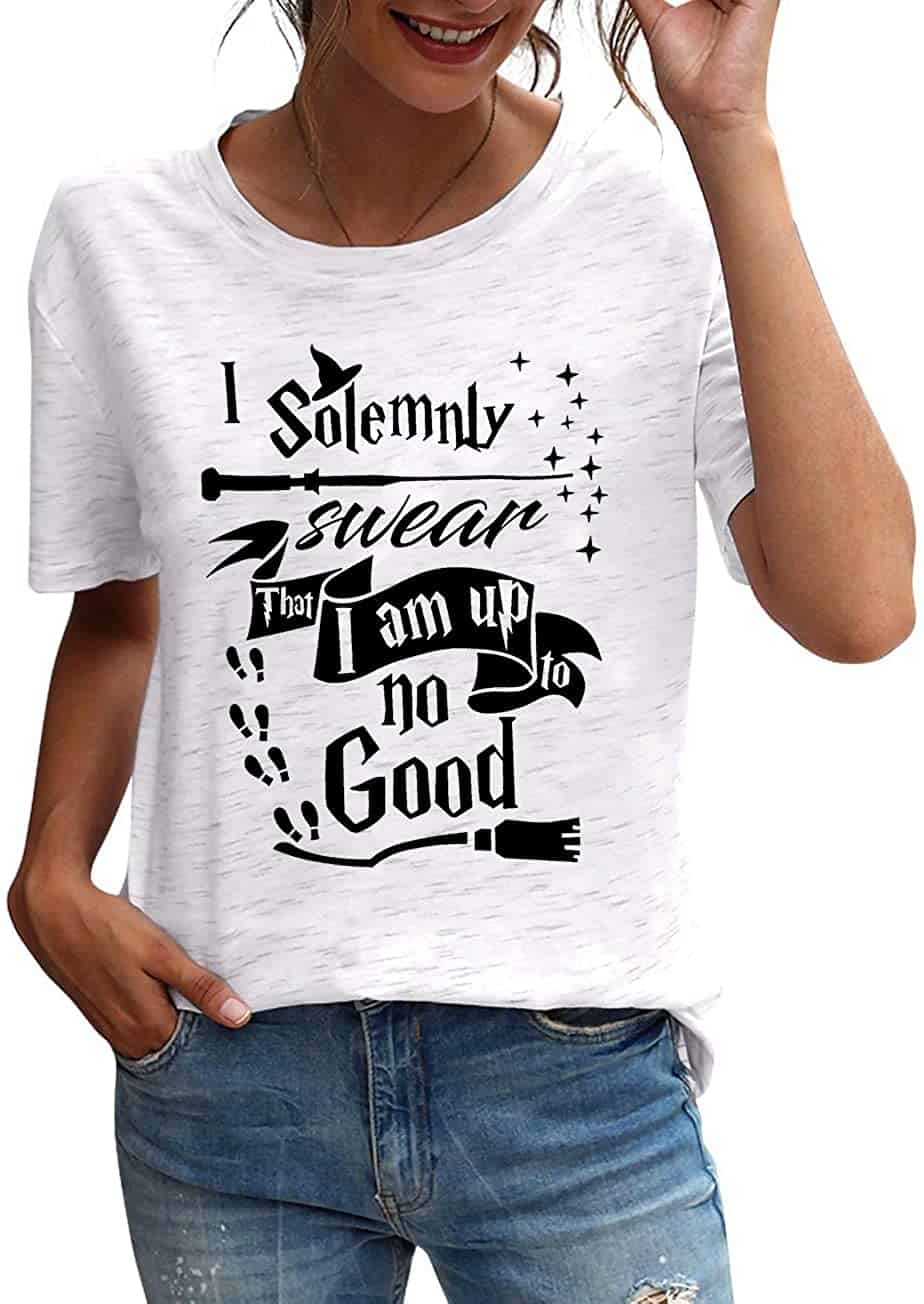 This shirt has the famous line from the Marauder's Map. I love that they are comfortable (yes, I have one of these too) and can be machine washed. While I truly love the silk screening with lots of colors and prints, I always worry about degrading them each time I wear them. These shirts, at least, don't have as much on top, so there is less chance of damage early on. You can pick from 20 different colors, each of which has different print choices too. They have plain or tie-dye colors. 
Pros
Tons of colors available for the shirt itself with white print on top

Different sizes and styles for the neck

Comfortable shirts that fit as expected
Cons
Nothing but the text on the shirt
Flourish and Blotts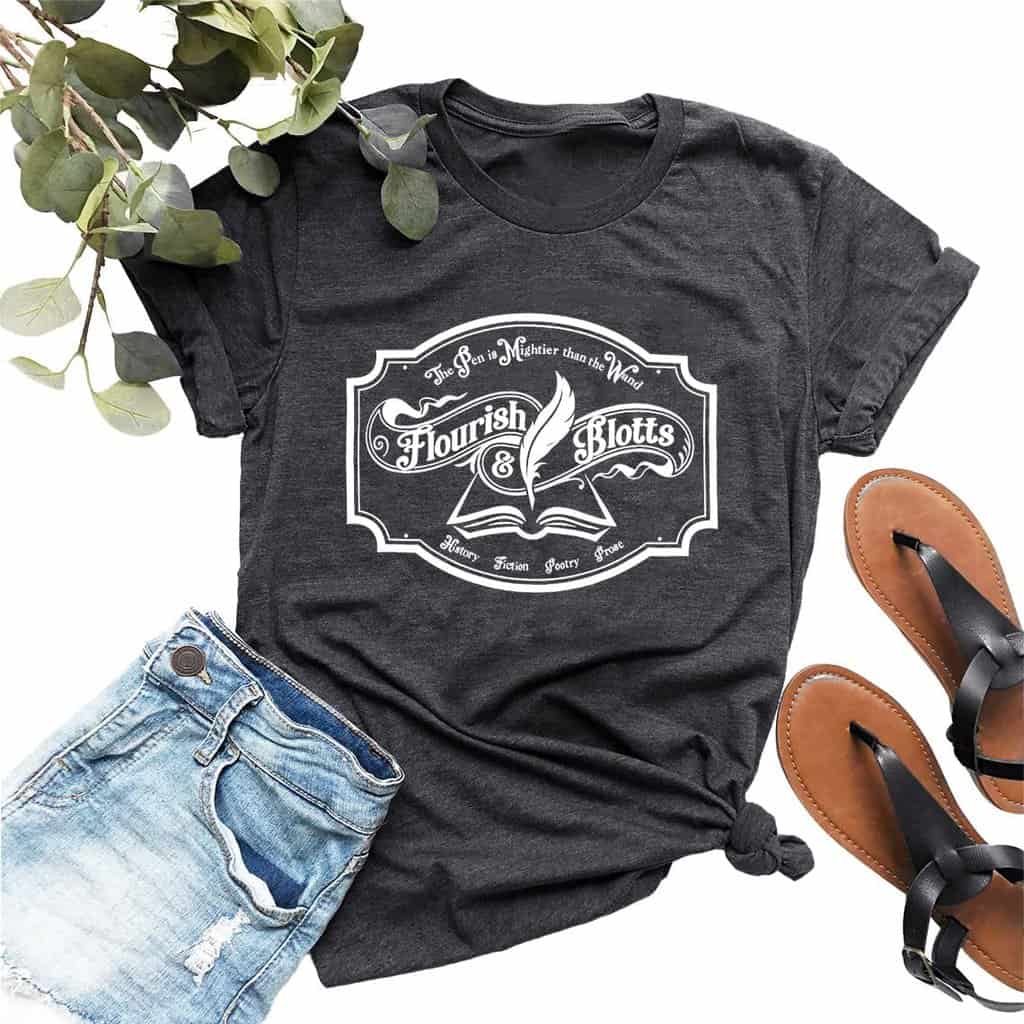 If you are a lover of books (and let's face it, if you love Harry Potter, you probably are), this is a great shirt. It is a Flourish and Blotts shirt for all book lovers and wizarding fans. It is lightweight and simple but something fans love. I own one myself. It is crafted with 60% polyester and 35% cotton, so it's very breathable. The last 5% is spandex which makes it comfortable and stretchy. It has a rounded neck and the image of the storefront with the words "the pen is mightier than the wand." 
Pros
Nice color

Lightweight fabric, which makes it good for hot weather

Understated but perfect for fans
Cons
Only meant for females

Only comes in dark grey

Only comes with a rounded neck, not a V-neck
Self-Designed Shirts
Now, I can't stand the fact that there is no longer any quality control when it comes to clothing, especially when you order clothing from other countries. I ordered a shirt that had to do with Flourish and Blotts once in honor of the fact that I was a writer. It was the same size as the two other shirts that accompanied it, and yet when I took measurements, it was 2 inches smaller around the ribs and waist and 4 inches shorter. When I contacted customer service, they asked if I had correctly ordered the size Medium, which I confirmed I had. Then they asked if the shirts I received were marked as a size medium, which I confirmed they were. Customer service was unable to help me beyond that point because clearly, there hadn't been a problem with the order: I got exactly what I ordered according to the label.
So, my workaround for companies I am unfamiliar with is to use a company I know produces good-quality shirts in sizes that fit me. I have one company I used for self-design shirts, and they will print any image I provide. So, I have purchased many Harry Potter prints that I then upload and have converted into the best Harry Potter shirts. I truly believe that making something customized for you, with personal meaning, will be enjoyed much longer than a generic Harry Potter t-shirt.
You can see the one I recently made having to do with Fantastic Beasts below: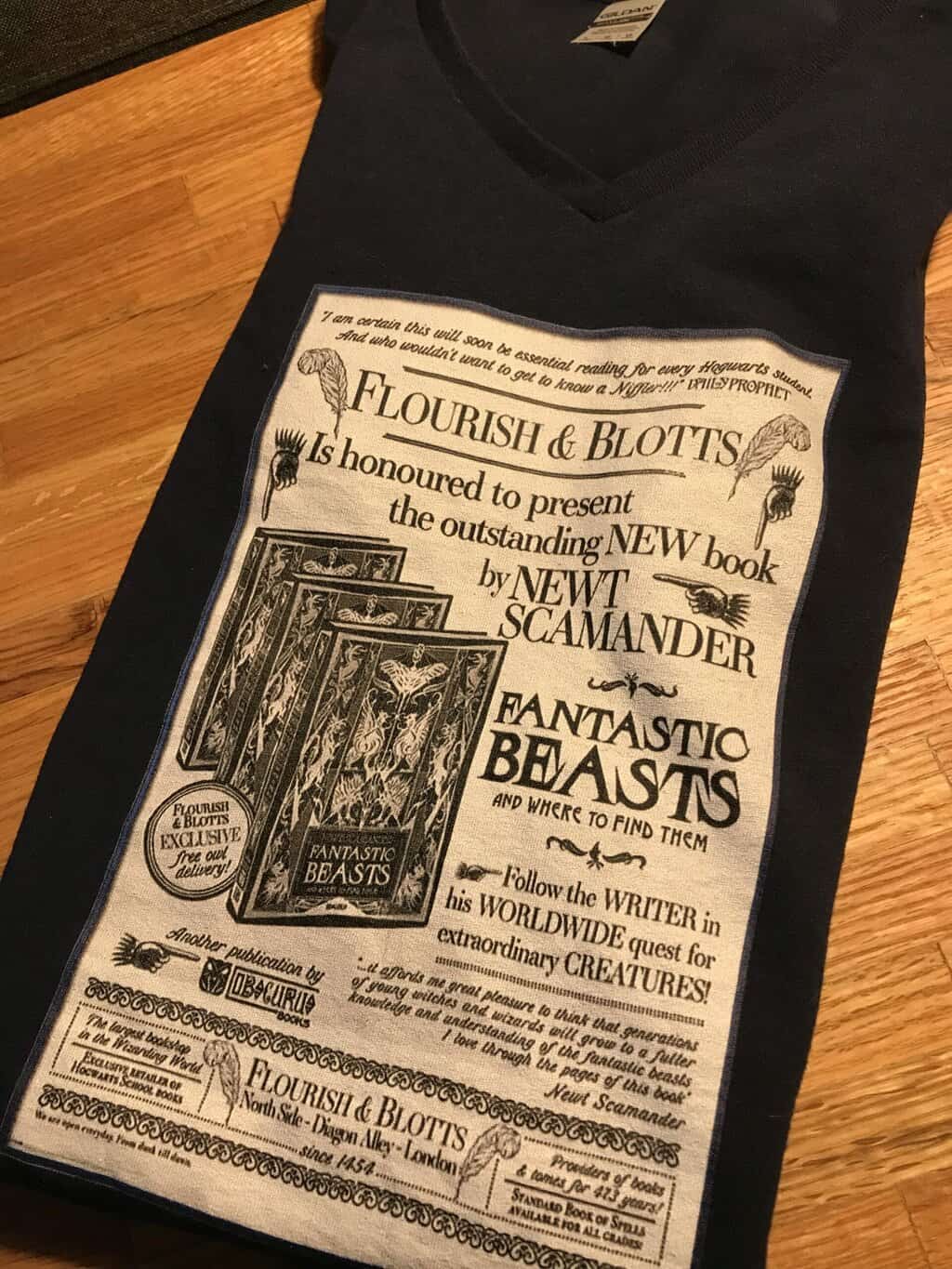 I like to wear my shirts while sitting on my balcony reading Harry Potter, as my friendly neighborhood squirrels run around my feet nabbing pecans and walnuts at will (yes, I spoil them, yes, we have a squirrel picnic table, and yes, I have seen the Mark Rober squirrel video).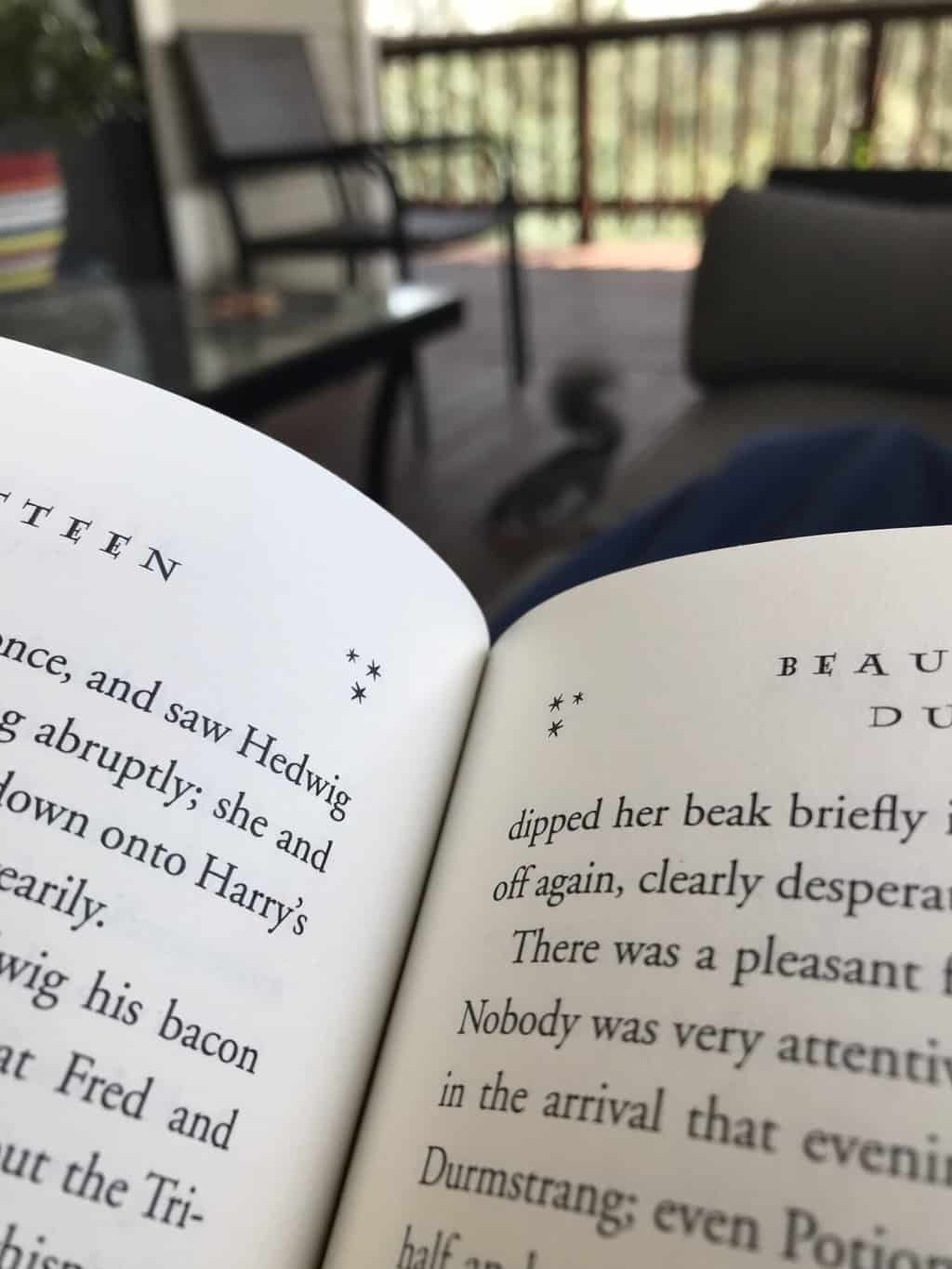 Pros
You can design whatever you want

You can pick from multiple colors for the shirt and the image

They offer fast shipping
Cons
The fabric is heavy, so it will be warm if you live in hot climates, but it is perfect for winter
FAQ
Question: Does Cotton Shrink?
Answer: Yes, 100% cotton can shrink if it's not washed the right way. If you want to shrink your new Harry Potter shirts right away so that you get that out of the way, you can wash it in hot water and then put it in the dryer. If the shirt is preshrunk, it will get smaller by a factor of around 3%. If it's not preshrunk, you might lose up to 20%. 
Question: How do I Know What Size to Buy?
Answer: When you go to purchase any of the items on this list of best Harry Potter shirts, the manufacturers provide a size chart. Use this chart to take the right measurements for yourself or the intended wearer. You want to get as close to this individual sizing chart as possible. After that, it comes down to personal preference. I usually straddle the line between two sizes, and I order up in that case so that I can comfortably wear a shirt without it sticking to me like plaster. 
Question: Will my Harry Potter Shirts Shrink Every Time I Wash them?
Answer: No, if it's made with 100% cotton, it will shrink the first time you wash and dry it, but it generally won't shrink after that. What you want to be aware of is whether or not the shirt has any type of silk screening on the front. The image or text placed on the front will eventually degrade if you leave it in the dryer. I always turn my Harry Potter shirts inside out to help minimize this. 
Bottom Line 
I recommend the Burrow and Flourish and Blotts shirts. They are more unique and understated than other shirts that just read "Hogwarts" and are things you would really appreciate as a fan of the books, not just a viewer of the films. 
Continue reading: