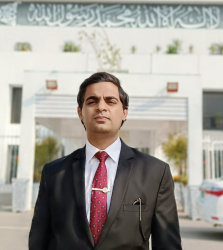 Latest posts by Boo Ali Khan
(see all)
"It is impossible to manufacture or imitate love." — Horace Slughorn.
While this quote may infer a harsh truth of today's reality, in the heart of any fan of the Harry Potter series, it cant be falser. With the love and respect this series has received and the emotional connection many fans foster for this makeshift world, it completely knocks down the idea of the impossible right on its head. And with the inclusion of Harry Potter toys in the pictures, the love spell was never more potent.
What captures me the most about the series is the genius world-building, and the unique and diverse cast of characters makes this magical world all the more believable. My love for the series led me to these magical chambers of secrets, and it helped make me the proud father of the massive collection of Harry Potter-themed toys and figures I have today.
Welcome, Potterheads, to one of the best Harry Potter Toy Guides of the century. In which, I will not only share some of my personal favorite Harry Potter toys but also mention some of my personal experiences with these Horcruxes. I hope this will help you build your collection while avoiding some of the obstacles I faced myself.
So, hold onto your brooms and start jotting down on your Harry Potter notebooks because this will be one heck of a ride.
Bottom Line Up Front
Whether you're a newborn muggle or a master of spells, Harry Potter toys are some of the best merch this series offers. They're very engaging, and they further reel me into the series' fun and magical plot. In this vast collection, my personal favorite is the Dobby Funko Pop. It not only reminds me of Harry's struggle for success but also acts as a constant reminder of all the losses he faced, Dobby being one of them. Its soft-touch finish allowed me to hug it whenever I felt sad, like when I thought about Dobby's fate.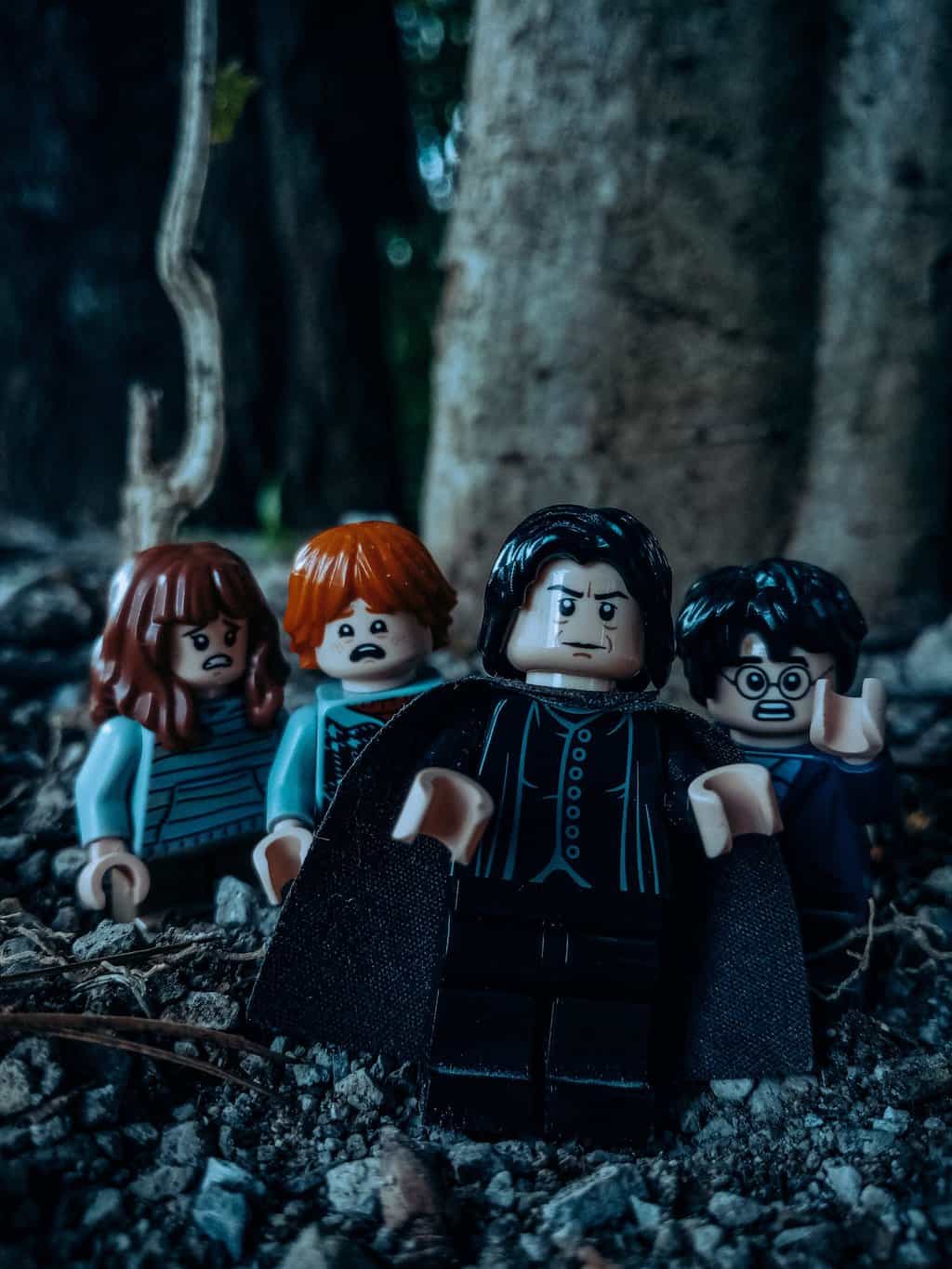 Following are some of my picks I recommend you check out and buy for yourself:
My Top Picks
My Reasons for Picking These Toys
If you are wondering what made me go for these specific recommendations, here is my criteria:
Widely available.
Vibrant colors and exceptional build quality of the toys.
Signifying something special from the series.
Reasonable price point.
My personal experience with the items.
Buying Guide: Tricks, Spells, and Charms
Through my experience of buying many Harry Potter-themed toys, here are some of the tips I recommend you follow while buying Harry Potter Toys:
Choosing an Authorized Seller
One of the worst mistakes you can make when buying Harry Potter toys online is choosing an untrusted supplier. Purchasing from an authorized seller can positively affect your buying experience with the toy and ensure a good-quality product. Unauthorized sellers typically sell fake or third-party toys that often don't have the same quality as the original ones. Some authorized Harry Potter toy sellers include Amazon and Walmart.
Looking at Reviews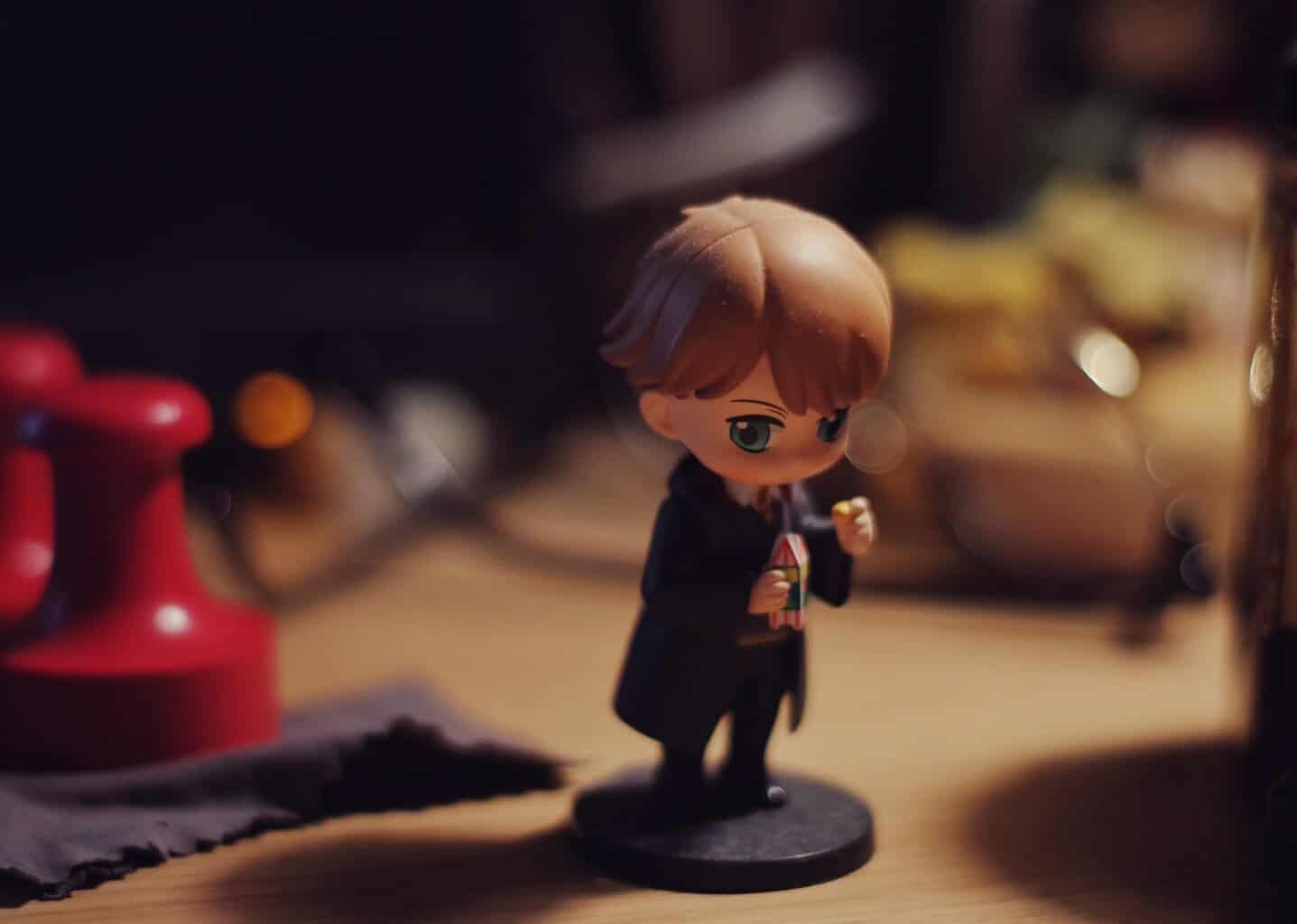 While buying Harry Potter toys online, keeping an eye out for product reviews is essential. This can tell you a lot about the particular seller by seeing previous customer experiences. You can also find real-life toy pictures in the review section, which can help you make an informed decision. Another thing to check is the product rating; you shouldn't buy toys with an overall low rating.
Having a Fixed Budget
I know this can be difficult, but staying within budget is one of the best tips you can get, as most of us are on a tight budget. Not every one of us has huge Galleon reserves in Gringotts Wizarding Bank. Quoting different sites and checking out several listings can help you save money. Moreover, most places offer different prices for the same toys, so you better do some good research before finalizing your purchase.
Try to Shop Retail
With the rise of online shopping, scamming and the exchange of low-quality products have also increased. To avoid these issues, I recommend you shop at retail shops as this can save you a lot of time and prevent you from buying a poorly-stitched Harry Potter robe.
My Top 10 Picks
Funko POP Harry Potter Snape's Patronus

Description
This Snape Patronus Funko Pop mashed two of my favorite things, i.e., my favorite toys, Funko Pops, and Snape's ideas of death, into such a small and light package. I was mesmerized after taking it out of its box. It is just perfect; the attention to detail and the smooth finish of the Funko Pop make it something straight out of  Hogwarts.
The sudden glow and the surrounding aura leave the air around it dense while radiating an overall sense of Snape's love and affection. This Funko pop captures the essence of Snape as a character and sets itself as a monument to his sacrifices. It also helps remind me of his last moments when he shows everyone a glimpse into his memories, as the toy shares the same imaginative state of mind.
It is also very light and small, so moving it around my desk or placing it around my room wasn't a problem. And its exceptional vinyl build and low price just gave me all the more reason to buy it. In my view, this toy perfectly depicts Snape's real intentions, making me feel all tingly whenever I see it. However, I have to say I would not recommend bringing it in direct sunlight, as UV rays can damage its finish.
Pros
Small and lightweight, so easy to move.
Soft-touch finishing, saving it from exasperating fingerprints.
Cons
Poor packaging, which often gets smashed in shipping.
Color quality and finish are prone to UV light.
Harry Potter: Ron Weasley Nendoroid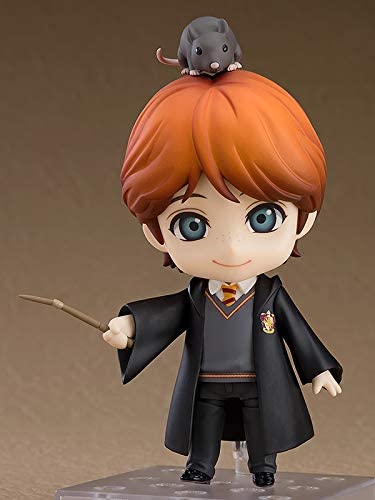 Description
How can I forget the cheerful but gloomy personality of Ron Weasley? He has a very loving and approachable persona, not to mention his mesmerizing ginger hair. These factors are perfectly smashed inside this palm-sized Nendoroid while including a love potion that made me fall for it.
The Nendoroid features Ron's exact attire, including extra clothes, like socks, boots, and even a Gryffindor-themed muffler. Together with his interchangeable hands and poses, these are also changeable, making for several hours of enjoyment. With its included magnetic stand, I would spend hours forming different poses and recreating iconic ones from the series.
It features an exceptional build quality and free international shipping, which helps chip in for its relatively hefty price point. Whatever the case, it is a must-have for any Ron Weasley fan who also wants to experience him in the palm of his hands. However, it would be good to keep it away from smaller kids as it comes with small parts, which can be a choking hazard.
Pros
Free international shipping and return with no additional charges.
Included Magnetic stand allowing for several poses.
Cons
Very high price, about $40, which can be burdensome for fans on a tight budget.
Personalized Gryffindor Robe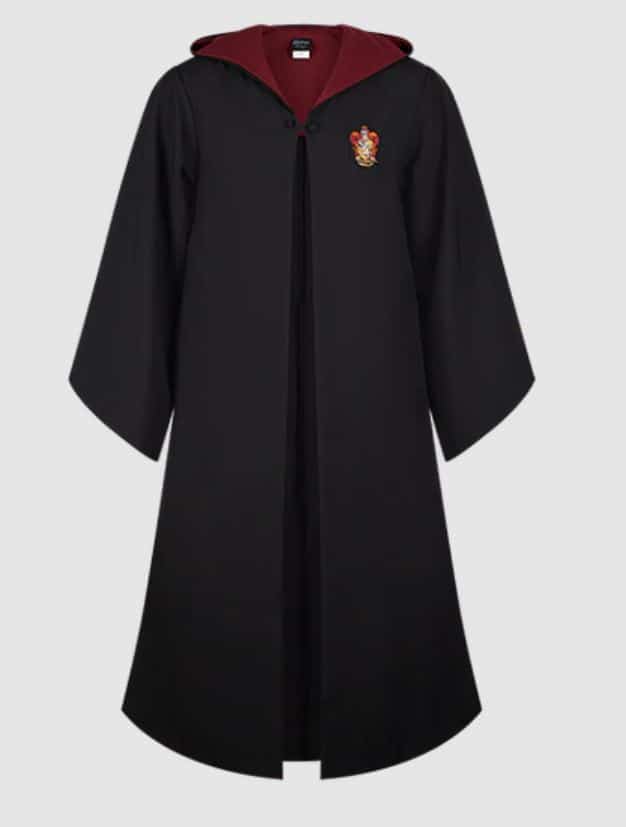 Description
Entering the world of Harry Potter, I was fascinated by the role each character played in completing the story. And born in this muggle world, I was envious as I could never be a part of the same magical world. Well, with this Gryffindor robe, I didn't have to. Wearing this robe made me feel like another student studying at Hogwarts and practicing magic beside my fellow Gryffindors members.
The robe shares the same aesthetic sense and design depicted in the series, giving me the idea that I had custom ordered it from Hogwarts. Together with the fantastic arrangement, it also features hand-stitched cotton and a complimentary personalization to get your name on the robe.
But due to all these perks, it comes in pretty heavy on the pocket and may not fit into tight budgets. I recommend organizing your budget before adding it to your bucket list. Another thing I would recommend is to avoid washing it in warm water as it tends to shrink and lose its size. You would not want your favorite robe to end up with Dobby, would you?
Pros
Fantastic print quality on the robes.
Hand-stitched emblems.
Included pocket to keep small things.
Cons
7-day delay if ordered with name personalization.
Quite pricey.
Wizarding World Harry Potter 5-piece Figure Set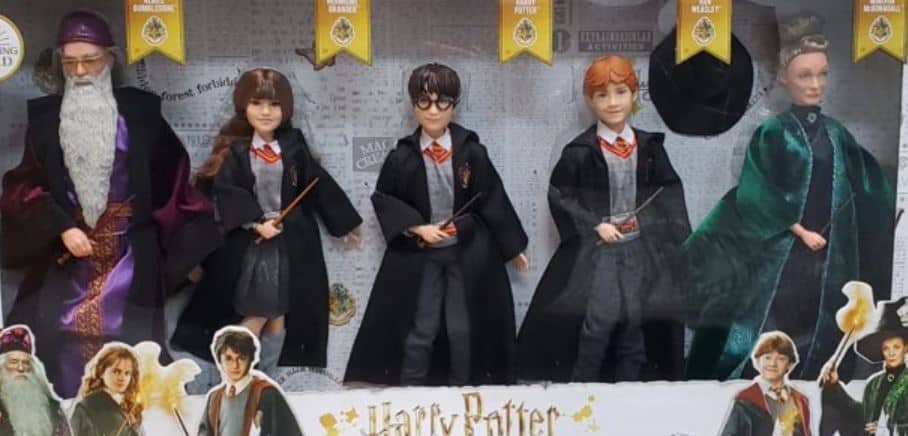 Description
When it comes to Harry Potter toys, one of the best you can find is this 5-piece figure collection made by Wizarding World. This is amongst my top 5 Harry Potter toys, and the reason behind that is the number of memories it contains. With the three main protagonists, Harry, Ron, and Hermione, the set also feature two of my favorite wizards, Professor Dumbledor and Minerva McGonagall.
They are also equipped with their wands and robes, further adding to the wow factor. Placing them around my room and recreating scenes from the story were some of the things I enjoyed doing with this set. And seeing all five together always reminded me of the adventures they went through together.
Its relatively high price point is also justified by its number of figures, and the attention to detail of these toys further adds to the value. As the fabric on the figures can start to tear off, I recommend not stretching them a lot. Summing everything up, these were a perfect addition to my collection and hopefully will be the same for you.
Pros
Highly detailed and addition of extra accessories.
Free international shipping and return.
Cons
The fabric of the robes can wear off with time.
Wizard Training Wand Harry Potter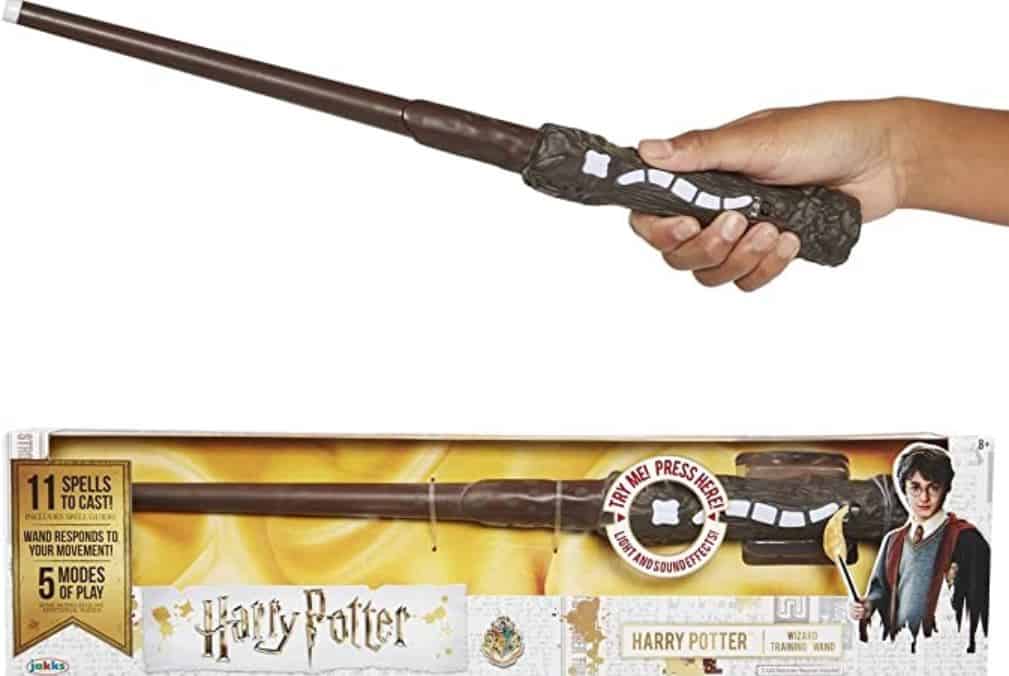 Description
When it comes to Harry Potter toys, there are very few that excite me as much as this Harry Potter Wand. It features the same design as the wand held by Harry Potter with unique lights and sound effects, making the whole package all the more realistic. Realizing that I was holding the wand held by one of the greatest wizards in the series gave me a sense of power and courage and helped me overcome some of my greatest fears.
This wand is a gateway into the magical world for someone like me, who always dreamed of going to Hogwarts. It gives me a way to project my love for the story uniquely and realistically. I would go around with the wand trying to make things fly or make people disappear. Even though that didn't happen, holding this wand made me believe I was a true wizard. The best thing about this wand is that it comes with a spell card; memorizing different spells was never easier.
It features a 15-inch length — almost the same as the one used in the series, but it is made of plastic, so it doesn't have the same rigidness as wood. It can easily fit in any Harry Potter toy collection due to its small and light build, although it can be heavy on your wallet.
Pros
Highly detailed; a good replica of the original wand.
Cons
The plastic might not hold under pressure, and you would never want to step on it.
Harry Potter LEGO Diagon Alley
Description
With the long and extensive plot of Harry Potter and its beautiful sceneries, there are very few places that resonate as well as the one from the first chapter called Diagon Alley. This setting is perfectly captured into one of the most detailed Harry Potter Lego sets I have seen yet. Playing with the set reminds me of the first time I saw Harry buying his magic supplies. And every time I see it in my room, my desire to visit the dark alleys becomes more potent.
This Lego includes all the most famous wizards like Harry, Hermione, Ron, Hagrid, and some other well-known figures from the series. These Lego Harry Potter figures also bring their own unique stories, giving me more reasons to rewatch the series and indulge in their rich past.
The Lego set also includes all the building structures familiar with the Diagon Alley, giving me hours of playtime. I enjoyed the set by creating my own scenes and voicing over some characters, making for some very amusing moments. Keeping in mind its relatively high price, it's only logical that the set has exceptional build quality.
Pros
Exceptional Build Quality.
A lot of additional pieces.
Cons
Limited Stock.
Small parts are a choking hazard for small kids.
Dobby Funko Pop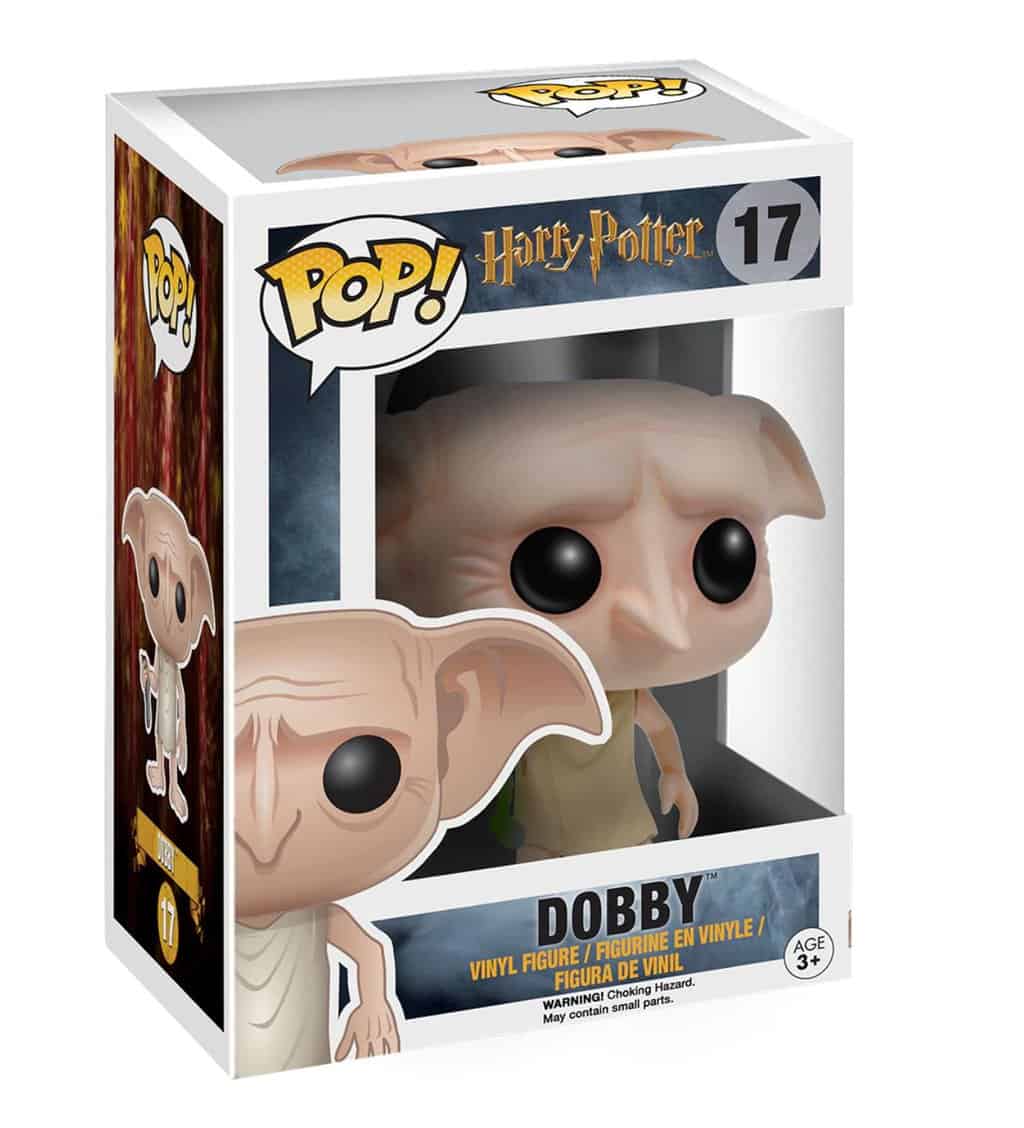 Description
Among the vast Harry Potter Toys collection, only a few have caught my eye, like this Dobby Funko Pop. Maybe the only reason for that is the character it represents. Growing up with the cast of characters, Dobby has been one of my favorite personalities. And seeing his death and understanding the meaning behind his life made me closer to this aardvark-looking angel. All of this is perfectly depicted through this Funko Pop toy.
Like in the series, Dobby's doll is seen in the same worn excuse for clothing. The low detail factor of the toy also plays well with Dobby's actual personality, with no depth and shallow as an empty pond. Seeing how he is treated in the series makes my emotional connection to this toy stronger.
The figure comes at a very affordable price, and its relatively small size and soft feel make it all the more huggable. Not to mention, keeping in mind its price range, it is still a no-brainer for any true Harry Potter fan.
Pros
Small and lightweight, allowing you to take it anywhere.
Affordable for Potter heads on a small budget.
Cons
An expression-less face that some kids might not like.
Harry Potter Nimbus 2000 Broom: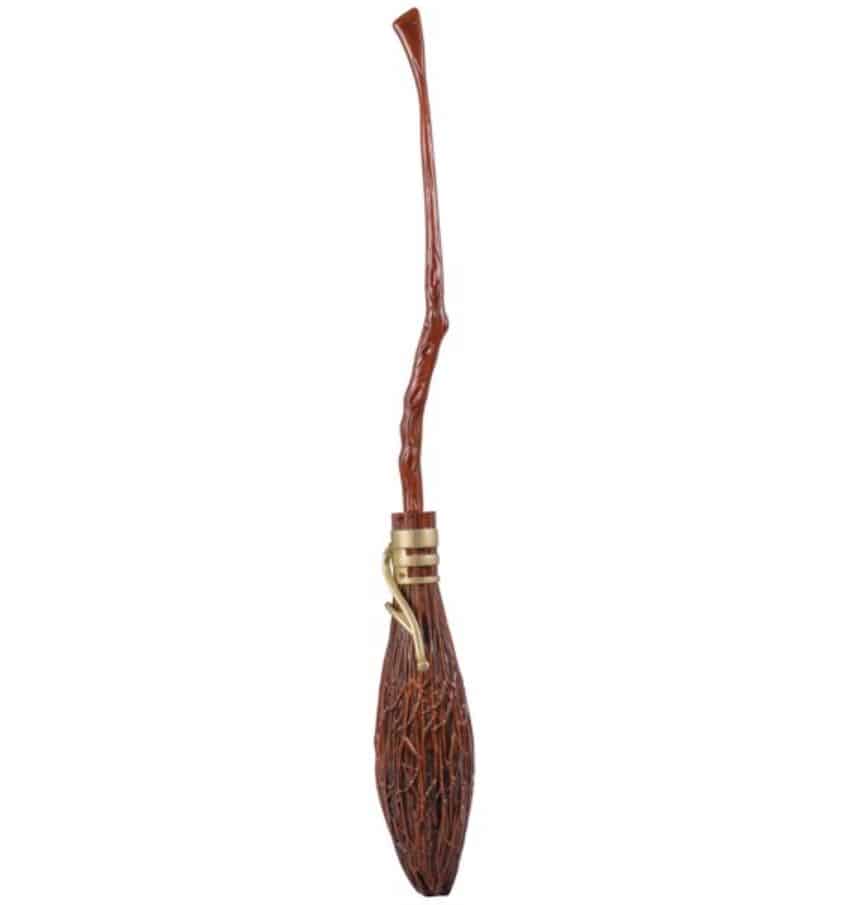 Description
Are you a fan of flying and want to imitate your favorite Harry Potter characters by flying on your broom? Well, I can't help you with that, but what I can do is share with you one of the best broom models Harry Potter Toys has to offer. With this Nimbus 2000 broom, you can't fly, but at least you show it off to your friends and brag to them about how cool you are. Not only the Malfoys can afford it after all.
This broom toy has enjoyed a particular corner in my heart, as it not only reminds me of one of my favorite sports in Harry Potter, Quidditch. But it also reminds me of some of the funny moments I experienced watching Harry's broom go wild in his first match of Quidditch. The fact that it's light and easily carried just made playing with it all the more fun.
Overall, this is one toy from Harry Potter that jumps out to me, not just because of its attention to detail. It all also helped because it represents one of the most tempting props in Harry Potter. The fact that it's injection molded and officially licensed does contribute to its high yet reasonable price. In my option, it's well worth the experience of becoming a wizard.
Pros
Lightweight and easy to carry.
High-quality injection-molded plastic, making for a clear finish.
Cons
Sharp corners on the ends of the broom can be dangerous for kids.
Hedbanz Harry Potter Card Game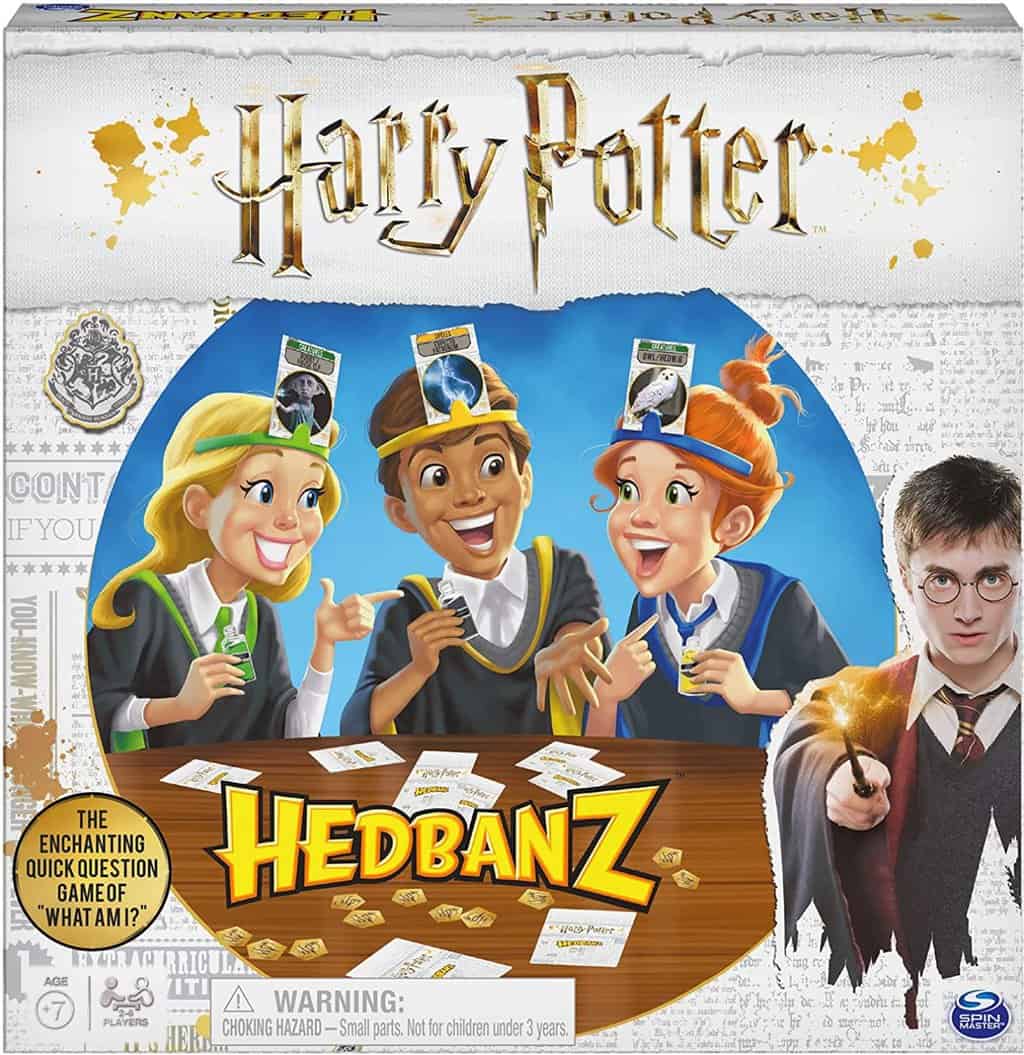 Description
Are your family games night duller than Lucas Malfoy himself, and do you want to add more magic to them? Well, I have the card game for you. This Harry Potter family game features the unique concept of Hedbanz mixed with the loving cast of Harry Potter. The game works by giving each player a random card. Then every player asks yes-no questions to guess the wizard, creature, or dungeon printed on the card.
The card game created some enjoyable and amusing nights amongst my family. And the concept of Harry Potter also helped me remember many great personalities from the series. The cards contained almost all the famous professors and Horcruxes, and placing them was an adventure on its own. I remember how I was always a professional at guessing all my cards and had record time amongst my family.
The cards included in the game feature a high print quality, but the glue on the stickers is relatively easy to peel. So, I recommend not prying the cards too much. The game also features a unique color palette that resembles the one from the series, and it shows how much thought went down to make it perfect. Its moderate price point also means it isn't made of the best plastic after all.
Pros
A treat for the whole family.
Easy to learn and play.
Cons
Harry Potter & Hagrid – Special Edition Figure: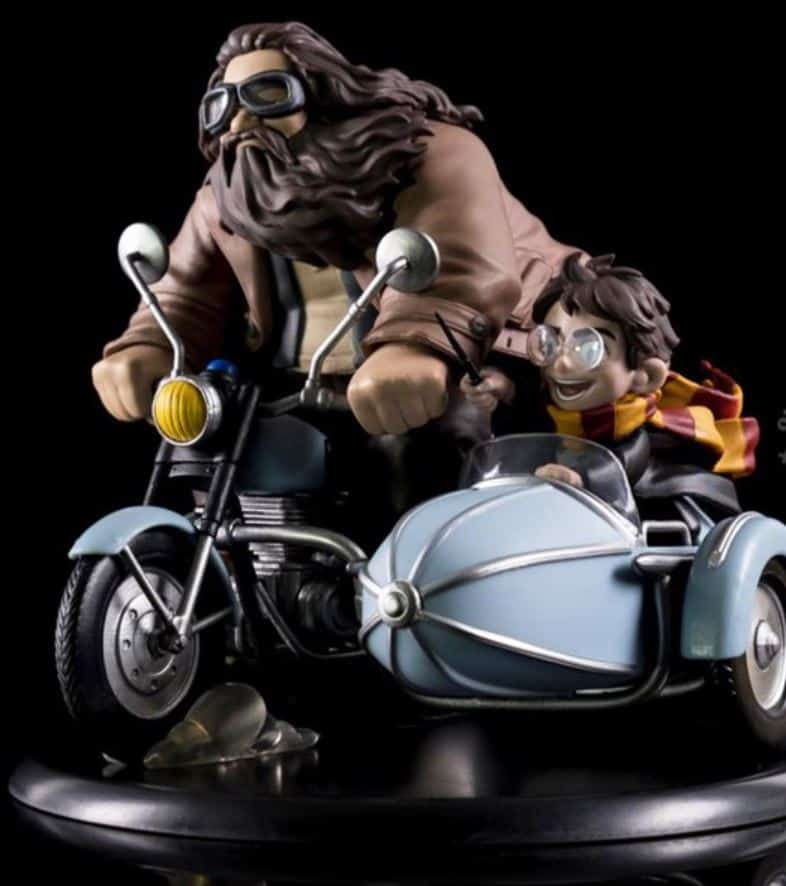 Description
While mentioning all the great toys Harry Potter has to offer, how can I forget to mention this extraordinary masterpiece. This figure toy features two of my favorite characters from the series, and seeing the figure always reminds me of the fun times they both shared. Hagrid's hair and beard are blown back in the wind while Harry smiles and waves his wand, ready to fight the next Dementor.
The figure also shows us the fun and wacky side of Harry and Hagrid. And they made sure that the toy captured the true essence of their friendship. The inclusion of Hagrid's motorbike was also a great addition to the piece. It reminds me of Hagrid's out-of-the-box personality.
This collectible does come at a heavy price but is well worth the small details it has to offer. From Hagrid's beard to Harry's glasses and scar, it has everything. It also comes with a signed certificate of authenticity, further adding to its value. However, remember to grab it on your next visit to Walmart because it usually sells out on the website pretty quickly. I hope it remains there until you have read this guide.
Pros
Soft finish and exceptional build quality.
Free and Fast delivery to your doorstep.
Cons
Several small pieces are a choking hazard.
Limited Stock.
Frequently Asked Questions about Harry Potter Toys
Question: Can I Gift Harry Potter Toys to Someone who isn't Familiar with Harry Potter?
Answer: When it comes to Harry Potter, it's a marvel in the fantasy series. Even if someone isn't familiar with it, they can still enjoy the toys mainly because of their charm. Not to mention, these toys will be an even more thoughtful gift for a fan of the series.
Question: Are Harry Potter Toys Suitable for my Kids?
Answer: Yes, because of their soft-touch finish and expressive art styles, Harry Potter toys are suitable for kids, but you have to supervise them while playing with the toys as many features small removable parts that can place a choking hazard. Some even have sharp edges.
Question: Are Harry Potter Toys Cheap?
Answer: Depending on the build quality and complexity of the toy, Harry Potter toys can be cheap. As you look toward more detailed toys, the price can quickly get out of hand. After all, it's Harry Potter we are talking about.
My Final Thoughts on Harry Potter Toys
Harry Potter is a masterpiece, written and planned in such a unique way that it takes ages to construe it fully. I am happy to say that Harry Potter toys contain the same essence and imagination many Potterheads are after. These Harry Potter toys are perfectly packed with the whole plot in such a simple way that they easily intrigue newcomers and fans alike. With their relatively simple designs, even toddlers can have fun with them.
When buying Harry Potter toys, I recommend checking out reputable stores and sellers and constantly checking out the review before buying any toy. If you don't like going through different sites, buying from retail shops can also be a great way to shop for your favorite Harry Potter toys.
Looking at the wide variety of Harry Potter toys, there is something for everyone. My favorite pick is the Dobby Funko Pop. It boils down to Dobby's whole dark background in such a small package, and its relatively low price point makes it perfect for any fan of the series on a tight budget. Moreover, if you don't like Dobby's unique story, you can also find many other options in this guide. Go, find these gems in the Harry Potter world. Alohomora!
Continue reading: