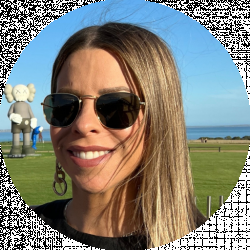 Latest posts by Maddy Chiffey
(see all)
Gary Oldman (born 21st March 1958), is a British actor well-known for his role as Sirius Black in the movie franchise Harry Potter, especially for his lead role in The Prisoner of Azkaban.
After playing bass for Sid Vicious in Sid and Nancy, he was first brought to people's attention. I think Gary always brings a raw edge to the roles that he plays that nobody else can get, and the parts he is chosen for are always ideally suited to his skills as an actor.
He has been known to play roles ranging from Dracula to Beethoven and has won multiple awards for his roles. I find his capability of physically transforming fascinating, and he has a varied way of portraying all kinds of menacing characters.
The first time I saw him play Sirius in Harry Potter and the Prisoner of Azkaban, I remember thinking he was a terrifying character. Of course, we later learned that this wasn't the case, and for me, he made the movie one of the best out of the entire series.
Although a lot of his career took place before my time, I find Gary a fascinating character and take great pleasure in diving even deeper into his life.
I will be telling you everything you need to know about his personal life, and sinister acting styles throughout this bio.
Gary Oldman Quick Facts
Full Name
Gary Leonard Oldman
Birth Date
21st of March 1958
Birth Place
New Cross, London, England
Nick Name
Crazy Gazy
Nationality
English
Zodiac Sign
Aries
Siblings
Laila Morse (sister)

Jackie Oldman

Children
Gulliver, Charlie and Alfie.
Partner / Spouse
Gisele Schmidt
Top 5 Most Popular Movies
1. Léon: The Professional (1994)

2. The Dark Knight (2008)

3. JFK (1991)

4. True Romance (1993)

5. Harry Potter and the Deathly Hallows: Part 2 (2011)

Salary
$20 Million
Net Worth
$40-$60 Million
Social Media
Gary's social media is not know to public, but there is fan pages such as GARY OLDMAN WEB
Major Awards Won

1987 – London Film Critic Awards: Actor of the Year
1993 – Saturn Awards: Best Actor
1997 – Edinburgh Festival Awards: Best Director
1998 – British Academy Awards: Best Original Screenplay
2001 – Film Critic Awards: Alan J Pakula Award
2008 – Film Critic Awards: Best Ensemble Cast
2009 – Film Critic Awards: Best Cast
2011 – Film Critic Awards: Best Cast
2017 – Australian Academy of Cinema and Television Arts Awards – Best International Actor
2018 – Academy Awards – Best Actor
2020 – Festival Awards – Chairman's Award

Last Updated
June 2022
Gary Oldman Birthplace
Gary was born in New Cross, London, in 1958. (1) New Cross is an area in South-East London.
Gary Oldman Parents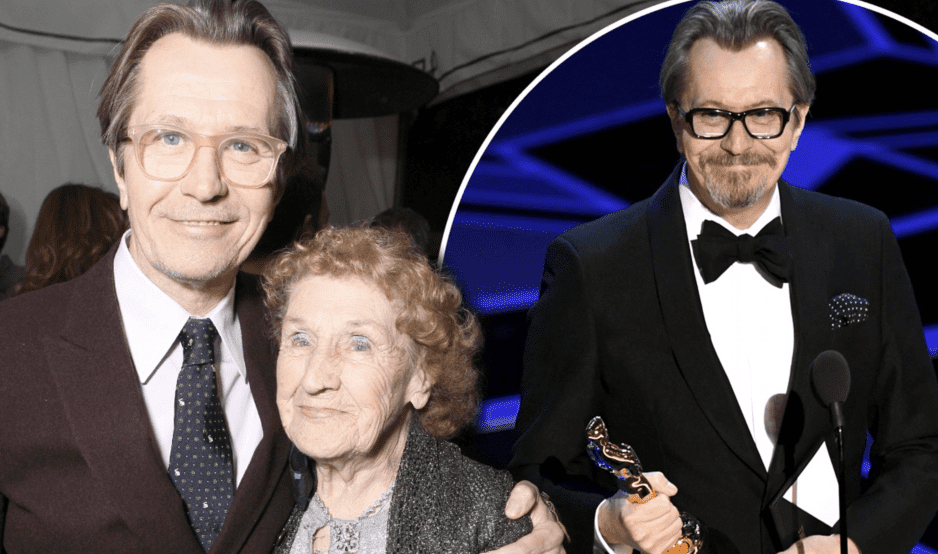 Gary's father is called Leonard Bertram Oldman. He passed away in 1985, though I don't believe he had much contact with his son or other children throughout his life due to an alcohol addiction, which led him to leave his family when Gary was just seven years old.
In his earlier years, Leonard had worked as a welder. Not much is known about his mother, but she was called Kathleen; she was born in 1919 and passed away in 2018. (2) His sister has a lead role in a popular UK soap.
Gary Oldman Early Life
Gary studied at West Greenwich School in Deptford. When he was 16 years old, he finished school and began work in a large clothing store (British Home Stores) selling sportswear, although he really wanted to work as a cameraman for the BBC. At this stage in his life, I don't think he could have ever imagined what a star he would become or even whether he was aware of his talents on screen. (4)
He was pretty musical as a kid, too; he enjoyed playing piano but gave this up to follow his new dream, to be an actor. I think he was first inspired to act after seeing Malcolm McDowell in The Ragin Moon back in 1971. He once said that "Something about Malcolm just arrested, and I connected and said 'I wanna do that.'" (5)
Gary studied acting with the Young People's Theater in Greenwich in the '70s. He also had many other part-time jobs, such as porter in a theater, selling shoes, and slaughtering pigs in an abattoir. I don't think these are Gary's finest days to look back on, as he was also a member of a small-time gang that committed theft.
Thankfully, acting was always at the forefront of his mind, and he eventually graduated with a BA in acting in 1989 and became the successful man we know and love today.
Gary Oldman Professional Career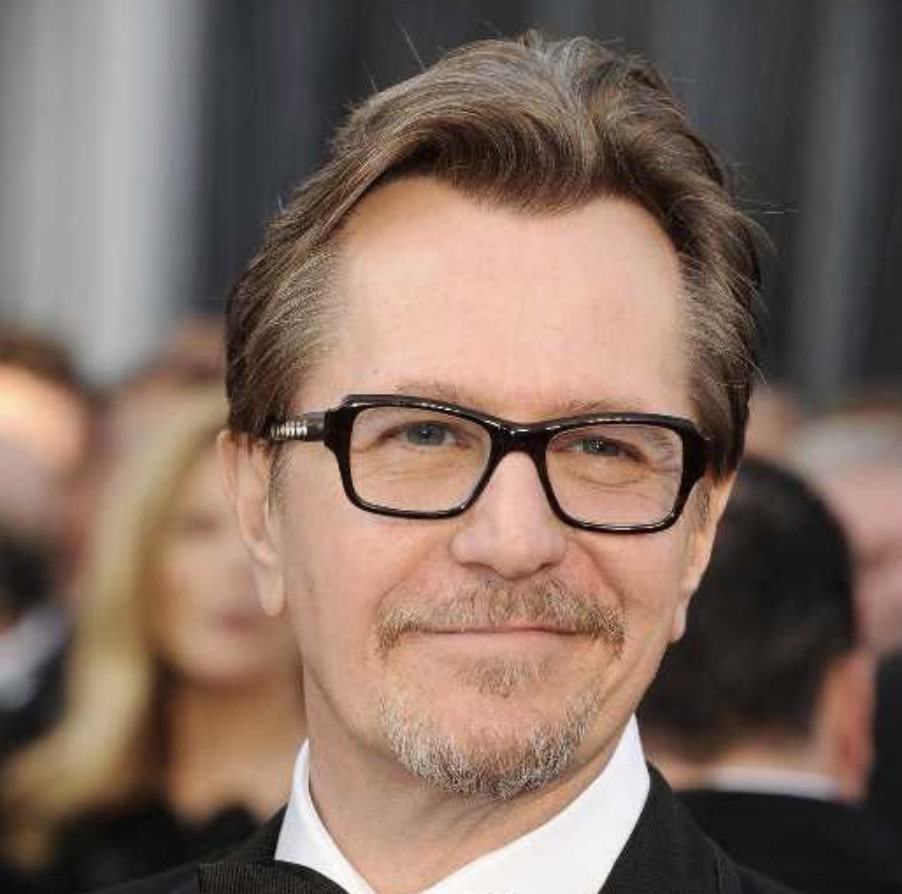 The 1970s–1980s
Oldman was one of the first students in his year to get a job offer in acting. He stated that this wasn't down to his acting talent but because of his application and diligence. I don't think he was a very confident person, but he knew what he wanted in life and was going to work hard to achieve it.
He starred in Thark at the Theater Royal in York, England, in 1979. (6) He also took part in the productions of Cabaret, Romeo and Juliet, and Privates on Parade.
He started to really shine during the 1980s, and people became aware of his work ethic and intense acting style.
Oldman continued to appear on stage and in performances such as Desperado Corner, A Waste of Time, and The Massacre throughout 1980 and 1981.
He made his first appearance on the big screen for his debut, Remembrance, in 1982, and the following year went on to portray the role of "Skinhead" in the film Meantime before moving on to take the lead role in Entertaining Mr. Sloane. I think these years were vital in building Gary's acting character; his roles showed everyone what he was capable of on camera.
I think Gary's first significant breakthrough came in 1984 when he played "Scope," the lead role in The Pope's Wedding. He won two of British Theaters Top Honors for this performance: Best Newcomer and Best Actor. This role led to a run of work with the Royal Court, and he appeared in many more performances from 1984 to 1986, including Rat in the Skull, The Tin Can, Real Dreams, and The Desert Air.
After portraying such notable roles on stage, Gary was seen by film director Alex Cox, who then offered him the famous part of Sid Vicious in Sid and Nancy. I recently heard that Oldman actually turned down this role twice because, in his words, he "wasn't really that interested in Sid Vicious and the punk movement" He had never followed the culture and said that it wasn't something that was of interest to him. He later reconsidered the opportunity, I reckon mainly based on the salary and a nudge from his agent.
Oldman soon gained another significant role, playing Joe Orton in Prick Up Your Ears in 1987, which led to him winning the BAFTA nomination for Best Actor. Later that year, he returned to the stage, where he appeared in The Country Wife and Serious Money.
Pretty soon, and I think it's no wonder why, Gary was blessing the screens of Hollywood.
Towards the end of 1988, Oldman was starring opposite Alan Bates in We Think the World About You. 
Moving on to 1989, we see Gary in the Chattahoochee and playing the role of a football hooligan, Clive "Bex" Bissel, in the controversial UK TV drama, The Firm. 
I think it was around this time that Oldman was dubbed the leader of the "Brit Pack."
The 1990's
In 1990, Oldman appeared in State of Grace and Rosencrantz & Guildenstern. He was also offered the role of Edward Scissorhands in the film of the same name, but he turned it down, a fact which I was glad to hear of in my personal opinion, as I now couldn't imagine Edward being played by Gary Oldman at all.
In 1991, we saw Oldman star in his first US blockbuster, JFK; for this role, Gary was told to research Lee Harvey Oswald and build the character based on what he learned,(7) he went to meet with Oswald's wife and her two daughters. (Dedication, right?)
In 1992, Oldman played Count Dracula in the romantic horror Bram Stoker's Dracula. It gained worldwide success, and Gary was recognized as the Best Male Performance by the Academy of Science, Fiction, Fantasy, and Horror Films.
From here on, I think this is where he became a face of villains on our screens; he played a violent pimp, a sadistic prison warden, and a futuristic corporate tyrant.
In 1994, he played a corrupt DEA officer in Leon: The Professional, which was named one of the best villains on many occasions. (8)
I love Oldman's portrayal of various accents, along with Count Dracula, which I think he did perfectly; he also did a critically acclaimed reading of the German-born, Viennese composer Ludwig van Beethoven, and played a Russian terrorist.
The 2000's
In 2000, Oldman expanded his career even further and went on to producing; he was the executive producer of The Contender, which he also starred in as Sheldon Runyon. For this, he received a Screen Actors Guild Award for his performance.
In 2001 he starred in the sinister movie Hannibal alongside Anthony Hopkins. This was the second time the pair had acted together.
Fun Fact: Gary spent 6 hours per day having the make-up done to achieve the disfigured appearance he portrayed in Hannibal, and he was uncredited in the movie.
I remember seeing Gary for the first time on screen personally, this was during his guest appearance on Friends in 2001. He was shown in a funny scene which always makes me laugh, where he keeps spitting in Joey's (Matt LeBlanc's) face while enunciating. Oldman had previously worked with Matt LeBlanc, during Lost in Space and had they already built a friendship.
Gary disappeared from the acting scene for a few years after Friends. In fact, the next time we saw him on our screens was 2004. There is a rumor that he was blacklisted for missing years following some controversial matters.
Of course, 2004 was when we saw Sirius Black enter our lives. He played the starring role in my favorite Harry Potter movie, The Prisoner of Azkaban, which I will detail further down.
In 2006, he starred as James Gordon in the successful movie Batman Begins and continued this role into the sequel, The Dark Knight, later in 2012.
In 2009, he starred alongside Jim Carey in the slightly more sinister version of the Christmas Carol, where he had three roles in total, Bob Cratchit, Marley, and Tiny Tim.
The 2010's
This is where we saw Oldman in The Book of Eli take the lead role in Red Riding Hood. He also did some voice acting for the villain, Lord Shen, in Kung Fu Panda 2.
In 2011, he received his first Academy Award nomination and a BAFTA Award for his role as British spy George Smiley in Tinker Tailor Soldier Spy.
Fun Fact: To prepare for the role in Tinker Tailor Soldier Spy, Gary gained 15 pounds.
In 2012, he played a mobster alongside heartthrob Tom Hardy in Lawless, and in 2014 he played the scientist in Robocop with Samuel. L. Jackson and Nicole Kidman, and later that year, he starred in Dawn of the Planet of the Apes in a lead role.
In 2015, Oldman was the head of the police in the post-apocalyptic thriller Man Down, where we saw him work alongside Mr. Hardy once again. Then in 2016, he played a CIA chief in Criminal alongside Kevin Costner and Tommy Lee Jones.
In 2017 he had three major roles in The Space Between Us, The Hitman's Bodyguard, and Darkest Hour. His part as Churchill gained him critical acclaim. (9) To portray the iconic Prime Minister, Oldman spent over 200 hours in the make-up room, where they went through 14 pounds of silicone rubber for the masks and over $20,000 worth of cigars.
Fun Fact: Gary actually ended up with nicotine poisoning due to the number of cigars he had to smoke while playing Winston Churchill.
In 2018, Oldman starred in Hunter Killer with Gerard Butler, and he was also in the horror-thriller films Mary and The Courier. He also starred alongside Meryl Streep in The Laundromat.
The 2020s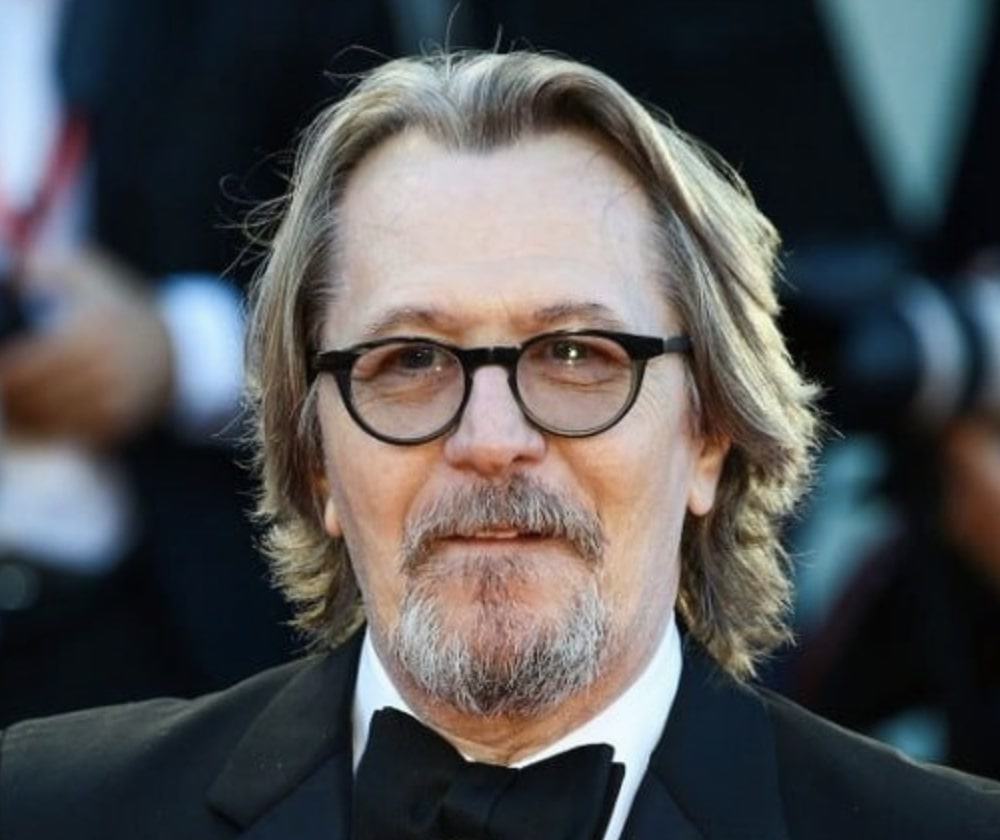 In 2020, Gary starred in the biographical drama Mank, a black-and-white Netlflix movie that followed the life of Herman J. Mankiewicz (Citizen Kane co-writer.)
In 2021, he was seen in the Netflix movie based on the psychological horror book, The Woman in the Window. (10)
Fun Fact: Oldman is rumored to direct a biopic called the Flying Horse about Eadweard Muybridge.
His most recent venture to date, in 2022, is playing a bad-tempered manager of an intelligence agent. This is a drama series that is currently only available on Apple TV+. It's called Slow Horses.
Outside Acting
Gary Oldman is definitely a man of many talents. One thing he is very well known for other than acting is filmmaking. Many of his movies have won awards such as Best Screenplay, Empire Award, and Top 100 Best British Films Ever. (11)
Gary always showed an interest in music and has done since he used to play the piano as a child. He once said he would rather be a musician than an actor (12), so I don't know at exactly what point in his life he decided to go down the full-time acting route.
Oldman sang a few of the tracks for Sid and Nancy. He performed live in the 1988 movie Track 29, and he performed a duet with David Bowie on the way "You've Been Around," he later played tribute to Bowie before receiving his "Icon Award" at the Brit Awards on behalf of the late singer. (13)
Fun Fact: Gary Oldman taught Daniel Radcliffe to play bass guitar.
Gary Oldman Video
Watch Gary Oldman receive the Variety Award at BIFA 2017 for making a global impact: #BIFA2017 Gary Oldman Reel (Variety Award) – YouTube
Gary Oldman's best bits: GARY OLDMAN REEL – Bing video
2022 Harry Potter Reunion – Gary Oldman speaks about his experience: Harry Potter 20th Anniversary Return To Hogwarts – Itw Gary Oldman (official video) – Bing video
Gary Oldman Family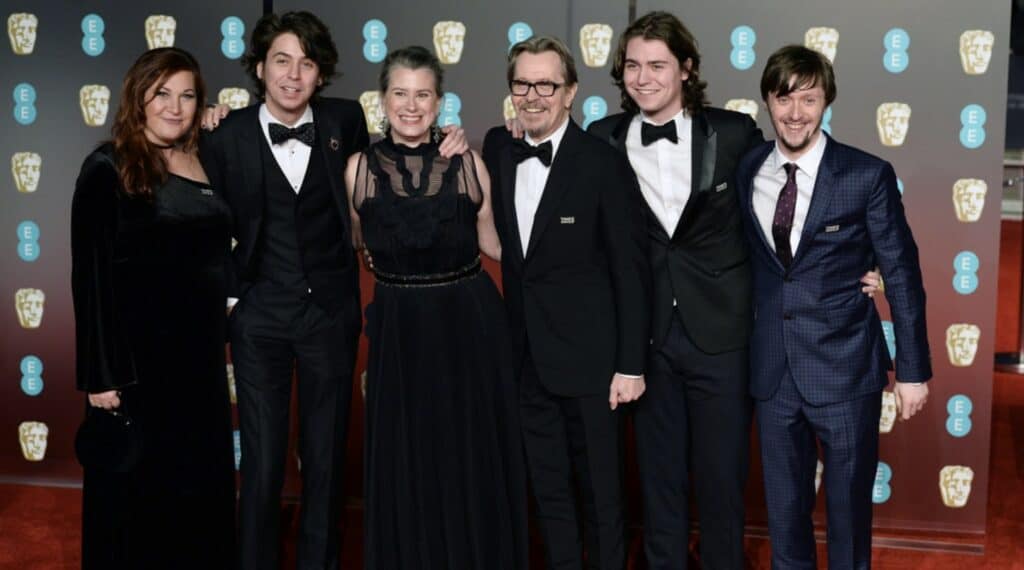 Gary is currently married to his fifth spouse, Gisele Schmidt. The pair had a private ceremony at the home of his manager. The couple doesn't have any children together but does have children from previous marriages.
Gary has three sons, Alfie, Charlie, and Gulliver. They all carry his surname. Alfie is the son of Lesley Manville, and Charlie and Gulliver are the sons of Donya Fiorentino.
Gary Oldman Dating and Relationship History
Gary has been married five times in total, two of which he had children. He married Lesley Manville in 1987. They broke up in 1989 but remained on good terms and shared two grandchildren, Matilda and Ozzy. (14)
Gary was then married to Uma Thurman from 1994 till 1996 when he then got engaged to Isabella Rosselli, though they never got as far as getting married. (15)
He was then married to his third wife, Donya Fiorentino, from 1997 to 2001. The couple had two sons.
In 2008, Gary married his fourth wife, Alexandra Edenborough. She filed for divorce in 2015.
Gary Oldman Controversies or Scandals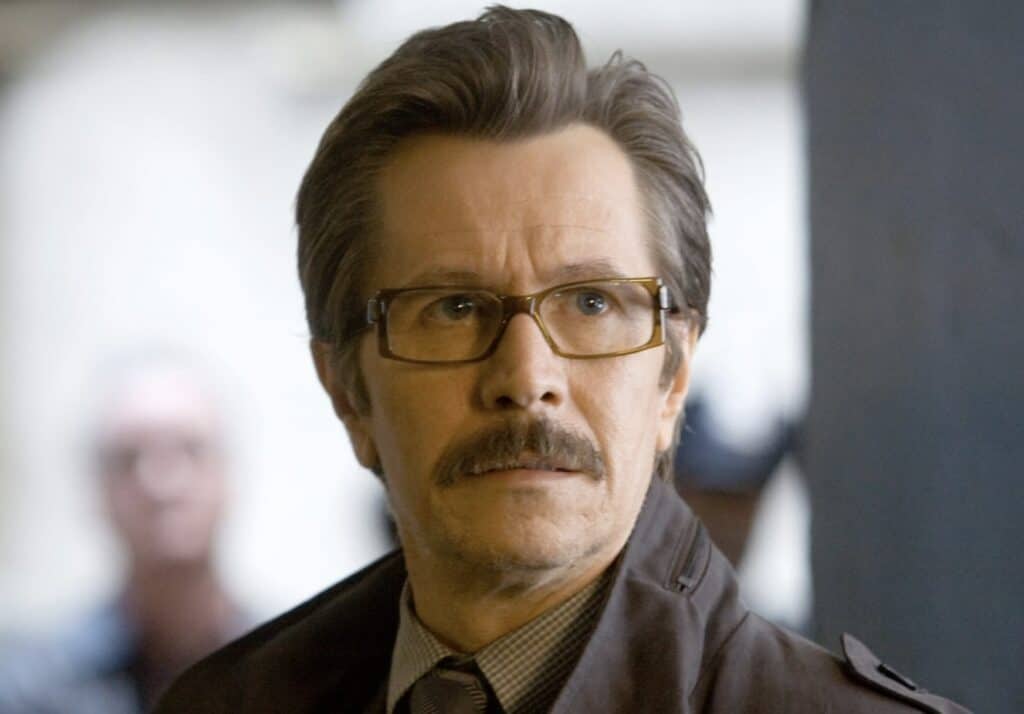 Gary Oldman was cleared of domestic abuse charges following his relationship with Donya.
It is public knowledge that Gary has suffered from alcohol abuse for a long time. He once said that two bottles of vodka a day were standard for him at his worst.
Gary was granted sole custody of his two youngest sons, and their mother was only allowed to see them under supervision as long as she passed drug tests beforehand.
In 1991, he was arrested for drunk driving.
Gary Oldman Net Worth and Career Earnings
Gary's net worth currently stands at $40 Million. As of 2020, the movies he has starred in have grossed over $11 Billion. His salary is around $2 Million per month.
Gary Oldman Real Estate & Residence History
In 2002, Gary reportedly sold his Hollywood home for $2.2 Million and went into a rental property.
Then, in 2018, Oldman sold another house in the Los Feliz area and got around $5 Million from the sale. The buyer of Gary's home was actually Vanessa Hudgens.
It is reported that Gary now lives in a mansion somewhere in Hollywood.
Gary Oldman Famous Quotes
"Choose your friends by their character, and your socks by their color"
"My passion and energy get mistaken for anger"
"I like the calm before the storm, it reminds me of Beethoven"
Gary Oldman Filmography & Full Credits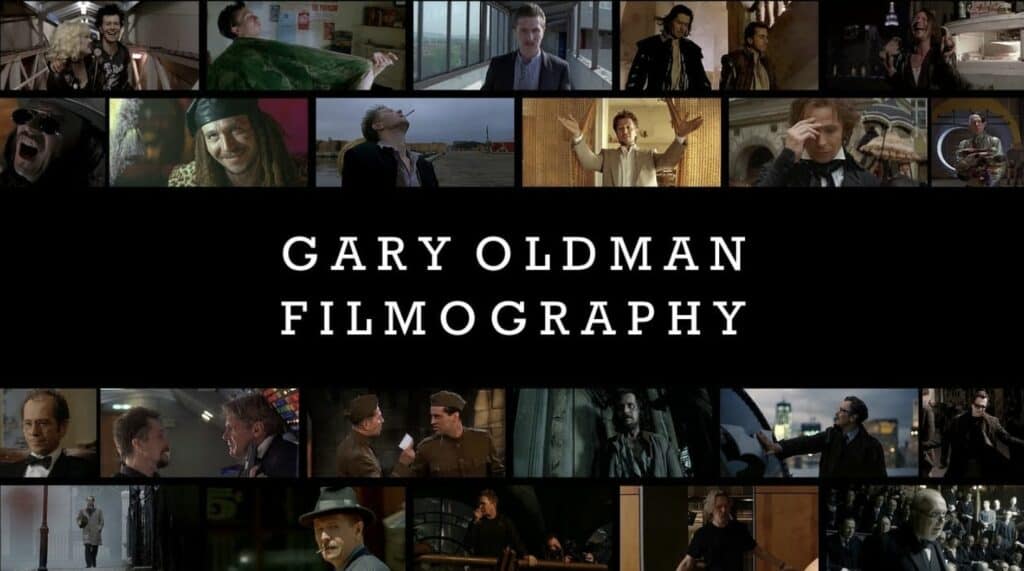 1982 Remembrance
1986 Sid and Nancy
1987 Prick Up Your Ears
1988 Track 29
1988 We Think the World of You
1989 Criminal Law
1989 Chattahoochee
1990 Rosencrantz & Guildenstern Are Dead
1990 State of Grace
1990 Henry & JunePop
1991 JFK
1992 Bram Stoker's Dracula
1993 True Romance
1993 Romeo Is Bleeding
1994 Léon: The Professional
1994I mmortal Beloved
1995 Murder in the First
1995 The Scarlet Letter
1996 Basquiat
1997 The Fifth Element
1997 Air Force One
1997 Nil by Mouth
1998 Lost in Space
1998 Quest for Camelot
1999 Plunkett & Macleane
2000 The Contender
2001 Nobody's Baby
2001 Hannibal
2002 Interstate 60
2002 The Hire: Beat the Devil
2003 TiptoesRolfe
2003 Sin
2004 Who's Kyle?
2004 Harry Potter and the Prisoner of Azkaban
2005 Harry Potter and the Goblet of Fire
2005 Batman Begins
2005 Dead Fish
2006 The Backwoods
2007 Harry Potter and the Order of the Phoenix
2008 The Dark Knight
2009 The Unborn
2009 Rainfall
2009 A Christmas CarolTiny Tim / Bob Cratchit / Jacob Marley
2009 Planet 51
2010 The Book of Eli
2010 Countdown to Zero
2010 One Night in Turin
2011 Red Riding Hood
2011 Kung Fu Panda 2
2011 Harry Potter and the Deathly Hallows – Part 2
2011 Tinker Tailor Soldier Spy
2011 Guns, Girls and Gambling
2012 The Dark Knight Rises
2012 Lawless
2013 Paranoia
2014 RoboCop
2014 Dawn of the Planet of the Apes
2015 Child 44
2016 Man Down
2016 Criminal
2017 The Space Between Us
2017 The Hitman's Bodyguard
2017 Darkest Hour
2018 Tau
2018 Hunter Killer
2019 Killers Anonymous
2019 Mary
2019 The Laundromat
2019 The Courier
2020 Mank
2021 Crisis
2021 The Woman in the Window
2021 Hitman's Wife's Bodyguard
2023 Oppenheimer
Gary Oldman Role in Harry Potter
Prisoner of Azkaban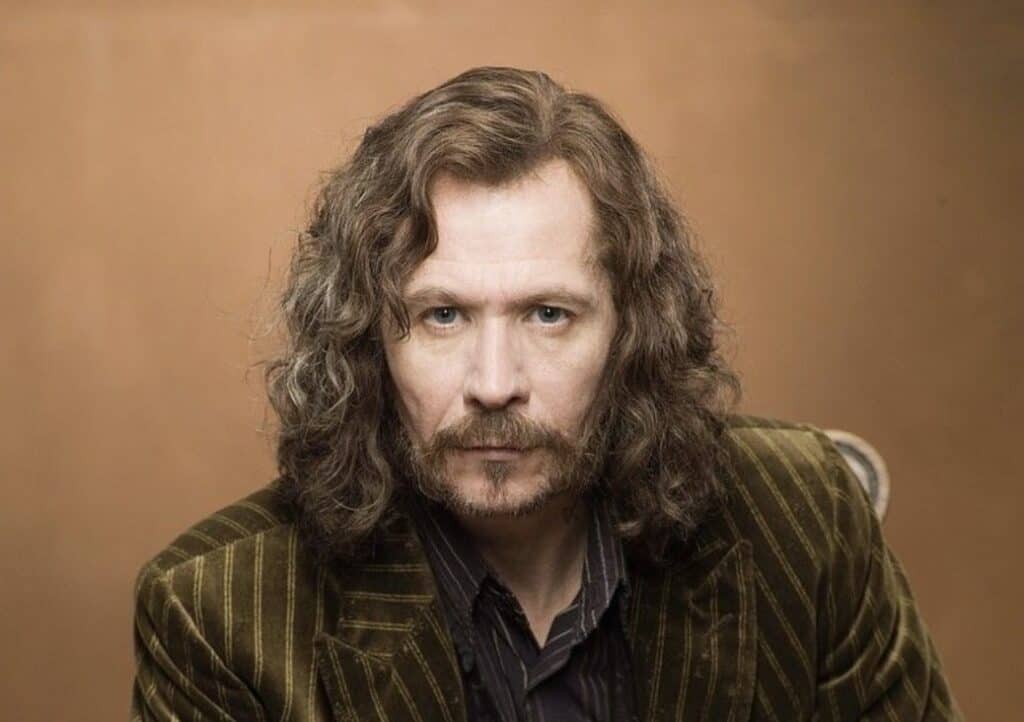 We first see Gary appear as Sirius Black in Harry Potter and the Prisoner of Azkaban. He plays Harry's estranged Godfather, at first we are led to believe that he is a follower of Voldemort and the reason Lily and James potter were killed. We soon find out of course that this is not the case.
Sirius is an animagus, he can transform himself into a black dog, his name as this dog is Padfoot. (16
Sirius has been falsely accused, and imprisoned at Azkaban for murdering thirteen people.
After his escape, he lives a hidden life at 12 Grimmauld Place on the demand of Dumbledore, to stop him being caught and taken back to Azkaban. (17)
The rest of Sirius' family were supporters of Voldemort, so it is understandable, along with the rumors, why everyone believes Sirius is out to kill Harry and his friends, but when Harry realizes the truth, the pair form a beautiful bond, and Harry is over the moon to have found someone he can truly call his family.
We later find out that Peter Pettigrew is actually the reason Lily and James were killed, and Sirius was a true friend to them all along. In a dramatic scene, we see Lupus turn into a werewolf, and Siruius, his friend, have to fight him in his form of a dog to protect Harry, Ron and Hermione. At the end of the scene, we see Harry and Sirius making plans for the future.
Sirius Black's Death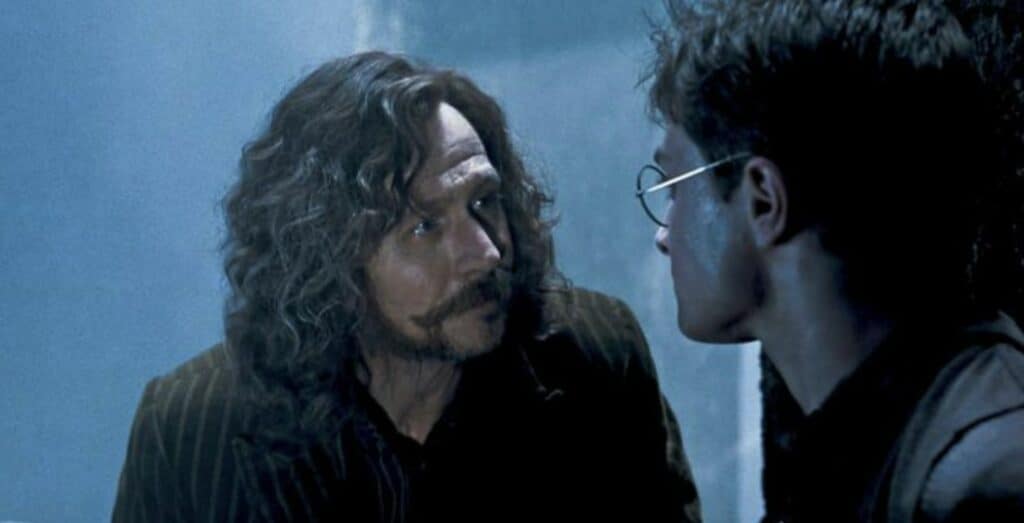 Sirius spends a lot of the rest of his time through the movies in hiding, but when he comes to the rescue of Harry during the Order of the Phoenix, he is killed by his cousin, Bellatrix Lestrange. The scene is heartbreaking and we see Harry's anger and upset take hold and his need for revenge grow. (18)
I think this was one of the hardest parts of Harry Potter to watch, he had finally discovered a family member who loved him, and would take care of him as his parents would have, but was taken away so early. It was a hard scene to watch and changed the whole direction of the movies from there on.
FAQs
Question: Does Gary Oldman Have Any Siblings?
Answer: Yes. I recently found out that Gary's sister, Maureen, played Mo Harris in Eastenders.
Question: Does Gary Oldman Like Sports?
Answer: When Gary was growing up, he supported his local football club, Millwall F.C. He also supported Manchester United and idolized George Best. In 2011, his mother informed him that his father had actually played for Millwall after World War II.
Question: What Did the Real Sex Pistols Think About Gary's Performance in Sid and Nancy?
Answer: Vicious's Sex Pistols badmade, John Lynson, described Gary as a "bloody good actor." He did, however, criticize the movie itself.
Question: Who Else Was Part of the Brit Pack?
Answer: The Brit Pack was the name given to a group of up-and-coming British actors who were becoming big in Hollywood, Gary Oldman was "de facto leader" and the other members included Bruce Payne, Tim Roth, Paul Mcgann, Daniel Day-Lewis and Colin Firth. (19)
Research Citations:
Harry Potter and the Prisoner of Azkaban
Harry Potter and the Goblet of Fire
Harry Potter and the Order of the Phoenix
Continue reading: