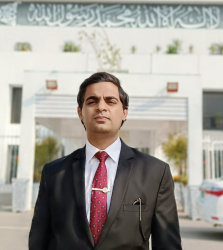 Latest posts by Boo Ali Khan
(see all)
Harry Potter has been a series that has wreaked havoc in my life but in a good way. It influenced me to see so much more than just an everyday muggle, allowing me to imagine the riches beyond this ordinary realm. Talking about beyond the muggle-realm, how can I forget Harry Potter scarves? They are a great way to express your emotion for the magical series. While also providing a warmth that no spell in the series could provide.
Wearing Harry Potter scarves gives me the confidence to face challenges just like the student of Hogwarts in their last battle of Deathly Hollows. While they also lend me the courage demonstrated by Ron Weasley to leave his family behind to go on the Horcrux hunt. But as these feats are impossible for an average muggle like us, the least we can do is try out the Harry Potter scarf ideas listed below. So, what are you waiting for? You don't want to miss this colorful train of scarf ideas.
Bottom Lines Up Front
Out of all these colorful scarves, if you asked me to choose one, I would probably pick the Harry Potter Hogwarts Scarf. Not only is this scarf as elegant as Hermione; okay, maybe not that elegant. But it also features all the houses from Hogwarts in a simple but expressive form; that's what I call a Dopplebeater.
Reasons Behind Picking These Designs
They are a fun and easy D.I.Y. project.
Most of these designs are easy to knit.
These scarves offer perfect design without any flaws.
Their design represents something significant to the Harry Potter series.
The design of these scarves matches with other Harry Potter-themed products.
Tips To Remember While Sorting Out Harry Potter Scarf Designs
I know you want to venture out into the castles of Hogwarts with a picture of your favorite design and magical yarns to be turned into a scarf. I did the same, but my dream of owning the perfect scarf was decimated before Harry could even say "Confringo." And if you don't want the same for your Harry Potter scarves, follow the tips I have mentioned below:
Always Go For A Prominent Design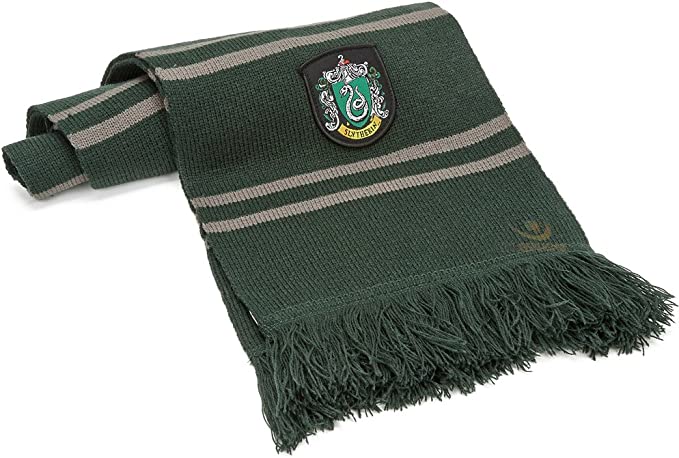 When it comes to Harry Potter scarves, you should first remember to pick a design that can be appropriately prominent on a larger surface. Because if you are anything like me, you don't just want a Dobby size scarf; you want something big and long to adequately express your love for the series. And here is where picking a suitable design matters. If you select a small design with one or two characters, it will look weird on an oversized scarf. Still, if you choose a design featuring the whole cast for a small scarf, it will look overcrowded. Remember to balance the design and size to get the perfect Harry Potter scarf.
Pick The Right Fabric
When it comes to scarves, you can ignore a lot of things, but something you can never overlook is choosing a good quality fabric. Of course, picking high-quality material gives you the peace of mind that your Gryfindor scarf won't tear. But in most cases, it also means you will get an overall more comfortable scarf.
Another thing to look for is whether the material can easily be dyed or not. In my experience, cotton and linen work the best while also being very comfortable to wrap around your neck. And if I had to recommend you something to avoid, I would probably say Nylon and Polyester. These are neither good for dyeing nor do they provide much warmth.
Pick Your Prefered Theme
As a fan of the Harry Potter series, you must know there are a lot of great symbols and themes to choose. And picking one that suits you and plays well with your other Harry Potter merch is also very important. For example, suppose you're into a specific Hogwarts house; it is Gryffindor if I talk about myself. In that case, you can start by picking your favorite crest or theme from the four houses.
Another thing you can do to make your experience a little more streamlined is which colors and patterns you want for your scarf. Whether it's red and yellow or green or blue, Harry Potter scarves are available in endless combos. Picking which one you want beforehand can significantly narrow the options, saving yourself the mental exercise.
Try Going the Custom Scarf Route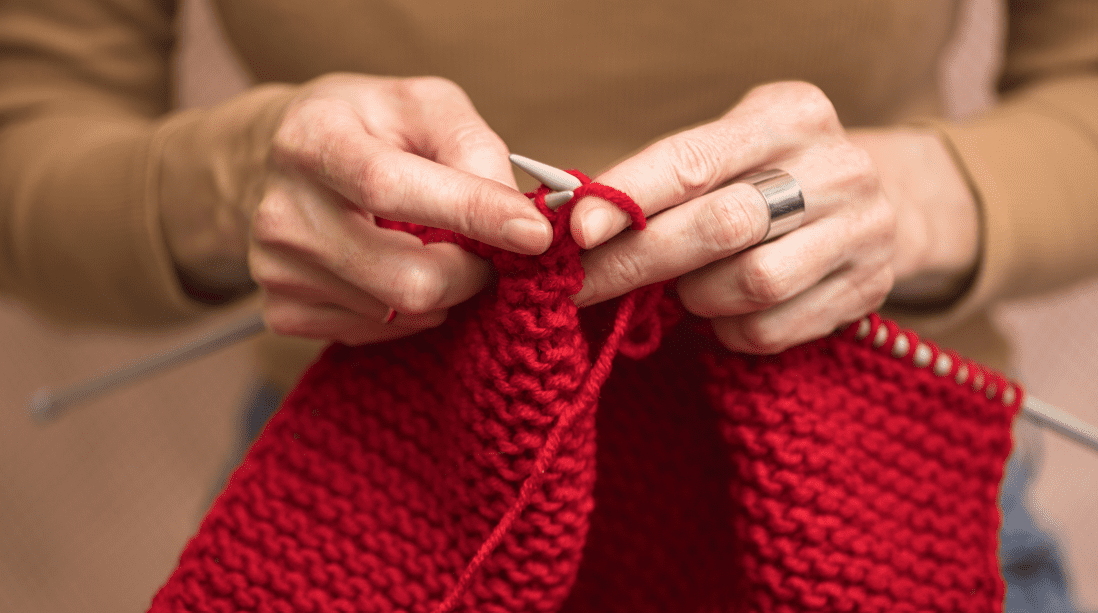 Reading up till now, you must have figured out that many Harry Potter scarves are custom designed and are not sold in traditional marketplaces. And even if you can find your preferred design on a site like Amazon or Walmart, there is no guarantee they will also have the specific material you are looking for. So, what should you do? It's simple; go down the custom print route.
This way, you will completely control the size and materials used in the scarf. But remember to choose someone with a good reputation in this kind of job and someone you can trust with your Slytherin house scarf design. You can also try using custom services like the ones commonly seen on Etsy to get a high-quality custom-made scarf.
Best Harry Potter Scarf Ideas
Seeing how diverse Harry Potter is, it is only natural that Harry Potter scarves come in various designs and styles. So keeping that in mind, I made this list of Harry Potter scarf ideas while making sure there is something for every wizard: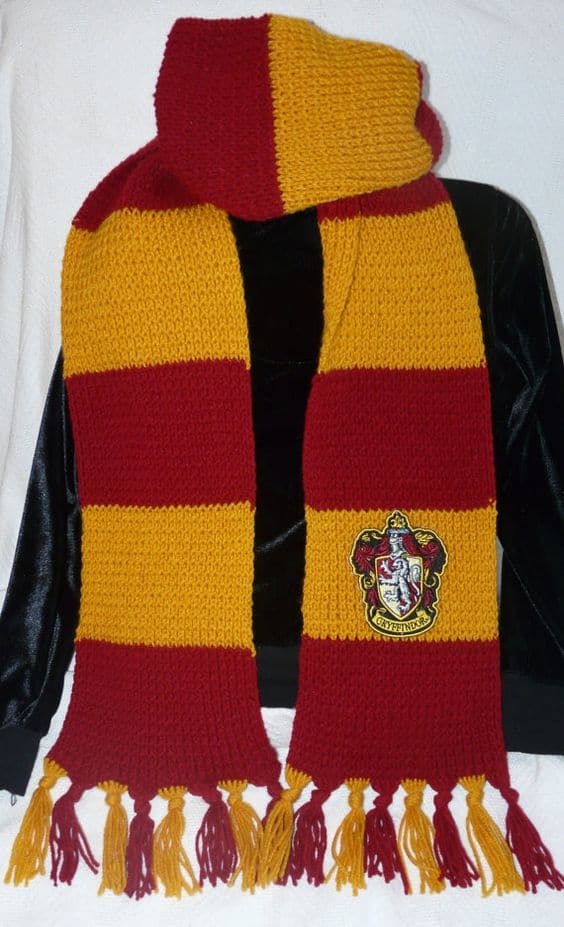 When it comes to the house of Gryffindor, very few can resist the temptation to join it. And almost everyone will pay regard to its valiant history and the bravery of its member. So, that is precisely where this Harry Potter Gryffindor Scarf design comes in. Its red and yellow theme reminds me of one of the great houses of Hogwart's. Furthermore, I was also really fond of the large knitted emblem on one side, labeled with the name Gryffindor and a symbol of the lion. I wish it was on both sides of the scarf. The overall design is effortless with little to no details, except the Gryffindor crest, so it would be pretty cheap to produce.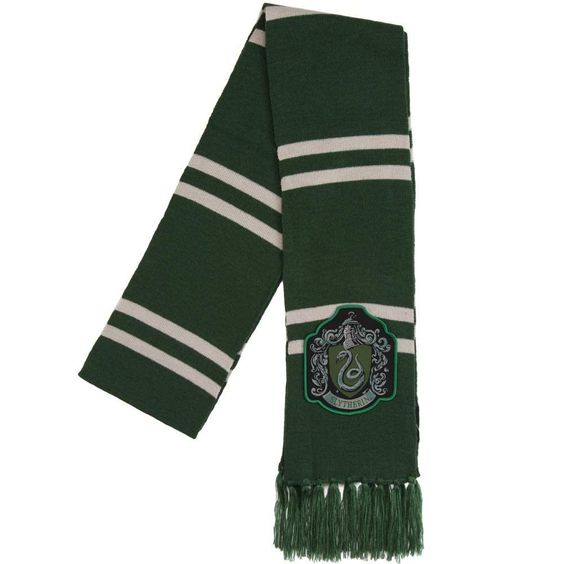 Are you trying to find a Harry Potter scarf design as a gift for your Slytherin friend, or are you just looking for a scarf idea that will go well with your other Harry Potter-themed clothing? Then this Slytherin House Crest Scarf design should be on your bucket list of best Harry Potter scarf ideas. It features a dark green theme that will make you the center of attention at the next Harry Potter cosplay party. And with the large serpent crest, you will feel like you are one of the troublemaking students in Professor Snape's class.
The design of this scarf offers nice, soft, and long braided ends. They provide extra detail by being the same green color as the rest of the scarf. Did I mention they are also harmless for striking a friend in the face, especially if they are on their way to becoming a Death Eater? If you plan on knitting this design, remember to pick a thick material for the base, as the dark color doesn't work well with thinner threads.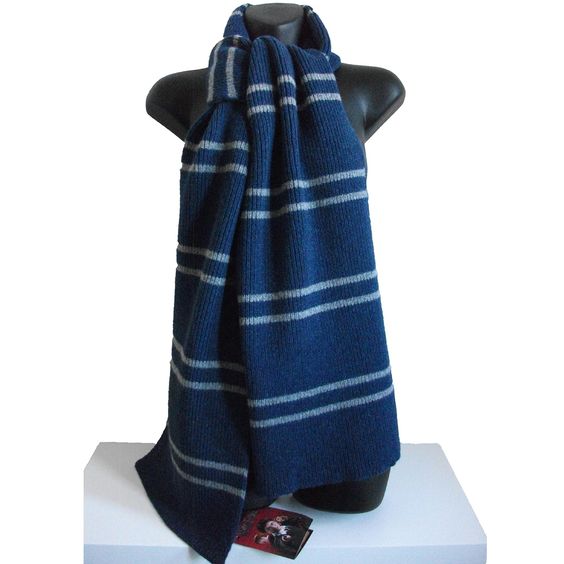 Suppose you're a keen observer who likes to gain wisdom as you progress through life. But you still want to be bad*** in times that call for it. Then it's my obligation to tell you that you would perfectly fit in the house of Ravenclaw. And what better way to show off your position in this elegant house than designing a scarf that is themed around the primary blue colors of the house emblem. Furthermore, any such design will surely remind you of this house's elements: air.
You do not need to think that this scarf idea is only for wizards. Because of its plain and straightforward design, many muggles will also come to love it as a Christmas gift. But if you want to show your allegiance by practically doing something to celebrate your house, remember to knit it in cotton or wool. These materials are not only well-insulated but also very durable; to assure you don't rip your Ravenclaw scarf over time. This scarf design also goes well with red and white attires. So, trying these fabulous colors will surely bring out the true potential of this design. But the absence of any Ravenclaw emblem makes this design recognized by only true Potterheads.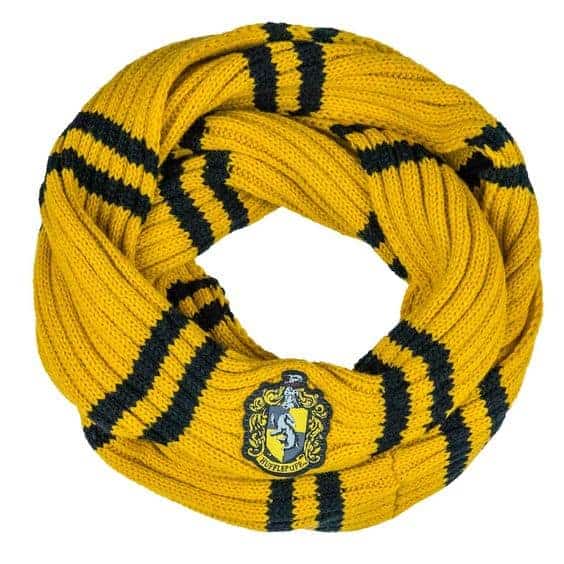 Hard work, dedication, and a bit cranky; are the qualities that a member of Hufflepuff should have. And if you see these qualities in yourself, you may as well be a Hufflepuff. But, if that's not enough for you, and you also want to represent the house glamorously, then look no further. This Hufflepuff infinity scarf idea will surely be the destination of your adventures. I like how each aspect of it is designed with Hufflepuff in mind. And every part of it, from its bright yellow color and thick black lines, represents the theme associated with the house.
The scarf design also has a patch of the house ironed on it, and due to its extraordinary detail, I can see the hand-embroidered badger. This not only signifies the symbolic animal of the Hufflepuff, but it also reminds me of its members' rough yet gentle personalities. And how can I forget the scarf's infinity loop design? It will not only help keep its master warm, but if you like to stand out in the crowd like Nymphadora, it also doubles down as an eye-catcher.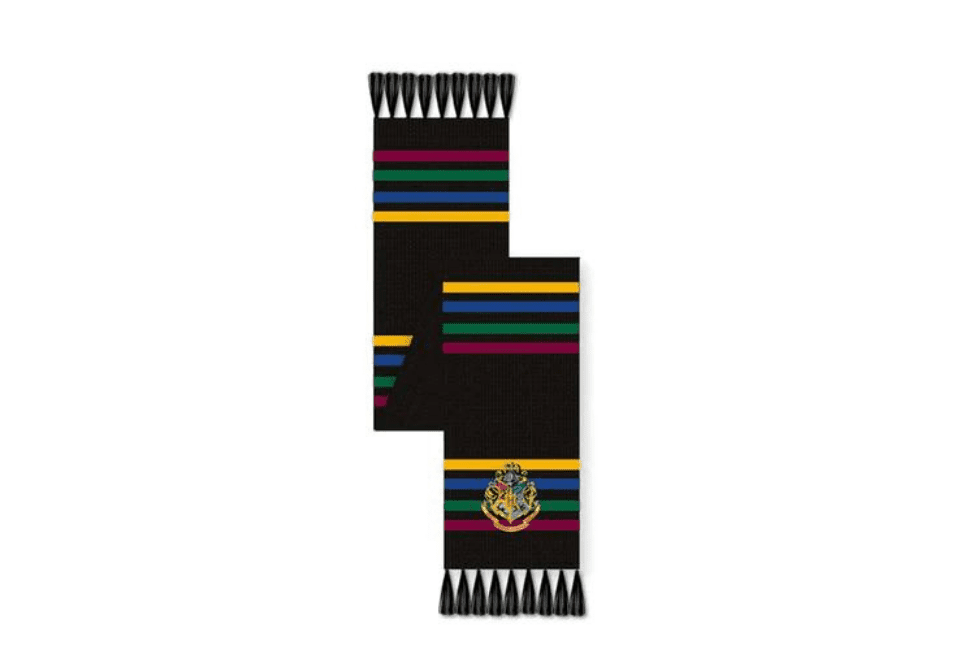 When it comes to Harry Potter scarf ideas, very few intrigue me as much as this Hogwarts all-house scarf. And it's not only because it shares the key elements of all the four houses from Hogwarts. But it also brings a certain charm that is appealing to all the series fans despite which house they prefer. And the mix of courage, wits, elegance, and even slight troublemaking is perfectly portrayed in such an elegant and captivating design.
The whole scarf is made up of a mix of black cotton and wool, and a few multi-color lines can also be seen going down its length. Which directly correlates with each house of Hogwarts. I must mention that this scarf design is relatively short and thin, so I wouldn't recommend this design if you're looking for a scarf style to wear in the winter.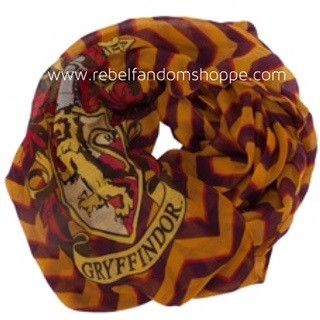 Wow, is it winter already, or am I too excited to try this Griffindor Large Crest Infinity Scarf design. As a fan of Harry Potter, you must know that a Potterhead doesn't consent to one thing to represent their favorite house from the series. And we will surely not go for a scarf design that can't correctly depict the reputation this house has collected over the years. With this scarf idea, you don't have to worry about that. Its alternative red and yellow stripe design is flawless and gives the scarf a larger-than-life feel with its relatively enormous loop.
You must have experienced many Harry Potter scarves with tiny emblems printed on them, which look elegant but don't stand out in a crowd. But with this scarf's big lion logo on the front, you don't have to worry about that. And with its vibrant visuals, it is all the more difficult to ignore. With its hefty build, I genuinely believe that having this design around your neck will feel like you're getting a hug from Godric Gryffindor himself.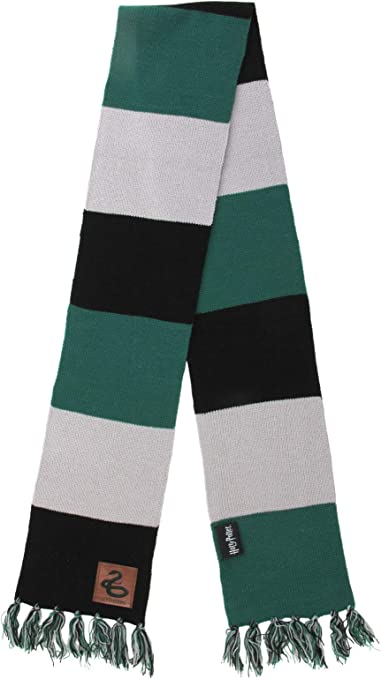 Are you in your 30's and still like to wear Harry Potter-themed clothing? But your friends pull your legs for being way too flashy? Then I have the scarf idea for you, which is not only elegant but also discreet. The design of this scarf goes well with any formal attire, so you can even wear it on your job. I believe this design will give you the perfect feel of being a covert member of Hogwarts' darkest and most mysterious house.
The scarf design consists of three primary colors, green, white, and black, which also happen to be the colors associated with the Slytherin house. However, these colors are not sharp, providing a very serene look to your clothing. And to go with its elegant look, it also features a small leather patch of a Serpent with the word Slytherin written below it. And even the fringes at the scarf's end are color-coordinated to match the rest of the theme. This may be a small detail, but it shows how much thought has gone behind making this design so much more magical.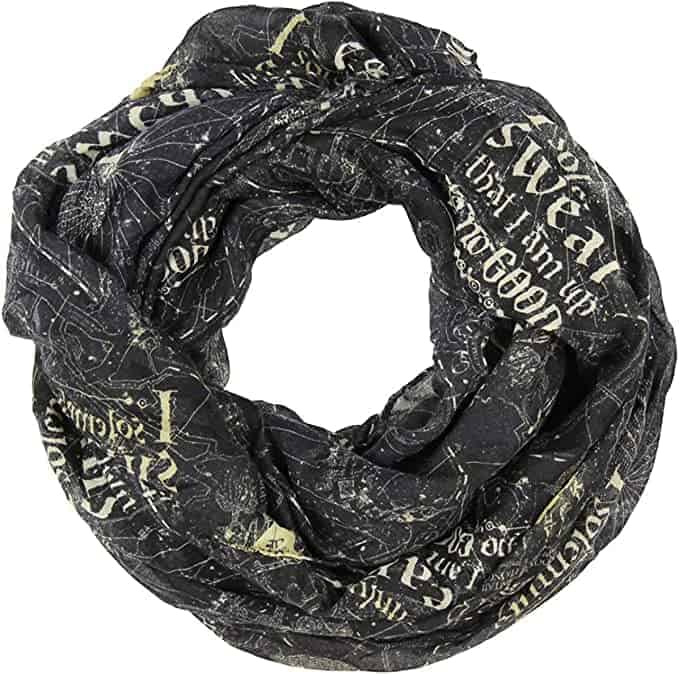 Some say scarves like these are made for girls; well, I say it is time to break this stereotype. Go for this Harry Potter Weasley Twins Infinity Scarf design to represent that the love of Harry Potter can't be divided into genders. The design of this scarf is the epitome of the cheerful and optimistic attitudes of the Weasley twins. Their famous catchphrase, "I solemnly swear that I am up to no good," can also be printed along the scarf's length.
The overall design of the scarf is a dark, gloomy night with various objects floating around to signify the random yet precise plans both brothers used to follow. But I noticed in this design that despite being a one-size-fits-all type of build, it isn't made for kids and can be a little too big for them. So if you plan to have a scarf for your kid based on this design, I suggest keeping it short, and a single loop would be enough.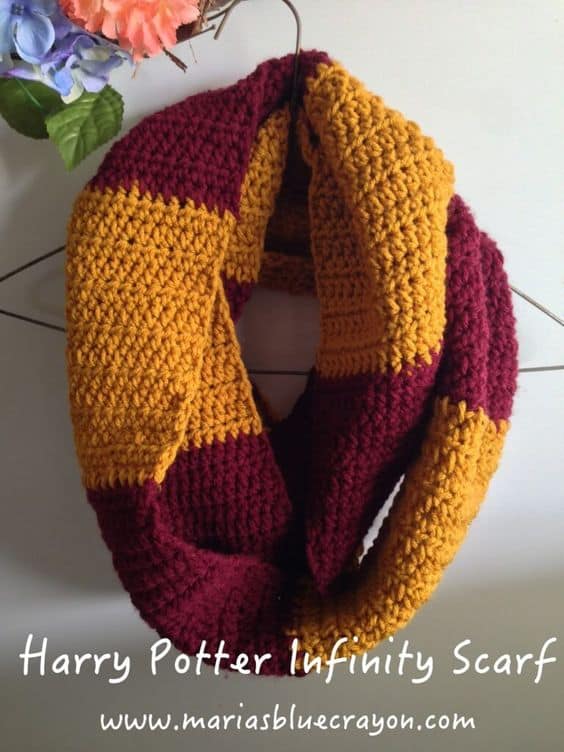 If you're looking for a fun scarf D.I.Y. project, I might have an easy peasy suggestion. But you should know how to knit. Let me introduce you to this Gryffindor Scarf Crochet. This scarf not only comes in an infinity style but due to its comparatively straightforward design, you can easily crotch it yourself with a hooked needle and some red and yellow yarn. The textured finish gives the scarf a flair that will remind you of the lion, which Gryffindors are so proud of. Overall it is a hook, line, and sinker all together in one piece, which will further reel you in the story.
If you want to show off your skills as a Hufflepuff or want something elegant for your loving and hardworking personality, this Hufflepuff scarf idea will be your dream come true. And wearing a scarf with this design around your college campus will surely make you the center of attention amongst your peers. The whole scarf is decked out in a bright yellow color with dark black lines representing the few flaws inside its members.
And although Hufflepuffs are known for their skills in Herbology, wearing this scarf while gardening may not be as good of an idea as it sounds. Because of its light tone, it is reasonably easy to get dirty, so keep that in mind next time you want to meddle with the Mandragora. Overall, this design is relatively simple, with just a Hufflepuff patch and some yellow tassels on its ends.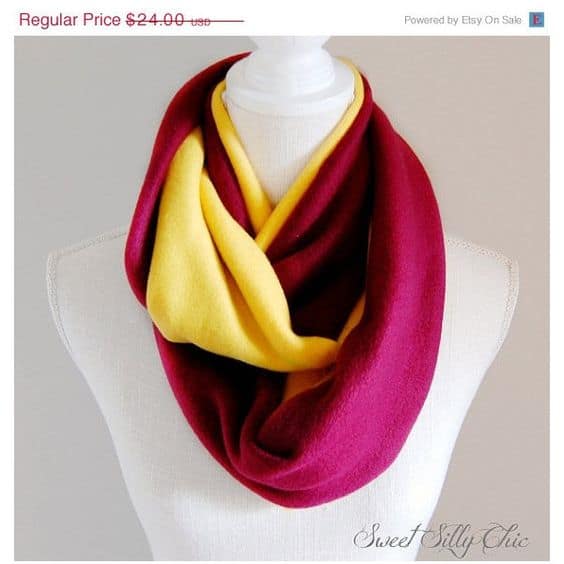 Maybe you are more of a fleece person and like to wear scarves with a unique shiny finish. Then this Harry Potter Gryffindor Infinity Design will be a worthy option. If Gryffindor is your favorite house like me, then I can say without a doubt that this scarf design's simple and elegant look will draw you like a Dementor to a wondered soul. Something I like about this scarf idea is how it can justify the long and undying will of the members of Gryffindor with the iconic red and yellow colors twisted around each other. This twist adds more elegance to the other Gryffindor scarf ideas I presented. And wearing it will almost feel like you are also a part of its rich culture. And if you plan to knit it for yourself, pick fleece as its main component, as it will outshine other scarfs.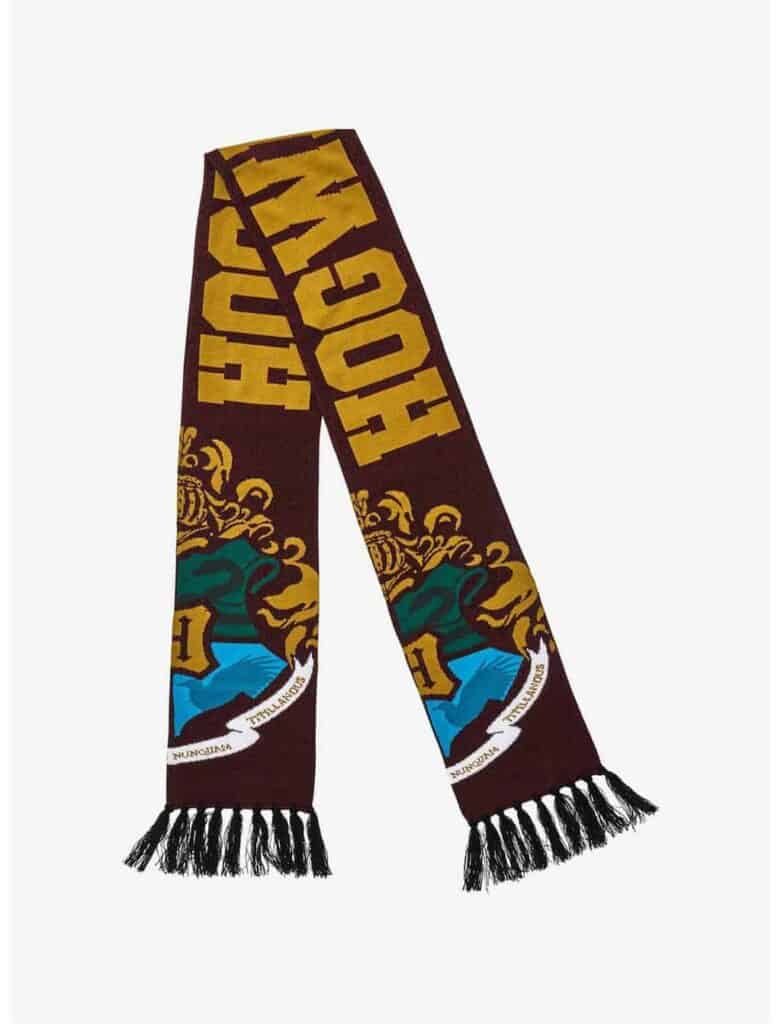 Is it December already, and you still haven't figured out anything for your special loved one to gift them on Christmas? Then stop worrying because this Harry Potter All-House Scarf will surely be the perfect gift this season. Its design features the complete Hogwarts logo in a giant humungous manner. The front of the logo also features the animals of each house perfectly represented in vibrant color through the technique of negative space. I guess this scarf idea has some secrets of its own. And below the crest, we can also read the words "Draco Dormiens Nunquam Titillandus," which translates to "Never Tickle A Sleeping Dragon." And this happens to be the motto of Hogwarts. So, in my personal opinion, this design can also serve as a collectible for any Potterhead.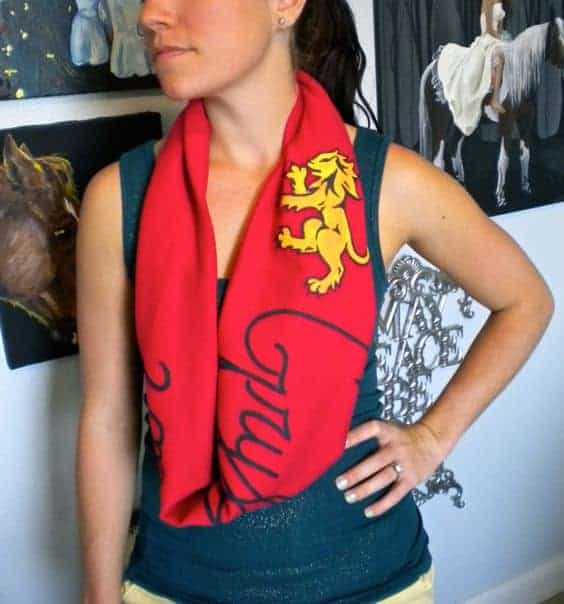 I am a Gryffindor fan, so I will obviously enlist designs based on my favorite house. So here is another excellent Gryffindor Style Scarf Design for all the Harry Potter fans who want to add another magical item to express their feeling for the house of Gryffindor. Unlike other Gryffindor scarves that offer a mix of yellow and red color, it only features a bright red background with an equally big Gryffindor lion printed on the front. The text "Gryffindor" can also be written in a calligraphy font to elevate this design's elegance further. And however, I would suggest if you plan to have this design on your scarf, also match it with a  shiny fabric like silk to better bring out the design's true colors. But if you plan to wear it to protect yourself from the cold weather, go for a warm or wool-based material.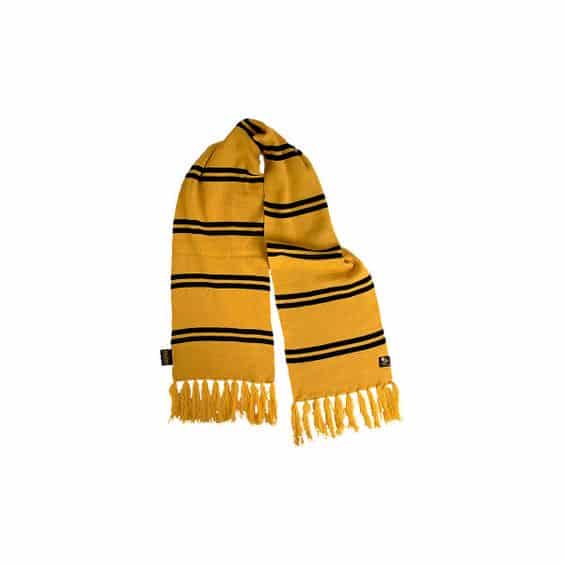 I know I have already mentioned an elegant Harry Potter design for office or formal wear. But that was for Slytherin fans. This design is for all the Hufflepuffs and features a vibrant yellow color with equally distanced black lines. Also, while being very true to the scarf design in the series, the front doesn't have the Hufflepuff crest. This might not be appealing to many hardcore Harry Potter enthusiasts but is loved by many fans who want to show their love for the house discreetly. And if you plan to buy this or D.I.Y., I suggest getting cotton as its base.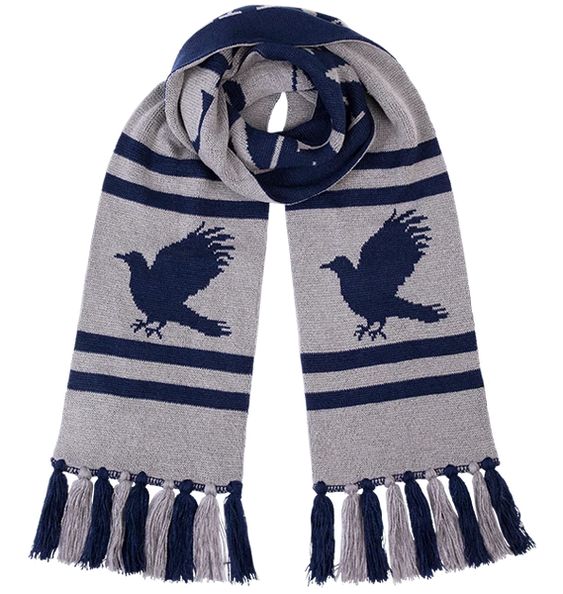 No, I am not ignoring Ravenclaw fans; I was waiting for the perfect moment to introduce this highly versatile Ravenclaw Reversible Knit Design. And as the name applies, it features the symbol of the Ravenclaw house, the Raven printed on the front and the back, but that's not all; the design also features a dual-tone color theme. So, every time you flip it, it feels like a completely new design.
Another unique thing about this scarf idea is the texture of the Raven, which features a negative space design. This reminds me that it's not always about the things which are present but also the things that are not there to get the complete picture (or perhaps it is time for me to start poetry).
Places To Buy Harry Potter Scarves

Now, by looking at the ideas mentioned above, I hope you are not that overwhelmed. But if you are and don't want to go through the whole hassle of custom Harry Potter scarves, here are some of the best marketplaces to buy Harry Potter scarves:
FAQs
Question: Which is the Best Harry Potter Scarf for a Low Budget?
Answer: Well, because many Harry Potter scarves are custom made, their price varies greatly. But some designs can be readily bought from big brand online marketplaces due to their popularity. And one of these is the Harry Potter Griffindor Scarf which can be purchased at a pretty low budget and also features impressive visuals.
Question: When do Hogwarts Students Wear Scarves?
Answer: Every student who belonged to a house in Hogwarts was given a scarf of their house. And all the current and past students of Hogwarts own them. These are primarily seen in scenes where the writer wanted to portray cold weather, and students of Hogwarts are even seen wearing them outside the campus. And one of the most iconic scenes where scarves are seen is when Harry, Hermoine, and Ron are having a snowball fight.
Question: Hand-woven or Machine-woven, Which Harry Potter Scarves are Better?
Answer: The Hand-woven technique is usually better for scarves made of wool or something very thick. And on the other hand, machine woven are more adapt with thinner threads. Talking about which is better, it's up to you. Machine-woven scarves are cheaper and more detailed than hand-woven ones. But it is also true that hand-woven scarves have a specific texture that the former technique can't replicate.
My Top Harry Potter Scarf Ideas:
I don't want to brag, but I consider myself a connoisseur of anything Harry Potter-related, and that, of course, includes scarves. So, if you were wondering about some of the top scarf ideas for Harry Potter, don't feel hesitant to check out the ones I have listed below:
Final Thought On Harry Potter Scarf Idea:
When it comes to the story of Harry Potter, there are a lot of emotions that have led to the series' massive success. And personally, growing up, its ever-so-lasting tale has left a significant mark on my personality and how I can see the world around me. And one of these driving changes has led me down the chambers of Harry Potter scarves. If I had to recommend one scarf idea out of all my picks, I would choose the Harry Potter Hogwarts Scarf, which is not only very stylish but can also represent more than just a single house from Hogwarts. So, I hope you have something to show after reading this Harry Potter scarf idea guide.
I have also mentioned some tips that will make your magical journey easier. And with my collection of personal picks in this guide, you will hopefully not miss out on any great scarf ideas Harry Potter offers. Remember to pick out the design and fabric type that properly complement each other. Don't go for a Harry Potter theme that doesn't intrigue you enough. And going the custom scarf route isn't always a bad idea. Until next time!
Continue reading:
Harry Potter Robe Ideas for Your Next Theme Party
Best Harry Potter Themed Earrings for Fans