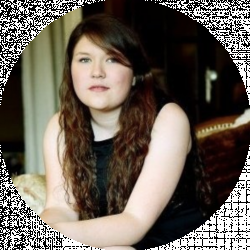 Latest posts by Kendra Gerken
(see all)
Introduction
I was one of the fortunate kids who grew up alongside our favorite trio- Harry, Ron, and Hermione. I will never forget the first time I picked up Harry Potter and the Sorcerer's Stone at the age of 10 and jumped into a magical world full of adventure and friendship. To say I was disappointed not to receive my Hogwarts letter at the tender age of 11 is an understatement. I read the books as I aged with the characters, then relived the magic with each film's release.
Harry Potter was such an immense part of my childhood that it has become a part of my personality as an adult. I hope I never lose the childlike wonder I associate with all things Harry Potter. Though it may seem odd to still often dress in my Hogwarts house colors at my age, embracing a Harry Potter aesthetic infuses my mundane world with magic and joy. Perhaps you're a Potterhead and understand why, and if not, I always try to remember what Ron says, "Don't let the muggles get you down."
Bottom Line Up Front
Explaining the Harry Potter aesthetic can be as intricate as a Time-Turner or as basic as Ron's emotional range. The bottom line, a Harry Potter aesthetic is what you choose to make of it. You can embrace style choices that hint at the wizarding world in a large way or small. You can choose to do so with your clothing, home decor, or activities. An aesthetic is all about curating beauty to the beholder. For a Potterhead, beauty is often found in everyday items that bring the magic from the pages of Harry Potter to life.
What is an Aesthetic?
It is not the goal of an aesthetic to show one's love for a fictional place but instead to immerse and embody something beautiful in and of itself. An aesthetic is typically defined as a style celebrating the nature of beauty, a subculture devoted to appreciating the pleasant and artful. To adopt a Harry Potter aesthetic is to immerse oneself in the magic as best one can and carry that beauty and magic with them wherever they go. An aesthetic is a style choice, but it can also become one that affects every aspect of your life.
Harry Potter as an Aesthetic
The Harry Potter Aesthetic can be explained as the curation and immersion of one's life into the Harry Potter world. For those of us who have grown up loving Harry Potter and the Wizarding World, we can implement Harry Potter aesthetic choices into our daily lives to bring some of the magic alive. For me, it brings joy and magic into an otherwise mundane world. Let's be honest, who doesn't want a little more magic in their lives?
Those who adopt a Harry Potter aesthetic are commonly compared to those who embrace a dark academia aesthetic. While I believe these two aesthetics are similar, some critical distinctions exist. Dark academia focuses solely on the beauty surrounding the collection of knowledge, with moody and dark themes. It often focuses on poetry and the Greek classics.
Some of these are also embodied within the Harry Potter aesthetic; however, Harry Potter adds an element of magic to the equation. The Harry Potter aesthetic is not rooted within the mundane world and, therefore, can encompass much more fantastical ideals than dark academia. I would argue that a Harry Potter aesthetic is the perfect stylistic choice for any fan that wishes to embody Harry Potter in their daily life subtly.
Aspects of an Aesthetic
An aesthetic can be implemented into your life through many different avenues. I personally prefer to embody an aesthetic in as many ways as possible. For me, this includes my wardrobe, home décor, technology, and activities.
Wardrobe
A person's clothing is often an outward expression of one's personality. When you have adopted Harry Potter as a personality trait as I have, it is an excellent option to include in our aesthetic. I often portray the Harry Potter aesthetic through dressing in collard button-down shirts, Hogwarts house merch, and other typically academia-styled clothing. I usually choose not to stick to one of Hogwarts house's colors and mix and match between all their styles. Who wouldn't want to be a Slytherin, even if just for a day?
Home Décor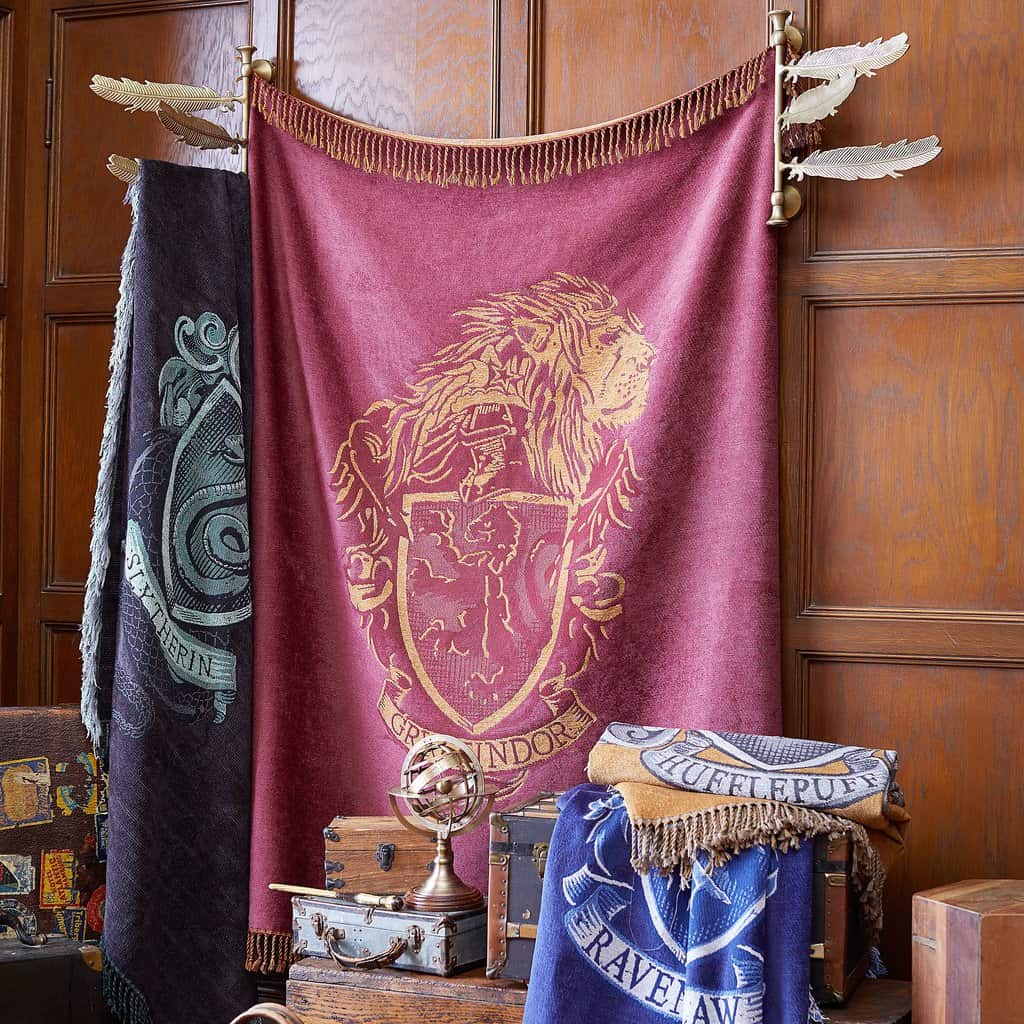 My favorite way to immerse myself in the world of Harry Potter is through my home décor. I implement many magical items into my decorating, such as this Gryffindor blanket, copies of my favorite Harry Potter books, and this Black family tree wallpaper. Because I wish to immerse myself in the world of Harry Potter, not just show that I am a fan of it, I often decorate with items that could be found at places like Hogwarts. The use of books and candles is a predominant theme, as well as a dark and moody color palette.
My favorite colors to use within my home for a Harry Potter aesthetic are deep jewel tones, neutral stone, and distressed black. I accent these colors with rustic bronze and gold hardware. I also incorporate portraits to decorate my walls, although no matter how hard I try, they simply cannot hold a conversation! I try to stick to antique furniture to pull together an old-world style and add a bit of magical flair with references to places like Hogsmeade with my mugs.
Technology
In society today, we spend an alarming amount of time looking at our screens. Because we devote so much of our day to this, it is a perfect place to curate our aesthetic. To do this, I often use wallpapers that make me feel as though I am in the Wizarding World myself. My desktop background is currently this gorgeous image of the Hogwarts Express! I can almost hear "Anything from the Trolley, dears" every time I unlock my computer. I love that it features the Jacobite steam train traveling over the Glenfinnan Viaduct, which is what we see in the movies!
I also incorporate this aesthetic element into my music choices. For instance, I use playlists of ambient music set in Gryffindor Common Room when I write. Christmas in the Great Hall is also a favorite. There are dozens to choose from on YouTube. There is practically one for every common room or magical location! These choices help immerse me into the Harry Potter magic and bring some aspects of it to life.
Activities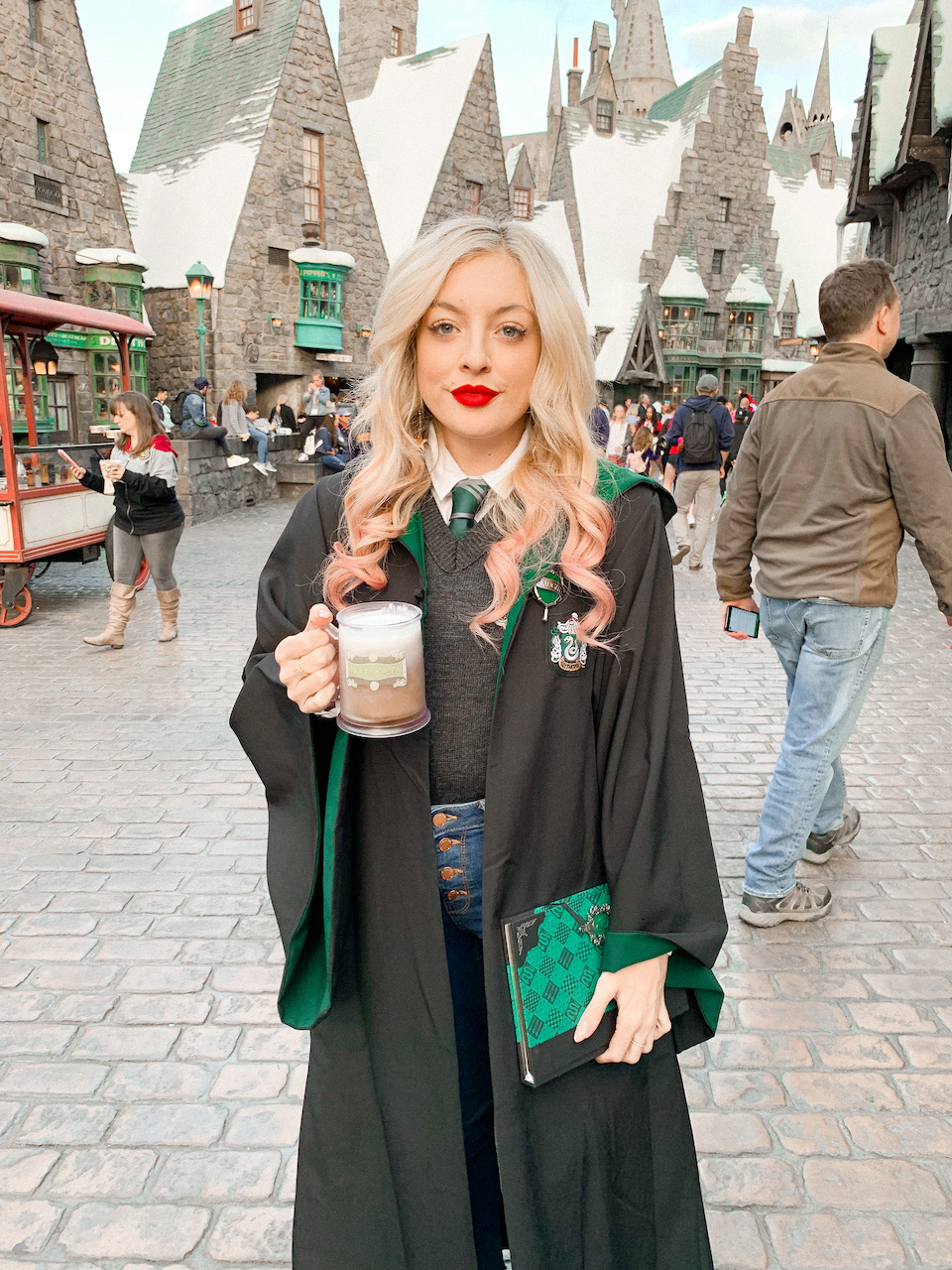 Within the aesthetic of dark academia that is closely connected to that of Harry Potter, activities are often geared towards the reading and the gathering of copious amounts of knowledge. It highlights spending time in libraries consuming the poetry of Poe or Byron. Or perhaps sitting in a coffee shop desperately trying to comprehend the mind of Herodotus.
This sounds perfect for those of us who take after Hermione and enjoy just a bit of light reading! This is also true of a general Harry Potter aesthetic, but I would wager that Harry Potter incorporates much more. The world of Harry Potter, while predominantly set at Hogwarts and focused on learning, also included things like Quidditch, Herbology, Divination, and Astronomy.
In my opinion, activities fit for the Harry Potter aesthetic include reading in coffee shops and libraries, exploring the countryside, and being one with nature. Trip to camp in the Forest of Dean, anyone? A Harry Potter aesthetic can be whatever you deem it to be. It can include the absorption of knowledge, including astronomy and a carefree exploration of places unknown, quidditch matches in the backyard, or snuggling up with "Hogwarts, a History" and a cup of pumpkin juice. I often choose to incorporate baking into my Harry Potter activities as well. I aspire to be just like Molly Weasley and have spent many an afternoon trying to perfect my Treacle Tart and Butterbeer recipes!
Tips to Help You Shop
Because you are shopping for pieces that fit within an aesthetic, you are not restricted to typical Harry Potter merchandise. While you can incorporate these, you are not limited to them and can include anything you feel gives off that magical Harry Potter vibe! Below I've listed my favorite places to shop for items that fit a Harry Potter aesthetic! 
Thrift Stores and Estate Sales- As Harry Potter is set within our own world, only separate, we can find some Hogwarts-like items at resale shops like thrift stores. 

Antique Stores- Antiques complement Harry Potter décor as they mimic the look of Hogwarts and The Burrow. 

Online at stores like 

Pottery Barn Teen

, 

The Magic Burrow

, and 

The Common Room Shop

– These stores have Harry Potter-specific merchandise. It is done in such a way that it fits into the aesthetic in a pleasing way instead of being overtly fan merch. 

Minalima

– Minalima was commissioned to create many of the props we see in the Harry Potter films. As such, it is an excellent resource for purchasing items that look like they belong in the wizarding world. 
Recommendations
A Harry Potter aesthetic can be further broken down in many ways. You can curate an aesthetic around a single character, a Hogwarts house, the Wizarding World itself, or even dark and light wizards. With my personal style, I often embody my Harry Potter aesthetic through my house, Gryffindor. To help you on your journey to curating your own Harry Potter Aesthetic, here is some inspiration! Remember, these are only suggestions! An aesthetic is entirely up to personal interpretation and style.  
1. Hogwarts Aesthetic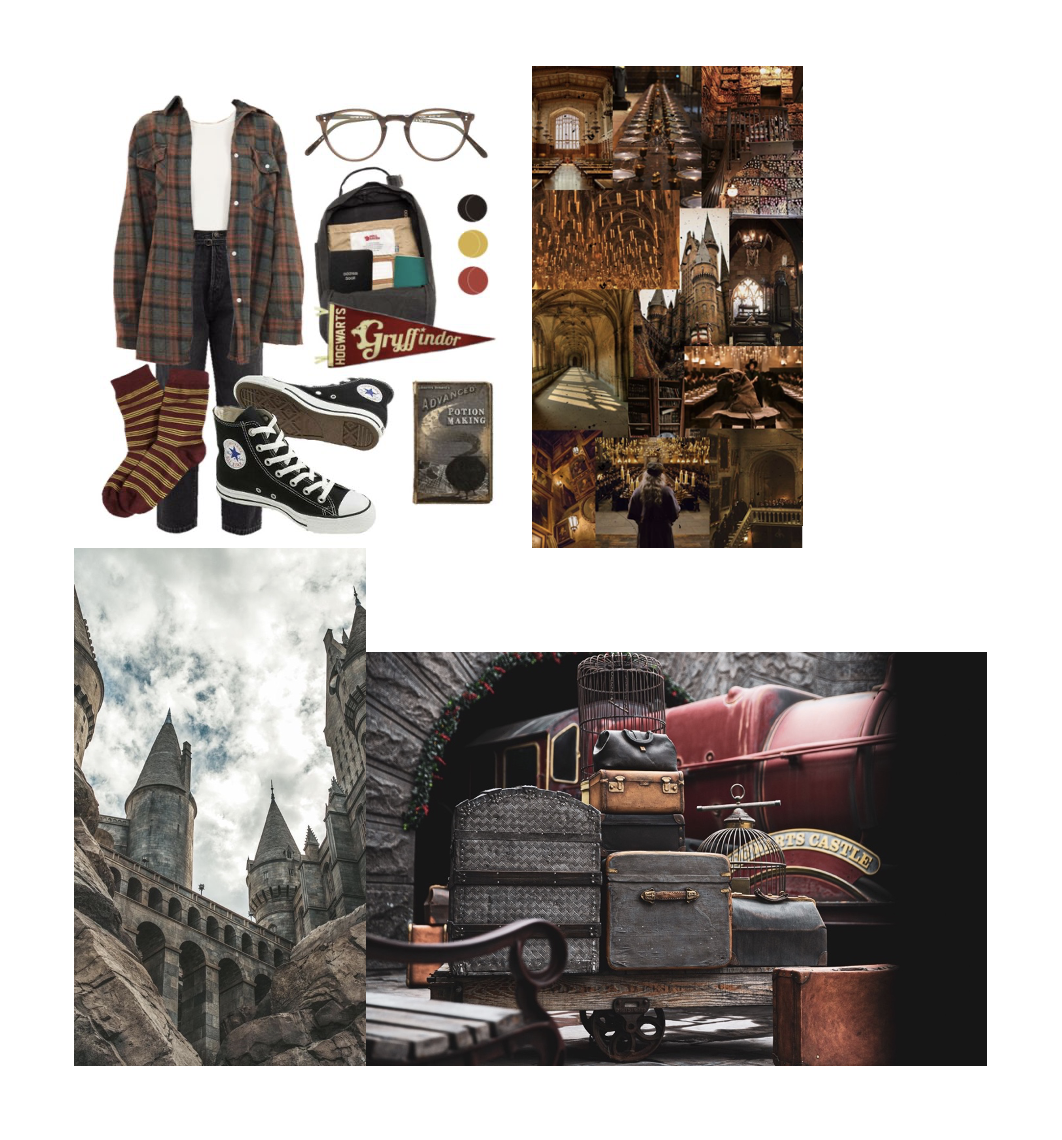 Colors to incorporate: Gold, brown, stone.
Clothing: Academic clothing of plaid shirts or trousers with white oxford shirts. Brown leather shoes such as Mary Janes or Brogues. Ties optional. Sweaters over collared shirts. Lockets and small earrings. For casual wear, jeans with an oversized plaid button-up. Think of that one blue plaid shirt we all saw Harry wear in every movie. 
Activities: Spending time in the library. Long walks by the lake. Quidditch games in the backyard (yes, you really can play Quidditch in a muggle way without a Nimbus 2000)! 
Wallpaper for Tech: Hogwarts Castle, Hogwarts Express
Home Décor: An Overabundance of old books and candle sticks. Neutral color walls. Paintings in every room. 
Shopping Ideas
2. Gryffindor Aesthetic

Personality: Brave, passionate, funny, and always chasing adrenaline.  
Colors to incorporate: Burgundy and Gold
Clothing: Jeans, converse, warm sweaters, graphic t-shirts.

I tend to keep my Gryffindor style comfortable and warm, like the Gryffindor common room.

Activities: Backyard bonfires, old record thrifting, indie film festivals, climbing trees, playing ball with friends. Or you can be like Hermione and curl up with a good book and a cup of tea in the library. We all know if Hermione hadn't been such a bookworm, Harry would have died in the first book. 
Wallpaper for Tech: Warm and cozy. Featuring Quidditch, nature, or a warm fire. Perhaps the Gryffindor Common Room or living room at The Burrow.
Home Décor: Warm and rich. Dark woods, vintage furniture, record player, and cozy blankets everywhere. I use my giant collection of Harry Potter-themed mugs on display for a chaotic Weasley Burrow aesthetic.  
Shopping Ideas
3. Ravenclaw Aesthetic

Personality: Full of wit and wisdom, with an

artistic flair often missed by most.  

Colors to incorporate: Royal Blue and Bronze
Clothing: Plaid skirts or trousers. Blue button-downs, brown leather shoes, bronze accents. Buttoned up and preppy style. 
Activities: Museum trips, art classes, classical music, and hanging out in libraries or coffee shops with a good book. Rock, gem, and fossil collection. 
Wallpaper for Tech: Constellations, Hogwarts Astronomy tower, or stacks of books. 
Home Décor: Style similar to Light Academia. Light fabrics but very textured with an old-world feel. Shades of blue, bronze, and cream. Stacks of old books and vases full of dried pas

tel flowers. 
Shopping Ideas
4. Hufflepuff Aesthetic

Personality: Kind, humble, loyal, patient, and hardworking.
Colors to incorporate: Yellow, cream, and moss green colors. Clothin

g fabrics of linen and denim.  

Clothing: Laid back, perfect for outdoors. Overalls over flower embroidered t-shirts. High-top converse with fun socks. Sundresses and sustainable goods. 
Activities: Painting, Gardening, Thrifting, Cooking. I can always picture a Hufflepuff creating scrapbooks with friends. 
Wallpaper for Tech: Happy places full of sunlight. Flow

ers, rolling hills, or our favorite sweet shop- Honeydukes! 

Home Décor: Light and airy. Full of neutral and earth tones. Think cottagecore with a magical flair. Decorate with vases of bright flowers and bright green succulents. 
Shopping Ideas
5. Slytherin Aesthetic

Personality: Bold, ambitious, well-spoken, and snarky.
Colors to incorporate: Emerald Green, Black, and Silver

.

Clothing: Brogues, black leather, three-piece suits, anything with a designer label, and silk in deep jewel tones. A polished to perfection style for fancy occasions. For casual days, black band t-shirts with black jeans and a motorcycle jacket with silver jewelry. 
Activities: Reading moody poetry, shopping, partying. Afternoons spent in solitude creating charcoal sketches of landscapes or playing the piano. 
Wallpaper for Tech: Dark themes with moody colors, often featuring serpents. Images depicting the library at Trinity College Dublin with its dark wood tones and ivory busts. 
Home Décor: Luxury at its finest. Think dark academia with velvet and silks. Always organized and polished, not a book out of place on the shelf. Old money vibes. 
Shopping List
FAQs
Question: What is the Most Popular Harry Potter film?
Answer: Movie critics and fan reviews reveal that Harry Potter and the Deathly Hallows 2 is the most popular Harry Potter film.
Question: What is the Most Popular Harry Potter Book?
Answer: Sales show that Harry Potter and the Goblet of Fire is the most popular Harry Potter book. 
Question: Is Harry a Descendant of Godric Gryffindor?
Answer: No. As far as we know from the books, Harry is not a direct descendant of Godric Gryffindor. He is, however, a descendant of the Peverell Brothers from the Tales of Beetle the Bard.
Conclusion
In order to adopt a specific aesthetic, we must curate and surround ourselves with things that match our chosen look. These things should be what we find beautiful, what brings joy and magic into our lives. By implementing magical items into every aspect of your life, you are constantly surrounded by the beauty of things you love. A Harry Potter aesthetic is about more than merch. It's a lifestyle. A fashion choice for both yourself and your home. It is a way to bring forth our daydreams of the Wizarding world into our reality. As Dumbledore says, it does not do well to dwell on dreams and forget to live. 
Want to read more about Harry Potter? Check out these links below!