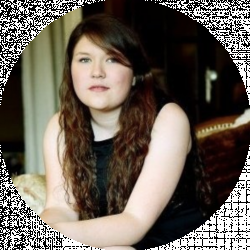 Latest posts by Kendra Gerken
(see all)
One of my favorite scenes of both the Harry Potter books and films is Harry's first introduction to Wizarding society as he enters Diagon Alley.
As those bricks shift and rotate to reveal the bustling streets of the magical shopping thoroughfare, I always wonder about the awe Harry would have felt. From entering the Leaky Cauldron, meeting a few odd wizards and witches, to stepping foot in Diagon Alley with Hagrid, this would have been one magical introduction.
As we reside within the muggle world and have no access to a real-life Diagon Alley of our own, Potterheads have to rely on finding small ways to add a little magic to our spaces.
As I often work in an office and study within a classroom, I have always loved incorporating my love for Harry Potter into my school and office supplies.
As we cannot apparate into Diagon Alley, we must scour the internet to find our school supplies. There are many excellent options to be found with a little liquid luck! Below you will find a list of my absolute favorites!
Bottom Line Up Front
Bottom line, the best Harry Potter school or office supply will depend upon your favorite style of merchandise. I tend to lean toward the traditional style. With the traditional style of merchandise, I enjoy the look of something I could actually see lying around inside a Hogwarts classroom.
To capture the feeling of actually studying in the Hogwarts library, I suggest these supplies:
In contrast, if you prefer a quirkier style, perfect for Luna Lovegood, I would trend towards the common pastel Harry Potter office merch.
My favorite is the weekly planner I currently use to plan out my weeks, the Harry Potter Weekly Desktop Planner. This notepad-style weekly planner helps me keep on task throughout the week while adding a little magic to mundane chores.
Selection Criteria
When searching for the best Harry Potter merchandise of any kind, I like to keep in mind some important selection criteria:
Quality materials.
Varied pricing options.
The usefulness of the product in an office or school setting.  
Backpacks and Pencil Bags
Backpacks and Pencil bags serve as the foundational supply for any school-age child. When you're a Potterhead, purchasing a Harry Potter-themed school bag is always a magical idea! Below you will find my favorite picks for Harry Potter backpacks and pencil bag!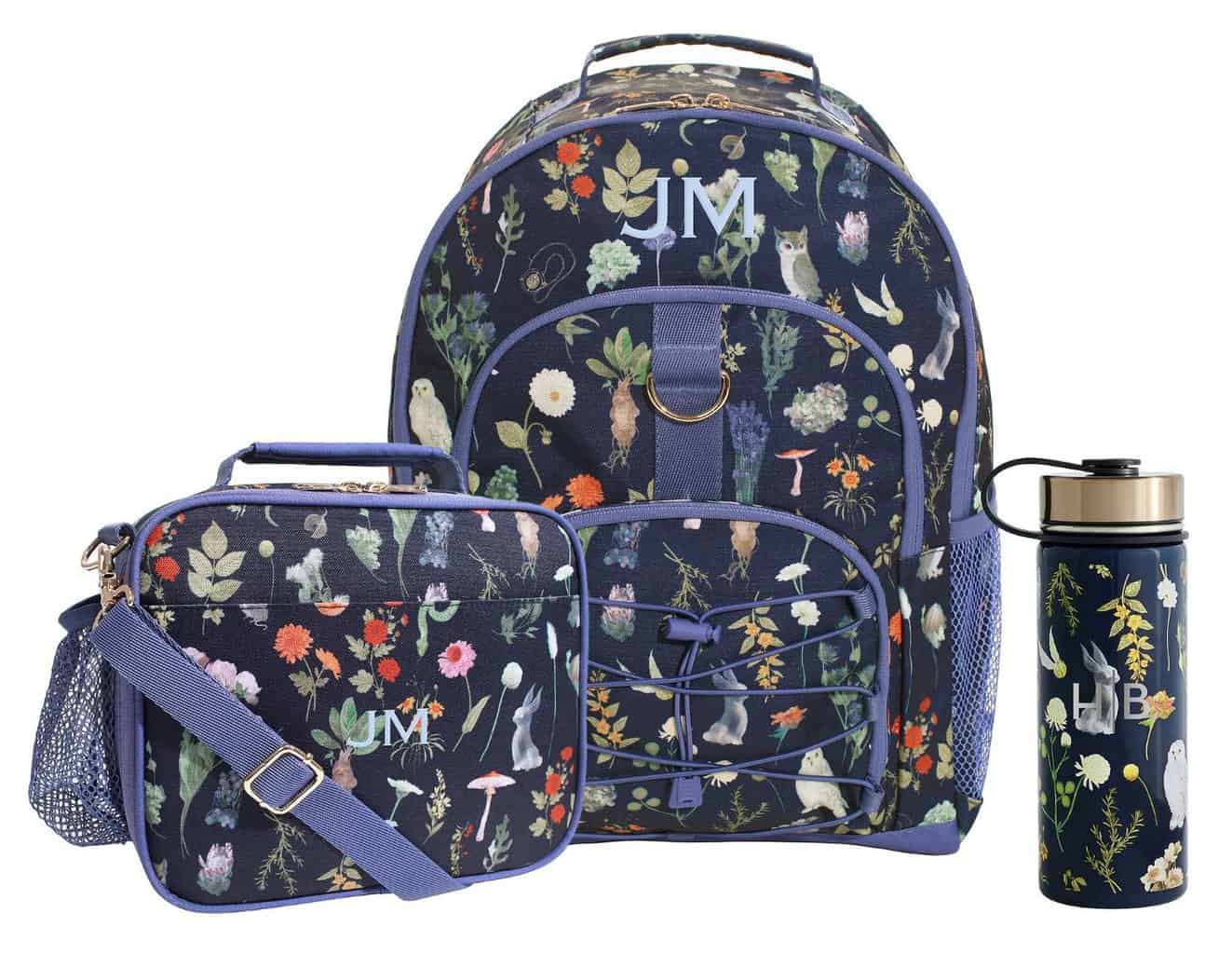 Pottery Barn Teen is a great place to look for Harry Potter merch that is a little more subtle in its approach. While you won't find caricatures of Harry, Ron, and Hermione, you will find Herbology prints like the one featured on this backpack bundle.
This set includes not only a backpack but a lunch box and water bottle as well. All of the items feature the Herbology pattern that subtly hints at Neville Longbottom's favorite subject!
The website also has other prints available for the school supply staple, but in my opinion, the Herbology print is the most eye-catching as it features various magical plants like Mandrakes, while also featuring classic Harry Potter icons like the Time Turner and Golden Snitch.
Pros
All three items of the set are able to be monogrammed.
The backpack features 1 large interior pocket and four exterior pockets, one of which is perfect for carrying the matching water bottle.
Comprised of water-resistant material.
This set is also available in other Harry Potter patterns, such as a Hogwarts pattern and an Enchanted Night Sky pattern.
Cons
This backpack is only available in one size. As an adult Potterhead, I would have appreciated another, larger size.
No smaller interior pockets for loose items such as keys.
No matching pencil bag is available.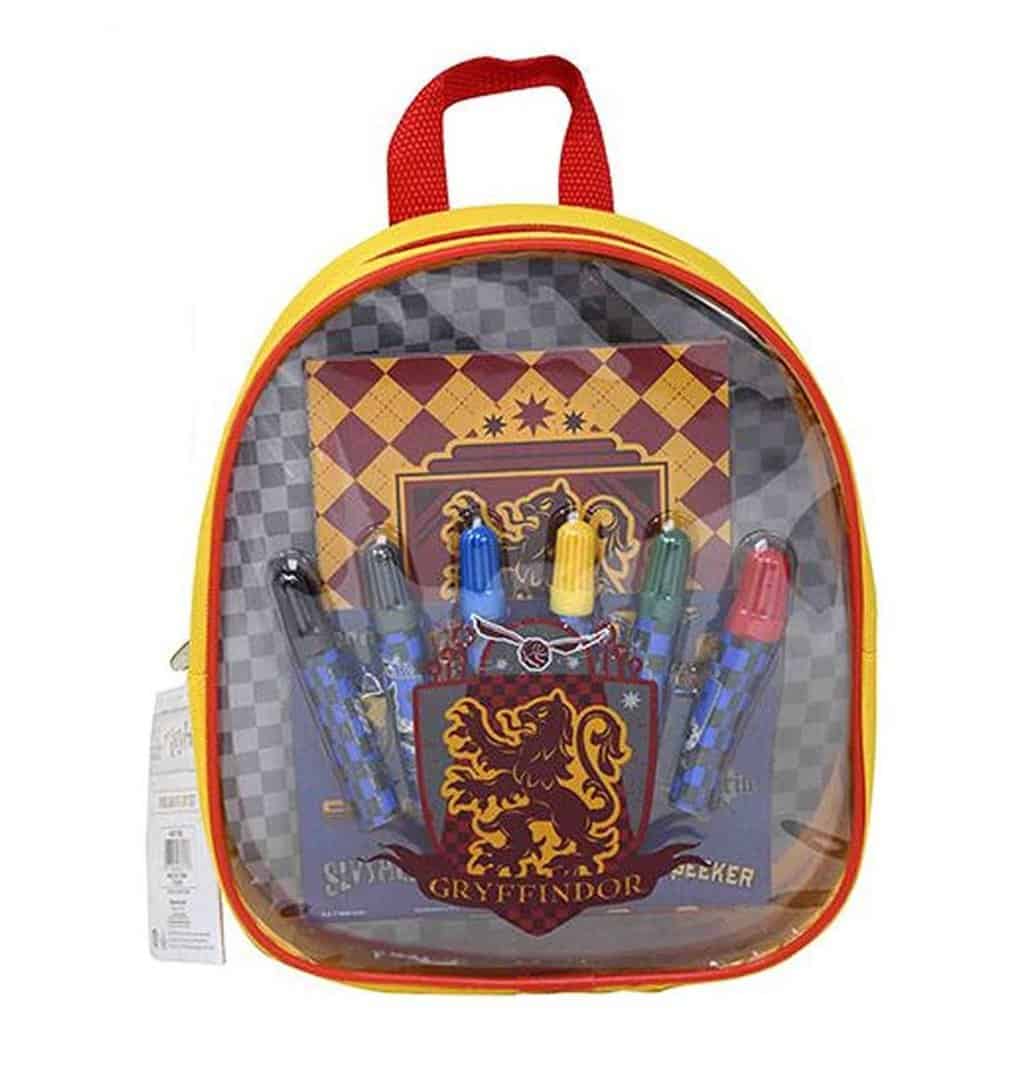 This officially licensed Gryffindor-themed backpack comes with 6 Hogwarts House-themed markers, along with a notebook and sticker sheet. In my opinion, this set is perfect for young Gryffindors who want to have their own backpack to carry their school supplies and coloring books.
Pros
Adjustable shoulder straps.
Features fun bright red and yellow coloring, perfect for young kids.
Cons
Too small a size for older children or adults, measuring 9.5 x 8 x 2.75 inches.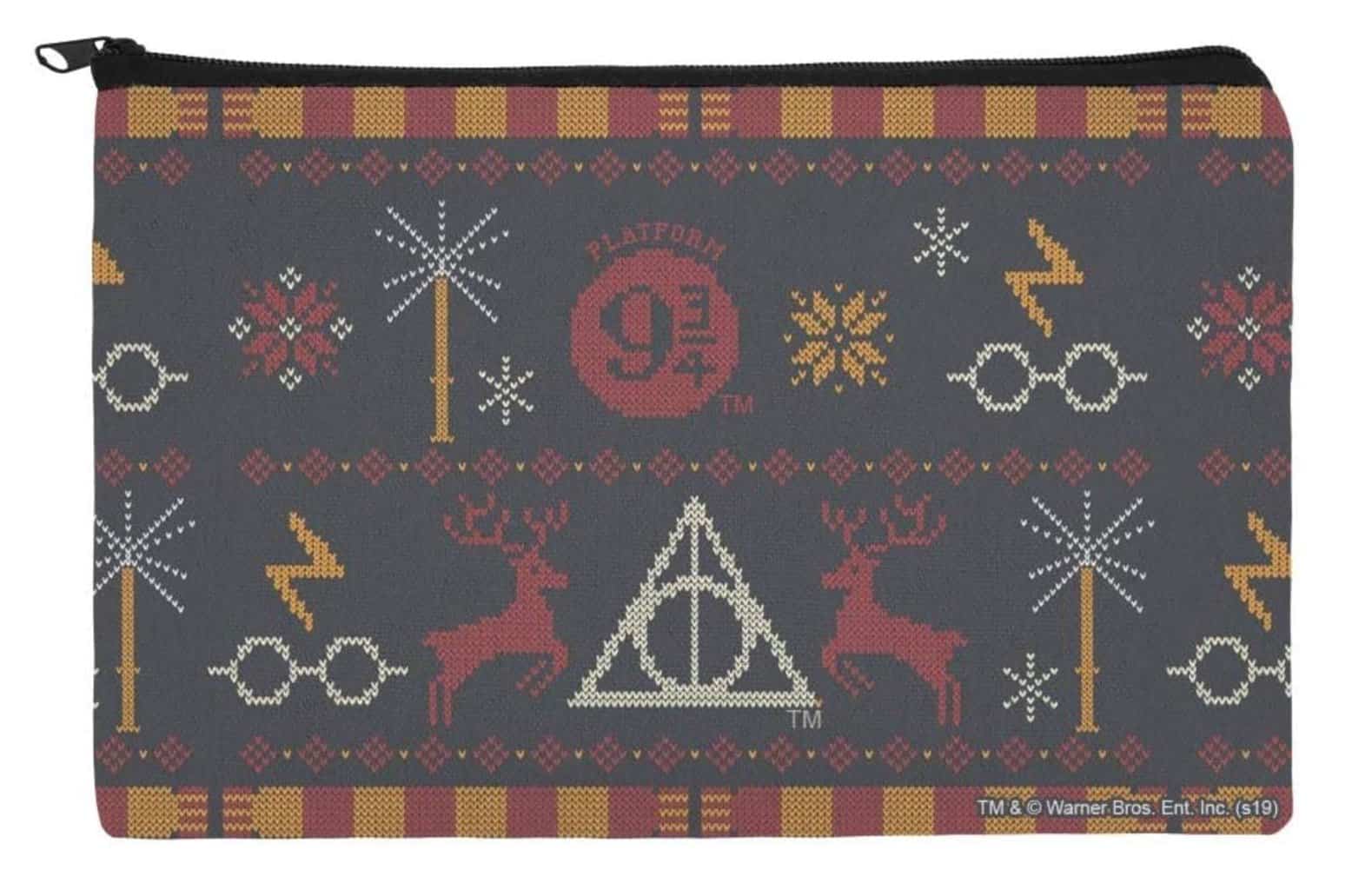 This Pencil/Pen zipper pouch measures 8 x 5.5 in., which is perfect to hold your favorite "quills" on your way to class. I love its ugly Christmas sweater design, with all Harry Potter icons such as the Deathly Hallows, a wand, Platform 9 ¾ sign, Harry's glasses, and a Stag for Harry and James' Patronus.
Pros
Canvas and zipper materials make for a sturdy pencil bag that will last.
I love that the design makes me think of Hogwarts at Christmas time with its snowflakes and Harry Potter icons.
UV-resistant ink to preserve color in the design.
Officially licensed.
Cons
The back side of the pouch does not have the Harry Potter design. I would have preferred it be the same on both sides instead of one with a design and one blank.
Desk Planners
Staying organized and remembering to accomplish necessary tasks within the week can be a bit of a chore. To liven up this task, I opt to use a fun Harry Potter-themed weekly planner like the one linked below! They add a bit of fun to an otherwise functionality-focused product.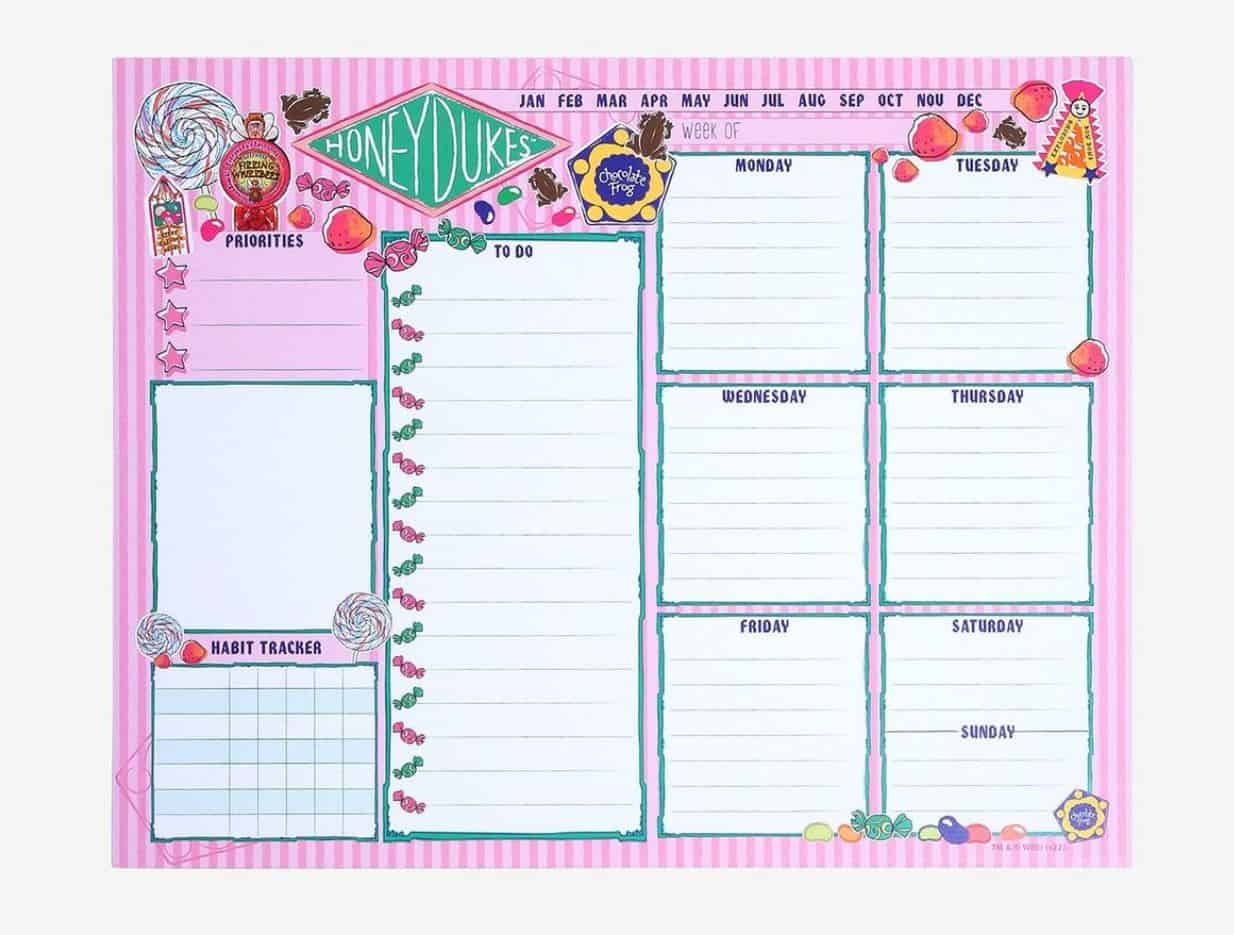 Similar to the watercolor Harry Potter desk planner I currently use, this Hoenydukes-themed planner is a perfect tool to use in the office. It's bright pink coloring, with every flavor of beans strewn across the page, cheers up any task, no matter how painfully muggle it may be!
Pros
Includes a To-Do, Priorities, and Habit Tracker section.
Covers Monday to Sunday with lined boxes for each day.
Cons
The daily boxes, while lined, are not very large. If you have many tasks to do within one day of your week, you will probably end up writing outside the lines.
Journals
A good journal or notebook is something I am always on the lookout for. As someone who takes many notes and loves to jot down good ideas, I always have one with me. Whether you want one for school, work, or just to keep tabs on your bright ideas, these Harry Potter spirals and journals are sure to bring a smile to your face.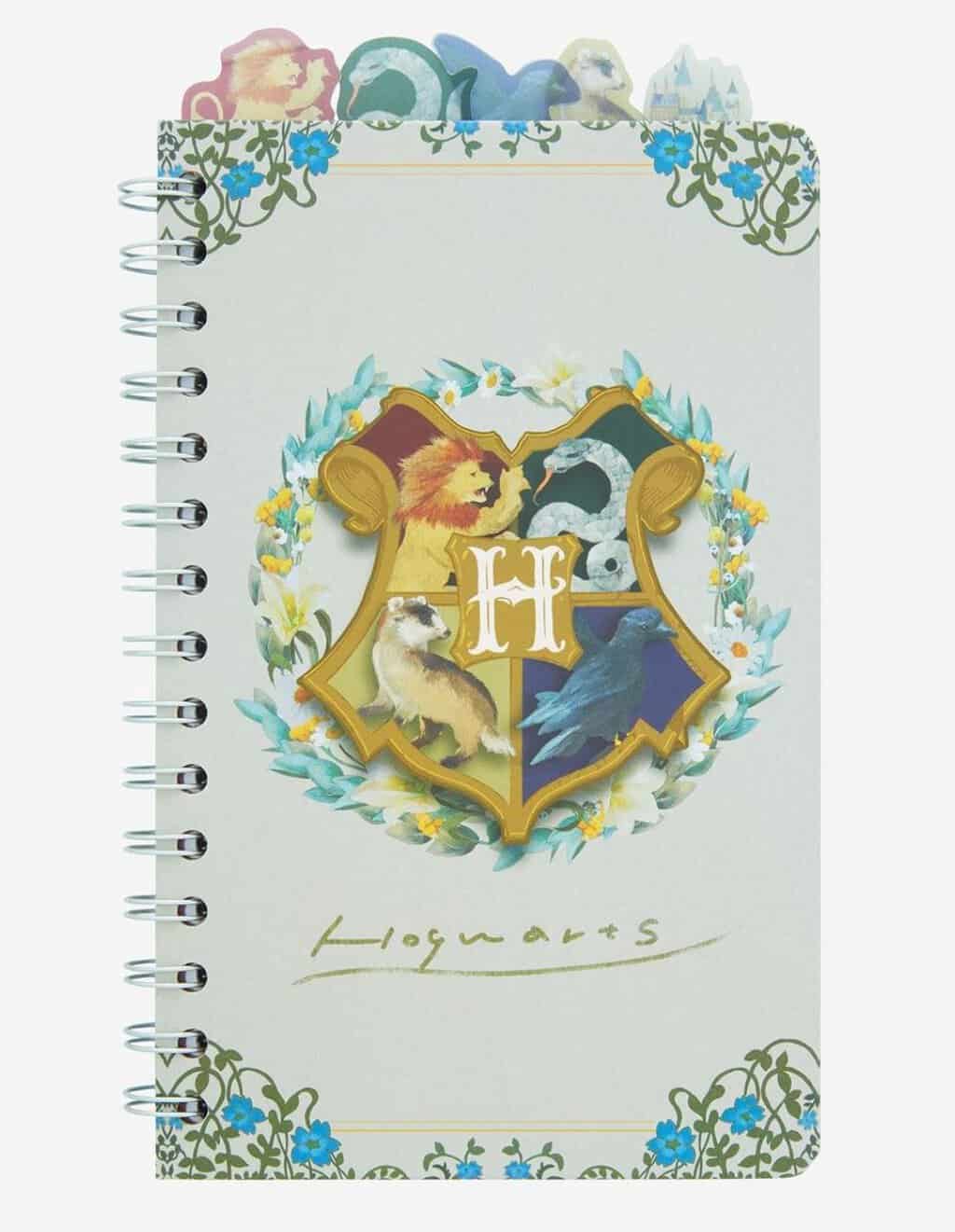 BoxLunch is a great shop for all things fandom. Harry Potter is no exception. This 5in. x 8in. floral-themed Hogwarts Crest notebook would make an excellent addition to any school supply list. It also includes matching tabs for the four Hogwarts Houses.
Pros
Unique, more feminine design with floral accents.
Includes matching tabs.
Can be found in the store.
Cons
Only includes 75 sheets of paper.
The somewhat high price point for a small notebook.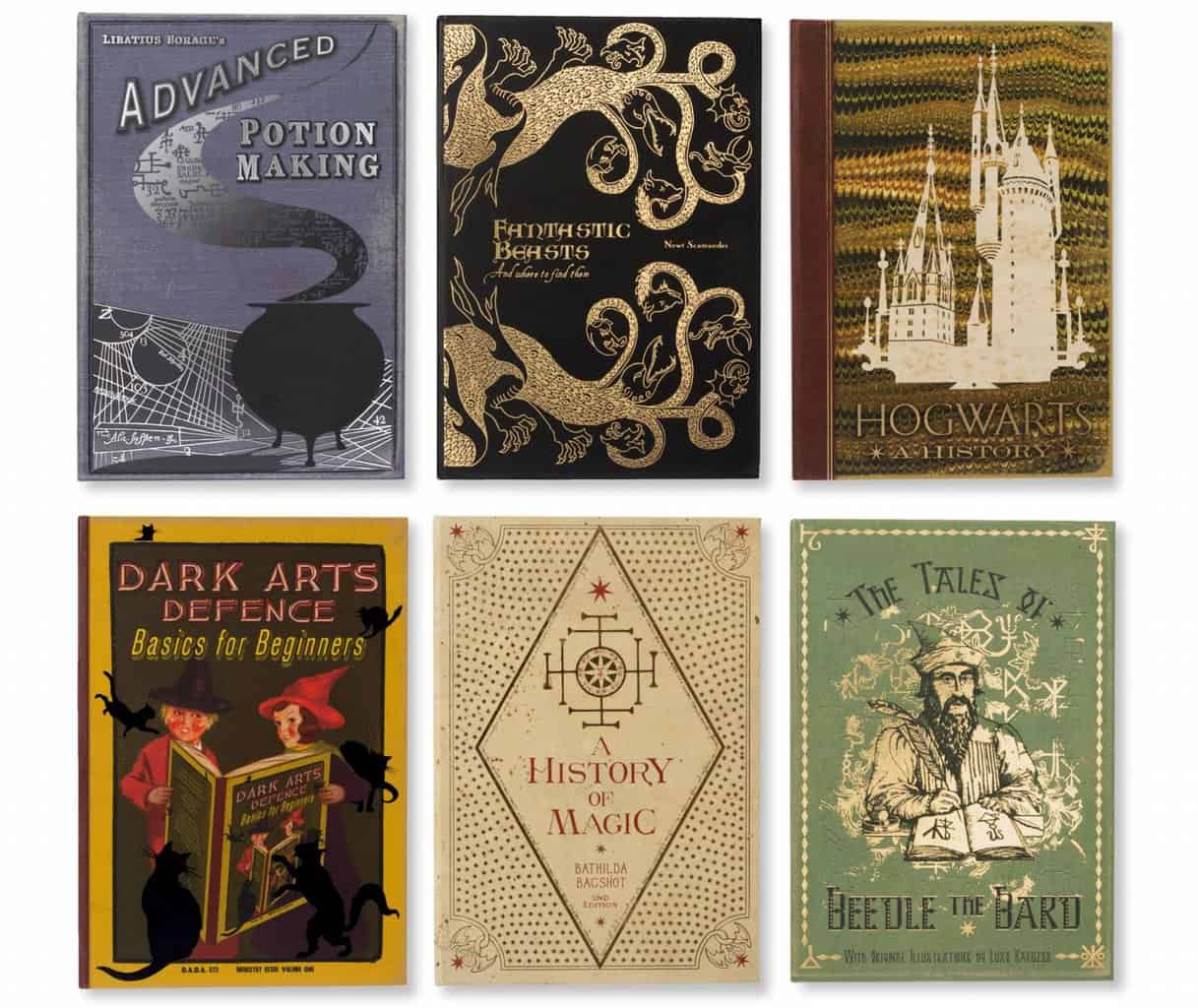 MinaLima creates Harry Potter merchandise like no other. This set of journals is one of my favorite things, as each is themed after a text that I can easily picture Hermione Granger reading in the Hogwarts Library. Unfortunately, none of them feature titles from the restricted section!
Pros
Set of 6 journals that are unique yet still match as part of a set. This makes them perfect to use as display pieces!
They can be purchased individually if you would prefer only one of the designs.
Foiled cover designs and quality construction.
Ribbon and lined pages in each journal.
Large size with 200 pages per journal.
Cons
No dark arts-themed options. I would have loved to see the set include something associated with a dark witch or wizard, such as Tom Riddle's Diary.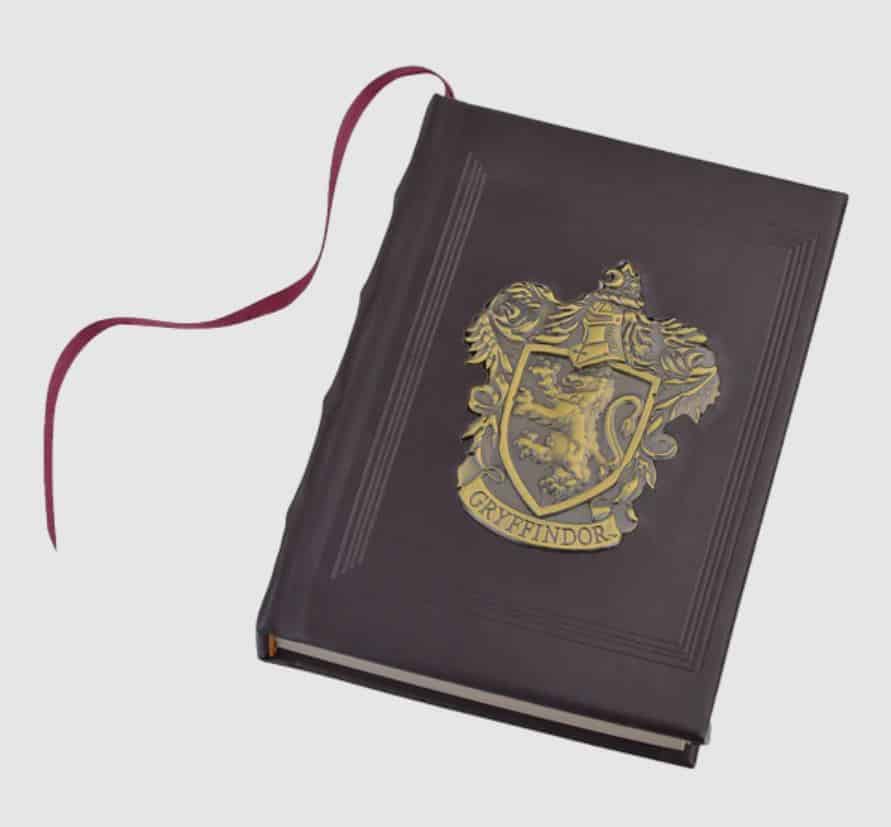 This officially licensed Hogwarts embossed notebook is something I can easily see in the hands of Slytherin students as they walk to potions class.
With its faux-leather cover and gold foil embossing options, its quality is impressive. The ability to personalize this notebook with your own initials or the name of your favorite character only makes it even more special.
Pros
Perfect midsize of 5 in. x 7 in.
72 pages.
Cons
Personalized notebooks cannot be exchanged or returned if you are unhappy with your purchase.
Writing Utensils
As we see in the films and have read about in the Harry Potter books, our favorite charters often use quills to complete their homework assignments. Fortunately for us, the muggle world has some great options that do not require us to tote around and ink pot! I particularly love to use a fountain pen paired with my Hogwarts journal!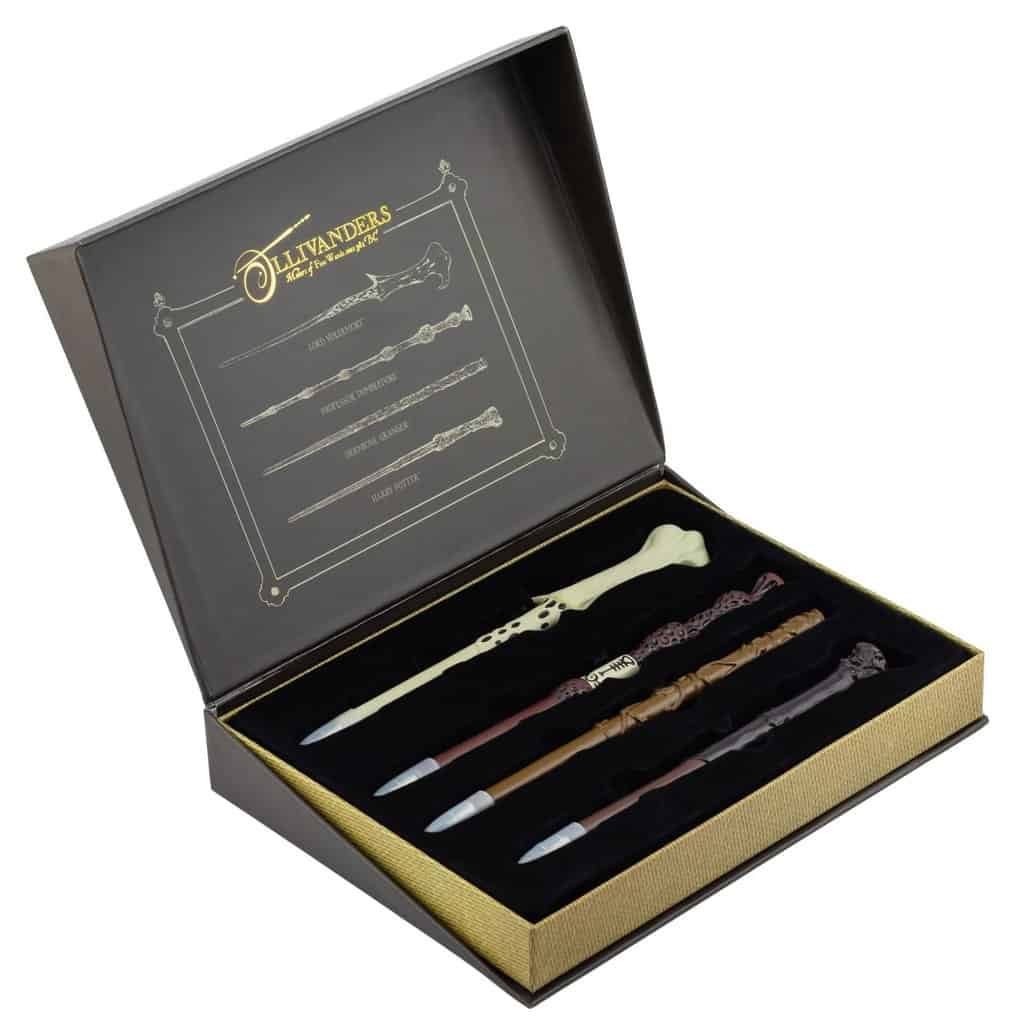 This pen set would be perfect displayed on a desk as it features four different wand designs as pens. It includes the wands of Harry Potter, Professor Dumbledore, Hermione Granger, and Voldemort.
Pros
Wand pens come in an Ollivanders-themed gift box, which is perfect for displays.
Comes with pen wands for both heroes and villains.
Cons
Products ship from the UK, which makes shipping times slow for US-based customers.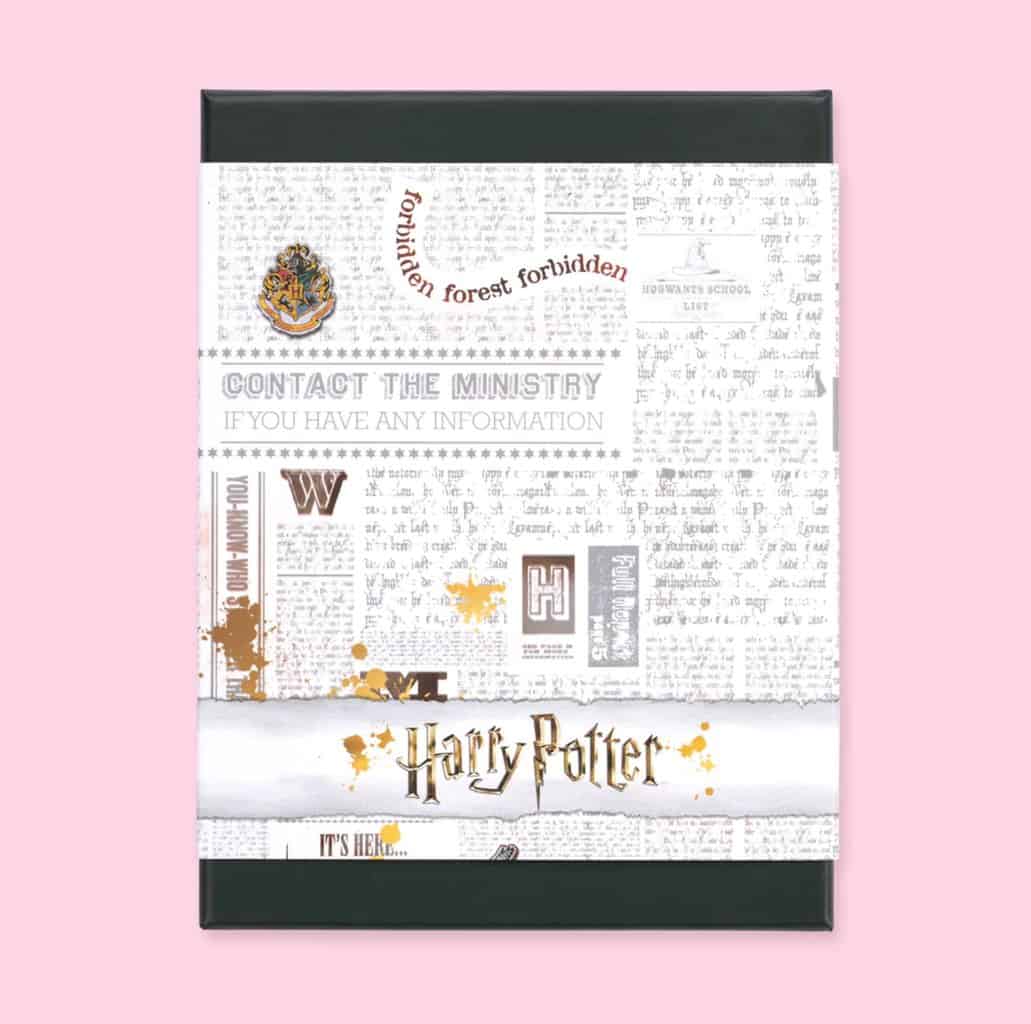 Our favorite Harry Potter characters write with quills and ink pots, but that may be a bit challenging in our muggle world. To get the same effect, I like using a fountain pen like this one. With the ease of an ink cartridge, you can enjoy the aesthetic writing of a witch or wizard without the mess of an ink pot!
Pros
Rich Slytherin green packaging.
Comes with five replacement ink cartridges.
Cons
Some users report inconsistent ink flow, which is common with this type of pen.
Once you use all of the replacement cartridges, there is no option to buy only refills. A new pen purchase would be required.
Sticky Notes and Notepads
My computer and desk are constantly littered with sticky notes to remind me of tasks I need to accomplish. I have found that using fun Harry Potter notes makes my space look like a fun explosion of magic instead of a pile of papers.
The sticky notes below, especially the pastel Harry Potter sticky notes, are some of my favorites to use because they add so much joy to my workspace.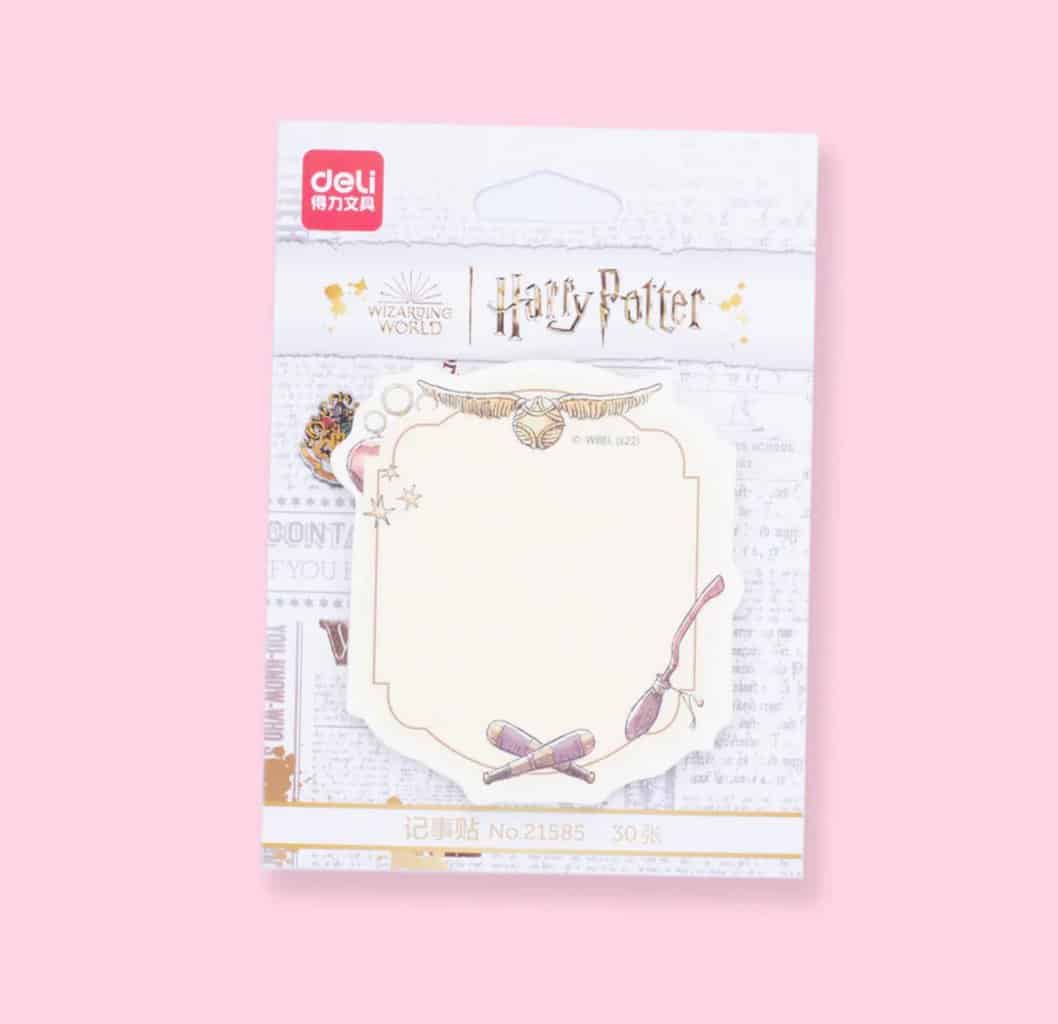 These sticky notes are perfect for anyone who loves Quidditch. I love their watercolor/pastel aesthetic paired with the sporty broom, beaters bats, and golden snitch. They are a great way to add a little magical flair to your workstation, and share it with memos as needed!
Pros
Unique shape that leaves room for plenty of notes.
Quality 80-gram double adhesive paper.
Beautiful pastel design.
Cons
Only comes with 30 sheets per pad. I go through these quickly.
Fairly slow shipping time of 10 days.
High shipping costs that increase as the weight of products increases.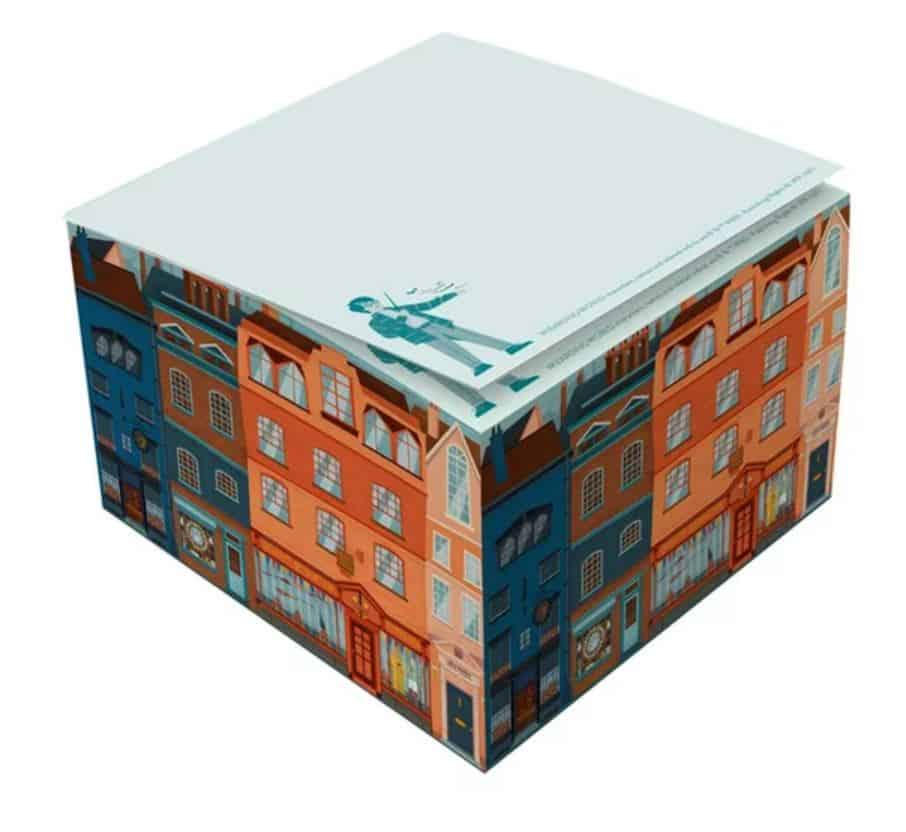 If you are anything like me, you often need to jot something down. This memo cube is perfect for quick notes at your desk. It features the colorful design of Diagon Alley on its sides, along with an adorable caricature of Harry on the page.
Pros
Includes 600 pages in one cube, so it will last a while!
Cons
Only available in a 3.5 x 2.2 in. size, which is only big enough for small notes.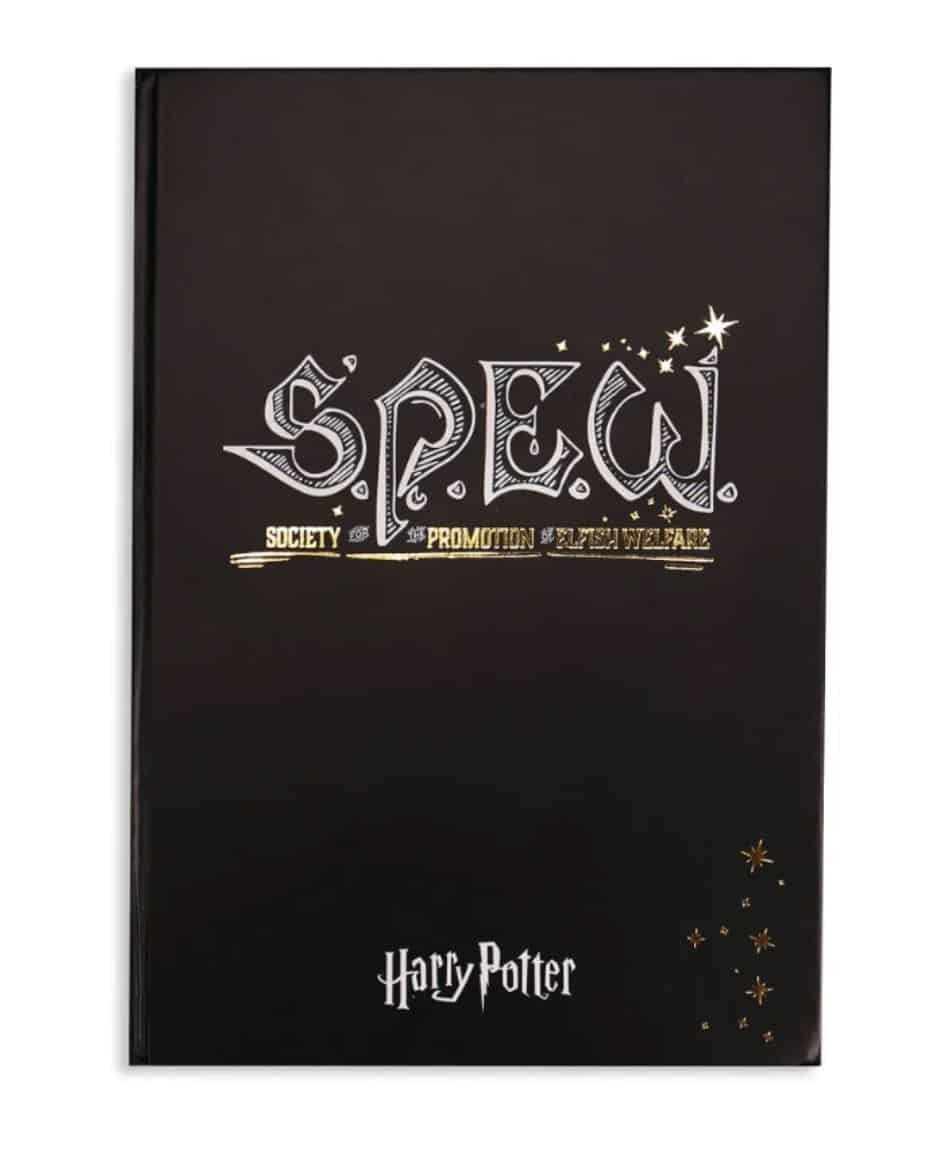 I have always been a fan of books over movies as they contain so much more development for each character. S.P.E.W. is such a large part of Hermione's character development I disliked that it was left out of the films.
For that reason, I adore any merch that focuses more on the books instead of only the movies. This sticky note set features Dobby and our smartest friends' society for the promotion of elvish welfare.
Pros
Comes in SPEW packaging and features Dobby throughout.
Includes 7 different notepads within one large folio.
Highlights Dobby's free elf sock.
Cons
Slow shipping times of 10-15 days for those outside of the UK.
Office Accessories
When we think of office and school supplies, we often forget that we will be spending a significant amount of time working at our desks. To add a little Wizarding World flair to a space we spend a lot of time in, I suggest the products below! Not only will they elevate your space, but they also provide practical uses as well.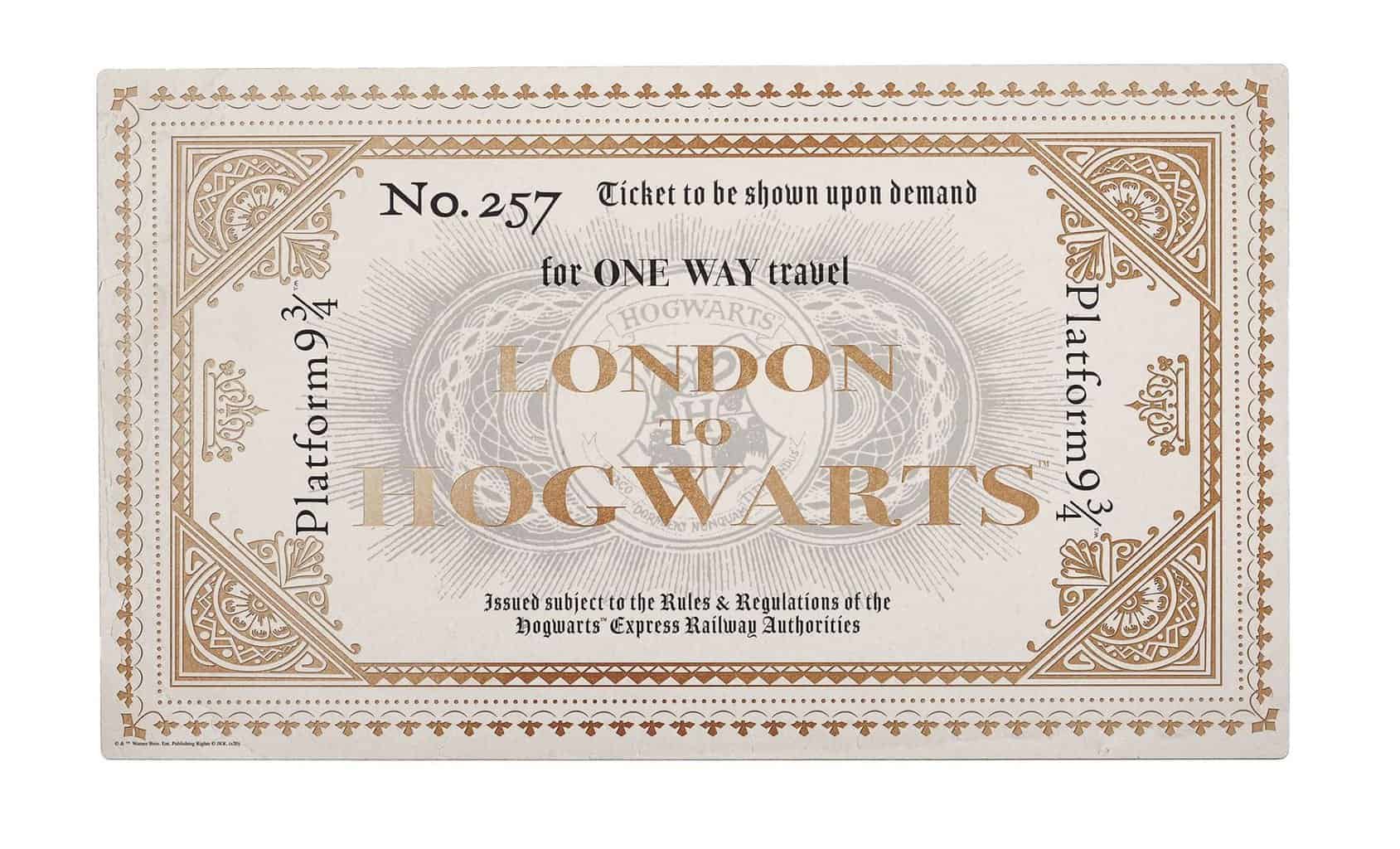 This stunning desk mat is from Pottery Barn Teen. It features the ticket we all know from Harry's first trip on the Hogwarts Express through Platform 9 ¾ . With a gilded and detailed design, it brings a magical pop to any study or working area. It is made of durable vinyl, polyethylene, and silicone to make it durable.
Pros
Made in the USA.
Digital Inkjet printed for clean edges.
Cons
Only available in a 24 in. x 18 in. size which is not suitable for all desk sizes or shapes, so be sure to measure prior to purchase!
The high price point of $59 plus shipping and handling.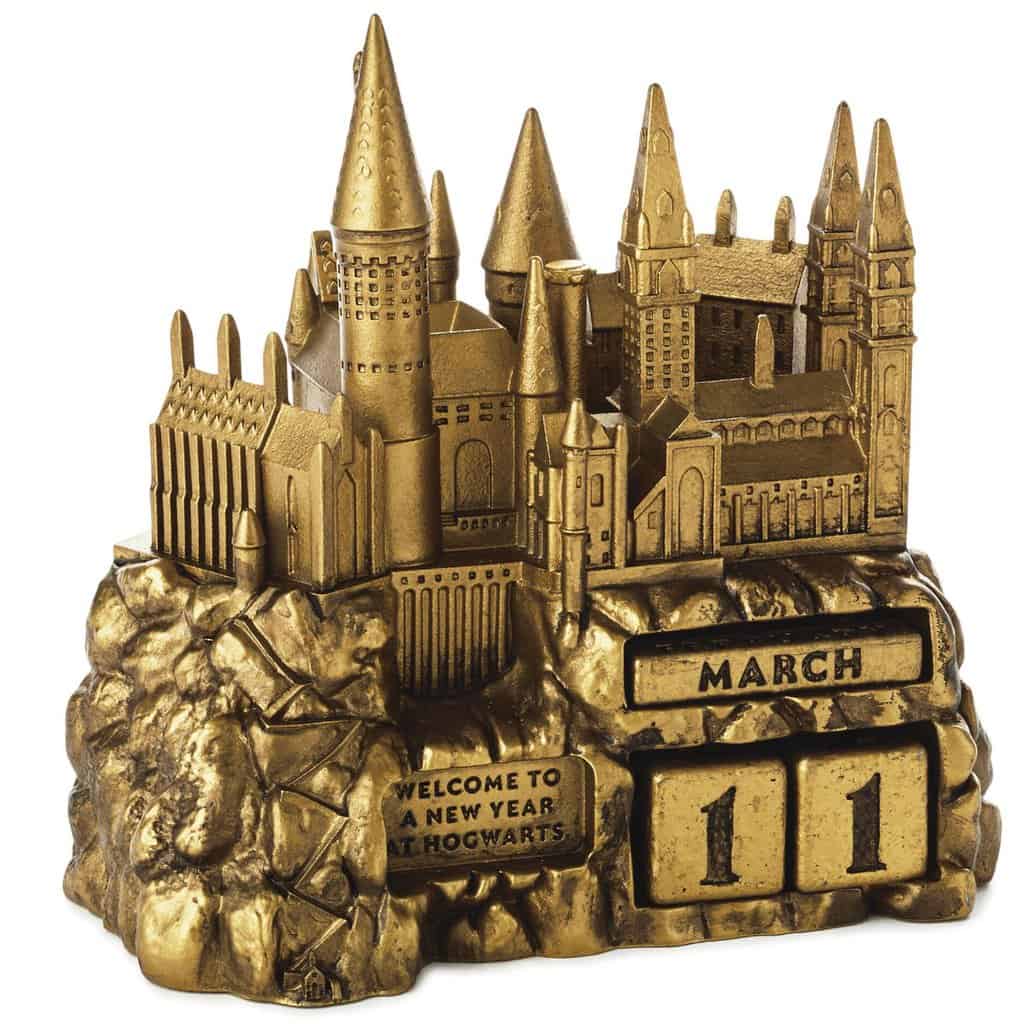 Hallmark makes high-quality gifts, and this perpetual calendar is no exception. It features Hogwarts castle and the phrase "Welcome to a new year at Hogwarts." As a perpetual calendar, it is the perfect addition to any desk, and it can be sued year after year to keep tabs on the day of the month while adding a little magic to daily tasks.
Pros
Stunning all-gold Hogwarts Castle design.
Perpetual calendars can be reused from year to year.
Officially licensed.
Cons
Many reviewers report this being not as big as expected or often damaged in shipping.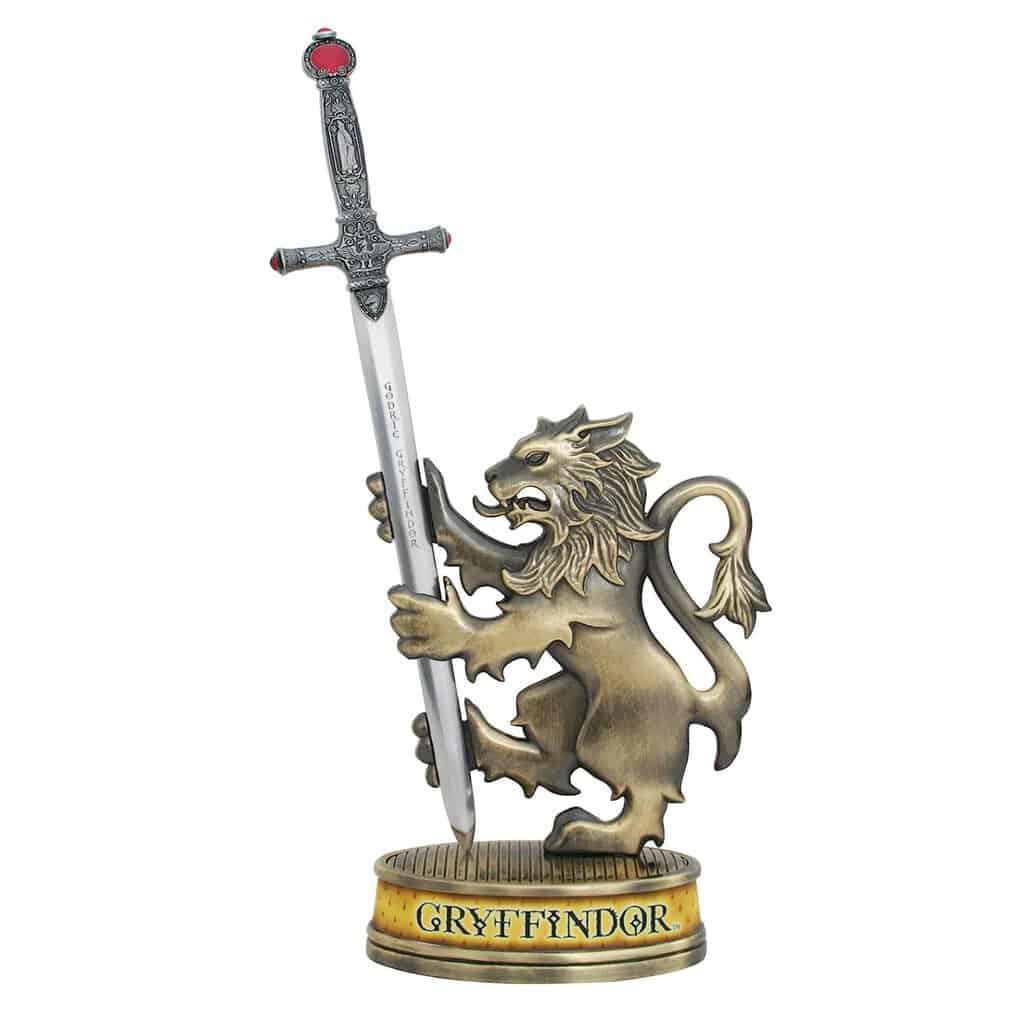 From the Noble Collection, this Gryffindor sword letter opener is stunning in its craftsmanship! It features a sword-shaped letter opener, with the Gryffindor lion stand for when it is not in use. I particularly love the attention to detail with Godric Gryffindor writing down the blade.
Pros
Comes with a decorative stand for the sword-shaped letter opener.
The display sits at 9 inches in height.
Metal construction.
Officially licensed.
Cons
Can be hard to find as it is a retired design.
Some reviewers report the blade can become too dull to open letters easily with time.
Best Harry Potter Office and School Supplies: FAQs
Question: Where does Harry Potter buy his school supplies?
Answer: Harry Potter buys his first set of school supplies for Hogwarts in Diagon Alley.
Question: What school supplies did Harry Potter have to buy for his first year at Hogwarts?
Answer: We can learn from Harry Potter and The Sorcerer's Stone that first-year Hogwarts students must be equipped with the following:

• A wand
• 1 standard size 2 pewter cauldron
• If they wish- an owl, cat, or toad.
Question: Where can I buy official Harry Potter Merchandise?
Answer: Official Harry Potter merchandise can be purchased at Harry Potter Shop, which is the official Warner Brothers shop for the fandom.
And the House Cup Goes To….
Ultimately, the best Harry Potter office and school supplies depend upon your aesthetic and preferences. My favorites are often realistic for the location items. These products have the ability to make me feel like I am studying alongside our three favorite Gryffindors at Hogwarts.
If your aesthetic is more pastel or minimalistic, try products from Pottery Barn Teen or Stationary Pal. No matter your preferred style, there are plenty of amazing options when it comes to Harry Potter-themed school and office supplies that help make mundane tasks a little more magical!
Interested in Learning More About Harry Potter Merch? Check Out These Links Below!
• Best Harry Potter Christmas Sweaters
• Best Harry Potter Themed Ties
• Harry Potter-Inspired Makeup Ideas: Make Your Look More Magical!