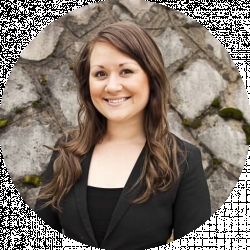 Latest posts by Lacey Jackson
(see all)
One day my better half brought home a massive trunk. It's so big that if it had fallen off the Titanic, Rose and Jack could have fit comfortably on the lid. It had a beautiful maroon lacquer finish with black leather edges and steel hardware.
We ended up stuffing it full of all of our thick winter blankets and using it as our TV stand. After we moved, it found a new home in the library, still full of all the extra blankets we have accumulated as Christmas presents and birthday gifts throughout the years, but now, instead of a television, it is home to a few houseplants, a lamp, and a stack of whichever books I'm currently reading.
No matter how it has been employed, that trunk has been a focal point in our home and has proven very useful as extra storage. Several Harry Potter-themed trunks today can do the same for you.
Bottom Line Up Front
The bottom line is, for legitimate travel trunks, you want to stick with the official Harry Potter merchandise, which includes the Hogwarts travel trunk set or house-specific travel trunk sets.
What Makes The Best Harry Potter-Themed Trunks
When I evaluated the best Harry Potter-themed trunks, I looked at several factors, including:
Harry Potter Book Set Collectible Trunk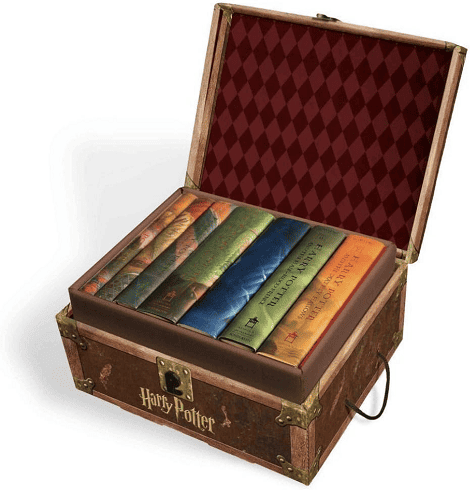 I came to the Harry Potter universe in adulthood. I actually grew up with the characters. The books were released when we were all about the same age as Harry, Hermione, and Ron.
But I was a very stubborn child, and I wouldn't read the books that literally every other student was reading because I didn't want to be exactly the same as everyone else. I had been taught that doing things just because everyone else was doing them was peer pressure, and I shouldn't give in to peer pressure.
In my 20s, I figured it wouldn't do me any harm to read it now because now, not everyone I knew was reading it, so there would be nothing akin to peer pressure involved. I borrowed a copy from my mom, and I was hooked.
But now I needed all the books and wanted my own copies. Thankfully a friend of ours was selling a lot of their stuff to raise money for some school thing, and he was done with Harry Potter, so I was able to buy a complete hardback book set.
Then I saw this collectible trunk and was really bummed that I already had the books.
If you don't have a hardcopy set, get this collectible trunk. It's the most adorable trunk and holds all the books.
If you already have a set like me, you can buy the trunk individually (hooray!). You don't even have to put the books inside; you can just leave the trunk on the shelf next to your books to add to the overall ambiance, which is absolutely what I've done.
This is definitely something you give to a friend who still has worn paperbacks or to yourself if you want a new home for your hard copies.
Pros
You can buy the trunk with the full set of American hard copy published editions, or you can buy the trunk and put your own set inside.

You can buy the trunk individually if you don't want to put books in there and store any Harry Potter trinkets, magical ones, or other paraphernalia.
Cons
Be advised that this trunk is only designed for the American hardback set, so if you have other additions, they may or may not fit.
Harry Potter Trunk Travel Bag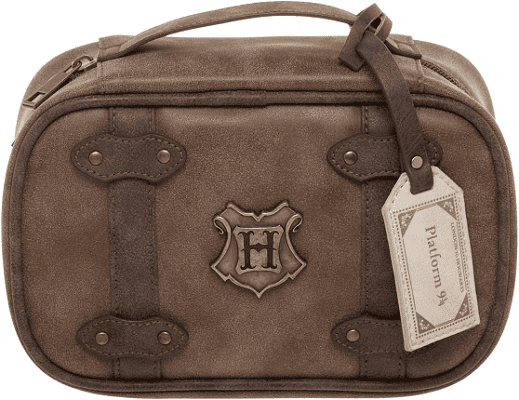 This Harry Potter Trunk Travel Bag is a small travel bag. The exterior has straps and metal hooks, so it looks like a traditional travel trunk, but it's actually just a small bag. It's made from faux leather, so it's waterproof, and it can withstand a lot of banging and dropping.
It is officially licensed merchandise, and it contains interior mesh pockets. This is easily something you can use as a small toiletry bag and put inside a larger Harry Potter trunk or use as a regular purse when you want to hit the town.
I love how it looks, and I love that it's small. I prefer the idea of using it just to carry a few essentials when you are walking along the boardwalk or checking out a local fair, but that's only because I already have a set of toiletry bags that fit perfectly in my suitcase. If you don't, this works well as a small toiletry bag for any type of travel.
Pros
It is small, so you can bring it anywhere.

It has the Platform 9 ¾ tag on it.
Cons
It isn't a full travel trunk.

It has a soft material, not a hard trunk.

The rounded shape means shoving books inside will present some issues (not saying it can't be done, but you're going to fight with it a bit)
Hogwarts Trunk Collectible Set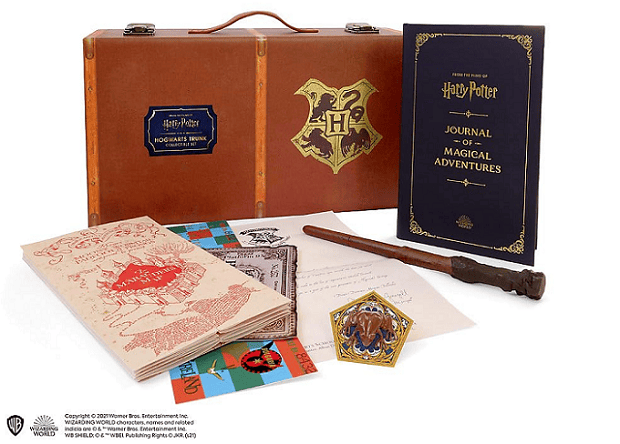 I once went on a cruise, and they had a dedicated game room, and inside the game room was a wall of wooden cubbies all the same size, inside of which rested matching leather briefcases. The front of each briefcase was labeled with the game contents inside.
So from the outside, it looked like a very chic and modern game room, but as soon as you opened up any of the briefcases, you found things like Monopoly, Life, or Candyland. I have yet to replicate this in my house because finding matching leather briefcases has proved prohibitively expensive so far, but I can't wait to do so.
And when I do, this Harry Potter Hogwarts trunk collectible set will match perfectly. It, too, is more like a briefcase than a traditional travel trunk.
Aside from being a beautifully decorated trunk that looks exactly like the trunk Harry Potter uses, it comes with so many fun things inside, like a Hogwarts-themed Journal that includes Harry Potter photos, writing prompts, and Harry Potter quotes inside.
There's also a wand that doubles as a pen for recording your thoughts or casting spells on your enemies, replicas of the Marauders map, Quidditch match tickets, acceptance letters, and more.
This is definitely something you give as a gift to a young Harry Potter fan in your family.
Pros
Briefcase size with the same Hogwarts trunk exterior design

It comes with so many fun things inside, like a chocolate frog pin, the acceptance letter, train tickets, a wand, a journal, Marauder's map, and a ticket to an upcoming Quidditch match.

It works as a fully functional briefcase with metal locks and a handle, but it's only six inches tall, three inches wide, and twelve inches long.
Cons
You can't really use this one for travel
Harry Potter Premium Gift Set with Insulated Metal Bottle in Wooden Trunk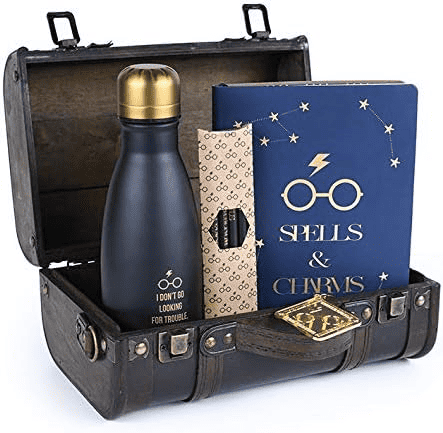 But what about something you want to give us as a gift to an older Harry Potter fan in your family? This Harry Potter gift set with a wooden trunk is perfect.
Inside you'll find a metal bottle that you can use for drinks, and it has the Harry Potter glasses image with the quote about how he doesn't go looking for trouble, but trouble seems to find him. The notebook matches the same midnight blue theme, and it's labeled as "Spells and Charms" with the same Harry Potter glasses image.
It's a cute gift that anyone would appreciate. Who doesn't love an extra water bottle they can take when walking around a local hiking trail? And I'm sure I'm not the only one who always loves an excuse to get another notebook and fun pencils.
My desk is littered with five notebooks, each of which only has contents scribbled across two or three pages (much like the diaries I was given as a child) and at least 25 pencils in some state of use or disrepair.
Besides all that, the wooden trunk looks just like the Harry Potter trunk, and it has the Hogwarts crest on the front. If you don't want to spring for the cost of the Harry Potter book set trunk, this is a good alternative for something to display in your living room.
Pros
It comes with a notebook, keyring, pencils, and a metal bottle that are all themed
Cons
It is more of a particle board, not a solid wood trunk.

The trunk is more for decoration than display.
PB Teen Harry Potter Wood Trunk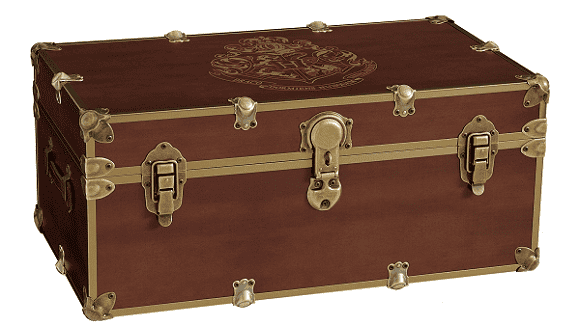 I've never met anyone who legitimately shopped at Pottery Barn for all of their household goods. So I've certainly never met anyone who bought Harry Potter-themed wooden trunks for their children.
However, if you want one of the most beautiful and overpriced Harry Potter-themed trunks on the market, Pottery Barn Teen has you covered.
Not only can you purchase this beautiful, large travel trunk, but you can buy giant bean bag chairs that are just Hedwig's face and huge wall-mounted mirrors that have the Phoenix on top. All of this can be yours for the low, low price of thousands (not kidding) of dollars.
But let's get back to the trunk. I have nothing but adoration for how absolutely stunning the exterior is. Made with a birch hardwood frame, it has brass plated hardware on the outside and a brass trim finish. It has two handles on the sides, crush-resistant corners (I didn't even know that was a thing), and a magnetic closure.
It is eighteen inches deep, fourteen inches tall, and thirty-two inches wide. It can hold 200 pounds. Technically you can use it as a travel trunk, but it's so beautiful and expensive that I can't imagine you would.
Pros
You can buy the Harry Potter-themed trunk in any of the house designations. The Ravenclaw trunk is a beautiful midnight blue, while the Slytherin is green, and Hufflepuff (thankfully) is black.
Cons
It is four hundred dollars,

and

they have the stones to charge you for shipping
Harry Potter Collapsible Toy Storage Trunk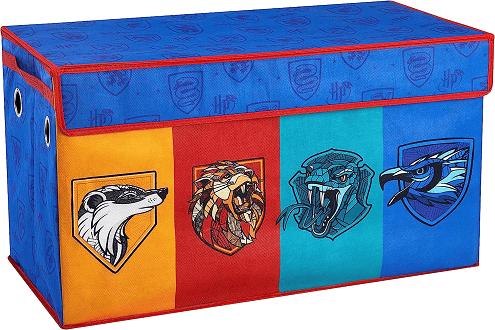 This is a great trunk for kids. I like that it's a trunk in which kids can store their toys because all kids need places to store their toys, and if you can make a place that brings them joy, all the better.
On the front, you'll see pictures of the mascots for each of the Hogwarts houses. I just wish that they were in Hogwarts colors and not just the bright blue color.
Still, it has a lid that folds over and hooks in the front so your kids can put all their toys away and cover them up. It is collapsible, so in the event that your kids outgrow it or you just need to store it for a while, it folds down and can be placed anywhere out of sight.
Pros
It fits any kids' room and can be folded and stored when not in use

It has all four house mascots on it
Cons
It does not have a particularly strong frame because it is meant to be collapsible.
Hogwarts School Trunk Bundle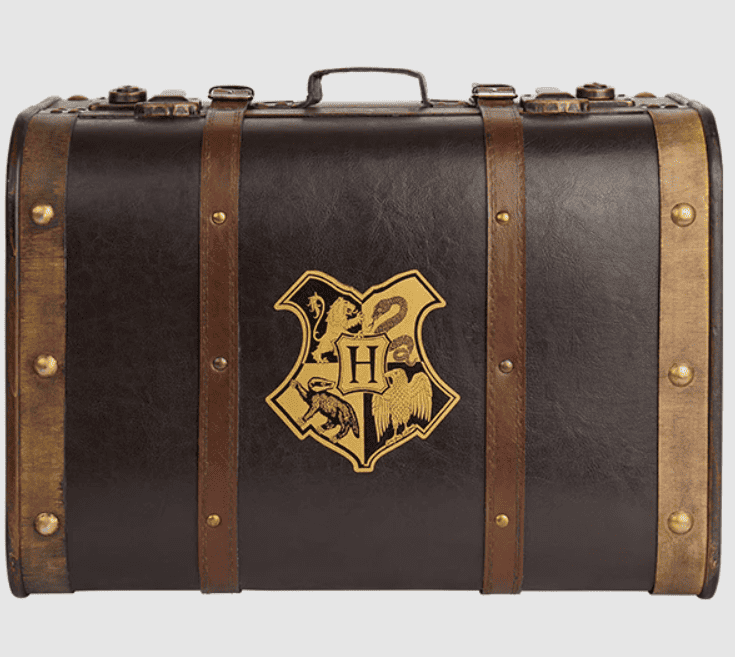 And finally, we have the best of the best, the Hogwarts School trunk bundle. Let me start by saying this is made of plywood, so while it is absolutely a travel trunk that you can use, I wouldn't recommend using it for checked baggage under a plane because of how much stress those bags experience. I would, however, recommend it for travel if you are driving yourself or taking a train.
The outside is beautiful. The nice thing about this bundle is you can have it personalized so you can get your name on there, or if you want to replace the Hogwarts crest, you can have them add a letter or two for your name.
You don't have to get the bundle. You can also buy separate large trunks or small trunks. Inside you'll find the acceptance letter but nothing more.
Pros
This is official merchandise from the official store.

It is the perfect travel trunk set that you can

actually

use when you travel (although I would worry about putting it under a plane)
Cons
Shipping takes a bit longer here
House Gift Trunks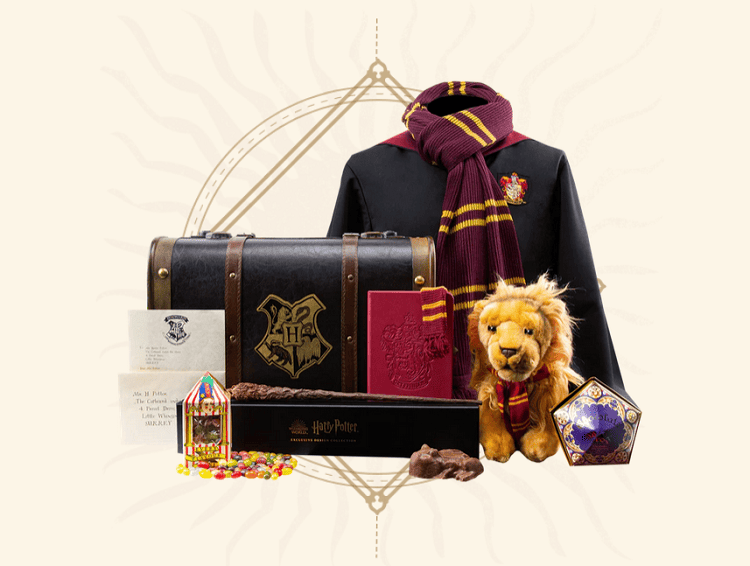 No, if you are looking for something with the same quality design but chock-full of other Harry Potter fan gifts, you want the house gift trunks.
While I don't indicate that these are the absolute best Harry Potter-themed trunks because they're small enough that you really wouldn't use them for most travel, I will say that they are going on my wish list, and my family is going to have to make room for this trunk on display here very shortly.
You can pick any of the four houses, and the exterior trunk has the respective house crest. Inside, you'll get the same gifts but catered to the different houses.
Gifts include a set of robes and scarf with the house crest in the middle, a keychain, an acceptance letter to Harry Potter with his address under the stairs, a chocolate frog, a notebook bound in the house color with the house crest on the front, a magic wand, jelly beans, and a stuffed animal mascot.
I love all the gifts that this comes with but be aware of the fact that two of the three items are candies that you can buy at any Harry Potter-themed park or online, and most fans probably already have a wand. Still, it can make a great gift even if you're only after things like the trunk, the notebook, and the robes.
Pros
It's the perfect starter set for a Harry Potter fan, complete with robes, a scarf, and a wand.
Cons
It is unlikely these will ever be used for real travel because the trunk is only 17.5″ x 11.5″ x 9″

You can't customize the gifts so that the acceptance letter has your name on it instead
FAQs
Question: How Big Are the Best Harry Potter-Themed Trunks?
Answer: Every trunk is a different size. You'll have to check out the dimensions for each. The larger trunks are usually around eighteen inches long, and the smaller trunks are around ten inches long. 
Question: Can I Store Things in a Harry Potter-Themed Trunk?
Answer: You can store things inside each of the best Harry Potter-themed trunks on this list. However, they are different sizes, so what you'll be able to fit inside will vary. For example, the book boxes are designed only to fit the hardcover set of books, so they won't be able to fit much more than that. But the overpriced Pottery Barn trunk can hold up to 200 pounds of whatever you can shove in there.
Question: What is Inside a Harry Potter Trunk?
Answer: If you buy the house-themed Harry Potter Trunks from the official website, you'll find that they are full of souvenirs and collectibles. Some of the other trunks on this list, like the Harry Potter gift set, also contain unique gifts. 

However, not all Harry Potter-themed trunks come with anything inside. You can find plenty of trunks that are empty and waiting to be filled. 
Bottom Line
If you want legitimate travel trunks, you want to stick with the official Harry Potter merchandise, which includes the Hogwarts travel trunk set or house-specific travel trunk sets. You can personalize them so that they have your monogram on the front in the middle of the crest, and you can easily take them on the road for short trips.