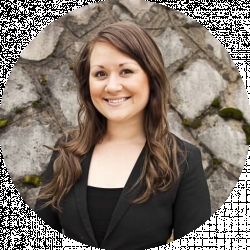 Latest posts by Lacey Jackson
(see all)
The best souvenirs are things you can use. That's why I don't buy boxes of Harry Potter wands each time I see them. After all, you can really only buy your wand and then use it when you have play fights at home. But clothing, like ties, comes in so many forms that you can buy more than one and wear them on several occasions.
The best Harry Potter-themed ties go above and beyond the simple Stripes of each house or the four primary colors and give you something stylish and unique but not over the top so that you can wear it on multiple occasions. 
Bottom Line Up Front
The best Harry Potter-themed ties are the black Snitch Tie and the Deathly Hallows with Pin. The Snitch tie is wider, whereas the Deathly Hallows is thin.
They are gray and black with small geometric patterns that use the silhouettes of the Harry Potter images. Both are 100% silk, so they are of higher quality but not too expensive. They are also two of the most flexible in terms of casual and formal events.
What Makes the Best Harry Potter-Themed Ties
When you look up Harry Potter ties or go shopping at a Harry Potter event, you'll probably find house ties that are very simple and look just like the ties all of the children wear at Hogwarts. But where's the fun in that?
No one wants to dress up like they're going to prep school if they don't have to, and that's why I think the best Harry Potter-themed ties have prints easily recognizable by fans. I also think the best Harry Potter ties are prints that you can wear to work. 
Male members of my family have to wear ties to work and church every Sunday. They actually have more leeway at work than they do at church, but it's still essential to pick something that isn't gaudy or doesn't scream, "Look at me." 
In addition to work or church ties, there are so many social occasions where you might dress up for a big event like an opera, the opening night of a theatrical performance, a Christmas show, or dinner at a four-star restaurant.
On these occasions, I think it's always fun to be able to show off part of your personality and let your nerd flag fly, all while being able to rock an awesome suit.
For that reason, many of the ties I selected:
Have discreet but fan-worthy patterns

Are black or blue

It can be worn with suits or more casual outfits

Are comfortable and affordable
Deathly Hallows with Pin

Discreet, this tie is perfect for any "black tie" event you have to attend. It is subtle but sleek with the symbol for the Deathly Hallows rather than a house crest. 
The Deathly Hallows with Pin is official merchandise, but surprisingly, it isn't over $50. I love that this one comes with the PIN so that you can pin your tie to your shirt. It adds an extra layer of class, making it suitable for very formal events.
With this design, the symbols are embroidered, so you can actually feel the embroidery on the tie. This is very different from some of the other more playful designs on this list, like the Find Your Patronus tie, which is printed.  This tie, just like the Marauders Map, is a thin tie, so it might not work with every outfit, but I am a huge fan of thin ties when worn against plain dress shirts.
Pros
It comes with a tie pin. 

It is a thin tie.

It is black with small embroidered symbols, perfect for formal occasions. 
Cons
It does not come with other symbols or colors. 
Deathly Hallows Blue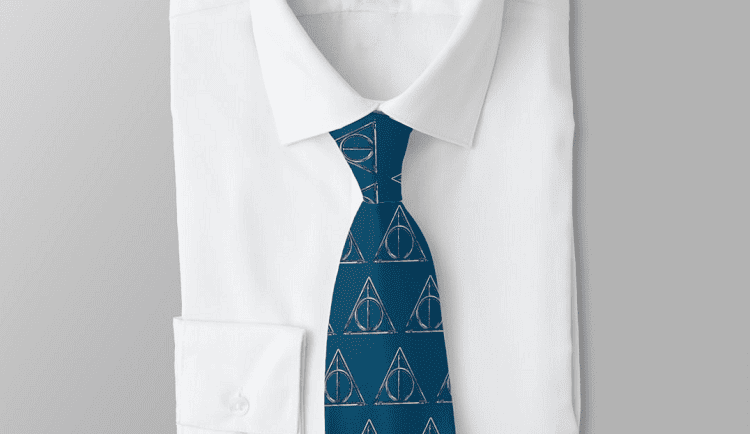 Deathly Hallows Blue tie is wider, brighter, and doesn't come with the pin. It is, therefore, slightly more noticeable as a Harry Potter item.
The print for the icon is much more prominent on this particular type. In fact, I think it's the biggest out of all the ties on this list, but because it is nothing more than a line, a circle, and a triangle, it's very noticeable for fans but very discreet if your boss doesn't appreciate crazy ties.
Pros
I love the rich blue hue, unlike most of the dark navy blue ties. 

It has the Deathly Hallows print in silhouette. 
Cons
It is another polyester design that is dry clean only.

There aren't other color options. 
Find Your Patronus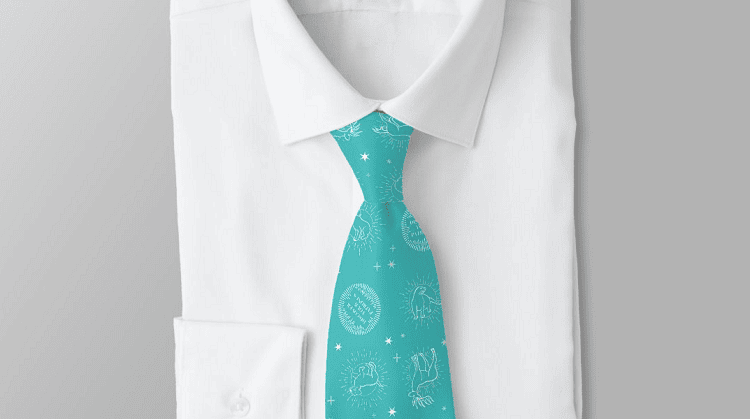 When I visited the Harry Potter Forbidden Forest Experience, one of the stations let you cast a spell and discover your Patronus. I was a little shocked that I got a badger, but I won't complain because it was still fun.
The Find Your Patronus tie reminds me of the experience, but more importantly, it is a bright, fun color. It is somewhat similar to Deathly Hallows Blue, but it's a lovely teal color. I absolutely love this color which is why the tie stood out to me. But it's also another unique design that true fans will love and appreciate without being overt. 
Pros
It is a beautiful teal color with a white print. 

You can find all the patron uses for your favorite characters. 

It is discreet but formal enough for any occasion. 
Cons
It is polyester and dry clean only. 
Frogs and Candy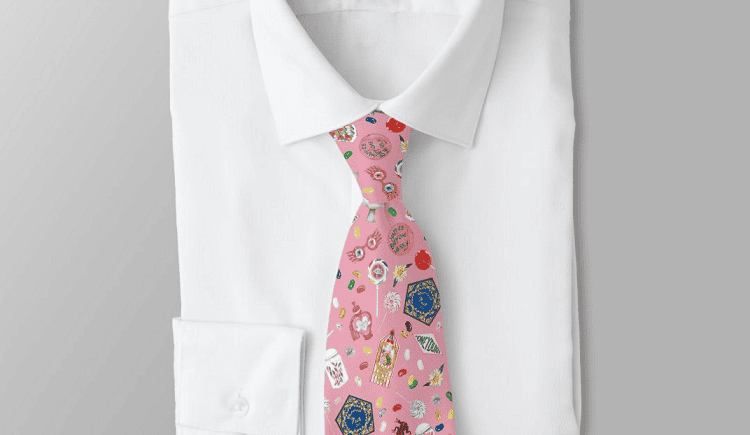 I absolutely love the Frogs and Candy tie. If you have ever visited Universal Studios and stopped by Diagon Alley (or the gift shop), you will recognize all of these candies. This tie is much different from the others on this list because it is cartoonish, and, of course, it's pink.
But I still think it's great for many occasions like Valentine's Day, Easter, or anytime you're feeling particularly fanciful. You will see all sorts of Honeydukes treats on top, like chocolate frogs, cakes, jelly beans, suckers, and more.
It reminds me of the Honeydukes table I set up at my last Harry Potter party, complete with souvenirs from Universal Studios, as seen in the image below.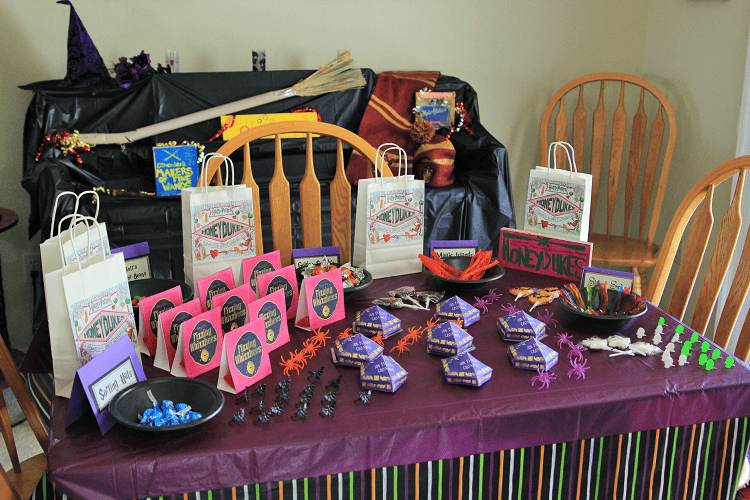 Unfortunately, it is dry clean only, and it is polyester, but I don't think that just because a tie isn't 100% silk, it should be written off. This is undoubtedly a unique and fun Harry Potter-themed tie. 
Pros
It is one of more unique Harry Potter-themed ties that doesn't rely on the Deathly Hallows or houses. 

It is about three inches.
Cons
Marauders Map

Marauders Map is one of my top picks because I love the Marauders map. I have themed shirts, pants, sweaters, and socks featuring the map print, not to mention actual bookmarks, maps, prints, and posters.
This tie is great because it has a beige base, which means it can be used for classier outfits, too, particularly against a white or black shirt. The print is pretty evident to any fan, but that doesn't degrade how great it is. 
The downside is it's 100% polyester instead of silk, so it certainly won't be as comfortable, but it's an excellent gift for a younger member of the family, for a costume, or for anyone who's looking to save money and not invest $50 or more on a single tie.
Frankly, I don't care that it's polyester because I love the print, and I think it's a great tie to keep in any drawer or hang in any closet.
Pros
It is an obvious throwback to Harry Potter, which is excellent for real fans. 

It comes at a fraction of the cost of many other ties. 
Cons
This is a long tie, but it is a thin tie, so be advised it might not work with certain outfits. 

It is polyester. 
Christmas Tie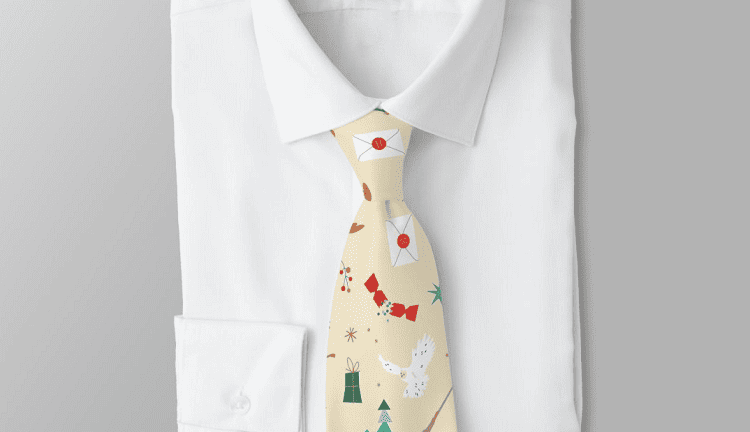 If the Honeydukes tie is perfect for spring occasions, this Holiday tie is suitable for Christmas. It has a bit more fun to it in that it isn't the discrete geometric patterns you'll find with many of the other best Harry Potter-themed ties, but it stands out.
It has a lot of elements from the books and the films in cartoon form, like letters, Christmas trees, Christmas presents, the golden snitch, and holiday crackers.
Pros
The images are cartoon representations, so it's perfect for children, teenagers, or adults. 

It has vibrant colors but with a cream background. 

You get relatively fast shipping. 
Cons
This is another polyester tie, but it is still worth pulling out for Christmas parties. 
Silk Dress Tie: Snitch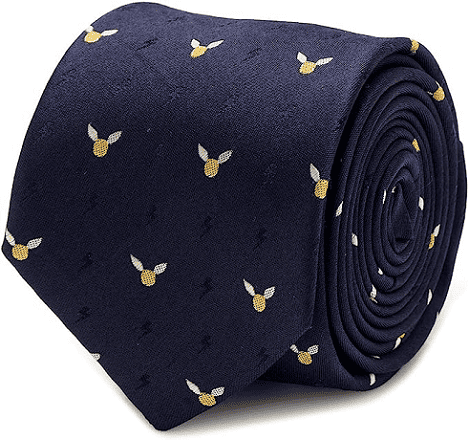 The Silk Dress Tie: Snitch is another great tie for relaxed or fancy occasions. It is three inches wide, with a navy blue background, perfect for any work presentations you might have or a date where you want to appear intelligent and trustworthy. 
Unlike many of the other ties on this list, the image of the snitch is tiny. In fact, from a distance, it would just look like your tie had small circles printed on it, which is a typical geometric pattern. Up close, you can tell that they are snitches, so this is definitely a discreet way to show off your love of Harry Potter.
Pros
It is 100% silk.

The shipping times are fast.

It is officially licensed merchandise. 
Cons
You have to dry clean it. 
Silk Dress Tie: House Ties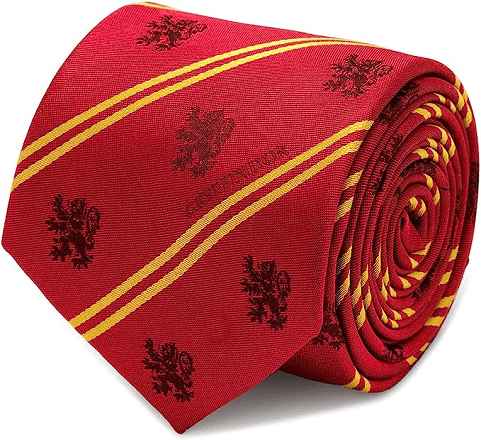 Silk Dress Tie: House Ties has three of the four houses (sorry, Hufflepuff, but everyone seems to forget about you, or maybe they just can't sell a lot of bright yellow ties). These are great if you don't want to go with black, gray, or navy blue (except, of course, in the case of Ravenclaw).
I like them because the house print ties are some of the most common. You'll find them pretty much anywhere that sells Harry Potter merchandise, but most of them are poorly made and just have the colors with some stripes.
This design does away with the generic stripes and replaces them with a geometric pattern on top of the house crests. These crests are printed throughout the tie but in a two-toned pattern that doesn't draw too much attention. 
Pros
You can buy discreet house ties with the crest printed in a geometric pattern.

They are 100% silk. 

Delivery time is fast, so you can buy for an immediate event. 
Cons
They don't have Hufflepuff. 
Snitch Tie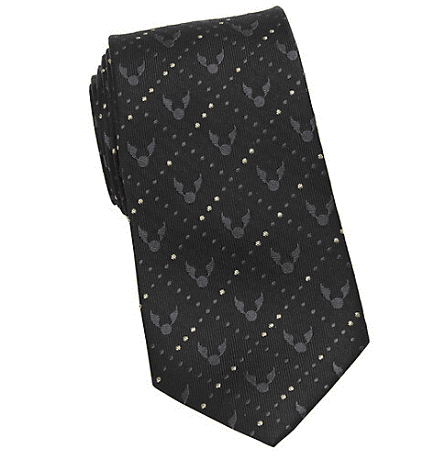 Slightly fancier (and more expensive options) include the black Snitch Tie. I prefer this one to the navy blue Silk Dress Tie: Snitch because you can wear it to church, out for dinner, to the theater, or anywhere else that requires a tie. 
Pros
It is a wide tie, at three inches. 

It is 100% silk. 

The pattern of the snitch looks like a plain geometric pattern, so you can wear it just about anywhere. 
Cons
It is only available in black. 

It has lengthier shipping times.
Deathly Hallows Grey
The Deathly Hallows symbol seems to be a particularly important tie for the modern world because it is one of the most popular symbols. I maintain that it has such popularity because it is discreet enough that anyone can get away with wearing this tie to the office without screaming the fact that they are rocking nerd paraphernalia.
The Deathly Hallows Grey design is different from the others because it's a gray and black silk tie where the symbol acts as a geometric pattern. Unless you were to look at it up close, you would just assume the tie boasted an impressive geometric pattern all the way across without realizing it was tied to any books or movies. 
This particular tie is official merchandise from Warner Brothers, so you won't have to worry about poor quality or knockoffs. It's also 100% silk, so it's comfortable.
Pros
It is a silk tie.

It has the sliding Deathly Hallows symbol throughout. 

This is the official merchandise, not a knockoff. 
Cons
There is a high shipping fee unless you buy $75 worth of material from the site, which probably means two ties. 
FAQs
Question: When Should I Wash My Harry Potter Tie?
Answer: Even the best Harry Potter-themed ties don't have to be washed regularly. If you have a silk tie, it's best to avoid washing it unless it gets particularly dirty. I always have ties sent out for dry cleaning, or I spot-wash them on the kitchen table.

If you wash the whole tie too often, it can damage the lining and the shape of the tie, so it won't sit naturally. By laying it out flat and just spot-cleaning (I use a Tide pen) the dirty area, you can keep it lasting longer.
Question: How Can You Tell a Good Quality Tie?
Answer: Good quality ties are often made of pure silk or wool. Polyester is a man-made fiber, and it's more common in ties that are associated with costumes or for children.

The material is the most critical factor when choosing a good quality tie. It's best to feel it in your hand and determine whether it feels good. While it won't have direct contact with your skin, so you don't have to worry about allergies, you still want something that stays flat and is easy to maintain. 
Question: What is the Best Way to Store Harry Potter-Themed Ties?
Answer: You can roll or hang ties. Rolling them keeps them in tight balls that you can line in a drawer. We have inserts specifically for ties. You can also hang them.

We used to drape them over the bottom wire of a hanger and put them in the back of the closet, but there are tie racks designed to do the same thing. It comes down to personal preference. A lot of companies will tell you that it's better to hang them just because you're able to see what you have in your closet, so don't be afraid to try both and see which one you prefer. 
Best Harry Potter Themed Ties: Bottom Line
My two favorites (though I loved them all) for the best Harry Potter-themed ties are the black Snitch Tie and the Deathly Hallows with Pin.
I love that they have silhouette images of Harry Potter-themed icons in a discreet way that, from a distance, looks more like any traditional geometric pattern for a formal tie. That makes it easy to wear these to formal events, at church, at the office, and anywhere in between.