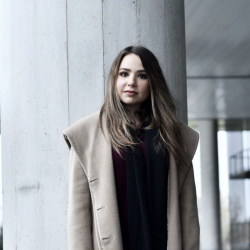 Latest posts by Tena Gasparac
(see all)
Did you know that in Harry Potter and the Goblet of Fire, the formal robes were referred to as being "More or less the same as … school ones"? In the film adaptation, however, representation changed – the boys were dressed in formal Muggle-like attire, and the girls were wearing ball gowns.
While the Hogwarts robe polemic continues, every Potterhead knows that there are three types of robes at Hogwarts: Formal robes, Quidditch robes, and everyday school robes. And the robes, we learned from chapter 6 of Harry Potter and the Half-Blood Prince, are supposed to be long, at least extending up to the ankle.
Since the Hogwarts dress code is creative and fun, there are many options you can choose from for your next Harry Potter-themed party (I could always use some new ideas, that's for sure).
In this article, I will take a look at some of the best Harry Potter robes on the market today. I will also touch on the different factors you should consider before picking your perfect garment!
Bottom Line Up Front
Before presenting all of my ideas, let me just start by saying that the invisible cloak was the one that really blew me away! You can make yourself disappear when using the app – how cool is that! That one is definitely been added to my ever-growing HP outfits collection.
However, it is not the only cloak that caught my attention, all of them were impressive, as you will see.
Check them out for yourself, I'm curious which one you like best!
How to Choose the Best Harry Potter Robe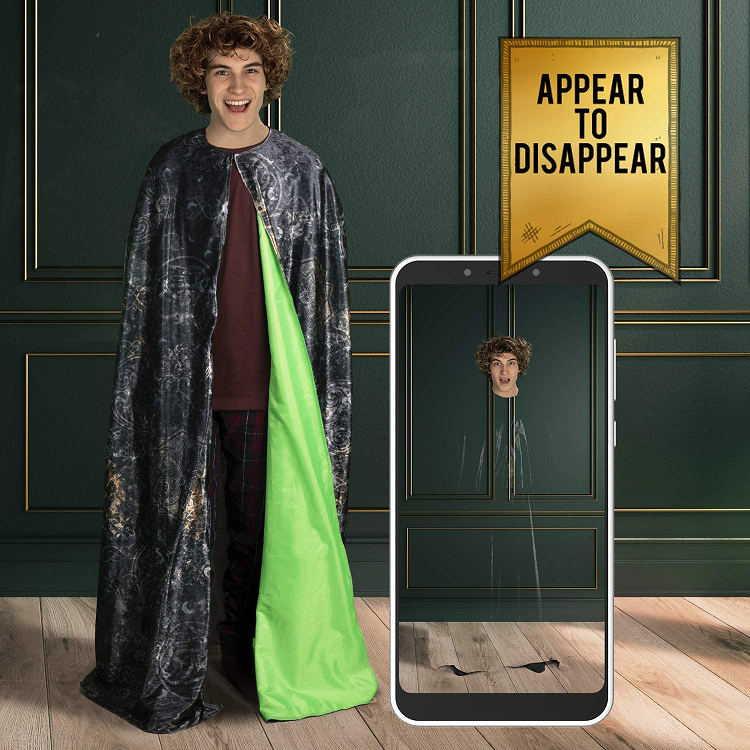 Not all Harry Potter robes are created equal. When choosing one, there are a few factors you should consider in order to make sure you are getting the best one for your needs.
Material
When choosing a Harry Potter robe, the material plays an important role. After all, you want something that is going to be comfortable to wear and that will last for a long time.
Most robes are made of cotton or polyester, but there are also some made of wool or other materials. As a breathable and comfortable material, cotton is a good choice. Cosplayers prefer polyester because it is durable and can withstand a lot of wear and tear. However, it can be a bit stiffer than cotton. 
Wool robes are typically more expensive, but they are also very warm and durable. They can be a good choice for colder climates or for those who plan to wear their robe frequently. 
There are also some robes made of other materials, such as satin or silk. These robes are typically more expensive, but they can be quite luxurious and look great on special occasions like dressing yourself up for the Yule Ball.
Design
The design of the robe is also an important consideration. As well as looking good, you also want something that's comfortable and practical.
There are a few different things to consider when looking at the robe's design. First, you need to decide which House you want to represent. As you already know, there are robes for each of the four houses: Gryffindor, Slytherin, Ravenclaw, and Hufflepuff. 
Each robe has its own unique design that is inspired by the House's colors and crest. So if you are a fan of a particular House, it's a good idea to choose a robe that reflects that. 
Another thing to consider is the style of the robe. Some robes are full length while others are knee-length. Full-length robes tend to be more traditional, while knee-length robes are more modern and stylish. 
Finally, you should consider the fabric pattern and details. Most robes have some sort of pattern or design on them, and some have more intricate details than others. Choosing something that suits you, as well as something that is flattering, is important.
Price
Price is always a consideration when making a purchase, and it is no different when choosing a Harry Potter robe. There are robes available at a wide range of prices, so it's important to find one that fits your budget.
At the lower end of the price spectrum, you can find robes made of cheaper materials that are less durable. These robes are typically less well-made and may not last as long. 
If you are looking for a more high-quality robe, you will need to be willing to spend a bit more money. But it's important to remember that you get what you pay for, and a more expensive robe will usually be better made and last longer.
Size
The size of the robe is also an important consideration. You want to make sure that it fits you well and is comfortable to wear. 
Most robes are available in a range of sizes, from Small to XXL. It's important to take accurate measurements of yourself before making a purchase so that you can choose the right size. 
In general, it's better to choose a size that is a bit too large than one that is too small. That way, you can be sure that the robe will be comfortable and won't be too tight. 
Best Harry Potter Robe Ideas
The following robes are all uniquely designed and made with quality materials. They're also all worth what they cost.
Cinereplicas Harry Potter – Hogwarts Robe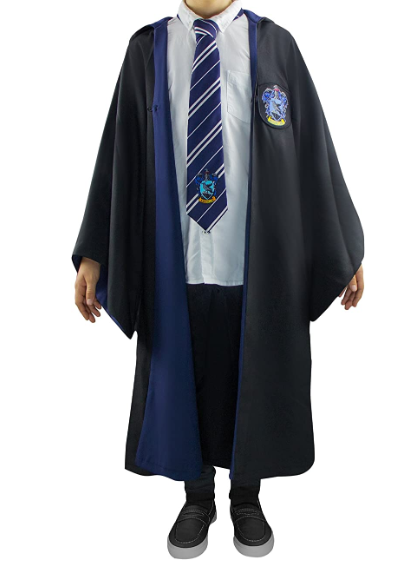 This Harry Potter robe stays true to the movie franchise, down to the last detail. It is made of 100% polyester for durability and has a comfortable fit. The robe comes with a pocket for your magic wand and also includes a Hogwarts house patch. 
It is an officially licensed product from Warner Bros and looks just like the ones seen in the movies. It's a great choice for every proper Potterhead and would make an awesome costume for Halloween or a themed party.
Unlike most robes which are mass-produced, this one is made by professional costume designers. This ensures that the robe looks great and is of high quality. 
The thick polyester fabric is quite warm, making it a good choice for colder climates. 
All in all, whether you're a cosplayer, a Halloween enthusiast, or just a Harry Potter fan, this is an excellent robe to consider. It's well-made, looks great, and is comfortable to wear.
Personalized Gryffindor Robe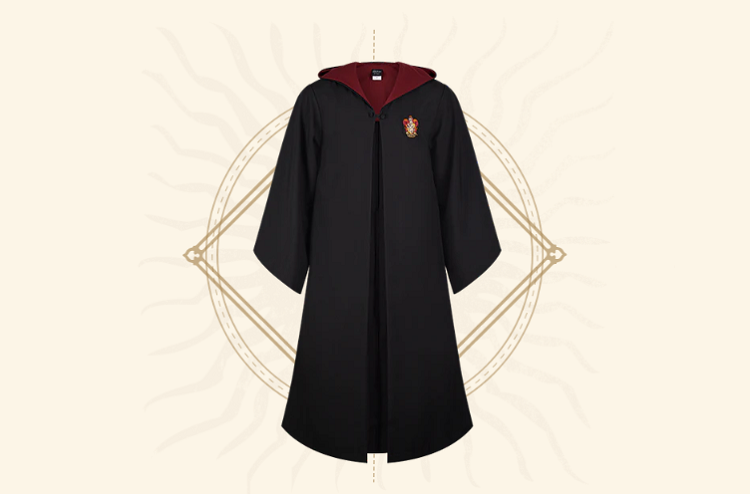 If you want to go more personal, Harry Potter shop knows the way to your heart! They've created an exact replica of a Gryffindor robe, exactly as it is seen in the movies.
They put much effort into it to look exactly like the one Harry would wear, so it features scarlet lining, pockets including the hidden one for your wand, and embroidered Gryffindor crest.
But as you could guess by now, what makes this robe so special is the complimentary personalization. You can enter your first name up to 14 characters in the English alphabet and your own robe is here!
One thing to keep in mind is that personalized items will be made especially for you, so they can only be returned if they are faulty, do not match the description, or do not meet your specifications.
And if you are in a different house, don't break a sweat because robes are available for each of the four houses!
Disguise Deluxe Harry Potter Robe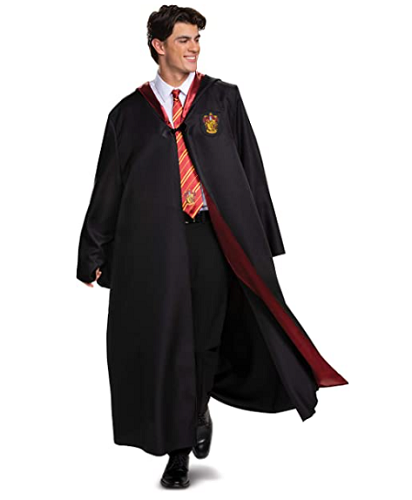 While the Cinereplicas robe mentioned above is amazing in every way, some may not like how thick and warm the fabric is. If that's the case, then the Disguise Deluxe Harry Potter Robe is a great alternative.
Made of 100% polyester, this robe is just as durable as the Cinereplicas. However, it is flowier and less form-fitting. This makes it a good choice for those who prefer a looser fit. 
The robe also has a hook and loop closure instead of buttons. This makes it easier to put on and take off. Compared to other Harry Potter robes that come with plain lining, this one has a shiny satin lining in your chosen house color – red for Gryffindor, blue for Ravenclaw, green for Slytherin, and yellow for Hufflepuff. 
An embroidered house patch and a leather button clasp are also included. Overall, the Disguise robe looks great and is very well-made. The attention to detail is excellent, and it's clear that a lot of care went into making this product. If you are looking for a high-quality robe, this is a great option!
Voldemort Robe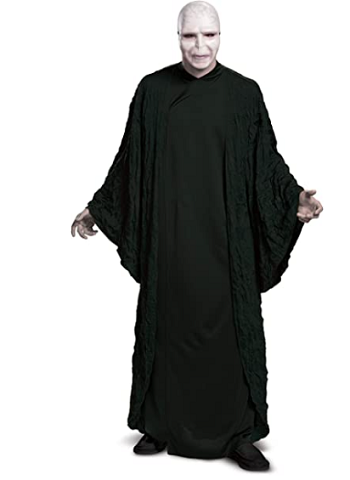 Tempted to go to the dark side?
The Death Eaters are known to have a more formal, gothic appearance and only wear black. They also have an attempt at an old-money appearance, which fits with their conceited and self-centered personalities.
However, Voldemort, who is in charge of the Death Eaters as you know it, has subtle variations in attire. Voldemort's robes are plain, in contrast to the ceremonial attire worn by the majority of Death Eaters, many of whom have embroidery or other decorative elements.
His garments seem much more snake-like because they are often dark green and tightly packed. This one from Amazon is made from soft, breathable material and is an exact replica of the Voldemort costume from the series. The big bonus is that it also includes a Voldemort half mask!
Hufflepuff Full Uniform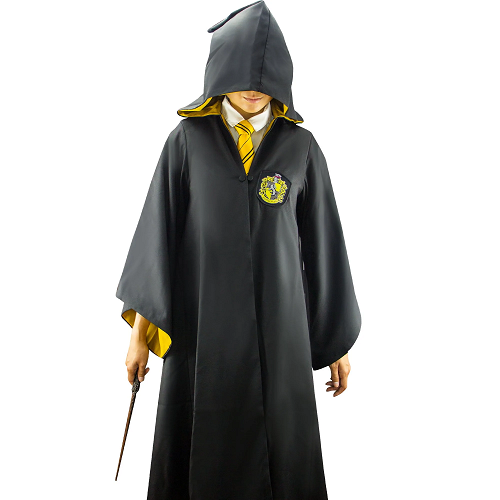 Robes are great, but do you know what is even better? Pairing them with matchy-matchy beanie, gloves and scarf!
You no longer have to buy all these items separately because Cinreplicas has them all in one package. With robes, ties, beanie, gloves, and scarves with the Hufflepuff colors included, you can definitely go Hufflepuff all the way!
WOW! PODS Harry Potter Invisibility Cloak Deluxe Version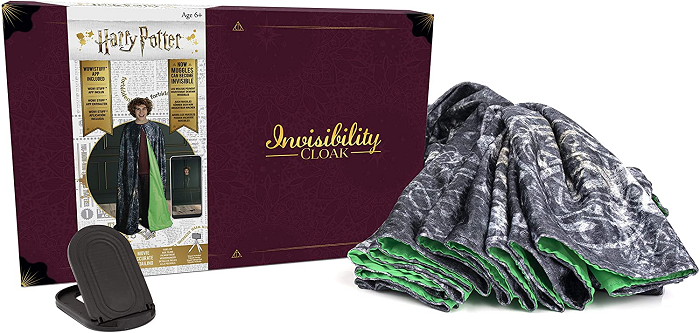 This award-winning Harry Potter robe is the best choice if you really want to go invisible (and my personal favorite!).
The robe is made of a special fabric similar to a green screen. This allows you to disappear when you film yourself with the included Wow! Stuff app.
The app uses special effects to make it look like you're wearing an invisible cloak. It's a great way to play pranks on your friends or family or reenact your favorite movie scenes. 
If you don't feel like using the green screen effect, you can still wear the robe as a regular cloak by flipping it inside out. The outside of the robe is black, so it will look just like a regular cloak. 
The thick material is very warm, making it a good choice for colder climates, whereas the serpent entwined borders add a touch of luxury. The robe also comes with a bonus phone stand, so you can use your smartphone to film yourself. 
Overall, the WOW! PODS Harry Potter Invisibility Cloak is a great choice for those who want to have even more fun with their Harry Potter outfit!
Professor Dumbledore Ensemble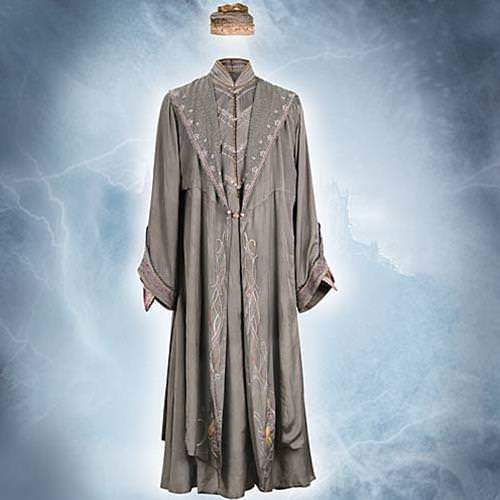 We all know who is a king of the wizard robes.
Time and time again, Professor Dumbledore surprised us with his highly decorated robes, and now you can have one for yourself! Even though it is pricey, this magical ensemble is filled with details and decorations.
This multi layered garment consists of an under-robe with elaborate sleeves, an over-robe decorated with embroidery, false buttons and a sleeveless over-robe with intricate embroidery. It is created exactly like the screen original, so much that it even features two hidden wand pockets in the middle robe!
It also kind of reminds me of Dumbledore`s Yule Ball outfit from Harry Potter and the Goblet of Fire. Remember that gorgeous silk and gold embroidered long vest?
So if you want to awake your inner headmaster and jump into really beautiful attire, look no further and hop on the Museum Replicas Limited site.
Queenie Goldstein Costume
Remember that gorgeous garment that the talented Queenie wore in Fantastic Beasts and where to find them?
It can now be completely customized to your measurements. You will be sure to draw all eyes to you when you wear this robe-like satin dress! And maybe you'll even get some special abilities from its original owner – very powerful Legilimens! 
Quidditch Robe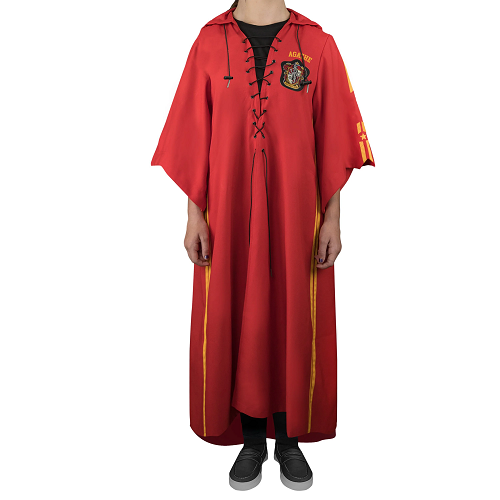 Did you know why Harry Potter`s number in Quidditch is 7? According to Temime, who created the costumes for Prisoner of Azkaban, Goblet of Fire, Order of the Phoenix, Half-Blood Prince, and both Deathly Hallows films, she gave that number because David Beckham had just won big in that period.
However, now you can have whatever number you prefer on your Quidditch uniform with this robe design from Cinereplicas.
If you want to personalize your Quidditch robe with your name and number (You can choose from 7 large numbers, 14 small numbers, 52 large letters, and 52 small letters) use an iron to transfer the letters and numbers. It`s that easy!
I also like how soft and comfortable the robe is, making it a perfect choice for all kinds of weather.
Child's Harry Potter Robe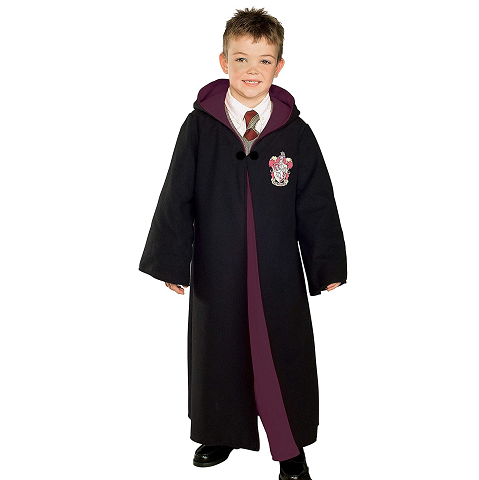 The love of Harry Potter can (and must, if you ask me) start at an early age. This is why children's Harry Potter robes are a great idea!
This one is an ankle-length, officially authorized Harry Potter hooded robe with clasp Burgundy highlights. Additionally, it has an embroidered patch with Gryffindor house emblem for the little boys and girls who already know which house they belong to.
It's perfect for Harry Potter-themed birthday parties or Halloween. Put on fake glasses and add a wand and you've created what may become your child's favorite childhood costume!
Beauxbatons Costume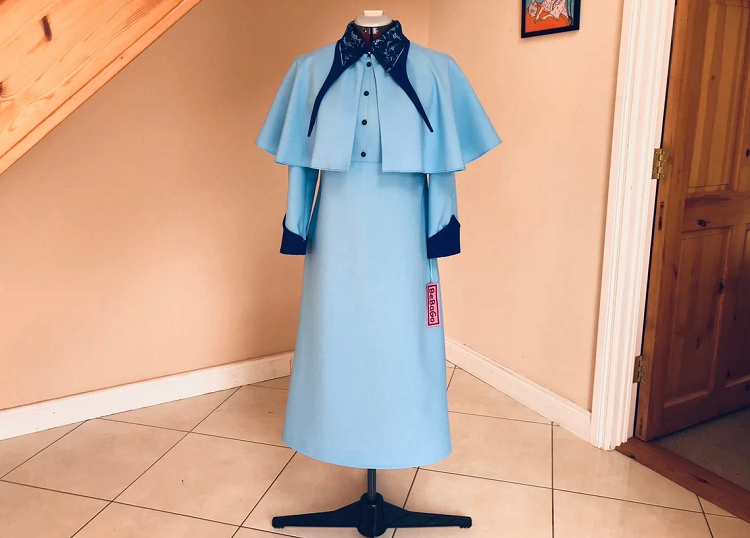 You can now easily impersonate your inner Fleur Delacour with this gorgeous handmade Beauxbatons robe! This garment is made from quality material, and with a rating as high as this, you are sure to be satisfied.
One of the customers even mentioned that "The fit is flawless, the stitching is excellent, and her attention to detail blew me away. From the quality clasps and zippers, to the hems and intricate cuffs and collars—just total perfection." Well, this definitely sounds appealing!
The only difference from the film version is that the costume is made from a stiffer material whereas in Harry Potter and the Goblet of Fire, the material looks lighter, even similar to silk.
Death Eater Robe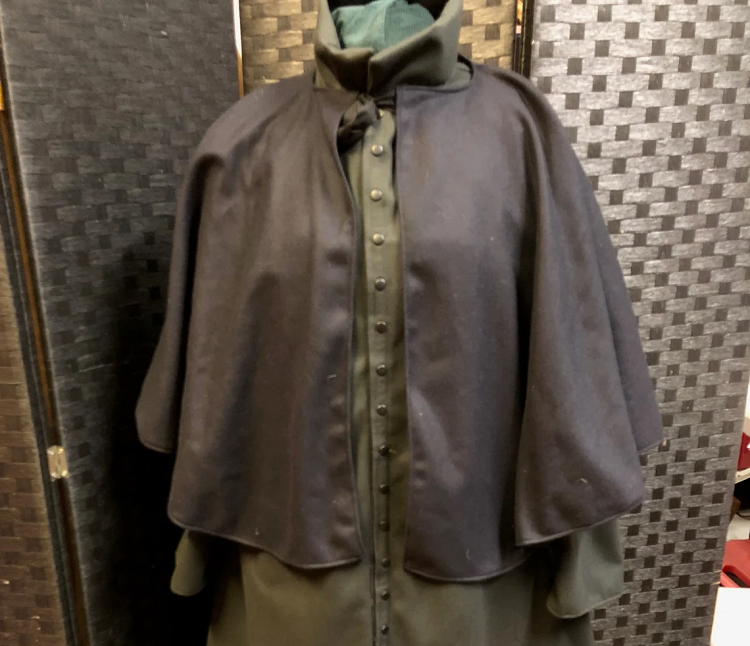 As I mentioned above, Death Eater Robes are made from darker colors. This one from Etsy is dark grey coat with velcro closure black buttons to show on outside.
It is made from high quality material but its light weight and easy to move around, and to be honest – it looks amazing! You can even personalize it the way you want to if you chat a bit with the Etsy owner.
If you decide to be a villain, however, don't forget to wear a mask like a real Death Eater to hide your identity!
Draco Malfoy Robe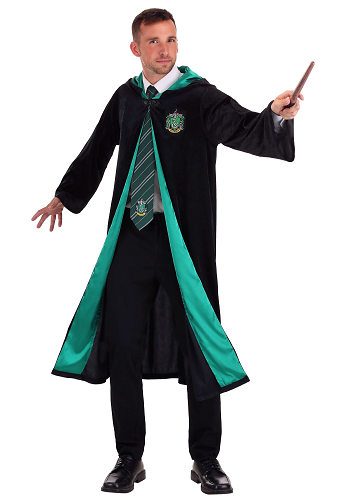 Whatever your opinion of Draco Malfoy may be, you cannot deny that he always stood out. So if you're in the mood to do the same, this robe will do the job done!
With characteristic Slyhterin colors, it is made from hood with lapels that are lined with green satin. The long velvet-textured robe is trimmed with soft green satin fabric and a Slytherin shield decorates the chest.
Featuring an over-sized hood, the robe allows you to slip into disguise effortlessly. Also, you can pair this look with a variety of Slytherin accessories!
Fantastic Beasts The Crimes of Grindelwald Vintage Slytherin Wizard Robe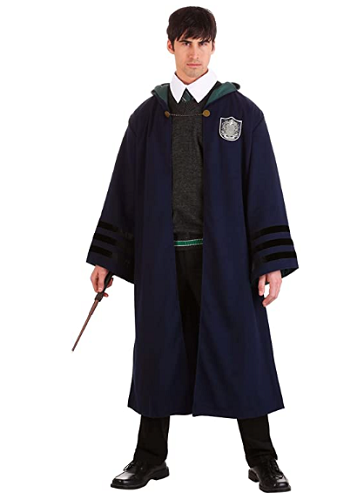 What is more charming than the vintage Hogwarts? 
You can now fully capture its magic by wearing this Fantastic beast: The crimes of Grindelwald 1920's Hogwarts House Robe. Inspired by the garment from the movies, this robe embraces vintage styling to bring you into the wizard past.
This dark, wool-twill robe features a range of academic details, including three velvety stripes on each arm, a pointed hood lined with scarlet, and a metal fastener at the neck. Also, if you open the robe, you'll find an internal pocket big enough to store your wands between Hogwarts classes!
Professor Snape Robe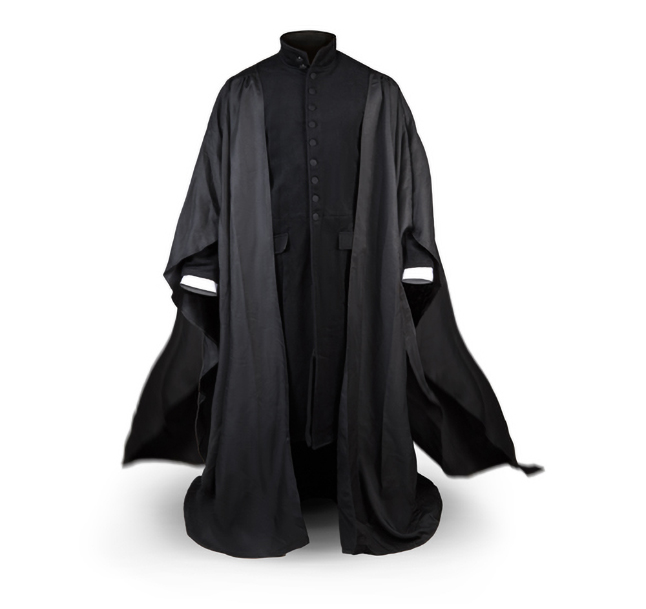 This special garment is actually a lined jacket with eleven wool-covered buttons and fluted cloak sleeves. The set looks amazing, and who wouldn't want to add that dash of drama like Snape did every time he walked through the halls of Hogwarts?
Beneath your robe, you can wear the black square-toe boots that Snape usually wore covered by his long black pants. Also, don't forget LED Snape wand and a spell book since you'll be the professor of potions at Hogwarts!
FAQs
Question: What do you Wear Under a Hogwarts Robe?
Answer: Under their robes, students usually wear muggle clothing like jeans and cardigans. While the boys wear breeches and trousers, the girls tend to wear cardigans and skirts. 
Question: Where do Hogwarts Students Get their Robes?
Answer: The counterquestion is: What is the first place you would go to buy a robe? Well, the Madam Malkin's Robes for All Occasions in Diagon Alley, of course!
Question: Do Hogwarts Students Have to Wear Robes?
Answer: Yes, Hogwarts required every pupil to buy at least three robes. During every classroom session, the uniform must be worn. Wearing the uniform is required during all classes, in the Great Hall, in the Study Hall, in the Common Room, and in the Library.
Bottom Line
Harry Potter robes are always a good choice. Whether you want to cosplay, wear it on Halloween, or just show your love for the series, there's a robe out there for you.
Each of the robes listed above is of high quality, and any Harry Potter fan would be happy with any of them. But still, my heart goes to WOW! PODS Harry Potter Invisibility Cloak Deluxe Version, can you imagine getting your hands on a real invisibility cloak? I`m hooked (and shook)!
So, what are you waiting for?
Pick your favorite from the list above and show the world your Hogwarts pride!
Continue reading:
Best Harry Potter Themed Earrings for Fans
A Complete Harry Potter Pottery Barn Guide
The Best Harry Potter Sweatshirts Guide for Fans of the Franchise