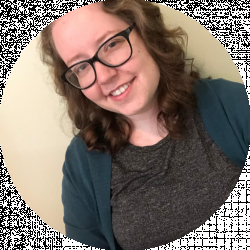 Latest posts by Hannah Haefele
(see all)
I've probably bought or received dozens of Vera Bradley items over the years. So when I learned they collaborated with Harry Potter, I was excited to learn more and create a Vera Bradley Harry Potter guide for my fellow 2000s kids.
I used a Vera Bradley bag throughout high school and college. After graduating, I bought a Vera Bradley purse for work and other events.
Growing up, I read books, saw movies, and did many Hogwarts house quizzes online. While the collection isn't active right now, I can't wait to see the next release of Vera Bradley Harry Potter patterns to buy.
Bottom Line Up Front
The Vera Bradley Harry Potter collection, combines the cute Vera Bradley styles with the elements of Harry Potter characters and magical beings. I'd love to get something like a new ID case in the Forbidden Forest pattern.
What Is Vera Bradley?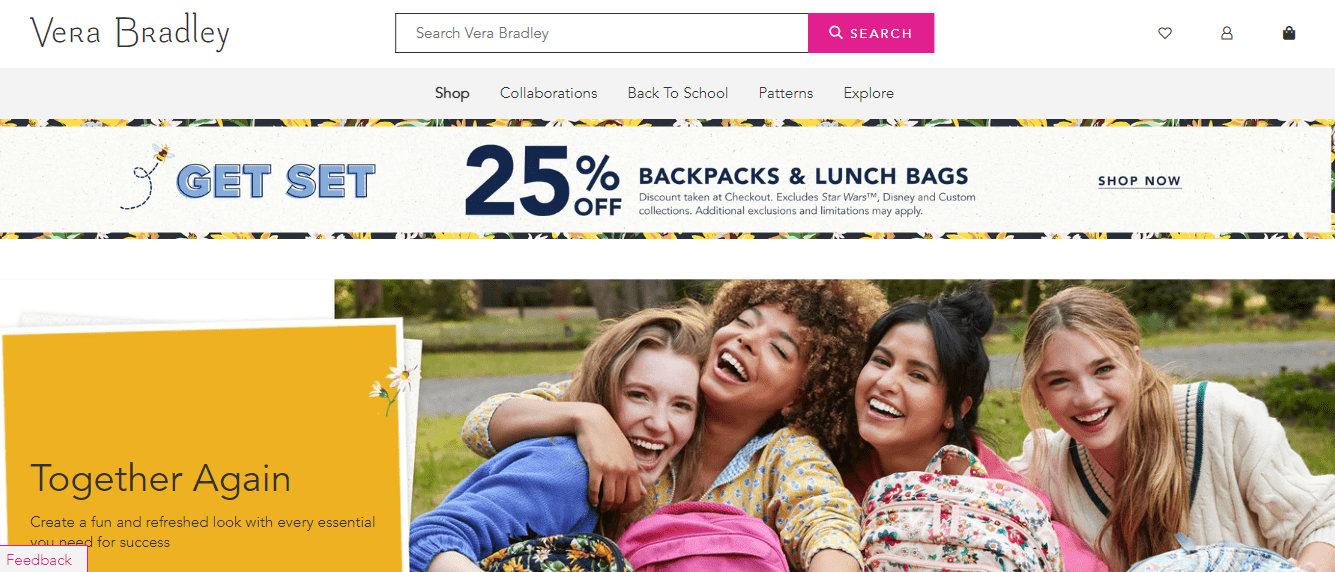 Vera Bradley is a company that makes bags and other accessories in fun, colorful patterns. I got my first Vera Bradley piece in middle school or perhaps late elementary school.
Since then, I've bought tons of different totes, ID cases, and other accessories. I use a VB ID case and a soft glasses case daily and love the items.
The patterns are only available for a few months at a time. So you need to be on it if you want to purchase a specific design before it goes out of stock.
What Is the Vera Bradley + Harry Potter Collaboration?
If you're looking for some Harry Potter purse ideas, look no further. The Vera Bradley + Harry Potter collaboration has allowed Vera Bradley to use Harry Potter for pattern inspiration.
While there aren't any new items available as I write this, there's an excellent used market. Vera Bradley designs are popular, so you should be able to find something for sale.
Otherwise, you can follow Vera Bradley on social media or join their email list. Then, you'll be able to learn when the company releases a new line of Harry Potter-inspired designs.
Vera Bradley Hogwarts House Patterns
One of the previous collections focused on patterns for the four Hogwarts houses. If you've taken the quiz from Pottermore or a third-party site, you can use that to decide which style to get.
I found some of the items available on eBay, new or used. So while Vera Bradley isn't selling them right now, you can still get a bag or backpack that reflects your wizard self.
Here's what you need to know about the Vera Bradley collection for each of the houses.
Gryffindor
Of course, I have to start with Gryffindor since that's the main house you see in Harry Potter. You can get the Vera Bradley Campus Backpack in a burgundy color.
While I haven't tried this specific pattern, I did have a VB Campus Backpack in college. It fit my books and had a pocket for a water bottle, so it was great for long days of classes.
If you get the Gryffindor pattern, you can act like you're attending Hogwarts. Use it to store your school supplies as you walk around campus.
I like that the colors aren't too girly, so girls and guys can use the bag. You can also find lunchboxes and wallets in this pattern if you don't need a new backpack.
Pros
Good color
Not too girly
Decent size
Easy to carry
Cons
Pretty expensive
Might not last long
Slytherin
If you're a Slytherin, you should check out the green patterns from Vera Bradley. Like Gryffindor, I couldn't find any of these items on the Vera Bradley site.
But you can shop for new and used items elsewhere online. You can get the Campus Backpack if you're in college and want to show off your Slytherin pride.
I also saw a Slytherin-themed throw blanket that you can keep at home or in your dorm. The snake pattern is excellent, and it features the Slytherin crest.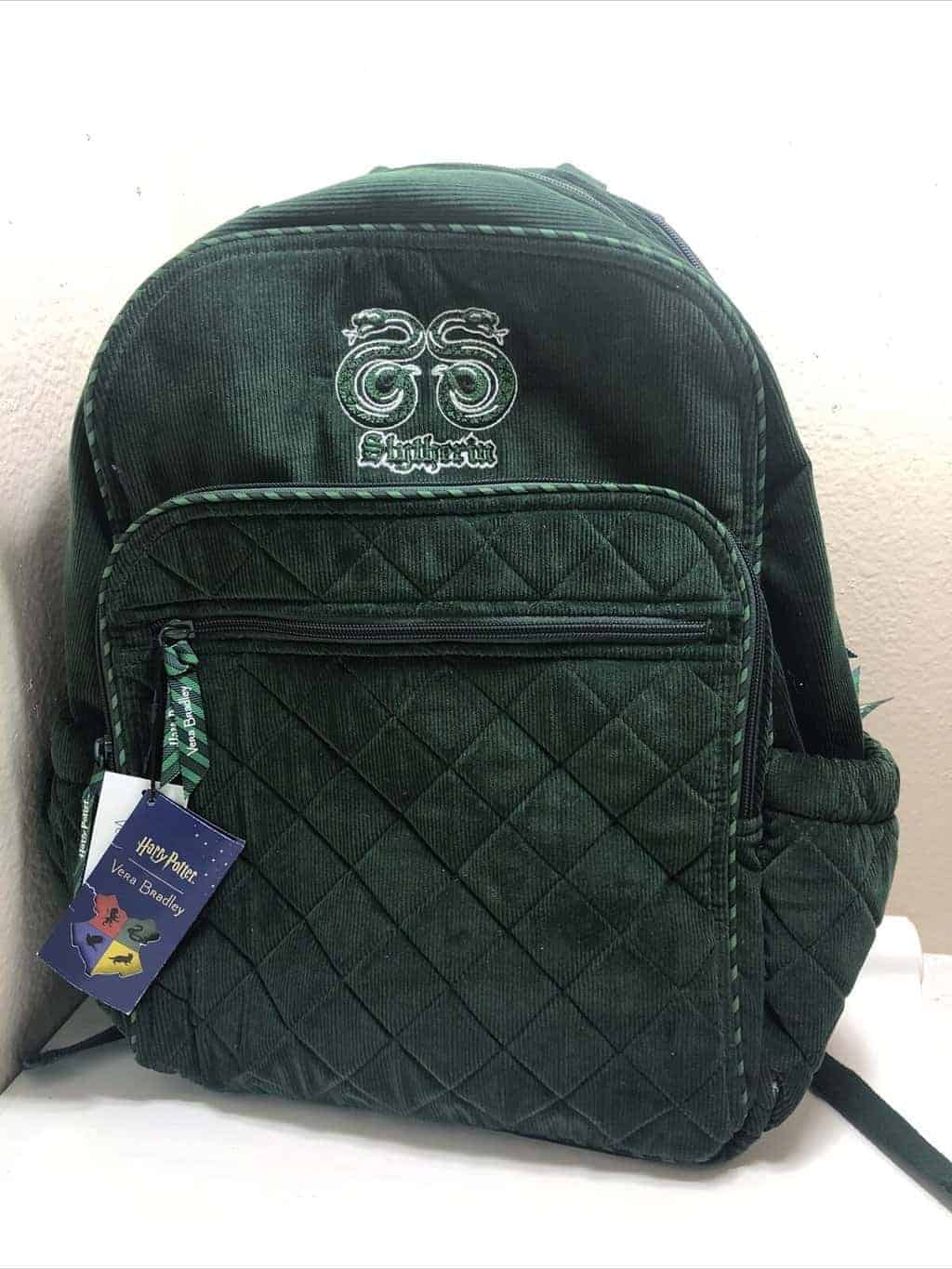 Pros
Backpacks and blankets available
Good color
Not too girly
Available new and used
Cons
Very expensive
Can be hard to find
Ravenclaw
I've gotten Ravenclaw for my house except for Pottermore on every other quiz. So I'd probably go for the Ravenclaw pattern if I were to buy a new Campus Backpack.
I love the deep blue color and the velvet texture, but I'd avoid using it when it's raining out. Compared to the other houses, the Ravenclaw backpack isn't as expensive from resellers, but it's still not cheap.
You can also buy a Ravenclaw ID case, lunchbox, and even a face mask. That way, you can show off your Ravenclaw pride whether you're in school or not.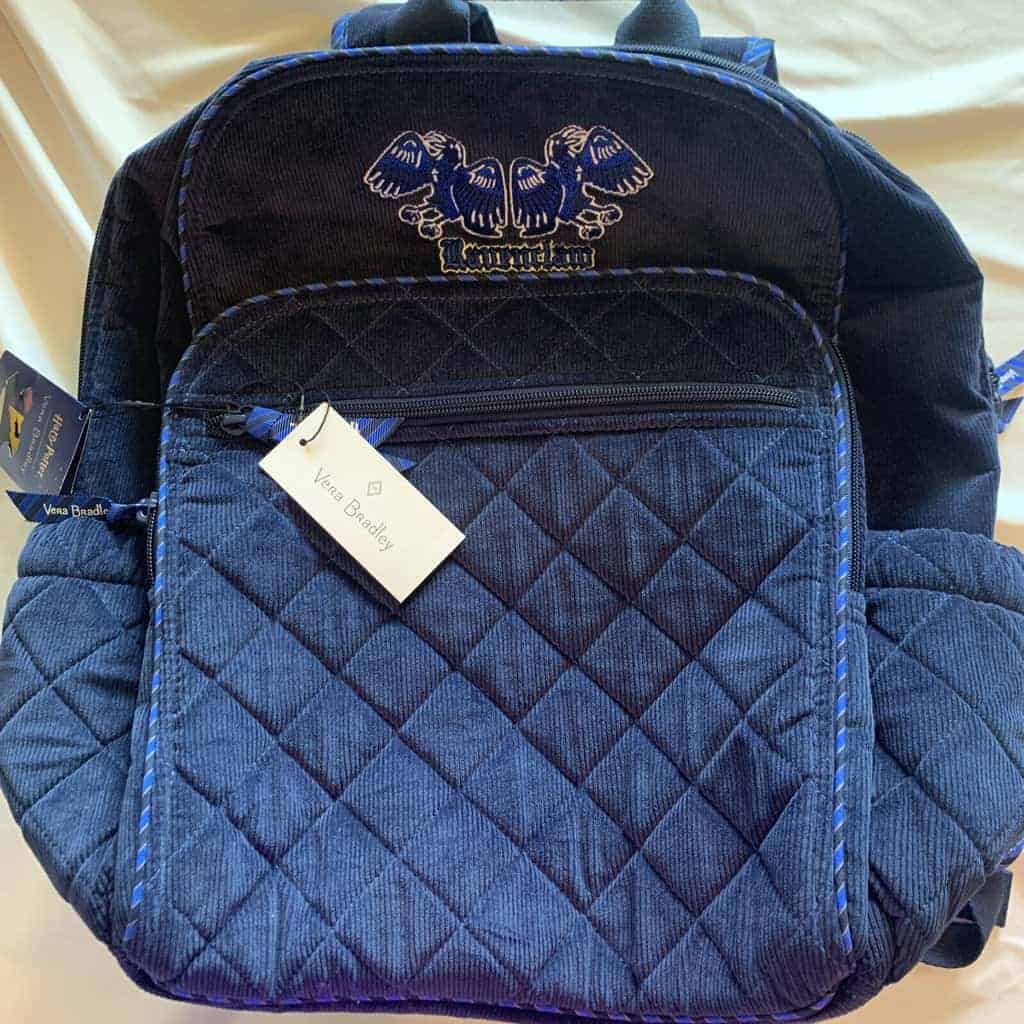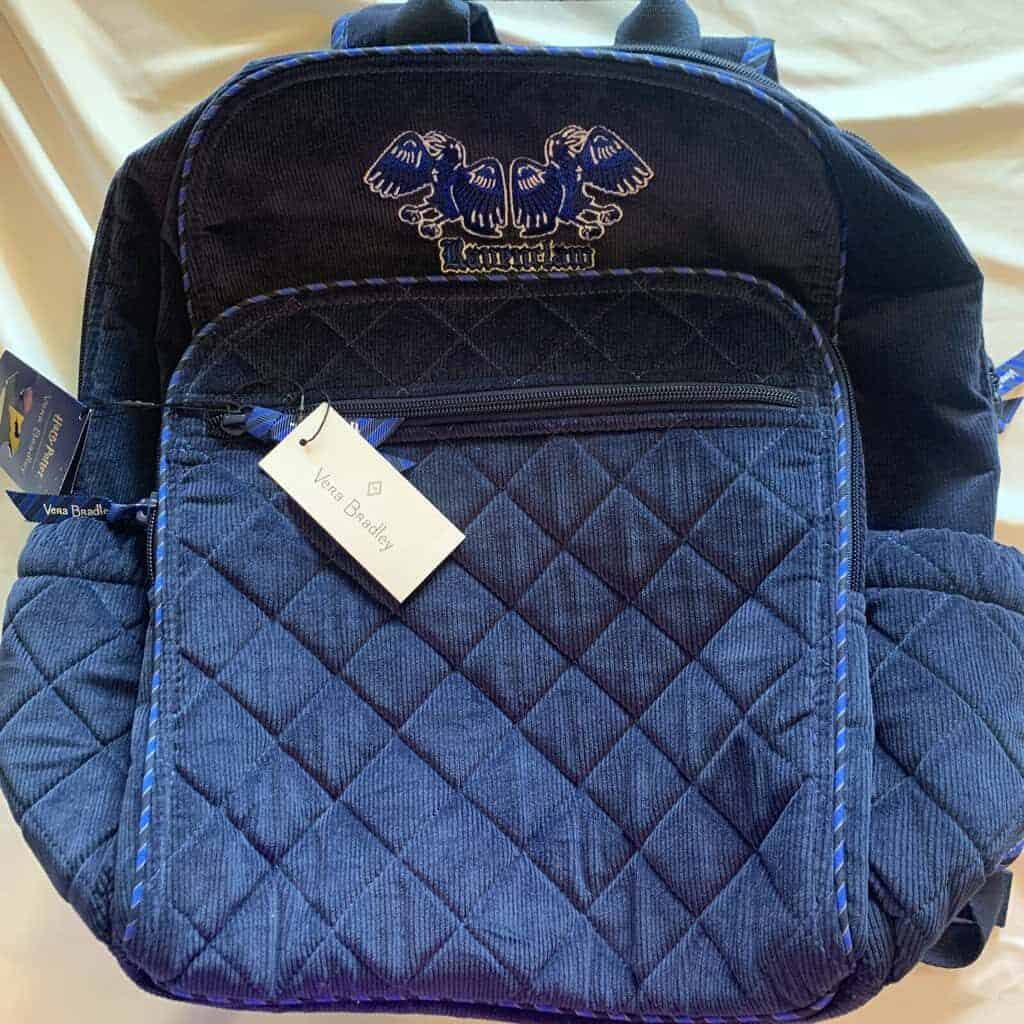 Pros
Nice color
Variety of items
Decent price
Easy to find
Cons
VB no longer sells the pattern
Sellers can mark up the pricing
Hufflepuff
The one time a quiz sorted me into Hufflepuff was the official Pottermore quiz. So I might look into some Hufflepuff merch from Vera Bradley.
Unfortunately, I couldn't find the Campus Backpack in the Hufflepuff pattern. You might be able to look for it if you're willing to shop around.
However, I found a Plush Throw Blanket with the Hufflepuff crest and other symbols. The blanket is 80 inches by 50 inches, so it's perfect for a loyal Hufflepuff to share with a friend.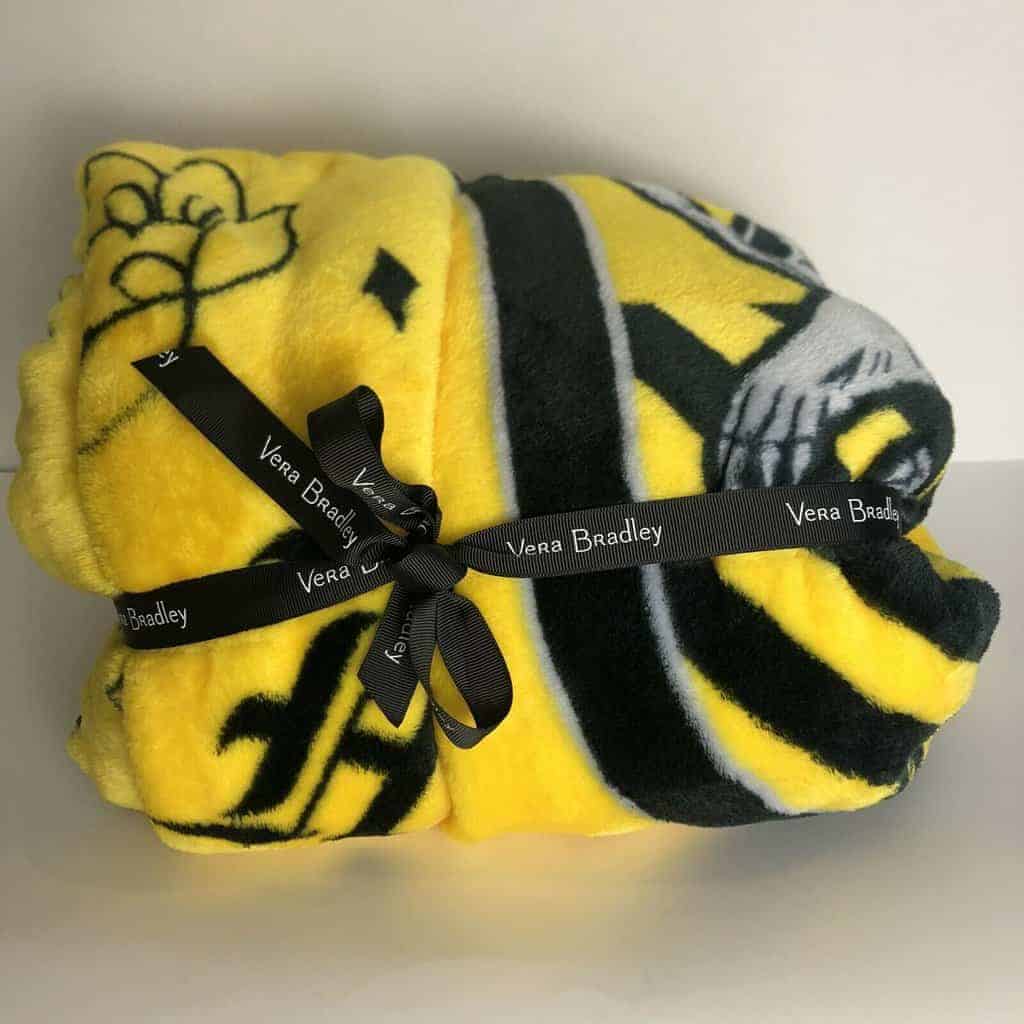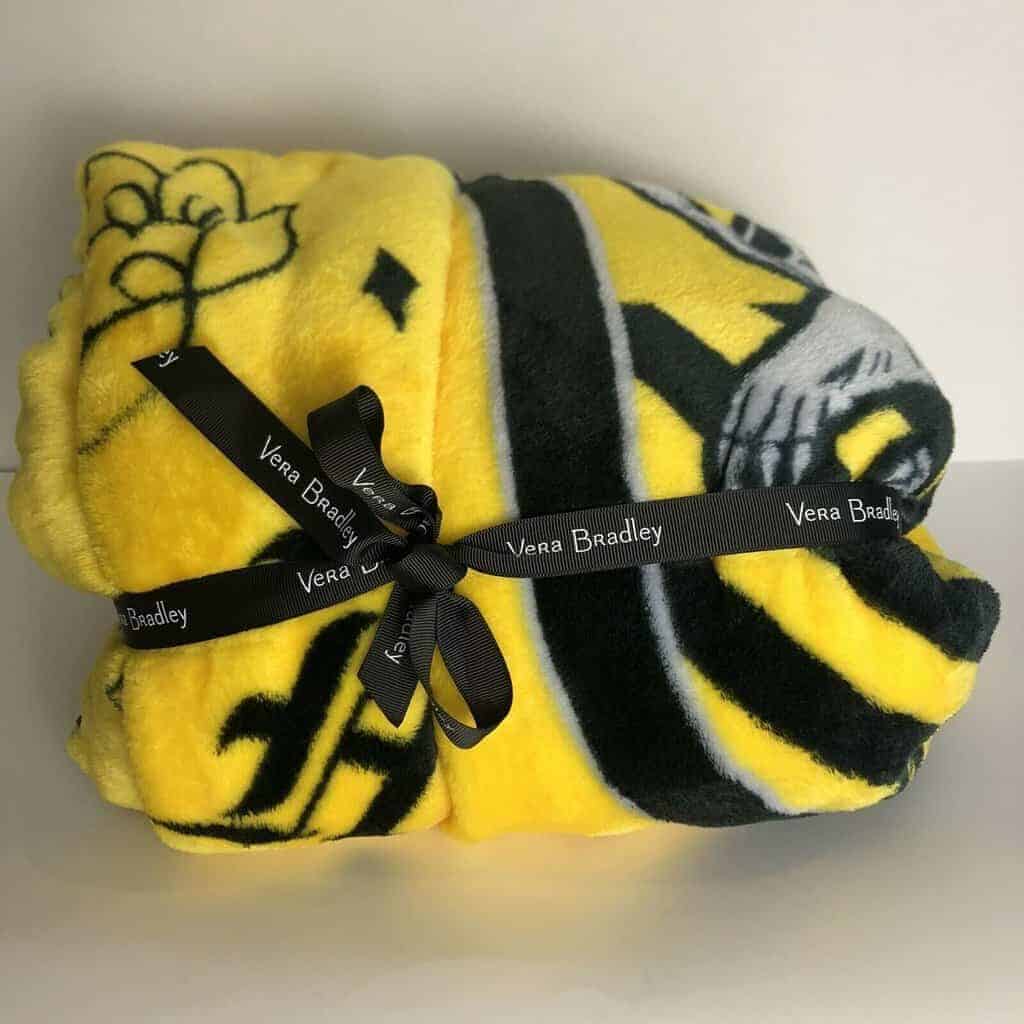 Pros
Comfortable blanket
Nice size
Good colors
Cons
Hard to find other items
A bit expensive for a blanket
Other Vera Bradley Harry Potter Patterns
Not only can you get Vera Bradley items in the colors of your Hogwarts house, but you can also get other patterns. If you want something more subtle, this collection is excellent.
You can show off your style; people might not know that Harry Potter inspired the design. I'm sure there are more patterns out there, but these are the patterns I could find and would recommend.
Home to Hogwarts
I love the colors and design of the Home to Hogwarts pattern. You can get this pattern on a duffle bag, cellphone, crossbody, and many other Vera Bradley designs.
This design features a navy background color with white, yellow, blue, and peach making up the flowers. You'll also find small HP elements, such as an owl, a golden snitch, and Harry's glasses.
But I had to look at the pattern to find those, so it's not that obvious to others. That can be nice if you just want a cute bag to carry around without it being as blatant as some other Harry Potter merch.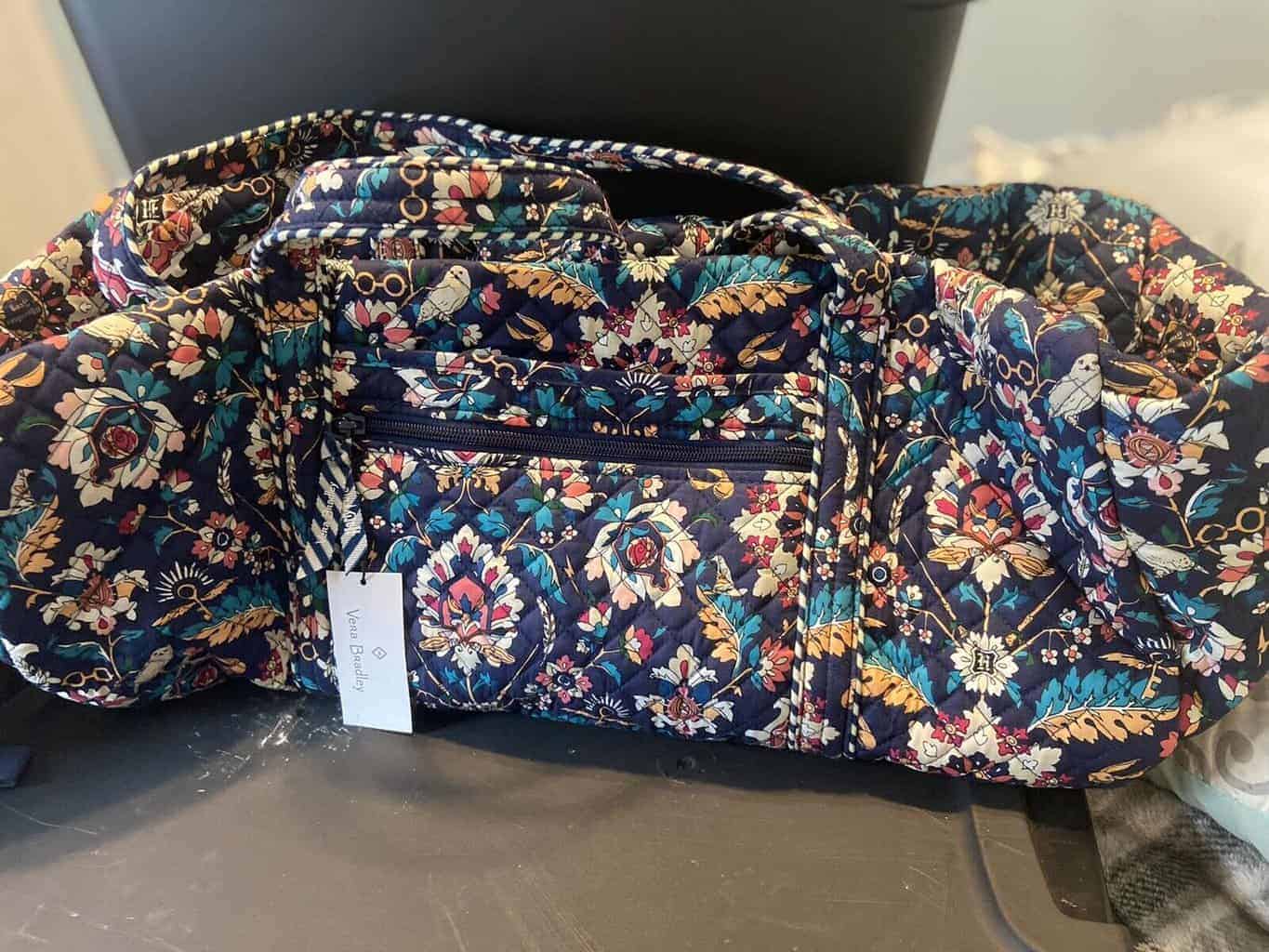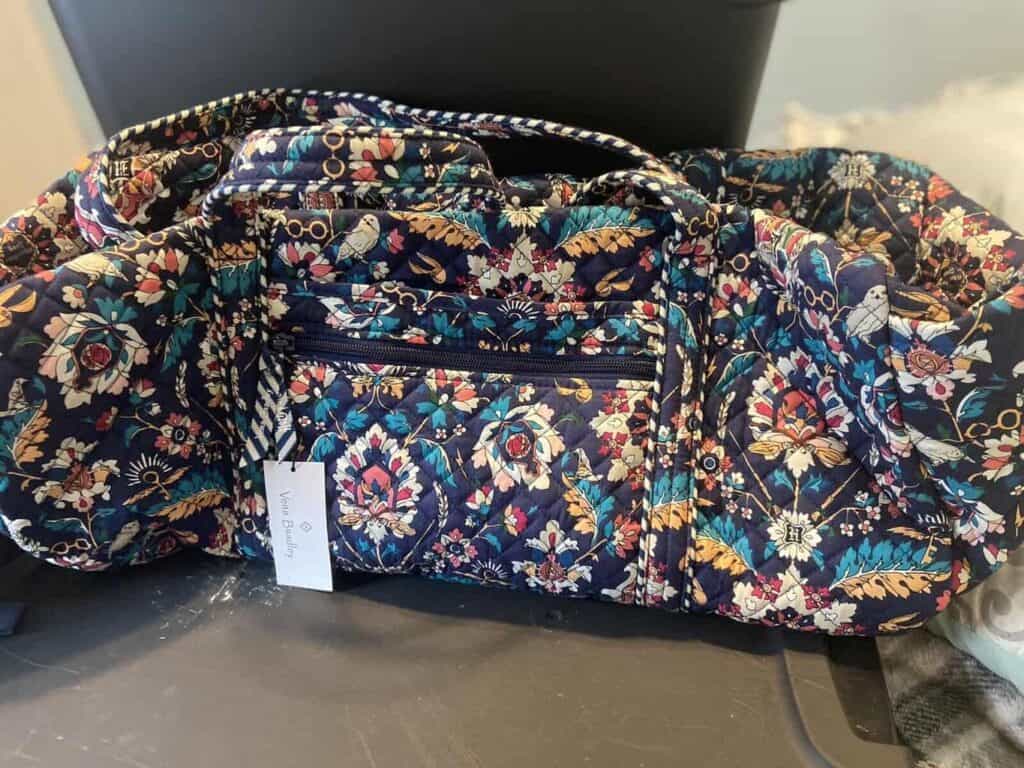 Pros
Great colors
Cute design
Subtle
Different items available
Cons
Not available from VB
May be hard to find
Herbology
If you like neutral accessories with a hint of color, you might like the Herbology pattern. The white bag features some color throughout the design.
You'll find a mandrake, which is the only thing in orange on the bag. All of the plants look great, and like the other patterns, this one isn't too obvious.
I found this style available in a tote bag, tech bag, and other types of items. Plus, I love that you can see the name of the plant next to it in small print.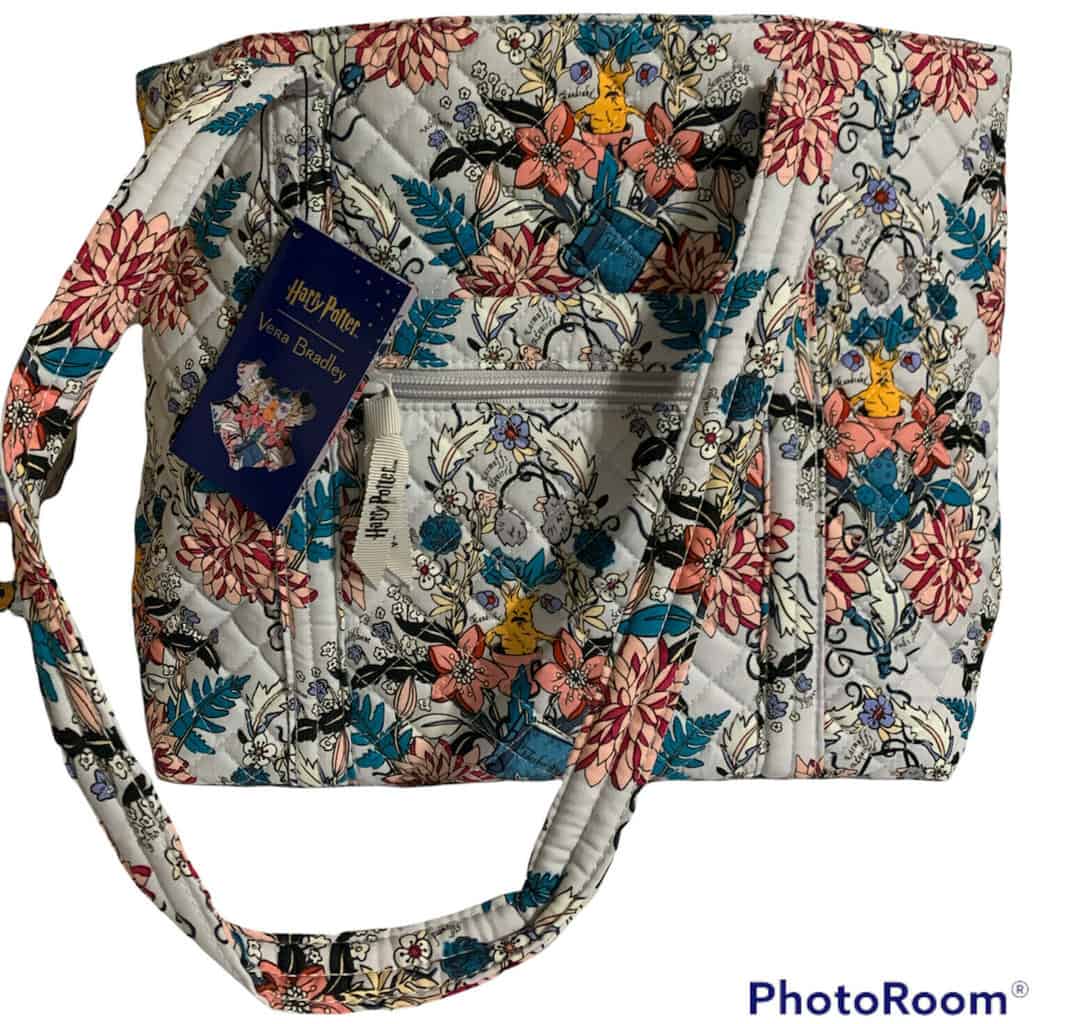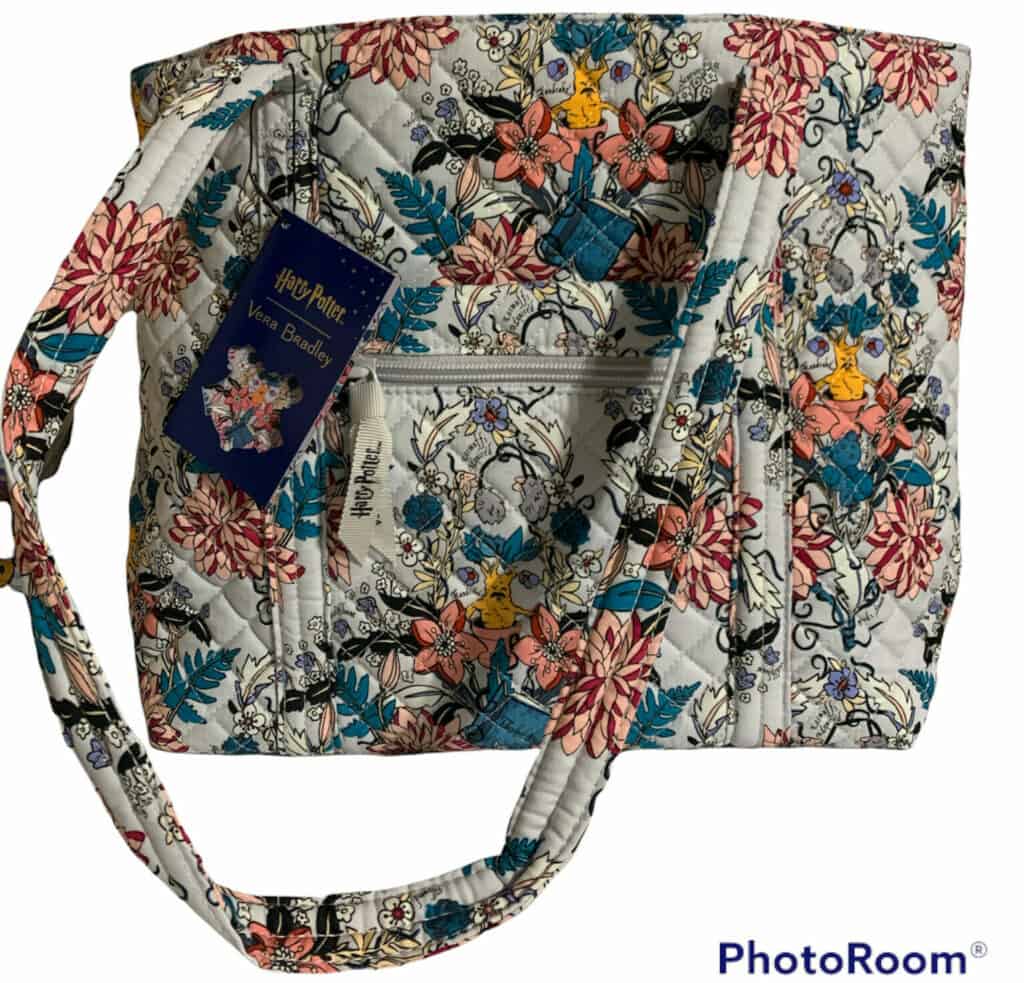 Pros
Somewhat neutral colors
Available in different styles
Easy to find
Lists the names of the plants
Cons
A bit expensive
Not for sale from VB
ReActive
A similar pattern you might want to get is ReActive, which also has a few plants on it. However, the design is different from the Herbology pattern.
I love that it has the names of the plants next to each one, and it's a bit of a simpler design. This pattern doesn't have the standard cross stitching that you'll find on some Vera Bradley patterns.
Personally, I probably wouldn't get this pattern because of the white background. It looks like getting it dirty would be a bit too easy.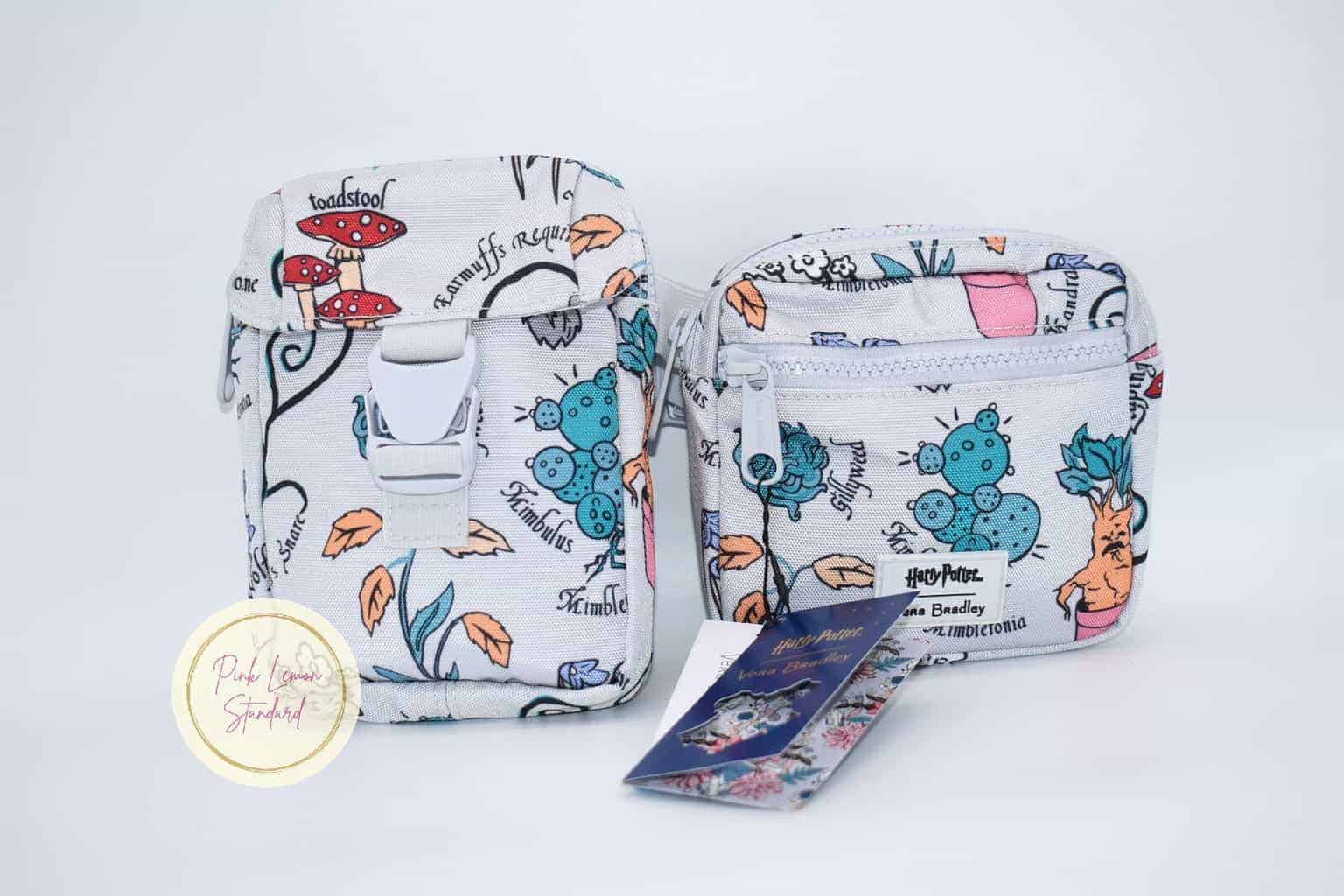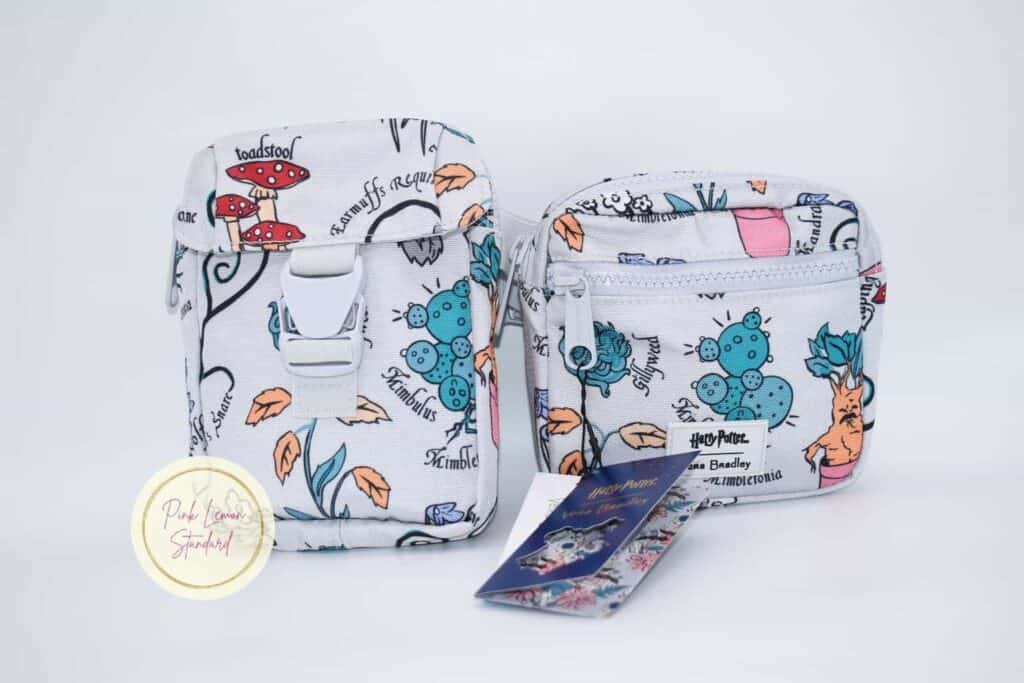 Pros
Simple design
Comes in different styles
Has the plant names
Good colors
Cons
Could get dirty
No cross stitches
Forbidden Forest
My favorite Vera Bradley Harry Potter pattern is probably Forbidden Forest. I love the purple background and the nighttime colors in the design.
You can find some Harry Potter animals, such as the griffin. There are also mushrooms and other plants throughout the pattern, which can help make it a bit more subtle.
I found this pattern available as a tote bag, sling backpack, campus backpack, and more. That means you can collect all of the items if you can find them for sale.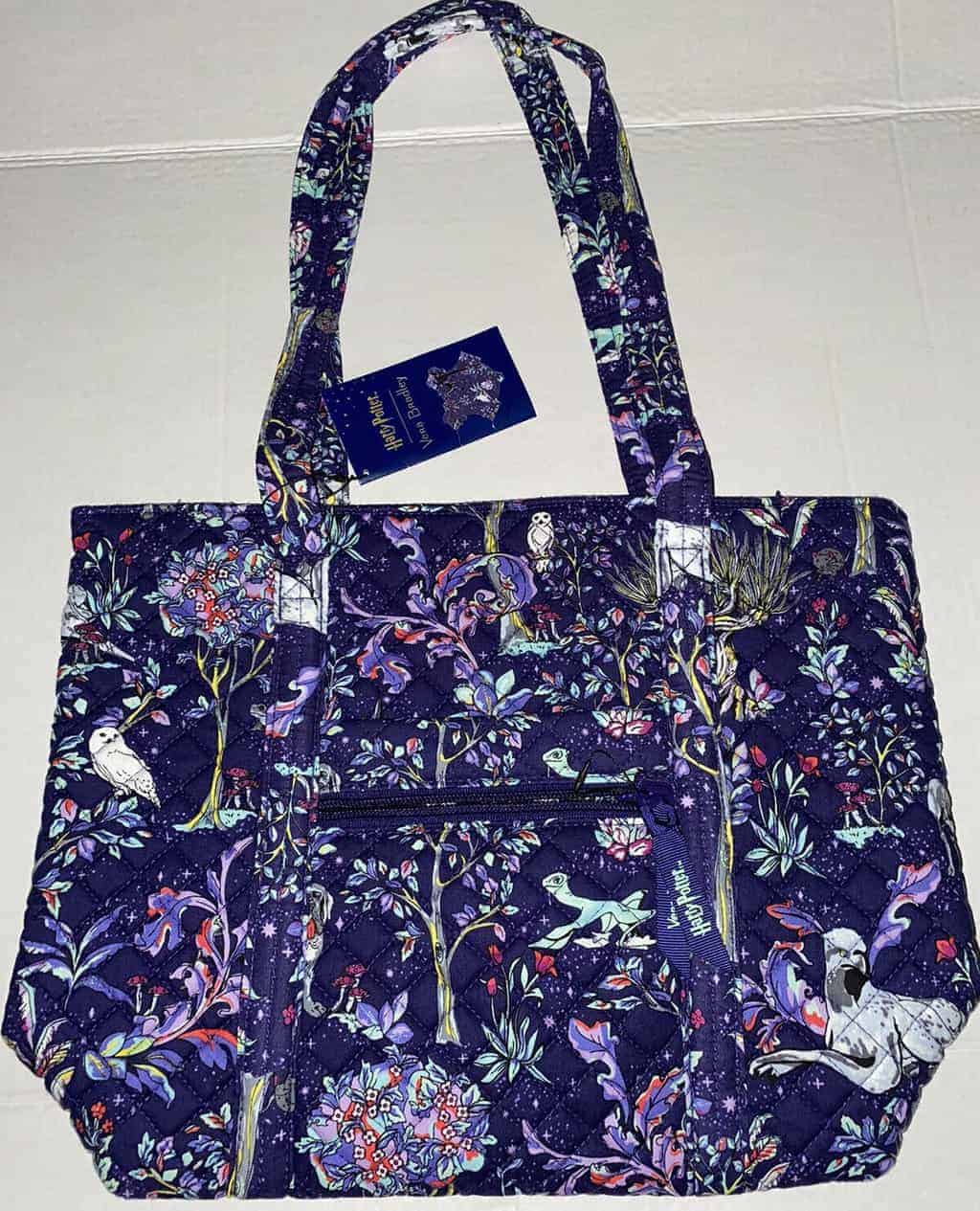 Pros
Gorgeous pattern
Available in a lot of styles
Has Harry Potter animals
Subtle
Cons
Can be expensive
Might be hard to find
Luna's Medallion
If you relate to Luna Lovegood, you might want to get a Vera Bradley bag in the Luna's Medallion pattern. While other patterns have hints of Harry Potter, it can be harder to identify those on this design.
I love the light pink with the blue accents, and I like how the pattern looks on various items. You can get it as a backpack, purse, or even a tumbler cup.
If you like pink accessories and Harry Potter, this is the perfect pattern for you. Of course, you might need to shop around to find the specific gear you want.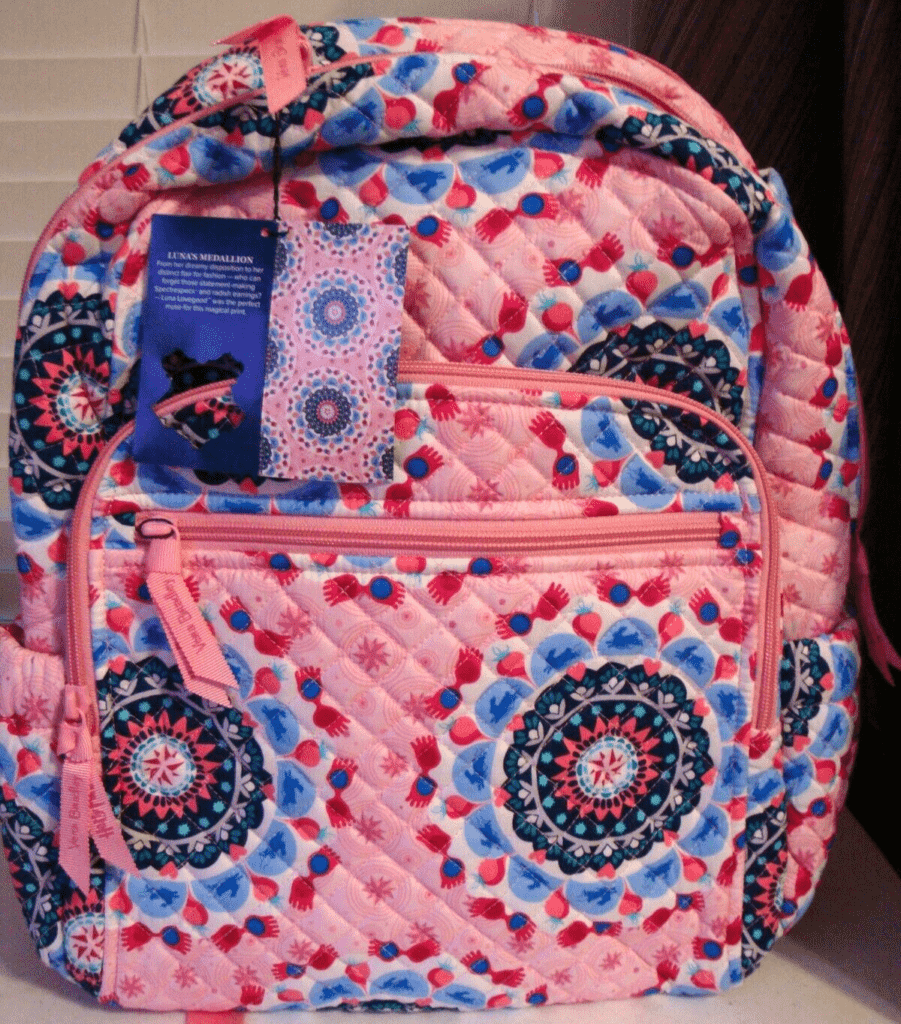 Pros
Cute colors
Very subtle
Tons of styles
Looks nice
Cons
Can get expensive
Somewhat hard to find
Vera Bradley Styles
Regardless of the pattern, Vera Bradley sells a variety of items. You can choose the pattern you want and look for the item you want, such as a backpack or tote.
Other items Vera Bradley sells include:
Throw blankets
Travel bags
ID cases and wallets
Sleepwear
I'd recommend signing up for the Vera Bradley email list. Then, you can learn when they release new Harry Potter items so that you can buy straight from the source.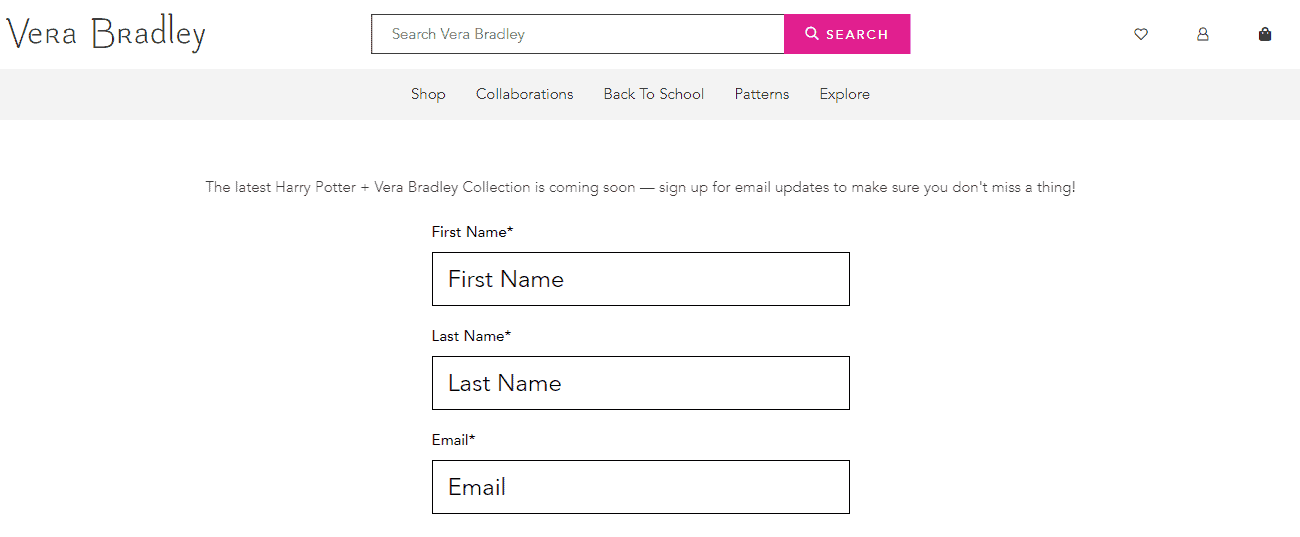 When I looked around, the items from resellers cost a lot more than the other patterns Vera Bradley currently carries. So you could save a lot of money, assuming you like at least one of the patterns from the upcoming collection.
Why Buy From the Vera Bradley Harry Potter Collection
The Vera Bradley Harry Potter collection offers many different items you can buy. While you'll need to shop on other sites, for now, Vera Bradley might carry new designs in the future.
No matter where you shop, you should know why you should consider these pieces in the first place. Then, you'll be able to get an accessory that you love.
Here are some things I love about the collection and why I recommend you shop for it.
Subtle and Obvious Items
One of my favorite things is that there are many Harry Potter patterns. Some of the patterns are more obvious, such as the Hogwarts house patterns.
Whether you buy a backpack or a blanket, you can show off your Hogwarts house. For example, as you wear a backpack, people will most likely know that it's a Harry Potter pattern.
On the other hand, some of the patterns, such as herbology, are more subtle. You'd have to look at the design to realize the Harry Potter series inspired it, so you can take the item anywhere without it being as out there.
Relive Your Childhood
As a child of the 90s and 2000s, I grew up reading Harry Potter books and watching movies. I also had a collection of Vera Bradley bags (and still do, to be honest).
You'll love this collection if you're like me and grew up with Harry Potter and Vera Bradley. You can relive some of your younger years by combining two of your favorite things.
I use my Vera Bradley ID case and soft glasses case every day. And I use other Vera Bradley items at least once a week or so, so you can do the same with the Harry Potter collection.
Good Quality Items
Some of the Vera Bradley items I use I got about a decade ago, including a tote bag. If you take good care of your purchase, you can get a lot of use out of it.
I'll admit that Vera Bradley bags' quality has decreased in recent years. One of my purses only lasted a few years before needing replacing.
However, it was something I used all of the time. So you can still get good use out of Vera Bradley stuff, even if that means using it less often to extend the lifespan.
Multiple Styles
Another thing I love about the collection is that the Harry Potter patterns come in various Vera Bradley styles. You can get an HP-themed ID case, tote bag, or blanket.
Vera Bradley also makes tumbler cups, notebooks, and many other things. That means there's something out there for everyone, so you should be able to find a style and pattern that you like.
Of course, you might have to search a bit if the collection isn't currently available from Vera Bradley. However, I found many new items with tags on places like eBay.
FAQs About the Vera Bradley Harry Potter Guide
Question: Where can you Buy the Vera Bradley Harry Potter Patterns?
Answer: As I'm writing this, you can buy the Vera Bradley Harry Potter items from places like eBay. You might also find some items available on Facebook Marketplace or Poshmark.
Another option is to check your local thrift stores to see if people have dropped off their items. You can subscribe to the Vera Bradley marketing list to learn when they'll release a new collection that you can buy directly from them.
Question: Is the Vera Bradley Harry Potter Collection Only for Girls?
Some of the Vera Bradley Harry Potter patterns are a bit more feminine, but they aren't only for girls. If you like the patterns, you should buy an item with it no matter how you identify.
Of course, some of the patterns are a bit more gender-neutral, such as the Hogwarts house patterns. So there's something for the whole family to enjoy.
Question: Is Vera Bradley Expensive?
Vera Bradley can be very expensive, depending on the item you buy. Some smaller things, such as the zip ID cases, are more affordable, so you don't have to spend much money.
While looking for the Harry Potter collection, I found that some sellers charge more than Vera Bradley. After all, there's a smaller supply to go around, so you might need to pay more to buy something now.
Question: How Long do Vera Bradley Bags Last?
Some Vera Bradley bags last for years, such as a tote I've had since like 2011. However, other bags, such as the one I bought in 2016, only lasted a few years.
It depends on the style and how much you use the bag. If you only use a bag occasionally, it will last more than something you use every day.
Final Note on the Vera Bradley Harry Potter Guide
If you're a younger millennial, you probably grew up with Harry Potter and Vera Bradley. I know I did, so I was intrigued to learn about the collaboration and now to write a good Vera Bradley Harry Potter guide.
Be sure to consider all of the previous patterns and styles. Then, you can shop around to find a piece you'll love, and you can show off your Harry Potter love subtly or obviously.
Continue reading:
Best Harry Potter Scarf Ideas: Even A Wizard Needs To Stay Warm!