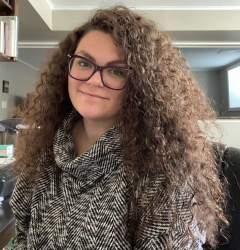 Latest posts by Candace Osmond
(see all)
Sometimes I just want to shout through a megaphone how much I love Harry Potter. This series took me by the throat at such a young age and hasn't let me go since. And if you're clicking on an article titled 'bets Harry Potter Nail Ideas," then I'm betting you're a fellow Potterhead. Harry Potter nails are a quick, cheap, and highly customizable way to let everyone know where your heart stands. And if you're short on ideas, here are some fantastic Harry Potter nail pictures to inspire.
Bottom Line Upfront
I have a major geek convention coming up, and these ideas were perfect to kickstart the spiraling mess of costume ideas in my head. I think I might attempt to do the Symbol of the Serpent idea! Wish me luck!
The Most Amazing Harry Potter Nail Ideas
Ready, Potterheads? This article took me twice as long as usual to construct because I kept getting distracted by the amazing nail ideas! I tried to pick a variety for all the houses and also a range of easy to hard designs.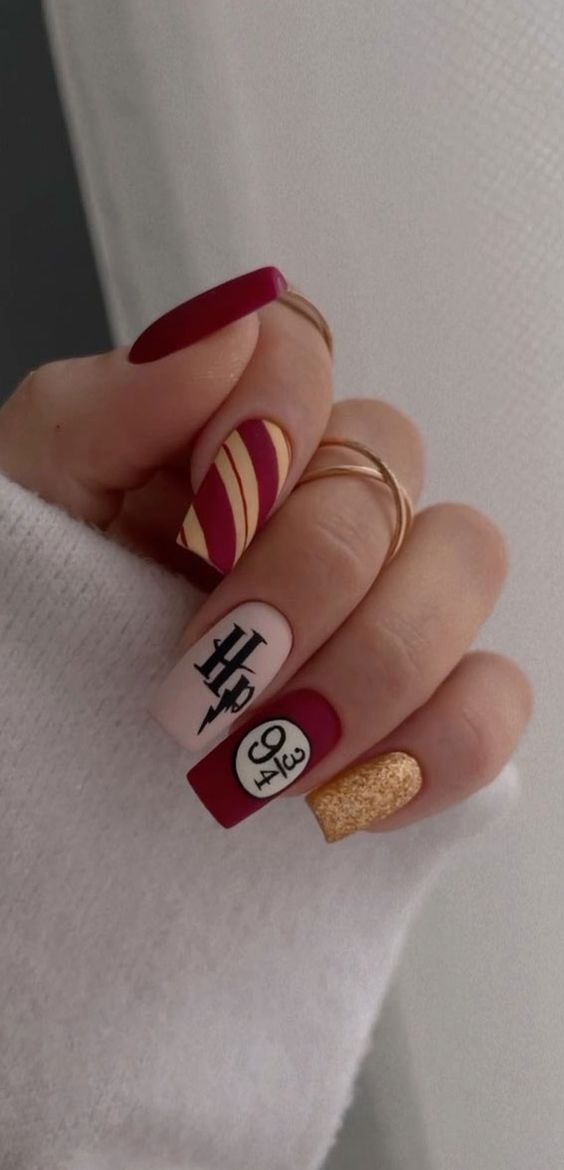 When it comes to the most classic Harry Potter nail design, many people envision a combination of gold and red. This is a perfect combo for people who want HP nails and aren't sure what design to go with. Each nail is different but stays within the theme, making this even more interesting. If the color combination doesn't hint at the theme, the Harry Potter logo and the train station 9 and ¾ won't leave room for interpretation.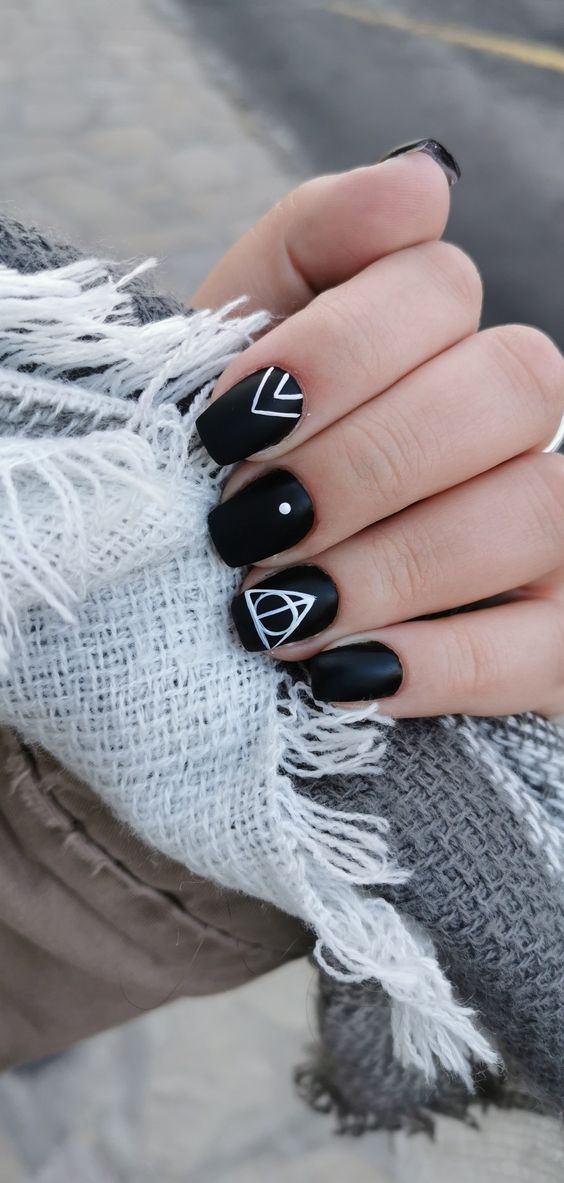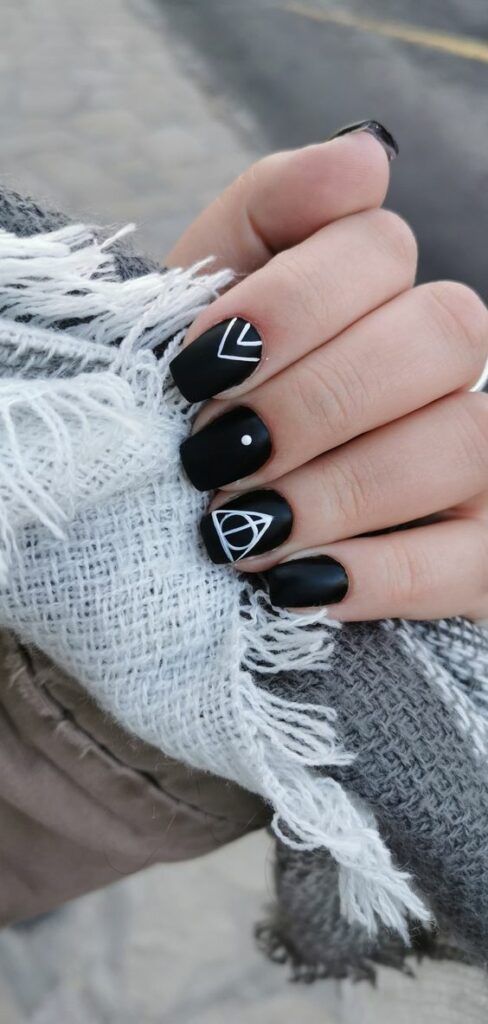 Every Harry Potter fan knows about the Deathly Hallows and what they represent. I'm totally in love with this simple idea, and I'm betting I could pull it off. Since the symbol is very easy to make, this is an excellent theme for those who like to make their nails at home. As you can see, the design is pretty simple. It uses a black nail polish background while the symbol is drawn using white polish.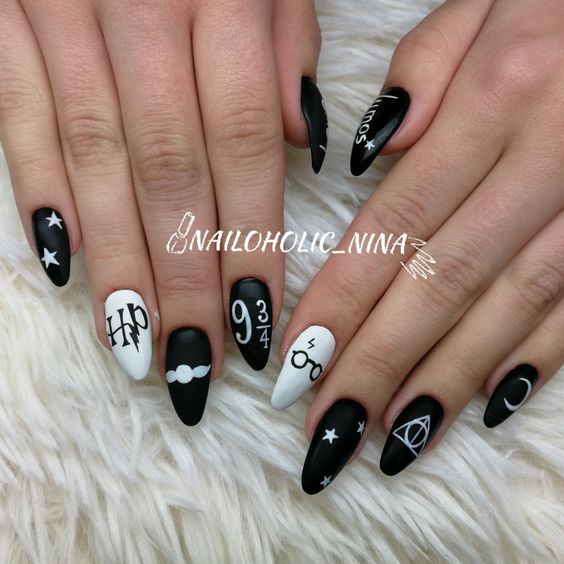 Similar to the design I showed you earlier, this one is also quite simple to make because you only need two nail polish colors. As you can see, many Harry Potter elements are found in this design, so if you're a fan of the series overall, you can use the different symbols you see throughout the movies and draw them on the nails.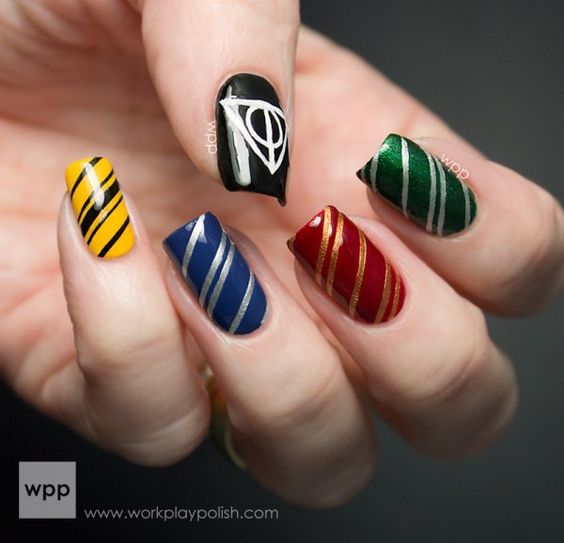 OMG! I love this idea! If you don't belong to one of the four houses, love them all equally, and don't want to choose sides, you can always opt for a manicure that combines all of them. Even the stripes on each nail aren't random since each nail uses the two colors specific to each house emblem.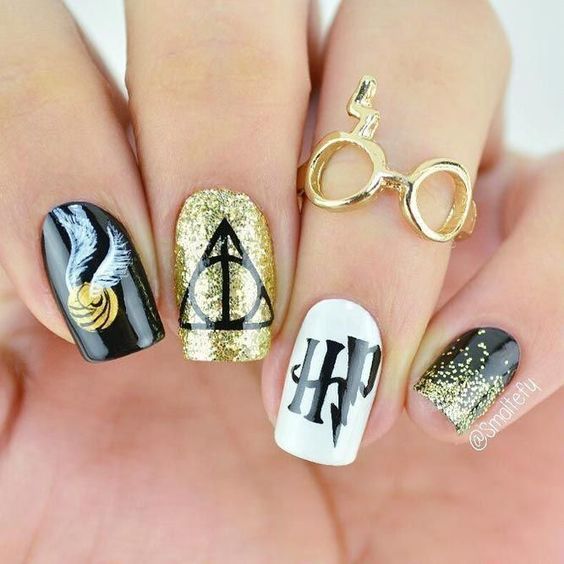 A black and gold Happy Potter nail theme seems very fitting since it would match many different outfits. Some pretty common elements here include the Harry Potter logo, the Deathly Hallows symbol, and even an adorable Quidditch ball. I also love that Harry Potter golden ring, as it matches the manicure perfectly.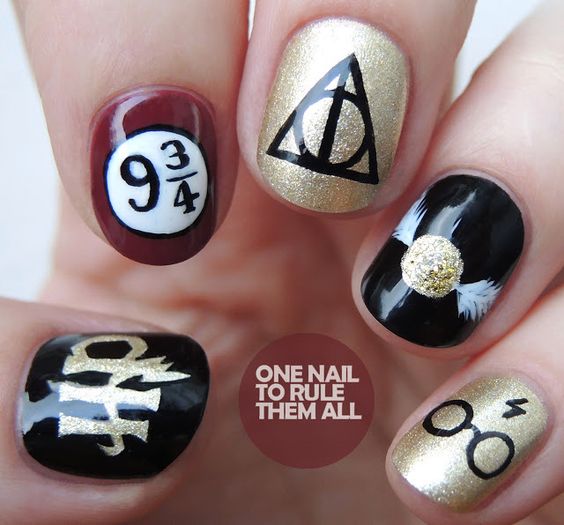 As a nail-biter, my kid would love this idea. Having short nails doesn't mean you can't enjoy a kickass Harry Potter nail theme. Most of the symbols can be adjusted to fit even shorter nails, such as the 9 and ¾ logo, the tiny Harry Potter glasses, the logo, the Quidditch ball, and the Deathly Hallows symbol. Gold, black, and red colors are always perfect for a classic HP manicure.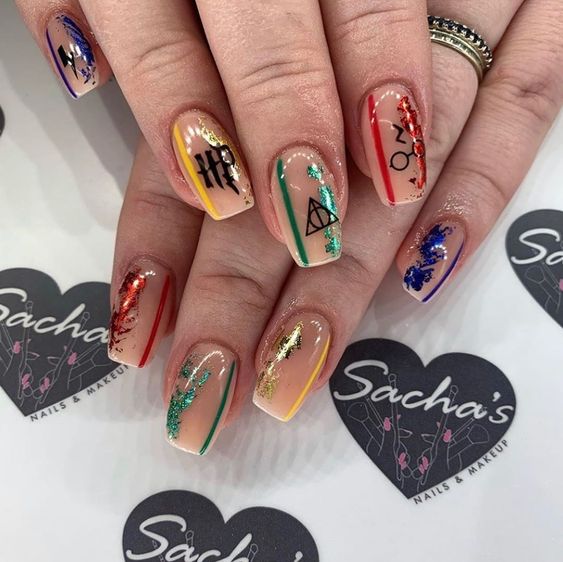 When you love Harry Potter but don't want nails that feel too heavy or too embellished, here is a more discreet manicure option to consider. You can see the houses' colors and some small HP symbols. You can keep the nude background or opt for transparent nail polish to give your nails a nice shine. The best part is that the symbols related to the HP universe are very easy to draw.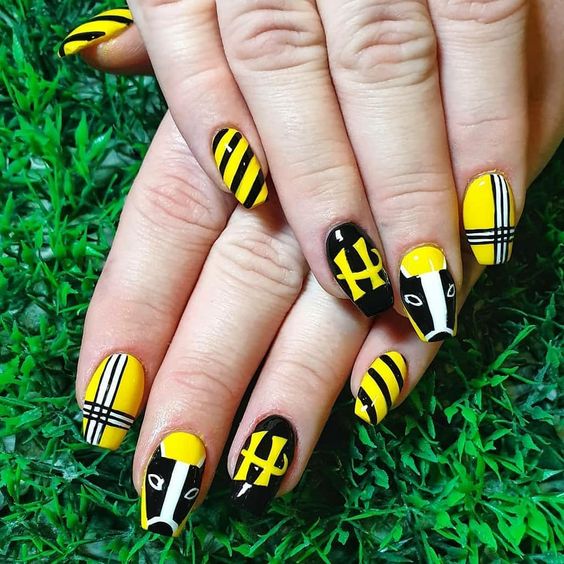 Hufflepuffs! Find your assigned Slytherin and get them to do this design for you! I love the pop of yellow against a dark background. You'd see these mails a mile away!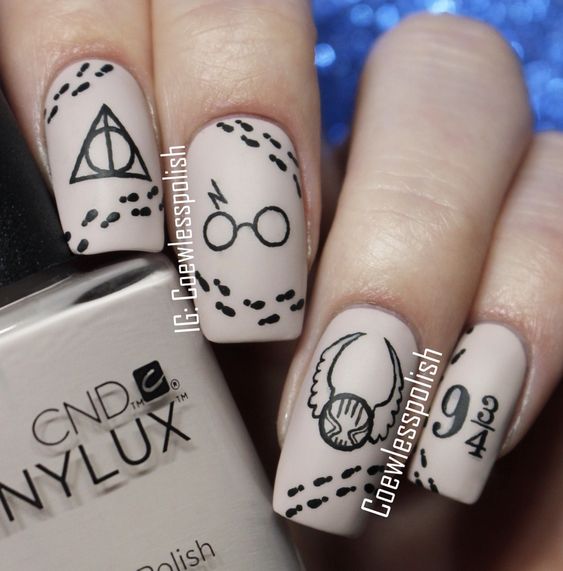 This is one of my favorite manicures on the list because it's so clean and easy to match with both elegant and more sporty outfits. The nude background is perfect for those who don't want their colorful nails to stand out. The HP symbols are beautifully drawn and easy to make even by someone with two left hands.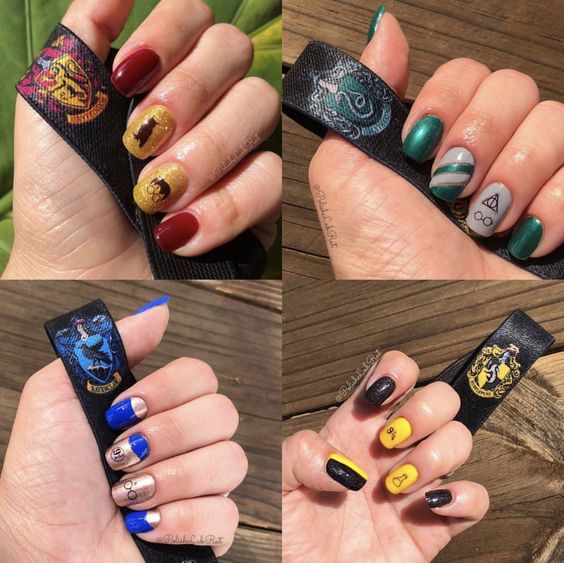 One of the concepts that most stuck with me after reading Harry Potter was that I could belong to one of the four Hogwarts houses. Each of them has its color scheme, mascot, emblem, motto, and set of values. Depending on which house you would belong to, you can choose it for your nails theme.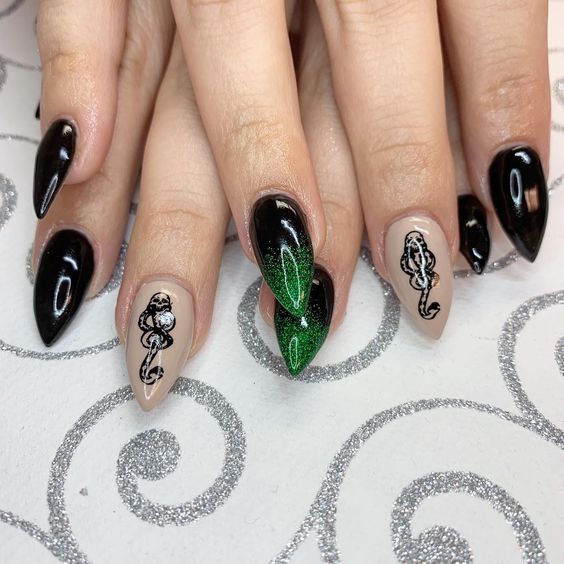 We Slytherins have a reputation for being the bad guys of the lot, but that's simply not true. Slytherins are known for being courageous, innovative, and extremely ambitious. If you belong to House Slytherin like me, don't be afraid to say it. Bonus: The black and green colors of the house look gorgeous on everyone's nails.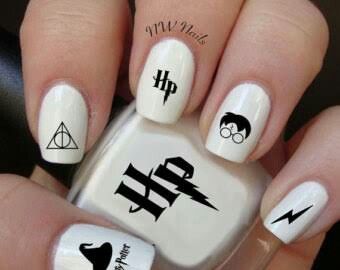 If you don't want to bother drawing some Harry Potter nail art, you always have nail stickers! Because the books and the franchise is huge, finding HP nail stickers is very easy. These are just placed on some kind of base, and then a transparent nail coat is applied on top to give your nails a nice sheen and keep the stickers in place.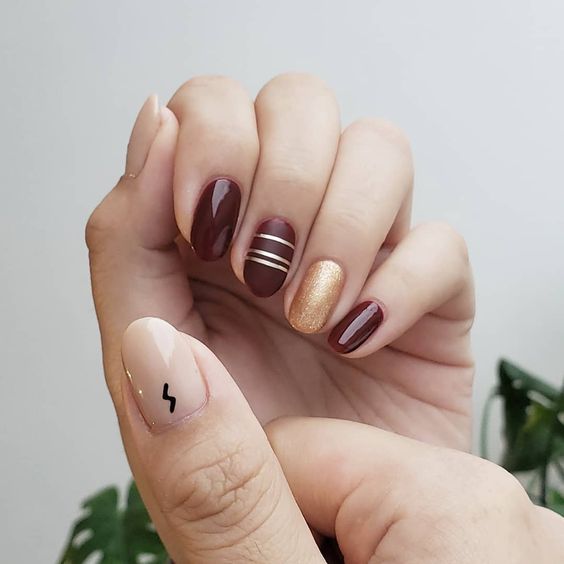 With discreet Gryffindor colors and a manicure that's so simple to make, anyone can do it. This is one of my favorite ideas in terms of simplicity and saving time. With just a couple of colors, you can get such a clean manicure that works regardless of how much talent you have in doing your nails. Consider an oval shape if you're not a fan of long nails.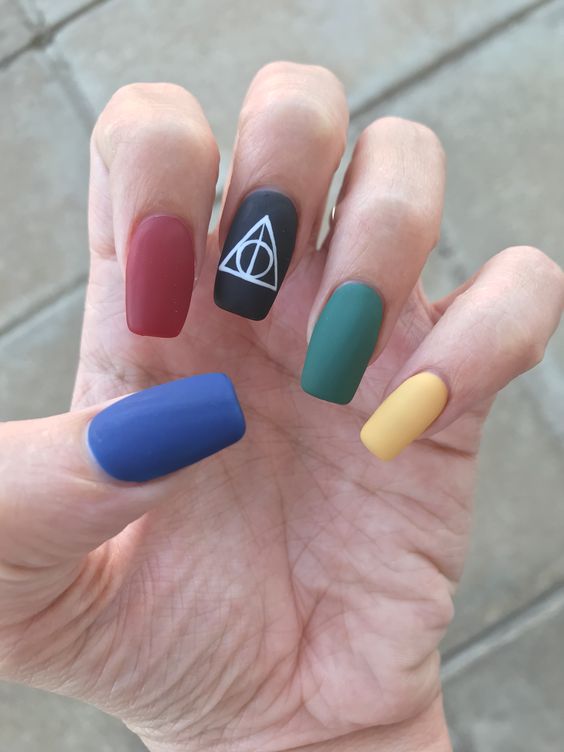 I don't know what I like more about this nail-do: the combination of colors or the fact that they have an elegant matte coat which makes them look so unique. These nails combine the four main colors of the four Hogwarts houses, with the fifth nail serving as a canvas for the Deathly Hallows symbol.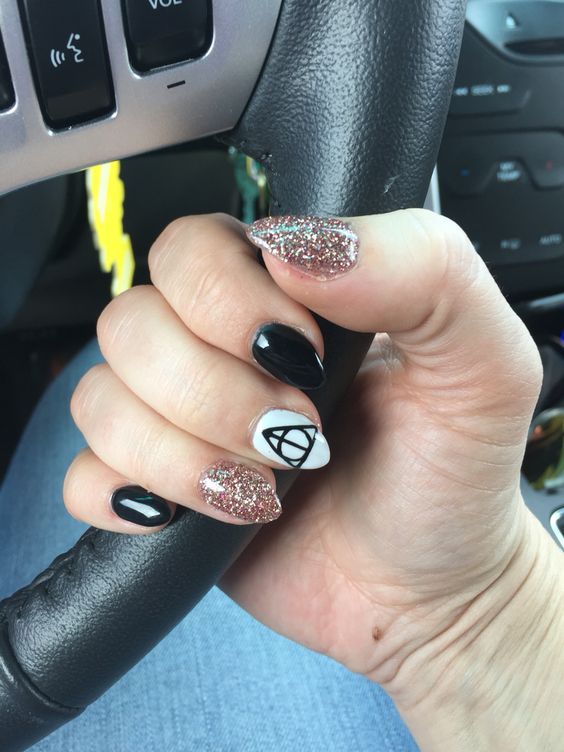 Glitter might not be the first thing that comes to mind when thinking about Harry Potter nails but look at how gorgeous a couple of glitter nails look when making a classier manicure. With black and white, you can never go wrong when making any manicure, especially when you want them to pose as background for drawings and symbols.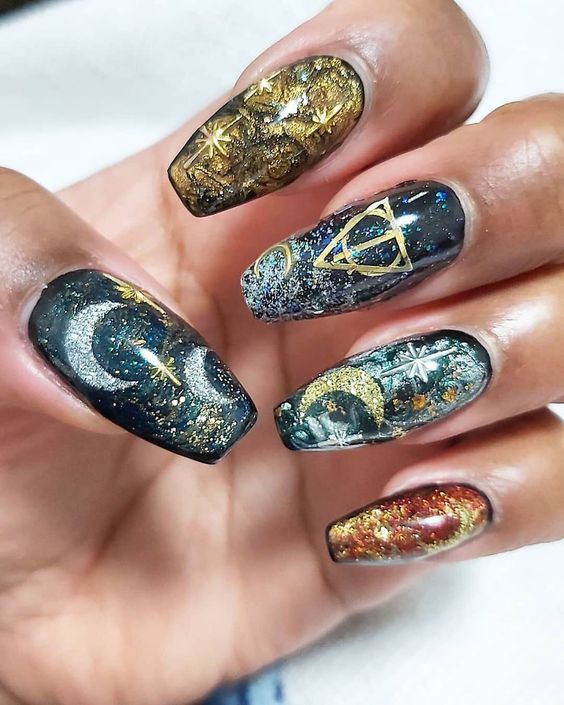 Who doesn't love glitter? I know I do! The magical world of Harry Potter can be combined with glitter to create depth to nails such as these. Notice that the sky is the primary theme, and, if it weren't for the vague Deathly Hallows symbol and the colors of the nails, we wouldn't have known these nails are also Harry Potter themed.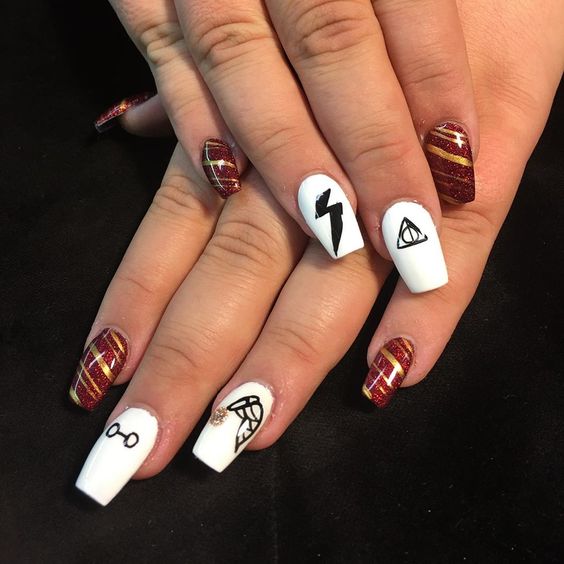 Harry, Ron, and Hermione all belong to the Hogwarts House Gryffindor, which is recognized for producing courageous and adventurous wizards. Because of their association with the element of fire, their primary colors are red and gold. Perfect for those who want a clean and simple nail idea, this color combination is one worth trying.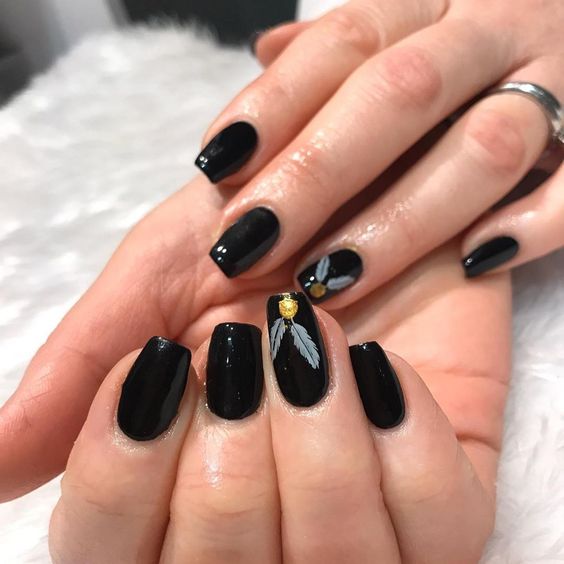 Adorn your Harry Potter nails with the playful Golden Snitch. It's the size of a walnut and is shaped like a little golden spherical with silver wings attached to it. It flies around the Quidditch pitch at incredible speeds, occasionally stopping to hover in one spot. It's easy to draw and makes a cute symbol for all those who love Harry Potter.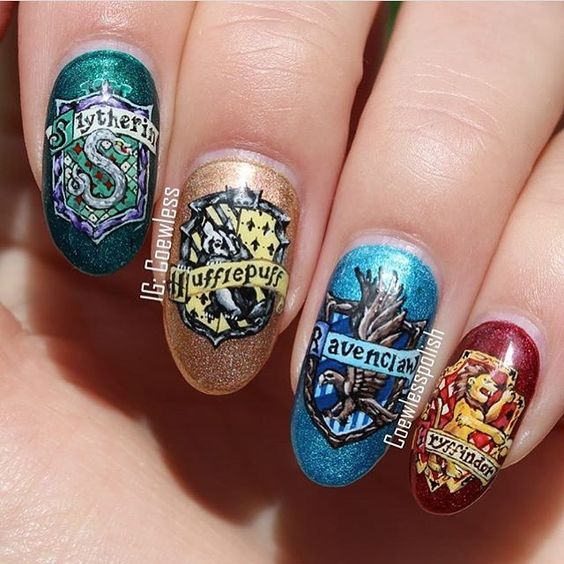 Woah…These are the type of Harry Potter nails that you won't be able to make unless you have a lot of patience, are an experimented nail technician, some sort of artist, or use nail stickers. The level of detail on this is magnificent, so this is the type of nail idea that you might want to try only if you're ready to hold onto this manicure for a few weeks.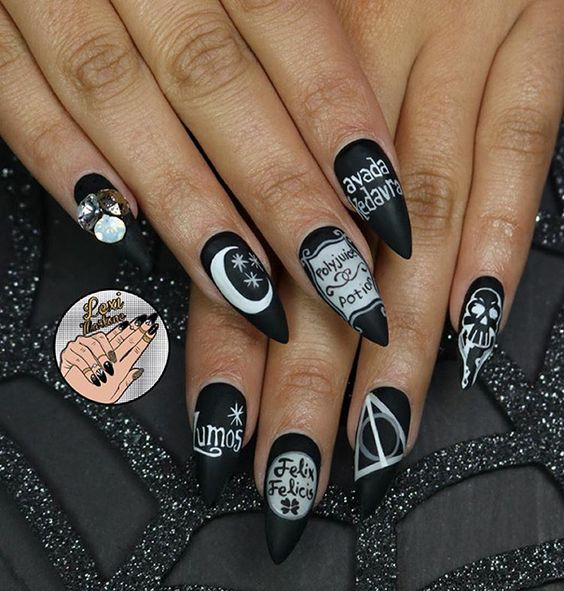 With some black and white nail polish and a little bit of patience, you can make your unique Harry Potter nails by drawing the elements that you liked most from the books and the movies. For instance, here we have some spells, a starry night sky, and the Deathly Hallows symbol.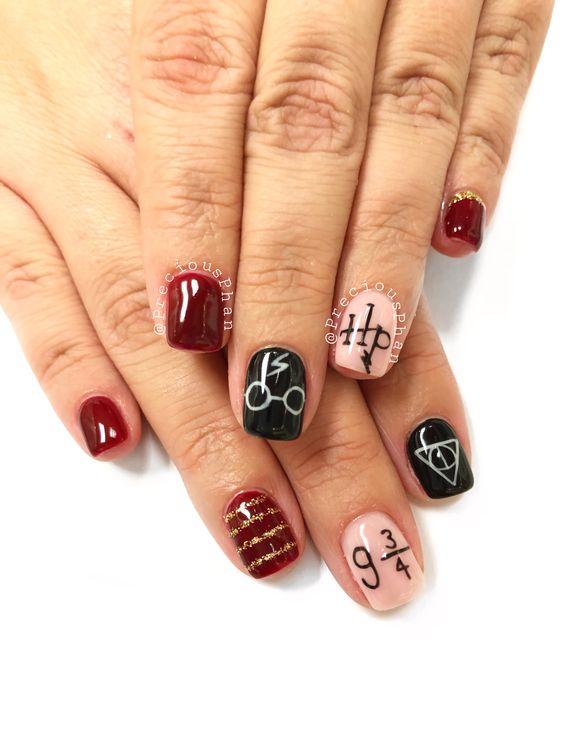 Once again, we see a manicure that only requires three nail polish colors and one golden glitter. You can go with different variations of this manicure because there are so many symbols from the HP universe you can choose from. You can also use less red if you don't want the manicure to stand out too much.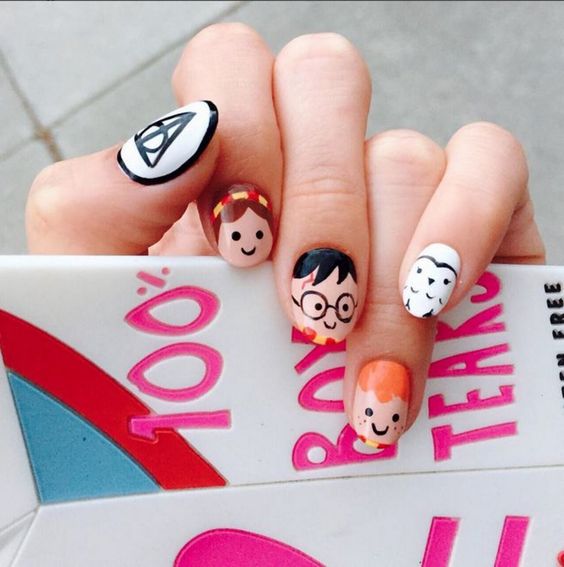 No one could picture the Harry Potter stories without Hermione and Ron always backing up the boy who lived. The magnificent trio is a wonderful idea for some Harry Potter-themed nails. As you can see, they are not difficult to draw, especially since their faces are like a Lego theme and aren't that rich in detail.
I love this combination of colors (probably part of why I'm a Ravenclaw myself), and I also love the fact that this is another manicure that anyone could make at home by themselves. From owls to Patronus deer, these nails have different elements on a black, white, and navy-blue background. The colors make a stunning combination.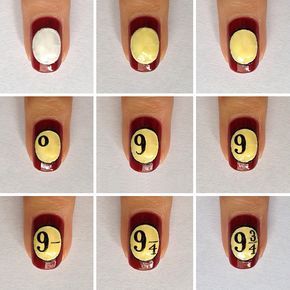 For you non-Potterheads, platforms nine and three-quarters are the name of the train platform where students board the Hogwarts Express. The Hogwarts Express is a crimson steam engine that transports students to and from the school. A lot of Harry Potter nail ideas include at least one drawing of 9 ¾. This image is like a complete tutorial on how to draw the symbol.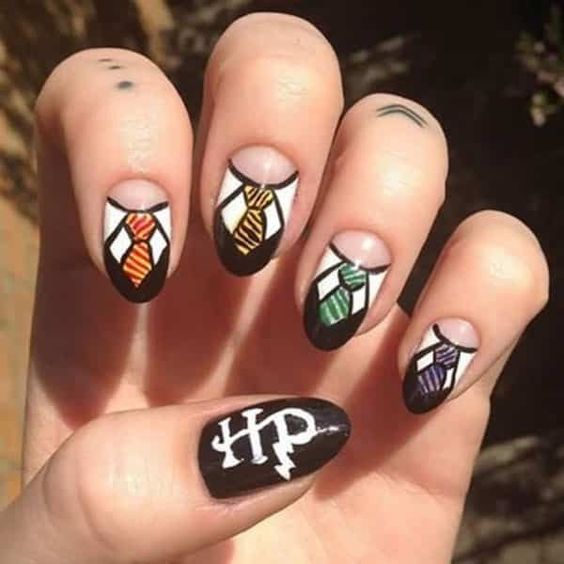 How adorable are these Harry Potter uniforms that can be distinguished thanks to the different colored ties? I love this! Since the manicure is mostly made of lines, it's pretty easy to replicate, so if you're in a need of a quick HP nail idea, this is worth trying. It's something you clearly won't see on everyone's nails.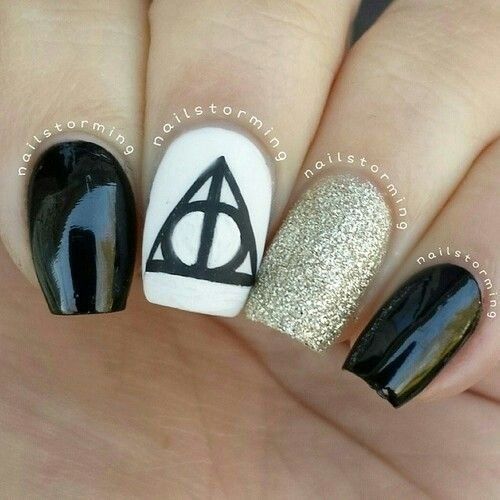 When it comes to elegant HP nails, here is a color combo that can work miracles. Using black, gold, and white, you can create a remarkable manicure that's discreet and looks amazing. If you exclude the Deathly Hallows symbol, this is a manicure that could make even if you were not an HP fan. The design is also simple to make since it's mostly nail painting and not that many drawings.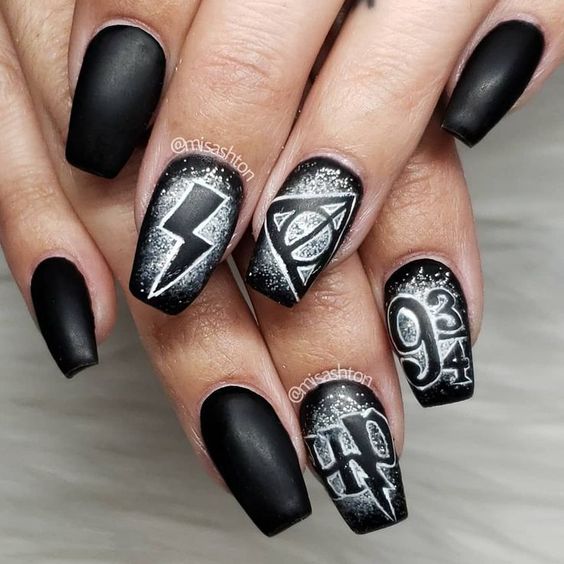 Hear me out: if you are not that good at painting the nails on your left hand, then how about making some small cardboard or paper stencils? Paint your nails black, put the stencils with HP symbols on top, and brush some white nail polish on top. It makes up for a wonderful effect, and the color combination is reminiscent of a shimmery night sky.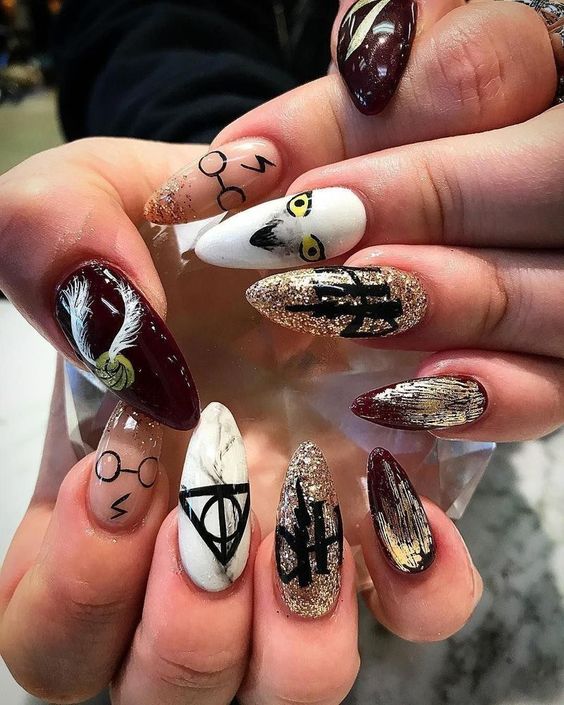 You can always go nuts with how much glitter you use on a Harry Potter nail theme. You can see a lot of different HP elements, like the Golden Snitch, the owl, the glasses, the lightning mark on Harry's forehead, and even the HP logo. I love how some of the nails are just a black background with brushed golden polish on top.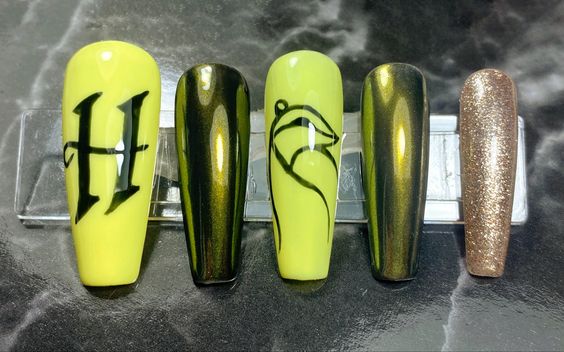 If there's at least one thing that Covid taught us when it comes to making your manicure at home is that press-on nails are your best friends. For Hufflepuffs, these nails are an amazing idea. Since press-on nails are so easy to apply, you can switch them anytime if you ever get tired of the design.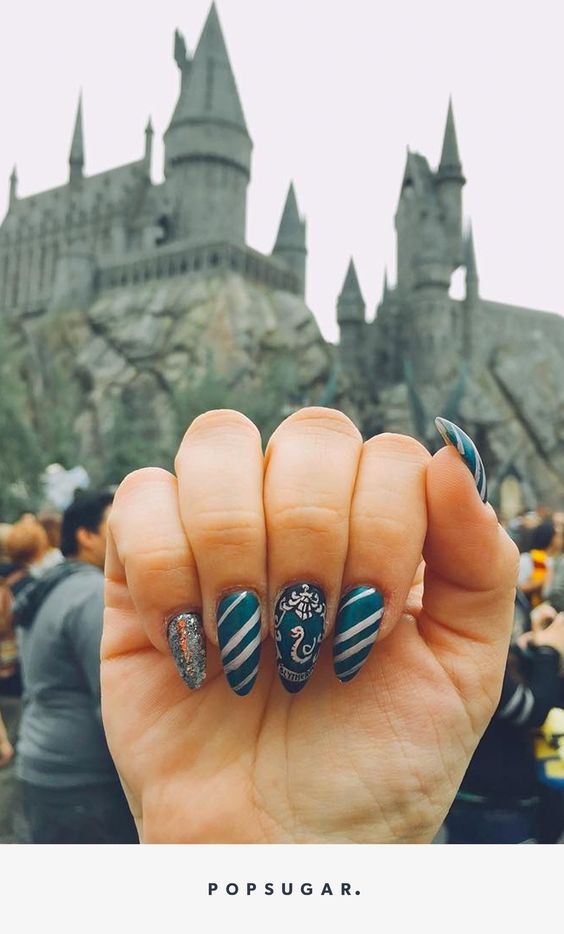 I just love the combination between green and silver, and that's what Slytherin nails are all about. With a smidge of patience, you can make the house symbol yourself. If you're not a fan of stiletto nails, that's even better, as other nail shapes will give you more room to play with if you want to make a larger house emblem.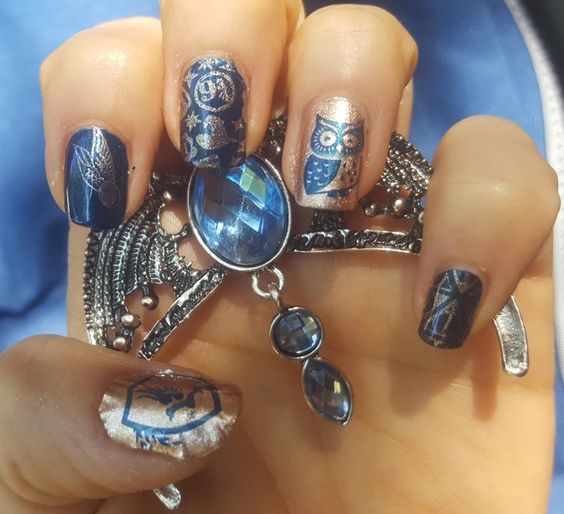 Granted, I think the design on the thumb could have been applied better, but in terms of ideas for Ravenclaw nails, I think these are awesome. I love the adorable owl, and the combination of blue and silver feels timeless.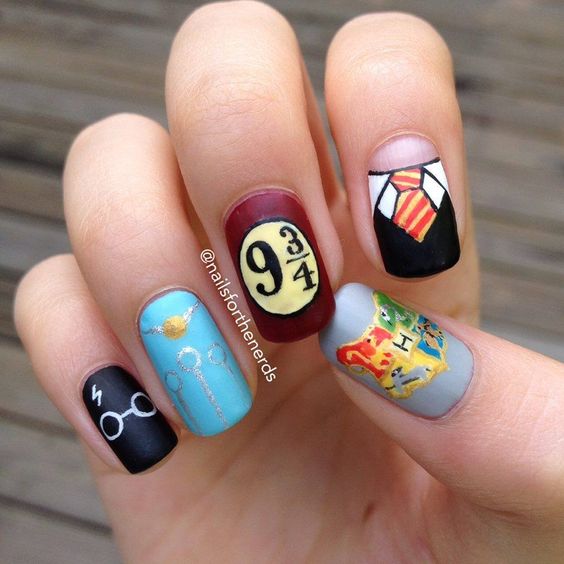 We welcome yet another adorable set of Harry Potter nails that combine different elements that we saw throughout the movies. I love how HP nails are different from one another. This one shows the Hogwarts crest, HP's uniform, the symbol for platforms 9 and ¾, a Quiddich field, and Harry's glasses and forehead mark.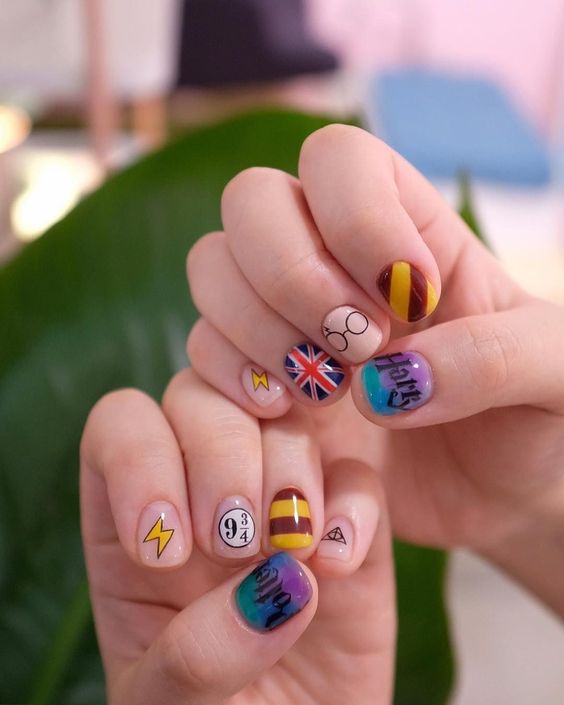 Harry Potter is a nail theme that allows you to get playful with the design. Take a look at these cute nails that work for those aged 10 to 100. Well, you probably won't see grandma with these nails, but the color choices are just too darn cute!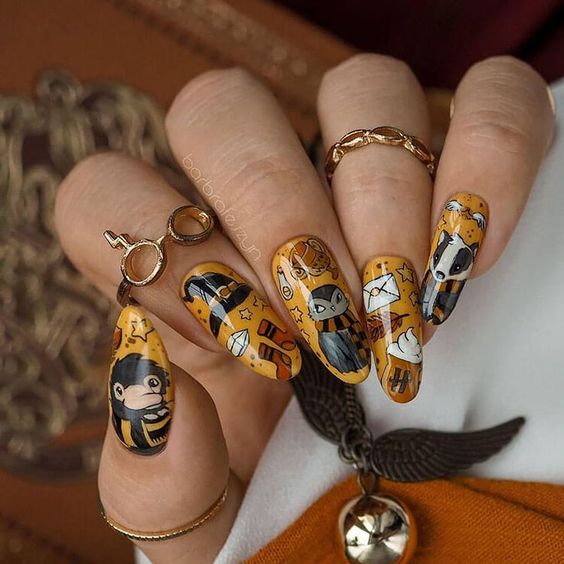 Amazing Beasts is related to this magical universe, and the movies are widely appreciated for the… well… amazing beasts! These colors are perfect for the fall and the animals are the most adorable thing ever! You can also find different HP elements, such as the letter of acceptance and a goblet.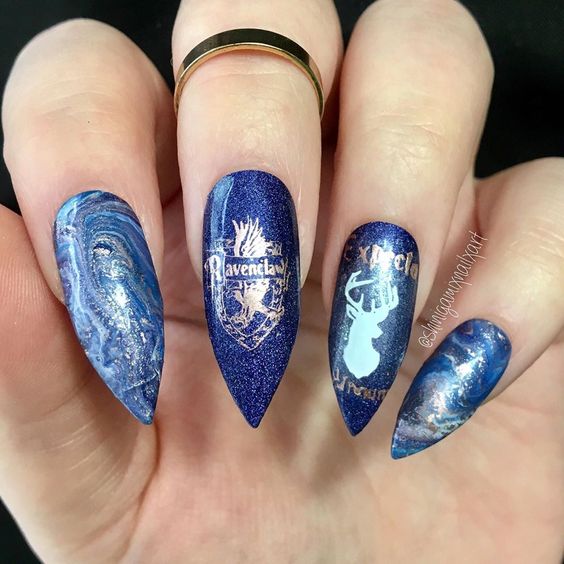 An eye-catching combination of blue and silver marbling and lovely blue glitter adorns this manicure, making it a standout amongst others. The silver swirls look mesmerizing, while the house emblem is rich in details and so perfectly made that one can't help but wonder if it's a sticker or if someone drew it manually.
The Patronus is a type of magic that even the most experienced wizards find difficult to master. Harry casting the Patronus spell was an iconic moment in both the books and the movies. Granted, it's not the easiest option on this list, but doesn't it look gorgeous?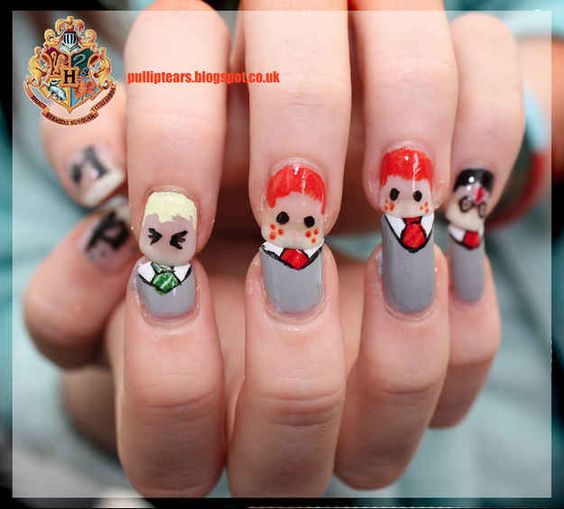 Look at those cute Rons, Dracos, and Harrys. They aren't that difficult to make either, especially since their uniforms are almost identical. You don't have to go crazy on the details, as the hair is pretty much what makes you tell these characters apart. You also don't need that many colors, making it a great manicure idea if you haven't invested much money in nail polish.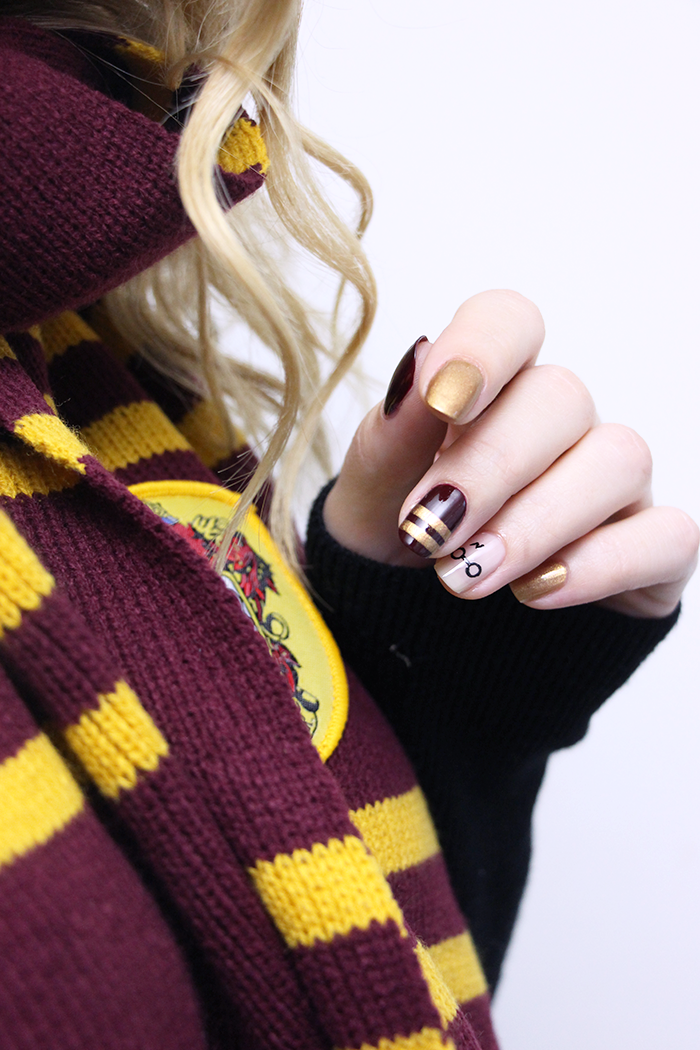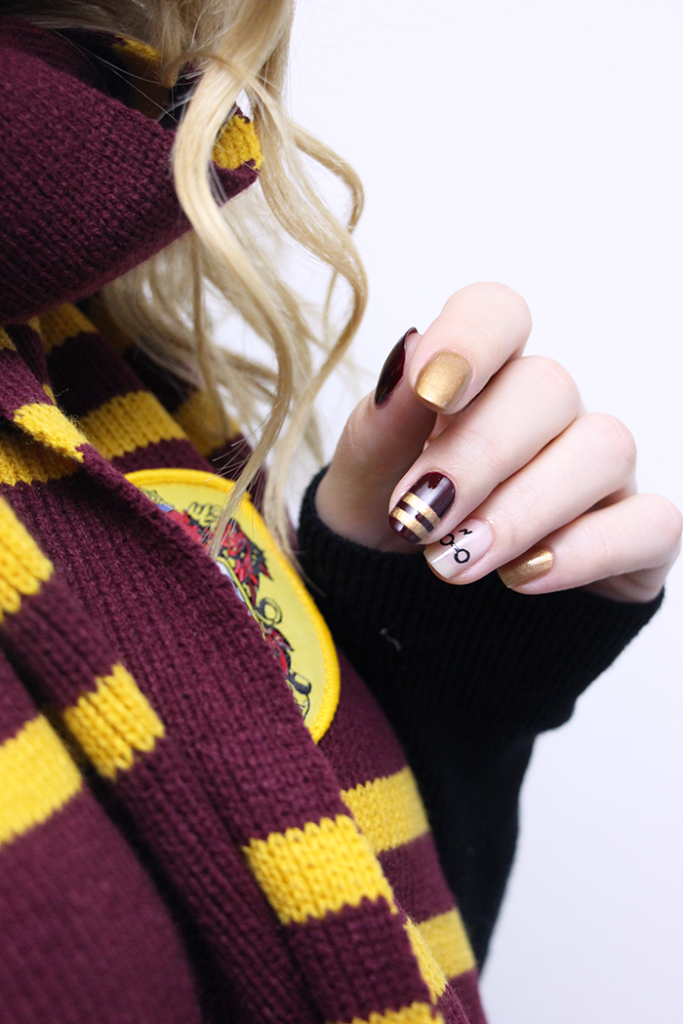 United in the fight against Lord Voldemort and learning how to become master witches and wizards, Harry Potter fans need to be able to showcase their love with a cool manicure. If you want some easy-to-recognize, not too bold, but still beautiful, behold one more combination of red and gold.
Types of Nails
1. Press On
This particular type of nail uses different kinds of adhesive; they can last quite a long. If you put these nails with strong nail glue, your manicure can last a solid two weeks. However, because they are so easy to change, you will be tempted to switch to a new set faster.
Pros
Very easy to change.
Easy to apply.
They are available in loads of designs.
Cons
They are not as resistant as other manicures.
2. Acrylic
A nail technician will make a solid nail overlay or enhancement by combining a liquid (monomer) with a powder (polymer) to do so. This will result in the enhancement sitting on top of the natural nail. Ready-made versions of acrylic nails are also available. When one mentions the term "fake nails," the majority of people immediately think of these.
Pros
You control the shape of the nail.
You can make short nails longer.
Great for nail art.
Cons
They are prone to wear and tear.
3. Shellac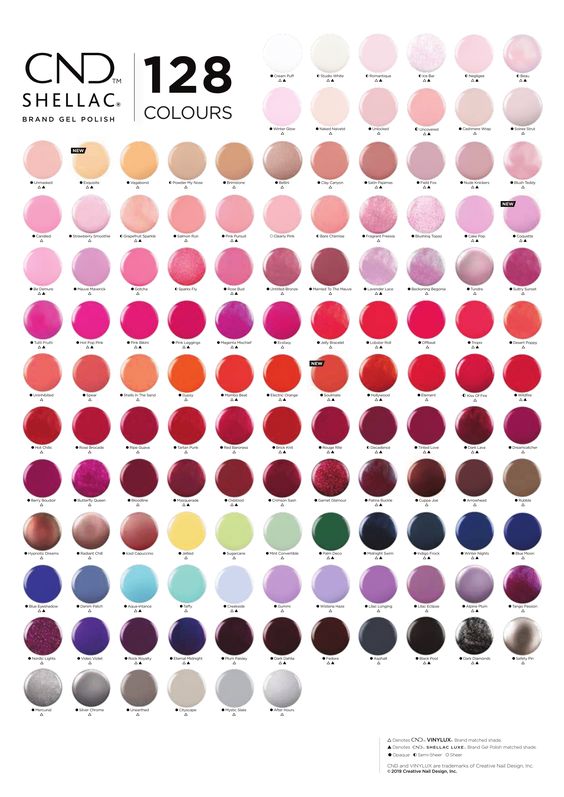 Shellac is a hybrid polish-gel product that is applied to the nails like a regular nail lacquer but has the durability of a gel. This product is only available for professional use in nail salons. It combines the color and sheen of polish with the long-wearing properties of a gel, and you don't have to wait for it to dry.
Pros
The last 2 weeks or more.
It's one of the healthiest manicures for your nails.
No downtime between applications.
Cons
They can damage the nails if not applied properly.
4. Gel
A gel manicure involves the application of a gel-based polish and necessitates the use of a UV or LED light to cure and secure it to the nail. Because the hard gel is not porous, the only way to remove it once it has served its purpose is to file it away. If you go to a place where the technicians know what they are doing, you will be able to see exactly where the damage begins and ends on the nail plate.
Pros
Long nail shine.
You can adjust the length of the nail.
Great if you want to have longer nails.
Cons
They are best done by a professional.
5. Dip Powder
The dip powder nail technique, which is also sometimes referred to as SNS nails, implies either applying the dip powder directly on the nail or dipping the nail in colored powder and then applying a clear sealant on top of the powdered nail. The finished product is a manicure that lasts longer and has a lower risk of chipping for up to one month. Said powder is protected by multiple layers of glue, and there is no need to wait for it to dry or use UV or LED lights. In contrast to a standard polish manicure, the preparation for a dip powder manicure is carried out in an absolutely dry environment. This is because dehydrated nails are necessary for the product to adhere to the nail entirely. The use of additional moisture, such as water or oil, might cause the dip powder manicure to lift and harms its longevity.
Pros
They last longer than gel nails.
No dry time is required.
You can do them at home.
Cons
Requires rest between manicures (for nail health).
Nail Styles
1. Stiletto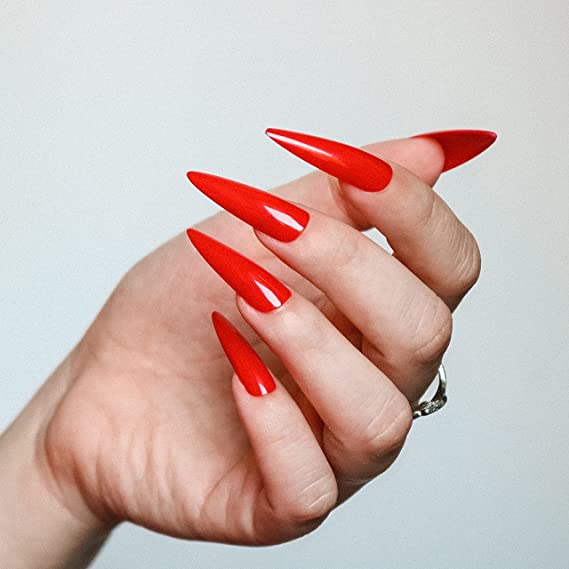 The dramatic effect is maximized with stiletto nails. The shaping of this spiked appearance begins the same as that of its nuttier twin, the almond, but it culminates in a point that is considerably sharper and has a much larger base.
2. French Tip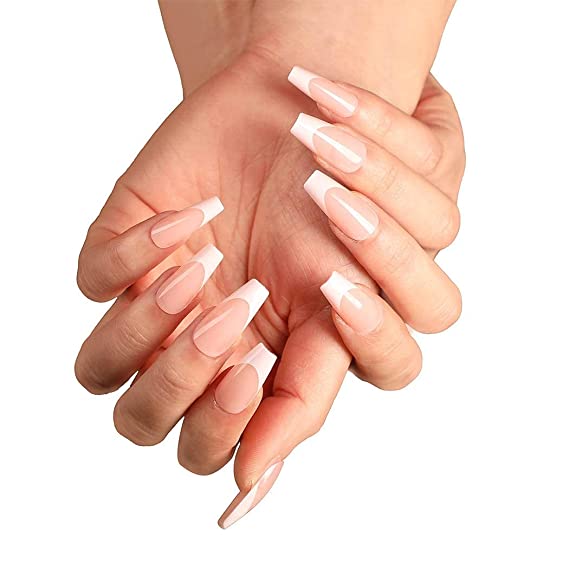 A French tip fits on the nail and is used to produce the look of a French manicure. French tips are typically white and can be shaped into any desired pattern. Because they act as tip guides, French tips are an excellent method for efficiently achieving the look of a French manicure using an acrylic or gel system.
3. Almond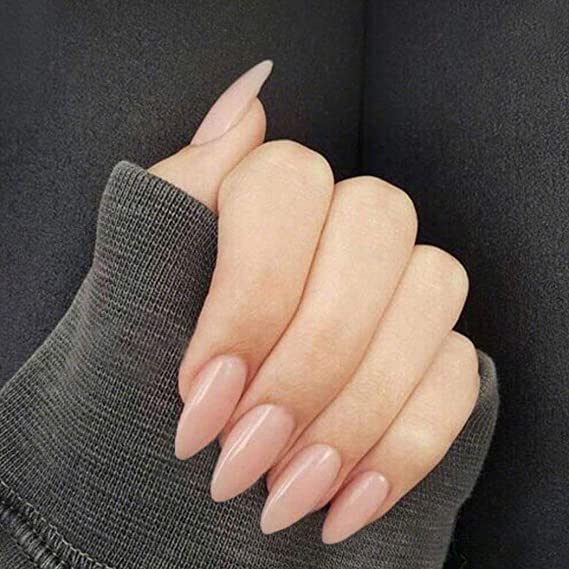 The sides of almond nails are shaped with filings. The wall of the nail is tapered such that it culminates in a circular peak, which is reminiscent of the shape of a real almond. Because natural nails are typically not strong enough to support this structure on their own, the majority of almond manicures require additional support from gel or acyclic.
4. Rounded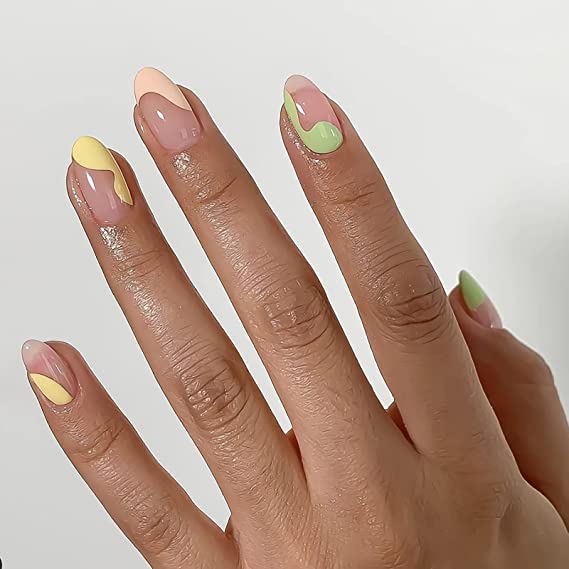 Those individuals who appreciate maintaining a shorter length for their fingernails also gravitate toward the classic round shape. They start with straight sides, but they are curved as you get closer to the edges. Square nails have straight sides, whereas round nails have curved sides.
5. Square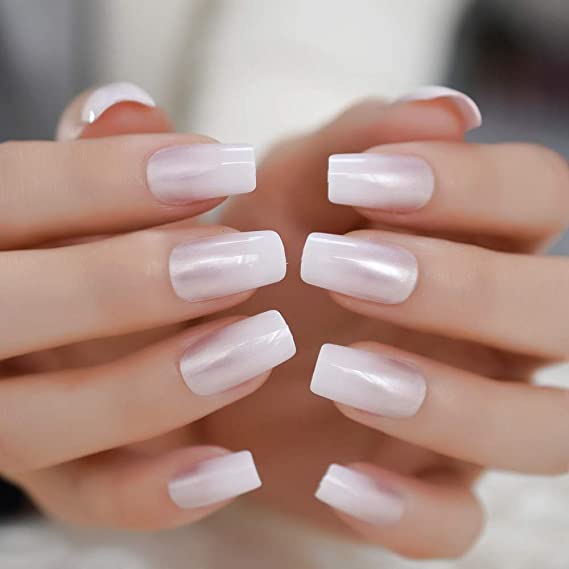 The square nail shape is quite easy to understand on its own. Nails with square heads are, as their name implies, square; they have a flat top and corners that are sharp and straight. This form neither tapers inward nor flares outward, making it an excellent choice for people with short nails or long, thin nail beds.
6. Ballerina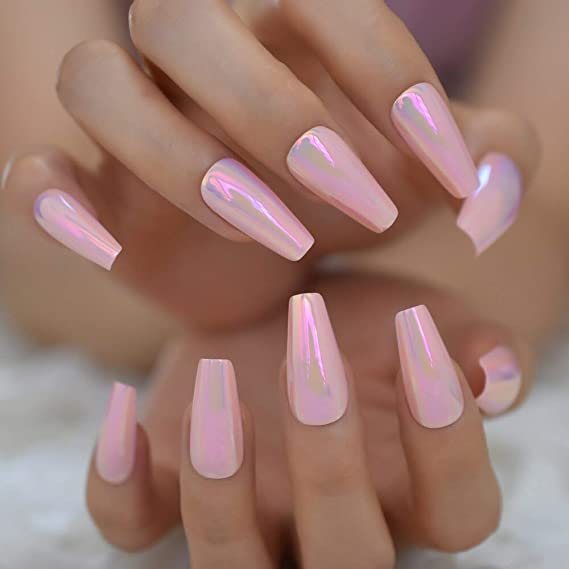 Also known as coffin nails, the ballerina nail style is virtually the same as the stiletto nail, with the exception that the tip of the nail is square rather than sharp.
7. Lipstick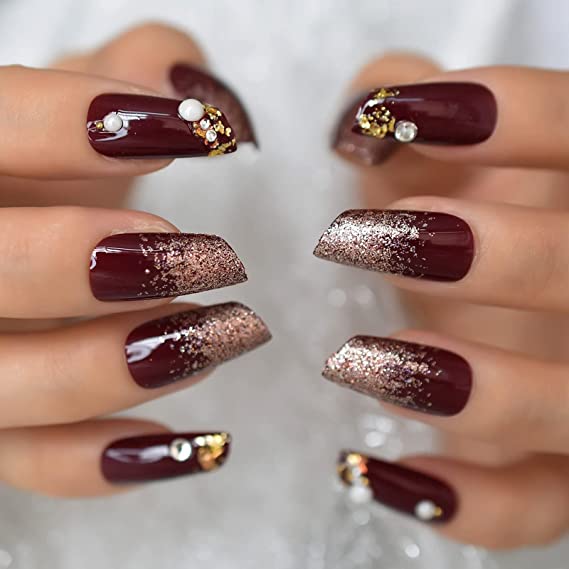 The angle of a new lipstick served as an idea for this particular design. This squared manicure style slants diagonally to create a true one-of-a-kind nail shape. It mimics the look of your favorite hue.
8. Arrow Head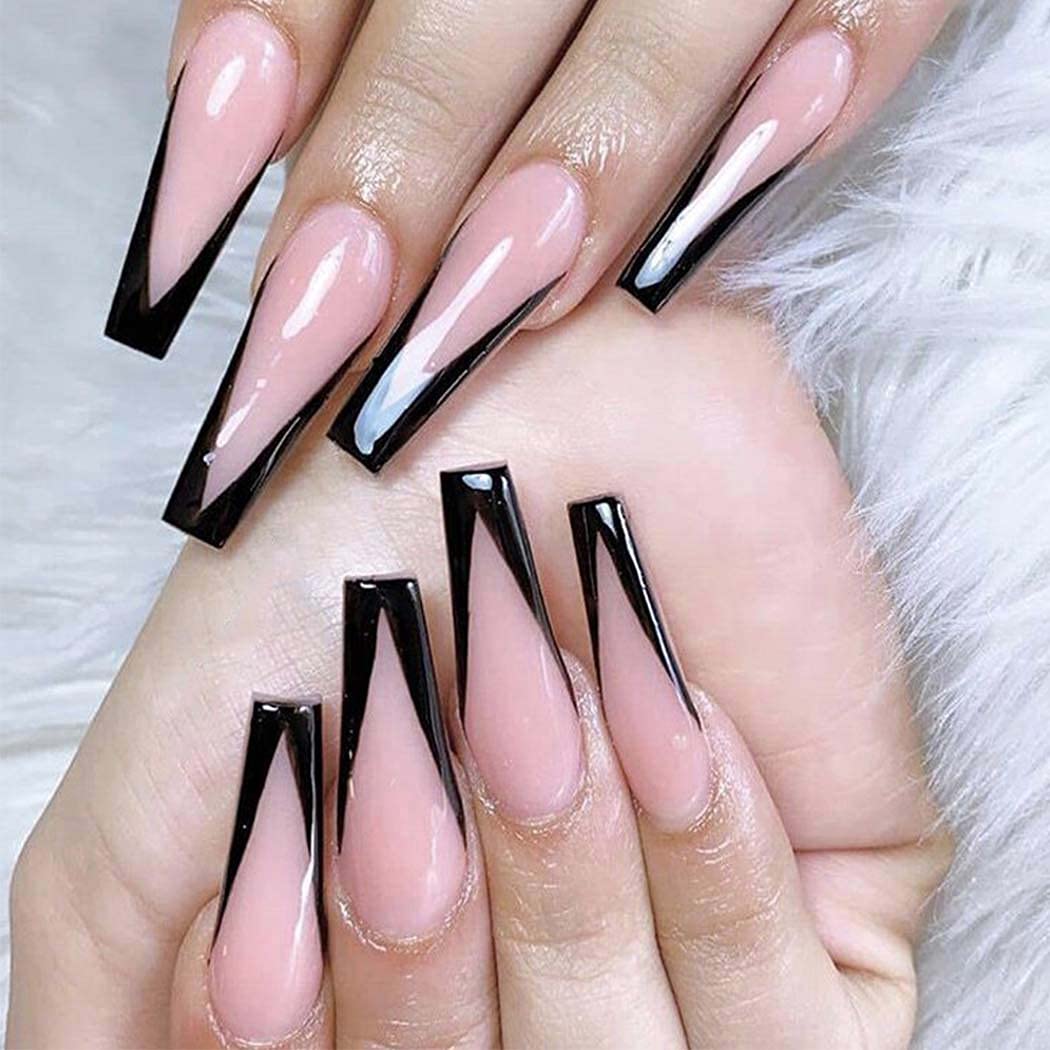 Arrowhead nails are a softer alternative to the more aggressive stiletto nail shape. The point is made more succinctly and subtly.
FAQs
Question: What is the Most Popular Type of Nail?
Answer: Square nails are very popular right now amongst celebrities but always choose whatever nail style you fancy the most.
Question: What is the Difference Between Nails and Acrylics?
Answer: Acrylics are made up of a liquid monomer and a powdered polymer, which are mixed to create a paste that is then glued to the native nail. After that, the proper shape is given to it.
Question: What is the Healthiest Option for your Nails?
Answer: The healthiest option is to go with a classic manicure. Gel and acrylic manicures will always pose a risk of damaging your natural nail. Even when you constantly use regular nail polish, allows your nails to breathe from time to time.
Top Picks
Best Gryffindor Nails: The Witty Gryffindor
Best Hufflepuff Nails: Press On Hufflepuffs
Best Slytherin Nails: Symbol of the Serpent
Best Ravenclaw Nails: Ravenous Ravenclaw
The End
These are some of our favorite nail art designs, from characters you know and love to intricate house crests, we're confident you'll find something that inspires you. You should try the Symbol of the Serpent idea with me if you're a fellow Slytherin! Muggles need not be concerned if you lack a steady hand or a degree in fine art. Many of Harry Potter's most well-known designs, from his scar to the Deathly Hallows, are available for you to recreate at home. Now, pop over t our site to check out more awesome designs!
Continue reading:
Best Harry Potter Themed Earrings for Fans
Ultimate Harry Potter Bookends Guide