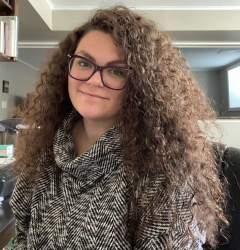 Latest posts by Candace Osmond
(see all)
Welcome, witches and wizards! I've got the best Harry Potter puzzles, both physical and digital. Curious about what types of Harry Potter puzzles have been made? Wondering which puzzle is the best fit for you? Keep reading because I'll cover everything you want to know in the material below. Let's get going to Platform 9 ¾ so we won't miss the Hogwarts Express to a puzzle-palooza of a lifetime!
Bottom Line Upfront
If you haven't guessed by now, I'm a massive Potterhead. but I actually haven't done any of the puzzles. So, I just might grab the Aquarius Harry Potter Puzzle Hogwarts Castle to try!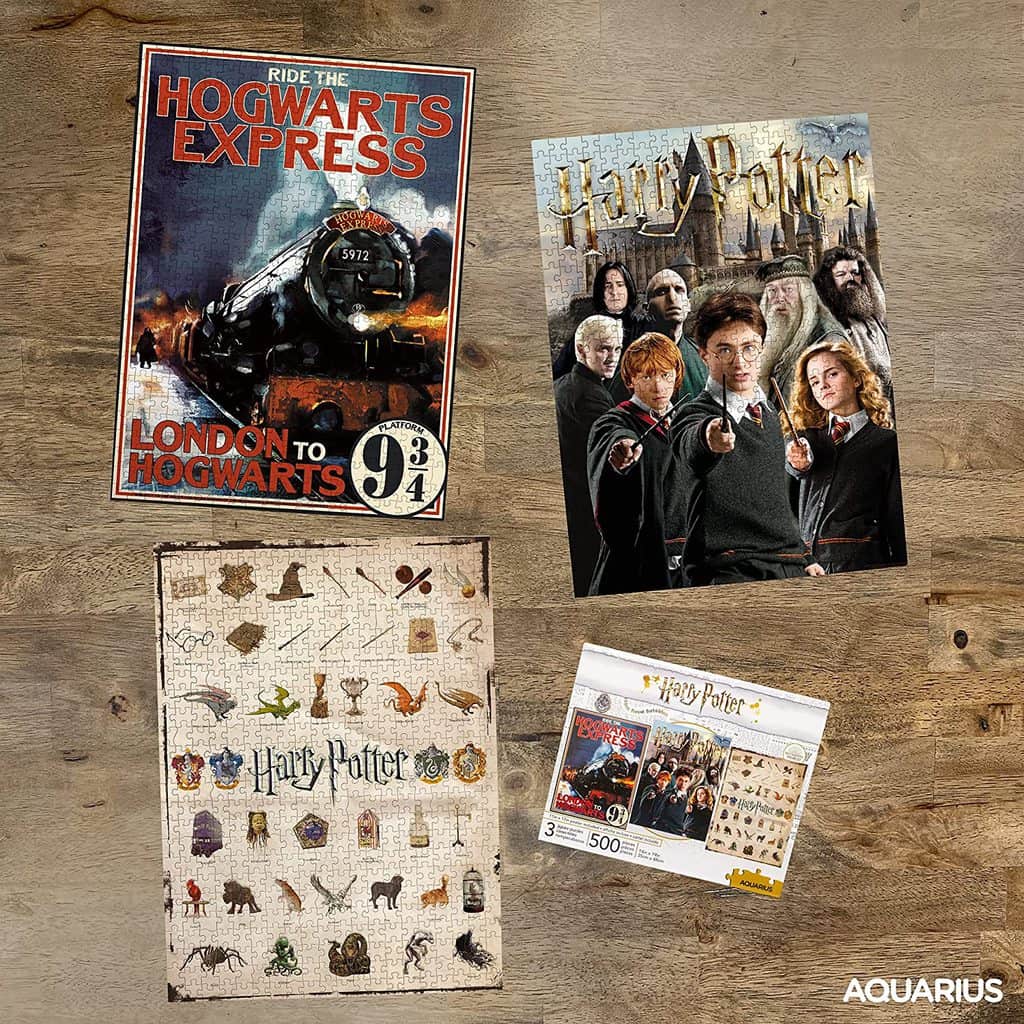 Top Picks
I've got 12 top-rated Harry Potter puzzles to show you, but these 3 stand out as the shining stars of the bunch. For best overall features, best digital puzzle, and best puzzle for kids, you won't be able to beat these.
Types of Harry Potter Puzzles
There are more types of puzzles than your standard jigsaw puzzle. In case you're unfamiliar with your options, I'll give a brief explanation of each popular puzzle type here.
Jigsaw: This kind of puzzle is usually made from paperboard. You assemble this puzzle into a flat board that forms a picture.
Crossword: For this puzzle, you'll have to correctly guess which word goes in which blank based on clues given to you. For example, the puzzle may tell you that 11 across is "the most ambitious house." This means you would write "Slytherin" in that blank.
Word Searches: In this type of puzzle, you look for words that have been scattered in with random letters. A Harry Potter puzzle might have you look for words like, "Hogwarts," "Muggle," and "Potions."
Apps: You can download lots of free puzzles to solve on your phone. Digital puzzles can be like any kind of puzzle we've talked about, except they're electronic!
3D: Like a jigsaw puzzle, 3D puzzles are meant to be assembled out of a set number of puzzle pieces. Instead of a flat picture, these puzzle pieces come together to form a 3D model.
Tips for Choosing the Right Harry Potter Puzzle for You
This section summarizes how to find a puzzle that fits your skill level and budget. I'll go over how to ascertain the quality of the puzzle you've got your eyes on, too, so that you buy a product that's made to last.
Skill Level
Check the age range that the puzzle you want is meant for. If you're buying a puzzle as a gift to a child, make sure they're at or above the recommended age range before you buy it for them. If you're an adult buying for you, consider how much time you want to put into assembling the puzzle. Some puzzles have 5,000+ pieces, which is going to be a commitment.
Quality
You don't have to buy officially licensed Harry Potter merchandise to receive a top-quality puzzle, but buying official merchandise does mean you're assured of the quality. Check the customer reviews to make sure the puzzle you want has received positive attention. If you want to go the extra mile, do some research on the brand you're buying from.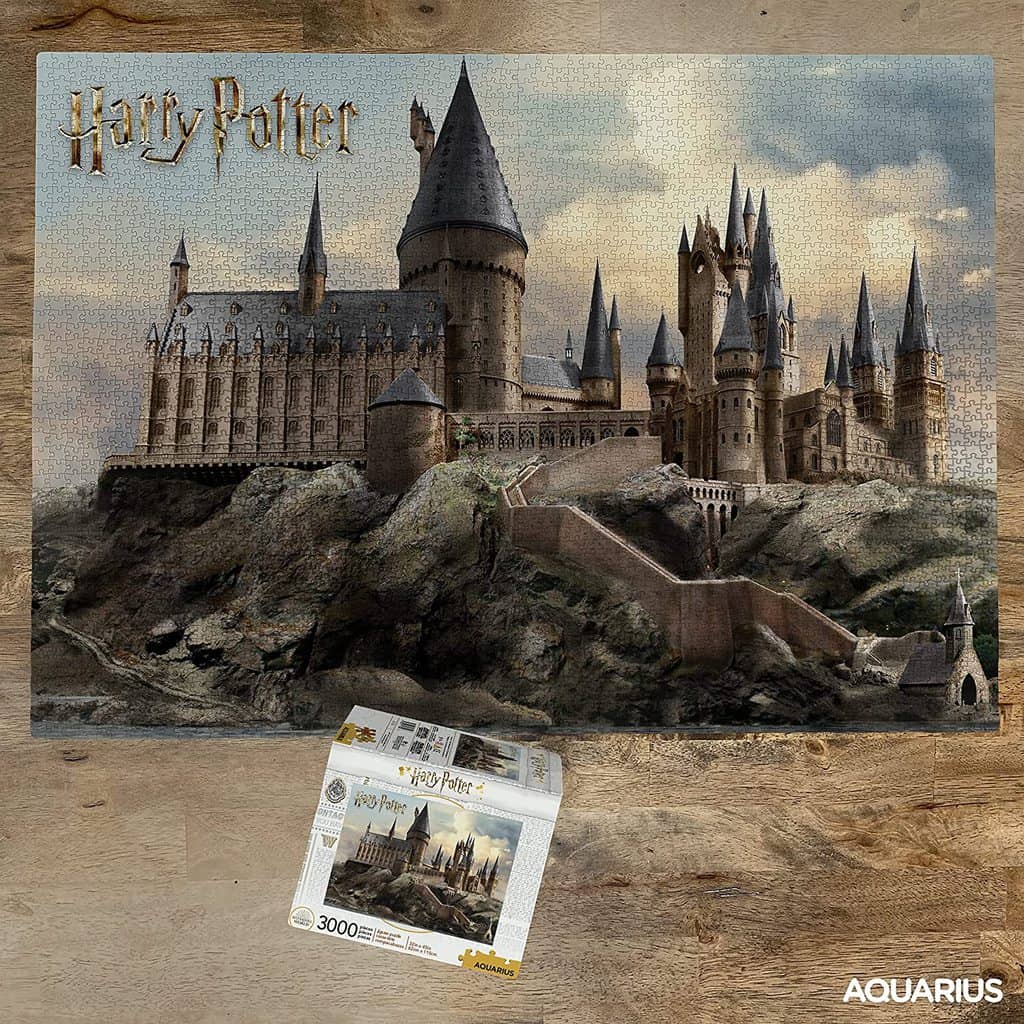 Price
A lot of digital puzzles you can solve on the computer or on your phone are completely free. Physical puzzles usually aren't too expensive, but some can reach over $35. Consider how much money you're willing to spend, or if you'd rather enjoy free puzzles online.
The Best Harry Potter Puzzles
All set? Then let's start exploring the 12 best Harry Potter puzzles you can find! Puzzles challenge us, they give us something to do alone or with friends, and they aid in developing stronger problem-solving skills. I chose these based on quality, skill level, and coolness factor. If you want to be as smart and wise as our dear old Dumbledor, it's time to take on some puzzles of your own. Let's dive in!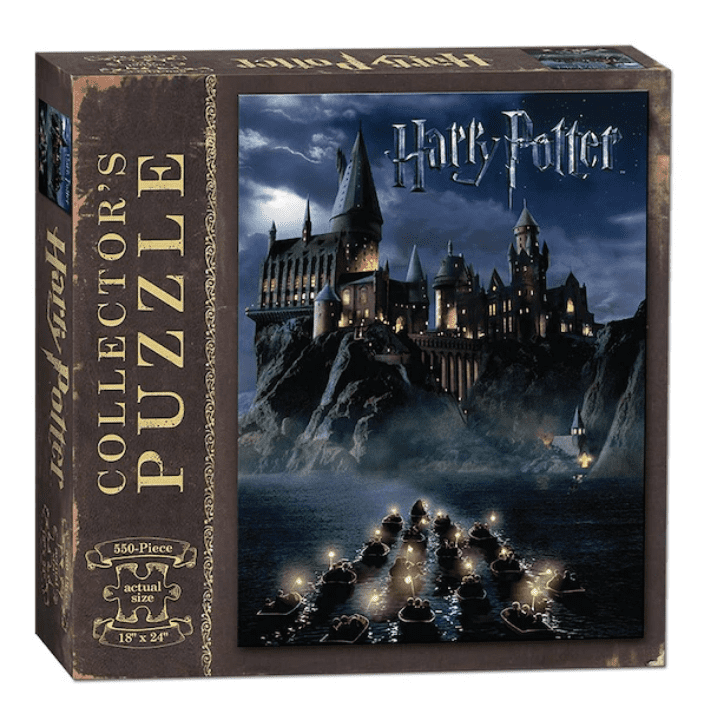 Best Harry Potter Jigsaw Puzzle for Tweens and Teens
Let's start off by talking about this classic jigsaw puzzle with 550 pieces. You'll see that the picture shows students in canoes on their way to start the school year at Hogwarts once again.
Price Range: $8-$16
Type: Jigsaw puzzle
Skill Level: Ages 12+
It's nighttime in the picture, so Hogwarts is alight with candles and the moon. Puzzles like this one are great for completing either by yourself or with friends. You can even frame it once you're all done.
Pros
Challenging puzzle
Beautiful picture of Hogwarts
Inexpensive
Cons
Too difficult for young kids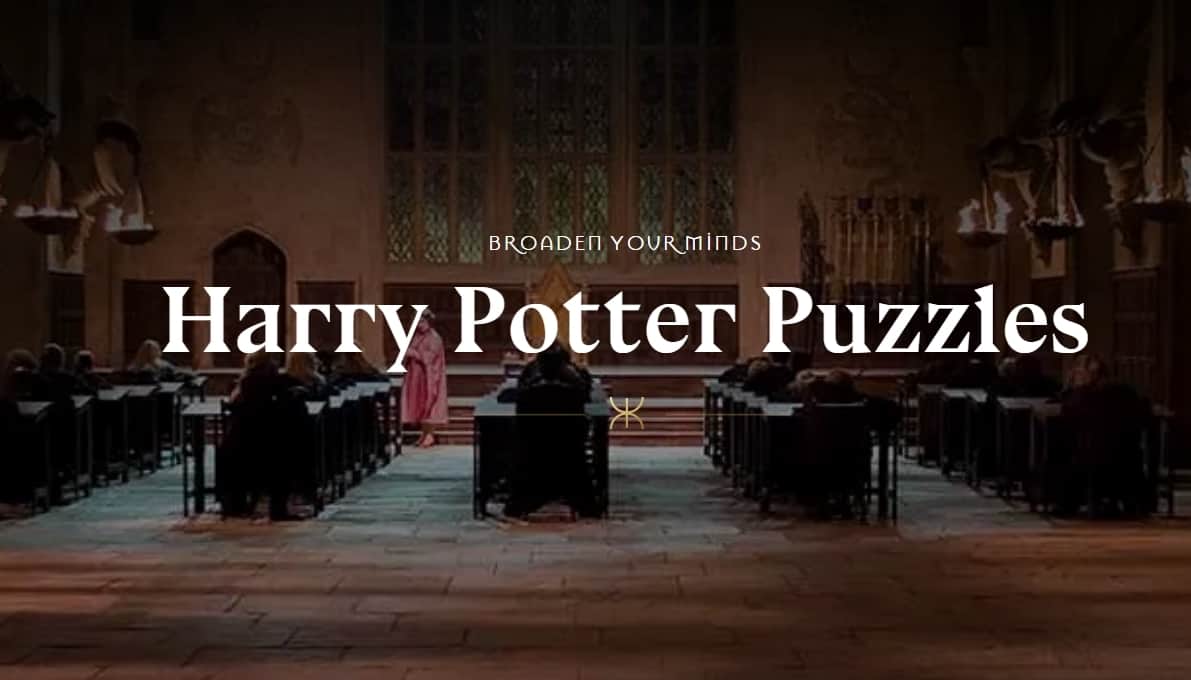 Best Digital Harry Potter Puzzles
Have you ever looked at all the free-to-play digital puzzles available on the wizarding world website? There are tons of crossword puzzles, word searches, number puzzles, craft instructions, and more.
Price Range: Free
Type: Digital puzzles
Skill Level: All skill levels
Whether you're a fan of the characters from the Harry Potter movies or the Fantastic Beasts movies, you'll have a wide selection of puzzles with each character cast to try out. While you're there, make sure to take the Hogwarts house quiz to see which house you belong to if you haven't already.
Pros
Doesn't cost any money
Tons of puzzles to choose from
Puzzles with Harry Potter characters and Fantastic Beasts characters
Cons
You have to have an internet connection to complete these puzzles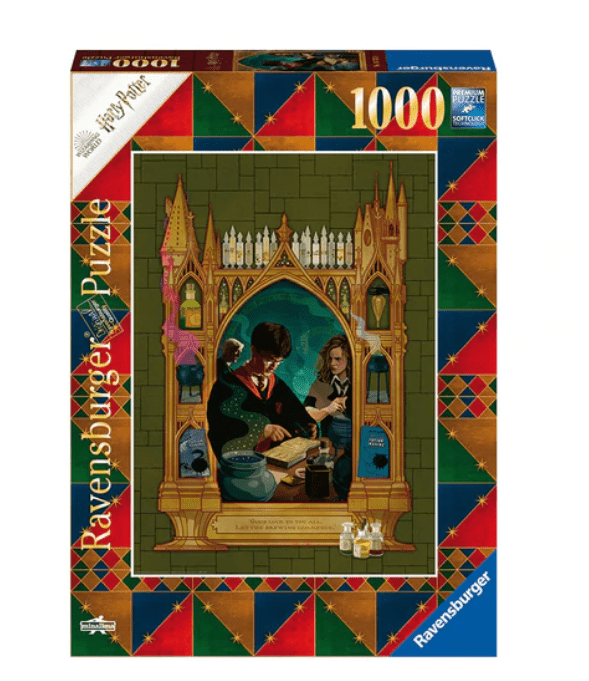 Prettiest Harry Potter Puzzle
This jigsaw puzzle is even more challenging than the last! Take on this 1,000-piece juggernaut to prove you have what it takes to solve problems and riddles like your favorite Harry Potter characters.
Price Range: $23-$33
Type: Jigsaw puzzle
Skill Level: Ages 14+
I love that this puzzle has a stylized art style so that it looks just like a painting. Harry Potter, Hermione Granger, and Draco Malfoy are in the midst of potions class in this one. They're framed by a golden Hogwarts castle border.
Pros
Challenging puzzle for teens and adults
Beautiful picture that looks like a painting
Features Harry, Hermione, and Draco
Cons
Too difficult for young kids and middle schoolers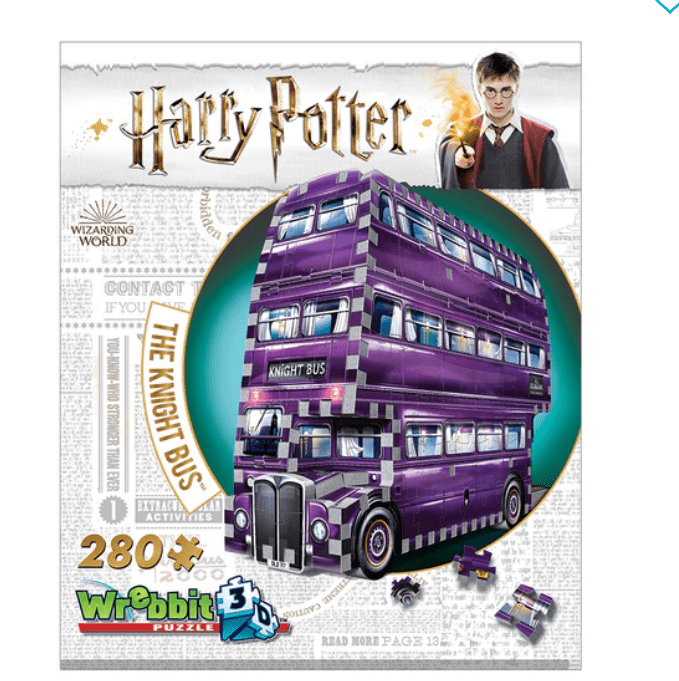 Most Unique 3D Harry Potter Puzzle
Remember when Harry Potter rode the purple Knight Bus in The Prisoner of Azkaban? Well, now you can make the elusive, triple-decker bus yourself!
Price Range: $25-$35
Type: 3D puzzle
Skill Level: Ages 12+
There are 280 pieces in this 3D puzzle, so it's a bit of a challenge to complete it just right. The design of the Knight Bus for this puzzle is gorgeous. There's depth in the way the light appears to hit the bus, and in how you can partially see into the windows.
Pros
Features the Knight Bus, which is uncommon to see in Harry Potter merch
Challenging
3D puzzles are popular because of how cool they look
Cons
The Knight Bus is only ridden in one Harry Potter book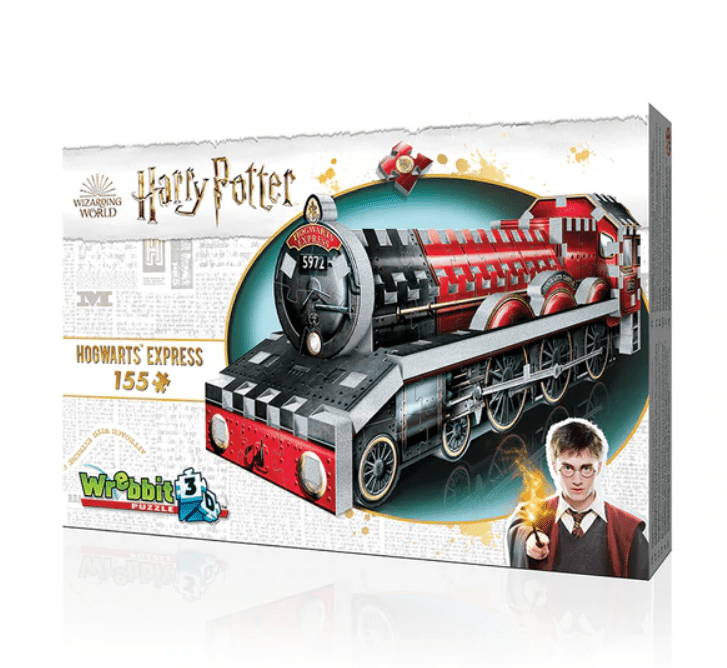 Best 3D Harry Potter Puzzle
Choo choo! 155 puzzle pieces come together to form a 3-dimensional replica of the Hogwarts Express in this set.
Price Range: $17-$27
Type: 3D puzzle
Skill Level: Ages 12+
The Hogwarts Express is such an awesome and iconic part of the Harry Potter franchise that any Potterhead would be happy to receive this gift. The detailing on the wheels, sides, and front of the train are beautiful and accurate to the movie. You build the train in 3 parts and then attach the parts together.
Pros
Creates the iconic Hogwarts Express
Challenging 3D puzzle design
Perfect for tweens, teens, and adults
Cons
Not as many puzzle pieces as the Knight Bus 3D puzzle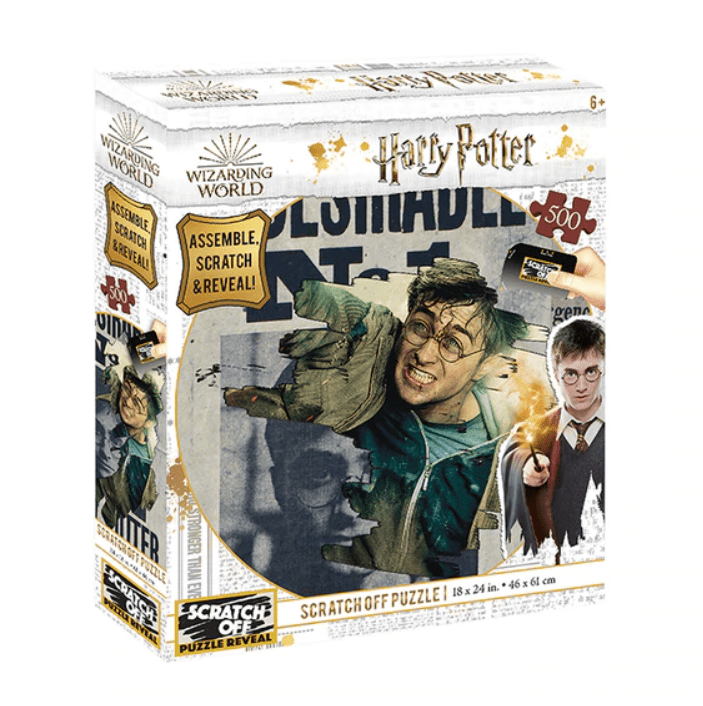 Best For Kids
This isn't your typical jigsaw puzzle. After you assemble all 500 pieces to form the Harry Potter wanted poster, you get to use the scratcher tool to reveal even more of the picture. Some of the puzzle can be scratched away to reveal another picture of Harry Potter in color.
Price Range: $20-$30
Type: Jigsaw puzzle and scratch-off puzzle
Skill Level: Ages 6+
By scratching away the puzzle's top layer, you'll see Harry in action from a scene in the movies. This is a unique idea, so let your little one give it a try if they've never attempted a puzzle like this before.
Pros
Great for kids as young as 6
2 parts to completing the puzzle
Unique scratch-off design
Cons
Some fans may think this puzzle is too easy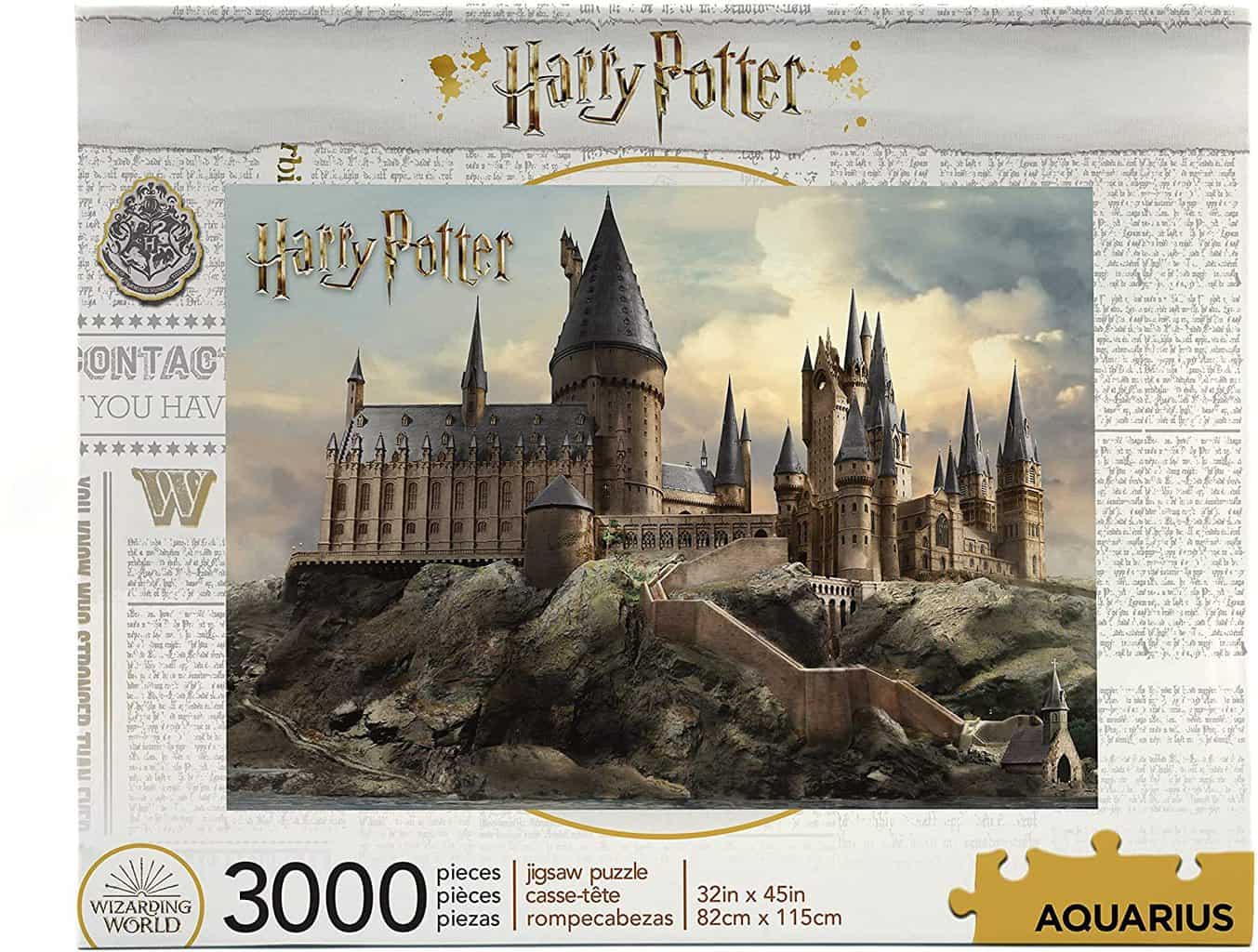 Best Overall
Prepare to puzzle over this one for a long time. There are a whopping 3,000 pieces in this jigsaw puzzle, which means it's best suited for adult witches and wizards. When you assemble all 3,000 pieces, you'll see a landscape picture of Hogwarts castle in all its glory.
Price Range: $30-$40
Type: Jigsaw puzzle
Skill Level: Adults
This Hogwarts puzzle shows off our favorite school during the day, which lets you take in the details of the castle more precisely. What's more? This is officially licensed Harry Potter merchandise.
Pros
Very challenging puzzle
Gorgeous picture of Hogwarts
Classic jigsaw puzzle
Cons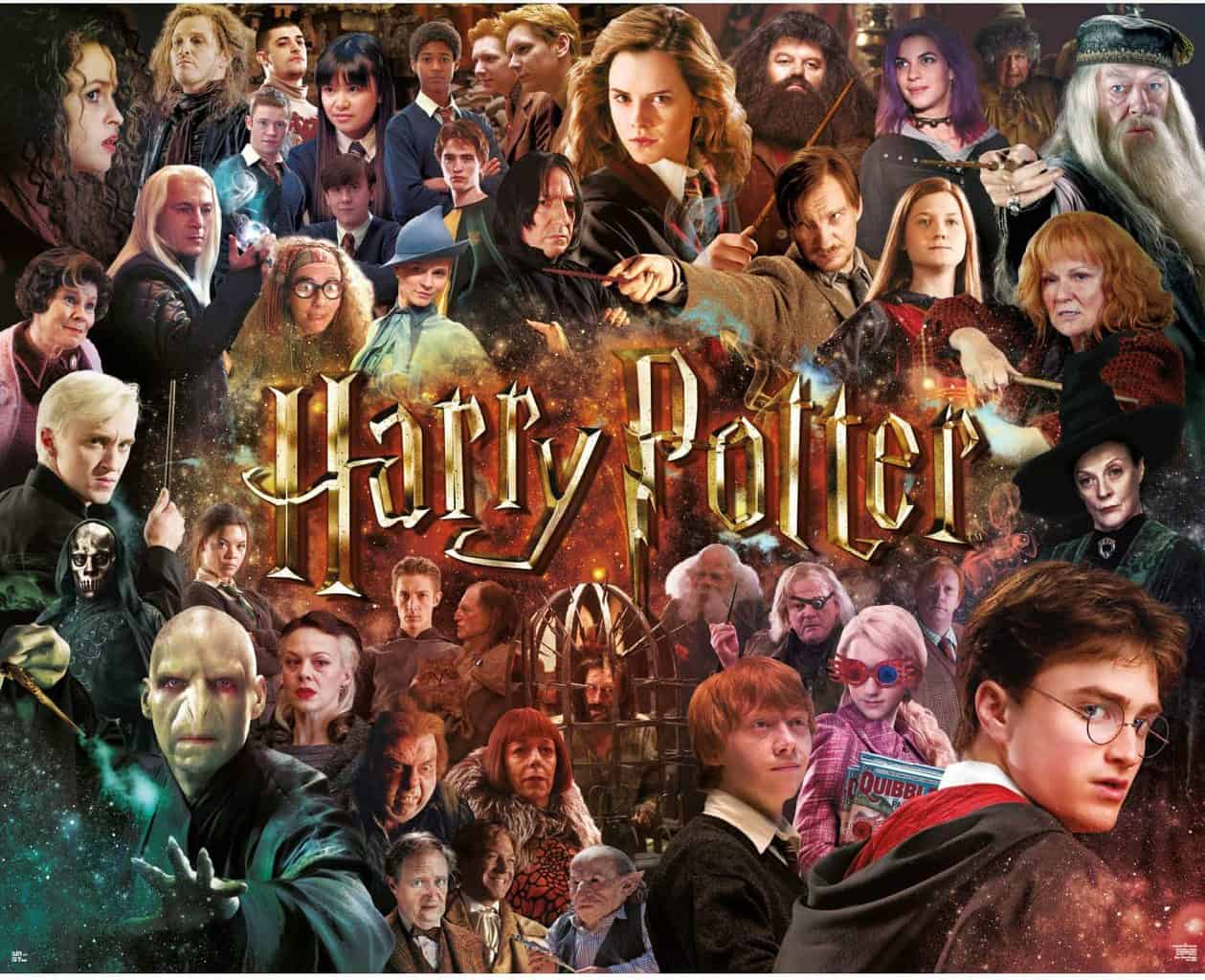 Best For Harry Potter movie fans
All your favorite Harry Potter characters are together in one big collage puzzle! This jigsaw puzzle has 1,000 pieces, so it's better for older kids and adults. You can spot familiar favorites like Harry, Hermione, Ron, Ginny, Luna, and Dumbledor.
Price Range: $12-$22
Type: Jigsaw puzzle
Skill Level: Ages 12+
If you're a fan of the bad guys, you'll be happy to know Voldemort, Draco, Bellatrix, and Lucius have joined the party, as well. If you're a big fan of the movies and want to see the major cast members all in one puzzle, this is the one I recommend.
Pros
Shows off a huge amount of Harry Potter characters
Very colorful
Challenging
Cons
Some fans won't like the collage design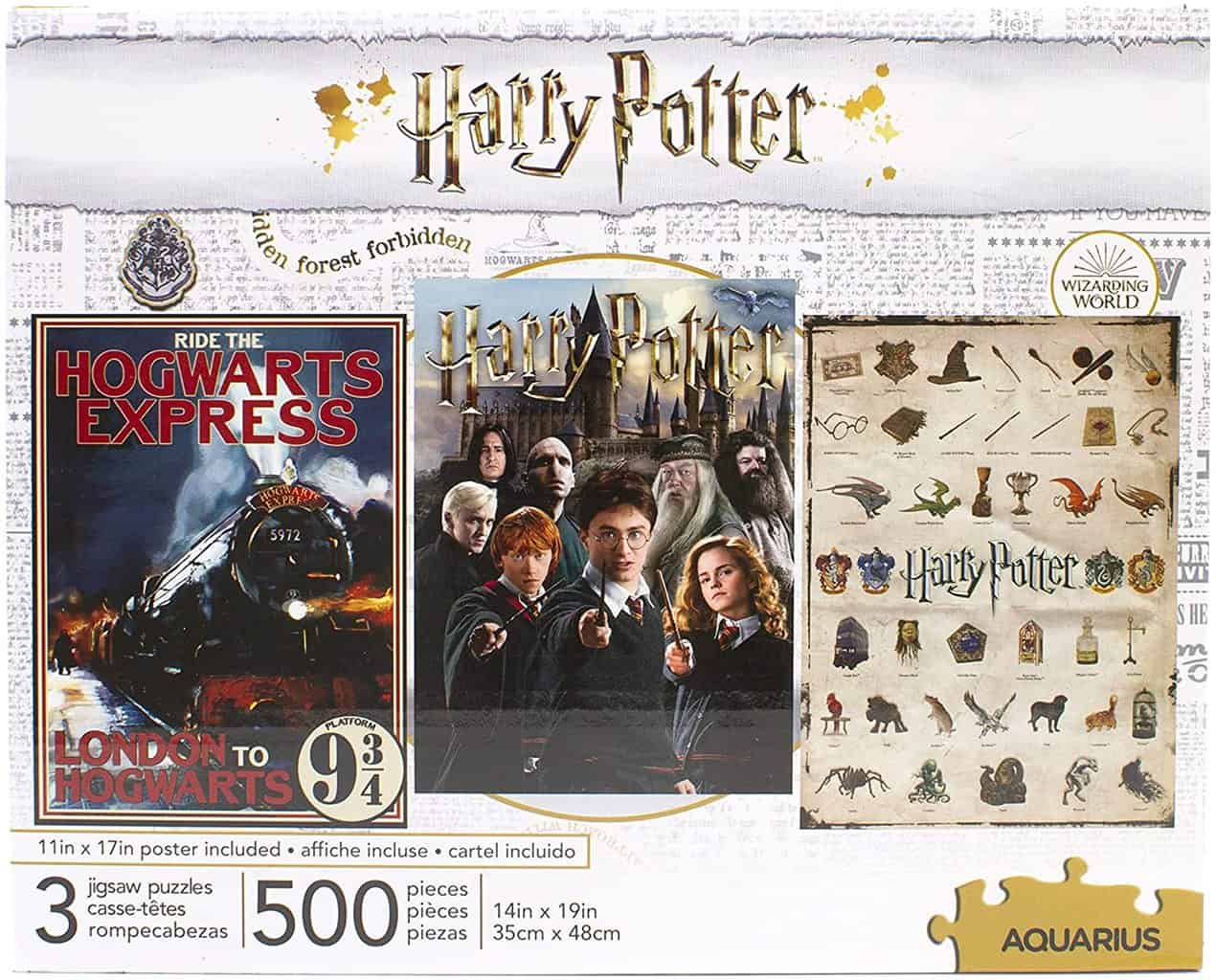 Best Set of Multiple Harry Potter Puzzles
You get 3 different 500-piece jigsaw puzzles in this set! One puzzle looks like an official advertisement for the Hogwarts Express with the words, "London to Hogwarts" printed on the bottom.
Price Range: $13-$23
Type: Jigsaw puzzles
Skill Level: Ages 11+
The second features the cast of Harry Potter and gives the appearance of a movie poster. The last is made to look like a page in a guidebook to the wizarding world. If you want more than just one puzzle to complete, I suggest taking a look at this bundle.
Pros
3 puzzles in a set
500 pieces per puzzle make it great for tweens, teens, and young adults
Officially-licensed Harry Potter merchandise
Cons
Some adults may prefer a more challenging puzzle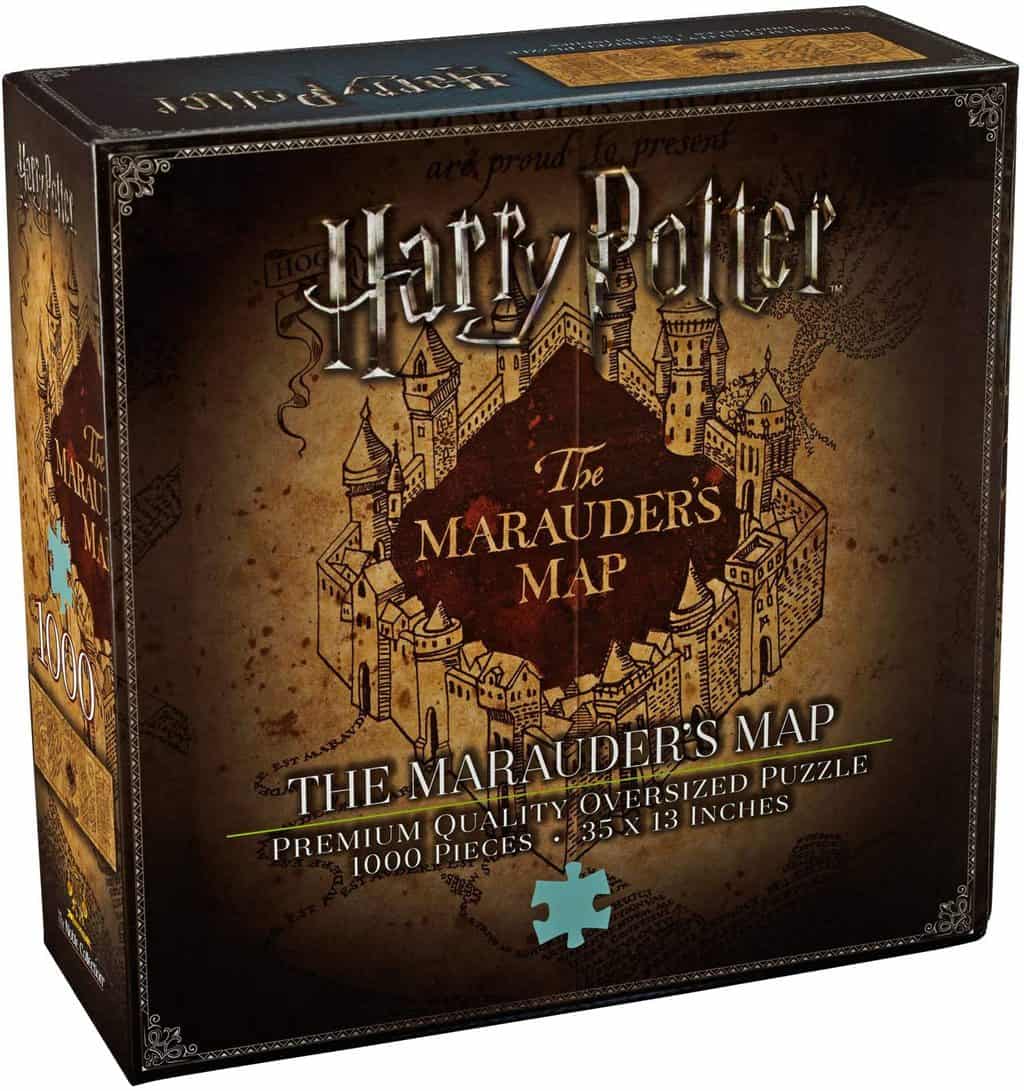 Best For Adult Harry Potter Fans
Do you solemnly swear you are up to no good? Then it's time for you to take on the challenge of completing this 1,000-piece Marauder's Map jigsaw puzzle!
Price Range: $15-$25
Type: Jigsaw puzzle
Skill Level: Ages 12+
This is considered to be an oversized puzzle, so the pieces are larger than normal. Once you've managed your mischief, the puzzle will measure 35" X 13". You're going to need a big frame if you want to keep it nice and completed forever.
Pros
Oversized puzzle pieces are easy to grasp
1,000 pieces offers a challenging puzzle
The Marauder's Map is a popular item from the franchise
Cons
1,000-piece puzzles are time-consuming, and some fans may get frustrated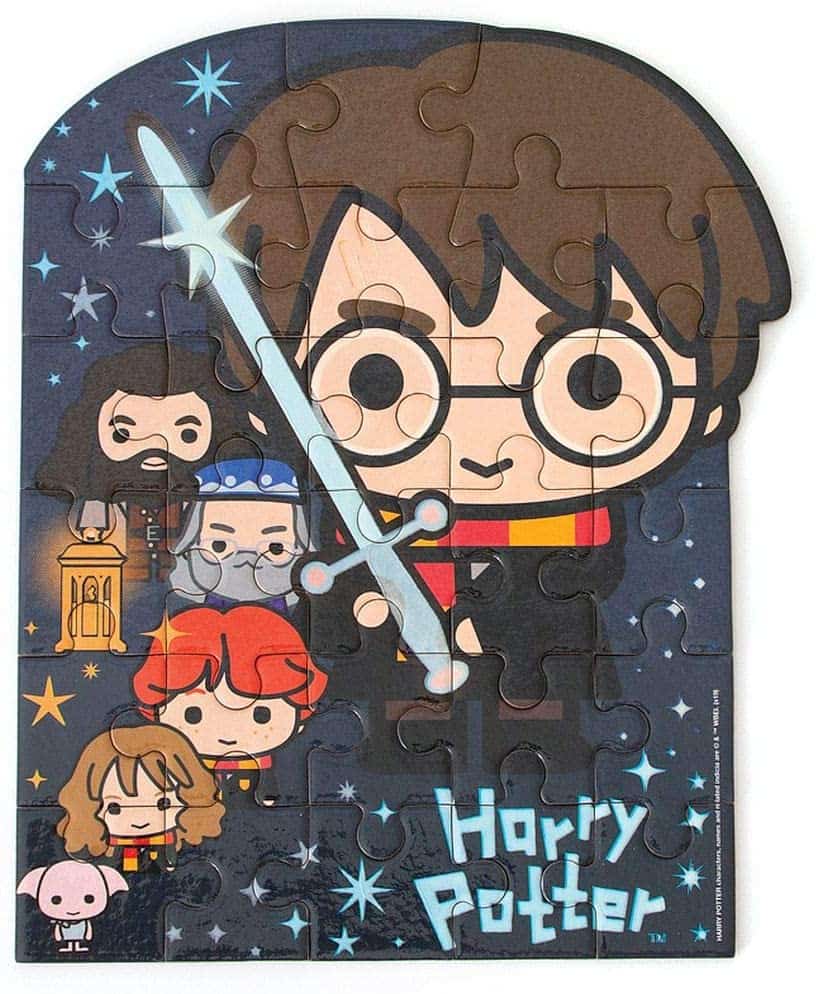 Best For: Cuteness
Aww! Harry, Hermione, Ron, Dumbledor, Hagrid, and Dobby have never looked so cute! This 28-piece jigsaw puzzle features a chibi rendition of our favorite characters.
Price Range: $3-$10
Type: Jigsaw puzzle
Skill Level: Ages 3+
On top of that, the puzzle pieces glow in the dark, which kids are sure to appreciate. This one is for all the young Harry Potter fans out there that don't want to struggle with hundreds or thousands of puzzle pieces.
Pros
Adorable chibi characters
Easy enough for small children to put together
Puzzle pieces glow in the dark
Cons
Not challenging for tweens, teens, and adults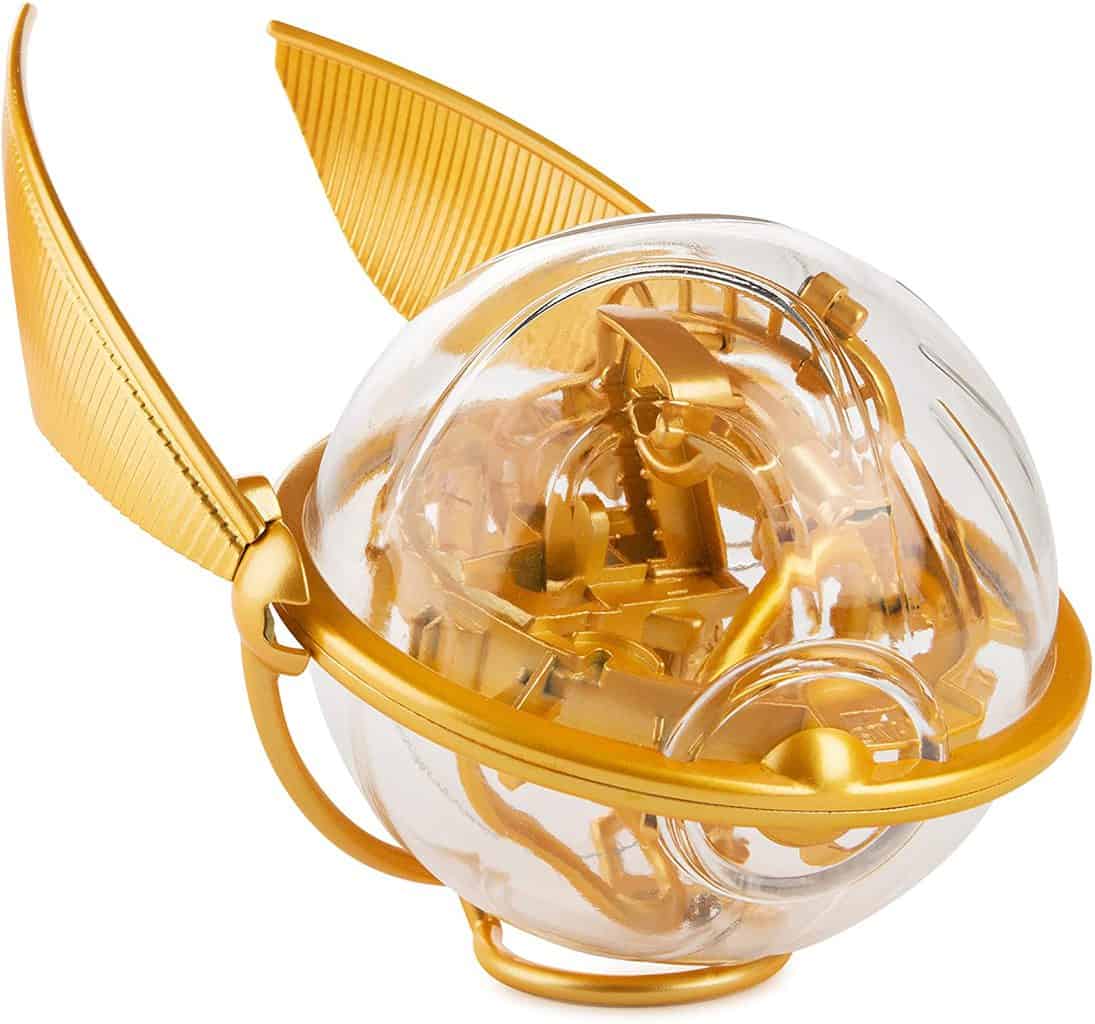 Best Harry Potter Gravity Maze
How cool is this 3D gravity maze puzzle that looks just like a golden snitch? Just don't be fooled by the tiny size of the snitch, either, because there are 30 different obstacles within this tiny treasure. A silver ball is situated at the end of the gravity maze. You'll have to tilt the golden snitch at the right angles to complete the maze and get the ball to the endpoint.
Price Range: $8-$16
Type: Gravity maze 3D puzzle
Skill Level: Beginner
Even though this is a beginner puzzle, you should expect your patience to be tested if you've never completed a gravity maze before. The golden inner workings you can see from the outside are beautiful, too.
Pros
Unique gravity puzzle
The golden snitch is a popular item from the franchise
Easy beginner puzzle
Cons
Too simple for experienced puzzle experts
FAQ
Prepare to have your most frequently asked questions about Harry Potter puzzles answered!
Question: How Many Harry Potter Puzzles are There?
Answer: There are so many Harry Potter puzzles that have been created that I'm sure no one knows the exact number. Just know that there are more Harry Potter puzzles available than you can complete in a lifetime. Check out the 12 I recommend above!
Question: What are Legends Puzzles in Harry Potter?
Answer: In the game Harry Potter Legends and Spells, there are puzzles you can play once you complete the main progression. Completing these puzzles increases your weekly League standing, so make sure to solve them when you get a chance!
Question: Is the Game Harry Potter Puzzles and Spells Free?
Answer: Yes, the game Harry Potter Puzzles and Spells is free! The game gives you the option to make in-app purchases, but it isn't necessary to spend money to play the game. You can download it for free on the app store right now.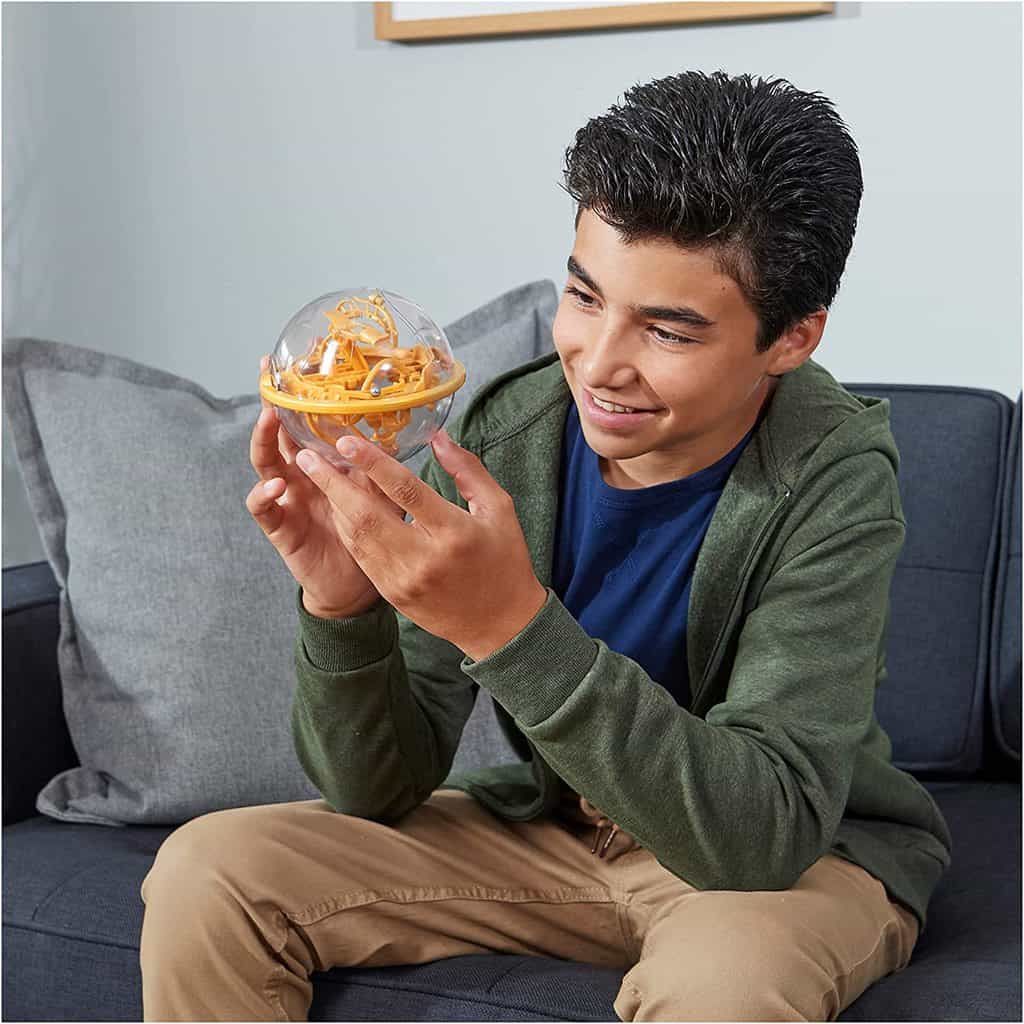 See You at Hogwarts!
Puzzles offer us an engaging, stress-reducing hobby and get us to use our heads like students preparing for their O.W.L.s. Did one stick out to you after learning about the best Harry Potter puzzles you can buy online? Was it my personal pick, the Aquarius Harry Potter Puzzle Hogwarts Castle? To learn more about Harry Potter merchandise, please come visit our website. All witches, wizards, and even muggles are welcome.