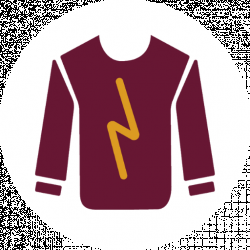 Latest posts by Wizards Welcome Team
(see all)
Harry Potter is undoubtedly one of the greatest and most popular franchises. It is an 8-part movie series based on the eponymous novels by J.K. Rowling. The movies and the books were a great commercial success and received incredible responses from both audience and critics.
The popularity of the Harry Potter series led to the development of its massive merchandise. However, this product guide is dedicated to introducing a wide variety of Harry Potter-themed backpacks that I have encountered throughout these years. In addition, this guide also includes some trustworthy shopping tips and solutions to your everyday problems to make your buying experience more pleasing and worthwhile. 
Bottom Line Up Front
If you are a true Potterhead (and a faithful member of House Gryffindor), then Gryffindor Logo Backpack is the right choice. It is a must-have item as it can be used for multipurpose, is durable and sturdy, and the design is to just die for! Also, it's priced reasonably and is available for only $45.31. 
My Top Harry Potter Backpacks Picks At A Glance
My Experience With Harry Potter Backpacks
Backpacks are necessary for people like me, who like carrying their stuff everywhere. My craze for bags goes back to my childhood days when it was my hobby to collect the ones that had my favorite heroes on them. Then Harry Potter came, and it changed my life (quite literally). I was obsessed with everything Harry Potter-themed, and how could I have missed the backpacks with my favorite Wizards and Witches? 
They are not only of excellent quality but indeed treasures well-kept. I have used these backpacks for different purposes, like school/college, sports training, hiking, traveling, etc. My wardrobe is still filled with my favorite Harry Potter backpacks, and I will help you fill yours. Also, who doesn't like flaunting their affiliation with one of the best fantasy series ever?
Things To Keep In Mind While Buying The Best Backpacks
These are some of the tried and tested tricks and tips you need to consider before purchasing your favorite backpack.
Make Up Your Mind About What You Want
There is a wide variety of backpacks available from the Harry Potter Merchandise. I am sure you don't need all of them. I suggest you narrow down your choices by choosing which character (or Hogwarts House) is your favorite. Once you have set your preferences, selecting the backpacks on that particular theme will become easier. 
Read Reviews And Buy Only From Authentic Sellers
There are thousands of sites selling Harry Potter Merchandise, and the chances of you getting scammed by the fake/fraudulent ones are high. So, make sure you check the product and the seller's review before buying. Go for the sellers with the maximum number of positive reviews and whose response rate is efficient and quick. Go for the products whose reviews have the attached pictures of the actual product. Don't fall for the bots or fake reviews.
Check The Sizing Before Buying Backpacks
Backpacks are used for many purposes, and each of them requires a different size. Make sure you have in mind how big or small a backpack you want and for that purpose. Guessing the sizing by looking at descriptions given by the seller is another difficult task. Make sure you keep a measuring tape (and another backpack for reference) with yourself to determine the actual size and purchase if it suits your requirement.
Common Problems And Their Solutions
Product Quality And Material Of The Backpack
The lousy quality material of backpacks ruins your experience. Assessing the material online is difficult but not impossible. Note down the material given by the seller and google its pros and cons. See if it suits your requirement. 
Easily Torn Off Paint And Printing On The Backpack
The backpacks with hand-painted designs or low-quality printing are never durable. Some of them are also not water-resistant. So, be wary of those. Also, some of these backpacks are made exclusively for specific weather conditions and used either outdoors or indoors.
If you plan to wear your backpack outdoors more often, go for the ones with stitched designs or excellent quality printing. 
Stitching Quality And Durability Of The Backpack
Checking the stitching of the backpack is the most important yet most neglected factor while shopping online. Make sure you check the reviews with attached pictures from buyers before buying. You will get an idea of the quality of stitching from there. You can also message the seller and ask for stitching quality and actual pictures.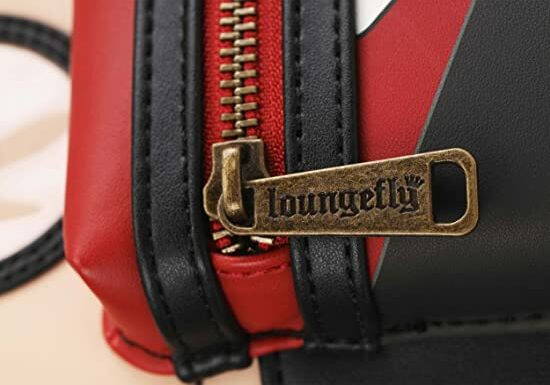 My Reasons For Choosing These Backpacks
I have been a Harry Potter fan for as long as I can remember. So having Harry Potter-themed backpacks was obvious. But I haven't let my love for it blur my judgment. The recommendations that I have made in this Harry Potter-themed backpack guide are based on the following factors:
Availability:

 Harry-Potter backpacks are readily available online and offline as well. 

Reasonable Pricing:

 Affordable pricing is another praise-worthy factor.

Utility:

 Backpacks never go out of use or style. Their multiple benefits do not disappoint in that matter as well. 

My personal experience:

 These recommendations come from a person who has bought and used Harry Potter-themed backpacks for many years. 
My Top 10 Best Harry Potter Backpacks Recommendations
#1 Gryffindor Logo Backpack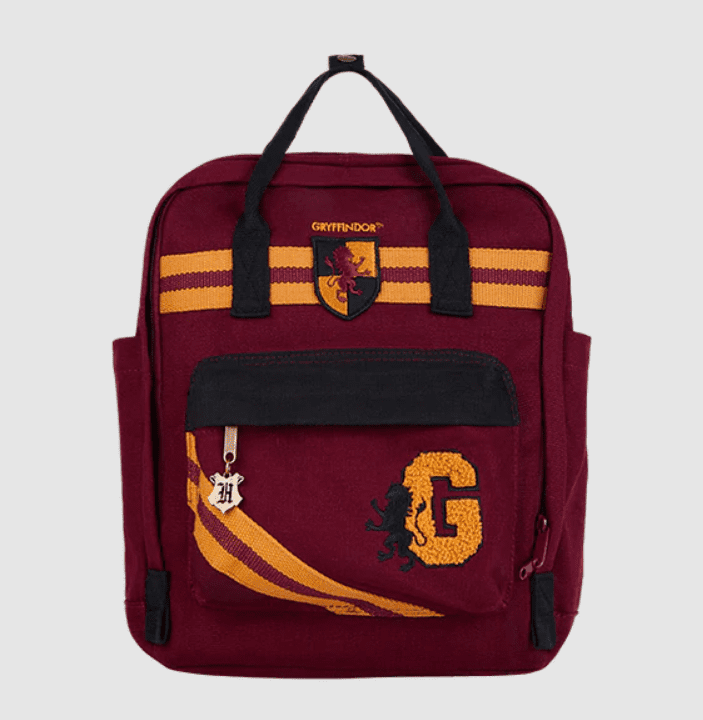 Description
You are a true Potterhead if your Hogwarts House is Gryffindor. Who doesn't want to side with the heroes? This backpack is a treat for all the members of House Gryffindor. 
It is burgundy colored with yellow strips, depicting the colors of its house. In addition, the iconic Gryffindor crest is embellished into the center of the bag, reminding you of what House Gryffindor stood for. 
Specifications
Design: 

This unique square-shaped backpack has black handles and straps that can adjust to your liking or preference. You can easily carry it in your hands or wear it on your back. 

Pockets:

 It has one big compartment to keep your books, clothes, laptop, etc., a smaller zipped pocket in the front, and two side pockets to keep your water bottles. 

Material:

 Cotton

Price:

 $45.31
Pros
The price is very reasonable for a backpack.

The quality is premium, and the colors are solid. 

Easily washable.

Ideal for carrying small books, laptops, tablets, etc.
Cons
The site that offers these backpacks delivers in selected countries. If you don't live in those countries, it might be difficult for you to get it. 
#2 Loungefly Harry Potter Luna Lovegood Mini Backpack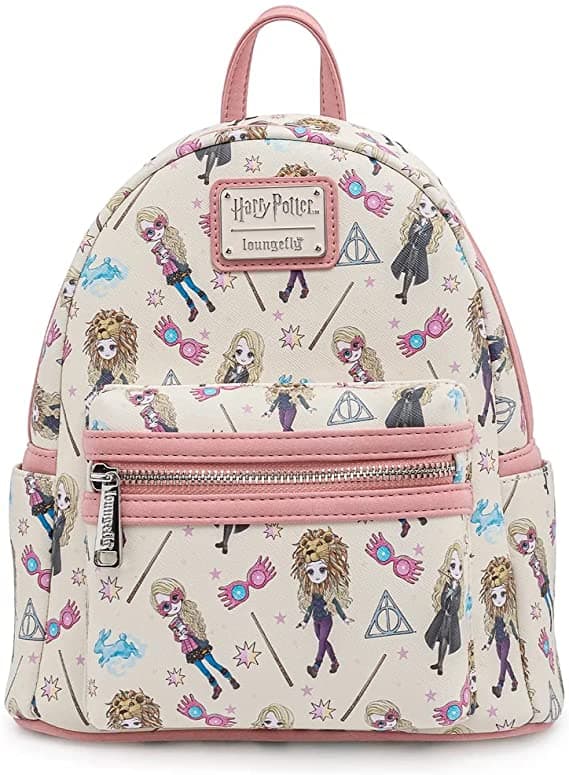 Description
"Being different isn't a bad thing. It means that you are brave enough to be yourself."– Luna Lovegood
Luna Lovegood, a member of Dumbledore's army, is someone we all need to learn a lesson or two from. Apart from her love for girly and pink things, she is known for the importance she gave to being oneself and self-expression. This pink bag with Luna will surely remind you of how good of a friend she was and how you should be different, aka yourself.
Specifications
Design: 

This pink Backpack has pictures of Luna printed on it. In addition, it has a zipper closure, adjustable straps, and printed fabric lining, making it durable. 

Pockets: 

It has one big, zipped compartment, a smaller pocket in the front, and two side pockets to keep your water bottles. 

Size:

 9″ W x 10.5″ H x 4.5″ D

Material:

 Faux leather

Price:

 $69.99
Pros
The stitching of the backpack is excellent and durable.

Faux leather material gives it a premium look. 

It can be easily cleaned with a wet wipe cloth. 
Cons
It is a bit costly for a backpack.

It is available only in one size, and that too is very small. You can't keep more giant books or many items in it.
#3 Loungefly Harry Potter Face Mini Backpack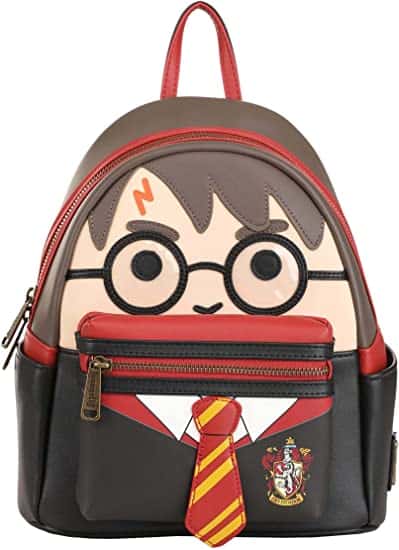 Description
A young wizarding genius and a trustworthy friend who has had enough trouble for a lifetime, Harry James Potter is undoubtedly the most iconic character. The courage he had, the strength of his character, and his love for his friends made us all fall in love with this spectacled nerd. This mini-backpack is not only a treat for your eyes but an adorable addition to your Harry Potter collection. 
Specifications
Design: 

The applique work depicting Harry Potter with his glasses, his scar, and a cute little tie is remarkable. Extra points are for the House Gryffindor crest on his chest. It has a sturdy metal two-way zipper closure, a Polyurethane lining (with the house Gryffindor logo), and adjustable shoulder straps.

Pockets:

 It has multiple inner and outer pockets, one big compartment, a mini zipped compartment on the front, and two side pockets. It has internal zipped pockets to carry small books, toys, tablets, etc.

Material:

 100% polyurethane faux leather shell w/ fabric lining

Size:

 11 x 10 x 6 inches

Price:

 $74.99
Pros
It can easily be cleaned and doesn't require extensive washing.

It's lightweight and can easily be carried around.

It can be used in a rough atmosphere without worrying about its wear and tear.
Cons
The price is a bit high for a mini-backpack, and due to its small size,

it's not a multipurpose backpack.
#4 ABYstyle – HARRY POTTER – XXL "Hogwarts Express" Backpack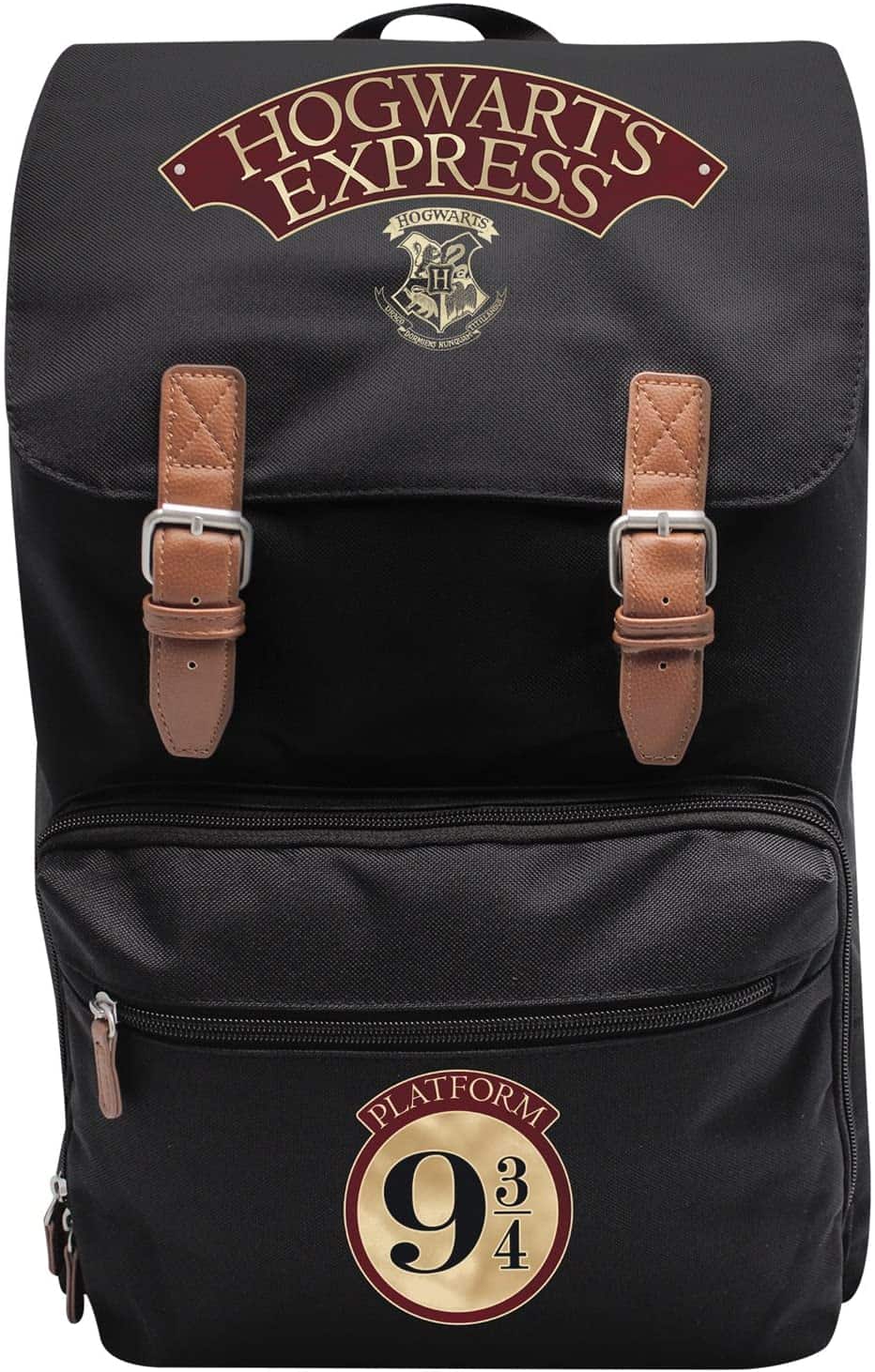 Description
Who doesn't remember the famous 9 3/4 platform and the Hogwarts Express? Well, this backpack is here to remind you of that. Bumping into a wall and hopping onto a train to the world of magic is what a Potterhead wants. If you are someone who likes traveling or hiking and keeps important stuff all the time, this backpack is for you. 
Specifications
Design: 

This Backpack is available in matte black color with Hogwarts Express embroidered on the top and 'Platform 9 3/4' on the bottom. It is available in size XXL, and it is padded and has adjustable shoulder straps with magnetic closures. 

Pockets:

 It has two pockets on the front and a large storage compartment inside. It is spacious and can be used to keep many things like clothing, books, gym equipment, etc.

Size:

 16.14 x 4.72 x 20.08 inches

Price:

 $74.26
Pros
The sizing is the plus point for this backpack. 

It is multipurpose and a perfect choice for traveling and hiking.

It can be used in a rough atmosphere without worrying about its wear and tear.

The fabric used is waterproof, hence keeping your stuff safe.
Cons
The more oversized compartment is not zip-enclosed and has a magnetic closure, so there is a danger of things falling out of it. Also, metal closures are not durable in the long run.

It is very lightweight, weighing only 3.52 ounces.
#5 Official Licensed Harry Potter Golden Snitch Shaped Backpack Rucksack Bag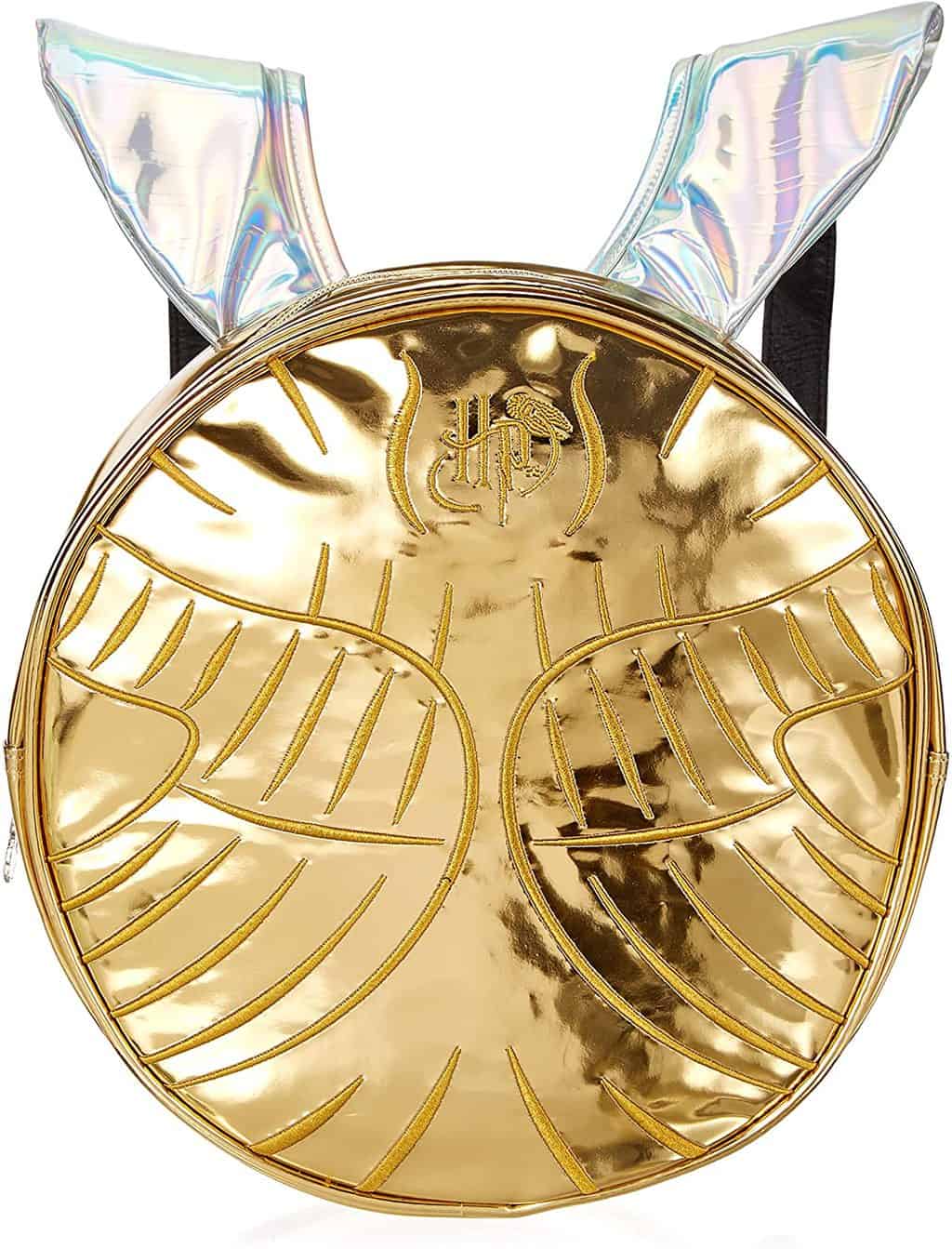 Description
Who remembers the Quidditch game? The players, chasing the Golden Snitch on their broomsticks for those extra points, the adrenaline rush, the crowd cheering, and obviously siding with your favorite house. All these things made the Quidditch team a treat to watch. 
This backpack in the shape of that mighty Golden Snitch is here to remind you of just that. The shiny golden color of the bag and wings-shaped straps will surely give you that feeling of being amidst the match.
Specifications
Design:

 This Backpack is unique in design. It is shaped circular with silver straps giving the feeling of wings. It is small in size, and its main compartment is enclosed by a zipper.

Pockets:

 It has only one big, zipped compartment and one smaller pocket inside it. 

Size:

 28cm (W) x 28cm (H) x 12cm (D)

Material:

 It is made from a blend of PVC and PU

Price:

 $46.96
Pros
The quality and material of this backpack are top-notch. 

The stitching is very durable, and the bag feels sturdy in the hands.

The seller has 30 days return/refund/exchange policy and delivers within 3 to 4 days.
Cons
It is small, so its use will be limited. You can carry it as a fashion statement or keep small accessories only.

It's a bit heavy for its size, weighing around 14.1 ounces.
#6 Loungefly x Harry Potter Gryffindor Uniform Suit Nylon Backpack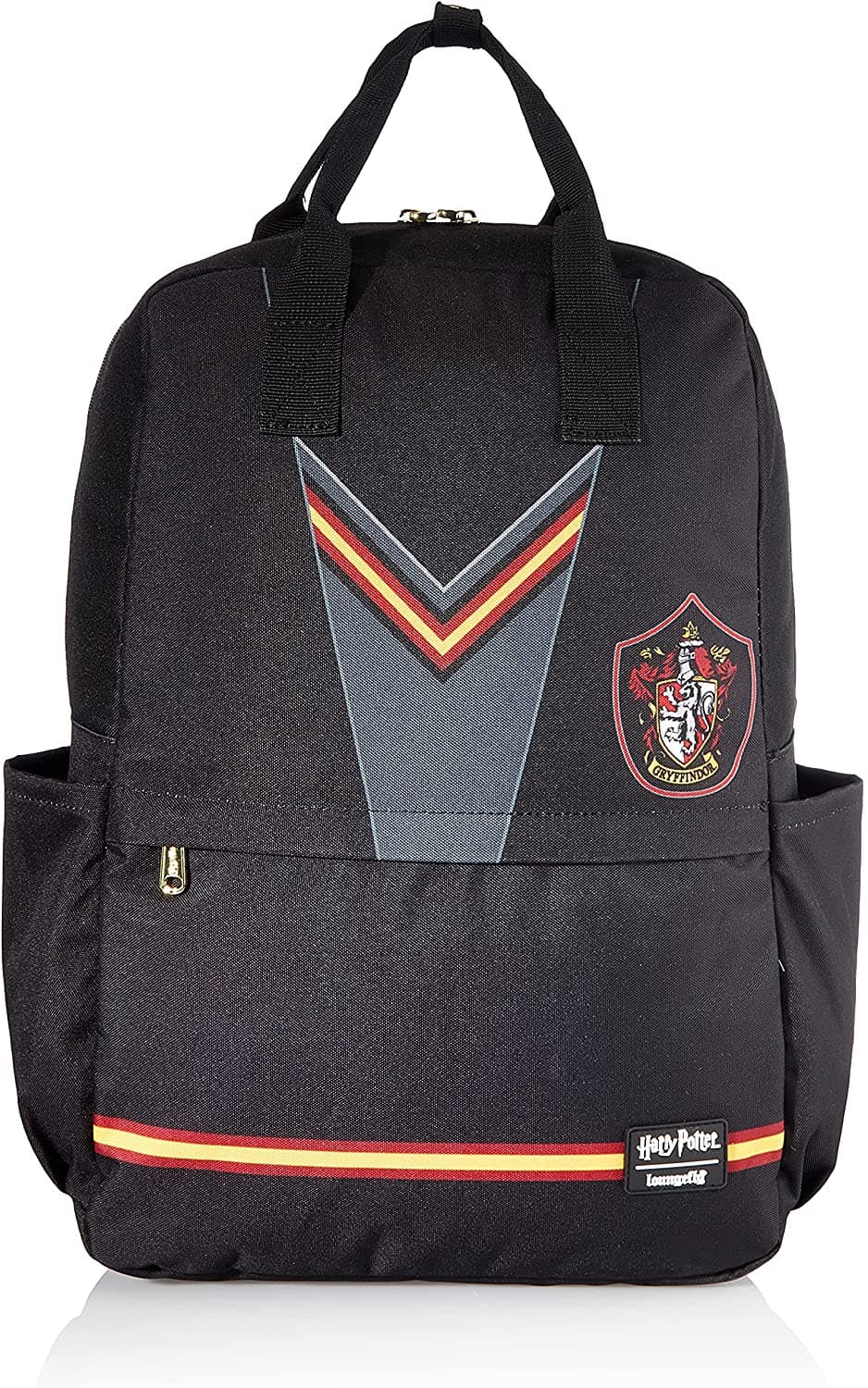 Description
Planning your trip to the Hogwarts? Well, this Gryffindor uniform suit-styled backpack is for you. So, complete your outfit today and live the rivalry between Gryffindor and Slytherin with this backpack. 
Be a part of Gryffindor alongside your favorite heroes (if you have these qualities), and wear this backpack as your house pride.
Specifications
Design: 

This black nylon backpack has Harry Potter-themed printed details, featuring a Gryffindor House Logo and Red and yellow stripes. It has adjustable padded shoulder straps and a top handle. It is perfect for your school/college as you can easily carry books and laptops. 

Pockets:

 It has a two-way zipper closure on the main compartment and a smaller zippered front pocket. It also has two exterior water bottle holders and an interior laptop sleeve.

Size:

 W: 11.5″ X H: 17.5″ X D: 5″

Material:

 Nylon

Price: $89
Pros
The material used is very durable and high-quality.

It is very lightweight and easy to carry, and it weighs only 0.035 ounces.

It can be cleaned easily using only a wet wiping cloth. 

The printing is of good quality and will not come off.
Cons
It is not entirely waterproof, so you might not be able to take it out on rainy days.
#7 HARRY POTTER Backpack Bag Hogwarts Other Borse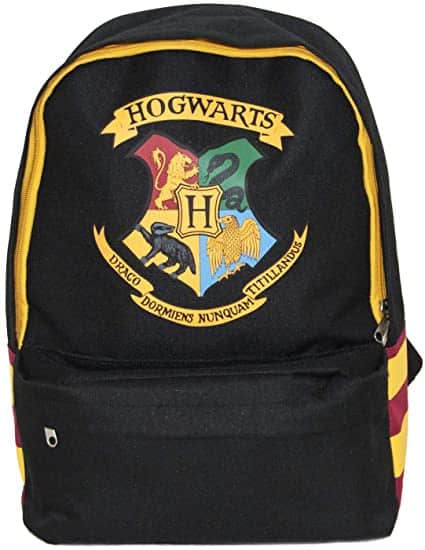 Description
Are you a Potterhead but still haven't decided which house you want to be sorted to? Or are you a fan of all the houses? Then this backpack is just the right choice for you. The mighty Hogwarts Crest is printed on it, depicting the signs of all four Houses. This is perfect for keeping your books, gym kit, or Wand!
Specifications
Design:

 This is an essential everyday use backpack in the color black with a Pull-on closure, adjustable shoulder straps, and Metal Hogwarts crest zip toggles. The inner has a black and yellow Hogwarts patterned lining.

Pockets:

 It has one big compartment, a front pocket, and a hidden inner zipped pocket to keep your tiny treasures. It doesn't have side pockets.

Size:

 10.43 x 7.87 x 14.96 inches

Price:

 $23.36
Pros
The seller delivers worldwide and within 14 days.

The price is very reasonable for a backpack. 

It provides ample space to carry your essentials for short trips.
Cons
The zipper quality is not very good, and it might wear out if used roughly.

It doesn't have pockets to keep water bottles, so keep that in mind.
#8 Backpack – Harry Potter – Hogwarts Black 18" New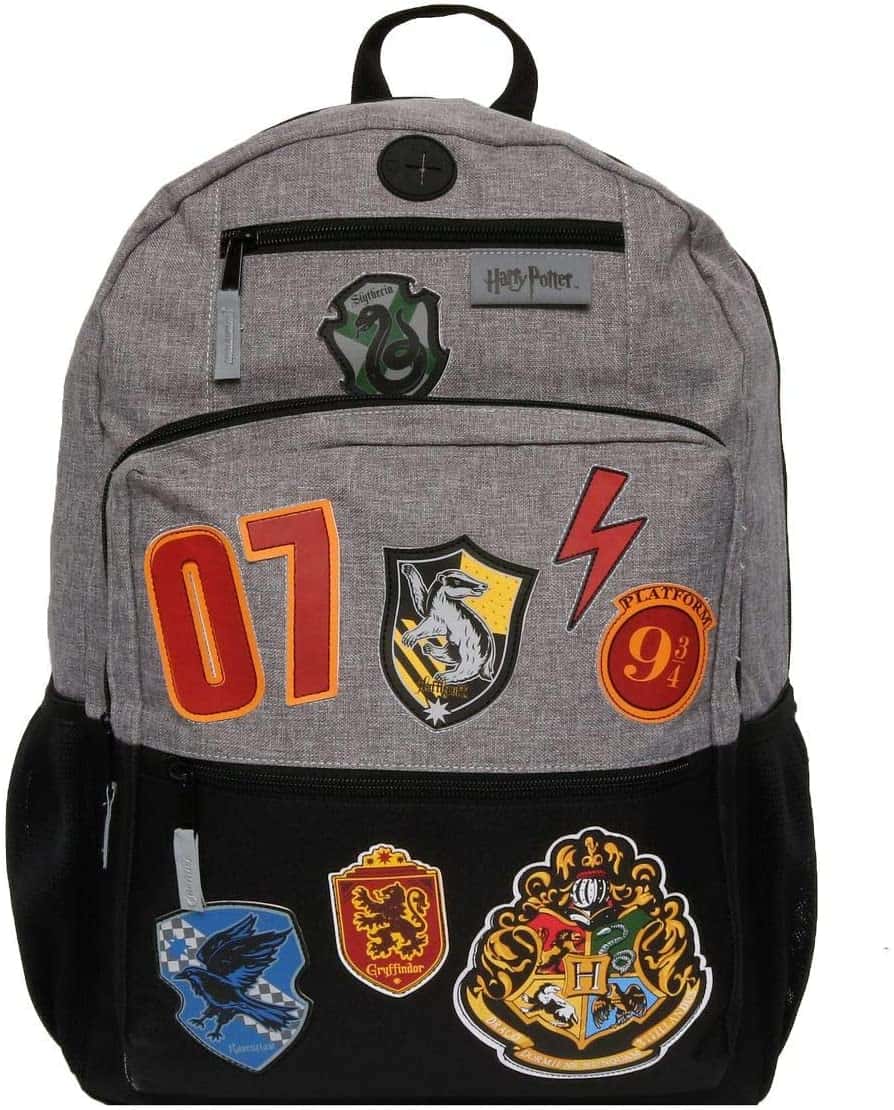 Description
Looking for a sturdy, durable yet cool backpack that you can flaunt in front of your friend? Then you have come to the right place. Also, you don't have to be a student at Hogwarts to have this backpack. It's perfect for your laptop, books, swimming kit, and road trips. Although this backpack might be more costly than other backpacks, it is one of the most popular backpacks among Potterheads! 
Specifications
Design:

 This Backpack is in grey and black with patches of all the Hogwarts Houses, Harry's Scar, the Hogwarts emblem, and other fantastic references appliqued to it. It has adjustable shoulder straps, a top handle, and a 360 high visibility safety reflector. Extra padding is also provided for comfort. 

Pockets:

 It is adorned with one big zipped compartment, Two mid-sized zipped pockets on the front, and a small pocket on the top.

Material:

 Polyester

Size:

 46.23 x 33.78 x 8.38 cm

Price:

 $187.97
Pros
It is waterproof.

The air deflector back allows a constant airflow and does not wet the back due to sweating. 

It is durable and can carry up to 50lbs. 

The seller offers free delivery.
Cons
The price is relatively high for a backpack.

The stitching on shoulder pads is not very durable, and there have been complaints of it getting torn off.
#9 Spell Ingredients Backpack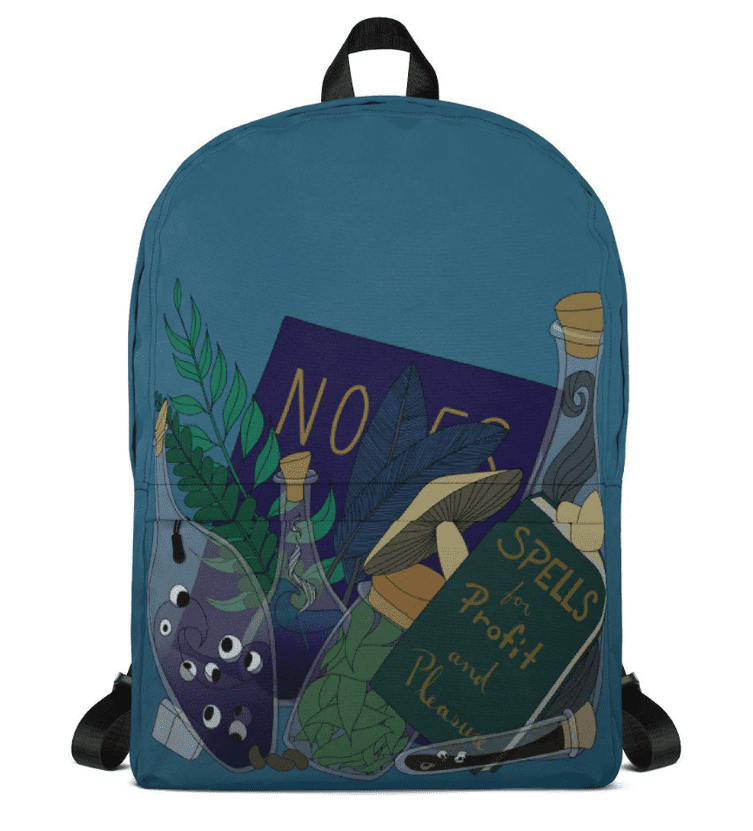 Description
Are you a Potions class fan like me? Well, look ready for the class with this spell ingredient backpack. This beautiful back in vibrant color is just what you need for daily use or to keep gym supplies. 
Specifications
Design

: This handmade backpack in teal color and vibrant designs printed on it is a treat for Potter heads. It has a silky lining, piped inside hems, and a soft mesh back. It has padded shoulder straps made with Polyester. It is spacious and perfect for carrying books, laptops, gadgets, and other necessities.

Pockets:

 It has a large inside pocket with a separate pocket for the laptop, a front zipped pocket, and a hidden pocket with a zipper on the back of the bag. 

Material:

 100% Polyester

Size:

 H 16⅞", W 12¼", D 3⅞"

Price:

 $51.94
Pros
It is water-resistant.

Mesh material used for the back provides airflow and avoids excessive sweating.
Cons
The stitching does not seem very durable.
#10 Hermione Granger Backpack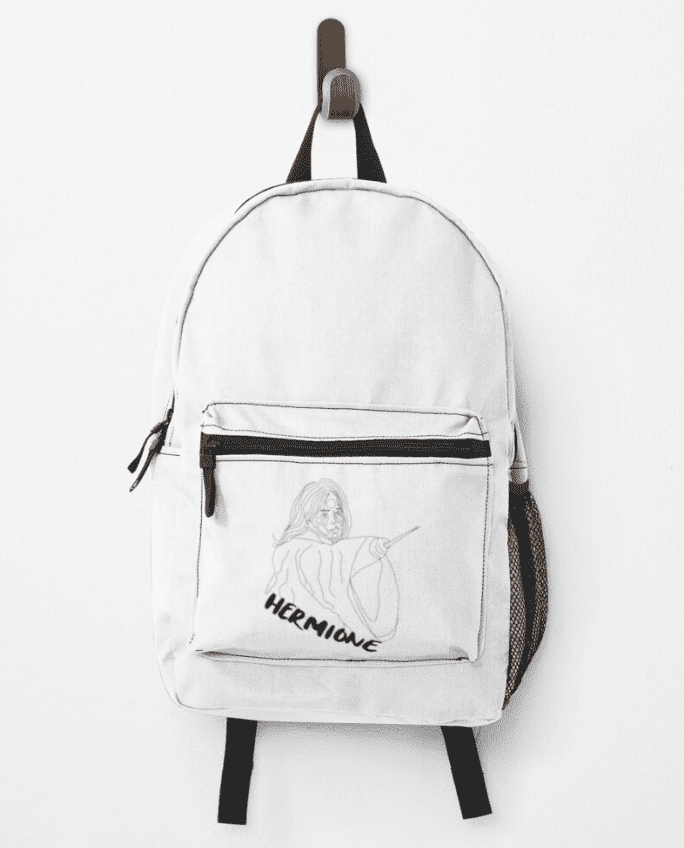 Description
Hermione Granger, the nerdy genius witch, a know-it-all, will always be a favorite of girl fans of Harry Potter. She was the epitome of what a genuine and supportive friend looks like. Get this bag today to remind you of the principles she stood for. 
Specifications
Design:

 This greyish white backpack with black embellishments and Hermione printed is a perfect treat for her fans. It has one big zipped compartment, external mesh pockets, adjustable shoulder pads, and an all-over graphic design. It is ideal for carrying your books, laptops, clothes, etc.

Size:

 17″ x 12.5″ x 5″

Material:

 100% Polyester shell.

Price:

 $50
Pros
The seller offers fast delivery, i.e., within a week.

It can easily be cleaned with a wet wipe.
Cons
Light-colored backpacks have chances of getting muddy/dirty very quickly.

The stitching is not very durable, and the zips are not excellent quality.
Frequently Asked Questions
Question: Are These Backpacks Suitable for Everyday Use?
Answer: Of course, these Harry Potter-themed backpacks are not only memorabilia or a mere fun addition to your collection. They are for everyday use and are of excellent and durable quality. You can use them to keep your school/college books or carry them to hiking, swimming lessons, the gym, and many other areas. Just make sure to buy the ones suitable for your purpose.
Question: How do I Determine Whether the Backpack is of High Quality or Not?
Answer: The best way to determine the quality is to check the review section. Prefer the ones with higher positive reviews and those with attached pictures of the actual product. Text the seller and ask him about the quality and photographs if you are still unsure. Also, make sure you buy from sites that have a good return/refund/exchange policy if you are not satisfied with the quality of the backpack.
Question: How Long do These Backpacks Take to Arrive if Ordered Online?
Answer: Well, different companies take different shipping times. The site usually mentions how many days it will take for the product to arrive. If the courier service used by the seller is within your vicinity, it might arrive earlier. Still, many factors come into play that determines the shipping time, like shipping companies, manufacturing countries, different custom policies, etc. Message your seller about the expected delivery time, and don't forget to track your order.
Best Harry Potter Backpacks Guide: Wrapping Up
The epic story of Harry Potter and the Wizarding World needs no introduction. It is undoubtedly the most commercially successful and famous series to ever exist, with fans from all across the globe.
If you are looking for Harry Potter-themed backpacks, look no further. This detailed guide is here to provide you with all the information you need. A tips and tricks section is given for your reference to navigate this difficult task of online backpack shopping. Also, solutions to problems you might face are provided in this guide. And obviously, my top picks are always there for you to choose from.
I am a Gryffindor member, so my favorite one is Gryffindor Logo Backpack. Its reasonable price, durability, sturdiness, premium quality material, multipurpose usage, and definitive style attract me the most. I hope my above-given suggestions ease your task of finding the perfect backpack for you. Good Luck!