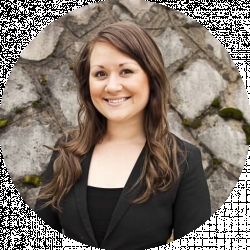 Latest posts by Lacey Jackson
(see all)
When I was growing up, we used to have live Christmas trees. I loved going to the market, picking out a tree, and bringing it home to decorate. We always had to put a skirt around the tree to collect any of the fallen pine needles, and it made a great place to store Christmas presents.
It didn't take long, however, for our entire family to realize that we were genetically allergic to the pine trees that were available in our area. Christmas was full of happiness, carols, presents, and a lot of sneezing, runny eyes, and puffy faces.
After that, we had to invest in a fake tree but still put the tree skirt around it. As an adult, even though I now live in a place where I have an actual Douglas fir Christmas tree farm a quarter mile up the road, we still use a fake tree every year with a beautiful red skirt around it.
This year we might head up the road and cut our own. I am excited to add a Harry Potter tree skirt to our fresh fir tree (though hopefully, it will be a year sans the puffy face, sneezing, and runny eyes). 
Bottom Line Up Front
The best Harry Potter tree skirt is the Marauders map Christmas tree skirt or the DIY option. The Marauder's Map fits almost all Christmas colors with beige and black and a subtle hint of burgundy. You can throw it in the washing machine, and it's perfectly sized for almost all trees.
But if you want something unique, I promise you it won't take a lot of effort to buy the fabric you prefer and make your own tree skirt.
What Makes the Best Harry Potter Tree Skirts?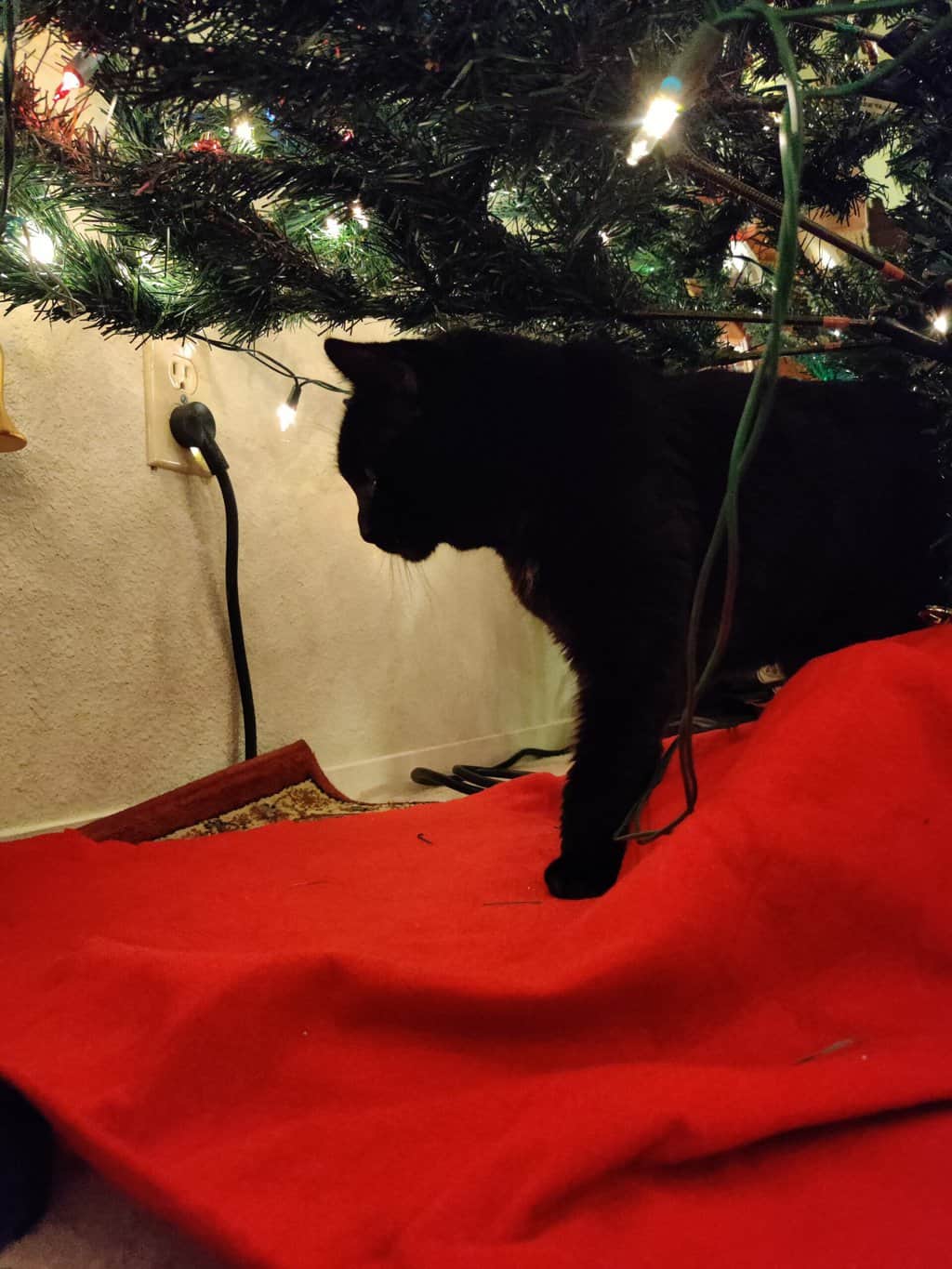 In evaluating the best Harry Potter tree skirts, I made my choices based on the following:
First, I picked tree skirts that came in different sizes so that people could accommodate variously sized trees. I had a boss in college whose claim to fame around the holiday season was a 30 ft tree in his foyer that the entire neighborhood could see from the street. Obviously, if you have a 30-foot Christmas tree, you're going to need a much bigger Harry Potter tree skirt compared to someone who just has a 6 ft tall plastic tree.

Second, I picked the designs that I liked. Too often, Harry Potter-themed accessories just have the Hogwarts houses, but there's so much more in the Harry Potter universe that can speak to individual personalities and characteristics with which we identify.

Thirdly, I went for the quality of the material. If you're purchasing something that you only use once a year, the quality might not seem important. However, if you're like me, you have pets in the house who like to sleep on the tree skirt even after all the presents are shoved in there, and you'll need to be able to clean it.
Hogwarts Castle Light Up Tree Skirt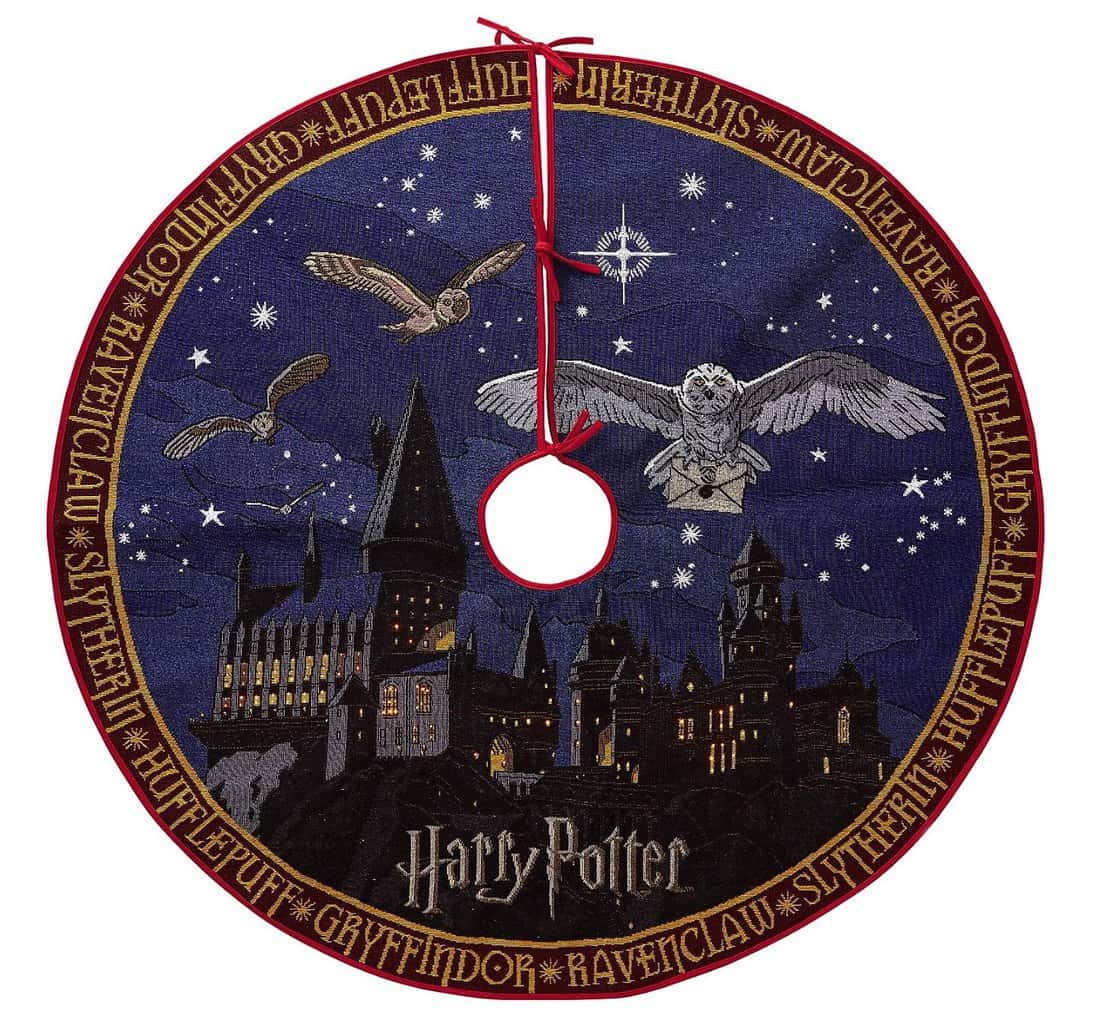 This Hogwarts Castle Light Up tree skirt boasts a beautiful nighttime scene. It shows Hogwarts Castle at night with all of the owls flying around, delivering their messages. Along the perimeter, you have letter print patterns for each of the Hogwarts houses that go all the way around.
What makes it unique is that the castle lights from each and every window and tower actually light up and flicker as long as you connect it to the power cord, which is sold separately. With the lights on, it does have a magical quality to it.
At least it doesn't need batteries you have to replenish every year, but you'll have to ensure your Christmas tree is set up near an outlet.
Pros:
It is a beautiful dark palette, with rich blues and burgundy that suits the darkness under a tree. 

It is 47 inches wide, so it will fit most trees. 
Cons:
It is made of cotton, but you have to hand wash it with a damp cloth because of the lights. 

The power cord for the lights is sold separately. 
Book Covers Harry Potter Tree Skirt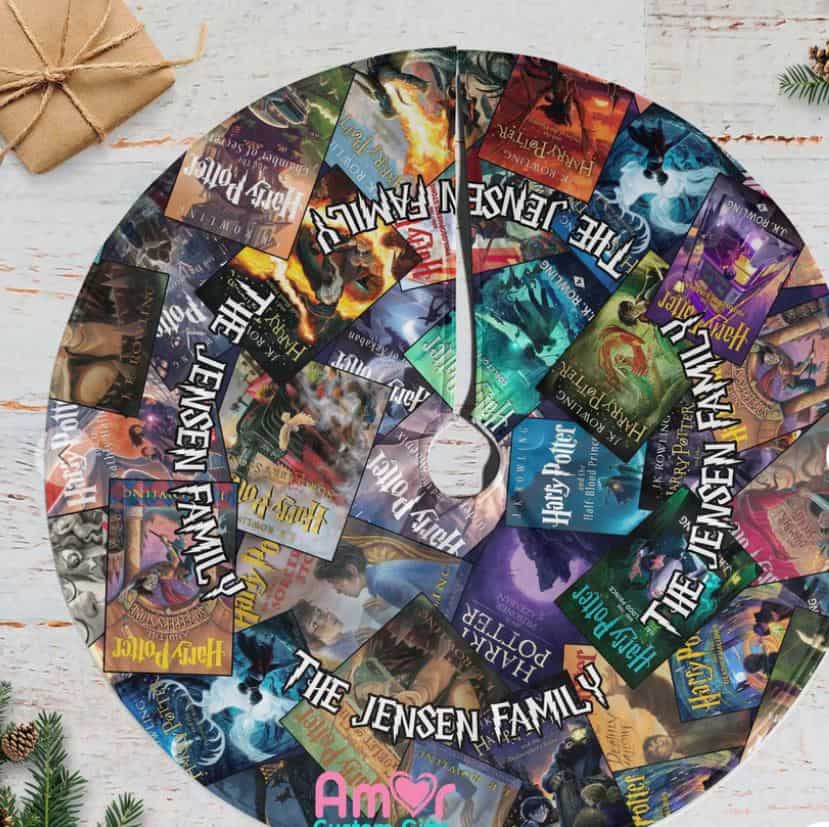 This Harry Potter book cover tree skirt is absolutely one of a kind. The pattern for this tree skirt contains images from all the different book covers as they were published around the world, so you'll see several varieties of illustrations for each book. I loved being able to compare the covers I have on my books to the other options on this skirt.
It's also a unique gift because you can customize any print you want to put on top of the book covers. I like that it comes in two different sizes, so you can pick one for a small Christmas tree or a big Christmas tree, and, most importantly, in my case, you can throw it in the wash.
Pros:
It has so many covers from publications around the world.

It comes in two diameter options: 44 or 57 inches.

You can customize it to include text on top, like a family name or initials.
Cons:
It is quite busy, with all the covers.
Knitted Tree Skirt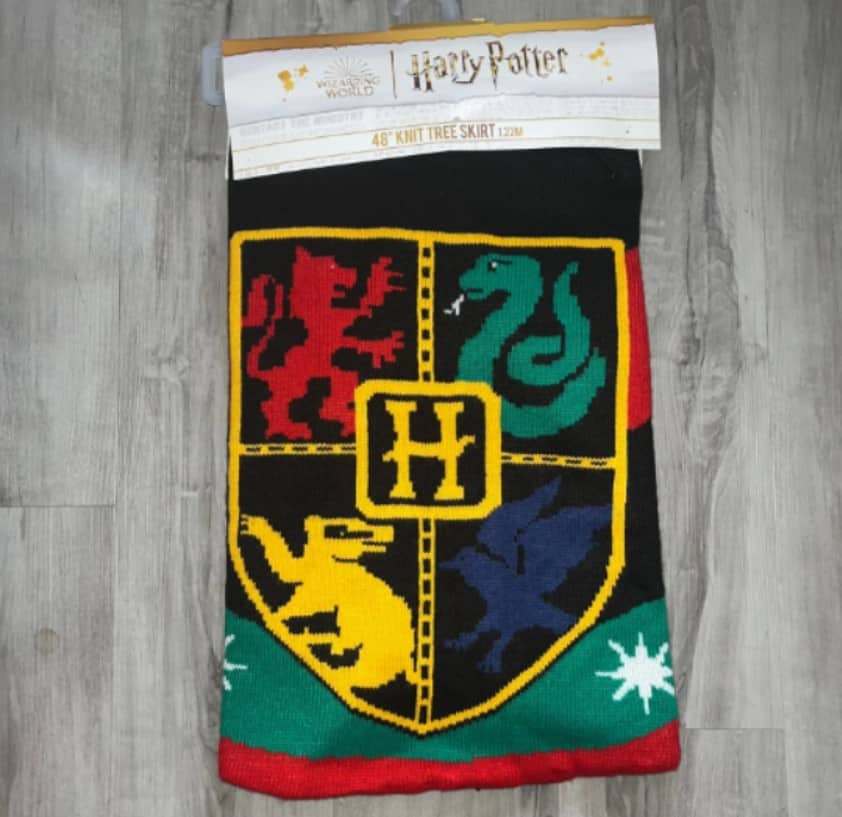 This Harry Potter tree skirt has three concentric circles of green, black, and red, on top of which is the Hogwarts crest with the four animals. This is a knitted tree skirt, so you can technically put it in the wash as long as you adjust the cycle settings.
It is an average size, 48 inches wide, so it will fit most Christmas trees. I like this fabric's texture, but the house animals' representation is slightly too cartoonish for my home. However, it would work very well with children.
Pros:
This is authentic Harry Potter swag.

It is 48 inches wide, so it works for almost all trees.

It has the house crest with the house animals knitted onto it, perfect for a home with young children.
Cons:
It is kind of uninspiring.
Marauder's Map Christmas Tree Skirt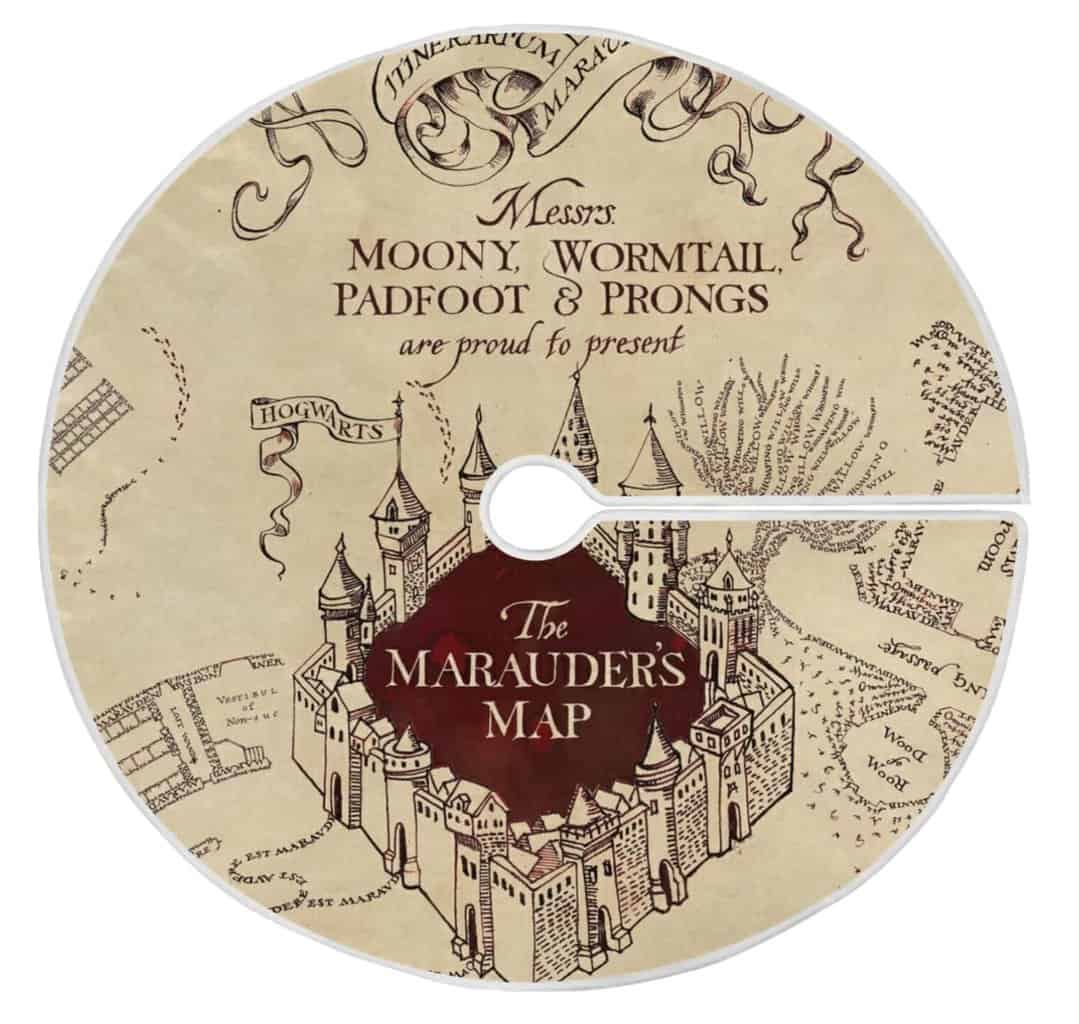 I am a huge fan of the Marauders map. I have socks, shirts, and sweatshirts with the print on them. I even have an actual Marauders map and a lot of book covers with the print. So, I see no reason to shy away from adding a Marauders map Christmas tree skirt to my collection.
I can't describe exactly what draws me to the Marauder's Map print other than it's something unique to the story that isn't as blatant as a Gryffindor House Crest, but it also has so much detail that you can get lost in the pattern.
I also like that this one is inexpensive and easy to clean.
Pros:
It comes in two different sizes, so you can pick the diameter that fits the tree you have.

It's made of high-quality polyester, so you can easily throw it in the washing machine.
Cons:
It only features the front of the map with the castle and the title and not a lot of other features.
PBTeen Harry Potter Velvet Tree Skirt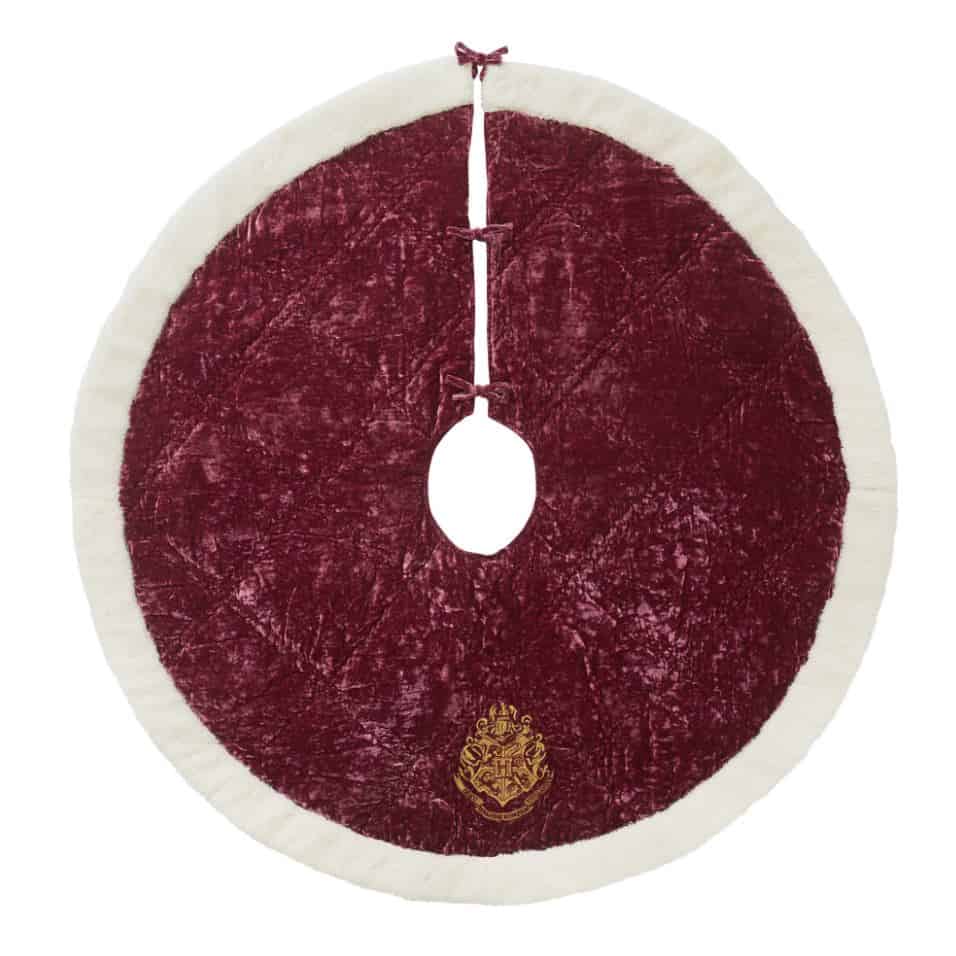 Pottery Barn has a stunning, if not over-the-top, Harry Potter velvet tree skirt. This tree skirt is 54 inches in diameter, so it's much better for larger, live trees. The cuff that lines the perimeter is three inches long. The whole thing is quite heavy because it is velvet, weighing almost 3 pounds.
This tree skirt has quilted velvet with plush fleece lining around the perimeter. The Hogwarts crest is embroidered in gold. This makes it very beautiful and very thick, ideal for formal households with oversized fireplaces and a lot of snow outside.
It is thick enough that when you drape it over the tree stand, the velvet material, with its natural pattern, almost eliminates the upward tilt of the tree stands.
Pros:
It has a beautiful, thick velvet fabric lined with a faux fur white trim. 
Cons:
It only comes in one shade which, though it is meant to be burgundy, takes on a pinker hue because of the velvet.

It's pricey. 

You have to hand wipe with a cloth.
DIY Harry Potter Tree Skirt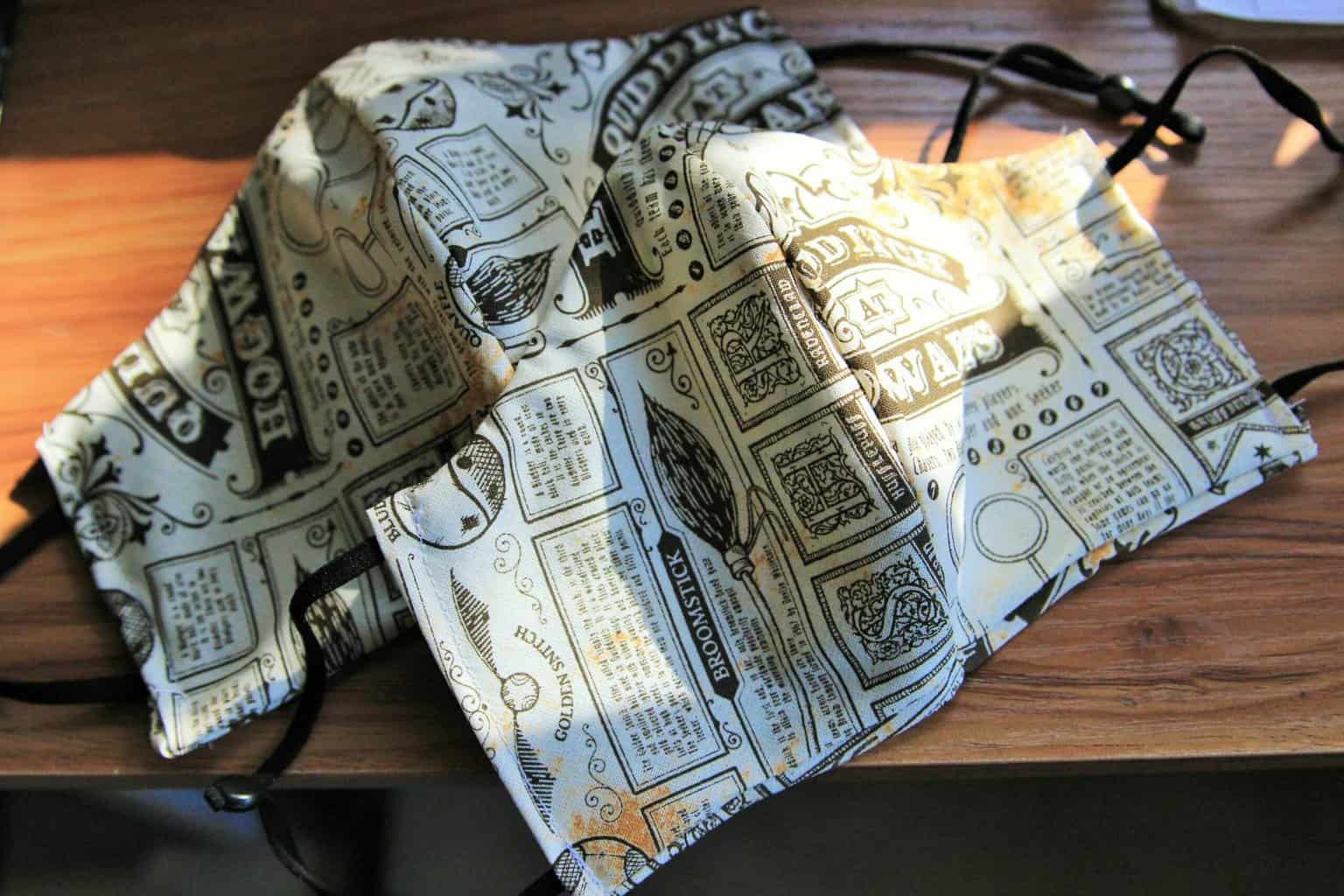 One of the biggest issues I had in finding Harry Potter tree skirts is that Warner Brothers and other companies tend to release tree skirts around the holiday season, and then they no longer offer them the rest of the year. So unless you search for Harry Potter tree skirts at Christmas time, you'll find that there are limited options.
However, I have made my own tree skirt before and didn't need to break out a sewing machine. So, you can make your own Harry Potter tree skirt by choosing a fabric that best represents the part of the universe that defines your personality.
You can review these instructions or this quick no-sew tree skirt. 
You can read about the best Harry Potter fabric and choose Quidditch fabric (which I used to make masks during COVID), a purple Marauder's Map fabric, the Daily Prophet, Deathly Hallows, Platform 9 ¾, and much more.
Pros:
You have so many more options for choosing a fabric that represents the parts of the Harry Potter world you like best. 

You can make several skirts and change them annually once you get the hang of it. 
Cons:
You have to buy the fabric (make sure you get a large enough amount) and make it yourself.
FAQs
Question: Do tree skirts go over the tree stand?
Answer: Yes, a tree skirt is designed to cover up the unattractive parts of your tree stand. When you look at it, it should provide aesthetic balance such that you only see the tree skirt and the tree without any of the metal or plastic pieces in between. 
Question: Should I put the tree skirt on first?
Answer: If you choose any of these best Harry Potter tree skirts, you want to put them around the base of the tree before you start decorating. However, if you're putting lights on your tree, you'll want to work from the base upward and then put the tree skirt on when you're done so that it covers any of the wires or cords.
Question: How big does a Harry Potter tree skirt have to be?
Answer: When picking out the best Harry Potter tree skirts, you want them to be large enough that they cover your tree stand and extend a few inches across the ground. You don't necessarily want the skirt to extend beyond the tree, especially if you have a fake tree. But if you put up a real Christmas tree, the tree skirt should collect all the falling needles in addition to holding presents.
Bottom Line
The best Harry Potter tree skirt is the Marauders map Christmas tree skirt or the DIY option. If you want more flexibility in terms of the fabric and the prints, learn to make one yourself. I promise it isn't that difficult. But if you want something that's already made, and stands out as a distinctly Harry Potter piece of merchandise without being over the top, choose the Marauder's map.