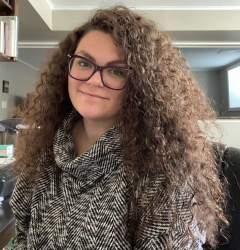 Latest posts by Candace Osmond
(see all)
Is Harry Potter one of the best fantasy series ever made? I would say yes, and if you agree that means you're ready to invest in shoes that express your love for the wizarding world.
With tons of merchandise to choose from, we couldn't neglect the amount of cool Harry Potter-themed shoes. Here's where you can find my list of the best choices and where to buy them.
Bottom Line Upfront
If you've read any of my work on this site, you'll deduce that I'm a massive HP fan. So, naturally, it's pretty much impossible to pick my fav– it's the Hogwarts Laced Boots. Who am I kidding? There's no competition for me. I love HP and I love combat-style boots.
Top Picks
Can You Get Harry Potter Themed Shoes?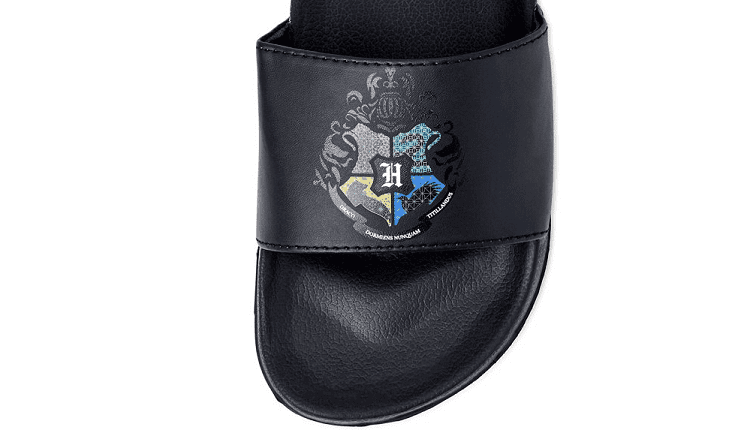 Since Harry Potter merchandise is literally everywhere, it shouldn't come as a surprise that it's quite easy to purchase some Harry Potter-themed shoes if that's your interest. You can find them from a ton of online stores, including:
Amazon
Walmart
Etsy
eBay
K-Swiss
EMP Shop
Vans
Types of Shoes to Consider
Personally, I'm a Converse-style or combat boot girl. But you can pick from a ton of other types of footwear!
Sneakers
If you're searching for a casual shoe that can be worn on almost any occasion, a classic sneaker is a good choice. Sneakers, which were formerly only worn for sporting purposes, are now worn for a variety of activities.
Slip-on shoes are more casual than lace-up shoes, with a laid-back, sporty vibe. Although individuals continue to dress them up in the same way that we see with conventional sneakers, this is becoming increasingly common.
Combat Boots
Known as the combat boot, it is a timeless shoe style that has maintained its popularity over time. These lace-up boots, which were named for their military look but are now connected with a '90s mood due to their astronomical popularity at the time, have a robust silhouette and reinforced toe for instant credibility and presence.
Rain Boots
These boots, which are available in several different lengths, are constructed with a rubber sole to endure inclement weather. Water-repellent materials are essential because their primary function is to keep your feet dry when it rains.
Sandals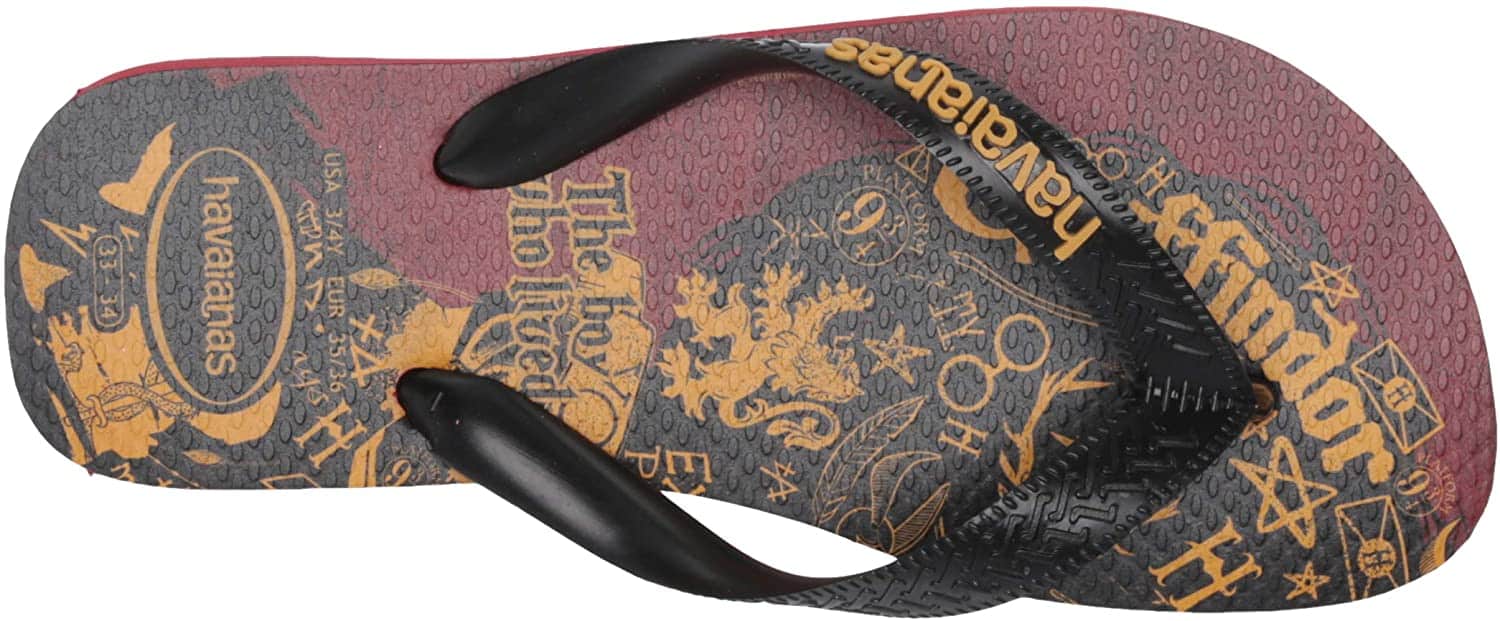 Slide sandals may be worn all year long because they come in both open-toe and closed-toe designs. Because of that, they're an extremely versatile shoe type.
Some sandals are designed with straps. These sandals, which are also known as gladiator sandals, get their name from the straps that straddle the foot and are often tied around the ankle.
Even while these shoes are often considered to be more formal than slides, they can be taken down just as easily with a shirt and jeans as they can be dressed up with a dress. Even though these are typically a flat shoe type, there are models available with and without heels.
Thong sandals go by the name of flip-flops. They are usually reserved for yard use and a lot of people wear them at the beach. They can be made from a variety of different materials, and you can also find designer thong sandals for a more classy combination.
Pumps
Generally speaking, pumps have lower heels than the majority of stilettos, but this is not always the case. Their heels are thicker than those of stilettos, which makes them more comfortable and supportive during longer walks.
Pumps are usually very comfortable and suitable for day-to-day activities. They are easier to match with casual clothing but can be suitable for an office-type look as well.
Stilettos
Heels of at least one inch in height—and at their most dramatic, they can go as high as six or eight inches—define stilettos, which are also known as high heels in the fashion industry.
Snow Boots
Much like rain boots, snow boots are designed to be highly weather-resistant while also keeping your toes warm in low-temperature conditions. Snow boots are not available even from top designers, so you can match those Chloe snow boots with a fashionable outfit.
Key Features of the Hogwarts Houses to Look for in Footwear
Gryffindor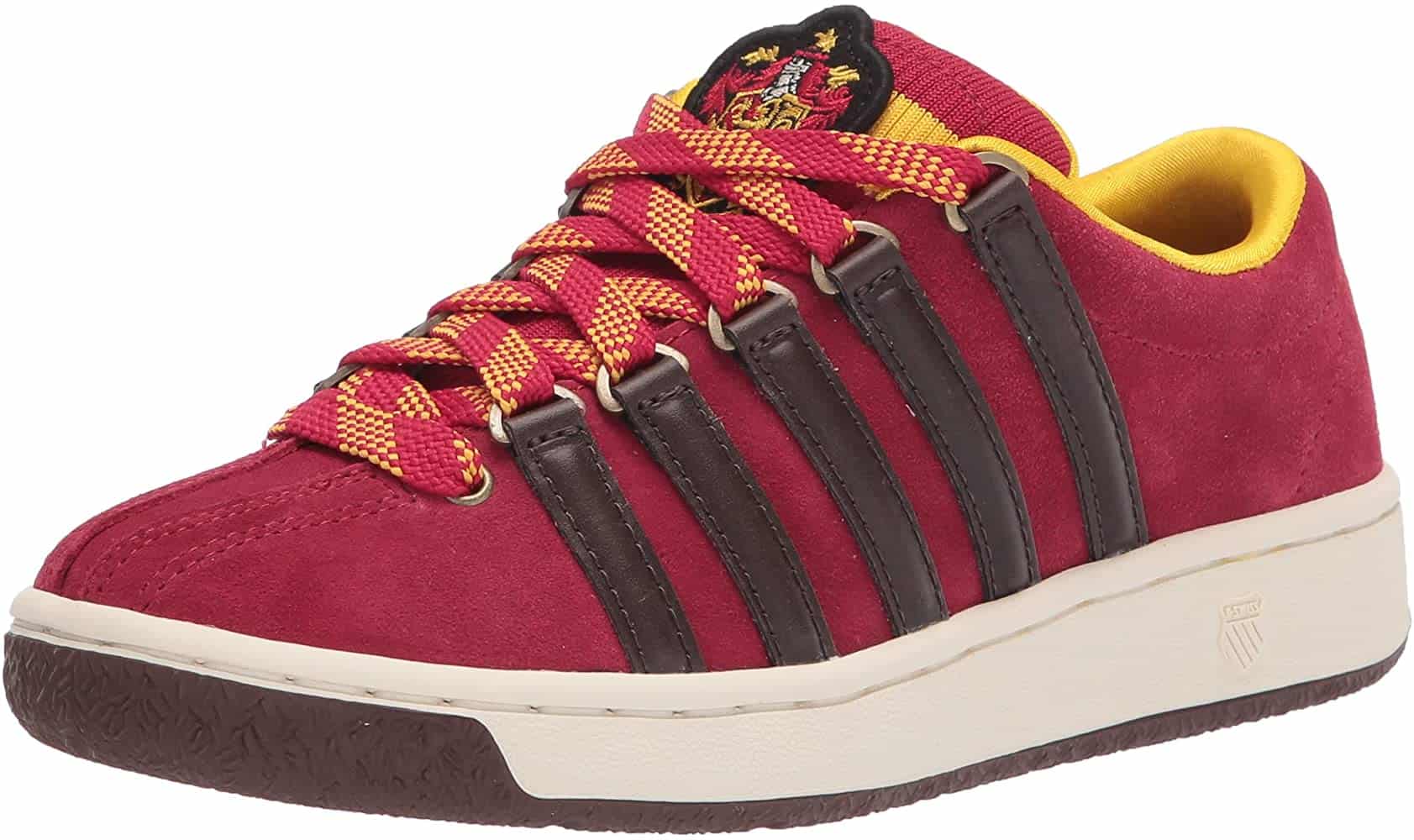 Among the most defining characteristics of a Gryffindor is their courage, which they demonstrate in all of their endeavors. As with Harry Potter's bravery when confronting Voldemort, this might be either overt or subtle.
Gryffindors aren't afraid to put themselves in harm's way if they believe it's in the best interest of the greater good. When it comes to protecting the vulnerable, Gryffindors have a strong sense of duty and will act nobly, sacrificing themselves for the sake of the group. Because of this, they are likable and well-liked by others.
Residents of house Gryffindor have a strong sense of right and wrong in the world, and they'll go to great lengths to uphold and defend the good in the face of evil.
Since they're always on the run, sneakers would be perfect for those about house Gryffindor. The red and gold colors are pretty easy to find in shoes of all kinds, be they pumps or flip-flops. The lion, the symbol of the house, could find its way in the shape of a shoe buckle or even painted on the side of Converse sneakers.
Hufflepuff
Sometimes, Hufflepuffs are considered the underdogs in the Harry Potter universe. They're trustworthy, predictable, and consistently good, but they're rarely allowed to compete with Gryffindor and Slytherin for attention.
Hufflepuffs are among the Wizarding World's most dedicated students and employees. But even if they don't possess Slytherin's cunning and audacity, Hufflepuff students strive to succeed in every endeavor and are rewarded for their efforts.
They are known for their humility. They are self-effacing in all aspects of their lives and avoid persons who project a sense of self-importance.
With that in mind, shoes suitable for a Hufflepuff shouldn't stand out. You want sneakers or pumps with a modest appearance, nothing too flashy. The black and yellow colors are perfect because it's rather discreet. If you can find anything with a badger (the symbol of the house), that would be perfect.
Slytherin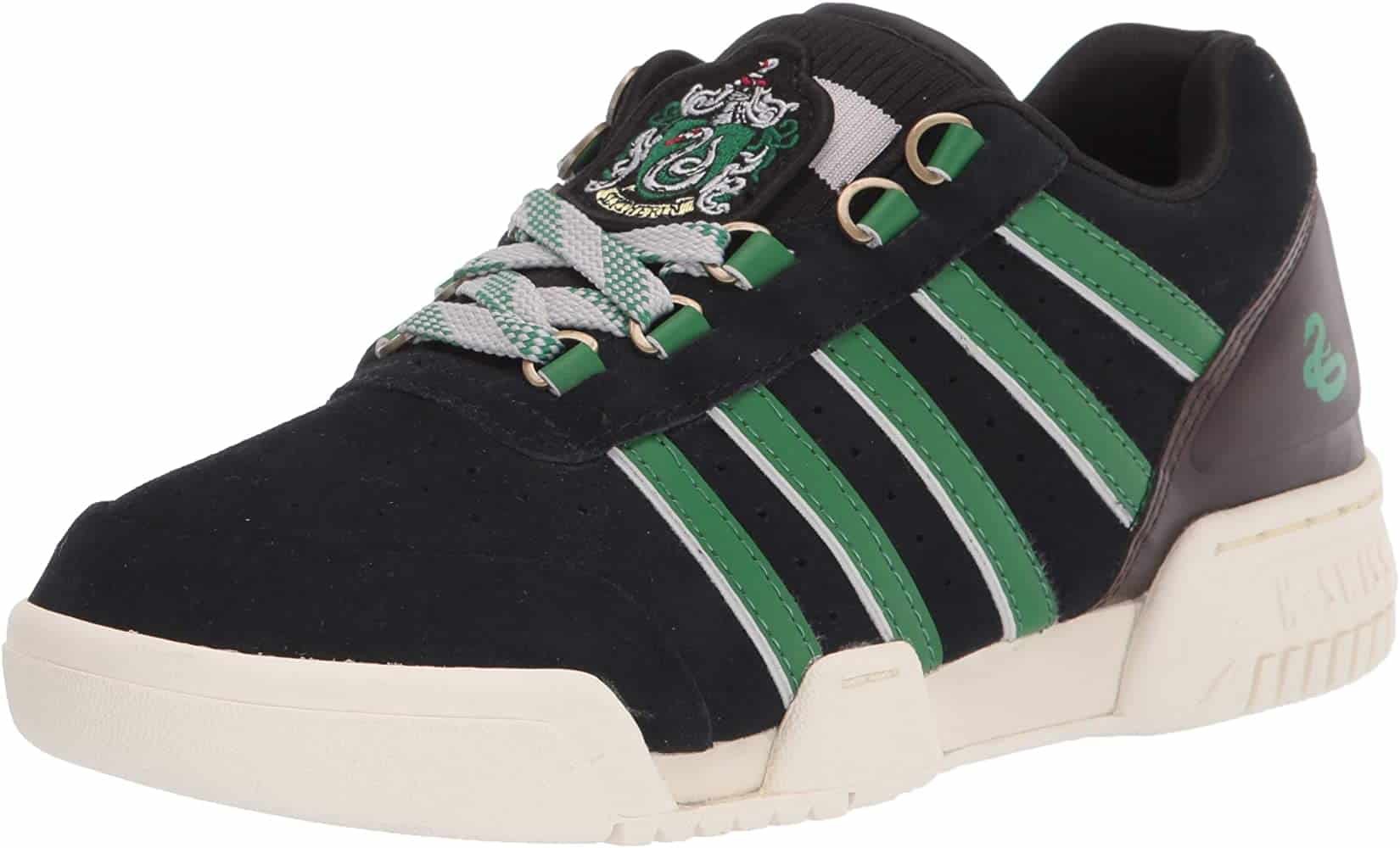 Ambition is a quality shared by most Slytherins. They aspire to be the greatest at whatever they do. Slytherins are clever, but not in the same sense as Ravenclaws, who are also clever.
Slytherins aren't interested in expanding their knowledge, but rather exploiting their existing skills. Because they're clever and crafty, they'll have an advantage in their pursuit of power and recognition.
They've got an uncanny knack for making the best of a bad situation. They're incredibly flexible and resourceful and can make the worst of any scenario work in their favor.
Like Hufflepuffs, Slytherins are extremely focused. Their tenacity, on the other hand, is more inward-looking. Because of their great work ethic, they'll be able to achieve their career goals and move up the corporate ladder.
Because the snake is the house symbol, Slytherin adepts could totally pull out a green pair of mules or some eye-catching boots. The colors of the house are green and silver, two colors that would be easy to accessorize with a lot of outfits.
Ravenclaw
Although not all Ravenclaws are born with a natural aptitude for learning, the house as a whole has a reputation for producing some of the brightest students in the Wizarding World.
Ravenclaws have a tendency to think beyond the box, and as a result, they may be extremely inventive. As a result, many Ravenclaws are artistic and creative in their approach to solving difficulties, as well as their spell-casting.
It is Ravenclaws' individuality that sets them apart from the rest of the students. In essence, people are free to act however they like.
Therefore, the shoe choices for a Ravenclaw adept should be curious, creative, and tell you a lot about the wearer's personality. Opt for combinations of blue and bronze. Choose boots that stand out, perhaps a pair with flashy accessories. Get creative with your footwear and outfits if you are a Ravenclaw.
The Best Harry Potter Themed Shoes
I'm blown away at how many options there are for Harry Potter-themed footwear! I had so much fun tracking these down and can't wait to share them with you. I chose this list based on their overall style, price ranges, and wide appeal to the different houses. So, I hope there's one you love!
K-Swiss Unisex-Child Classic Pro X Harry Potter Sneaker – Hufflepuff: Best Hufflepuff Sneakers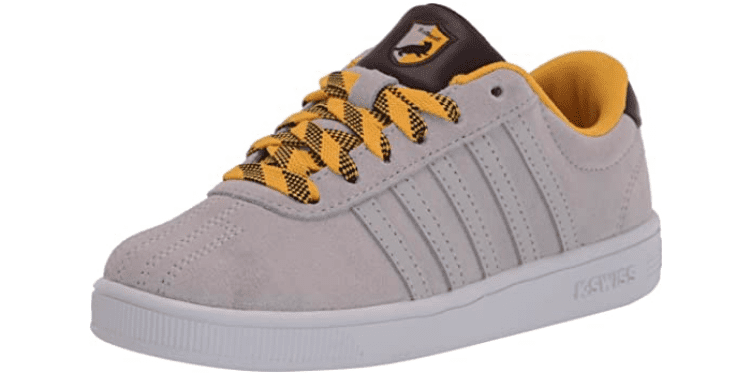 Hufflepuffs, unite! And join me in looking at these pretty cool sneakers that will showcase your love and devotion to House Hufflepuff.
Price range: $40 – $50
Materials: suede
Shoe type: sneakers
The badger symbol is woven on the tongue, while the Hogwarts crest is printed on the sock line.
Pros
Woven Hufflepuff crest
Sockliner with Hogwarts crest
Multiple size options
Cons
Harry Potter Womens' Icons Navy Canvas Classic Sneakers: Best Sneakers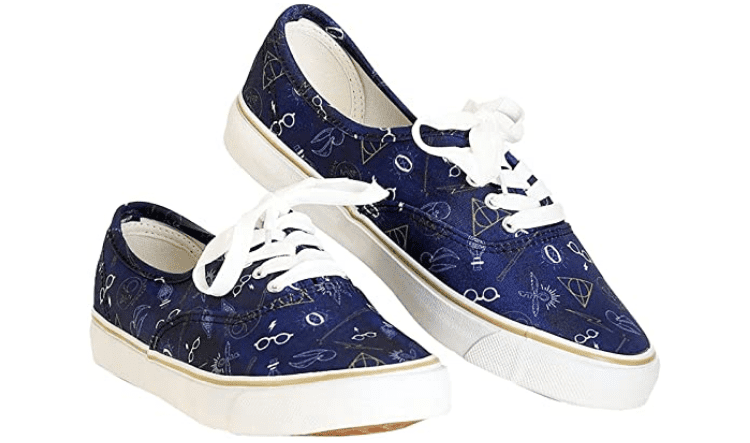 Have you been dying to find some comfortable and fashionable Harry Potter-themed sneakers? Then you'll be swooning over these canvas shoes. I can see how these would go with a cute dress or just some casual jeans and a sweater.
Price range: $20 – $40
Materials: canvas
Shoe type: sneakers
With a shoelace fastening, these are the classic sneakers you've always wanted. The shoes feature an all-over print of Harry Potter icons with a gold color accent.
Pros
Easy to clean canvas fabric
Adorable HP prints
Very comfortable to wear
Cons
Not weather-resistant
Only 2 size options
K-Swiss Unisex-Child Classic Pro X Harry Potter Sneaker – Slytherin: Best Slytherin Sneakers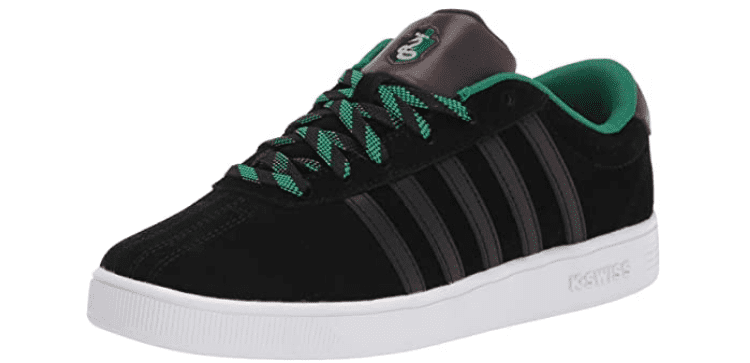 Proud to be a Slytherin? Often looked down upon, Slytherins actually have a lot of admirable traits, from their ambitions to their out-of-the-box thinking.
Price range: $40 – $50
Materials: suede
Shoe type: sneakers
If you're not afraid to represent House Slytherin, consider these black and green sneakers. Stylish and bearing the house crest, these are only available in children-friendly versions.
Pros
Woven Slytherin crest
Sockliner with Hogwarts crest
Multiple size options
Cons
K-Swiss Unisex-Child Classic Pro X Harry Potter Sneaker – Ravenclaw: Best Ravenclawsneakers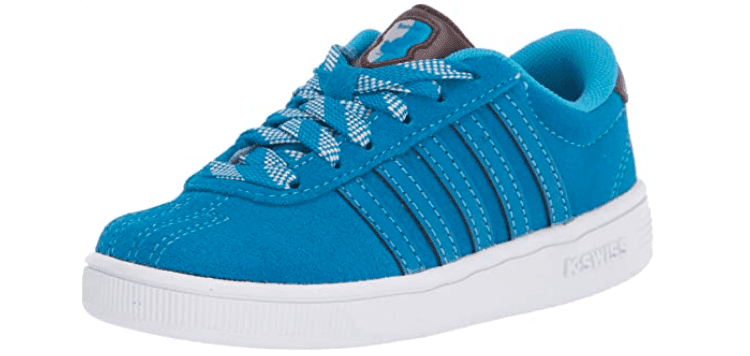 If you're ready to set off on another magical adventure, allow me to introduce the shoes fit for a Ravenclaw. I just wish they were available in adult sizes =(
Price range: $40 – $50
Materials: suede
Shoe type: sneakers
With blue as the predominant color, the Ravenclaws now have their own magical set of sneakers to transport them into the spellbinding tale at Hogwarts. You get 2 sets of laces plus the Ravenclaw crest on the tongue of the shoes.
Pros
Woven Ravenclaw crest
Sockliner with Hogwarts crest
Multiple size options
Cons
Harry Potter Quidditch Unisex Shoes: Best Unisex Shoes

For true Harry Potter fans, the game of Quidditch needs no introduction. I was obsessed with the concept in college and even tried to rally up enough Potterheads to stage a match LOL!
Price range: $40 – $50
Materials: N/A
Shoe type: sneakers
Golden accents adorn these red and black high-tops, designed with Harry's Quidditch number on the side. You can get them in sizes that range from 5 to 12.
Pros
Original and unique-looking design
Feature Harry's number on the size
Generous sizing options available
Cons
No information on materials
Harry Potter Men's Slide Sandals: Best Men's Sandals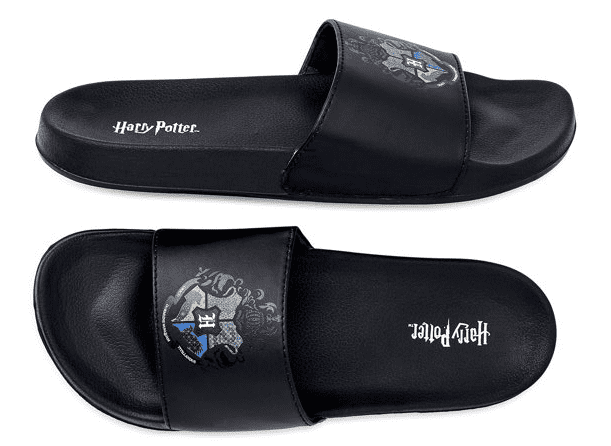 Sneakers aren't the best option for a warm day by the pool or for a barbecue in the backyard on a scorching summer day. For these situations, you're going to need slide sandals.
Price range: $10 – $20
Materials: N/A
Shoe type: open-toe sandals/slippers
Bearing the Hogwarts logo, these open-toe slide sandals are perfect for keeping your feet nice and cool while showcasing your passion for the greatest wizard story ever told.
Pros
Easy to put on
Easy to clean
Multiple size options
Cons
No information on materials
Harry Potter Women's Deathly Hallows Slide Sandals: Best Women's Sandals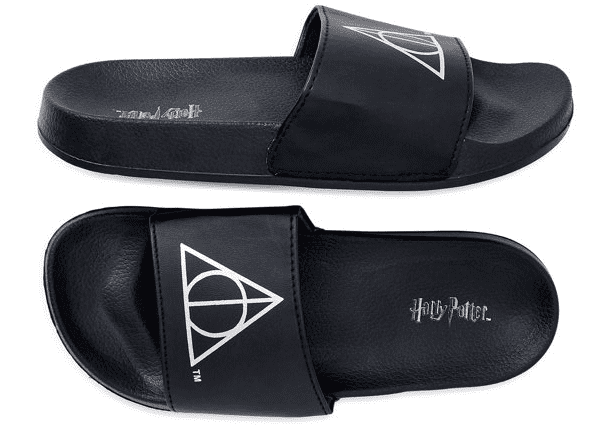 I think I just found my summer sandals! For women who loved HP movies (and especially the ones with the Deathly Hallows), I have a pair of slide sandals that are perfect for you.
Price range: $10 – $20
Materials: N/A
Shoe type: open-toe sandals/slippers
Available in four different sizes, these sandals are great for allowing your feet to breathe while you're walking through the yard on a warm summer day. Shame we don't get more info on the materials though…
Pros
Easy to put on
Easy to clean
Multiple size options
Cons
No information on materials
Harry Potter Adult Gryffindor Flip Flops: Best Beach Shoes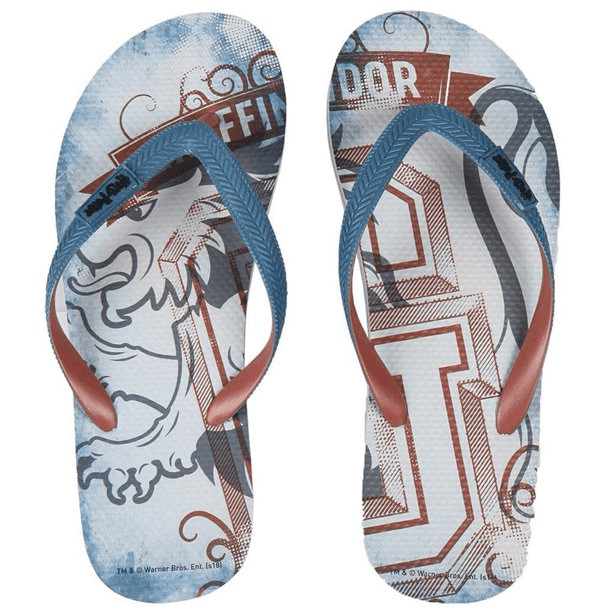 Summer is knocking and we couldn't be more ready for warm days. Oh, Gawd, I know I'm SO ready for it. Living on the Canadian east coast has me developing a love/hate relationship with winter.
Price range: $20 – $30
Materials: EVA
Shoe type: flip-flops
For those of you that get to visit the beach this summer, these Harry Potter flip-flops are a must-have. They also work for days at the pool, spa, or even when you're doing stuff around the yard.
Pros
Cool Gryffindor design
Multiples size options
Flexible material
Cons
The sole feels a little slippery
Harry Potter Women's Luna Lovegood Shoes: Best for Luna Lovegood Fans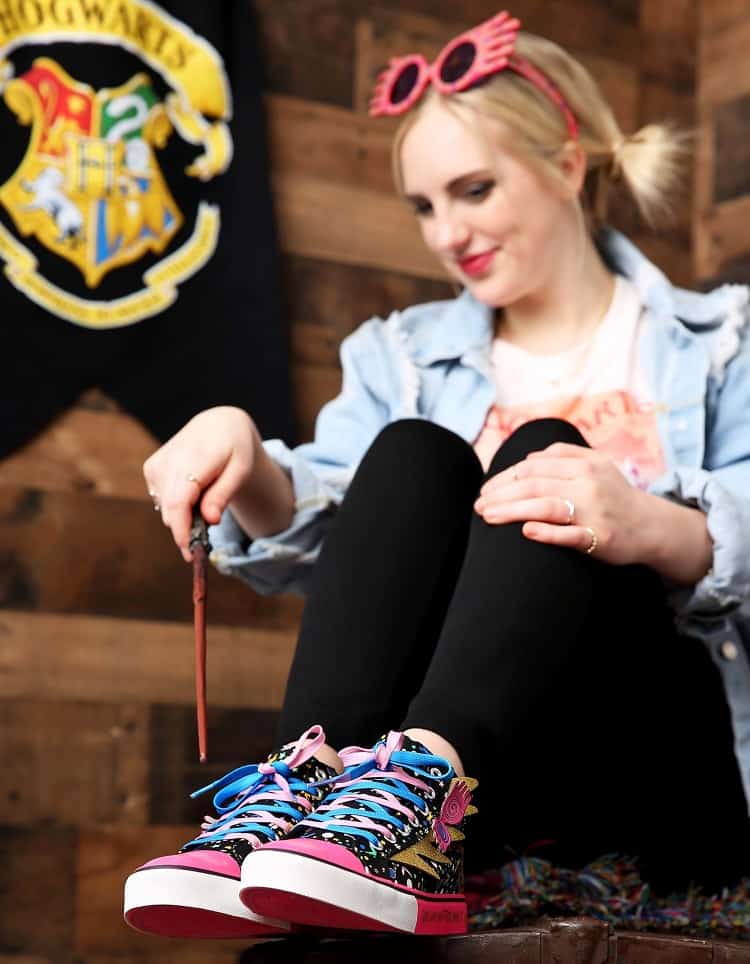 I suppose now's a good time as any to start my Christmas shopping. My daughter is obsessed with Luna Lovegood and I know she'd lose her mind over these. Luna is one of the most well-loved characters in the Harry Potter series and is unquestionably one of the best.
Price range: $40 – $50
Materials: canvas, vinyl soles
Shoe type: sneakers
These Luna-inspired sneakers feature a bold print, Spectrespecs, and Luna's most famous quote printed on the bottom sole. The snazzy but adorable sneakers are perfect for rocking an outfit everyone will turn their heads for.
Pros
Colorful and adorable design
Plenty of Lovegood characteristic elements
Quality vinyl soles
Cons
Marauders Map Harry Potter Ladies Boot: Best Rain Boots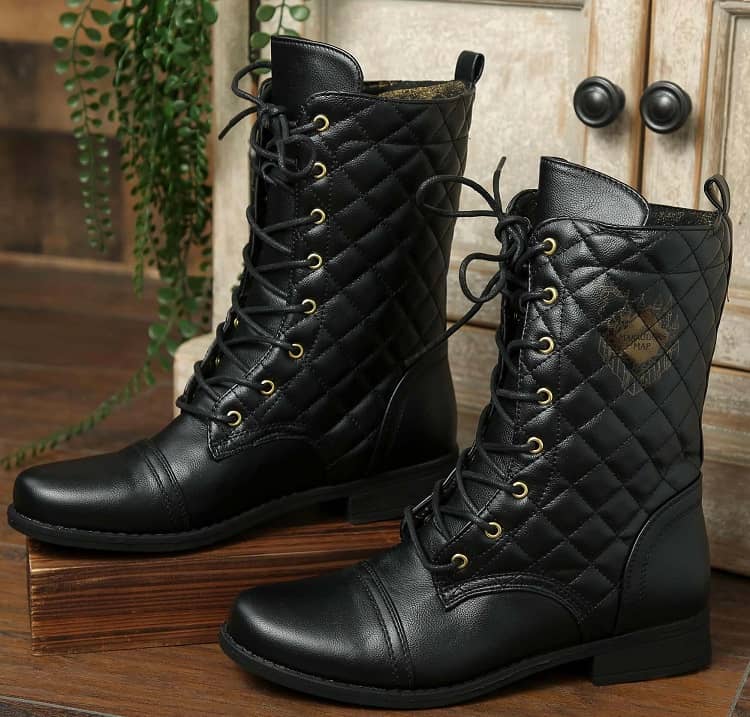 Hmmm…I DO need a new pair of rubber boots. And these are a heck of a lot cheaper than the boring black ones I saw at Canadian Tire.
Price range: $20 – $30
Materials: polyurethane, rubber sole
Shoe type: rain boots
These wicked boots are a must-have item to add to your wardrobe, especially if you like wearing skinny jeans. These black boots have the Marauder Map lining on the side, showcasing a gorgeous golden print so you can walk around the town in style. The polyurethane upper is combined with a rubber sole, making these boots ideal for rainy days.
Pros
Marauder's Map detail
Water-resistant
Tall boots
Cons
EMP Slytherin Sneakers: Best Overall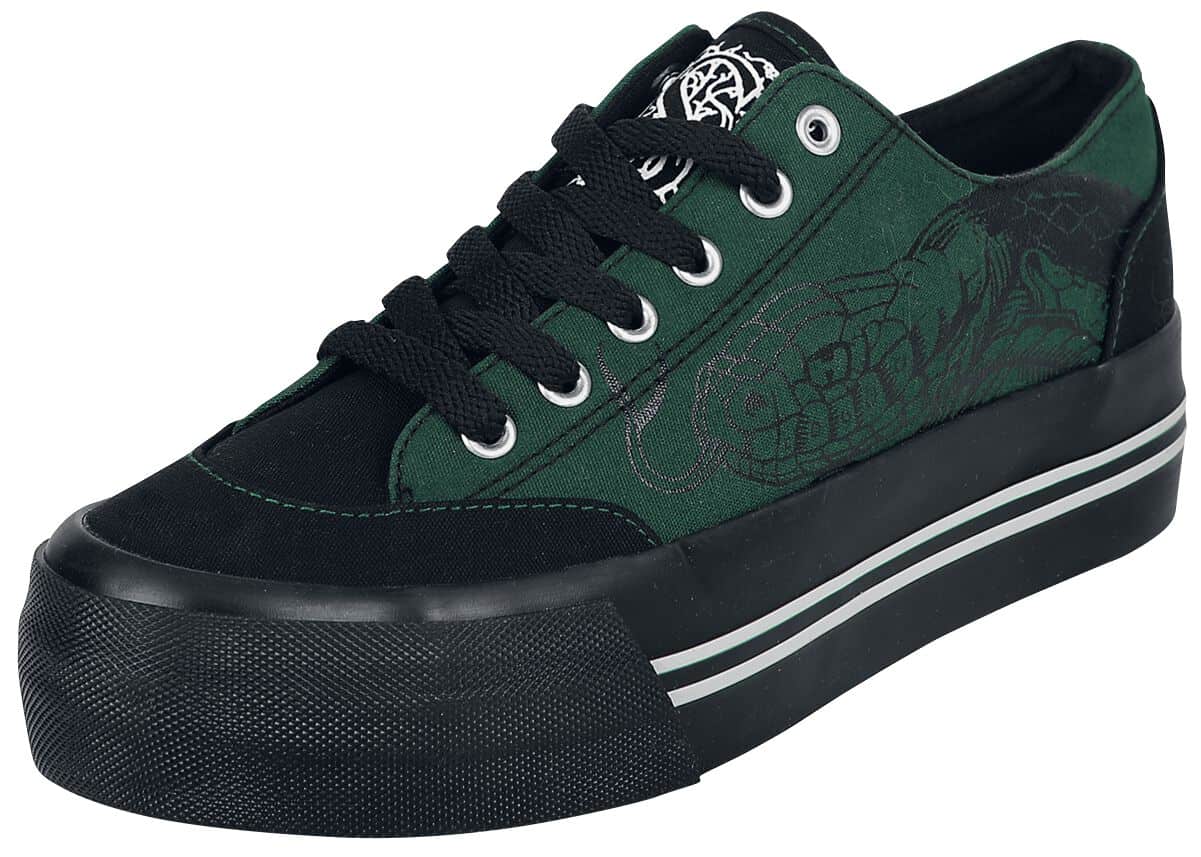 These Slytherin platform sneakers are amongst the craziest and most beautiful choices on today's list. Hands down, my fav.
Price range: $40 – $50
Materials: textile
Shoe type: platform sneakers
Deigned with green as a predominant color, these shoes are made from textile material and feature a thicker sole, with snakes embroidered everywhere and the Slytherin logo on the tongue, these sneakers are perfect for cunning and ambitious Slytherins.
Pros
Great attention to detail
Plenty of snake elements
Multiple size options
Cons
Sole is not comfortable enough for long walks
Gryffindor – House Crest Boot: Best Gryffindor Boots for Adults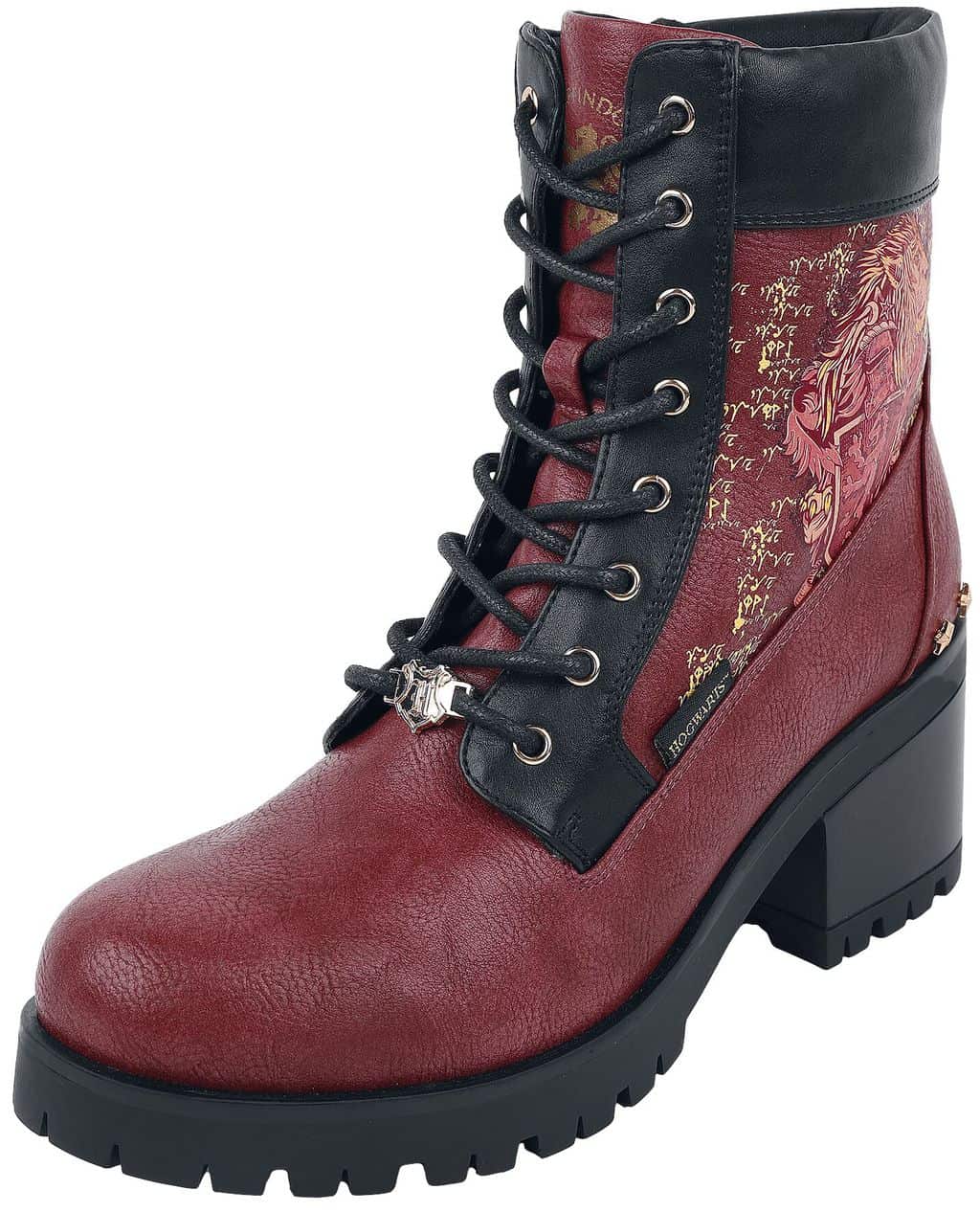 These Gryffindor boots designed for adults are available in 4 different sizes and are ready to walk you down the road with style.
Price range: $40 – $50 (at the time of this review)
Materials: polyurethane
Shoe type: heel boots
They feature a shoelace closure equipped with a Hogwarts charm. They have decorative stitching and combine a mysterious crimson color with black soles.
Pros
Multiple size options
Very rich details
Weather-resistant
Cons
Only come in a heeled version
Gryffindor Boots: Best Gryffindor Boots for Kids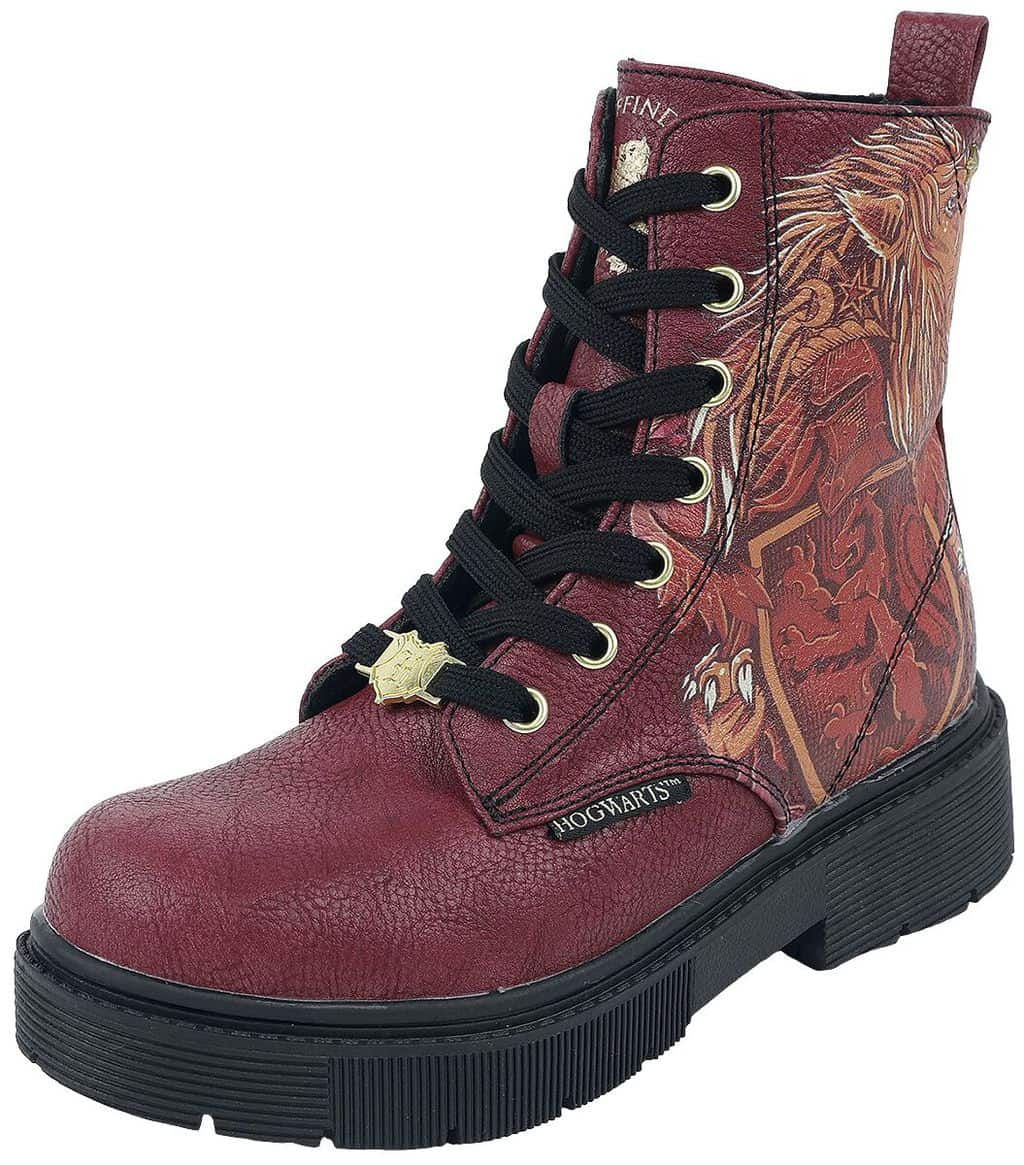 We continue this series with high-quality gorgeous Harry Potter boots with another pair that blew my mind.
Price range: $30 – $40 (at the time of this review)
Materials: polyurethane
Shoe type: boots
Designed for Gryffindor fans, these children's boots are designed to offer every little human a chance to support their favorite house. They're available in 8 different sizes and plenty of details that true HP fans will recognize and love.
Pros
Rich details
8 size options
Weather-resistant
Cons
Questionable long-term durability.
Slytherin Children's Boots: Best Slytherin Boots for Kids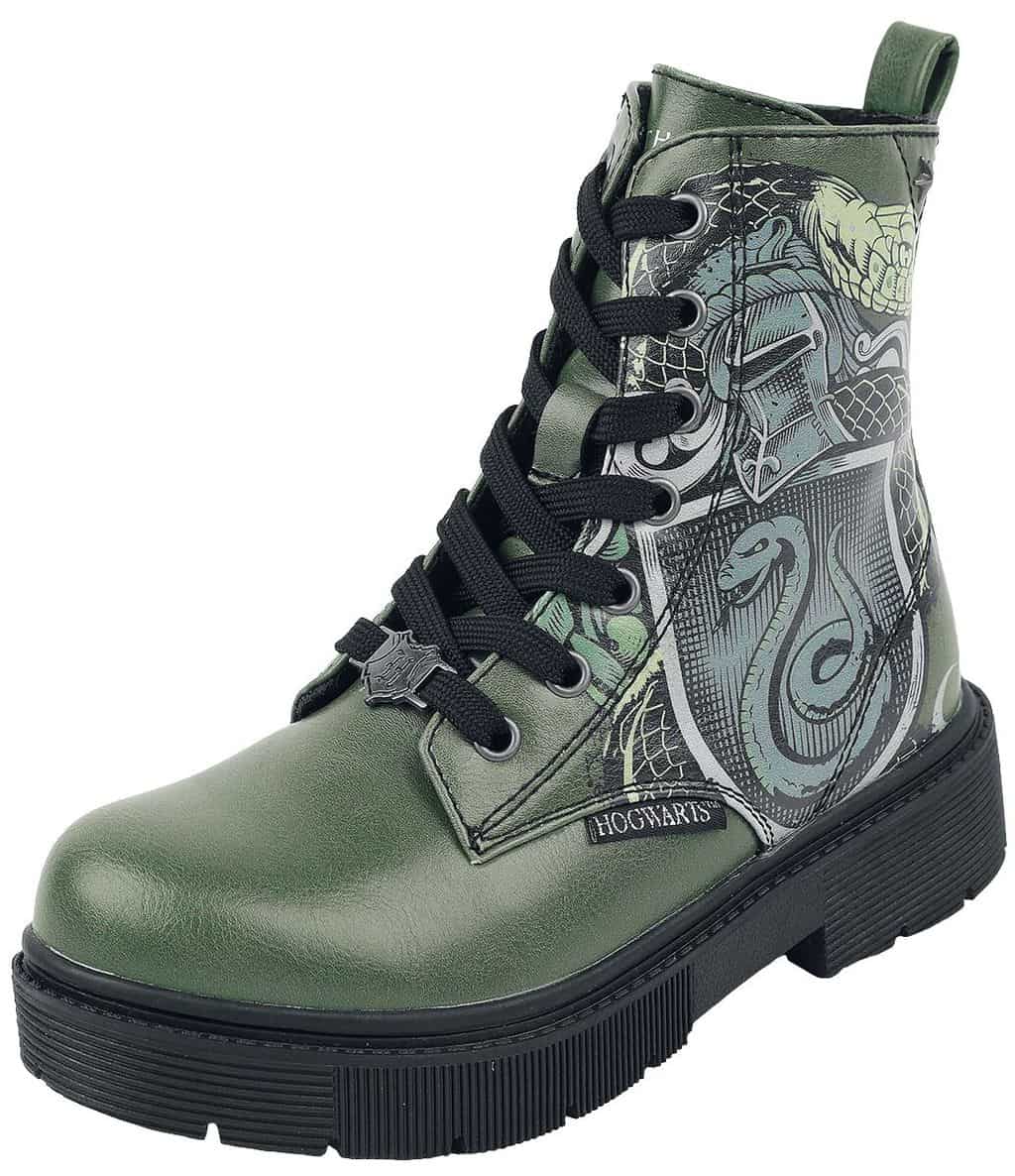 Why is everything I love not for adults? LOL Feast your eyes on these Slytherin boots which are absolutely gorgeous…but only in kid sizes.
Price range: $20 – $30 (at the time of this review)
Materials: polyurethane
Shoe type: boots
With the green colors that we all now belong to the Slytherins and the details that are just mind-blowing, these boots are a must-have for true Hogwarts fans. I'm truly smitten by the details on these boots.
Pros
Multiple size options
Amazing details
Water-resistant materials
Cons
Hogwarts Laced Boots: Best Boots Overall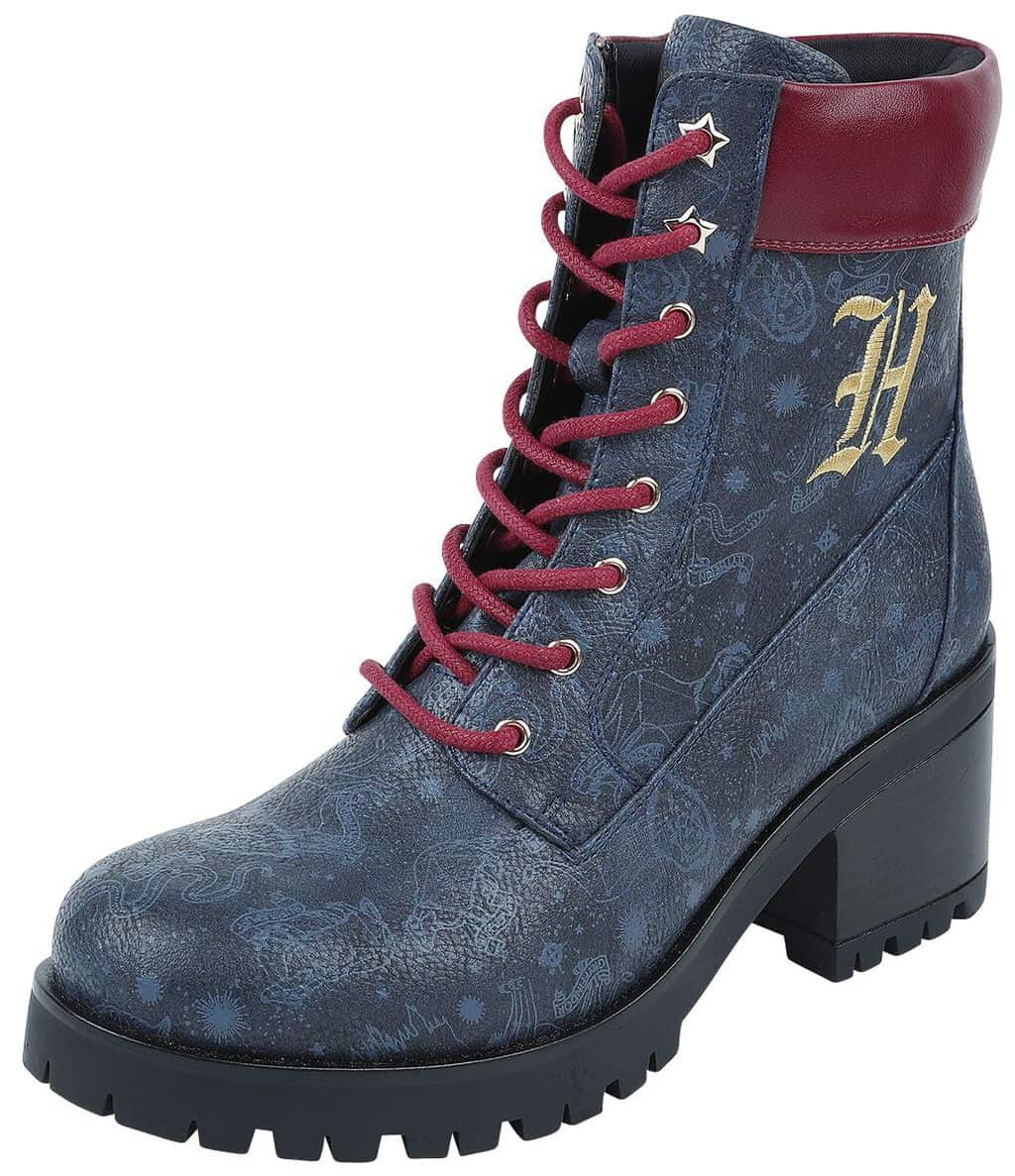 If you want some really stylish Hogwarts boots, here is a pair worth looking into. These are my jam: Harry Potter theme plus combat boot style? Yes, please! Plus, the kitten heel means I can sport these with a shirt or dress, easily. The details that went into making this design are insane.
Price range: $30 – $40 (at the time of this review)
Materials: polyurethane
Shoe type: boots
Even the side zipper has a thunderbolt. They sport the Hogwarts crest, are made from polyurethane on the outside, and come with a dark blue and red shoelace color combination which is just stunning.
Pros
Gorgeous design
Quality construction
Great for tough weather
Cons
FAQs
Question: Does K-Swiss Make Harry Potter Shoes?
Answer: Quidditch-themed footwear has been designed by K-Swiss in collaboration with Warner Bros.
Question: Where is the Best Place to Get Harry Potter Shoes?
Answer: It depends on what you prioritize. You can get great deals on Amazon, original and interesting shoes on Etsy, and high-quality shoes from Vans or K-Swiss.
Question: Can I Make Harry Potter-themed Shoes?
Answer: Yes, you can make your own HP shoes as long as they are for personal use only. Simply consider the shoes you want, the color combinations that match your house, and what you'd like to see on them, and you can easily turn a white pair of sneakers into a pair of Ravenclaw shoes.
In the End
Now that you know what some cool Harry Potter-themed shoes look like, it's time to determine what to buy. Whether you're getting new shoes for the kids or want a pair for yourself, there are plenty to choose from for both adult wizards and little muggles.
Personally, I'm head over heels for the Hogwarts Laced Boots. Want more awesome Potterhead recs? Check out our website!